A Look At Corsair's K63 Wireless Keyboard, Dark Core Wireless Mouse & MM1000 Qi Mousepad

Date: February 17, 2018
Author(s): Rob Williams

Cables might be a necessity at times, but they're not all the time. Even in spots where you think you'd absolutely need a cable (eSports!), you may just need a better tool. Enter Corsair's 'Unplug and Play', with the wireless K63 keyboard and Dark Core mouse – both offering 1ms latencies. For good measure, we'll also take a look at the MM1000 mousepad.
---
Introduction, A Look At The K63 Wireless Keyboard & Dark Core Mouse
It may be 2018, but even in our technologically rich age, we're still constrained by the devil. And by devil, I mean "cables". It's annoying to have your headphone cable caught on your arm rest when you get up. It's annoying to feel a rat's nest of cables under your desk with your feet. It's annoying to set your wired mouse down flat, only to see it move because the cable is pulling on it.
Enter the "Unplug and Play" gaming lifestyle Corsair's touting with the help of a handful of wireless peripherals launched at last month's CES. For this article in particular, I'm going to be taking a look at the MM1000 mousepad, Dark Core RGB SE mouse, and the wireless iteration of the popular K63 keyboard.
In addition to the three products being looked at here, Corsair released two other complementing products: K63 Lapboard, and VOID PRO RGB headset. We have these in the lab, but will be saving our look at them at a later date. The three products featured here have been heavily used the past two weeks, whereas I've been unable to jump on the others as of this point.
That all covered, here are the three peripherals being looked at today: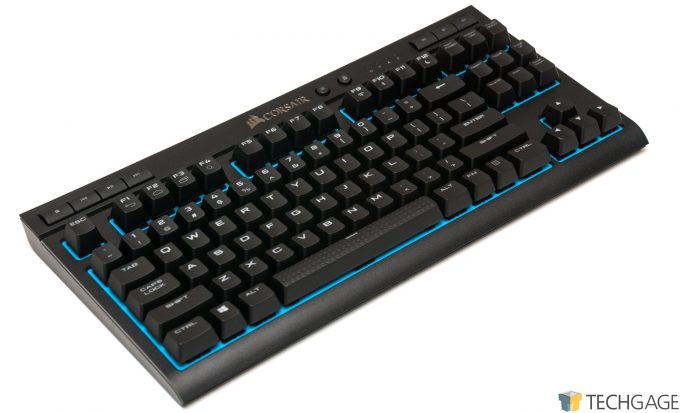 The K63 sports a tenkeyless design, and surprisingly, it isn't RGB. Instead, the default color scheme available is a darker blue, though a special edition with ice blue is also available. That one is probably available more as a complement to the company's ONE PC lineup, which it just updated with a couple of new models.
The keyboard may be just a wireless version of a preexisting plank, but Dark Core is a brand-new model that's going to feature two models – one has Qi (pronounced 'chee') wireless charging; the other doesn't. Corsair charges a $10 premium for the Qi charging, so if you own the MM1000, it's an absolute no-brainer to splurge for. And speaking of: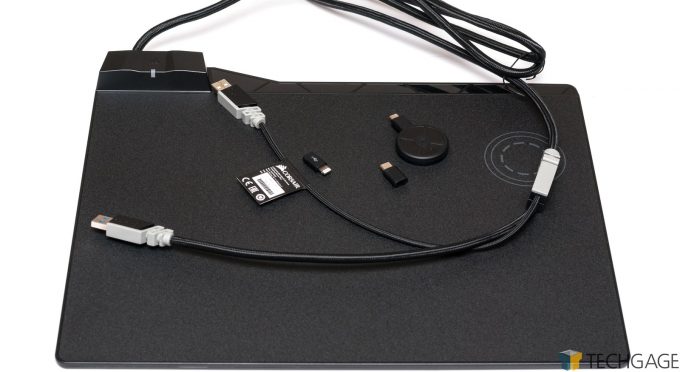 How on Earth can a mousepad cost $79.99 USD? By including Qi wireless charging, that's how. After two USB plugs are connected to 3.0 ports, Qi-supported devices can be charged by being placed on the circle design on the top-right hand corner of the pad. Corsair includes some accessories to let you charge your USB-C, micro-USB, and Lightning mobile devices with the wireless capabilities.
On the topic of those wireless capabilities, both the Dark Core and K63 utilize 2.4GHz wireless and can deliver latencies as low as 1ms. For the record, that's as good as the top-tier gaming mice on the market, so effectively, these wireless peripherals aim to be just as every bit as accurate as their wired brethren.
K63 Wireless Mechanical Keyboard
The tenkeyless K63 wireless keyboard looks exactly like the wired version, except that one has red LEDs. It also completely lacks the palm rest included with the wireless version, and personally, I'm very thankful for that addition.
At the top-left of the keyboard are media control buttons, while volume buttons are found at the opposite end. Near the center, to the right of the Corsair logo, an LED enable/disable button is found next to a Win key lock. Under the keys is a baby blue base. I'm not personally a fan of this part of the aesthetic (I wish it were darker blue), but the upside to the lighter color is that dirt will show up a lot easier. In my case, it means I'll clean my keyboard more often than once in a blue moon.
As with any modern LED keyboard worth its weight, the K63 lets you choose different modes for the lighting effects, including rain, pulse, wave, type lighting, and of course, static. If you're not in the mood for LEDs at a particular moment, you can quickly hit the button next to the Corsair logo and put an end to them quick.
In addition to the 2.4GHz wireless (which requires the USB connector in the box), you can also use Bluetooth with your own adapter (or built-in BT). Switching between these requires you to hit Fn + F9 (2.4GHz) or F10 (BT). At home, you may as well leave the keyboard plugged in, because chances are that's one cable that generally doesn't get in your way (not like a mouse one, anyway).
Corsair brags up the fact that this plank includes genuine CHERRY MX red switches, which happen to be my personal favorites. It's constantly argued that reds are not great for typists, but I somehow managed to write this article up with them without a single tear being shed.
Allegedly, I completely blanked on photographing the keyboard with its palm rest, so please excuse the laziness by linking you to a better shot than I could take. It's hardly the heaviest-duty palm rest out there, but it gets the job done. The textured surface feels good to rest your hands on, as well. It's grippy, without irritation after long use.
It's also worth mentioning that this version of the K63 has an AES-128 encryption option, for when you need to type more sensitive data. An upside is that sniffers can't read what you're typing, but the amount of latency added makes it pointless for gaming. At a press event held during CES, we were told that encryption could result in latencies up to 80ms, which is a far cry from the 1ms goal of the device. Alternatively, you could simply plug the keyboard back in and negate the need for encryption, and avoid the performance hit at the same time.
Dark Core RGB SE Mouse
Out-of-the-box, the Dark Core includes two grips. Note, these are not thumb rests, but instead grips for the right side of this right-handed mouse. The secondary option gives your fingers a place to rest, meaning that they won't be scraping along the mousepad as you try to nail that headshot.
Corsair says its Dark Core can last up to 24 hours on a single charge, although you'll never have to worry about that if you have the complementary MM1000 Qi mousepad (more on that in a minute). The mouse also features on-board profiles, a surface calibration option, full RGB (as its name implies), nine programmable buttons, three DPI settings, and what I consider to be one of the best-placed "sniper" buttons I've used.
In the third shot above, you can see a button in the center of the thumb rest, and surrounding it are more buttons (acting as back / forward by default). Pushing in the sniper button will allow you to drop the DPI down to a preset value (I tested with 100 mostly, which is the lowest you can go), which can dramatically improve situations in games where pinpoint accuracy is required.
Interestingly, I found good use for this button outside of gaming, as well. I regularly screenshot regions of my screen, either to share or capture images for content, and often, it's a tedious endeavor to be pixel-perfect, and not have to further edit the capture in Photoshop after-the-fact. No need for that with this button, as it slows the cursor down enough to let me be much more precise.
This all said, while I love where the sniper button is, the "forward" is a little bit further ahead than I like, although personally, it doesn't affect my gameplay, since I rarely use that button anyway (I do use the "back", however).
Overall, I don't have a major complaint about the design of this mouse. At first, I wasn't a fan of the positioning of the front-left buttons, which are used for changing the DPI profiles, but if you continue to use them for that purpose, you're not going to be touching them all too often. The sniper button should help with that need.
With its PixArt PMW3367 optical sensor, the Dark Core can be equipped with DPI levels ranging from 100 – 16,000, in steps of 1 DPI. Like the keyboard, you can use wired mode if you're at home, or need a quick charge. Otherwise, you can set the mouse on the MM1000's Qi spot and charge it overnight (just don't forget to do it, like I do 100% of the time).
Included with both the keyboard and mouse is a USB adapter that allows you to move your wireless receiver closer to your desk, in the event you end up having wireless hiccups. The USB cable you'd ordinarily plug into the mouse or keyboard to charge would instead plug into this adapter, which then allows a wireless receiver to be plugged into it. Unfortunately, one wireless adapter won't work for multiple peripherals at once, so even though these are wireless, one USB wireless adapter will be needed for each one.
Continued Look: MM1000 Qi Mousepad, CUE Software & Final Thoughts
MM1000 Qi Mousepad
The MM1000 mousepad isn't going to be one that many people pick up on a whim, something its $80 price tag secures. Why it's so pricey is simple: it features Qi wireless charging, and even if you don't have a Qi-supported phone, you can still take advantage of it.
To help smooth out the pain of the price tag a little bit, Corsair includes a few adapters that lets you charge your micro-USB, USB-C, or Lightning mobile devices. In order to power the charging, a thick dual-ended USB cable must be plugged into two different USB 3.0 ports on your PC. This is a big requirement for a freaking mousepad, but on the upside, a USB 3.0 port is included on the mousepad itself.
Personally, because I often forget to charge the mouse wirelessly (it's hard when you're not used to it!), I've kept the cable that shipped with the mouse plugged into the mousepad, and then charge it with that if the battery gets really low (though there are admittedly shorter cables for the purpose). Some day, I'll get into the habit of using the Qi wireless nightly, and I hope that day comes soon.
Despite all of that forgetfulness, I did test out the Qi charging to a certain point, but this is a technology that's really hard to benchmark. That's made worse by the fact that the Corsair Utility Engine (CUE) software doesn't show a real level for your battery; it's either charged, half-empty, or nearly dead. Most wireless products I've used have shown battery percentages, and it's for good reason.
That said, it's simply too hard to properly say how long this mousepad takes to charge the mouse from bottom to full. It's easier to gauge this kind of thing with a smartphone, since it actually has a precise battery-level value, but that phone would also have a larger battery, so basing performance on that isn't exactly fair to the mouse with more modest hunger demands.
I will say that if you have a smartphone at 0%, it won't likely be fully charged 8 hours later. I'd figure more like 60% for a 3,000mAh phone. So, it's certainly not a de facto solution, but it's good enough if you want to top-up while you're working at your PC. The mouse will however completely charge in the same amount of time, but probably less (again, it's just too hard to measure).
There's an indicator near the mousepad's cable (that is still weird to say) that lets you know if the device you have on the mousepad is charging. If the light rapidly blinks, it means you don't have an optimal fit. A single blink each second means that you've found the Qi spot (good work), and once the blinking stops, the device is fully charged.
A Quick Look At CUE
We've talked a lot about Corsair's CUE software in the past, so I won't get too deep into explanations here. At every launch, the software will detect each Corsair device plugged in, and then populate the area at the top with icons to access them. There are only two here, but essentially every current peripheral from Corsair that plugs into USB will likely appear in this software.
The CUE software does its job well, and there isn't too much I can complain about from a usability standpoint. Macros are pretty straight-forward to create, and every other setting is to adjust. I will point out that it's generally worth running the surface calibration tool on your mouse, since it'll probably feel just a bit more accurate afterwards thanks to the sensor tuning itself.
In the case of this particular review, I wish some things were improved-upon with CUE. When you right-click the system tray icon, you see a couple of options, as well as the plugged-in peripherals listed at the top along with their charging status. For some reason, the K63 wireless simply doesn't appear there, but it is visible inside of the software itself.
I pointed out the next complaint earlier: the battery-life indicator in the system tray is what I'd consider to be pretty lackluster. You'll know if the device is charged, if it's half-charged, and also if it's about to die. Maybe I'm just too anal about details, but I think a percentage indicator would serve the purpose better than a battery icon that doesn't relay very granular information. And ideally, the "charging" notifier should change to "charged", but it doesn't.
Overall, these complaints are pretty minor, and while I'm not sure about the latter points, the issue with the K63 not showing up in the menu is sure to be fixed at some point. These peripherals are pretty fresh off the line, so niggles like these are understandable. Kind of like the one that asks me if I want to change the LED to "Ice Blue" on the K63, when that actually requires another keyboard SKU.
Final Thoughts
After spending a couple of weeks with these wireless peripherals, I'm pleased with what they bring to the table desk. They're not without issue, but the issues that do exist seem to be pretty minor, and could be fixed with firmware or CUE updates.
In the first few days after hooking these peripherals up, I encountered occasional skips when moving the mouse, and on very rare occasions, the keyboard couldn't keep up with what I was typing (not a brag; there was an obvious problem!). After talking to Corsair and perusing other people's thoughts on these peripherals around the web, it seemed obvious to me that line-of-sight was my problem. After moving the wireless receivers to a better location with the help of the included adapters, the issue seemingly went away completely (I will update if the issue returns).
If there's a downside that most people could agree on with these peripherals, it's that it costs quite a bit to get hooked up with this same setup shown here, and really, it's almost entirely because of the mousepad. An extra $10 on a mouse is no big deal, but an $80 mousepad is $60 more than most people would think to spend. Buuuut… what other mousepad has Qi wireless charging, or includes a USB port?
Admittedly, one thing that would have justified the high price more for me is if the MM1000 were a dual-sided mousepad, but even that point can be argued. The bottom of this mousepad is rubber, and it simply will not move around your desk, unless your desk happens to be made of oil (I didn't test this). Plus, if you're pairing it with the Dark Core, you'll already be using an ideal surface for the mouse you have.
For the good, all three peripherals work as intended. I truly appreciated the mouse being wireless, and without any noticeable performance impact (over wired). I have seen some comments around the web that the mouse isn't great looking, or that there are other odd decisions made, but for me, I found it to be very comfortable overall, and I don't care if a mouse is ugly if it does its job well.
I'd be remiss to not mention that the mouse and keyboard in this article can be paired with a complementary lapboard, allowing you to really take these wireless peripherals on the go, and by "on the go", I mean "to the couch". Once you lock the keyboard in, you can sit back, relax, and get your game on. As mentioned before, we have a lapboard here, so I'll be taking a "sit" at it in the weeks ahead.
If you have any questions about these peripherals that I didn't comment on, please leave a comment!
Feb 19 Addendum: It turns out that I'm not alone with the occasional hitching that can occur with the Dark Core mouse. [H]ard|OCP's Kyle Bennett has also encountered the issue, but to a much more significant degree. The hitching I encountered would happen once in a while, whereas his mouse can't even keep a connection. I've been having solid luck outside of the line-of-sight issues I believe I had, but as mentioned before, I will continue to use both the Dark Core and K63 for a while, so potential issues can't elude me.
Pros
Dark Core: Good sensor, allows increments of 1 DPI (up to 16K).
Dark Core: Top-rate wireless performance.
K63: Great design, with thoughtful placement of media buttons.
K63: Allows you to use encryption when what you're typing becomes sensitive.
K63: Easily removable keys for the occasional clean up.
K63: Good battery-life at a reasonable brightness (you can disable the LEDs to gain more).
MM1000: Great size, and great surface. Plus, it includes Qi charging.
Dark Core & MM1000: A wireless solution without the need to plug in your mouse every night.
Dark Core & K63: USB adapter lets you to move the wireless receiver to a better location.
Cons
Dark Core: I crave a more granular battery-life indicator.
K63: A heavier-duty palm rest would be nice.
MM1000: It has Qi, but it's still an $80 pricetag. Now that's a premium.
Copyright © 2005-2021 Techgage Networks Inc. - All Rights Reserved.