A Performance Preview Of Qualcomm's Snapdragon 8cx

Date: May 27, 2019
Author(s): Rob Williams

Following-up on its Snapdragon 8cx SoC announcement at Mobile World Congress a few months ago, Qualcomm has taken advantage of Computex to divulge some tasty details about the upcoming chip. With the help of a new PCMark build, we're analyzing results from both application and gaming performance, as well as get a gauge of what to expect from battery-life.
---
Qualcomm Snapdragon 8cx Performance
At Computex, Qualcomm revealed lots about its upcoming Snapdragon 8cx SoC, most notably with some information we've all been dying to see: performance. As a recap, the 8cx is set to succeed the Snapdragon 850 in all-day PCs, which itself replaced the 835 which debuted the platform. 8cx is of course going to be faster, more efficient, and even support new features like dual 4K monitors.
It seems at this point that Lenovo will be the first to release an 8cx powered notebook, although it's not entirely clear whether the launch model will include a 5G variant. Naturally, Qualcomm has put immense effort into 5G growth over the past few years, so it's likely more anxious than anyone to finally see the technology permeate the globe.
To that end, here in Taipei, there are no official 5G networks at the moment, but Chunghwa Telecom has had a test network in place this and last year, and has plans to fully launch mid-2020. As far as we can tell, the launch won't be here in time to greet the next Computex, but we hope that changes, as it'd make next year's event quite a bit more interesting.
Equipped with the Adreno 680 GPU, the 8cx is a fully capable DirectX 12 chip, which packs in high-efficiency encoders, and notably a VP9 and H.265 decoder. For CPU duties, the Kryo 495 steps in, boasting 10MB of cache, while being built on a 7nm process. Qualcomm notes its modems are also produced at 7nm, which is great to see given how difficult it is to progress with die shrinks.
One of the highlights of all-day PCs is the fact that they draw modest power in comparison to ultrawides with Intel CPUs inside. The performance on Snapdragon notebooks isn't generally as high as it is on Intel's, but Qualcomm is continually improving things, and has made massive strides in the ACPC realm since the original 835 model launched. Improvements to Windows itself has also heightened the performance.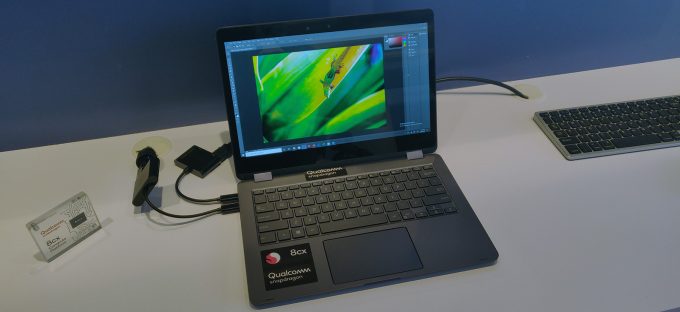 In conjunction with Qualcomm, Lenovo developed Project Limitless, resulting in the first 5G PC. This notebook is going to include all of what makes 8cx great, which of course encompasses the new cutting-edge wireless tech. As with the other ACPCs, this one is designed to instantly power on, last all day, and give you instant access to the web at large with built-in 5G (which is backwards compatible with 2~4G).
With the 8cx proving to offer such a big performance boost over the 850, Qualcomm wanted to put its money where its mouth is and run some benchmarks. During a press briefing, the company brought UL's Jani Joki up to talk about PCMark 10, which releases a brand-new update today. Two tests join the previous ones: applications, and battery-life.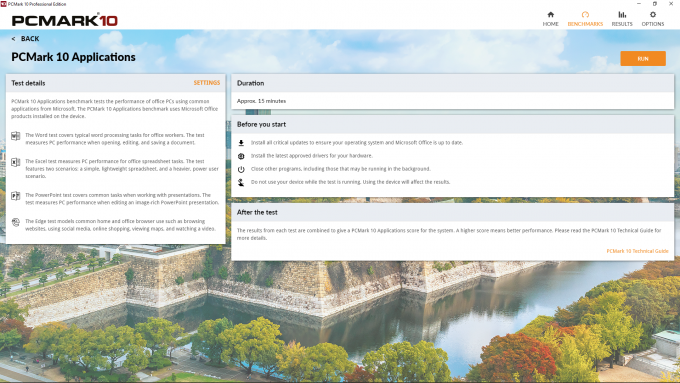 To make the results PCMark spits out useful, the benchmark is designed to utilize Microsoft Office applications as if a real user is getting work done. Because the real apps are used, PCMark owners would need to have Microsoft's suite installed, but if they don't have it, they can still use the built-in Edge test.
Arm is no stranger to UL, as the company has had numerous benchmarks available on Android and iOS for a while, but the ACPC is a unique angle. This updated build of PCMark still uses some x86 elements, but only where necessary. As with its other benchmarks, UL will optimize each test for each respective platform, so they all have their best chance to shine.
In a comparison against an Intel Core i5-8250U notebook, Qualcomm's Snapdragon 8cx stacks up well. Or maybe better than well. The PowerPoint test is quite similar over all, but in the Excel test, Intel comes a bit ahead, while the Word test gives Qualcomm a similar edge. And speaking of Edge, Qualcomm can see great gains there, as well.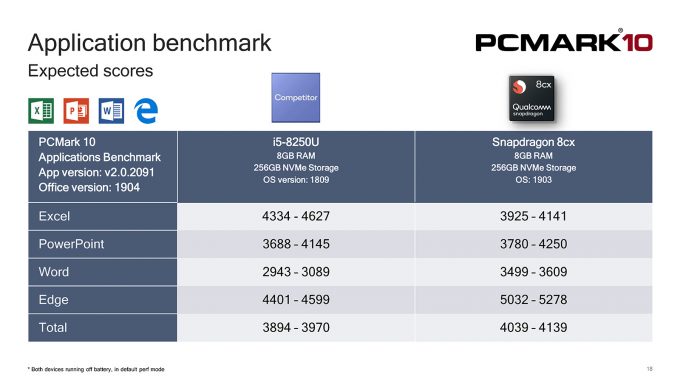 In gaming, the Adreno 680 delivers a nice boost to graphics performance to help the 8cx compete quite well against Intel's current integrated graphics solution. In both the overall and graphics score, the 8cx leads quite far in the front, but falls a bit behind in the CPU test: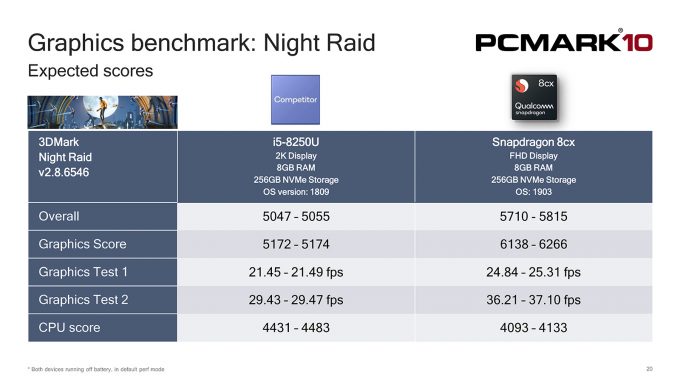 Performance is just one part of the equation here. What's most important to people is battery-life, so fortunately, we're seeing some great numbers for the 8cx here as well.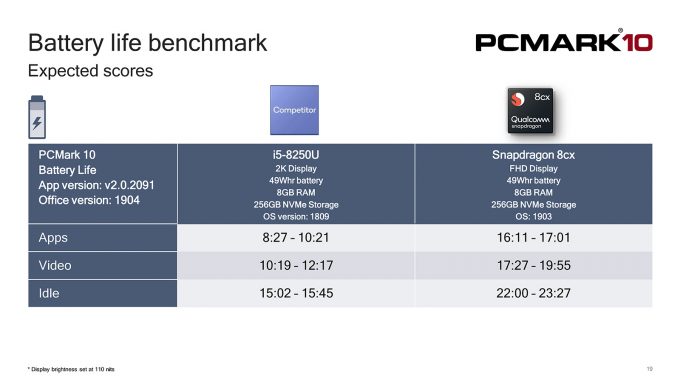 In the applications test, the Intel notebook lasts about 10 hours at best, while the 8cx-powered notebook extends that to 17 hours. Video results are even more impressive, with two hours added to the Intel, and almost three to the 8cx. Idle time is a bit pointless since it's talking about no usage at all, but as far as that goes, Qualcomm can confidently say it has a literal all-day notebook with the 8cx.
Final Thoughts
Having used a Lenovo Yoga Snapdragon 850 all-day PC for about six months, I can honestly say that I am really looking forward to taking a deeper look at the 8cx when it becomes available. A common complaint about these ACPCs is that they are slow, but for my general work use, I haven't had any major issues. It's slow at times, but I also find a 7th-gen Intel Lenovo Yoga to be slow at times, as well. It's the nature of the software beast.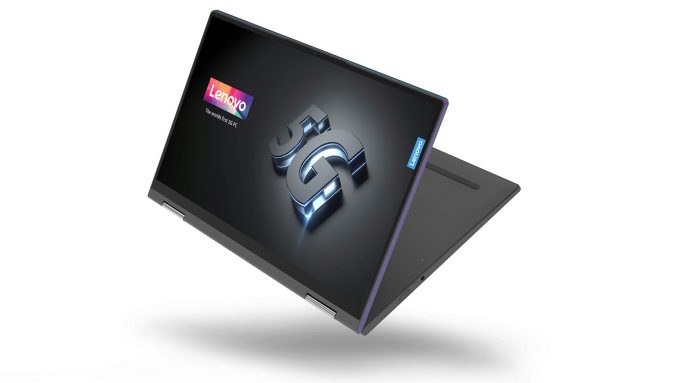 Of course, no one ever turns down better performance, unless it comes at the expense of reduced battery-life. In this case, Qualcomm promises to deliver nice performance and efficiency gains across-the-board, and still give you all-day life.
At this point, we're mainly waiting for a model to launch so reviewers can take it for a spin and see what it's truly made of. It seems like the first model out on the market will come from Lenovo, or, it's at least going to be the first out the door with a 5G variant.
None of this can get here quick enough, but we're fortunately over the hump, and close to both 8cx and 5G – though the former is definitely going to be more available than the latter for most of the world for now. It's going to be real nice when 5G becomes ubiquitous rather than feel like an exotic treasure every time we encounter it.
Copyright © 2005-2020 Techgage Networks Inc. - All Rights Reserved.