A Real Flagship Killer: OnePlus 3 Smartphone Review

Date: July 18, 2016
Author(s): Rob Williams

With its OnePlus 3, OnePlus has a lot to deliver on. Its first-ever flagship hit the ball out of the park, and the follow-up carried on the tradition – if we want to ignore the lack of NFC (which we don't). Does the OnePlus 3 continue the company's tradition of releasing great smartphones at their respective price-points? You bet it does.
---
Introduction, A Tour Of The Hardware
It feels like only yesterday we took the OnePlus 2 for a test drive, and here we are with the OnePlus 3, primed for the same in-depth evaluation.
Like the OnePlus 2 before it, the OnePlus 3 becomes OnePlus' latest flagship. At its website, OnePlus (redundant, I know) lists both the OP2 and OP3 as current models, although I couldn't imagine that the OP2 will remain there for long. The company also still sells the mainstream-focused OnePlus X, although it's recently been moved inside a nestled menu, suggesting that it might not be there for much longer, either.
But enough about OP's older phones: let's tackle its latest hotness, the OnePlus 3: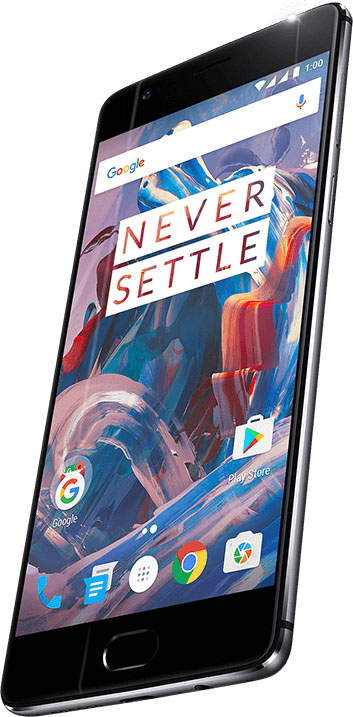 OnePlus isn't tossing around the "Flagship Killer" message this time around, which could be because the one and only model costs $70 more than the previous one, to sit at $399. Even so, the title is apt: for its price, the OnePlus 3 packs in many great features and a lot of performance. Or, in other words, the OnePlus 3 has the goods to satiate your desire for a top-tier phone.
At the forefront of this performance is the Qualcomm Snapdragon 820 processor, a quad-core model that features two cores clocked at 2.2GHz, and two clocked at 1.6GHz. The GPU has also been upgraded over the OnePlus 3, with this phone featuring the Adreno 530.
OnePlus 3
SoC
Qualcomm Snapdragon 820 4-core CPU (2×2.2GHz + 2×1.6GHz)
Adreno 530 GPU
Display
5.5-inch 1080p (401ppi) AMOLED
Storage
64GB
Memory
6GB LPDDR4
Wireless
Supports GSM, LTE, HSPA & CDMA EVDO
Supports Dual-band 802.11ac, Bluetooth 4.2, GPS, NFC
Camera
Front: Sony IMX179 8 megapixel (1080p/30)
Rear: Sony IMX298 16 megapixel (4K/30)
Battery
3000mAh Li-Polymer (Non-removable)
Weight
158g
Dimensions
74.7 x 152.7 x 7.35mm
Et cetera
Android 6.0.1
Support for 2 SIMs
Uses USB-C (2.0) connector (standard USB plugs into PC)
A notable feature the OnePlus 3 has that the OP2 doesn't, is NFC. While it's still baffling to me that the OP2 didn't have NFC (especially when some lower-end phones do), there's at least the upside that the company immediately corrected the omission with this follow-up.
But, if you're planning to upgrade to the OP3 from OP2 and migrate settings, it won't be through the ease of NFC.
It's also notable that this phone becomes the first (that I know of) on the market with 6GB of memory, something that I imagine could only be useful (at this point in time) for virtual reality, if you're wishing to view very high-resolution 360° images. For regular phone use, it seems very unlikely that many people would even exceed 2 or 3GB. But hey – it looks good on paper.
Like the OP2, the OP3 is able to record at 4K/30, although its sensor has been replaced with a higher-quality one. The screen is also similar, a 5.5-inch at 1080p, giving us a ppi of 401.
The OnePlus 3 is 17 grams lighter than its predecessor, as well as 2.5mm thinner – a major difference given we're talking about sub-10mm to begin with. At the expense of that, the battery has dropped from 3,300mAh to 3,000mAh, but to help negate that downside is the Dash charger, which helps the OP3 charge much faster than the OP2 (as we'll see later).
With both phones in-hand, the OP3 is clearly thinner. Despite that, it doesn't feel brittle or weak. With one of the company's official cases, both widths are almost perfectly matched (at least, based on sight and feel). Because of the grittier back of the OP2, I feel like it'd be the "safer" phone to hold, but the OP3 feels better (even with the case).
One thing that really sets the OP3 apart from the OP2 is that the camera protrudes out of the back; it's not (kind of) flush like it is on the OP2. To some, this might not be ideal, but it's done in the attempt to provide improved image quality. It's one sacrifice I'd personally make, because poor image quality from a camera drives me bonkers.
Another change – and this is noticeable – is that OnePlus moved the headphone jack from the top to the bottom. This is going to be a love-it-or-hate-it change, but with such a design, the power/data cable and your headphones would plug into the same side; it's simply more elegant. I'd still prefer it at the top, but this is one of those decisions that simply can't please everyone.
OnePlus even moved the position of the volume rocker; that's now located on the left side. This is another change I don't quite get, but lefties might appreciate it. Also on the left side of the OnePlus 3 is a notification button; while on the right side, there's the power, and SIM holder.
The SIM holder on this phone is well-secured, requiring a pin to eject (OnePlus provides a tool in the box). Once your SIM card(s) are in place, you can slide the tray back in and they'll remain safe until you decide to pop them out again.
OnePlus was super generous when it came to our sample, as it shot along all five of its cases for testing. All of them have the same smooth feel, but each one has a very different aesthetic. Most people I've talked to have said that the carbon fiber one is the most attractive, and I might have to agree as that's the one I've been using. The gray wood-grain case is also pretty eye-catching, though.
Another accessory OnePlus sent along was its Dash car charger, which retails for $30. Like the Dash wall charger included with the phone, this car charger is designed to replenish the OP3's battery-life quicker than any other out there.
On the topic of charging, OnePlus claims that its Dash charger can push a phone from 0% to 60% in 30 minutes flat, and I'll spoil something right now: it's true. That's one of the reasons a ~10% loss on the battery capacity isn't going to matter that much, because even a short fifteen minute charge will add substantial life to the phone.
Charging the OnePlus 3 is going to spoil you if you don't have another that charges just as fast. For reference: the OnePlus 2 charged from 0% to 35% in 30 minutes, and 0% to 18% in 15 minutes.
A Tour Of The Software, Testing & Final Thoughts
One of the things OnePlus prides itself on is offering its customers as clean an OS as possible. While it does customize Android a wee bit, the effect is so modest that most who refuse to purchase an Android device that's not as "clean" as possible should still be fine with it.
As with previous models, the OnePlus 3's main differentiator over truly stock Android is that it has what's called a "Shelf", a screen that can be accessed when the homescreen is swiped to the left that tracks most-used apps, calendar events, and the weather.
Aside from the Shelf, I couldn't spot a single app installed on the OnePlus 3 that wouldn't be expected to be included with Android. Don't even want the Shelf? Hold down on a free area on the desktop, hit Customize, and voilà, that's taken care of in a few seconds.
At first boot, Android itself will ask you to set up a Wi-Fi connection, log in, and so on and so forth, and following that, OnePlus' own setup will kick in. This setup consists of just two pages, which allows you to set up gestures or opt to use software buttons in lieu of the hardware ones.
In the image carousel above, there are a couple of things to note. First is the shot of the memory usage, which shows that the phone has 5.6GB to use (and at that particular point in time, I sat around 1.4GB used). You can also see the default lock screen, which shows "Dash Charging" whenever you use the official Dash charger – just as a bit of added confidence that it is in fact charging as fast as possible.
Since I forgot to screenshot the default desktop, I included my customized one. By default, the OnePlus 3 doesn't use the clock widget, but the layout otherwise is exact. Two icons will situate themselves at the bottom, surrounding the app dock button, while four more will be placed right above them.
There is not much else to say here. If you know what Android looks like, then this is it – all without bloat, both aesthetically and app-wise.
Testing The OnePlus 3
Since I still had the OnePlus 2 on hand, I decided to retest it fresh to compare to the latest and greatest OnePlus offers. To reiterate, the OnePlus 3 packs in a faster SoC, which includes a faster CPU and GPU, and it even has more memory, although I feel confident in the fact that that won't matter much (or at all) with these benchmarks.
OnePlus 3
OnePlus 2
PCMark Work Performance
6602
4853
PCMark Storage Performance
3603
4198
Geekbench 3 Single-core
2357
1117
Geekbench 3 Multi-core
5503
4905
AnTuTu Benchmark 6.1.4
141317
81470
MobileXPRT Overall
544
312
3DMark Sling Shot ES 3.1
2550
1564
GFXBench Car Chase
18 FPS
10 FPS
GFXBench Manhattan 3.1
30 FPS
15 FPS
As expected, the OnePlus 3 dominates across (most) of the benchmarks here. Wait a minute – "most"? That's right. Interestingly, the OnePlus 2 actually scored higher than its successor in PCMark's Storage test. Not by a great deal, mind you, but it's noteworthy nonetheless.
In all other benchmarks, the OP3 rules the roost, with its faster CPU and faster GPU shining through in these numbers. In the graphics tests, the OP3's Adreno 530 proved 80% faster in GFXBench's Car Chase test, and 63% faster in 3DMark.
The OP3 excels in the CPU-bound tests, too, completely obliterating the OP2 in MobileXPRT, with a performance delta unlike any I've ever seen in that particular test.
As for wireless performance, I didn't think to test with LTE (I don't have a 4-bar signal from home), but I did test Wi-Fi. In the image carousel above is this image. That's right: the OnePlus 3 hit a ridiculous 250Mbps over Wi-Fi, something totally unexpected for phones anything lower than "top-end". Through ES File Explorer, I was able to transfer files at 10MB/s, which again is much faster than any other phone of this price-range (and lower) I've ever used.
Performance isn't all that matters: battery-life does, as well. As I mentioned a couple of times before, the OnePlus 3 includes a "Dash" charger, which is claimed to charge the phone so fast, that battery-life simply shouldn't ever be an issue. The promise is that the phone can go from 0% to 60% in 30 minutes flat; in our tests, it managed to exceed that to hit 62%.
OnePlus 3
OnePlus 2
15 Minutes
30%
18%
30 Minutes
62%
35%
60 Minutes
97%
60%
To Full Charge
1h 10m
2h 15m
In one hour flat, the OnePlus 3 charged from 0% to 97%, which to me, is downright incredible. Since I received this phone to test, I've used it day in and day out, and sometimes, before leaving the house, I'll plug it in for just 15 minutes since it will add a substantial amount of battery-life while I go get ready.
The reason the last 3% of the charge took an additional 10 minutes is simply due to the design: there's no point in the charger providing extra voltage to the phone straight through to the end, so the last bit charges far more modestly.
Final Thoughts
Having used the OnePlus 2 for about eight months prior to receiving the OnePlus 3, I noticed some immediate differences when moving over to the OP3 – most of them good. I still don't like the fact that the headphone jack has been moved to the bottom, but from a design standpoint, that's the only complaint I can muster (and it's one that could easily be argued).
The feel of the OP3 is a lot different from the OP2. The OP2 feels like a tank in comparison, even though it weighs just 18 grams more. This is thanks to its design, which feels a bit "boxier". In that way, that phone actually feels more durable, but that "problem" with the OP3 is lessened once a case is slapped on.
One thing to be aware of is that because of the OP3's thin bezel at the bottom, those who grip the phone while gaming or watching videos might experience an issue where the palm brushes across the Back button and causes an unexpected action. This problem isn't exclusive to the OP3 but can happen on any phone with a thin bezel. If you experience this issue too much, you could choose to use software navigation buttons instead, which would disable the bottom capacitive ones.
Overall, I consider the OnePlus 3 to be a superior phone over the OP2. What has really improved in this generation is the thumb print reader. As for its speed, I can't think of another word but "instant"; the moment I touch the pad, the phone unlocks. The OnePlus 2 sold me on finger print readers, and now the OP3 has sold me on super-fast ones.
And then there's the charging. Hot damn does the OnePlus 3 charge fast. From 0% to 60% in 30 minutes, and to 97% in an hour. Even if you're in a situation where you have very little time, you should be able to get a few more hours' charge by plugging it in while you do, well, virtually anything (showering, making food, running from wild boars – the usual stuff).
If you regularly run out of battery but are in your car often throughout the day, I'd highly encourage picking up the OnePlus Dash car charger – it's a $30 product that could return its value very quickly. A mere 10 minute drive would add at least 20% to the phone's battery.
So what about pictures? Over the course of my time with the phone, I took a number of shots, both inside and out (but mostly out). Since the OP2, OnePlus has updated its camera software to be a little more intuitive to use, so you can choose between flash and HDR settings very easily. As for the quality, it's quite good:
Outdoors and in the daylight, this phone is going to have no problem taking great-looking shots. Inside, if the lighting is not ideal, you might have to fiddle a wee bit, but that's to be expected. Also, I should note that while these shots were captured in a 4:3 aspect ratio, the phone can do 16:9 just fine (I didn't clue in until after all of these shots were taken).
One thing that has noticeably improved with the OP3 is video recording; the quality is better, and its autofocus isn't quite as aggressive with moving scenes. For one test, I recorded at 4K while moving 360° in 16 seconds, and at any point during the video, it could be paused and the image quality look almost as good as a photo. For videos where you are standing still, you should be very happy with the quality.
One last thing I'd like to touch on is the screen, which can go from dark to freaking bright. While outside taking the some of the shots seen above, I was very impressed by how well I could actually see the screen. This is another major improvement over the OnePlus 2.
Overall, it should be clear by now that I quite like the OnePlus 3, and consider it to be superior to the OnePlus 2 – which I had already had great opinions of. It's a no-brainer to me: if you have $399 to spend on a phone right now, and don't mind the caveats mentioned below, this is the phone to get.
Pros
Great design and build quality.
Fast performer, for both CPU- and GPU-focused tasks.
Super-fast finger print reader.
Rear camera takes good images, as well as video. Though I wish it supported 1080p/60 recording.
Outside and in the sun, the OP3's display at full brightness can be easily viewed.
Dual-SIM capabilities (unrestricted access for both).
Good value. For $399, this phone packs a serious punch.
About as close to stock Android as you can get.
Cons
Headphone jack is on the bottom (this might not matter to everyone.)
No microSD slot.
Non-removable battery.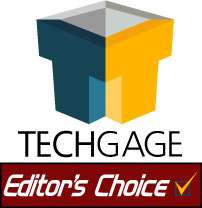 OnePlus 3 Smartphone
Copyright © 2005-2021 Techgage Networks Inc. - All Rights Reserved.