A Review Of The Braven BRV-XXL – An Immense Speaker With Portability To Match

Date: May 26, 2016
Author(s): Tom Roeder

We live in a portable world. Everything must be portable. Too often, compromises are made to accommodate this demand of portability, and that holds true especially when it comes to audio. Braven is no stranger to portable audio, but its latest creation might be its best yet. Can you really have it all in a portable speaker? Let's find out if the Braven BRV-XXL can allow us to answer "yes".
---
A Review Of The Braven BRV-XXL – An Immense Speaker With Portability To Match
Some people are simply addicted to their music – I am one of these people.  I like having my music with me wherever I go.  Being a homeowner, and constant tinkerer, I do spend a fair amount of time out in my garage, out on the patio, working in the yard, etc.  Smartphones all have speakers, and some have a decent offering for such a small device, but they all still fall short of being actually enjoyed unless you are right on top of them.
Whenever I am working in the garage or in the yard, I generally always have a Bluetooth speaker with me.  Up until now, I have used a small Panasonic SC-NT10; it is about the size of a cereal bowl, sounds decent, and the battery lasts for a couple of hours.  It doesn't get all that loud, but it works.  I have always wanted more, however.  I want something that combines the power of a very decent home stereo, but has the portability and convenience that Bluetooth enables, and with some serious runtime. Well, I might just have that now.  Enter:  the Braven BRV-XXL Bluetooth speaker.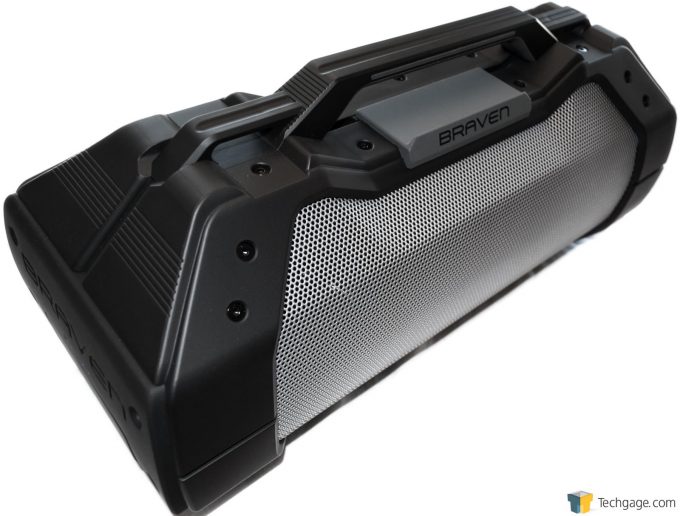 Braven's specs indicate that this is not your average Bluetooth speaker, but rather a formidable presence in the realm of portable audio offerings on the market today. The Braven BRV-XXL boasts an incredible 15,600 mAh internal battery, which the company claims can offer 14 hours of playback.  The speaker is also rated as weatherproof, being IPX5 certified, making it impervious to splashes and spills at your party or event.
The BRV-XXL offers three types of input connections to the unit.  Firstly, there's your standard Bluetooth, with a range of up to 33 feet and pairing the device with ease thanks to the secure simple pairing (SSP) made possible with v2.1 + EDR Bluetooth.  You also may connect your music player to the speaker using a 3.5mm Stereo input; there is also a 3.5mm Microphone input.  There is even a USB output port that delivers 1A of power to charge up your devices.  The audio is delivered to your ears with 4 HD drivers, and one subwoofer.
A Tour of the Braven BRV-XXL
This speaker has a simple, elegant, yet rugged design.  The unit has two main colors: flat black body with a silver grill.  There is a small rubber flap on the top just under the carry handle that is a dark grey; this is where you can rest your phone/music player device if you choose.
The body is a silicone type rubber on the ends and textured plastic elsewhere with industrial-looking Allen screws holding it together.  On the left side of the body you can find the battery indicator, giving you blue LEDs which show the level of the on-board battery's charge.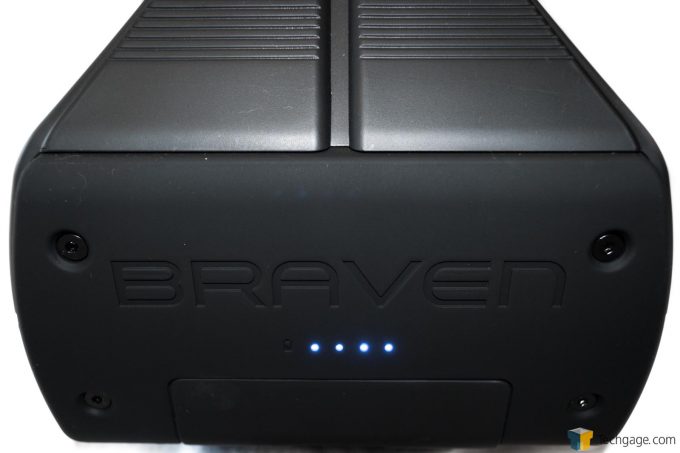 Just below that you find the flap protecting the inputs, the USB port, and the charging port. The charging port is a standard fare barrel-type connector, and at the far right-hand side of this cavity, you find a reset button – in case you need to set the internal memory of the unit back to factory settings and reset all the Bluetooth connections.
Opposite that, you find the controls.  These are simple enough, featuring a power button, up/down button, and a pairing button.  The indicators are blue LED, as well, and show you the levels of the bass, treble, and volume.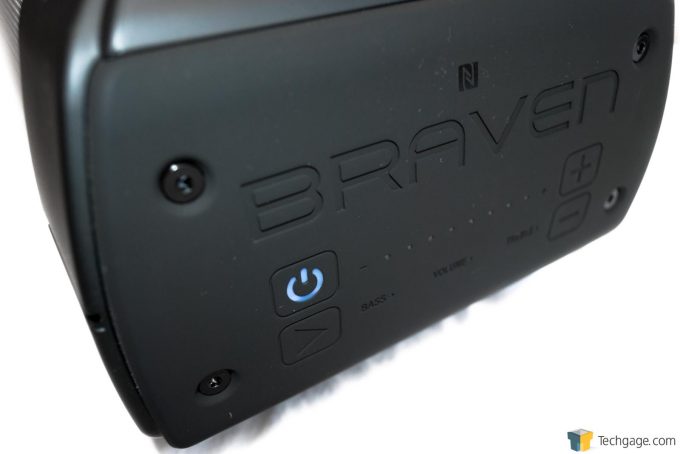 The backside of the speaker is just as non-descript as the front; in fact, it can be easy to forget which side is the front of the speaker. In a way, this is not relevant, as the speaker delivers sound on both sides.  The speaker includes with a shoulder strap in case your arm gets tired from carrying the speaker, which weighs in at a hefty 18lbs (8.2Kg), and is measured at 20.25" x 8.25" x 9.5".
Also included with the Braven BRV-XXL is a standard brick-style charger, with just about every single socket type you could ask for.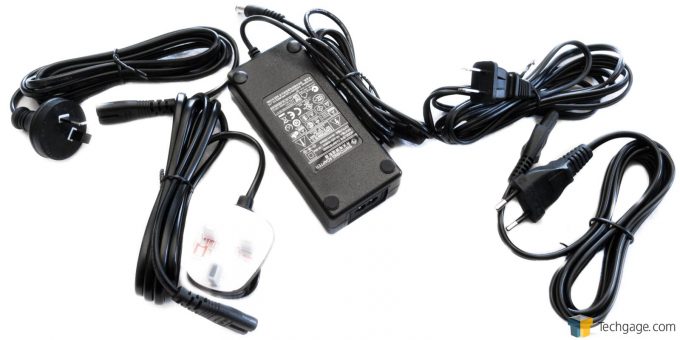 Testing and Final Thoughts
To start, we need to get the obvious out of the way… the BRV-XXL is not a small, or lightweight speaker.  If you plan on taking this hiking deep into the woods, I hope you live deep in the woods and don't have far to go.  As I mentioned before, this speaker weighs in at a hefty 18 pounds, and is not on the small side, either (20.25" x 8.25" x 9.5").  It does come with a shoulder strap, and that makes toting this speaker around a much easier task.  Having said all of that, the size and weight are something that you simply can't side step when you consider the amount of battery that this thing has on board, not to mention the TREMENDOUS sound.
Braven has named this speaker the BRV-XXL, and the XXL is suiting on every level; not just with the size and weight, but with the sound, as well.  I was seriously, seriously impressed with how loud this speaker could go.  I had to move it in my house to take it full volume, and make sure all of my windows were closed, as to not annoy my neighbors (which I am sure I did anyway).  The volume is easily controlled either from your device, or from the very nice feeling silicone tactile buttons on the right hand side of the speaker.
Volume isn't everything, of course.   Audio fidelity is very subjective, and what some consider acceptable quality, others do not.  Without delving into my complete background in audio, I will just give you the concise and relevant story: I know the difference between good and bad.  This speaker sounds absolutely fantastic.  I found that whether I was listening to Blues, Metal, Rap, or even Classical, this speaker delivered.  The audio level was not relevant; it sounded beautiful at every level.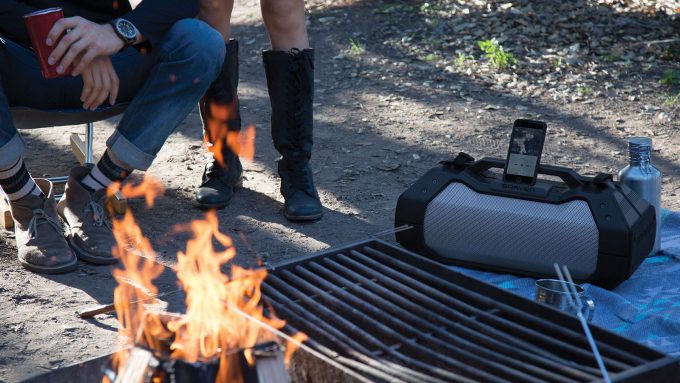 The BRV-XXL has bass and treble adjustments, and like anything else, you can make this sound poor if you crank the levels all the way up or down.  I found that the levels were at a resolution that allowed fine-tuning, even though there is no proper equalizer, just basic bass and treble adjustments.
The Braven BRV-XXL comes with a onboard subwoofer, and you can certainly tell.  The bass is tight and accurate, very clean sounding.  If you are really into Rap or Dubstep, for example, that has a lot of big bass, you might be somewhat let down. However, you have to remember that what it is you are listening to, is a portable speaker, after all.
The onboard subwoofer has a great frequency response, and for the vast majority of music out there, offers a fantastic low frequency balance to your music.  If you only listen to music that is bass-centric, you may want to look at something else, but I honestly don't know what you could use, as the bass portion of the listening spectrum is what needs the most real estate for the audio drivers (and not to mention power).  It takes a lot of power to make big bass, and due to the limitations of portability, big bass is simply not in the cards.  I can't stress enough, though, that for the vast majority of music, the bass produced by the BRV-XXL is plentiful, and beautiful; very pleasant even to the most discriminating ear.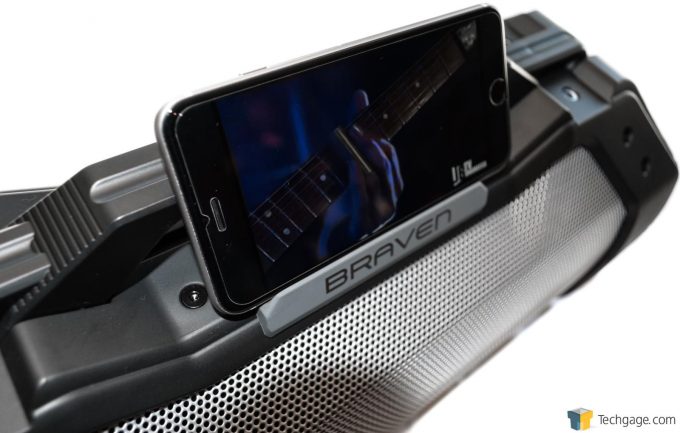 I found that the rest of the audio spectrum produced by this speaker was equally pleasing. The mids and highs are full sounding, not tinny or harsh whatsoever. There is a great balance with this speaker, no perceivable portion of the band that I could tell was reduced, clipped, or lacking at all.  Very crisp, clean, full, and accurate for every music genre that I tested, which was just about all of them.
As I stated earlier, the BRV-XXL comes with an incredible 15,600 mAh battery.  If you need a comparison, most large format smart phones out there, like my iPhone 6s Plus, include a 2,915 mAh battery.  I used this speaker quite a bit, and I found that at normal listening levels outside (not cranked all the time), I was able to easily get 12-14 hours of runtime out of the unit.  I did use the onboard charger for my phone, and it charges at a good pace, thanks to the 1A of current it provides.  Naturally, the more devices you charge with this device, the less runtime you will get on that charge cycle.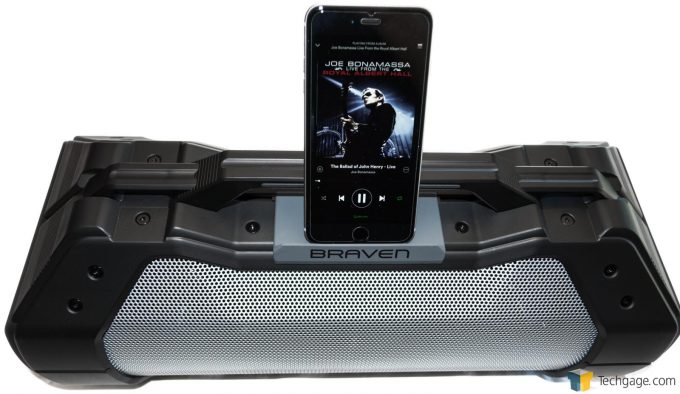 When considering a portable speaker, you really need to evaluate your needs.  If you are wanting a speaker to take in the washroom with you to listen to while in the shower, or getting ready for work moving room to room, this speaker will be severe overkill, and you will hate lugging it around from room to room.  If you spend a lot of time outdoors, but don't need a ton of volume for parties and whatnot, yet you want long runtime, this speaker will serve you well.
However, if you spend a lot of time outdoors, and you do need a ton of volume for parties and whatnot, and you do need long runtime, this speaker will deliver in spades.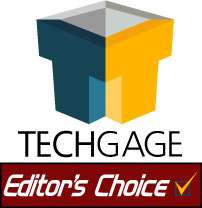 Braven BRV-XXL Outdoor Speaker
Pros
Massive sound with an impressive range and no compromise on audio fidelity at any volume level.
Immense power onboard, plus device charging, thanks to its mammoth 15,600 mAh battery.
Very portable; includes comfortable carry handle and strap.
Cons
Just remember what you are buying: it is a little big, it is a little heavy.
Copyright © 2005-2020 Techgage Networks Inc. - All Rights Reserved.