A Wireless Router That Means Business: Synology RT1900ac Review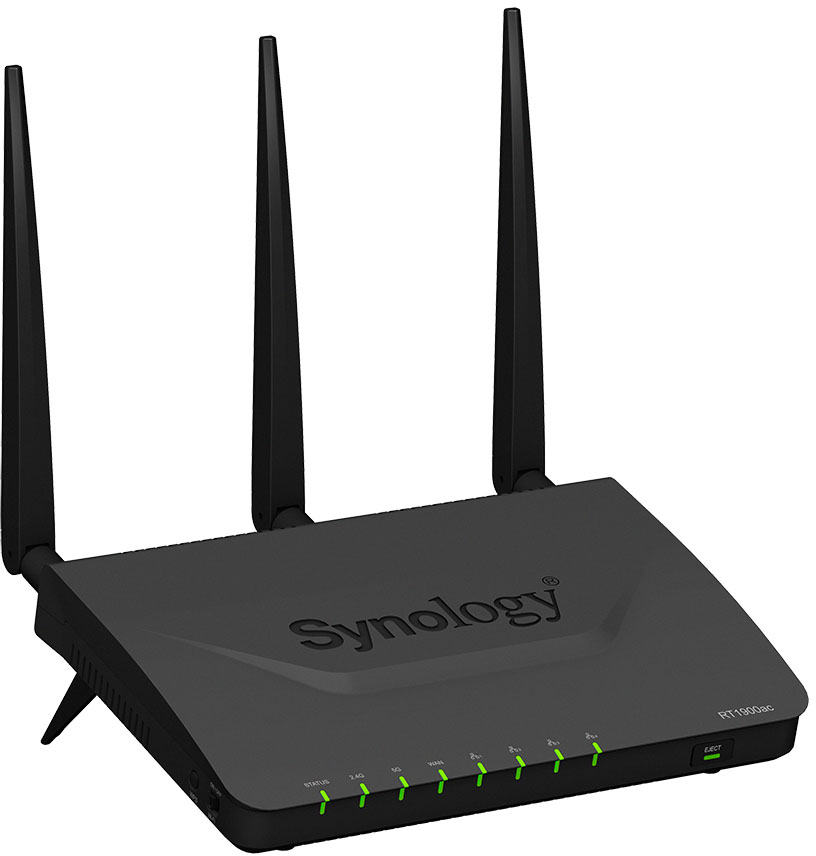 Date: February 19, 2016
Author(s): Greg King

Having designed some of the highest-quality NASes we've come across in recent years, Synology is no stranger to the networked storage market. It's interesting, then, that with as many NAS appliances that the Taiwanese company has released, it's only just now released a router. As we find out, it's quite good, too – ideal for the home and business user. In need of a router? You'll want to check this one out.
---
Introduction
We've taken a look at many different devices over the years, from many different manufacturers.  While we all have our areas of expertise, we've shared in the responsibilities of what to cover and how to best cover it.  One company that we continue to look at is Synology.  Known the industry over for its robust and stable NAS offerings, the Taiwan-based company grabbed our attention last summer with the announcement of its wireless router, the RT1900ac.  This is a natural progression of brand development if you think about it,expanding out from storage attached to your network to the device that controls the network.
The announcement of a router from Synology was, and is, exciting news.  With wireless technology continuing to outpace that of connected devices in the home, the market has been able to bear products from a myriad of companies.  What excites us most is the software running on the RT1900ac.
DiskStation Manager (DSM) has been the crown jewel of Synology's offerings for years.  Being, in our opinion, the easiest and most intuitive to navigate for novices and advanced users alike, DSM has been the gold standard for quite a few years.  This isn't to say that the hardware has been neglected.  The aesthetics of its offerings have been top-tier for as long as we've been covering the company at Techgage.  What we mean is that as good as the hardware has been, the software that runs on top of it has been the true Synology experience that has been sold to consumers for years.
With all that it's learned, Synology has branched out into an entirely new yet related market: home networking.  With it comes Synology Router Manager (SRM).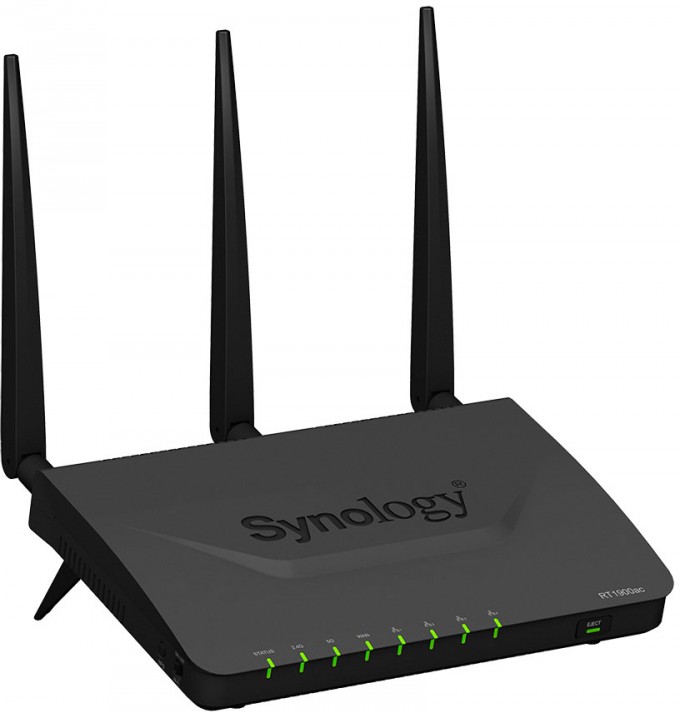 The RT1900ac, as the name implies, is a wireless AC router providing combined speeds up to 1900 Mbps.  For the uninformed (read: an alarming amount), this sounds like a ridiculously fast offering – and for home networks it sort of is – but we must always keep in mind that the advertised speeds are theoretical.  Oh, and there is some marketing addition that takes place too. Because, numbers.
See, wireless AC routers are almost entirely dual band.  I can't actually think of, or find any, that don't at least offer a simultaneous 5 GHz and 2.4 GHz radio, so any advertised speed is going to be the sum of at least two numbers.  There are some that are tri-band, but that's for another review.  The 2.4 GHz band offers either 450 or 600 Mbps speeds.  The 5 GHz AC band offers 1300 Mbps.  You add those two numbers together (dependent upon the wireless n radio used) and you get either 1750 or 1900 Mbps.  You can guess where the RT1900ac gets its name.  It's dumb, but it's marketing and it's how every company brands their routers.  We can't fault Synology or any of the other manufacturers individually for how we ended up with this naming convention.
Anyone looking for a new router for their home or small office needs to understand that they will never see speeds of 1900 Mbps to and from one single device.  You won't ever actually see speeds of 1300 Mbps for that matter.  As long as you understand this going into any router evaluation for yourself, you'll be all the better prepared to make a decision on what to buy.
Out of the box, the RT1900ac feels like a quality device.  The physical demands of a router are not great, but there is little-to-no flex in the router and the unassuming styling of it should allow it to fit in with any home décor, regardless of where it's positioned.  With three external, MIMO omni-directional high-gain dipole (2.4GHz / 5 GHz) antennas, the RT1900ac looks like almost any other dual-band router with external antennas.  My personal router is, and has been, the ASUS RT-AC66U.  The RT1900ac resembles that one quite a bit.  All this proves is that there are only so many ways you can position three antennas on a small black box.  Packaged with the RT1900ac is a power cable of almost laughable length, an Ethernet cable, a stand for positioning the router vertically, and an adapter for North American, two-prong, power outlets.
The router itself has the buttons, lights and switches that we have come to expect from a device of this nature.  With a button for WPS activation, a switch for toggling wireless broadcasting on or off, a USB 3.0 port for attaching storage, and an ejection button to safely remove said storage, the RT1900ac is rather pedestrian in physical offerings.  One curiosity however is the addition of an SD card slot.  Synology states that this allows for quick sharing of pictures taken on a camera with anyone who has access to the router.  In theory this seems like a nice addition that might help set Synology's first offering apart from the competition, but in practice, I will be interested to see how many people actually use this.  I do like the idea of using the router as a syslog server, storing the logs on extremely cheap SD storage.
Synology RT1900ac Router
CPU Model
Dual core 1.0 GHz Broadcom CPU
Memory
256 MB DDR3
Antenna Type
3×3 MIMO Omni-directional high-gain dipole (2.4GHz / 5GHz)
Antenna Gain
2.4GHz 3.5dBi, 5GHz 4.6dBi
LAN Port
Gigabit (RJ-45) x 4
WAN Port
Gigabit (RJ-45) x 1
External Ports
USB 3.0 x 1 (5V, 1.5A power output
SD Card Reader x 1 (SDXC UHS-I, SDHC)
Button and Switch
WPS, USB/SD eject, Power, Reset, Wi-Fi On/Off
RT1900ac Wireless Capabilities
IEEE 802.11ac 1900 Category
IEEE 802.11 a/b/g/n/ac
Simultanious dual-band Wi-Fi
2.4 GHz: 600 Mbps (256-QAM supported)
5 GHz: 1300 Mbps
Beamforming
Yes
Schedulable Wi-Fi
Yes
WPS 2.0
Yes
L3G/4G Mobile Dongle Support
Yes
The RT1900ac, on paper, is missing nothing we'd hope to see in a quality router. The hardware is just one aspect of a router, though, so let's dive into a look at the software and performance.
Setup & Testing
Assuming the performance of the RT1900ac will keep pace with that of its competitors, the most revolutionary aspect of the router is clearly the SRM operating system that drives the user experience.  When we first connect the RT1900ac and power it on, we must go through an initial setup procedure.
All will be happy to know that this is a simple process and can be done in under a minute or two.  By setting up a username, password, SSID and wireless password, you can have your RT1900ac up and running in no time.  The setup procedure also provides the opportunity to setup the router in wireless router, wireless AP, or wireless client modes.  That's it.
With the RT1900ac configured with an administrative password and SSID, we can log into the router and begin the actual configuration.  This is where the user interface experience that Synology has gained over the past handful of years becomes clear.  The Taiwanese company threw its entire developmental might behind the development of the UI and for anyone with the smallest amount of experience with its superb NAS OS, DSM, the similarities leave nothing to question.
Organized in the same fashion as its DSM, Synology has made the home screen of the RT1900ac as desktop-like as possible.  With the ability to add and remove icons from the home screen, there's even a semblance of customization.  Like with DSM, there are applications that can be installed to the RT1900ac.  While currently there are only five, we expect that number to increase as the product matures.  These are obviously geared towards functionality that a router might be expected to provide… and a few that are not.  The three obvious packages that are provided are DNS, VPN, and Radius servers, while the other two deal with how physically-connected media is shared across the network.  All of these packages are available for devices running DSM and a few make perfect sense to have on the router as opposed to a NAS.
Beyond configuration, there is a good amount of diagnostic and sysadmin-focused functionalities as well.  If desired, the RT1900ac can be setup as a syslog server (in my opinion this is best left to a NAS).  For parents of children who are old enough to use a computer, detailed parental controls can be enforced through the RT1900ac's interface.  As with any device on the edge of your home network, security functionality is baked into SRM as well.  With the ability to set detailed firewall rules, open or block certain ports, and even create your own internal security certificate, the RT1900ac likely has more functionality than most users could possibly use.
In our time with the RT1900ac, there was one released update.  That update, from beginning of the download to logging back in, took a little over 3 minutes.  While downtime for any upgrade should be planned to be the least impactful, it's good to know that the process of updating to the latest version of SRM won't take too terribly long.  If Synology treats SRM the same way as DSM, updates should be regular and only released with necessary.
A wireless router facilitates one primary function in the home: mobile access to the Internet and other devices on your home network.  With all mobile phones having wireless capabilities, one area that Synology and other router vendors have been quick to embrace is mobile apps.  For example, I have an iPhone;  Synology has an entire suite of apps that I can run on my phone to interact with its NAS boxes.  The RT1900ac is no different.
Introduced alongside the company's new router is the DS Router app.  In it, configuration and management of the RT1900ac is possible.  One of the more useful abilities made possible through the DS Router app is the quick opening and closing of ports that have been forwarded.  For instance, I have a handful of ports opened on my network for remote access while I'm traveling for work; one being RDP. If, for whatever reason, I need to quickly close port 3389 to prevent remote access to my home network, it's as simple as moving a slider from on to off.  Remote management of the RT1900ac is something that Synology has done right with its iOS, Windows and Android mobile apps.
Overall, the software solution is top-notch, both on the router itself, and on mobile.
Performance Testing
Testing the RT1900ac is a fairly straightforward process.   We look at four separate metrics: LAN speed, 2.4 GHz speed, 5 GHz speed, and attached storage speed.  For the attached storage tests, we tested both a USB 3.0 connected SSD drive and an SDXC card.  The firmware that the RT1900ac is running throughout testing is SRM 1.0.1-6007 Update 2.
Testing hardware consists of:
Late 2013 MacBook Pro
3 GHz Intel Core i7
16GB 1600 MHz DDR3
NVIDIA GeForce GT 750M
AirPort Extreme Dual-Band Wireless Adapter
Desktop
ASUS X99-Deluxe
Intel 5960X i7
16 GB Crucial 1066 MHz DDR4
Intel PRO/1000 PT Dual Port NIC
SSD
ADATA DashDrive Elite HE720 128GB – USB 3.0
SDXC
G.SKILL Micro SDXC Class 10 64GB
To test the wireless speeds, we run file transfers both upstream and down between the desktop and notebook.  Each test is run three times, with the average speed recorded.  We do this from three different locations in the house.  The first location is in the same room as the RT1900ac.  The second is on the same floor, approximately 30 feet away.  The third spot is on the opposite end of the house, on the bottom floor and approximately 60 feet away.
For LAN speed test, we run those same file copies between our test desktop and a Synology NAS on the same network, both connected directly to the RT 1900ac.
Finally, for the attached storage tests, the same copies are done, but from the desktop to the storage connected to the router itself.
Upload
Download
Wireless 2.4GHz
– 5 Feet
83 Mbps
115 Mbps
– 30 Feet
77 Mbps
92 Mbps
– 60 Feet
49 Mbps
74 Mbps
Wireless 5GHz
– 5 Feet
153 Mbps
242 Mbps
– 30 Feet
128 Mbps
219 Mbps
– 60 Feet
81 Mbps
102 Mbps
Wired
867 Mbps
859 Mbps
USB 3.0
291 Mbps
350 Mbps
SD
65 Mbps
150 Mbps
For the best wireless performance, 5GHz is undoubtedly the mode you want to connect to the router at – the performance is almost double in some cases.
Final Thoughts
I'm not sure if this will surprise anyone, but we're impressed with the RT1900ac.  We've been enamored with the company's NAS products for years and this router does nothing to change our opinion of Synology or its portfolio.  While there were a few criticisms, they are minor and most can be addressed with updates to the router's firmware.  This is nothing new and something that we should come to expect more and more.  Hardware is secondary to user experiences.  The true keystone for that is found in software and that's something that Synology has done well for a long while.
For a while, my own personal gold standard for home routers has been the products from ASUS.  I've run a RT-AC66U for a few years now without a single hiccup worth mentioning.  The hardware design has been good enough that the router won't stick out like a sore thumb, but its strength truly comes from the software that it runs.  Synology has pull alongside ASUS in the race for the industry's best UI.  Taking a solid look at the industry has allowed Synology to design an operating system for the RT1900ac that caters to power users and beginners alike.  Adding to that experience, Synology has baked into the RT1900ac's firmware its popular Package Center.  While only five apps are available at the time of publishing, more are assuredly expected.
One feature I would like to see in future releases in integration with Synology NAS boxes.  For users that have the RT1900ac and at least one Synology NAS, they've already invested in the Synology ecosystem.  Why not reward those users with a single pane of glass where they can administer all of their Synology devices.  Synology's own CMS (Central Management System) app would benefit from tying into SRM, or allowing SRM to tie into it.  As stated earlier, something like this would easily be doable in the future through an update.
Physically, the RT1900ac would fit into a lineup of today's popular dual-band routers.  This isn't a bad thing.  The router looks good in its unassuming design.  That being said, we do have a few issues.  For one, the power cable is comically short.  Unless an outlet or power strip (please use a surge protector) is close by, it will be difficult to get the thing powered on.  All other power cables I've dealt with have had at least another foot, often times more, than the cable included with the RT1900ac.  The only other physical complaint is about port placement.  Perhaps it's because I've just gotten used to setting my routers vertically, but I personally like the port orientation on the ASUS AC66U.  All that said, these are minor complaints, and in the grand scheme of this review, they're non-issues.
No matter how this is viewed, Synology has a winner on its hands.  Not only do we have a router from a company as well-regarded as Synology, but we have for the first time one that can be expanded upon through software.  If past is prologue, we will only see it become more and more refined as time progresses.  With an MSRP of $149.99 at time of publishing, the RT1900ac has been priced to aggressively compete with other AC1900 routers on the market, though it finds itself near the top of the pricing list when considering actual street price.  There is a significant price increase due to preliminary supplies being as short as they are.
Taking everything into consideration, like the excellent build quality along with a stunning first pass at a router UI, the RT1900ac is my top recommendation for anyone in the market for a dual band AC router.
Pros
SRM. It's revolutionary.
First of its kind expandable functionality through the Synology Package Center.
Quick setup, from unboxing to surfing.
Best user experience on the market.
Unique SD card slot for sharing or storage.
Competitively priced.
Cons
Limited availability at time of publication.
LAN and WAN port placements.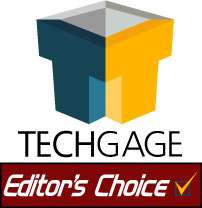 Synology RT1900ac Wireless Router
You can purchase the Synology RT1900ac from Amazon for between $150-$200, and also from Newegg for about the $200+ (this is likely to drop in time).
Copyright © 2005-2020 Techgage Networks Inc. - All Rights Reserved.