A Look at ASUS' Z77 Motherboard Features

Date: March 12, 2012
Author(s): Rob Williams

During a meeting with ASUS last week, we were given the run-down of what we can expect to see from the company's upcoming Z77-based motherboards – and wow, is there a lot to cover. We're taking a look at features for three particular models here, including the RoG Maximus V GENE, Sabertooth Z77 and P8Z77-V.
---
Introduction & Maximus V
At some point within the next two months, Intel is expected to launch a follow-up to last year's Sandy Bridge processors and motherboard chipsets. Due to NDAs, we're unable to talk about these two things in any real detail, except to admit they're en route. What we can talk about are what motherboard vendors are doing with their upcoming offerings.
I had the pleasure of being able to visit ASUS at its North American headquarters in Fremont, California, last week, where I was fed a generous helping of features that are coming to some of the company's upcoming motherboards designed for "3rd generation Intel Core processors".
More often than not, we'll wait until we publish actual reviews before we talk about features coming to certain motherboards, but because there was so much information presented to us during this meeting, I've decided to feature an article around all of what I can remember, and then reference this article in our upcoming reviews.
The main three motherboards we were shown during our meeting included the Republic of Gamers Maximus V GENE, Sabertooth Z77 and P8Z77-V, and those are what we will focus on here, starting with the Maximus.
Republic of Gamers Maximus V
ASUS' flagship motherboard series for gamers, overclockers and enthusiasts in general, is Republic of Gamers. This series has long been the spearhead for cutting-edge features that in time, trickle down into the "regular" models. During our meeting, we were told that while many people find RoG boards a wee bit expensive, it's these boards that make future innovation possible. So if you buy one, you can give yourself a pat on the back.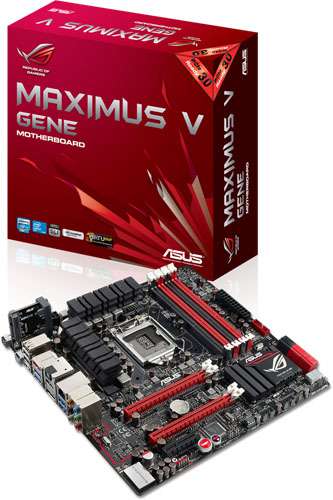 All RoG board launches in the past have seen an ATX product released first, but for the first time, it'll be the mATX GENE board that hits the channel first for this generation. The reason for this is that the ATX variant is requiring a bit more time for the sake of refining certain features – ASUS doesn't want to jump the gun and regret it later.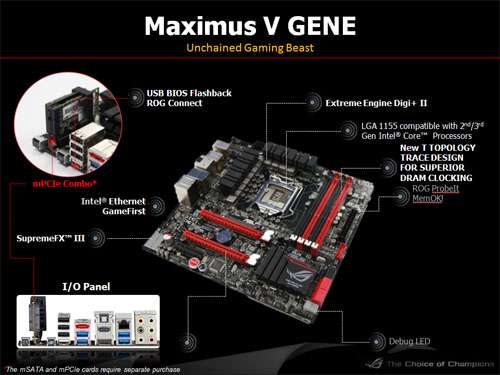 ASUS targets the GENE at those looking for a minimum size but maximum features. It's optimized for LAN gaming and despite its small size, "no compromise" overclocking. In the past couple of generations, we saw ASUS roll-out a "USB BIOS Flashback" feature that allows you to update your BIOS without a CPU installed, and that makes a return with RoG here. In addition, the company's preference for Intel LAN also makes itself seen – not only on RoG though, but across most of the company's next-generation line-up.
For all of ASUS' upcoming motherboards featuring Intel's next chipset, the company has implemented a new trace design around the board's DIMM slots, to both improve performance and overclocking. Adjusting the traces might sound simple enough, but according to ASUS it was quite a challenge, but one that the company is glad to have succeeded in. It's not quite clear if we'll see actual bandwidth improvements because of this improved trace design, but we were told that it's likely that there will in fact be a minor improvement.
Also found here is an updated SupremeFX III audio chip, which we were told is the best on-board solution to date. ASUS refuses to call these custom solutions "Xonar", as nothing compares to discrete audio. To help meld the two divides, however, ASUS separates its audio solution on RoG boards to isolate it from the rest of the board, aiming to deliver the best performance and quality possible. If you hold an upcoming RoG board to the light, you can see an outline around the "card".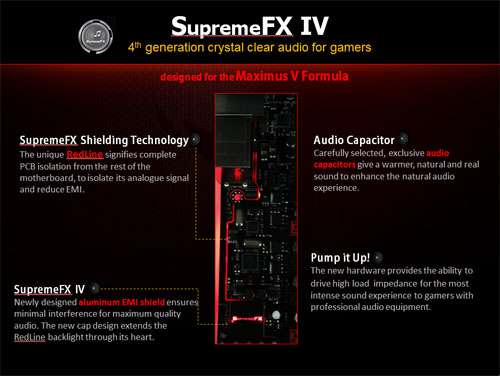 A first for RoG is the inclusion of an mPCIe Combo card, which by default is not installed. With this card, you will be able to install an mSATA SSD or some other mPCIe device, such as a wireless or Bluetooth card. Have no need for either? The combo card can be kept in the box.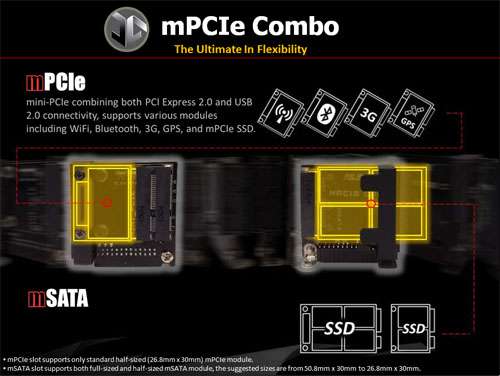 In 2007, ASUS unveiled a water-cooling solution that was designed to keep the motherboard chipset and PWM area as cool as possible. The solution was robust, and some might have even considered it to be too much, in terms of size. For 2012, this solution has been reinvented on the ATX board, while a similar non-water cooling version will be available on the mATX variant.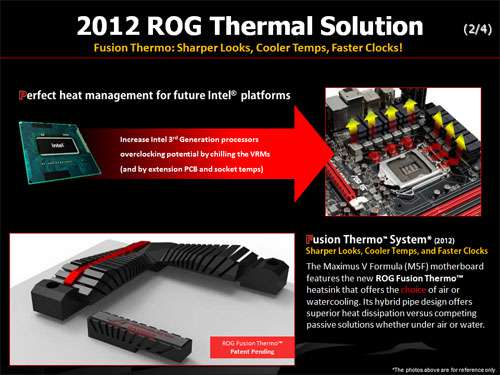 The heatsink is long, and built with a 90 degree angle to completely cover the motherboard's PWM area. An in-tube is meant to be installed at the bottom, while the out-tube is installed at the top (though it might not truly matter). If you don't have water, the heatsink alone will still improve temperatures better than before. With water however, you can expect a drop in temperatures of about 20°C at various points around the PWM.
There's more to be seen from RoG next-generation Intel Chipset boards once launched, but the features mentioned above are the ones that stand out to me the most.
Sabertooth Z77, P8Z77-V & Final Thoughts
Since ASUS' launch of Sabertooth, it's been a series that I've held a great interest in – and I'm confident that the next time I upgrade my personal PC, it'll be equipped with a Sabertooth board. I am not big on overclocking, so ASUS' major attention to stability and high-quality components is really what intrigues me. That, and its five-year warranty, of course.
ASUS has a dedicated team working on Sabertooth, and for the next iteration, there's a lot to note. First off, the TUF (The Ultimate Force) Thermal Armor has made a return and is better than ever. While you're free to remove it, keeping it installed guarantees lower temperatures across the entire surface of the board.
Other features brought to the Sabertooth Z77 include Dust Defender, which refers to accessories that will be included to allow you to block off certain areas of the motherboard where dust can become a problem, such as DIMM slots, USB connectors or PCIe slots. You can see examples of what I am referring to below: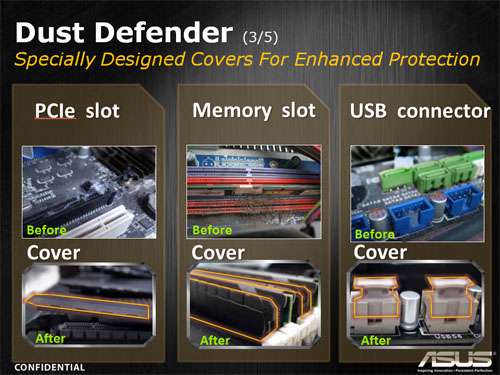 When a PC is shut down, so are its fans. But when you think about it, heat doesn't just disappear because the PC is turned off, but rather lingers around for a while until it finally escapes out the back and cools down. Since both desktop and workstation platforms can heat up quite a bit inside, ASUS has added a feature with the Sabertooth Z77 that allows the fans to continue running for a few minutes after the PC is shut down. This is a feature I hope to see implemented in other ASUS motherboards in the near-future.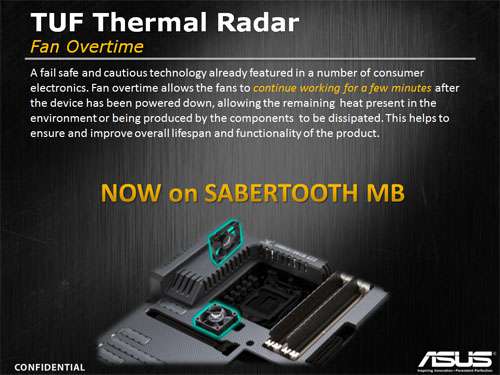 Continuing the theme of effective cooling, ASUS has also added a total of six "convection holes" in the back of the motherboard near certain hot-spots, and while most (including me) wouldn't immediately think that something so simple could make a notable difference, it does. According to ASUS' tests, having these holes can decrease temperatures around the VCore area up to at least 8°C (we were given no baseline, but without the Thermal Armor, the VCore area temp is 8°C higher).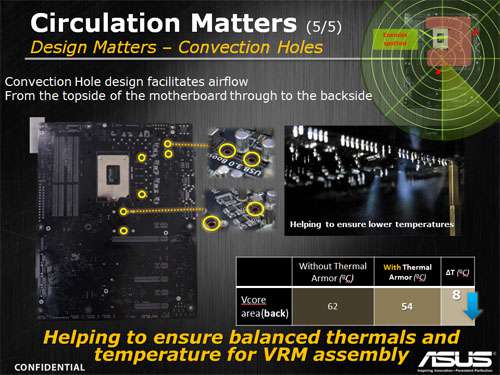 Also added is a small fan that can be installed near the center of the board, close to the motherboard's chipset. Thanks to the Thermal Armor, the air from this fan will make its way to the chipset and then to the SATA 6Gbit/s controller. Another fan can be installed towards the top of the board which will help improve airflow around the PWM area – usually the hottest on any motherboard.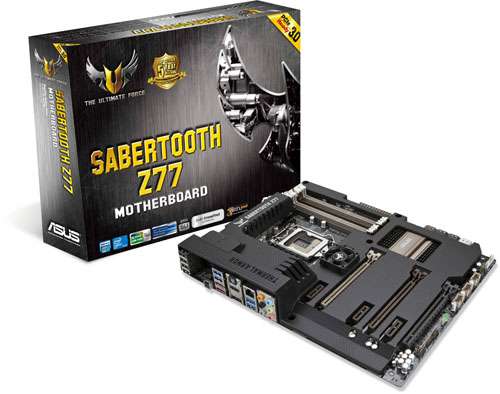 I'd be remiss if I didn't mention that the Sabertooth Z77 has multiple temperature sensors located around the board as part of the overall TUF design. In conjunction with included software, you can locate problem areas if they exist and create profiles to maximize cooling.
RoG might offer some of the features that ASUS is most proud of, but the Sabertooth Z77 motherboard has won me over for its continuing emphasis on stability, long-life and cooling. If I were in the market for an upgrade once Intel's 3rd generation processors launch, this board would be at the top of my consideration list.
P8Z77-V
ASUS' most popular motherboards fall into the "P" series, as it ranges from the affordable up to the high-end enthusiast. These boards aren't particularly built for major overclocking, though they are more than capable. They can suit many different needs, whether you want a solution that packs in as much as possible or a modest offering that will get you by – and then some.
It's impossible to talk about all of the features that are coming to ASUS' next "P" boards, and to be honest, I forget a lot of what I was told during our meeting last week because there's just so much new. Once I have my hands on a proper matrix of ASUS' available boards, the new features will be a lot easier to keep on top of.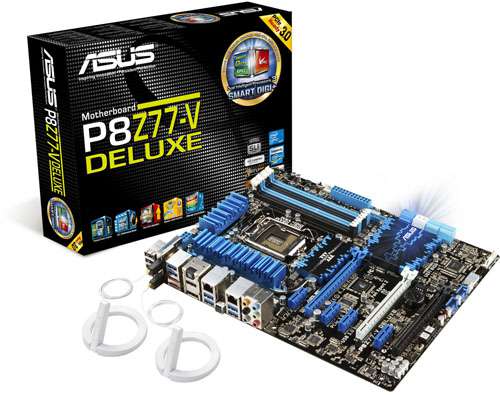 ASUS claims to be the first motherboard vendor that aimed to have Intel NICs on most of its line-up, and it's one addition I appreciate greatly. The tradition continues with the upcoming boards, where almost all of ASUS' entire line-up includes one. Only on the lowest-end models will there be a lack of an Intel NIC.
One of ASUS' most touted motherboard features has been DIGI+, now entering its eighth generation. This is a robust fully automated power control solution that attempts to keep the board running as stable, and cool, as possible. There are multiple DIGI+ controllers located around the board, this time around affecting the iGPU, GPU and DRAM. These controllers help deliver specific information inside of the EFI or included Windows software.
Wi-Fi has been a relative stature with ASUS' P series boards for a while, and with the upcoming models we will see even more models feature the functionality. On the P8Z77-V, the wireless card will not be installed on the motherboard by default, but can be added on after-the-fact if you choose to use it (it's included in the box).
Something notable with this release is that the wireless is DLNA compatible, for both sending and receiving. If you have a device that supports DLNA, you can use it with this motherboard as you'd expect, but if you have a device that ASUS officially supports, such as the Transformer Prime, you will be able to send files directly to it using the contextual menu when right-clicking a file in Windows. This is the sort of feature that's easy to miss, but very useful.
Of all the features we were shown at ASUS HQ, the next one is likely my favorite. It's called Fan Xpert 2, an obvious follow-up to ASUS' original Fan Xpert. This solution allows you to create profiles for adjusting fan speeds on-the-fly, but something new is brought here. Understanding that not everyone has a fan controller or identical fans throughout their rigs, an "Auto Tune" feature has been added.
Once Auto Tune is clicked, the motherboard will decrease the speeds on all installed fans to their minimum levels, and then crank them up to max. In doing this, it gains the RPM values at each interval and uses that information to create better automated cooling profiles. The goal here is to not run a fan faster than it needs to be, in turn reducing noise.
While it's impossible for ASUS to know just how loud a particular fan is at a particular RPM, the company has tested many different models to help make its algorithm as accurate as possible. Should your PC be running cool enough inside, this hardware solution can even turn fans off completely. And because the motherboard will have all of the appropriate values stored within the software, you'll also have the ability to force the fans to "silent", "standard" or "turbo", depending on your cooling needs at the time.
Upcoming P series motherboards also include a feature called USB 3.0 Boost to help improve transfer speeds of USB 3.0 devices. The current USB 3.0 UASP protocol is used, which improves queue depth, enabling USB 3.0 devices to perform much faster than they are specced out to be. In the examples we were shown, a USB 3.0 flash drive at about 220MB/s on an older platform became 300MB/s+ on this P8Z77-V. I have doubts anyone will be complaining about a free performance boost like that.
Given that we're at the end of two feature-packed pages, you might imagine that I covered everything there is to cover. That's far from being the case, as even right after I left ASUS' HQ last week I probably forgot half of what I was told (last time I forgot a voice recorder!). Once we tackle our actual reviews of these motherboards, we'll delve into some of the more specific features more. If there's one thing I realized well from our meeting with ASUS, it's that a lot of the best features aren't always immediately noticeable, so we'll be sure not to miss anything notable when the time comes.
Discuss this article in our forums!
Have a comment you wish to make on this article? Recommendations? Criticism? Feel free to head over to our related thread and put your words to our virtual paper! There is no requirement to register in order to respond to these threads, but it sure doesn't hurt!
Copyright © 2005-2020 Techgage Networks Inc. - All Rights Reserved.