A Look at Beamdog's PC Game Digital Distribution Service

Date: October 13, 2011
Author(s): Rob Williams

Digital game distribution services are a dime a dozen, but Beamdog vows to be different. Besides having the most unusual name for a service of its sort, Beamdog focuses on releasing games of all stripes, new or old, commercial or indie, and even some open source. It's also the exclusive shop for MDK2 HD, so let's check it out.
---
Introduction
It's no secret that digital game distribution is big business, and it's even less of a surprise that Valve's Steam platform dominates the market. But much like how Microsoft's Windows dominates the desktop OS market, competition is a great thing, and where digital distribution is concerned, there's sure a lot of it.
Since around the time of Steam's launch, we've seen Direct2Drive become quite successful as well, and other services like GOG.com and Desura focusing on particular niches. Then there's Beamdog, a new service that caters to those who just like good games, new or old, commercial or indie.
I discovered Beamdog with the surprise (to me) release of MDK2 HD, a remaster of the cult-classic originally released for the Sega Dreamcast. The game to me was a masterpiece, offering lots of action, fun humor and superb graphics. I couldn't pass up a look at the HD version, and at the same time decided to delve deep into Beamdog as a service.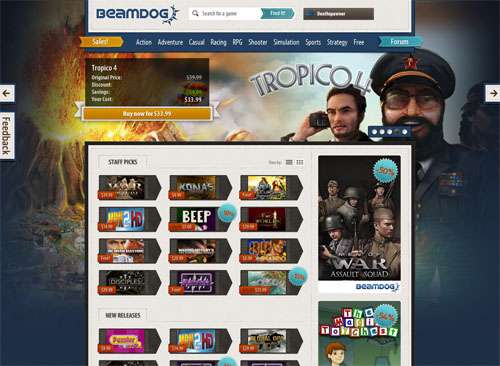 Most game distribution services like Steam exist as two components: a website and a client. Beamdog is no different, as games can both be perused and purchased via either option. Playing the games will require the client to be opened, acting as a simple sort of DRM. Game publishers are able to use additional DRM methods as long as they adhere to Beamdog's strict guidelines. The company has informed us that it has had to turn down games in the past due to intrusive or over-the-top DRM being required.
While some of Beamdog's competitors share a general aesthetic between their client and website, that's not the case here. The website uses totally different color schemes and has improved layouts, while the client keeps things simpler. For general perusing, I found the client to be a bit tedious, so I did all of it on the website. For the sake of showing the client off, however, I'll go through the different sections of the app here.
A Tour Through the Beamdog Client
First up is the "My Games" page, which lists all of the title you own. Installed games are separated from those not installed, while another pane will appear for games that are currently downloading. From here, you can right-click an installed game to create a shortcut on the desktop, but at the current time all the icons seem to default to the Beamdog logo.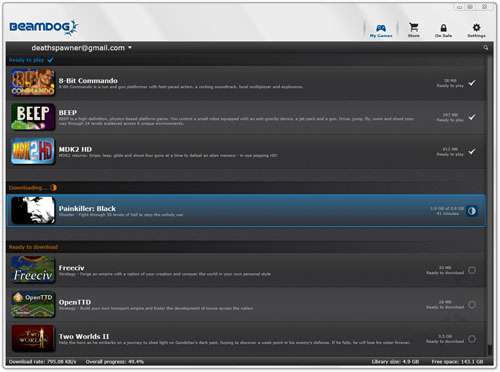 You might notice a couple of interesting entries in the shot above; Freeciv and OpenTTD. Both of these are cost-free and open-source, something a bit rare to see on a distribution service like this. Steam does offer some of its own free-to-play games, but the difference is that those games still have the intent of making money in some way or another.
Like the commercial games Beamdog sells, the free games offered are updated as soon as possible after a new release is made. I love this, as I find it to be an arduous chore keeping on top of such things. Having the games automatically update through this service is great. Kudos to the folks at Beamdog for taking such a strong interest in free (as in libre) games.
Perusing the store through the client looks like this: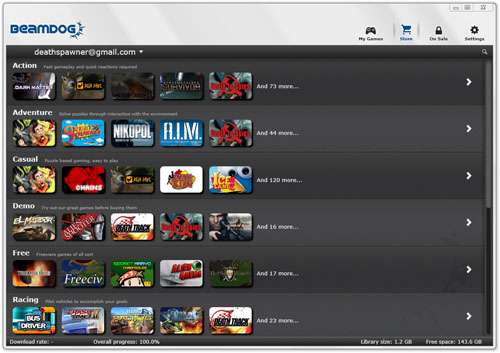 Overall, browsing the games here is little different than doing it on other services, but in this case, the website is so well done that the client just cannot compete. There's more info to be seen on the site, and in a better overall layout. Viewing things like screenshots is a more enjoyable experience as well.
One thing the client does make easy is viewing all of the games currently on sale, of which there are usually many: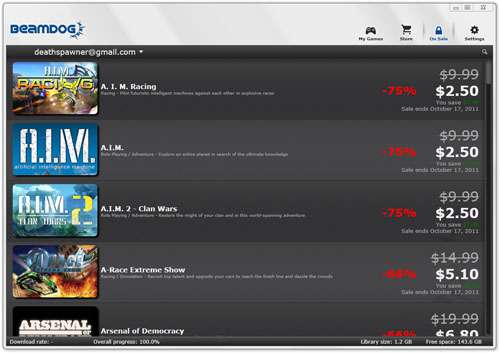 At the current time, there are almost no options to speak of with Beamdog. You're able to choose the game install folder and also BitTorrent downloading, and… that's it. I'd love to see features in the future that allow me to change the layout of the games in my list (rather than a detailed list, I'd love icons like Steam or Origin allows), and that's just scratching the surface. Steam really has the flexibility aspect nailed down, so I'd love to see some advanced features come to this service in the future.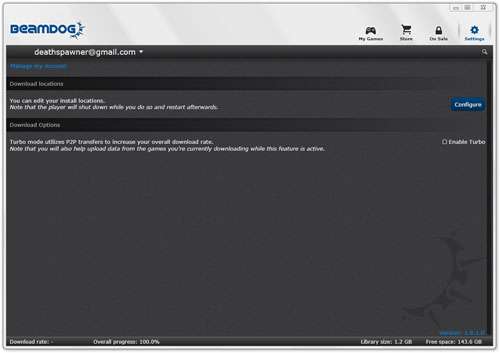 Here's what a game's page looks like in Beamdog:
Compare that to looking at the same game on the website. To me, there's just no comparison. If Beamdog somehow used a near-identical look as the website for each game, a la Steam once again, I think the experience would be a little bit better overall.
Once a game is chosen for purchase, you'll need to enter your password and then proceed with the payment. The service currently accepts major credit cards (though I could not see a list anywhere) and PayPal, though the latter can currently only be used when a purchase is made through the website, not the client.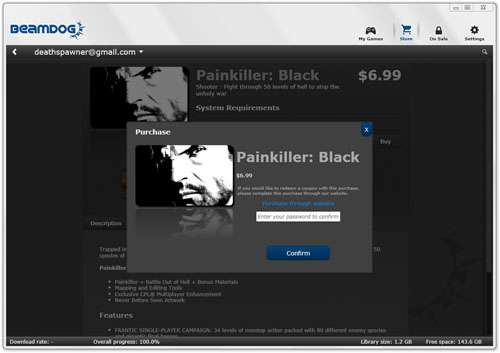 To play a game, it must be double-clicked in the list, which brings up the game page. Then, "Play" needs to be clicked, and on the first run, DirectX will need to be installed. Here is an area where Beamdog comes close to teaching Valve a lesson. As someone with dozens of games installed in Steam at any given time, it drives me nuts to have to wait for a DX install each time I want to run a new game. But with Beamdog, there's a "Skip" option. That's all fine and good, but until the install is taken care of, that prompt will come up each and every time, becoming even more of a nuisance than just running it to begin with.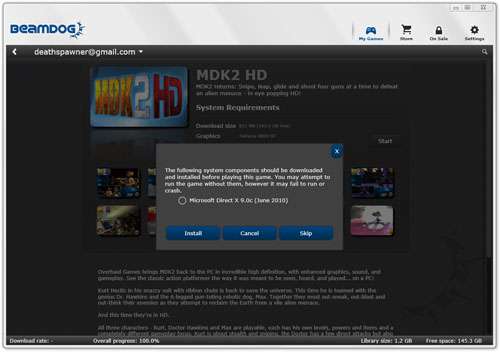 Ideally, clicking "Skip" would do just that, and never show the prompt again. Then if someone needs to install DirectX in the event of an issue, right-clicking the game in their list should give them the option.
Game Pricing
One of the most important aspects of a digital game service is the pricing, because if someone can get a game for half the price at one service compared to another, it's almost impossible to ignore. In some cases, games can even be purchased at one service for cheap and activated on another. So how does Beamdog compare?
It's impossible to make a final statement on a service due to its pricing, because it's not easy to go through each respective collection and find every game that's found on multiple services, and at the same time, pricing can change over time. In my search, however, I found a handful of games on Steam, Desura and Beamdog just to give a basic idea of what to expect.
I was surprised to find that most games across Desura and Beamdog were the exact same price, although temporary sales sometimes brought one game to a lower price than on another service. One case is Crazy Cats Love, which was on sale for $5 at Desura but $7.50 at Beamdog.
There were also some major differences as well. Greed: Black Border was found for $20 at both Desura and Beamdog, but is available for a mere $4.99 at Steam. Mount & Blade: Warband is available for $29.99 at all three services, but at the time of writing, Beamdog has it on sale for $10.20.
As mentioned before, it's impossible to take pricing into consideration when judging services like these, and we just proved why. In some cases one service sells a game for less at retail while another might have a sale that cuts that price by another 50%. As always, it pays to shop around before committing to a game, unless you are a devout user of whichever digital platform you use.
Final Thoughts
I'm not sure when Beamdog launched, but I don't believe it to be that long ago. The company currently consists of just five employees, so we're definitely in the company's infancy. But despite that, we see a service that has a lot of good publishers onboard already, some great sales, a good overall selection, and even an exclusive title (MDK2 HD). Perhaps best of all, there's a good focus on indie and open-sourced games, which is great to see.
In terms of adopting new publishers, Beamdog doesn't exclude anyone by default, and tout their "open door" policy that would give any publisher, big or small, a fair shake. At the same time, said devs/pubs would be able to manage their games themselves, allowing for quicker updates and things of that nature. At the current time, there are dozens of smaller publishers in the process of getting their games published on Beamdog, so I'd expect to see a good flow of releases going forward.
Games-wise, as long a title runs well on Windows, it can be sold. In the intro I mentioned the DRM issue, and that's an important one. Beamdog vows to not allow DRM that's intrusive or leaves a bunch of traces around. In fact, the company has told me that it encourages publishers to use as little DRM as possible – a good move, as nearly every type of DRM ever created has proven about as useless as the people that decide to implement it.
Overall, my experience with Beamdog has so far been quite good. There's been no major niggles to speak of, and the games I tested out installed and ran just fine. On a related note, the purchase process was also smooth, but unfortunately you must restart the Beamdog client before the game will show up in the list – a minor issue given that it starts up again rather fast.
I look forward to seeing where Beamdog goes from here.
Discuss this article in our forums!
Have a comment you wish to make on this article? Recommendations? Criticism? Feel free to head over to our related thread and put your words to our virtual paper! There is no requirement to register in order to respond to these threads, but it sure doesn't hurt!
Does not always create the proper desktop icons
Copyright © 2005-2021 Techgage Networks Inc. - All Rights Reserved.