AC Ryan Playon!HD mini Media Player

Date: September 13, 2010
Author(s): Rob Williams

AC Ryan was once known as a company to produce many different products used to spice up your PC, but well over a year ago, it launched its Playon!HD media player series, and recently, those players became available in the US. We're taking a look at the "mini" edition of the series, and see how it compares to the competition.
---
Introduction
Over the course of the past month, we've taken a look at both ASUS' O!Play Air and Western Digital's WD TV Live Plus media players, and judging by the sheer number of these things available on the market, I'd say we're likely to be just getting started.
Even after I posted the O!Play review, I didn't realize right away just how many different spins there were on these set-top media players, and it feels like I discover a new one every day. Even companies you'd never expect to produce such a product, such as AC Ryan, are, and after taking a look at a handful of models so far, I can understand why.
For those who might not grasp the purpose of a set-top media player, they're in essence a way for you to watch or view your media files on any display, not just the display that's connected to your PC or HTPC. With them, you can copy files to USB drives, sometimes memory cards, and USB external hard drives, and then plug them in and then enjoy your media.
Compared to a full-fledged HTPC, a media player such as the O!Play, and of course AC Ryan's Playon!HD, can be considered limited, but for most people, that's not the case. These are able to play pretty-well any type of media format you have, and let's face it… a media player and external hard drive takes up a lot less space than even the smallest of HTPCs.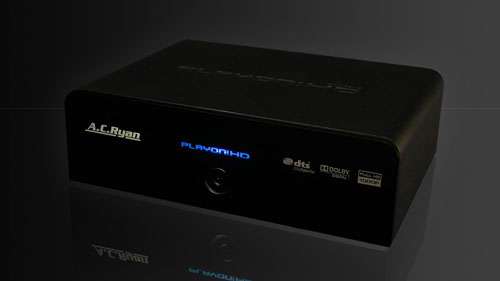 After the O!Play review, I vowed to continue taking a look at other options on the market, and since AC Ryan has pinged us about its Playon!HD since last winter, we decided now would be a great time to take it for a spin. Since there are so many of these devices available, if you have any in mind that you'd like to see us take a look at, please let us know!
Closer Look
One thing I've noticed about the media players we've taken a look at so far and others I've perused online, is that most of them offer virtually the same codec support, and in the case of the Playon!HD mini, it doesn't seem like much is different. A somewhat unique addition is support for Real Media codecs, though, which many players for some reason omit. It could be due to licensing fees, however, and also the fact that it seems to be a niche codec (I have no idea where it's used).
On an HTPC, missing codecs aren't an issue that remain for long, since it's easy to simply hop online and download what you need. But for media players, companies have to bundle support for everything that they believe their customers will need, and for that reason, there's huge support seen here. If there happens to be support missing that you need, I'd be surprised.
| | |
| --- | --- |
| Feature | Supported Formats |
| | ASF, AVI, DAT, FLV, IFO, ISO, M2TS, M4V, MKV, MOV, MP4, MPG, RM, RMVB, TP, TRP, TS, VOB, WMV |
| | DivX, MPEG-1, MPEG-2, MPEG-4 SP/ASP/AVC (H.264 & x264), RealVideo 8/9/10, WMV9 (VC-1), XviD |
| | PAL, NTSC, 480p, 576p, 720p, 1080i, 1080p |
| | IDX/SUB, SMI, SRT, SSA, SUB |
| | AAC, COOK, FLAC, HE-AAC, LC-AAC, LPCM, MP2, MP3, MS-ADPCM, OGG, PCM, RA-Lossless, WAV, WMA |
| | Dolby Digital AC3 5.1, Dolby Digital Plus, DTS, DTS-HD Master Audio, DTS-HD High Resolution Audio, FLAC 7.1, Stereo |
| | BMP, GIF, JPEG, HD JPEG, PNG, TIF |
I should note that while we're taking a look at the "mini" version of the Playon!HD, there also exists a more robust non-mini version. The main differences are that the non-mini includes an additional USB port (Slave Port), a memory card reader, a built-in 1TB hard drive, and S/PDIF coax support. The additional features, namely the hard drive, results in a much larger device, but allows you to keep your media local, rather than tied to an external USB drive, or a networked PC.
We'll be taking a look at the non-mini edition later this month or early next, but as the codec support and other key features aren't a far stretch between each version, we don't expect our end opinions to be that far different. With that all said, let's take a tour of the mini.
Like most of the media players available, this one is about as black is they come. Though it's a bit difficult to tell from the photo, the entire chassis is comprised of a hard textured plastic, while the face is a glossy plastic (aka: dust magnet). The power button is found right in the center of the front, and though not pictured here, "Playon!HD" is lit up in blue when turned on, and red if turned off.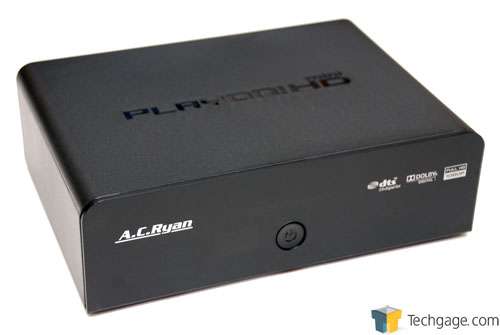 The Playon!HD mini is a bit smaller than the O!Play we took a look at last month, but a bit larger than the WD TV Live. Thanks to its increased size, though, a full complement of component/composite ports are found at the back, along with HDMI, LAN, S/PDIF and of course, the dual USB ports and AC power.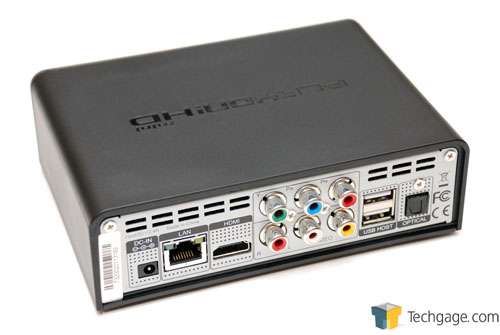 Here's a shot for those curious about the size differences between the players reviewed thus far: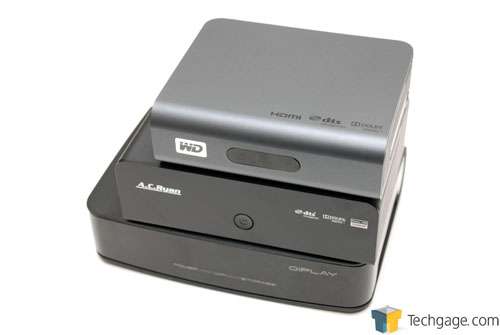 In the O!Play review, I downplayed the importance of an included HDMI port, and just assumed that it wasn't a common occurrence to have one included, but AC Ryan has broken the mold by including a 2 meter sleeved cable here, and I have to say, it's a great gesture. Coincidentally, my HDMI cable started to go on the fritz while testing, so AC Ryan's inclusion helped out with testing a great deal.
Along with that cable, composite cables are also included, along with the AC power adapter and two AAA batteries for the remote. If you plan to use component video with the Playon!HD, you will need your own cables.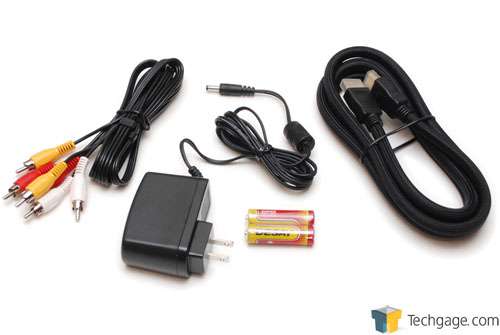 In our WD TV Live review, I commented that some people might find the included remote control to be too tiny, but no one will utter such words about the one AC Ryan includes with the Playon!HD. It's as large and features as many buttons as a typical television remote!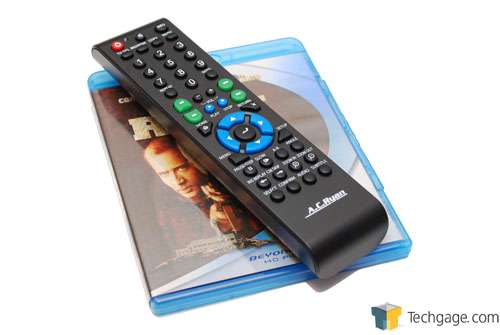 I personally prefer a large remote like this, since it feels more comfortable to hold and offers a plethora of options, but I can't say that I'm thrilled over the layout of some of the buttons. The pause and play buttons on this remote are not one in the same, and they're not even close to one another. I'm used to using the same button for both pause and play, so this took a little getting used to.
In a similar vein, the fast forward / rewind and next chapter / last chapter buttons are stacked on top of each other, rather than placed side-by-side. Again, when you're used to the << >> and |<< >>| buttons placed right beside each other, this design will come off as being a little strange. Being that AC Ryan is a Dutch company, it could be that this style mimics European remotes, but either way, it comes off as a bit clunky.
Setup and Usage
Like most of the media players out there, the Playon!HD mini was a breeze to setup and "install". You simply connect your video cable from the device to your display, and then the power to the unit, and you're good to go.
Oddly, I for some reason received a copy of the Playon!HD mini with outdated firmware, and everything from the UI to the options available were different. Fortunately, updating to the latest firmware was a breeze (requires copying the file to a thumb drive, and then the unit will basically do the hard work for you), and once done, I had the much-improved interface and more options available to me.
I apologize in advance for the less-than-stellar photos. It's difficult to photograph a monitor sometimes, and it's only made worse when the image on the screen is as dark as the interface here. What you see below is the main screen for the Playon!HD, and from left to right, you can access the various features available.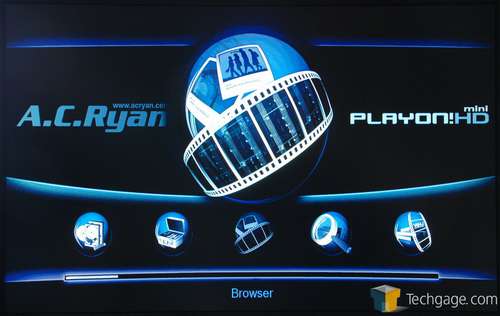 In total, there are six options: Browser, Media Library, Movie Jukebox, Internet Feeds, Internet Radio, File Copy and Setup. Browse isn't for the Internet, but is rather the one-stop shop to go view your media. It doesn't matter if you want video, audio or images, everything can be accessed through this one section. I prefer this method over separate sections.
Almost just as important as the media support are the setup options for these devices, and the Playon!HD delivers, with nary an option missing that I would have liked to see. In the first section, for audio, you can choose whether to enable night mode or not (lowers bass), and change the output from HDMI to SPDIF, along with choosing to use passthrough audio.
The video section is rather self-explanatory without even looking at it, allowing you to change things like the brightness and saturation, and also the resolution and mode for your display. If you want to run 1080p24 mode, you're able to do that as well.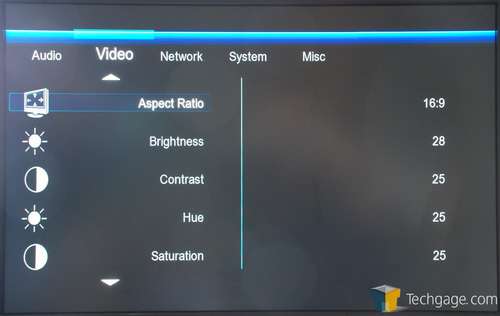 In the networking section, you can configure either your wired or wireless connection (AC Ryan sells a wireless adapter), and also enable NAS mode if you want to use it. NAS mode would allow you to access any data that's accessible to the Playon!HD via external storage through other PCs or devices.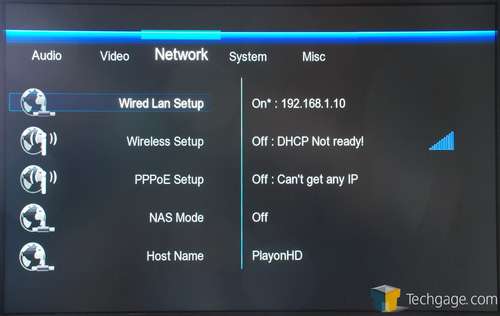 Under the system menu, you can configure things such as the text encoding, time, parental control, DVD auto-play and also update the firmware. The process of doing that is quite simple, and once you have it on your thumb drive, it takes about two minutes for the unit to update.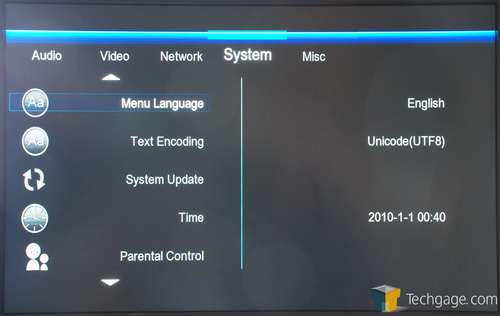 For things like screen saver delay time, slideshow transition effects, resume play feature, movie preview and other things, you can go to the miscellaneous section. The screen saver is set to 1 minute by default, so if you're like me and hate seeing a screen saver often, you might want to change that value to 5 minutes, or if you have a TV that's not prone to screen burn, you could turn it off (I don't recommend it though).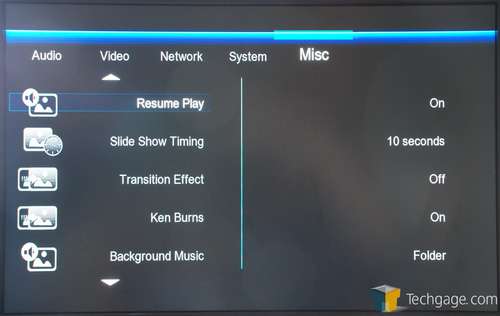 Once inside the "Browser", you can access your media via a USB device, a DVD-ROM, the network, a UPnP device or through an NFS drive. The latter three options are all network-related, but depending on your setup, you might have to rely on either UPnP or NFS and not "Network".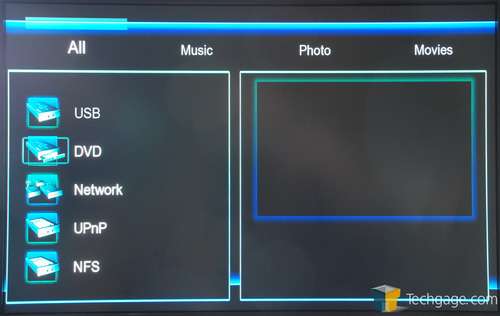 If you need to connect to a network PC or device that requires a login, the Playon!HD will allow you to save the credentials so that you don't have to type them in each time. However, accessing those saved profiles is a little counter-intuitive… at first. I expected that when I'd log into the same PC again after saving the information, the device would automatically enter the credentials, but I was surprised to see it asking me for them again.
What I didn't realize is that these saved profiles are stored in the "My Shortcuts" folder. At first, I hated this since I almost didn't even clue in, but in the end, it's actually best this way since you can access your media device in a few less menus.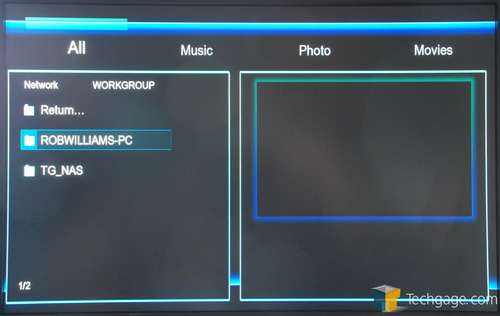 As the Playon!HD supports pretty much everything you can throw at it, it doesn't really matter how you rip your Blu-rays if that's what you want to view on the device. In the folder shown below, I have Blu-rays that were encoded into MKV format, and also an ISO and finally, an extracted folder. If you try to enter the folder, it will ask you whether you want to browse or play. Play will simply begin the main movie, as the unit doesn't support Blu-ray menus. To my knowledge, no set-top media player currently does.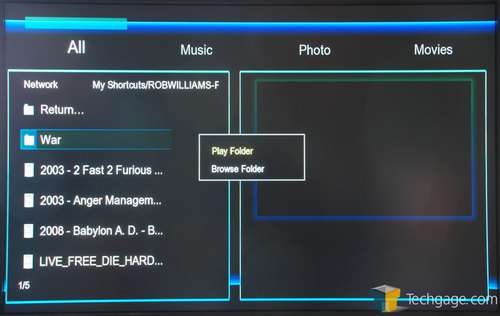 It's impossible to show the image quality reliably with a camera, but this is the best I can do. Of all the content I watched on the Playon!HD, most of it consisted of Blu-ray rips, and they all looked great, with clean images and great color. The image quality I saw didn't differ from watching the same Blu-rays on the PlayStation 3.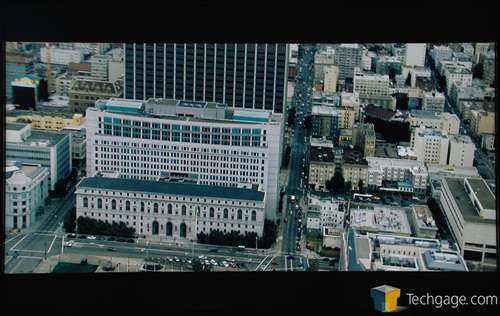 I'm not going to touch up on all of the features on the Playon!HD, and unfortunately, I didn't manage to grab photographs of some because they were not working for me at the time I was taking them. That includes the Internet Feeds, which includes weather, Flickr, Picasa and RSS. I do have to say that their implementation is the best I've seen so far, though, especially the RSS. Flickr and Picasa are a bit slow to load, but I've found that to be the case on all media players I've dealt with so far. Personally, I don't see a ton of use for those features given that they aren't that fast to load, but if you like them, the implementations here are good (especially Picasa).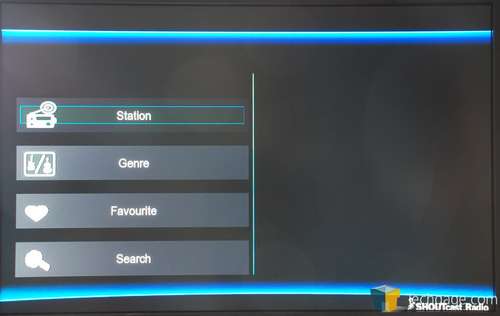 File copy is one feature I didn't quite get a grasp on at all. Just when I thought a file would copy, nothing would happen, and no button I pushed would do anything. I'm in the process of waiting to hear back from AC Ryan, since the manual couldn't help me out.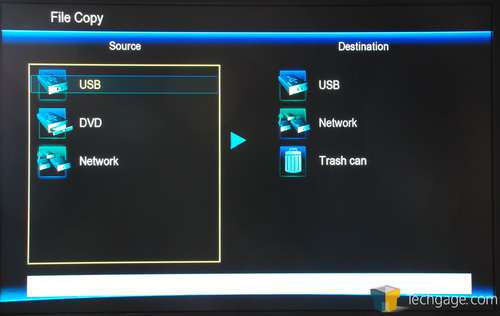 Listening to music is pretty straight-forward, and while a song is playing you can browse the rest of the Playon!HD interface and not have to worry about it stopping. An oddity, though, is that when a song transitions from one to the next, the system has the tendency to lag right before it happens. I haven't had that happen with other media players.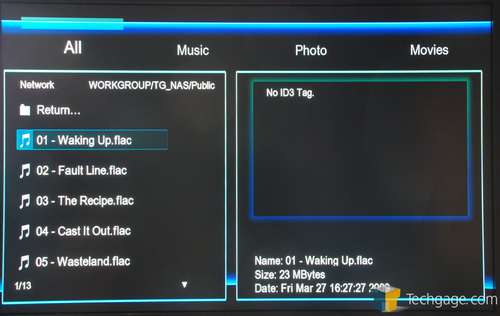 One thing I can say though, is that this is the best media player I've used up to this point for photo viewing. The images are near-perfect, and scaled properly to the screen. They also load rather fast as well, but if you're viewing through a network, larger images might take up to two seconds to load.
Overall, I found the interface on the Playon!HD to be easy to use, but the actual aesthetics could have used a little bit of extra work. There are some rough ends, but nothing that seriously detracts from the experience. But, compared to the ultra-clean and refined interface on the WD TV Live, it's hard to not notice small details like this when they exist.
Final Thoughts
After taking a look at Western Digital's WD TV Live Plus a couple of weeks ago, I've found the bar raised so high that other players are going to have a hard time keeping up. In the case of AC Ryan's Playon!HD mini, it would have been a media player I'd fall in love with if not for having seen the kind of quality that's possible with such devices.
But to be more specific, let's break things down and first take a look at the good. Although the Playon!HD mini is larger than the WD TV Live, it's not by much, and personally, I find that it looks quite a bit better aesthetically. I prefer devices like these to be black since they tend to look better when sitting next to or under what's sure to be a black TV. But color aside, the general design of AC Ryan's unit is preferable.
I also prefer the remote here as well, compared to the other media players we've looked at so far. Some might find it too large, but if you like a full-featured remote and one that won't be easily lost, this is a almost a winner. Why almost? I still question the button layout, as it will take a bit of getting used to, primarily with the fast forward, rewind and related buttons.
Though it seems a bit minor, the inclusion of an HDMI cable to me is huge. Many people who haven't used the HDMI port in their display but pick up this device aren't likely to have an HDMI cable on hand, so the inclusion saves time. Plus, it's a solid cable with a nice sleeving, so it's not as though you're going to want to run out to the store to replace it.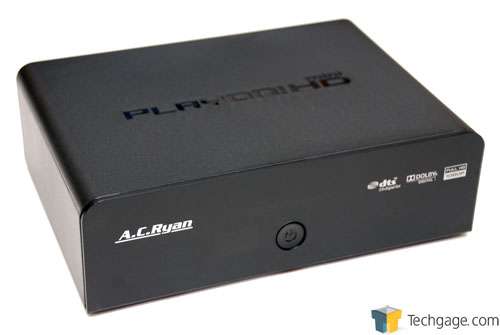 Physical attributes aside, the performance of the Playon!HD mini is top-rate. Everything from DVDs to Blu-rays to even images and music loaded fast. Any media that had to transition from one file to the next wasn't quite that fast, but I haven't see another media player that's been any more instant. I'm not sure why that's the case, but it is.
Interestingly, this was the first media player I've used that has managed to playback a huge Blu-ray direct rip ISO without issue. The movie I tested this with was Live Free or Die Hard, which comes out to be a 42.5GB file. When played back through my external USB hard drive, the entire movie played without a hitch, I was quite surprised.
Similar playback wasn't possible through my network, but that's to be expected given we're dealing not so much with huge bandwidth, but a massive file. Theoretically it should work, but I haven't found a network appliance to handle that kind of playback reliably – yet. In order for truly reliable performance there, a Gigabit network might be required, and generally, devices like these don't support that.
If you opt in for the wireless adapter, performance is going to be even more limited, and if the performance we saw from the wireless O!Play is anything to go by, you won't see much 1080p action there. AC Ryan sent us this adapter, but we didn't have time to test it for this article. I'll be including my thoughts on it with our review of the non-mini model.
One other plus the Playon!HD mini has is DVD upscaling. Compared to my PlayStation 3, which has fantastic upscaling abilities, there was no discernible difference in quality between the two, so overall, the device proved to be superb for this purpose.
Now, onto the "bad". I use quotes because there's nothing that's a true show-stopper here, just minor things that add up and remain noticeable. The first complaint I have is debatable depending on your likes, but I found that the actual UI for the Playon!HD lacked a bit of polish. The main screen looks good, but all of the sub-menus are kind of bland, and there's no sense of real artistic direction.
Again, this is an area where the WD TV Live spoiled me, because for the most part, all of its UI looked quite good. On the Playon!HD, there are some parts that looked like they were done in a hurry, such as the white box that hovers above your current top-menu selection. That in particular doesn't even have to be there, but for some reason, it is. Aesthetics aren't that important in the grand scheme, but I do feel that when people use devices like this, they like to see an attractive interface, myself included.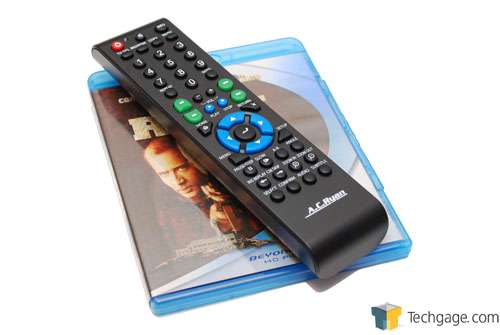 The other problem is that there were some features I couldn't immediately figure out, or that didn't work right off the bat. I'm not sure why, but my Internet Feeds and Internet Radio sections didn't work at first. The former did after a while, but I never managed to get the Internet Radio to work for some reason.
Hardware-wise, I found only one small issue. The first is that the AC power plug for some reason doesn't plug in all the way to the back, though it looks like it's supposed to. That means that because it's not plugged in all the way, moving the device could accidentally unplug it, and in my case, that happened a couple of times. Whether this is a one-off, I'm not sure, but I'm waiting to hear back from AC Ryan to find out for sure.
Possibly the biggest hit against the Playon!HD mini is its price, at $140 USD. Whether that can be considered high depends on your opinion, but most of the competition, such as the WD TV Live, can be had for $100 or less, so $140 is a bit hard to stomach, given the "cons" mentioned above. The HDMI cable adds some value, but those can be had for cheap via other stores, so it doesn't quite make up for the $40 premium.
I have little doubt that the reason for the premium is due to the fact that the company is smaller in size compared to the other competition, and also that its headquarters are way over in the Netherlands. Whether all of the product is produced there as well, I'm not sure, but I'm leaning towards the chances of that being the case.
In the end, though, despite the cons, the Playon!HD mini is a fine product. It's a bit more expensive than the competition, and has a couple of minor downsides, but it's a solid product, and the performance we saw through all of our testing was top-rate. If you don't mind paying a little bit more for your media player and don't particularly care about aesthetics, then this is a worthy choice.
As mentioned before, we still have the non-mini version here as well, which I'll be testing out in the near-future. If you're more interested in that model, stay tuned for our review. And if you have any questions about the Playon!HD mini that I didn't answer in the review, feel free to post in our related thread and I will tackle them as soon as possible.
September 13, 2010 Addendum: AC Ryan responded to a couple of points from our review. First, the UI is set to be revised in the near-future as the company plans to upgrade to the Realtek SDK 3.x platform, and all current Playon!HD devices should be eligable for that upgrade. Regarding what I thought was a slightly odd layout of buttons on the remote, the company is also planning to revise that in a future release. Though I received a unit with outdated firmware, all shipping units should be equipped with a recent or most-recent version.
Discuss this article in our forums!
Have a comment you wish to make on this article? Recommendations? Criticism? Feel free to head over to our related thread and put your words to our virtual paper! There is no requirement to register in order to respond to these threads, but it sure doesn't hurt!
Copyright © 2005-2019 Techgage Networks Inc. - All Rights Reserved.