Acronis True Image 2014 Review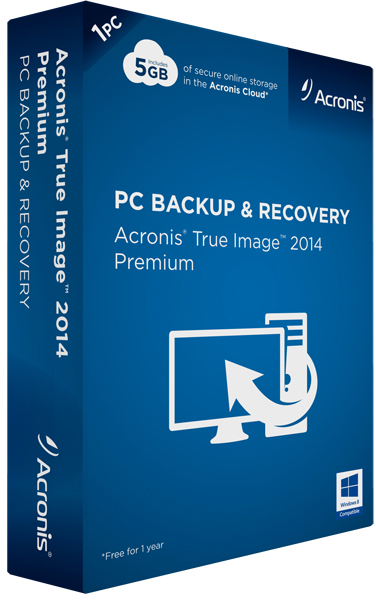 Date: August 28, 2013
Author(s): Rob Williams

The latest version of Acronis' popular backup and recovery suite, True Image, has just been released, and once again, we're taking a look at what's new. We saw good integration of Acronis' cloud service with last year's True Image, but this year's version takes things to an all-new level. Let's check that out, along with all else that's new.
---
Introduction, Acronis Cloud & Boot to .tib
With last year's version of Acronis' backup and recovery suite, True Image, the company amped-up the built-in support for its cloud service. After our testing, we were left impressed from both a cost and performance stand-point, and heartily recommended it to anyone who was looking for such a solution. If you haven't noticed, cloud storage is becoming big business, and it's all for good reasons.
With True Image 2014, Acronis is taking its cloud integration to an entirely new level. After taking a look at last year's version, one complaint I had was being unable to save an entire image to the cloud, and well, that's been completely remedied here with 2014.
Throughout this article, we're going to take a look at some of the major features of the new version, and then wrap-up with a quick look at some other important features that Acronis has become well-known for.
Backing-up to the cloud
If you've been fortunate enough to avoid hearing the "cloud" buzzword before, it refers to "remote storage" – as in, your data being stored on a remote server, either one you own, or one you don't. Over the past couple of years, many companies have begun offering their own spins on cloud storage, with Dropbox, Amazon, Google, and Microsoft being just some of the biggest players.
One of the best uses of cloud storage is backing your data up, so it was inevitable that Acronis would dip its feet into the pool (of storage… get it?) sooner than later. Thus, the company released Acronis Cloud in early 2011, and with each True Image release since then, built-in support has incrementally improved.
In 2014, the support for Acronis Cloud has been ramped up to the highest-levels, with every piece of data Acronis can back up being saveable to its cloud storage service – even complete PC backups. Obviously, backing up full images isn't going to be for everyone, since only a 1 Gbps fiber optic connection would be able to match the speed of saving to an internal network or local storage – and that assumes the remote service you're connecting to would even allow that kind of connection speed (hint: it won't).
I'm not blessed with a fast Internet connection (0.5 Mbps upload), so I tend to avoid cloud services like the plague – this one included. Thus, I didn't test out cloud backup with 2014. I have tested it out in the past, however, and have been pleased with the experience overall. On slower connections, it's suitable to upload documents and photos, but if you're planning to upload entire Acronis images, as pictured above, you're going to need a fat pipe. Let's do some quick math:
Time to Upload Acronis Image (25GB)
1 Mbps: 56.8 hours
5 Mbps: 11.4 hours
10 Mbps: 5.7 hours
20 Mbps: 2.8 hours
30 Mbps: 1.9 hours
1 Gbps: 0.06 hours
Hate those folks equipped with 1 Gbps Google Fiber yet? Bear in mind, though, that these values are based on theoretical maximums – they're best case. As we all know too well, where tech is concerned, real values never equal "best case". If ISPs were breweries, Budweiser would be their beer – heralded as the best thing on earth, but in reality…
Back to features: Just because the disk image is stored in the cloud, the ability to restore in increments is not lost. In effect, aside from the throughput speed, saving images to Acronis Cloud is no different from saving the data locally. Even if you have a beefy net connection, I'm not sure I'd really go this route myself, but backing them up there anyway in the event of a catastrophic failure is an interesting proposition.
As of the time of writing, Acronis offers the most competitive rates I can find for storage among the big four mentioned earlier. For 5GB per year, it's $10; 50GB, $30; and 250GB, $50. While SkyDrive's 50GB tier option is $5 less, it offers a mere 100GB for $50 – Dropbox costs $100/yr for the same. With that sort of pricing, it's clear that Acronis would love for you to go all out – and honestly, $50 a year for 250GB is an impressive deal for remote storage – I've simply been unable to find a better price than this.
Boot to .tib with Windows 8.1 (and Win7 Ultimate + Enterprise)
Acronis has offered the ability to convert its .tib backup files into Microsoft's favorite virtualized format, .vhd, for some time, which allows you to boot straight into the file via a hypervisor. With Windows 7 Ultimate and Enterprise, though, Microsoft removed the conversion hassle and allowed you to boot straight into the .tib – call it a perk of the higher-priced OS. With Windows 8, that feature was removed. Why? We can only imagine that it's because an Ultimate version doesn't exist. Foolish.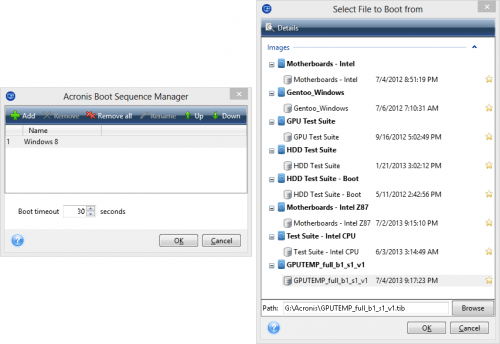 The functionality is returning to Windows 8.1, however, which is making an already good-looking OS release look even more attractive. At the moment, I have no Win7 Ultimate or 8.1 machines set up (somewhat unbelievably), so I was unable to test this feature. I have in the past, however, and have been pleased with its execution, although it's mostly used to verify that a backup is perfect, or to test things out (it's generally more convenient to do that in a virtual machine, however).
Backup to NAS, Other Features & Final Thoughts
Dear Acronis: Thank you. Sincerely, NAS Box.
I've been using NAS boxes for a number of years, but only over the past year have I begun getting serious about mass storage and keeping backups safe and redundant. There's nothing quite as satisfying as centralized storage, knowing that you're able to access your data from anywhere in the house. Well, unless the intent is to remotely tap that storage for your Acronis backup when booting up into the rescure disc, that is.
So here's the thing: True Image has had a "NAS" option inside of its boot disc before, but it's never worked for me – on any machine I've tried to use it on. 2014 is different. It seems that the company both expanded the feature, and added better driver support for a wider-variety of NICs (including Intel's).
While Acronis mostly touts the fact that you can create a nonstop backup that gets stored on a NAS, this is what I'm excited to see:
Not pictured in the above image but also new to this boot disc is an "Acronis Cloud" option at the top of the list to the left. Clicking on it will instantly prompt you for your login credentials, and from that point on, capturing an image to the cloud should be just as easy as capturing it to a local disc. It goes without saying that the save will take a lot longer, as mentioned on the last page. Even on a fiber optic Internet connection with a great upload speed (30 Mbps = 3.75MB/s), it's going to pale in comparison to a hard drive or internal network that can save at 100MB/s.
Final Thoughts
That about sums-up all that's new with True Image 2014. Like last year, this year's version focuses mostly on cloud integration, and overall, I'm pleased with what I see. While I personally won't take advantage of the cloud feature given my horrible upload speed, I envy those that will.
It's worth noting that True Image 2014 is also available as a "Premium" version (formerly, Plus Pack). This version adds the ability to restore to differing hardware (eg: Dell > HP), take advantage of creating WinPE images and also have better support for dynamic disks.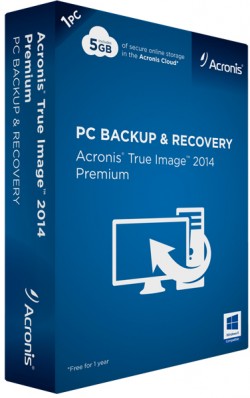 Since not everyone reading this will be familiar with True Image, here are a couple of other major features worth mentioning:
Time Explorer: Ability to peruse files and folders in your backups based on – you guessed it – time. With a continuous backup in place, you can have multiple file versions at-the-ready whenever you need them (no more losing that all-important file).
Startup Recovery Manager: This in effect replaces Windows' own restore feature, allowing you to hit F11 at boot in order to load up Acronis' own recovery software. From here, you find the image, restore an appropriate datestamp, and then get back to using your PC.
Secure Zone: Create a secure partition and store backups there – away from prying eyes. Tying into this is the ability to store your images using AES encryption, at 128, 192 and 256-bit levels.
Bootable CD-ROM (or flash drive): This is the feature of Acronis I use the most. With it, you can boot into an out-of-Windows environment that allows you to easily capture an entire drive, partitions and boot-loader included, and restore everything just the same. While Acronis doesn't support it officially, you can even capture and restore Linux partitions (which I've done).
Anyone who's been a long-time reader of our performance-related content likely knows that I'm a rather big fan of Acronis' offerings. True Image is by far one of the most important tools I use, and that's for three reasons: It's easy-to-use, it's reliable, and it offers a ton of flexibility. While with effort, cheaper (or free) tools could manage the same things True Image can do, the level of ease, reliability and even elegance, has made me stick around.
Is True Image 2014 worth upgrading to if you're a 2013 or 2012 owner? Only if you're planning to take advantage of Acronis Cloud, I'd imagine, since both versions heavily revolve around richer integration with that service. It'd also be worth upgrading if you want to make use of the more reliable NAS feature.
If you're interested in discovering some other useful features not mentioned in this particular review, I invite you to check out my look at True Image 2013 and True Image 2011.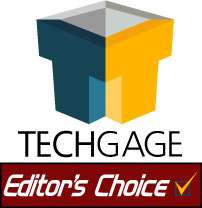 Acronis True Image 2014
Copyright © 2005-2020 Techgage Networks Inc. - All Rights Reserved.