Adobe Creative Suite 3 Preview
Date: March 27, 2007
Author(s): Rob Williams

Adobe has kept many secrets about their Creative Suite 3 over the past few months, but today they are unveiling everything you need to know. This includes product lineup, pricing and bundle information and also the Photoshop Extended edition feature set.
---
Introduction, Pricing
Where content creation is concerned, Adobes name is never far from thought. For years, they've provided the tools needed to get things done quickly and efficiently. Just about 17 years ago, Photoshop 1.0 was released and today we are seeing version 10 being ushered in. I've spent the last few months using the CS3 beta, so I had a few ideas of what was new. However, it wasn't until recently that Adobe announced their Extended edition, so we will cover what's new there in todays article.
Just to make things clear, CS3 doesn't only represent Photoshop. All new products that Adobe releases will carry the same version to keep things simple. It would be difficult to tell if you were up to date while using Photoshop CS3 and Dreamweaver 2004, for example.
With these new announcements are revised upgrading schemes. Adobe listened to your pleas and developed new methods that should please everyone. The Extended edition is a new entry as well, but will not likely matter that much to photographers or artists alike. You can be the judge of that after we take a look at it's key features.
First and foremost, you are probably curious about retail prices, upgrade information and release dates. I'm not here to be lazy, so I've created a few reference tables. All of the products listed in the table below will be available on April 20th as upgrades and full versions. If you run Windows Vista, you will be more apt to upgrade (or forced) because Adobe recently mentioned that they don't plan to add this support to previous versions for the OS. As it stands, CS2 and older versions do not run flawlessly under Vista. If you find some absolute need to upgrade to the new fangled OS, this might be one more reason to upgrade to CS3.
Since Photoshop is at the forefront today, we will focus on that. Like previous versions, the full version will set you back $649. The upgrade price has been slightly increased, from $169 to $199. The extended edition retails for $350 more to sit at $999. If you have Photoshop 7, CS or CS2, you can pay $349 to upgrade directly to the new top-end version.
Product

SRP (USD)

Upgrade (USD)

Upgrade Requirement

Acrobat 8 Professional

$449

$159

5.x, 6.x or 7.x (Standard or Professional)

After Effects CS3 Professional

$999

$299

5.x, 6.x or 7.x (Standard or Professional)

Contribute CS3

$149

$79

1, 2, 3 or 4

Dreamweaver CS3

$399

$199

MX, MX2004 or 8

Fireworks CS3

$299

$149

MX, MX2004 or 8

Flash CS3 Professional

$699

$199

MX, MX2004, MX Professional 2004, Basic 8 or Professional 8

Illustrator CS3

$599

$199

10, CS or CS2

InCopy CS3

$249

$89

CS or CS2

InDesign CS3

$699

$199

2.0, CS or CS2

Photoshop CS3

$649

$199

7.0, CS or CS2

Photoshop CS3 Extended

$999

$349

7.0, CS or CS2

Premier Pro CS3
Encore CS3
OnLocation


$799

$299

Any version of Premier, Premiere Pro or Encore DVD

Soundbooth CS3

$199

N/A

N/A
At quick glance, none of the prices really seem to have shifted that much. There is an exception with Flash CS3 Professional however, which used to cost $299 to upgrade but has decreased to $199. Along with that, there is no longer a Flash Basic. I'm sure this has to do with simplifying their product line, and luckily it carries the same upgrade price as the Professional version, so no one is burned.
One addition to the list is Soundbooth CS3, a program created in the spirit of Cool Edit. I was a huge fan of that program, so I imagine (or hope) that Soundbooth will make its predecessor proud. There is a beta available for those interested.
There will be six bundles to choose from, ranging from a modest $999 all the way up to $2,499. For the all-around developer, the Web Premium might prove the best value, because it includes all of the key tools such as Flash, Photoshop and Dreamweaver. The Web Standard confuses me a little bit, because it doesn't include any version of Photoshop at all. The Web Premium however includes not just the regular version of PS CS3, but the Extended version. Why Photoshop is not included in the Web Standard, I have no idea. Adding a separate copy of Photoshop CS3 on top of this bundle would cost you more than the Web Premium bundle, so you will have to evaluate the best way to do things.
Bundle

Products Included

SRP (USD)

Design Standard

Photoshop CS3
Illustrator CS3
InDesign CS3
Acrobat 8 Professional


$1,199

Design Premium

Photoshop CS3 Extended
Illustrator CS3
InDesign CS3
Acrobat 8 Professional
Flash CS3 Professional

Dreamweaver CS3


$1,799

Web Standard

Flash CS3 Professional

Dreamweaver CS3
Contribute CS3
Fireworks CS3


$999

Web Premium

Photoshop CS3 Extended
Illustrator CS3
Acrobat 8 Professional

Flash CS3 Professional

Dreamweaver CS3
Contribute CS3
Fireworks CS3

$1,599

Production Premium

Photoshop CS3 Extended
Illustrator CS3
Flash CS3 Professional
After Effects CS3
Premier Pro CS3
Soundbooth CS3
Encore CS3
OnLocation
Ultra CS3


$1,699

Master Collection

Photoshop CS3 Extended
Illustrator CS3
InDesign CS3
Acrobat 8 Professional
Flash CS3 Professional
Dreamweaver CS3
Contribute CS3
Fireworks CS3
After Effects CS3 Professional
Premier Pro CS3
Soundbooth CS3
Encore CS3
OnLocation
Ultra CS3



$2,499
You may have noticed that I didn't include upgrade prices, which is because the table would literally triple in size. I've already mentioned that Adobe unveiled new upgrade schemes, and I think they should please most anyone. There are three methods of upgrading:
Using a recent single product to upgrade.
Using a previous bundle to upgrade.
Using one of the new bundles to upgrade to a larger one.
If I haven't confused you yet, please allow me to try harder. As an example, say you want to upgrade to the Web Premium suite, which retails for $1,599. If you have a copy of Macromedia Studio 8, you can upgrade to this bundle for $499. If you own a copy of Dreamweaver 8, then you can upgrade for $1,399.
Another example would be upgrading to the Web Standard, which retails for $999. If you own Macromedia Studio 8, you can upgrade for $399. If you own both a copy of Dreamweaver and Flash separately, you can upgrade for the same price.
Adobe is really trying hard to cater to everyone here. These products are expensive, so it's nice to know that you are not going to lose a lot of money when taking the upgrade path. To see the entire pricing and upgrade scheme, you can view the official chart here.
While there are many new CS3 products on the way, I am only going to touch on Photoshop and Photoshop Extended. Adobe hasn't discussed the other products as much, despite their release date sitting the same as Photoshop. We will likely hear a lot more about those in the coming month.
Photoshop CS3
With each new Photoshop version Adobe releases, their goals remain pretty much the same. It needs to be a tool that can help you get projects done in a timely manner and have them look good when they are completed. It also needs to be able to work seamlessly with other products to keep that workflow going. That said, this new version ushers in a new era, since it is the first major release since the acquisition of Macromedia. This added Dreamweaver, Fireworks, Flash and others to their arsenal.
Mac users are going to sit in a constant state of euphoria when using CS3 on their computers, as it's fully optimized for use on Mactels. Both Mac and Windows users alike should notice an overall speed increase though, especially in the startup process.
Updated GUI
Photoshops GUI never changes that much, to keep things simple and to avoid learning curves every other year. Even if you look at the oldest versions, you can tell it's Photoshop. Adobe sticks to their roots with CS3, although it's been upgraded in various ways. The overall GUI is much more flexible and intuitive this time around. The primary toolbox is now one column instead of two, which gives a slight larger surface area to deal with.
You will notice the gray theme that's going on with the window borders. At first I wasn't sure if I enjoyed this look or not, but it has kind of grown on me. A lot of the interface can now be expanded, attached to another, or split apart as you deem it necessary. In the end, you basically have better overall control of the userspace. The updated design may take a little getting used to, but it's a smarter design I feel.
Revamped Quick Selection
One of the first new features in CS3 I came to appreciate was the upgraded Quick Selection tool. Although it's not perfect… it's far superior to previous versions.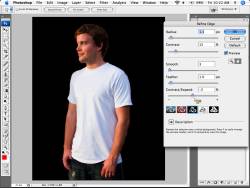 In the past, the Quick Selection tool has proved valuable, but would only give you the results you were looking for half of the time. If ever. The upgraded tool gives you far more control, because it allows you to draw around the object. Once you capture the object you want, you can go back and correct some of the problem areas, without losing your selection. It still requires some effort, but it's a lot less stressful to use.
Smart Filters
Smart filters at first sounds like quite a simple addition, but it's a useful one. Have you ever added a filter to an image and later regret it? If you are smart when creating the image, then it's probably reversible, but it is still time consuming. Smart filters are different because they keep track of all the filters you have applied to a layer or layer mask. You can see in the image that there are both motion blur and poster edges filters applied.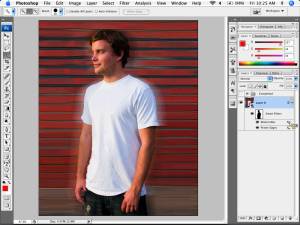 The cool thing is that you can right-click to remove one of the filters if you don't like how it turned out, or even reverse their order. It's not just limited to two either, so even late in your project you will have the ability to fix mistakes easily.
Auto Merge / Auto Align
This is one feature targeted for photographers, and those photographers will fall in love with it. Have you had multiple images of the same scene but needed to take particular features out of each? The problem here is, you needed to layer the photos on top of one another and play with the opacity until you have everything aligned perfectly. I have done this a few times in the past and a few of those times it's taken close to a half hour to deal with.
That's where Auto Align comes into play. You have a few imported images, as you can see in the photo below.
I don't have the "after" version of this screencap, but essentially there were two images here. You can see that two people were not looking at the camera at the time the picture was taken, but another photo did have them smiling. Auto Align matched up the two photos perfectly and then the author was able to simply uncover the photo below and it fit well into place. Another example of the auto merge is seen below, where multiple handheld shots were taken of a building. Problems arose. The exposure was different for each shot, so lighting was an issue.
After running the auto merge, Photoshop automatically merged the four files together correctly and also fixed the lighting issues to make it look as though it was a single photograph. This would be a great feature for panoramas as well… which I'm planning to test out soon.
Black and White
If you are a fan of black and white photos but don't carry along B&W film or like the results that your digital camera spits out, you will -love- this new feature. It's found underneath the Add Adjustment Layer menu under the Layers tab and allows you to adjust the RBGCMY tones to get the required effect.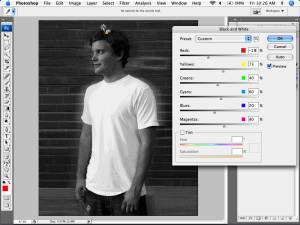 Don't want to delve into the sliders? The drop down menu shows a list of various effects, such as taking a picture with B&W film while using a Blue, Red or Yellow filter. If one setting doesn't give you the effect you are looking for, you can choose one and adjust the sliders a bit. This is one of the coolest new features of CS3 and should please anyone who has a passion for black and white photos.
Camera RAW
Camera RAW has had a nice upgrade and compliments Lightroom nicely. Overall it's been tweaked for optimal performance and has the addition of fill light and vibrance for better highlight and shadow control. Probably the most important feature is the nondestructive clone and heal tool, and you can see it in use below.
If there is something in the image you want to remove, you can select it with the tool and then follow-up with a selection of another part of the photo you want it to match up with. In this example, the woman in the photo had a few freckles that could be removed. Once you have the starting and end point selected, you can increase the size of the circles or drag either one of them around, until you see the result you like. Any steps you make using this tool are not saved until you want it to be. If you later adjust the tone or any other settings of the photo, you can undo the clone tool with a click of the button.
Vanishing Point
The popular feature that many raved over in CS2 has been upgraded in CS3. One complaint in the first version was that you could only work on a 90° angle, which is completely restrictive. Now though, you can create a plane and swivel the extension to make it fit whatever it is you are dealing with. In their example, here is a CD case and artwork to be pasted on it. Once you create the skeleton with VP, you can paste the artwork in and move it around to fit naturally.
Although there are more new features in CS3, these are a few of the biggest and most popular. Once I spend more time with the program and realize all of the new features, I will follow-up with another article and give updated thoughts. You might now be wondering about the Extended version though, so flip to the next page and I'll show you what it's all about.
Photoshop CS3 Extended, Final Thoughts
Adobe thought they'd spice up their lineup a little bit by throwing in an "Extended" edition. You might ask why it's not just simply called Photoshop CS3 Professional. Well, Photoshop is a professional tool to begin with, so that would likely cause more confusion. However, this edition of Photoshop is indeed beneficial for different types of professionals, in addition to those who deal also with 3D modelling and video.
3D Capable
When I first heard that the Extended version would handle 3D files, I immediately thought that they were trying to make Photoshop an "all-in-one" type program. They reassure us that this is not the case. They do wish to give a little more freedom to those who need it though, so that those are not always having to hop around from computer to computer all the time.
Many people who create 3D models will need to texturize it in the program they created it with, such as Maya or 3DS Max. However, the Extended version gives people the freedom to import their model into their image and then texture it there. Beyond that, they will still have simple control, such as the ability to rotate/move it and also look at the wireframe. In the below picture, you can see the energy drink can, which was created with another application.
The model already has two textures applied to it, for the actual texture of the can. You can also see that a drop shadow was applied, so Photoshop will treat it like any other object. On the previous page, I showed you how the updated Vanish Point works. Well here is a similar tactic. Once your vector graphic is opened, you can simply click and drag it over to the can and apply it.
Even though it was a flat graphic file, the shine and texture of the can remained. At first, I imagined the 3D capabilities to be a rather simple addition, for tasks as demonstrated above. However, one popular screenshot shows off an entire modeled house, imported from CAD.
It's apparent that these 3D capabilities are more than just for simple tasks. The bonus is that after texturizing your models, you can export to the same format you imported from. I can't comment on how great this feature is yet, since I don't have this version in front of me. When that time comes, I will elaborate on it. As it stands, it looks to be a feature that will be welcomed by a variety of people.
Animation
It's becoming increasingly difficult to believe that Extended is not a jack of all trades. Those who have to deal with video files on top of their graphics will enjoy this feature, because you can import your file and then edit it at any point during the timeline. You can clone features of the animation and have them show up later on, or edit out imperfections… whatever you feel like.
Once finished editing, you can export the video in a variety of formats and also choose the resolution. This is not a feature I ever expected to see inside of Photoshop, but lo and behold… it's here.
Medical Uses
Although these features will not be of much use to the casual user, they should prove invaluable to doctors. A popular image format in the medical industry is DICOM, which are for scans. In Extended, you can open up these files and view all of the relative info and then edit the image accordingly.
One main example Adobe gives is a scan of a human head. If doctors needed to measure a portion of the brain to make sure all is in check, they can use a magic wand like tool or draw around the area and then specify the length. Then they can take that calculation and use it in the rest of the image. I'm sure a doctor would explain this better than I could. It's a good thing I am not the one playing around with your brain.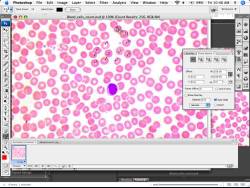 There's a new counting feature as well. In the image below you can see red blood cells. As you'd imagine, they would be a pain in the white blood cell to count manually. This new tool allows you to hover over each cell and it will automatically count them for you. The reason there isn't a feature to automatically count is simply because there could be inaccuracies. Some of the small dots may not need to be counted (again, not a doctor), so an automatic count would prove unreliable.
Stack Mode
This feature is similar to the auto merge / auto align, except that it has the ability to note greater differences. The example here was a beautiful day, huge fountain and cool background. The problem is that tourists were abundant. So, six different pictures were imported and the Median stack mode was selected.
Once again, I do not have the "after" shot. However, the effect was that Stack Mode detected the differences in each photo and effectively removed the tourists out of the picture. At the same time, it aligned all the photos together to make sure the result was clean. Because of the way it "merges" the photos, it also removes overall noise.
Final Thoughts
New versions of Photoshop are not sprung on us when we least expect it. It's something that happens every few years, and more times than not, the updated version is well worth the upgrade price. Personally, I cannot suggest that an upgrade is with it to you, because that's a personal decision. Even most of the features discussed in this article, I have not had the benefit of testing out yet. Looking over the new features though, this doesn't seem like an upgrade you'd want to pass over, especially if you are a photographer.
I really enjoy a few of the new features, especially the revamped selection tool, auto align and smart filters. The auto align would be one of the primary reasons I would personally upgrade, simply because I snap a lot of photos and it would be nice to be able to take large panoramas or multiple snapshots of something and have Photoshop snip them together. I will be testing all these features over the next few weeks and will give more refined opinions prior to the official launch next month.
In this small article, I am sure I barely covered a small fraction of what's new, but I did cover the most notable. These are all features that Adobe is pushing for, so I don't expect anything else amazing to be included or else it would have been mentioned. If you have $200 to spare, you will not regret an upgrade. As for the Extended version, you will only benefit from that if you deal with 3D models or -really- like the stack mode. It has a lot more features designed for measurement/medical and CAD applications, but for most of us, it will be overkill.
Discuss in our forums!
If you have a comment you wish to make on this review, feel free to head on into our forums! There is no need to register in order to reply to such threads.
Copyright © 2005-2021 Techgage Networks Inc. - All Rights Reserved.