Altec Lansing AHP524 Headphones

Date: May 10, 2007
Author(s): Colin Huckstep

In the market for inexpensive studio headphones? Altec Lansing might have just what you need. We were impressed with the sound quality displayed here. Though it doesn't have any bells and whistles, it's price is right.
---
There is definitely something to be said for a good set of headphones. Or if you want to look at it from another angle, a bad set of headphones can ruin the listening experience. Headphones or speakers can be the difference between whether you love or hate a piece of music. I have a tendency to be very picky about my listening environment.
A lot of my listening is done on good quality speakers, or $100+ studio headphones. I have a few pair of ear buds that I keep in my backpack, but they don't really sound all that good, they just hold up well to the abuse.
Altec Lansing markets the AHP-524 Headphones for "Light Studio and Personal Audio Needs." After several weeks of use I must say they live up to the marketing from Altec Lansing.
Closer Look
The AHP-524 Headphones do not have much in the way of bells and whistles, but really none of the best sounding headphones have bells and whistles. They don't fold or rotate. There is no microphone attached. These are not gamers' headphones. All that is included in the package are the headphones and a stereo mini-plug to 1/4 inch stereo adapter.
The headphones have the longest cable I've ever seen on a set of consumer headphones; 10 feet. It also includes an inline volume control. I've never been a big fan of inline volume controls on standard headphones. They're just another moving component that can break or a bulge on the cable that can snag on something.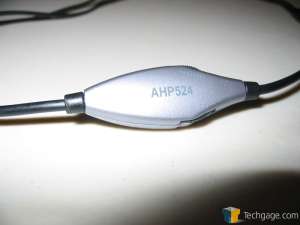 The AHP-524 Headphones are self-adjusting to fit the wearer's head.
Specifications
Frequency Response – 20Hz–20KHz
Input Impedance – 32 ohm
Connector – 3.5mm/ 6.3mm
Ear Coupling – Circumaural
I like to test headphones in a variety of environments, especially when they are labeled "studio" headphones. So, I took these on tour for a couple of weeks, giving me the opportunity to listen to them the tour bus, in a quiet room, and connected to the sound board during concerts.
I was very pleasantly surprised by these headphones. Every listening test sounded quite good. Not as good as a set of $200 studio headphones, but certainly better than a lot of cheap headphones I've listened to. On the bus I noticed two things, these headphones are comfortable for a long period of time, and they were able to cut out a good portion the road noise from the diesel engine. Not as good as noise canceling headphones but you can't get noise canceling headphones for $25 either.
I wore the headphones for the better part of 12 hours, and completely forgot I was wearing them. In a quiet room, these sounded great, certainly as good as some of the lower end studio headphones I've used. Where I was really surprise was how well these worked in a live concert situation.
I usually have a problem with bass distortion in my headphones when I run them off of the soundboard in a live room. Not so with these headphones. Part of this is due to the 40mm neodymium driver, which gives great bass response. The great noise isolation helped with this as well, because I didn't have to turn up the headphone volume nearly as much.
Final Thoughts
Everything just sounded good on these headphones. Deep bass with crystal clear highs and warm mids. My only real reservation is the build quality. I would have liked to see a bit heavier grade of plastic used on these headphones. I wouldn't really recommend these if they are going to be living in a backpack when not in use. I'm surprised I didn't break them while I was on the road. They are however great for a set of headphones too keep in the office or near the stereo or computer.
Pros
Great audio quality.
Great price. They can be had for $25 online.
Extremely long cable.
Very Comfortable over a long period of time.
Cons
Cheaply made. At this price, I would pay a little more for better build quality.
Discuss in our forums!
If you have a comment you wish to make on this review, feel free to head on into our forums! There is no need to register in order to reply to such threads.

Copyright © 2005-2020 Techgage Networks Inc. - All Rights Reserved.