Altec Lansing AHP612 Wireless Headphones

Date: September 5, 2006
Author(s): Rob Williams

With the advent of wireless devices, it's no surprise that the technology has made its way to headphones. Not only are they becoming more abundant, but they are not that expensive either. We are taking a look at a contender from Altec Lansing and after reading you will surely know whether they are for you or not.
---
Introduction
As technology progresses, more and more of our daily electronics are cutting the cord. Both my PC's have wireless keyboard and mice, and even my game consoles have wireless controllers. In a way, it only makes sense that even more of our peripherals are wireless… such as headphones! Altec Lansing recognized this need and addressed it with their AHP612 .
This product promises a lot, including 900MHz omni-directional technology that will allow you a full 150ft range. That way I could use the bathroom on the bottom floor of my castle and still have a great connection from the receiver on the top floor. It has the ability to go through multiple walls, floors and ceilings. I can't say any of this is true from what I experienced, although I may just have innate bad luck. Before we get into the testing, lets take a quick look to see what we get with the retail packaging.
Closer Look
The headphones arrived in a clean blue box that's chock full of product details. After pulling everything out, we reveal the receiver base, headphones, cables, power adapter and of course the obligatory manual.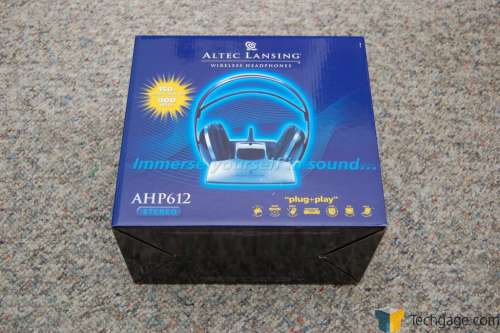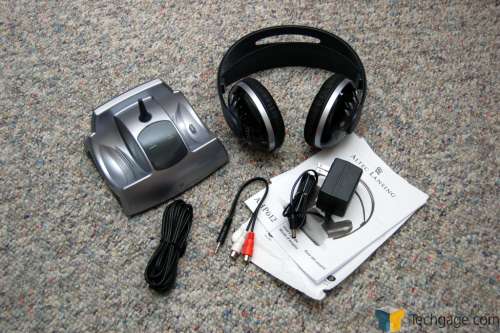 With the closeup of the base, you can see the metal tabs used for connecting to the charger part of the headphones. Simply sitting the headphones into the base will start charging them immediately.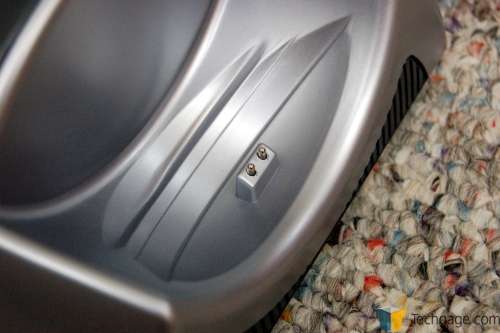 The back of the base doesn't include that many options, but it's to keep things simple. We have a selection of three channels, the power port, L/R channels and volume control.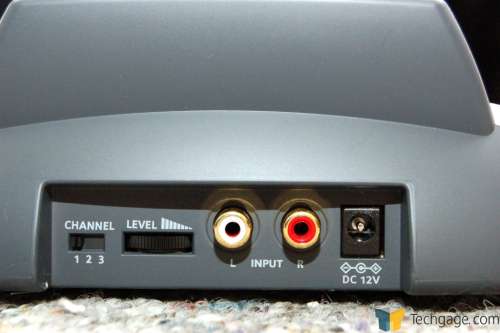 Because these are wireless headphones, each earpiece has a few buttons on the outside. On the right side we can find a Mute and Volume Up/Down buttons.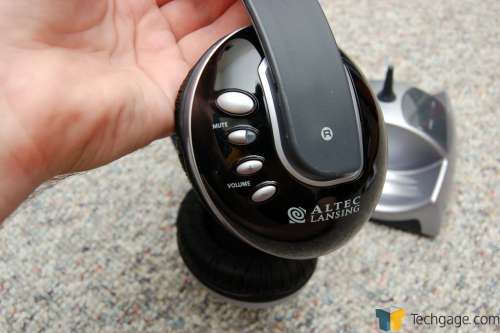 The other side has a button for turning the unit on, which also doubles as a scan to connect to the receiver.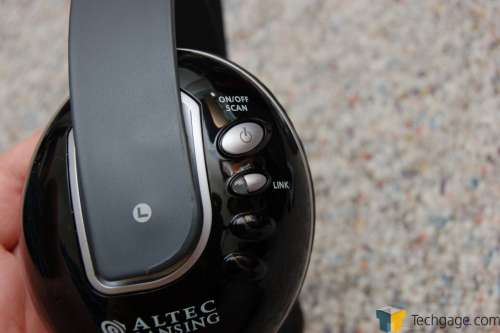 So, where do the batteries go? In the earpiece of course. After removing the foam piece off the left earpiece, you can insert the three included rechargeable AA batteries. The batteries have no name, and only have a green covering.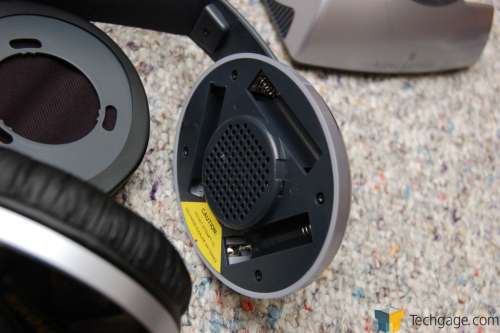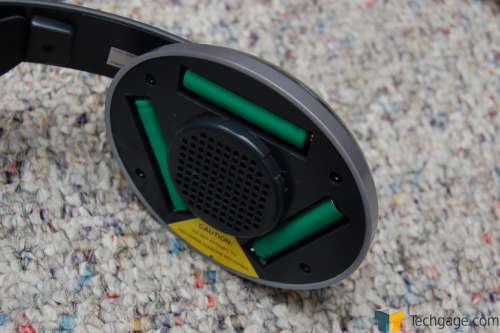 Here are the headphones in all their glory, getting charged up for some action.
That's all there is to it, really. To connect to a device, you simply plug one end of the Red/White cable into the receiver, and then into the corresponding connectors on the back of whatever device you are trying to use. If you wish to use them for your PC, you can use the cable converter which combines both the red/white connectors into a single connector for your PC which will plug into the green port on your sound card.
Impressions
From a physical standpoint, these headphones do nothing to impress. Though they look fine, deep down they feel quite cheap. The receiver is completely hollow and very light… it just doesn't seem durable. The headphones are in a similar situation, but not as bad. One thing is for sure, and that's that the headphones are comfortable. They are light so that it won't feel like you are trying to balance a brick on your head. No complaints in that regard at all.
This is going to be a far shorter review than our usual headphone evaluations, because I did not get a chance to use this one very long. First, this is one clunky unit. After connecting everything, I had to turn the headphones on and off a few times before they would actually connect to the receiver.
Once I finally did get it to connect, all I could hear was static over the top of the music. Of course, I have so much computer equipment in this room, it would be no surprise to have interference. However, this was ridiculous. The static was audibly more noticeable than the music, and at times I even squinted because it got too loud. The odd thing I found was, that when I was turned a certain way, the static would be reduced. I could never get it -perfect- however. I tried the receiver on the floor, on my desk, and even directly in front of my monitor. Nothing could help.
Thinking it could have been interference in the room, I tried the unit in the living room… about 20 feet away. For this test, I used the stereo and quickly found out the the problem was still clearly there.
This is not to say that there -isn't- any interference in the house that is indeed causing this problem, but this should be avoidable. After an hour of toying with the 3 available channels on the unit, not a single thing would actually help. There were a few occurrences when the static would die down to a nearly inaudible state. At that point, the music I was listening to sounded good, but not great. Comparing these to the AHS602i headset I reviewed last year… there is no comparison.
Static aside, this is a rather clunky unit as I mentioned. The manual is not exactly that intuitive either,. It made mention of how to insert the batteries… "Remove the earcup". Well, I was still confused by this because the earcup didn't even feel like it was meant to come off. So I just tore it off and hoped for the best. To actually remove the earcup the proper way, you are supposed to grip and turn it, then pull it off. The manual made no mention of this. Putting it back on was a little tricky also.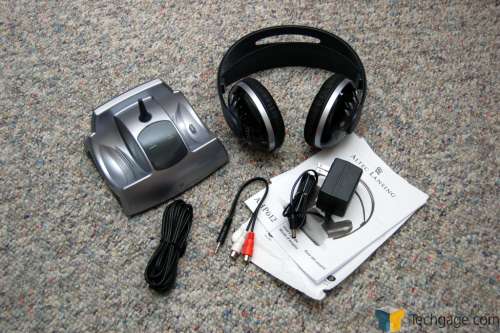 If you are in need of a wireless headset and these caught your eye, I would first head down to a brick and mortar store and see if they have any in stock that you could test. Chances are the majority of my problem with the static had everything to do with something in the house, but the tuning process should not be this difficult to begin with. Before you ask, yes we did have a 900MHz phone in the house, which was turned off in order to see if the static was reduced. It wasn't.
This is our third Altec review, and the previous two products I have been impressed by. It comes as a shock to me that this product is so bad… I had expected more from such a reputable company. I may come off as being harsh, but these are the worst headphones I have ever laid my hands on. I am going to award the AHP612 a 5 out of 10. It's not going to be any lower because chances are that you will have better luck than I did. After reading other reviews of this product around the web, nobody seemed to have issues to the extent that I have. So, hopefully if you do happen pick one up, you will not have half the issues pop up that I had.
If you happen to own these headphones and disagree with me, please shoot me an e-mail! I'd love to know if anyone has had good success.
Discuss in our forums!
If you have a comment you wish to make on this review, feel free to head on into our forums! There is no need to register in order to reply to such threads.
Copyright © 2005-2020 Techgage Networks Inc. - All Rights Reserved.