Altec Lansing FX3020 SoundBar

Date: October 17, 2007
Author(s): Rory Buszka

Altec Lansing grabbed some attention at the 2007 CES with their PT7031 and PT8051 'Powered Theater' speakers, which created a virtual surround sound field around the listener. Their new FX3020 SoundBar features a similar concept – but does it deliver?
---
Introduction
They're out there. The minimalists. People who almost pathologically prefer simple, elegant solutions over larger, more complex ones, simply by virtue of their simplicity. If it's not bad enough that modern PCs are made up of a separate tower, monitor, keyboard, and mouse, just about every PC audio system capable of delivering a satisfying audio performance is made up of two speakers, a subwoofer, and sometimes even a separate volume control 'pod', all of which must be connected by cables. It's enough to make a minimalist tear their hair out, or choose to forego PC audio altogether.
Now there's help for minimalists. The new Altec Lansing FX3020 "SoundBar" is a one-piece audio system that borrows technology from Altec Lansing's most compact audio products – their accessory speakers for portable music players – to deliver a rewarding sonic performance, complete with a wide stereo soundfield. What's more, the SoundBar features a low-profile design that's designed to fit under the screens of most flat panel monitors.
To accomplish this, the FX3020 SoundBar relies upon DSP processing, which modifies the signals sent to the internal speaker drivers in various ways, to produce aural effects that wouldn't otherwise materialize. The SoundBar uses Altec's SFX (Sound Field Expander) algorithm to simulate an immersive stereo soundscape, and Altec's XdB technology to simulate a deeper bass sound from a small speaker.
In this article, we'll evaluate the claims of the SoundBar, and see how well it delivers on its promises.
| | |
| --- | --- |
| Specification | Value |
| Model | FX3020 |
| Exterior Dimenions | 14.7" W x 3.4" D x 4.4" H |
| Drivers | 2×2" full-range, 1×2" passive radiator |
The Altec Lansing FX3020 SoundBar's minimalist appeal lies in its utter simplicity – though Altec also touts an 'Immersive Sound' experience from the unassuming little bar speaker. Here's a look at the features of the FX3020 SoundBar that let Altec make these claims.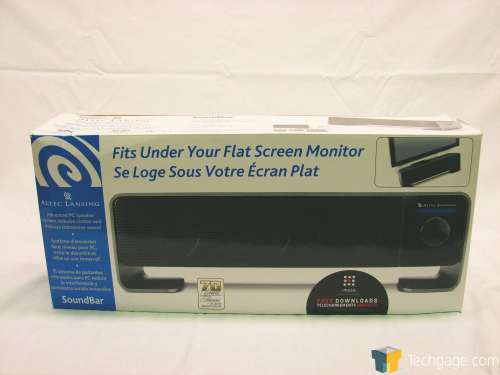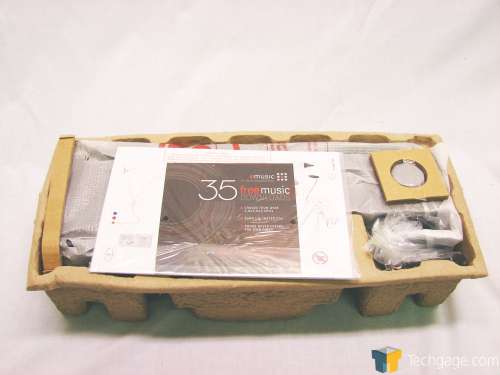 The SoundBar comes in an attractive cardboard carton with bright graphics and a long, slim form that's suggestive of the proportions of the unit. It's easy to tell what the product is, and how it's intended to be used, simply by looking at the graphic on the rear of the box which depicts the sound bar positioned underneath an LCD monitor.
Closer Look
The contents of the package are protected by a cellulose-fiber shell, which is biodegradable. The SoundBar hardware bundle includes a six-foot audio input cable, a shorter 6″ cable for connecting a portable music player to the speaker's auxiliary input, and an AC adapter that delivers 5VDC to the SoundBar.
The FX3020 SoundBar includes pictorial documentation that's easy to read and understand. The package also includes a voucher for 35 free tracks from eMusic – that's three complete albums.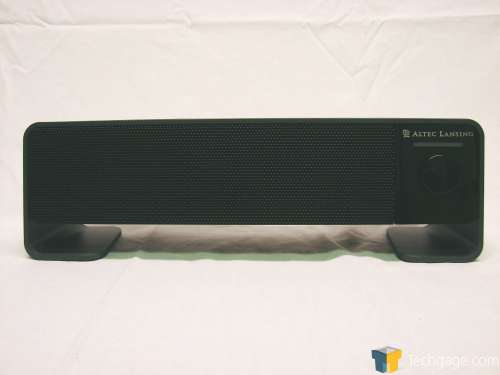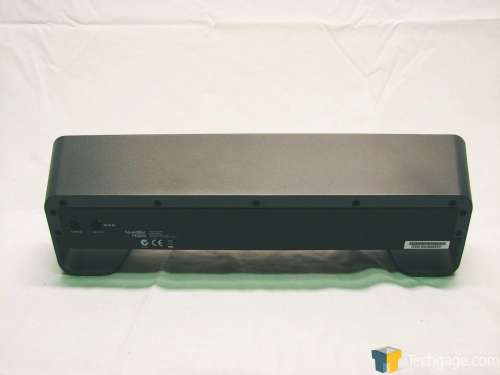 The FX3020 SoundBar is a low-slung design that's only four inches tall. It rests about an inch off the desk surface, to allow it to accommodate the base of a flat-panel monitor. It's attractively styled, and its aesthetic design makes use of a variety of materials and textures, from the matte-finish dark-gray outer shell, to the glossy black plastic around the controls, to the perforated metal grille. The bar beneath the Altec Lansing logo glows blue when the unit is powered on.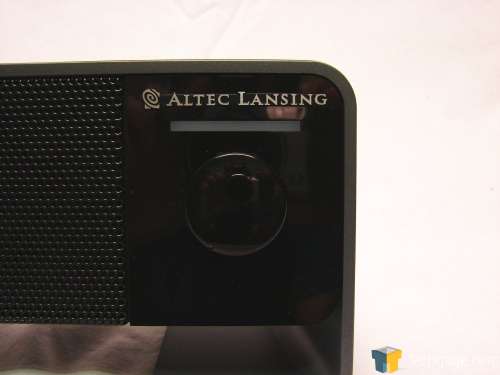 The control scheme is as simple as it gets – simply turn the knob clockwise to turn the unit on and increase the volume, and turn the knob completely counterclockwise until it clicks to turn the unit off. Momentarily pressing the volume knob straight in puts the unit in 'mute' mode. In that state, the power indicator flashes every few seconds.
The SoundBar contains two active 2″ drive units at either end of the speaker, and a third "pressure driver" diaphragm centered between the two. The pressure driver, better known as a passive radiator, replaces the traditional bass-reflex port in small enclosures, and offers better flexibility in tuning the system to a lower frequency. When playing bass-heavy passages at high volumes, the pressure driver's diaphragm goes crazy, since its function is to absorb the acoustic load at low frequencies and augment the bass output. Each driver has a concave diaphragm, mainly for looks.
The FX3020 SoundBar uses two DSP algorithms to enhance its sound output. The SFX (Sound Field Expander) algorithm modifies the 'phase' of the acoustic signals being sent to each driver, and the combination of phase relationships produces the psychoacoustic effect of a wider 'soundstage' – the perceived 'space' in which sounds originate.
The XdB bass enhancement algorithm works based on the harmonic structure of a bass tone, and the human ear's ability to 'fill in' a missing fundamental frequency if all of its harmonics are present. Because these harmonics occur at higher frequencies, they are easier for small speakers to reproduce.
XdB takes fundamental tones and adds harmonics, causing additional perceived richness and fullness in the bass range. This can't be done with complete impunity, however – the additional harmonics can easily be interpreted as unwanted distortion, and can sometimes seem to muddy the sound.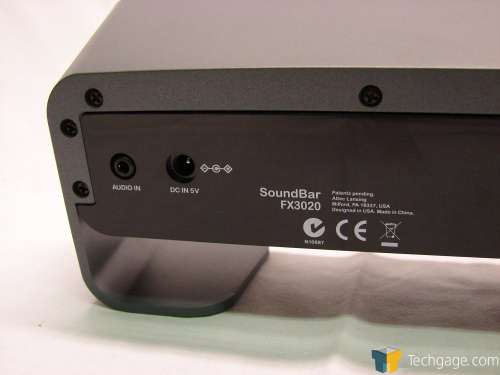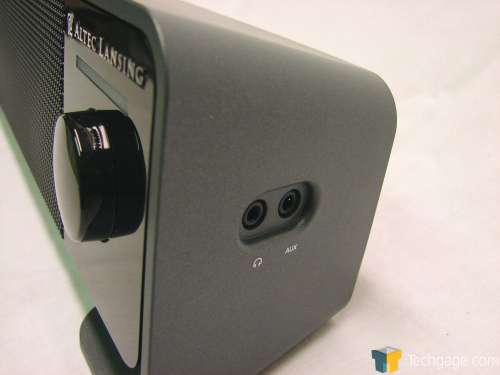 The SoundBar has two audio input jacks. The main jack is located on the rear of the unit, and is intended for the primary connection to the PC. The DC power input is also located on the rear. On the side of the SoundBar, an auxiliary input jack and a headphone jack are provided. The FX3020 can accept simultaneous inputs on the main and aux input jacks.
Now that we've given the FX3020 a proper features once-over, let's move on to some testing.
Testing and Final Thoughts
Altec Lansing touts the FX3020 SoundBar as providing a quick, easy way to an 'Immersive Audio' experience – thanks to its one-piece design and simple controls. In this section, we'll check out the two main selling points of the SoundBar: sound quality and simplicity.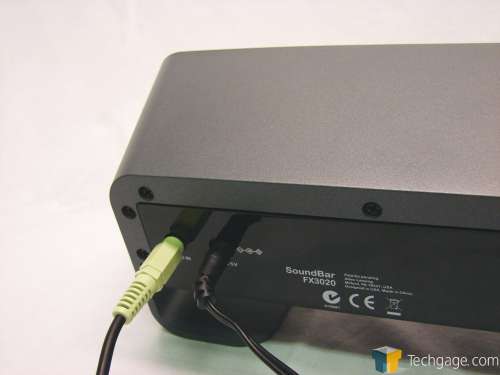 Despite my own uncanny ability to make simplicity itself seem complicated, the FX3020 SoundBar is almost insultingly easy to set up. I defy even the most anxious technophobe to screw this one up – it's virtually impossible, especially with the pictorial instructions that Altec Lansing provided. It's so easy, your mom could do it.
My Gateway FPD1975W monitor doesn't feature a tilt/elevation stand, so there wasn't enough clearance between it and the desk to tuck the SoundBar underneath. The good news is, it didn't look particularly out of place sitting in front of the monitor.
Test System
CPU: AMD Athlon 64 X2 5200+ 2.6GHz
Motherboard: ABIT KN9 Ultra (NForce 570; MCP-55
RAM: 2 GB OCZ Gold DDR2-1100 @ DDR-800
GPU: ATI Radeon X1650XT, 256MB
Hard Drives: Western Digital 160GB, 7200RPM, 8MB Cache, SATA2
PSU: Antec NeoHE 500W
Other Hardware: ASUS Xonar D2
It's a good thing the Altec FX3020 SoundBar has so much going for it already, because I found the sound of the unit acceptable at best, and mediocre at worst. The contribution of SFX processing to a wide sound field is noticeable, but the novelty of this effect is offset by the SoundBar's very compressed sound in general, which could sound nasal and midrangey at times.
Through the upper bass region, the SoundBar provided a full, 'warm' sound, but I got very little deep bass from the SoundBar. The XdB bass enhancement processing seemed to serve only to add warmth to the midbass — it couldn't make up for the speaker's limited bass extension. By no means do I intend to convey that the FX3020 sounded 'bad', just… unimpressive.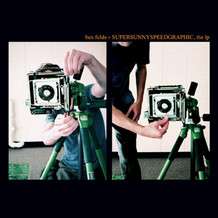 I used Ben Folds' Supersunnyspeedgraphic album to test the SoundBar with music. This album offers a variety of dynamic contrasts and musical textures. The SoundBar delivered most of the nuances of Ben's piano, as well as the dulcimer in "Songs of Love" and the string orchestration in "Learn To Live With What You Are".
As promised, the SoundBar did seem to project a greater sense of spaciousness in the sound, with remarkably precise localization of instruments within that sound field. However, I felt like some of the essential detail was being lost, despite the 'zingy' upper midrange and treble of the SoundBar, and the overall performance seemed to lack in impact.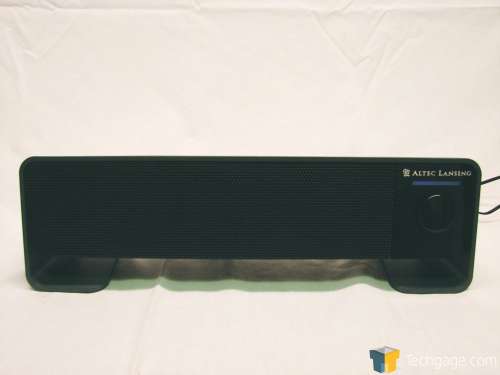 At higher volumes, distortion began to creep into the SoundBar's output, and overall I found its dynamic range to be very limited. Altec Lansing doesn't publish a power rating for the SoundBar's amplifier, but based on some simple calculations the maximum RMS power the SoundBar can deliver to its speakers is somewhere on the order of 12.5 watts (6.25W per channel), and the actual number is likely far lower than that, probably between 3 and 5 watts per channel. The SoundBar won't rock the house, but it does seem to play loud enough to fill a room.
Final Thoughts
To be sure, Altec's new SoundBar is an intriguing concept in desktop audio – a system that simulates a much wider sound field using DSP algorithms, yet is compact enough to be tucked neatly away beneath a flat panel display. Aesthetically, the FX3020 SoundBar is nicely executed, and it couldn't be simpler to set up and use. It's a true minimalist's dream.
However, it's tough to be particularly complimentary to the FX3020's sound, which falls short of what I feel I should expect from a system costing $99. I felt like I should be expecting a richer, more dynamic audio experience for that price – yet the FX3020 is let down by its small amplifier, which launches into a paroxysm of clipping and distortion when it's truly 'cranked'.
Neither the SoundBar's XdB bass enhancement technology nor its tuned 'passive radiator' design were able to help it deliver a satisfying level of deep bass output. The SoundBar did deliver reasonably well on its promise to project a virtual 'wide' stereo soundfield, however, and reasonably good sound quality.
I admire what Altec Lansing is trying to do, and I can think of several applications where I'd love to have a product like the SoundBar. It's got definite appeal for those who prefer a minimalist setup.
I simply think there's still a good deal of room for improvement on the concept. In the end, I award the FX3020 SoundBar a Techgage score of 7/10, though I can't escape the suspicion that the type of people who'll really dig the SoundBar aren't the type who read these reviews.
Pros
Slim, stylish design
Inoffensive sound quality
Expansive stereo sound
Simple to set up and use

Cons
Won't fit under all flat panel monitors
Amplifier is underpowered
Little deep bass

Discuss in our forums!

If you have a comment you wish to make on this review, feel free to head on into our forums! There is no need to register in order to reply to such threads.

Copyright © 2005-2019 Techgage Networks Inc. - All Rights Reserved.