Amazon Fire HD 7 (2014) Tablet Review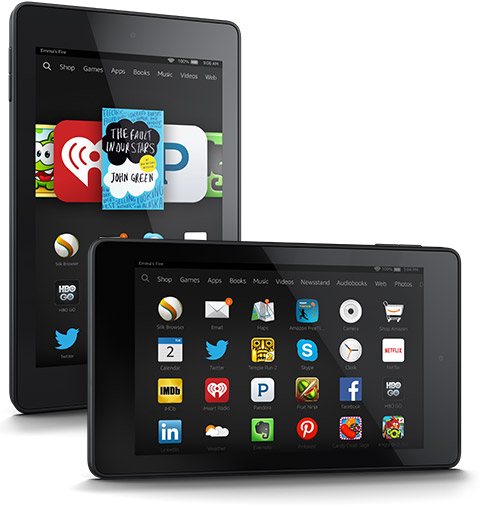 Date: January 16, 2015
Author(s): Rob Williams

It's hard to ignore the value proposition Amazon gives us when it comes to affordable tablets. Its Fire HD series has some notable caveats, but its hardware is often good for the price. And, for those invested in Amazon's ecosystem, there's no better fine-tuned option. With that, let's check out what the latest $140 Fire HD 7 offers.
---
Amazon Fire HD 7 (2014) Tablet Review
There's no shortage of affordable tablets on the market, but Amazon's tend to stand out from the crowd more than most others for a couple of reasons. A big one is the fact that Fire tablets are in-tune with the Amazon ecosystem like no other – anyone actively engaged in it would feel right at home. Then there's the fact that the blend of pricing and hardware is often attractive.
That's all true with the Fire HD 7, a $139.99 tablet that targets those who don't want a tablet too small, or too large. It's interesting, though, that Amazon allows customers to scale down just a bit if desired – the Fire HD also comes in a 6-inch version. That model costs $40 less ($99.99), but offers the exact same internal specs – save for the lack of dual speakers.
On the topic of specs, the Fire HD 7 features a 1.5GHz quad-core processor with 1GB of memory. Both the HD 6 and 7 offer the same 1280×800 resolution, but the ppi of the 7 is of course a bit lower, at 216 (versus 252).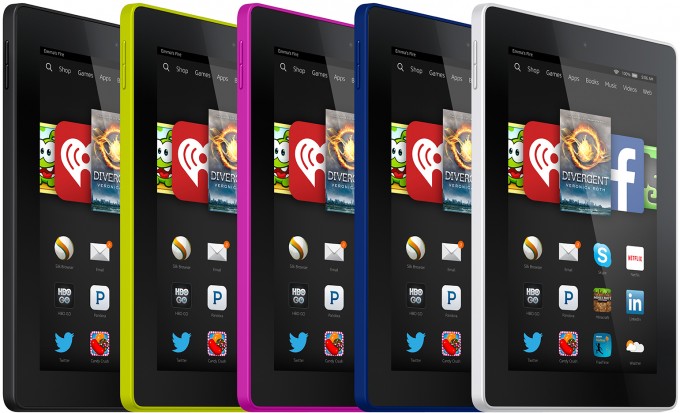 One of the biggest differences between the 2013 model Fire HD 7 and the new one is the addition of two cameras: a 2.0 megapixel at the back, and a 0.3 megapixel one up front. Other key specs include 8GB of internal storage (about 4.5GB free), 802.11b/g/n Wi-Fi, and a weight of 337 grams. Notable features missing include GPS and NFC.
A Tour Of Amazon's Fire HD 7 Tablet
Amazon keeps things simple with the overall package of the HD 7; alongside the tablet itself is a USB cable, a charger, and a quick-start guide.

Below is a comparison between the Fire HD 7 (center), Google's first-gen Nexus 7 (left), and NVIDIA's Tegra Note 7 (right).

And here's a look at them stacked on top of each other. The HD 7 is the thickest of the bunch, and I'd vote for the Tegra Note 7 for being the most aesthetically pleasing.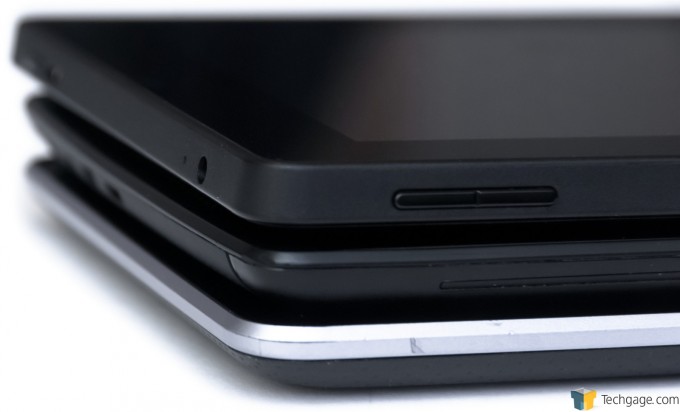 The aesthetics matter only so much, though – it's the software that makes a tablet useful. So, let's not waste more time, and dive right in.
Setting up the Fire HD 7 is simple – agree to some things, connect to Wi-Fi, it's all standard fare. Before hitting the home screen, you'll be able to set up a couple of social media accounts: Facebook, Twitter, and Goodreads. Moments later, you'll be ready to explore.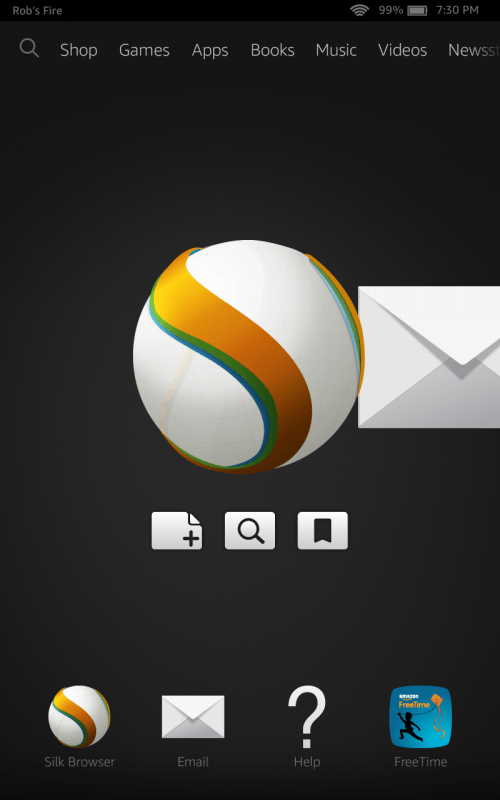 Amazon's launcher is both good-looking and simple to use. At the top are categories (with the first option dropping a major hint at the fact that this is ideal for those invested in Amazon's ecosystem), and in the middle, last-used apps. At the bottom is an app tray which turns into an app drawer with a swipe upwards.
A feature worth noting is the context options that appear underneath app icons in the center of the screen. As seen in the shot above, you're able to open a new tab, conduct a search, or go to your bookmarks, all in lieu of opening the Silk browser up first. You'll see similar contextual options for Amazon's apps, whereas for store apps, you'll see icons relating to similar apps (or games).
While Amazon's launcher might suit a good chunk of its customer base, those who like to customize their devices need to be aware of some major caveats here. Virtually the only thing that can be customized on this device from a layout standpoint is the four app icons that appear in the tray (which are adjusted through the app drawer).
Case in point: You're unable to set a wallpaper, nor even change the wallpapers that appear in the lock screen (seen below). I find it downright bizarre to not have such customization abilities, and I fail to come up with an excuse for it.
Outside of the customization niggles, I've found the Fire HD 7 to be quite nice to use. If you're moving over from another tablet that uses Google's stock launcher, there will be a bit of a learning-curve – mostly with regards to the settings screen. I have found that some screens I'd expect to see on the main options list are instead nestled as a sub-screen. The storage screen is one such example (it's found under 'Device Options').
Amazon's Appstore and Apps
We've established that the aesthetics can't be changed too much with what Amazon's provided (add-on tools can fix some of this), but if there's an upside, it's that what's here looks good. Well, that assumes you don't mind dark themes, because most of the interface is just that.
The screen above is what's seen after hitting "Shop" at the top. It's a gateway, in effect, allowing you to do shopping for real items, or digital items from the five main categories. The first place most people will go after setting up their Fire HD is the app store, seen below.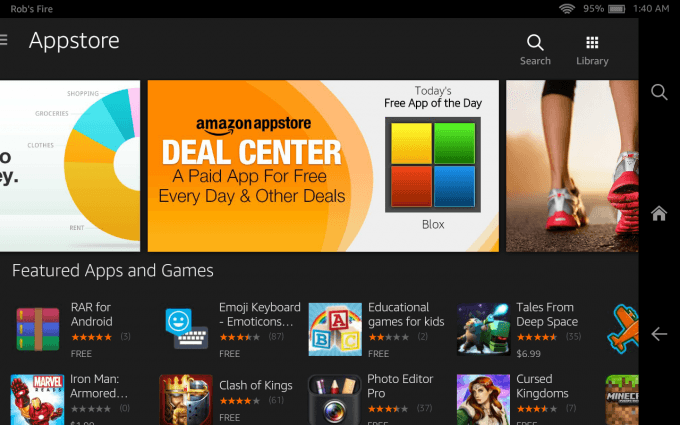 Most mainstream tablets ship with Google's Play Store, but Amazon's tablets are all-inclusive, so its own app store will have to be used. This can be either "fine" or "frustrating", depending on your love of third-party apps. There's simply no comparison to the official Play Store; Amazon's offers a far degraded selection. To give some perspective, about 50% of the non-Google apps I use on a regular basis on Android are available in Amazon's store.
Amazon's app store does offer a couple of nice perks, however. One is the fact that apps purchased through its store can be brought over to other Android tablets, although that requires you to install an out-of-store Amazon app, found here. Unless you happen to root an Amazon tablet and install Google's Play Store manually, you will not be able to carry over apps in a vice versa scenario.
The other perk is that Amazon's not shy to give away free paid apps. You'll notice in the shot above, one such app is highlighted in the "Deal Center" banner. You can return every single day to see if the free app on offer tickles your fancy, and you'll definitely want to pay attention around certain holidays, as Amazon regularly offers a boatload of free paid apps all at once.
To be clear, though, the free app perk isn't unique to Amazon's own devices. Equipped with either the Amazon Appstore app, mentioned before, or Amazon.com loaded into a Web browser, you'll be able to partake of these free apps.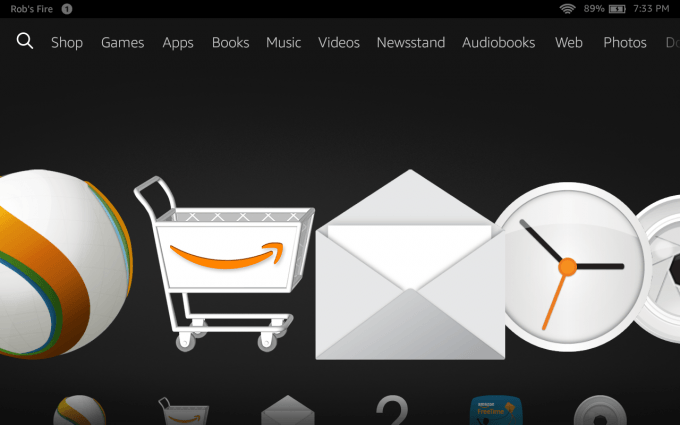 Because Amazon's family of tablets don't integrate Google's Play Store, you'll probably be taking advantage of Amazon's own apps for things like email and Web browsing. While you can install APKs to the device, and get some out-of-store apps working that way, overall success will vary.
That aside, all of Amazon's apps worked very well for me, although I can't really say that they strike me as all too interesting. It was frustrating at times to not have access to my synced Google information, like bookmarks, but someone not tied into Google as much as I am should have fewer issues. For what it's worth, Amazon's mail app works just fine with many third-party email services, including Gmail, and overall, I couldn't come up with much of a complaint.
I also have no real complaints about Amazon's Silk browser. I never had issues with pages rendering in a bizarre manner, nor downloading files straight to the tablet. One of the browser's biggest selling points is that it can offload some of the processing to Amazon's EC2 servers, but I admit that I never noticed pages loading up faster on the Fire HD 7 versus other tablets.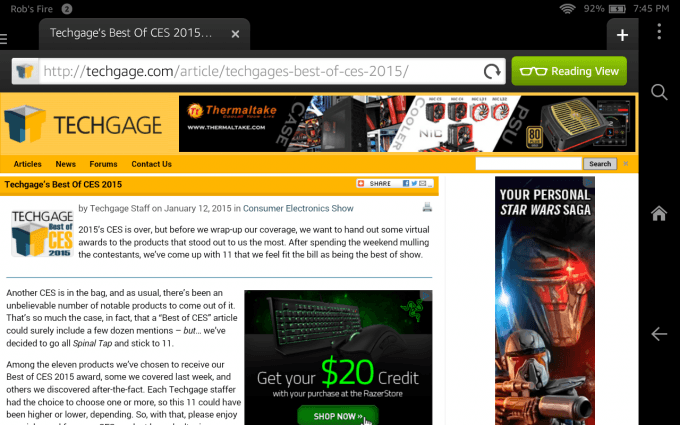 It might not be that unique, as Apple's mobile Safari browser also offers the feature, but "Reading View" mode is one of the highlights of Silk. If after a webpage is fully loaded, Silk is able to detect where the main content is, a big green button will appear in the address bar (as seen in the above photo). After tapping it, the page's article will be converted and displayed as if it were a book, void of distractions. You can see an example of this below, with an excerpt from our look at ASUS' PG278Q monitor from this past November.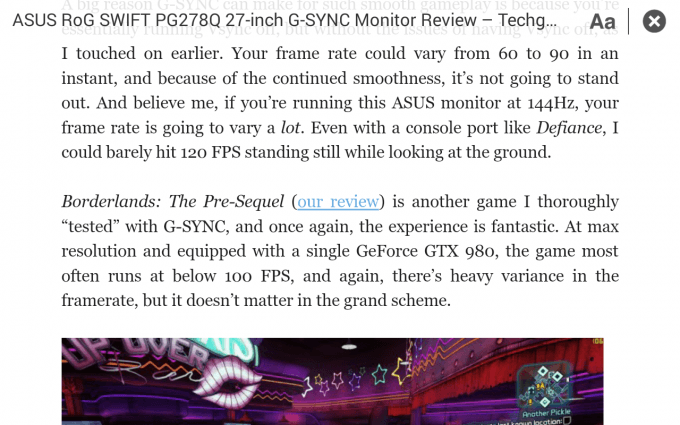 For the most part, I think Fire tablets can be treated as "barebones", because Amazon doesn't litter them up with a bunch of different apps. Instead, what's here can help you get up and running fast, and for further functionality, you can simply hit up the app store.
Fire HD 7 Performance
Performance might not be a major concern for a $100 ~ $140 tablet (the HD 6 uses the same internal hardware), but it's still a good idea to make sure that what we're dealing with isn't lacking in some substantial way.
Before we get into numbers, though, I do have to say that my usage of the Fire HD 7 has been great. It might not have the beefiest hardware under-the-hood, but performance wasn't once an issue for me – it felt no slower than the SHIELD Tablet for basic usage, as an example.
Where performance limitations might matter most is for games; just don't expect the highest-end capabilities here. You can expect similar gaming performance to the 2013 Nexus 7, though, as seen in the table below.
Fire HD 7 (2014)
Nexus 7 (2013)
SHIELD Tablet
3DMark (Ice Storm Unlimited)
10,391
10,519
31,785
MobileXPRT 2013 – UX
98
98
102
MobileXPRT 2013 – Overall Perf
185
150
305
GFXBench – T-Rex HD Onscreen
1,091 (2)
890 (1)
2,782 (1)
GFXBench – T-Rex HD Offscreen
783
886
3,155
In a couple of tests, Amazon's Fire HD 7 manages to out-perform the 2013 Nexus 7 – the 3DMark scores might as well be considered identical. The same goes for the MobileXPRT user experience test, and in the overall performance, the Fire HD 7 managed to come ahead. Not bad for a tablet of its price-point.
With regards to battery life, Amazon tells us that we should expect about 8 hours' worth of normal usage. That means Web browsing, email, and so forth. While I didn't test basic usage, I did test a number of different scenarios, such as watching a movie or playing a game. Prior to each test, the battery was charged to full, left to idle, and then I kicked off the respective test. For video, I ran the test for 5 hours, whereas for gaming, I cut that down to 2.
| | | |
| --- | --- | --- |
| | Battery Drain | Battery Life |
| 720p H.264 Movie | 51% (5 Hours) | ~10 Hours |
| Streaming 720p H.264 Movie | 56% (5 Hours) | ~9 Hours |
| Simple Game (Super Mario World) | 25% (2 Hours) | ~8 Hours |
| Advanced Game (Beach Buggy Blitz) | 61% (2 Hours) | ~3 Hours |
It's clear that the HD 7 isn't the best tablet out there for playing 3D games, but for everything else, you can expect "all day" levels of battery-life. Want to play Super Mario World through the night? That won't be a problem.
Final Thoughts
For its price point of $140, it's hard to go wrong with Amazon's Fire HD 7 – as long as you know what you're getting into. This is the first Amazon tablet I've been able to put some serious time into, and having had owned a bunch of other Android tablets in the past, I'd be fibbing if I said there wasn't a big learning-curve.
One of the most important bullet points buyers need to bear in mind is that Google's Play Store is not included on Amazon's tablets. For some, that might not matter, but for me, it'd be a deal-breaker if this was meant to be a primary tablet. But, I'm someone who's tied into Google's ecosystem tight.
As I mentioned earlier, about 50% of the non-Google apps I use on a regular basis are available on Amazon's Appstore, a percentage that'd drop to about 25% if I did include Google apps. Again, though, this limitation might not matter to you. What could is the absolute lack of OS customization options – it's downright bizarre.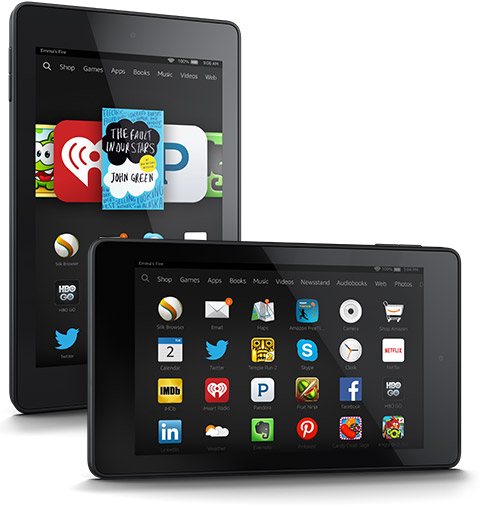 Ignoring those limitations, I have no major complaints about Amazon's Fire HD 7. Battery-life is solid, performance is great for normal use, the display is bright and rich with color, and Fire OS is easy to use.
For those who take good advantage of Amazon's Kindle e-book store, the appeal of this tablet can get a big boost. On the Fire HD series, books are treated as equals to apps, so the carousel that displays recently-used apps in the center of the home screen will also display your recently-opened books. Plus, there's integration with Amazon's social network Goodreads, and not to mention auto-syncing that will give you quick access to a book you just purchased.
So, overall, a great tablet for its price point – just know its limitations.
Pros
Invested in Amazon's ecosystem? This tablet was made for you.
Great for book readers. Recently-used books kept front and center in home screen carousel.
Display resolution is modest, but the screen is nice.
Good overall performance. I experienced no notable hitch.
Silk is a competitive Web browser. Its reading view mode is fantastic.
Excellent Wi-Fi performance (especially with regards to sustaining large transfers).
Cons
App store is large, but is still dwarfed by Google's Play Store.
It's not aesthetically impressive from a hardware standpoint. Many older tablets are better-looking.
No UI customization (wallpaper, lock screen photos).
Copyright © 2005-2021 Techgage Networks Inc. - All Rights Reserved.