AMD Computex 2019 Keynote – Navi RX 5000 Series GPUs, & Zen 2 Ryzen 9 CPUs

Date: May 27, 2019
Author(s): Jamie Fletcher

AMD received a warm welcome as it gave its first ever keynote at Computex, and is celebrating its 50th anniversary. It took to the stage to present its latest ground-breaking tech with Navi RX 5000 GPUs, and Zen 2 Ryzen 3000 CPUs. There's a fair amount to cover, so let's get started.
---
AMD Computex 2019 Keynote
There were many hype trains running at full steam leading up to this year's Computex, but it's hard to imagine one that had more excitement bursting at the seams than AMD's. While we can't exactly say that we've been waiting "forever" for certain announcements, it sure feels like it in some ways.
With two major product launches anticipated with the likes of Zen 2 Ryzen 3000 series on the CPU side, and Navi on the GPU, there's a lot to look forward to. AMD will be holding most of cards back until E3 later in June, so Computex is more of a teaser, at least for the GPU.
Navi And RX 5000
If there's one GPU we've been hearing about for years now, it's Navi. It's been brought up time and again over the years, even before Polaris was announced. It's hard to believe that it's soon to be upon us.
During the keynote, Navi got its first real introduction, along with the first official GPU naming scheme. Thankfully, it went against what many of the rumors suggested, as AMD decided to go with RX 5000 series for Navi, the 50 was to signify AMD's 50th anniversary. The first GPU to be named was the Radeon RX 5700.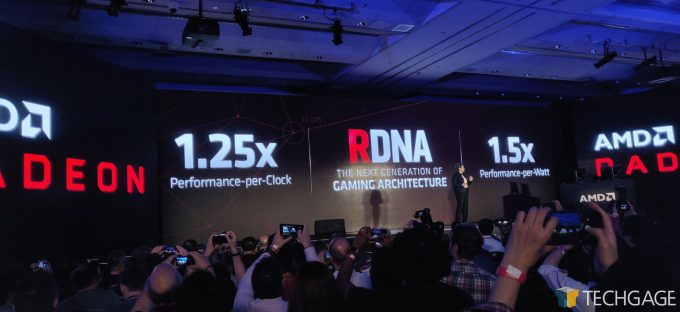 Navi is an all new, built from the ground up GPU architecture, that had a lot of help from Sony, and will help power the next generation PlayStation. It's built around Radeon DNA, or RDNA, ditching the now aging GCN architecture that's been with AMD for so long. This brings about 1.25x better IPC, and 1.5x better performance per watt.
These new GPUs will also be built around 7nm manufacture process, and be the first generation of GPUs to make use of PCIe gen 4.0, doubling the bandwidth available. Beyond this, there were no further details given, other than to mention benchmarks being equivalent to NVIDIA's RTX 2070, although no real numbers were given. AMD is keeping all of this top-secret until the E3 event that's scheduled June 10th. However, Navi will officially launch in July.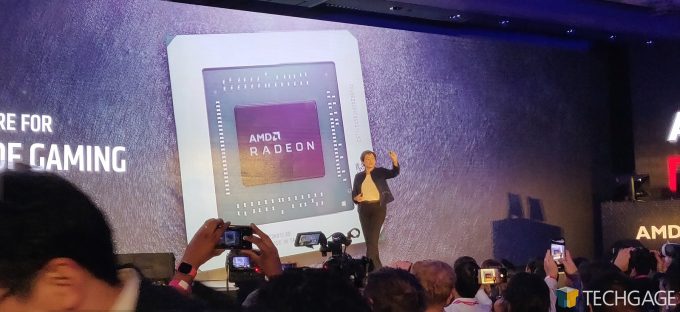 Ryzen 3000 And Zen 2
Teased back at CES was that Zen 2 architecture matches and even beats Intel in instructions per clock (IPC) on a wide range of CPUs and multiple tests. To go from the underdog in IPC to beating Intel in such a short time is incredibly impressive. It's going to put some serious pressure on Intel.
Today however, we saw some of the first CPUs to be announced in the new 3000 series CPUs, and AMD pointed out some of the key features of the new Zen 2 architecture. It came down to double the floating point units, double the cache, and a massive 15% improvement to instructions per clock. On top of all of this is the 7nm manufacture process which has resulted in significant power savings to boot.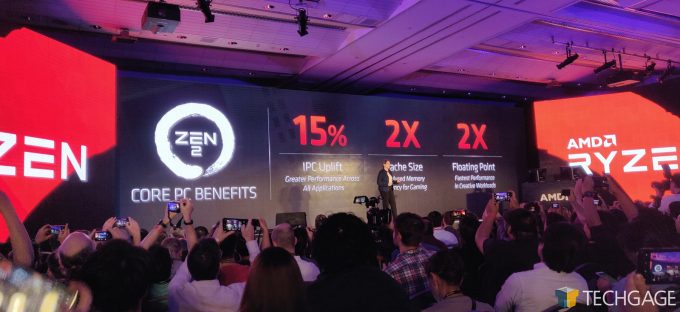 The first CPU unveiled was the Ryzen 7 3700X, a direct competitor to Intel's i7-9700K. Not only was AMD's CPU faster, but used significantly less power at just 65 Watts. This was the same 8 core 16 thread CPU that we've seen in the first and second gen Zen CPUs, but with higher clocks and 36MB of cache.
Up next was the 3800X, which saw the same core counts and cache, but with a clock boost and a larger power budget of 105 Watts. This was going toe to toe against Intel's i9-9900K.
| | | | | | | |
| --- | --- | --- | --- | --- | --- | --- |
| AMD Ryzen CPU | Cores/Threads | Base Clock | Boost Clock | Cache | TDP | Price |
| Ryzen 9 3900X | 12/24 | 3.8 GHz | 4.6 GHz | 70 MB | 105W | $499 |
| Ryzen 7 3800X | 8/16 | 3.9 GHz | 4.5 GHz | 36 MB | 105W | $399 |
| Ryzen 7 3700X | 8/16 | 3.6GHz | 4.4 GHz | 36 MB | 65W | $329 |
| Ryzen 5 3600X | 6/12 | 3.8GHz | 4.4 GHz | 35 MB | 95W | $249 |
| Ryzen 5 3600 | 6/12 | 3.6 GHz | 4.2 GHz | 35 MB | 65W | $199 |
Finally we saw one of the more interesting chips, the 3900X, which used an extra chiplet to pump up the core count to 12 cores, 24 threads, 70MB cache, and a boost clock of 4.6GHz, all within the same 105 Watt TDP. This went up against Intel's i9-9920X HEDT CPU, and not only beat it in a blender render, but it's the price point that wowed the audience. Intel's CPU is $1100, AMD's is $499 – less than half the price for a faster CPU.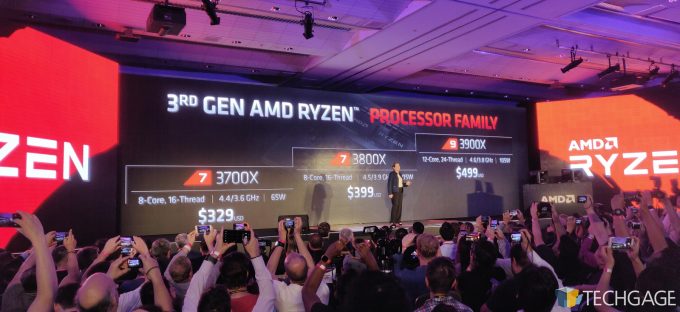 It's been confirmed for a while that there will be a 16 core Ryzen CPU at some point, but it wasn't official just yet. This is an interesting strategy from AMD as it encroaches on its HEDT Threadripper market space. However, Threadripper will still hold the advantage in memory access, since it makes use of quad channel memory, while Ryzen will stick with dual.
There was a final demo that tied in with Zen 2's push for PCIe Gen 4.0, utilizing a new benchmark by UL that showcased GPU bandwidth with AMD's latest CPU and Navi RX 5700 GPU, up against a 2080 Ti, and beating it by 69% – in bandwidth. Now, this should be taken with a large pinch of salt, as real performance isn't directly tied to bandwidth, but it does reduce a bottleneck.
Details of the expected X570 chipset to go along with the new CPUs was not mentioned at this time, but it's something we expect to see full details of fairly soon, such as lane counts and I/O distribution.
These new Zen 2 CPUs will be made available July 7th, so expect to see pre-orders before then, along with Navi coming out in June to preface it.
Copyright © 2005-2021 Techgage Networks Inc. - All Rights Reserved.