AMD64 3700+ San Diego S939 2.2GHz
Date: September 21, 2005
Author(s): Greg King

Need a CPU and want the best bang for your buck? Today, we are taking a look at the 3700+ San Diego core AMD64. It rolls in at a 2.2GHz stock speed and is also equipped with 1MB L2 Cache. The chip costs around $275US, but does does it give enough extra performance to warrent the extra money over a Venice core?
---
Introduction
Here at the Techgage labs, on the border of sanity, we have a brand new Athlon 3700+ San Diego in for review. If you have found your way to our little corner of the 'net, I am certain that AMD needs no introduction. But, for all of you techies out there that have been living under a rock or in Siberia, AMD is the premiere gaming CPU of choice for anyone "in the know".
This is a debatable statement at best so through out the review, we will see what this chip has to offer. I have owned a 3500+ Winchester core before this. so I am excited to see what the difference an extra 512 of L2 will help out. It's been a while since we have taken a look at a CPU so let's get into the meat of this review.
About Advanced Micro Devices
Founded in 1969 and based in Sunnyvale, California, AMD provides microprocessors, Flash memory devices, and silicon-based solutions for our customers in the communications and computer industries worldwide.
However, our focus goes beyond integrated circuits and transistors. AMD is committed to helping our customers — and their customers — take advantage of the phenomenal capacity of silicon to add value and help differentiate their offerings. To that end, AMD products are developed with customer needs always in mind and not for the sake of innovation alone. Stated more plainly, it means that AMD exists to provide real solutions for real customer problems that exist in the real world today.
Earlier this year, AMD released their Venice and San Diego core processors. The primary differences between the two, is that the Venice uses 512Kb L2 Cache, and the San Diego uses 1024Kb L2 Cache. Venice is for the casual mainstream computer user, while San Diego could be the hardcore gamers core of choice.
Both Cores, use a 90nanometer process, as all the current AMD chips being produced will. AMD recently got rid of the 130nm cores, and because of this, the potential of the chip is better.. lower temperatures and higher overclocks. Even the Winchester core at 90nm, couldn't handle higher frequencies, which held some overclockers back, and this is where Venice could make it's mark.
So what does the Venice bring to the table, to make it better than the Winnie? AMD added the SSE3 Instruction set to both the Venice and San Diego, which should help out in some areas, primarily media and development, but not gaming. It should be mentioned that this is not a simple copy/paste, so to speak, of the SSE3 instructions from the Prescott Intel chips. Prescott has a few more instructions in the set, that are used towards their Hyper-Threading technology. So if you were considering an Intel due to the Hyper-Threading factor, then the addition of SSE3 to the Venice/Sandy shouldn't sway you.
Another feature added, is a better memory controller. Previously, with 4 Double Sides sticks, you were forced with 2T at 166MHz. That's been fixed so now you can get 200MHz at both 1T for Single Sided and 2T timings for double sided.
Specifications
AMD Athlon 64
3700+ (San Diego core)
2.2 GHz operating frequency
1MB L2 cache
Socket 939
E4 stepping
90nm SOI
Pics! Pics! Give me pics!
This 3700+ is by no means an immediate relative to its namesake cousin of the s754 flavor. This is a beefy CPU to say the least with the same identical core as the FX line of chips, I have lofty goals for the results of this chip. Over the course of this review, I will include results from a variety of benchmarks as well as frame rates in a few of the most popular and demanding games out at the time of release.
Overclocking
There you have it! I know its not a record setting OC but reaching FX-55 speeds with a $275 USD chip is nothing to be upset with. I am certain that there is more in this chip but that is for another time. Now, onto the tests…….
Benchmarks
Processor

AMD 64 3700+ S939 San Diego @ 2.2GHz

Motherboard

DFI LanParty NF4 UT Ultra-D
BIOS is 702-2

Power Supply

Antec True Power 450W

Memory

Crucial Ballistix PC4000 1GB (512 x 2)

Hard Disks

WD Raptor 10K RPM 74GB

Sound Card

Creative Sound Blaster Audigy 2 ZS

Video Card

eVGA 7800GT PCI-E 256MB

Etcetera

Windows XP Professional with SP2
I will be using a few different programs to test the CPU today. Aquamark3 is a personal favorite of mine. I have been a part of the AQM3 community for quite some time and this DirectX 9.0 bench has proven to be a formidable opponent to anyone trying to press their CPU. PCMark '04 is a decent program to gauge the strength of your system. This taxes the CPU, the RAM as well as the video card.
Super Pi is a program that calculates the numbers of Pi. I chose to run it to the 1 millionth decimal point. SiSoft Sandra is another decent program that allows you to bench your CPU. On to the results!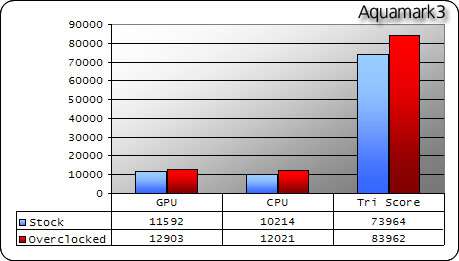 Conclusion
In the following graph, we have compared the 3200+ Venice to the 3700+ San Diego on similar set-ups. You can see the exact specs of the 3200+ Venice system here.
Conclusions
I can honestly say that I am excited about what I have seen during the course of this review. The overclock, while not as high as others have been getting, was the exact same as the FX-55's stock clocks and with the same core, I now have a 275 dollar FX chip. Nothing like saving 500 dollars in the course of an evening. I am extremely excited with the way that this chip handled all that I threw at it. The Aquamark3 score was impressive, jumping up a full 10,000 point with a 400 MHz overclock.
The other tests all wielded positive gains as well. The Super Pi increase was impressive as well with a full 7 second drop in time. All in all, I would not hesitate to recommend this CPU to anyone with the desire to build a gaming machine but without the budget for a FX chip or even the new dual core chips that AMD has out now. I am proud to give this chip 9 out of 10 as well as tack on the editor's choice award.
Robs add-in: As an end user, I would be torn in deciding whether to pick up the 3700+ Sandy or a 3200+ Venice. The 3200+ comes in at $100 less, but can keep right up with the 3700+. If you look back at our 3200+ Venice review, and especially comparing the Sandra results, it doesn't seem that worth it to spend the extra $100 for the San Diego. For the overclocking results in that article, we reached 2.7Ghz, and keeps right up to the 3700+.
Personally, I would have to recommend a 3200+ Venice CPU or move beyond a 3700+ Sandy and get Dual Core. If you don't have need for a Dual Core and don't wish to empty your wallet on an FX, I can't justify spending extra money for little performance gain. Unless you have a very specific need for an 1024kb L2 Cache, you may wish to look more into the Venice Cores.

If you have any comments you would like to make on the review, please feel free to speak out in our related thread. You do not need to register in order to post.
Copyright © 2005-2019 Techgage Networks Inc. - All Rights Reserved.