Antec Soundscience Halo 6 LED Bias Lighting Kit Review

Date: October 21, 2011
Author(s): Ryan Perry

Every so often, we're sent a product that on the surface looks to be one of the most simple we've ever seen, but in practice turns out to be quite useful. Antec's Bias Lighting Kit is one such product. It emits a white glow on a wall behind your monitor, making staring at the screen just a little bit easier. Sounds strange, but it works.
---
Introduction
Hello, friends. Do your eyes become tired after long gaming sessions? Do your colours seem less than vibrant? Are you only able to put in a short amount of time at the computer before having to tap out like a little girl? Then you need the Soundscience Halo 6 LED Bias Lighting Kit from Antec!
No, this isn't a late night infomercial and I'm not Billy or Vince, but we do have the Bias Lighting Kit on the review table today which Antec claims will improve your computing experience. By providing back lighting for your monitor, it will reduce eye fatigue, improve colour output and allow you to spend more time working or gaming than before.
I've had a chance to review a few niche products since coming onboard as a reviewer and this is certainly a new one for me, but one that I am really looking forward to testing. Maybe it's from old age, but lately I've noticed that even after an hour of gaming I do, in fact, feel like a little girl. Tap, tap.
The kit, as it will be referred to often throughout the review, has been released under Antec's Soundscience brand and consists of a 14.6″ flexible gel strip with 6 LEDs embedded in it. The kit is for use on monitors of up to 24″ but multiple kits could possibly be combined for larger displays.
The back of the gel strip is covered by a removable backing to keep the adhesive protected prior to application.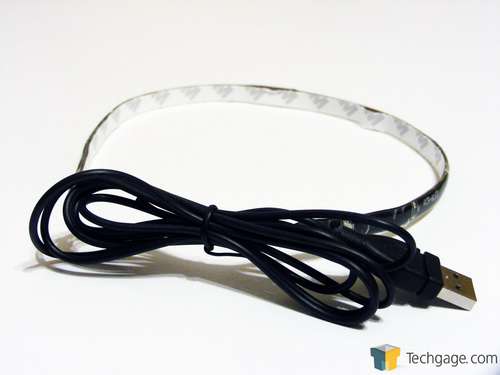 The rest of the kit is made up of the 4′ 3″ cable and USB connection used to provide power. A bit of attention has been given to where the cable runs into the LED strip in the form of some black heat shrink tubing to ensure a finished look and to protect the connection.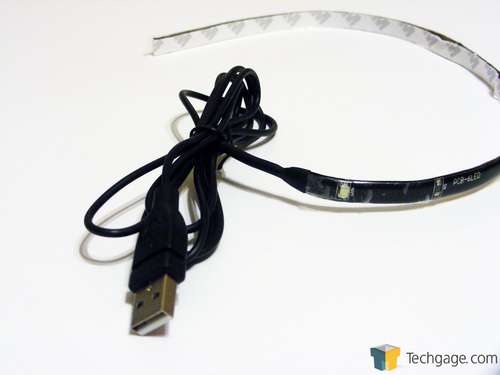 There is no mounting hardware since the kit sticks onto the back of a monitor and the package serves double duty by providing product information and installation instructions on the back. This helps to keep the trees in the ground and cuts down on costs.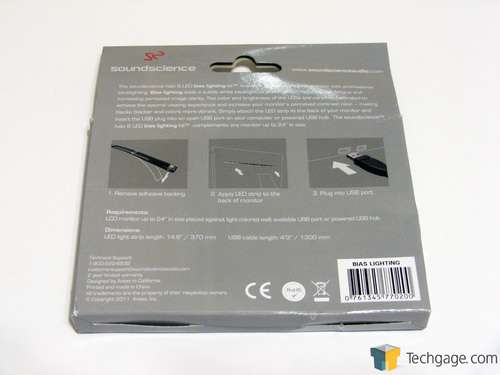 That's all there is to the kit, so we'll have a look at the installation next along with whether or not it can do what it claims as I sacrifice my own eyes for you, the reader.
Installation & Testing
Installation doesn't get much easier than this. Simply peel off the protective layer from the back and place the LED strip across the back of the monitor. Since monitors are notorious dust collectors, I'd recommend cleaning the area with a damp cloth prior to applying the LED strip.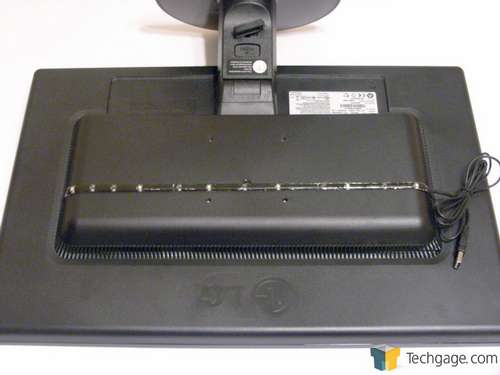 Once the strip is applied the kit can be plugged into an open USB connector and that's it. Ooh, pretty lights.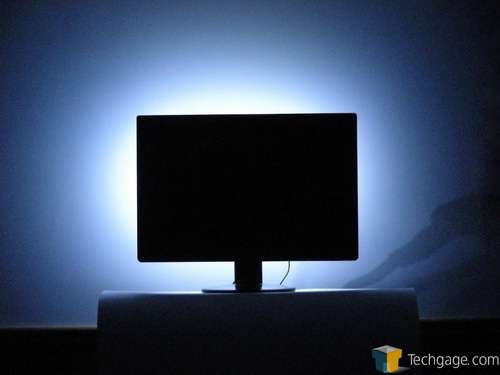 Even though the Bias Lighting kit is not only meant to help gamers, that's how I'll be testing each of the claims since gaming is where I put in the longest sessions. Each night will consist of a one or two hour session under the same low light. Night one will be without the kit, night two will be with the kit against the light coloured wall as recommended by Antec, and night three will be against the dark blue wall to see if the kit can perform in a less than ideal environment since not everybody has light coloured walls behind their monitor. My game of choice, at least until October 25th, will be Battlefield: Bad Company 2.
On night one by about the one hour mark my eyes started to feel heavy and burn a bit, and I felt drained in general when not using the kit. By the time the second hour was finished I was more than ready to log off and go to bed to rest my tired eyes.
While using the kit against a light coloured wall on night two I was pleasantly surprised that my eyes didn't seem heavy like the night before. At the end of the second hour my eyes and my body in general still didn't feel as tired as the previous night. Too bad my gaming ability didn't improve as well.
The final night fell more in line with night one on the comfort scale since the light given off by the kit is much less when put against a dark coloured wall but that is to be expected. I found myself in about the same condition at the end of the first and second hours as I did when not using the kit so having the monitor against a light coloured wall is a must.
The kit also claims to be able to enhance the perceived colour output of a monitor but I couldn't pick out any improvement on an LG GH22NS50. It's hardly a top performing monitor as the picture washes out slightly towards the top and the blacks are less than black, but it does what I need it to do. Perhaps there would be a noticeable improvement on a different monitor but for me this claim was a bust.
Reducing eye fatigue goes hand-in-hand with being able to put in longer sessions in front of the computer so the third claim is a little bit of an add on to the first. By reducing one you increase the other and on the second night of testing while using the kit against a light coloured wall, I felt like I had another hour left in me, but sadly the clock struck midnight and I turned into a pumpkin, so that's all the testing to be done.
Final Thoughts
All in all I like the Bias Lighting Kit for the simple reason that it makes long(ish) gaming sessions easier on my eyes. I went into this review hoping to have it do just that so for me it's a winner. Whether or not it enhances the colour output of a monitor, I can't say because I noticed no difference.
The build quality of the kit is quite good. The strip is flexible enough to fit over any shape and the connection between the USB cable and strip feels very rugged. But, there are a few tweaks that could be made.
The first is the length of the power cable, which I found to be too short. Based on the specifications of the USB interface, the cable should be no more than 3 meters long for a high speed device and 5 meters for low speed – but that's for transferring data. Seeing how this connection only provides power to the LEDs I don't see why Antec chose to go with a cable that's just over 1 meter. Even with my system sitting next to a very small desk, the cable was just long enough so folks who have a less-than-ideal setup might run into problems.
The adhesive is another cause for concern. I'm not sure if this could be improved upon since I'm sure Antec didn't want to make the strip a permanent add-on, but I found that it was too weak. Simply the weight of the power cable itself caused that end to peel away. If the adhesive cannot be changed then maybe the power cable should connect at the midway point instead of on the end so that the adhesive on both sides of the strip is supporting the weight evenly.
Finally, on some motherboards the USB ports remain active even when the system is powered off to allow users to charge their devices. My GIGABYTE H55M-USB3 board happens to be one of those models, so the LEDs remain lit. The addition of a small in-line on/off switch on the cable about 6″ away from the LED strip would be a nice touch.
At only $13, it's hard to truly find fault with it seeing how it's such a low cost add-on. Testing of a product like this is subjective due to the fact that everybody can tolerate different amounts of light – light created by different sources such as a monitor or different light patterns. It's the reason why some may get a migraine while others are fine after watching the same thing. Should the kit not help users the way it helped me they likely won't be too bent out of shape due to the low price point.
If you regularly find yourself stepping away from the computer to rest your eyes then this may be exactly what you need. The Bias Lighting Halo 6 LED kit isn't a must-have item but it certainly is a nice to have one.
Discuss this article in our forums!
Have a comment you wish to make on this article? Recommendations? Criticism? Feel free to head over to our related thread and put your words to our virtual paper! There is no requirement to register in order to respond to these threads, but it sure doesn't hurt!
Copyright © 2005-2019 Techgage Networks Inc. - All Rights Reserved.