Arctic Cooling Copper Lite Socket A Cooler

Date: October 7, 2005
Author(s): Drew Smith

Still use Socket A and are in need of replacement cooling? It's time to test out Arctic Cooling's Copper Lite, which will hopefully cut down on our overall load temps. It also promises much quieter cooling than stock coolers, so let's jump to it.
---
Introduction
About Arctic Cooling
ARCTIC COOLING is a leader in creating thermal cooling solution for personal computer systems that enable CPU (Central Processing Unit), GPU (Graphic Processing Unit) and PC-case cooling while reducing the noise level. Increased heat generated by modern computer systems has overwhelmed most existing CPU cooler manufacturers in their efforts to keep pace with the demands in terms of cooling. At the same time noise pollution caused by today's IT-systems has increased, severely affecting productivity in open office environments.
First Impressions
The first thing that strikes you about this particular cooler is its size. It's considerably larger than the stock cooler provided with the Sempron 3000+ processor that was used during testing. This cooler has a very innovative fan design that adds a touch of style, plus the open design of the fan provides much better airflow over the stock cooler. Arctic Cooling has designed the heat sink on this cooler with larger channels and a much larger size to maximize its cooling effect for overclocked processors.
Installation
The installation of this cooler went rather smoothly. I did have difficulty fitting my hand around it inside the case, however. The size of this cooler may add a much better cooling effect, but it does not add in the ease of installation. The cooler sits higher than the stock cooler, and is also wider than it as well, which creates a small problem maneuvering your hands around the power supply and other parts on the motherboard.
These minor problems did not hinder the install too much and the whole process came through in under a half hour, including the uninstallation of the stock cooler, prepping the processor and placement of the cooler and securing it.
Testing
To test the potential of the cooler, I used two popular programs to stress the CPU to the limit, Prime95 and Super Pi. Here are the specs of the system that the cooler is being tested in:
| | |
| --- | --- |
| Processor | AMD Sempron 3000+ Socket A 2.0GHz |
| Motherboard | ASUS A7N8X-X (Socket A) |
| Power Supply | Ultra X-Connect 500W PSU |
| Memory | 1GB, 2 X 512mb Samsung DDR |
| Hard Disks | 80GB WD 8MB Cache |
| Sound Card | |
| Video Card | eVGA Geforce 6600GT 128 MB AGP 8X |
| Etcetera | Windows XP Professional with SP2 |
Testing on the stock cooler involved using Prime 95's Small FFT Torture Test and Super PI calculating PI to 32 million digits at the same time resulting in 100% CPU usage and maximum temperature. On the stock cooler, the results were an idle CPU temperature of 36ºC and under load (Super PI and Prime 95), and the resulting CPU temperature was 47ºC. Once installed the Arctic Cooling cooler showed a good improvement in idle temperature, bringing it to 32ºC degrees, a 4 degree drop over stock.
Testing the cooler under load resulted in a CPU temperature of 46ºC, a single degree difference over the stock cooler. Another fact that I discovered during testing was a quite noticeable drop in the noise level. This CPU fan is much quieter than the stock fan. This comes in very hand for those who have their computers in their bedrooms or in rooms where someone would be sleeping and need to leave their machines running all night, as I do.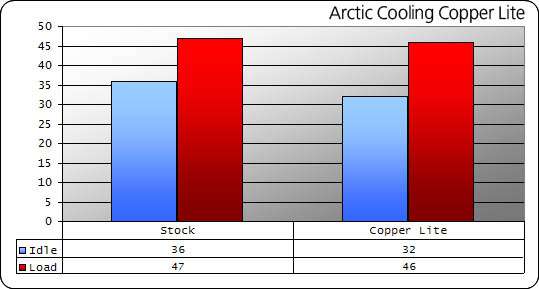 Final Thoughts
This cooler has a great bang for the buck for those of us still using Socket A's. It provides extra cooling we need for modding and overclocking and also provides much lower noise levels if you happen to care about having a quiet PC. Installation can be completed easily, even by a novice user and all the results are proven. This cooler for its ease of installation and it's better than estimated temperature readings and for its much better noise level I give it a 9 out of 10.
The only reason this product is not receiving a 10 rating is because of the limited instructions provided in the packaging, however they are not really necessary. If you still have a Socket A and are looking for a more efficient cooler then your AMD stock model checkout the Copper Lite CPU Cooler.
Rob's Add-in: This seems to be a great cooler for the money, that's lightweight and QUIET. Sadly, the temperatures captured in this review were all with the included Arctic Cooling thermal paste that was included. There was not any AS5 on hand, and chances are good that temperatures could be improved even moreso if you have that paste.
Even though installation is relatively easy, AC does not make it clear enough in the instructions how to mount the cooler on the specific Sockets it is compatible with. For instance, a clip must be turned around on the cooler in order to install on a regular Socket A, compared to a Socket 462. It's just not immediately evident that the clip can be turned around, and could cause slight confusion.
Have something to say? Please feel free to comment in our forums, where you do not need to register to post about our reviews and articles.

Copyright © 2005-2020 Techgage Networks Inc. - All Rights Reserved.