Arctic Sound P531 5.1 USB Gaming Headset

Date: December 22, 2010
Author(s): Ryan Perry

As more and more companies look to expand their product line-ups, we've been seeing audio tackled quite a bit. Arctic is one of the companies to dive in there, and the products we've seen so far have been noteworthy. In this article, we're taking a look at the company's latest gaming headset, the 5.1 P531, a USB-based solution.
---
Introduction
Ah, the Swiss; makers of fine cheese, wine, chocolate and after market cooling products. Wait. What?
That's right. The Swiss also know what they are doing when it comes to keeping computer components cool. Comin' straight outta Switzerland is Arctic Cooling, a name that is well known among enthusiasts. Many of its products such, as the Freezer 7 Pro CPU cooler, Accelero VGA cooler and MX-2 and MX-3 thermal compounds offer excellent performance without making you empty your wallet.
Recently, like many other companies, Arctic has started to branch out into the chassis, power supply, peripheral and audio markets. This has led to a rebranding of sorts with some of its products. Its cooling products continue to be sold under the Arctic Cooling name, while its peripherals are simply marketed as Arctic but retain the Arctic Cooling badge on the package.
The product up for review today, the P531 5.1 gaming USB Headset comes in under the Arctic Sound banner. It has a lower price point than most other 5.1 headsets, so the questions that need to be answered today are whether or not the sound quality has been sacrificed, and also whether they can provide the level of surround sound that the big boys in a higher price range can.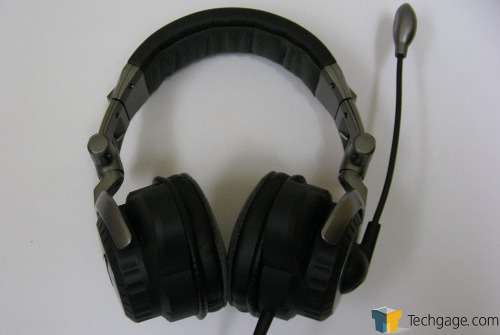 As the name suggests, this headset features a USB connection, and uses the included driver software to help configure and handle sound output rather than use individual 3.5mm audio connections. This means the processor will do the work instead of a motherboard's on-board sound or stand-alone soundcard. Since this is a surround sound headset, Arctic Sound has chosen to go with a 30mm center, 40mm front, 30mm surround and 27mm subwoofer driver in each ear cup.
The closed circumaural cups, which are designed to cover the entire ear and passively block outside noise swivel 90 degrees horizontally but also flip outward 180 degrees. If space is an issue they can also be folded up into the headband making a smaller footprint for storage or transportation. They are marked with a white L or R designating which cup goes on which ear and feature a soft, plush-like fabric on top of a cushioned, fake leather wrapped pad.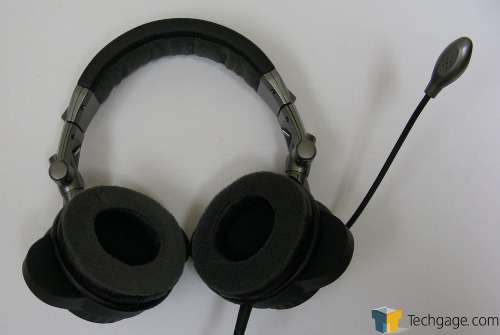 Attached to the side of the left cup is a noise cancelling microphone that can be rotated 135 degrees all the way up to a 90 degree position, allowing it to be moved out of the way when not in use. The amount of articulation in the boom itself is very impressive and there should be enough length for most users to position the microphone almost in front of their mouth if needed.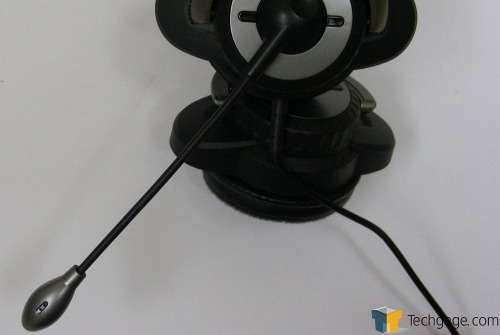 The underside of the headband features the same soft, cushioned surface as the cups and is wide enough to spread out any downward force, while the top sports the Arctic Sound logo. Size adjustments are made by way of the typical numbered slide mechanism on each side that ranges from 0, which is fully retracted, to 8, fully extended.
90 cm or 3 feet down the 3 m or 9.8 foot cable that runs from the left cup is the inline volume control. Overall volume can be adjusted along with the volume of each individual driver depending on the output mode selected in the driver. It also features a mute switch for the microphone and a blue LED bar that flashes to indicate when sound is playing, and stays solid when there is no sound output.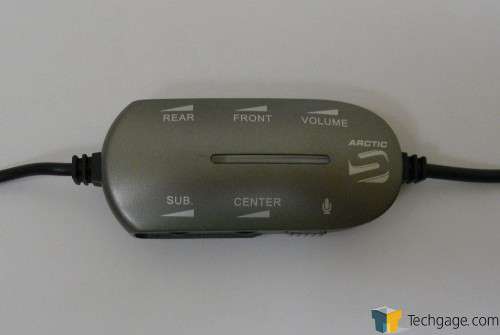 Finally there is a small, basic, multi-language, fold out user manual and a driver CD in a plain white sleeve taped to the inside back of the box. On that driver CD is also the software, which I'll take a look at next.
Software
While the Arctic Sound P531 is plug and play and allows users to start listening right away with the option of 5.1 surround sound, they will miss out on the various tweaks available that the software offers. In order to get the best sound possible from all media types, users should start by installing the driver from the included CD.
Once the system has been restarted after the drivers have been installed, users can then select their playback and recording devices from within Windows before moving onto the meaty bits of the configuration by selecting the new AC icon found in the system tray.
Sharp-eyed Techgage readers will notice that the interface of the software looks very close to that of the Corsair HS1 USB headset we reviewed back in October. This is due to both using the same audio engine, Xear 3D. For starters, the software gives users a reference of how many channels should be used based on what is being listened to by clicking on the question mark next to the "System Input" drop down. This will be helpful for those who may be novices and just want to jump in without having to tweak too many settings. For those who like to tailor their sound, there are many more options available.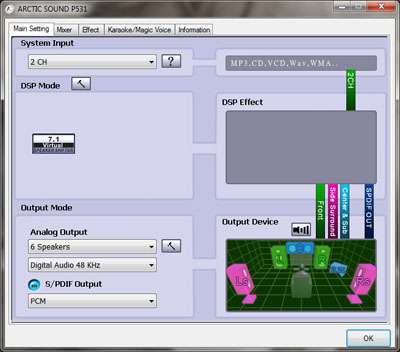 For most music, 2 channel output is the best choice, unless the source offers additional channels, and for movies, the 6 channel 5.1 output is more appropriate. There is also an option for virtual 7.1 surround sound, which adds left and right bass to the setup and allows the audio to be fine-tuned even further. Although it is available at all times regardless of the number of channels, it gives users the ability to change their position, and the position of the various speakers in relation to them by rotating the entire setup or manually repositioning each one.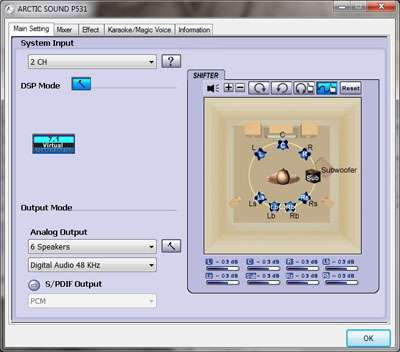 More standard features are the ability to increase or decrease your levels for your playback and recording devices as well as a graphic equalizer that allows users to fine tune the sound based on personal preference by changing the individual frequencies or using one of the presets. Any user defined configurations can be saved and loaded when needed. On top of this you can apply effects to the sound such as sewer pipe but this seems to be more of a novelty than anything else.
Another feature that I see as a novelty is karaoke and Magic Voice. I have no idea who would purchase a gaming headset so they could belt out Sweet Home Alabama but that person will be able to do so and also manipulate the way their voice sounds. If sounding like the devil or Alvin and The Chipmunks is your cup of tea then this section is for you.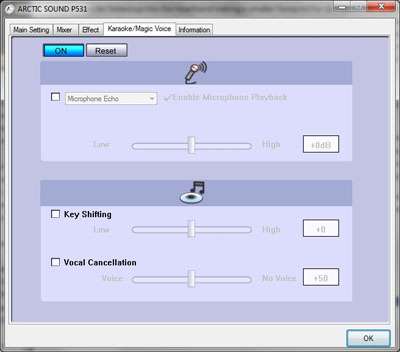 Aside from some demo media that showcases the surround sound capabilities of the headset, one final piece of software to note is the inclusion of the AC3 filter in a separate folder on the driver CD. This GNU licensed software allows you to decode any audio file on the fly and make use of all supported audio channels. While I am not that much of an audiophile that I need all of my audio to be the best of the best, I did play with the application for a while. Unfortunately I could not get it to work with any of my usual media players and will chalk it up to being unsupported in Windows 7 as stated in the setup instructions found on the official website.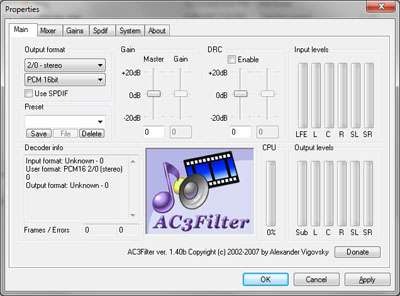 Ok, who is ready for some subjective testing?
Final Thoughts
Although the P531 is constructed primarily from plastic, it did not feel cheap or fragile in any way, and from a comfort standpoint it was great. Even though this was marketed as a circumaural headset, the cups failed to cover my entire ear, leaving the cushions resting on the tops and earlobes.
That is not a comfort issue for me but it could cause one for those who wear glasses. This, along with the sharp curve of the headband had me worried that there would be a high amount of clamping force on my ears, but the padded cups did what they were designed to do and did it very well.
While the headset as a whole is heavier than I am used to, it still weighs in at a "light" 462 grams, or just over 1lbs, and I felt no fatigue after wearing it for several hours. After about half an hour I had almost forgotten that they were on, which is about the time that I used to have to reposition my old set due to them being so uncomfortable.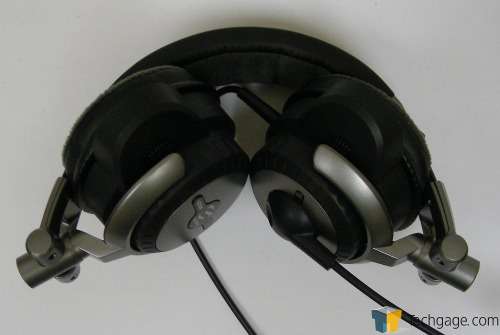 Having a small child who does not sleep straight through the night and needs attention means that I find myself wearing only one cup at a time quite often, so the ability to horizontally swivel in them is a welcome feature. It allows the unused cup to sit flush behind my ear instead of on the edge of the cup which would put excess force on my head.
One small shortcoming to point out is when the headset was taken off, placed around my neck and then put back on, it did not hold the headband adjustments. This is due to the fact that there is no resistance on the sizing mechanism. Many headsets almost have a click to them but the P531 has a smooth slide. While it is not a big deal, it can be a nuisance.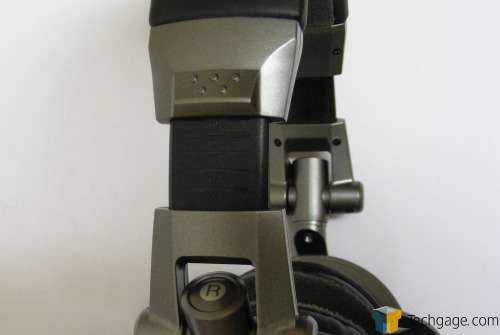 To test the noise-cancelling microphone I spoke to a friend in game and they said the sound was perfect with almost no background noise coming through. This is even while sitting next to a case with 5 fans running at full speed. To hear for myself I made a quick recording through Windows Sound Recorder, and I found my voice was very clear and I did not need to speak loudly in order for it to register. The microphone also stayed exactly where I placed it and the boom even held the shape of a 360 degree spiral, so it should be able to hold any position needed.
The headset provided clear highs and a good amount of bass regardless of whether I was listening to Pearl Jam, Alexisonfire, Fear Factory or Pendulum. On some tracks the mid-range became a bit muddy causing some of the more subtle sounds to become lost but this could be improved by tweaking the equalizer. The product website claims there are vibration units integrated into each cup to provide extra bass, which had me a little worried since my last headset would rattle your teeth. What I found was that this vibration is not tactile feedback like I was used to. Instead it was very subtle while listening to music, compliments the sound very well and gives the bass more punch while making it sound fuller.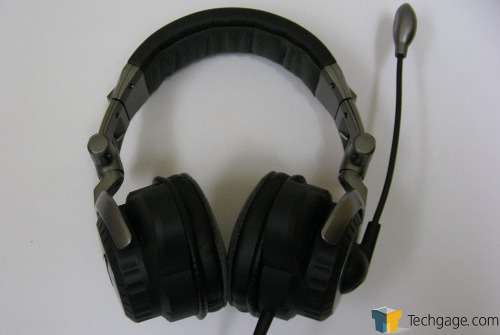 When it came to movies, I was blown away while watching Transformers in 5.1 and virtual 7.1 surround sound. Sound positioning was handled very well and since I have watched the movie more times than I care to say, I found myself waiting to catch sounds that were not happening directly in front of me. The vibration that I mentioned earlier really came through delivering heavy bass during action scenes without being overwhelming. When I had my wife listen she simply said "Wow!"
For game testing I decided to go with Call of Duty: Black Ops and Metro 2033. In Black Ops I was able to hear a few people running up behind me for a knife kill, but sadly I did not perform as well as the P531. At least the kill cam was nice!
Explosions, gun fire and footsteps that happened outside my field of vision could be picked up clearly and really helped increase my immersion in the game. The story is no different in Metro 2033. Sounds were also picked up clearly and helped me determine where an enemy was. In a few cases I caught myself getting jumpy and looking back to see if something was there, so these headphones certainly did the job.
Even with the minor shortcomings, I do not think you will find a better surround sound gaming headset for the money. It is built well, comfortable and performs very well while listening to music, watching movies or playing games. The outside design of the cups may not appeal to everyone but I think the look of the headset is perfect with just enough styling to set it apart from the crowd without being too over the top.
This is certainly a headset that I would recommend to anybody looking to get into the surround sound game but does not want to break the bank.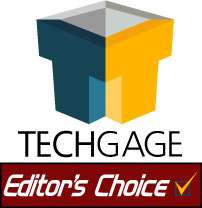 Arctic Sound P531 Gaming Headset
Discuss this article in our forums!
Have a comment you wish to make on this article? Recommendations? Criticism? Feel free to head over to our related thread and put your words to our virtual paper! There is no requirement to register in order to respond to these threads, but it sure doesn't hurt!
Copyright © 2005-2020 Techgage Networks Inc. - All Rights Reserved.