Assassin's Creed III Review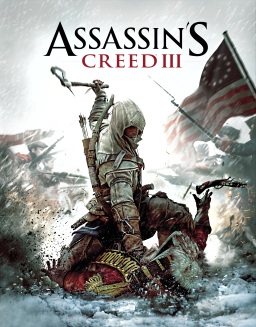 Date: January 4, 2013
Author(s): Brandon Mietzner

Since 2007, the Assassin's Creed series has taken us on one heck of a wild ride. The latest title is simply called Assassin's Creed III, and it looks to be the most ambitious one yet. Will the questions surrounding Desmond finally be answered, or will this be another minor stepping stone in the oceanic enigma that is the AC story?
---
Introduction, Story
Assassin's Creed III continues the events of Assassin's Creed: Revelations, where Desmond, Rebecca, Shaun and his father William have entered the temple ruins of the first civilization. After briefly exploring, Desmond collapses from a bleed-through effect and the team quickly puts him back into the Animus where he is taken back to the events of his ancestor Haytham Kenway.
The year is 1754; Haytham has just arrived at England's Royal Opera House, where he's setting out to procure an amulet from another patron – one that's believed to be a key for opening a temple belonging to the first civilization. This section of the game wraps up a tutorial for climbing and free running, and once completed, Haytham boards a ship bound for America. During the voyage you'll learn basic combat, investigatory skills and get to play a few mini games.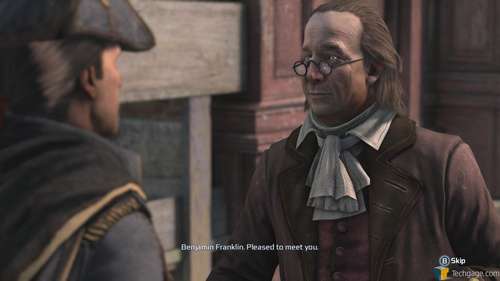 Upon reaching the New World, Haytham sets out to make contact with those of his order, recruit new members and find the lost temple. During the course of his journey he rescues Kaniehti:io – a Native American woman – who belongs to the Mohawk tribe which is about to be sold into slavery. Haytham along with his fellow companions also rescue Kaniehti:io's associates, putting her in his debt. Months pass with no word from her, but realizing that she may be the key to ultimately achieving his goal, Haytham actively pursues her.
After finding the temple and not being able to enter, Haytham and his group change their priorities but never forget the ultimate prize. During this transition, Haytham and Kaniehti:io develop a romantic relationship – one that results in a child on the way. Realizing what kind of man he is, Kaniehti:io, decides this is not the world she wants their child to live in. She then heads back to her people and gives birth to Ratonhnhaké:ton.
The year is now 1760 and Ratonhnhaké:ton is now six years old. While out playing with his friends, he encounters Charles Lee. Charles is presumably sent to the Mohawk tribe to find out what it is that he and his comrades need to gain access to the temple. After a brief altercation with Charles, the boy is left unconscious and distant from the battle.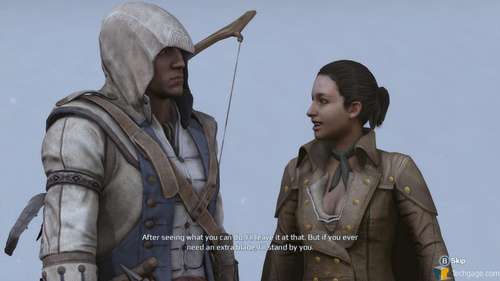 Charles has no luck in finding what it is he was sent for and proceeds to burn the Mohawk village to the ground – among the casualties is Ratonhnhaké:ton's own mother. Fast-forward several years, and he's now a young man, and a skilled hunter. The village elder hands Ratonhnhaké:ton a crystal-clear sphere, and upon touching is transported away by Juno, a being from the first civilization. During the vision quest she shows him what he must do to prevent his people from being decimated and who he must seek to achieve this goal.
Upon reaching his destination, he meets Achilles. The old man is not excited to have a new pupil, but seeing how unwavering he is in his resolve, he reluctantly takes him under his wing to train him in the ways of becoming an assassin. Ratonhnhaké:ton spends many years training, waiting and never forgetting the man who took his mother away from him. After some time, Achilles decides it is time to fix up the manor and to give Ratonhnhaké:ton a new name, Connor.
While Achilles and Connor are in Boston, the American Revolution is in its infancy with protests and the occasional brawl. However, today is March 5, 1770, the day of the Boston Massacre. The two do their best to prevent this atrocity but their efforts are fruitless. Connor spots Lee and then realizes that he and his group are responsible for causing the atrocity. Knowing what he must do, he trains harder both mentally and physically to give him the skills, the tools and the wisdom to achieve his goals and kill his targets.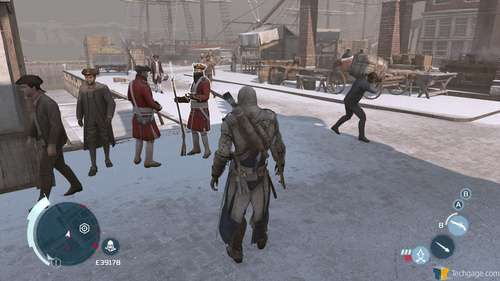 (View image at 5760×1080)
Assassin's Creed III is approximately 12 memory sequences long in the main story, which can take anywhere from 15 to 60 hours depending on how many of the side missions you do. The sequence of events that I have just described is approximately 35% of the overall story, which consists of 5 memory sequences that took me around 14 hours to complete with side quests. From this point, the game starts to open up allowing you to fix up the manor, find new settlers for the small town, go hunting in the frontier and much more.
There are many things that are locked out until you get further in the main story, like side missions for the townsfolk, upgrades and et cetera – essentially, you can't do everything at once. The side missions take up a majority of the game, but the story will end the same regardless of which ones you tackle.
Newcomers to the Assassins Creed series will be happy to know that the tutorial is very streamlined and gets you playing right away. The story during this sequence is a little dry, but it's important to not take it as a sign of things to come. Obviously, having to tell a story in a duality such as this has its challenges and even though Ubisoft admitted that the story of Desmond was not very well-thought-out, it still did a pretty bad job. On the bright side, the stories of Haytham and Connor were very well-written and makes up 90% of the overall story.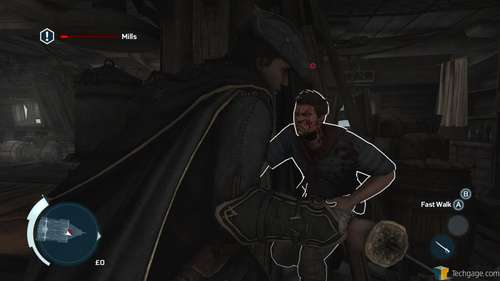 (View image at 5760×1080)
Haytham and Connor's story is told before, during and after the events of the American Revolutionary war, which is a unique perspective that has not been told before in a videogame of this magnitude. Their stories are told in such a way that they draw a parallel to historical events but do not interfere with the events that they intertwined with. Their story, though original, is nothing if not a little bit on the side of grandstanding and convenient; these two characters were always a part of critical events but always played a support role. That aside, I did thoroughly enjoy how the story and events unfolded.
Gameplay & Final Thoughts
Just like all the previous Assassin's Creed games, Assassin's Creed III does not skimp on the details. Everything from the buildings, newspapers, propaganda (on both sides), uniforms and et cetera have all been painstakingly created for this game. Now, I know that there are some people who thought that this game took a pro-American stance on the Revolutionary War, but I don't see it. Shaun, the in-game present-day IT guy who inputs all the information about locations and events for you to read, is British and provides a perspective from that background. Shaun is not always putting America down, either; he points out the flaws in both the British and the French governments of the time as well. If there's bias, I sure didn't see it .
The biggest change that veteran players are going to see is that the controls and the interface have been drastically reduced. Although I would agree that the controls are better than the game's predecessors, I do still think that they can be a bit tricky when trying to perform a jump. The interface is the biggest problem with the latest update; it doesn't remember where you are when you're crafting, reading emails, changing settings or anything else – you always go back to where you first began. There are also times when it will flag something as being unread, when it isn't. Another oddity – with the PC version, you cannot quit directly to desktop like you could with the previous games.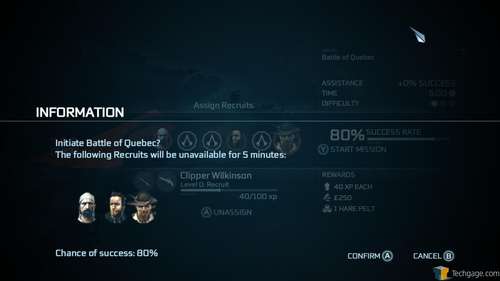 Assassin's Creed III is not without other blemishes; the foremost of these problems are the bugs, which I have confirmed affect all platforms. Take for example a mission involving Samuel Adams. You can go out the door and spawn directly inside of an enemy, prompting them to attack you immediately. This bug was so severe, that reloading the save wasn't enough to avoid it – I had to restart the game from the beginning.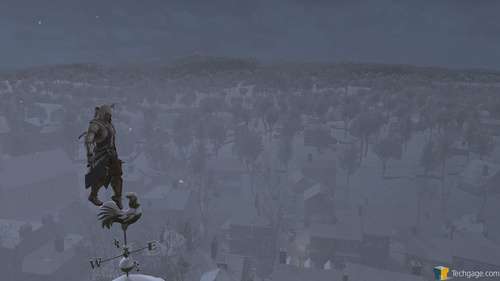 (View image at 5760×1080)
As far as minor bugs go, there are at least a dozen if not more that I experienced. These range from mission icons missing on the map, invisible walls in the middle-of-the-road, people and items not spawning, camera flake-outs when certain objects are around, people (enemy and NPC alike) spawning and de-spawning in front of you and much more. This game has been out for a little over a month now on the PC and even longer on the consoles, so it's rather appalling that these bugs haven't been ironed out by this point.
Assassin's Creed III has a big focus on combat,  however stealth elements can play a role in both primary and side quests as well. The combat is very straight-forward and is balanced well between the different weapons and combos that you can use and the tactics that the enemies can use.
Stealth is not so finely honed; the game still requires the player to take a lot of risks when on stealth missions but does not provide many options for you to achieve this goal. It would have been nice to have more than just a hide and seek mechanic when it comes to stealth. Instead, it is memorization that gets the player through these bits, and that takes up a lot of time. That being said, I do appreciate that you can now run through a building to lose a pursuer, as it helps cut down on the time spent trying to evade enemies.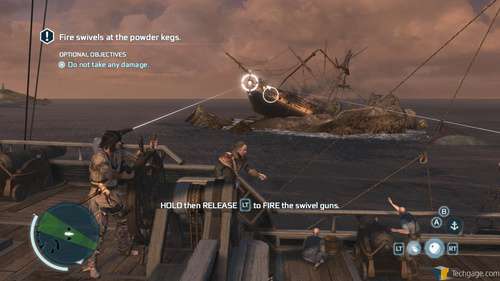 (View image at 5760×1080)
I mentioned before that there are many side quests that can be done in the game. These range from hunting, gambling, naval combat, recruiting and working with your townsfolk, item gathering, traversing tunnels to find quick travel points, recruiting assassins and et cetera. The hunting, townsfolk and the naval combat missions are the diamonds in the rough amongst all these new additions. The hunting allows you to gather skins and other resources to sell to other merchants which can be quite a lucrative business if you know what furs are popular at the time. The naval combat gives you a break from the standard gameplay, thus providing a more strategic style of combat. The townsfolk all provide an interesting individual story and had me connecting with these characters on a greater level than previous Assassin's Creed games. This is the first time in this series that I felt compelled to learn more about the support characters than I had trying to finish the main story.
The PC has the upper hand when it comes to the graphics, offering improved textures, TXAA and tessellation. The TXAA and tessellation are DirectX 11-specific features, and note that TXAA is only available on NVIDIA hardware. The only feature that I felt had any major impact was TXAA; tessellation was only used for snow and though it does look better when comparing screenshots, the impact is less noticeable when playing. The DirectX 11 features cannot be turned on or off directly, and you have to change your texture quality to something lower than very high to turn them off. Just like previous Assassin's Creed games, this one provides proper multi-monitor support.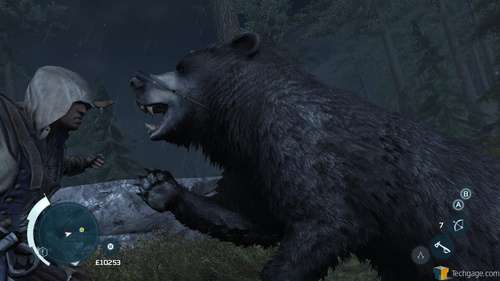 (View image at 5760×1080)
Another detail that Assassin's Creed III does not miss is the music. This time around, instead of an Italian opera, there is authentic Native American music. The Native American music along with the rest gives the player a very rich and immersive experience. The voice acting was well executed as well; everyone had the proper accent for their character and conveyed the proper emotion at the proper time. I do think that the person who was voicing Connor had a few dry spots here and there but I can only imagine how difficult it must have been to play a character that had learned English in that time period.
When first starting up multiplayer you will notice that it is not attuned to your single player graphics setting nor is it as robust. It lacks multi-monitor support, has a reduced draw distance (which is very noticeable) and the DirectX 11 features do not seem to be enabled. The classic modes of deathmatch and team deathmatch (team objectives) are here, along with a few new additions such as Wolfpack, where players are given an objective to kill as many NPC's as possible within a certain time limit.

(View image at 5760×1080)
Domination mode is basically capture and defend, where you have to take control of certain points on the map and protect them from the other team. The multiplayer also has its own system for gaining levels and abilities; the levels go as high as 50 but the abilities stop being unlocked at around level 25. Unfortunately, the game is limited to only 8 players max, so the best you can hope for is 4vs4. All though these matches were interesting, the limitations and focus on quick matches made this a forgettable experience for me.
In the end, Assassin's Creed III has a story that is worth experiencing, however, this is not the most polished Assassin's Creed game to come out of the gate. There are many bugs and other annoyances that can make it rather difficult to play; it felt like the game was rushed to meet a fiscal and story critical date. I think it should have received a little more TLC before being released, so if you're on the fence about picking it up, I would recommend you wait until issues are fixed before doing so.
Pros
Good side-missions (hunting, naval combat and townsfolk)
Connor and Haytham's storyline
Authentic music
Amazing attention to detail
Cons
Some major bugs
Many small bugs
Side missions have no impact on overall story
Desmond's story was lackluster
Graphics only slightly improved console versions
Stealth remains limited
Copyright © 2005-2020 Techgage Networks Inc. - All Rights Reserved.