Assassin's Creed IV: Black Flag Review

Date: December 9, 2013
Author(s): Brandon Mietzner

The Assassin's Creed series has been quite an active one up to this point, but IV: Black Flag takes us to the most exotic location to date: The high seas, during the golden age of piracy. With this major setting change, does Black Flag bring with it unexpected riches, or is this a treasure best left buried?
---
Introduction, Story & Gameplay
Assassin's Creed is a series willing to take risks – whether it's with the story or the gameplay. Yet, as forward-thinking as it has been, it has become the epitome of why gamers dislike sequels; nothing has really changed or evolved since Assassin's Creed II.
Assassin's Creed III (our review) did the most to change that; it dabbled in sea-faring combat, but there wasn't much centered around it. There were of course other minor elements that were added, such as hunting, but they weren't as successful at captivating the audience's attention as naval combat was.
Assassin's Creed IV took the success of naval combat from III and ran with it in full here – the entire game is based around it. You take on the role of Edward Kenway during the golden age of piracy. The game features Blackbeard, rum, booty, and of course, typical Assassin's Creed flair. One change that many might not expect is that instead of having other assassin's do the commanding, you do.

(Click Here for Multi-monitor Version)
The aptly named Kenway fleet is made up of ships that you have boarded, plundered and captured. A successful capture gives you three options: Fix your ship, lower your wanted level or send to your personal fleet so it can be sent on missions to sell certain items only available in its own mini-game; these missions net you main game currency.
The items bartered in this mini-game can only be gained in the mini-game itself, but a captured ship can be broken down to give you exclusive currency to fix your other ships, which you will do a lot of. With the mini-game aside, the main focus of naval combat is to secure goods so you can upgrade your ship – the only way to do so.
This focus of keeping everything compartmentalized is what drags the game down to the briny deep when it comes to time management. There will be a lot of time spent trying to get the upgrades necessary to take on larger ships to get a bigger haul or even progress through the main story. This adds what I call a lot of "busy work"; sure it was fun, but after the first 20 hours it became a chore and no longer so.
The upgrades are a little bit more relaxed compared to previous AC titles when it comes to Edward Kenway's gear. There is still hunting and money to consider, but the raw materials can always be bought for his personal outfits and other upgrades for his weapons. This is the exact same upgrade system we saw in the previous game; sadly, so is the free-run and the hand-to-hand combat, which is still just as dull and buggy as ever.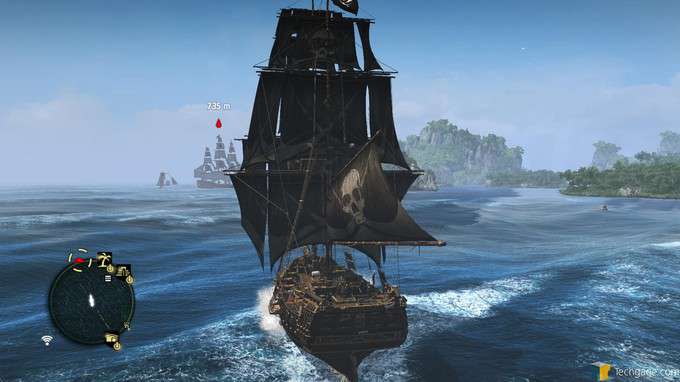 (Click Here for Multi-monitor Version)
There has been no attention put into changing or fixing some of these core gameplay mechanics. Sure, the naval combat is a nice distraction, but at the end of the day, it's about Kenway, and how you control him. For example, there were many times I'd be free-running and miss a jump, or he wouldn't climb up when there was an obvious ledge. This meant I had to do a lot of things over, just like I have had to in the previous Assassin's Creed games.
As for combat, it is still a button mash – sure, there are counter moves and other weapons to keep it interesting, but those skills are quickly mastered if you've played the previous games. Many of the same problems that have been there since the first Assassin's Creed are still here; the minor exception is that there are many more places to hide, making stealth an easier mechanic to work with (but it still can be unforgiving at times).
A change I was delighted to see is that the optional objectives during the story missions are much easier to achieve than in previous games; sure, you still need to do them a few times to get them all figured out, but they were achievable without timing everyone's movements and having only one route.
The whole game, not just the story missions, feel more open then its predecessors, but there are still many places you cannot go unless you've been there through the main story. This problem limited item collecting, side missions and even upgrading the ship because I felt unsure if there was a problem with the game or if I was doing something wrong. Thus, the game can still confuse what you can and cannot do. This obviously shows us that some improvement has been made to the gameplay, but sadly none of the major complaints have fully been addressed.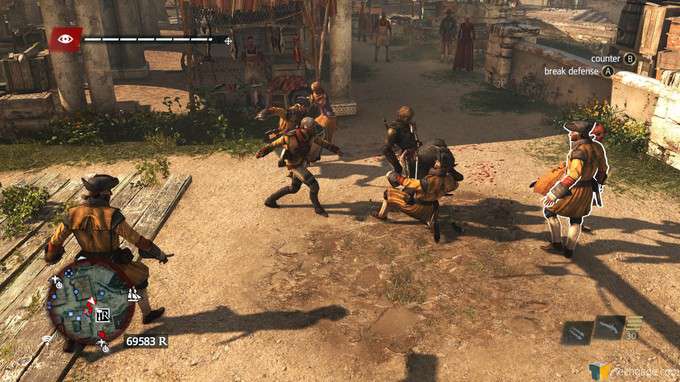 (Click Here for Multi-monitor Version)
A new kind of adventure to the game comes in the form of underwater salvage side missions. These locations certainly look much more fantastical, but gameplay-wise they change a lot of the rules on you: The controls, limited amount of air buoy's to help you, holding your breath, hiding from sharks, not hitting sea urchins, and etc. This idea might have sounded great on paper but I had several issues with it.
To elaborate on my plight during these expeditions, I would try and turn in to a sunken ship by making a sharp turn but wouldn't be able to make it in. Thus, I would get eaten by a shark or I would lose more air, have to turn around and come at the hole straight on. This is yet another horrible control mechanic that needs to be fixed.
Game Issues, Final Thoughts
With the gameplay sorted let's focus on the story of Edward Kenway. His story is very black and white; he wants to make enough money so he can improve his status because he doesn't want to be under the boot of other men. This is a common idea of the time but the way it is presented through Kenway's experiences is one that is unique and different from previous games, and it made it a very enjoyable experience.
Kenway's story will answer many of the questions raised in previous games with other characters you've played in the Animus, but, the overarching story is still one that has too many questions and not enough answers. The last game made many people feel, myself included, that Ubisoft doesn't know where it wants this story to go, and I for one still have that feeling.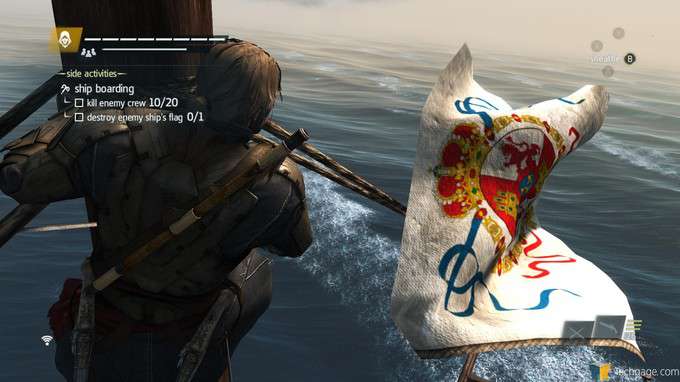 (Click Here for Multi-monitor Version)
The PC version of the game has many visual improvements over its console counterparts, including such gems as NVIDIA God Rays, NVIDIA TXAA, NVIDIA HBAO+, NVIDIA Apex Turbulence (PhsyX required), Precentage-Closer Soft Shadows and the ability to play it on a 4k monitor with 4k textures. As you can see, NVIDIA is the video card of choice if you want to run all these inclusive features. I personally have NVIDIA video cards in my rig and I have to say, those features do make the game look a lot nicer.
As nice as these features are, though, it would have been nicer if the PC didn't have bugs that only happened on the PC. There were times I had some strange bugs occur such as when my ship was birthed at a certain location and would rise from the depths. It was hilarious to see, for sure, but there are other bugs that just defy belief until you see them. I have mentioned these to my console playing counter parts and they've never seen anything like what I saw.
This sadly feels like another port and the PC did not receive the polish it was promised, even though Ubisoft delayed it for the PC to finish it. Many of the issues are not showstopping, and the only one that I did encounter was not reproducible, so many of these can be over looked. However, the PC deserves a little more TLC than just additional graphical features, no matter how pretty they are.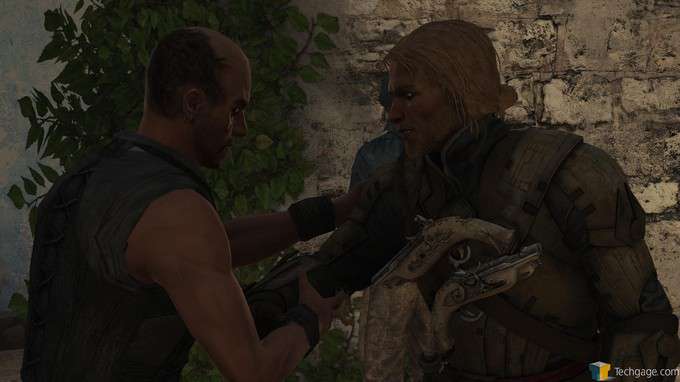 The sound quality and professional voice acting is of course as excellent as ever. The biggest surprise is that the game includes Shanties for the ship's crew to sing and though the selection can be repetitive at first, they are well sung.
On the topic of audio, the game engine does have a couple of bugs. I experienced one where it sounded like the shanty was being sung in a tunnel, but telling them to sing a different song fixed it. Another one occurred when I was in combat and I could not hear the guns firing from my ship; this time I had to restart the game to get it sorted.
In the end, Assassin's Creed IV brought with it new features, but the game as whole hasn't changed all that much. Fans of the series will undoubtedly find these new additions enjoyable, and those who stayed away from the series and are on the fence about coming back might find it an enjoyable voyage. But those who are tired of the same old gameplay might want to keep this confined to Davey Jones' locker, because there probably won't be enough to change your mind.
Pros
Exclusive PC visuals.
Improved character story.
Naval combat focus.
Cons
Exclusive PC bugs.
Overarching story remains lackluster.
Compartmentalized item gathering.
No improvement on combat/free-run.
Underwater salvage side missions.
Extra Screenshots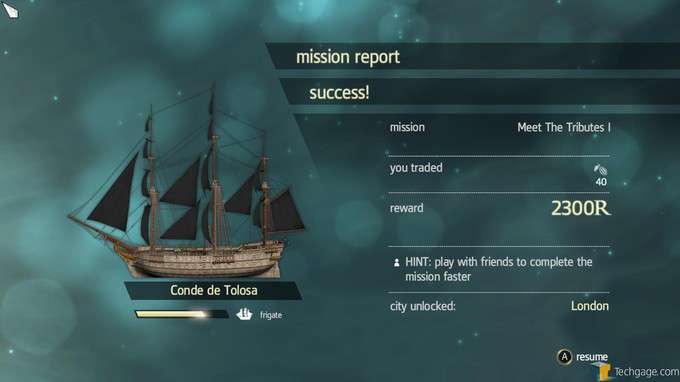 (Click Here for Multi-monitor Version)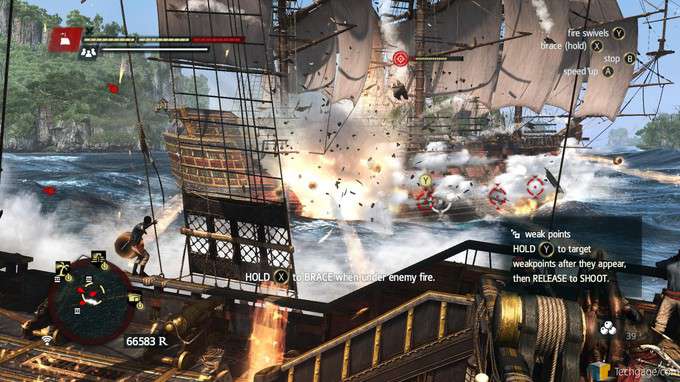 (Click Here for Multi-monitor Version)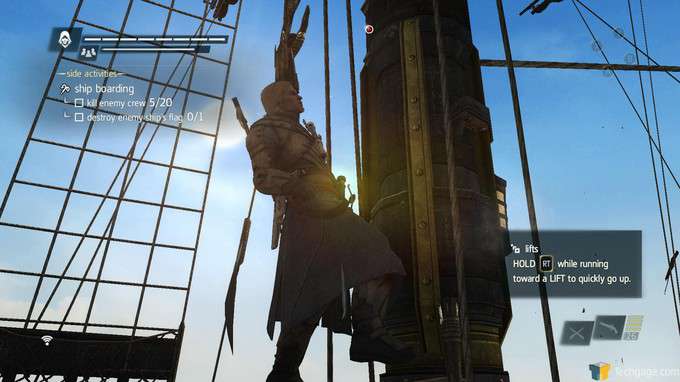 (Click Here for Multi-monitor Version)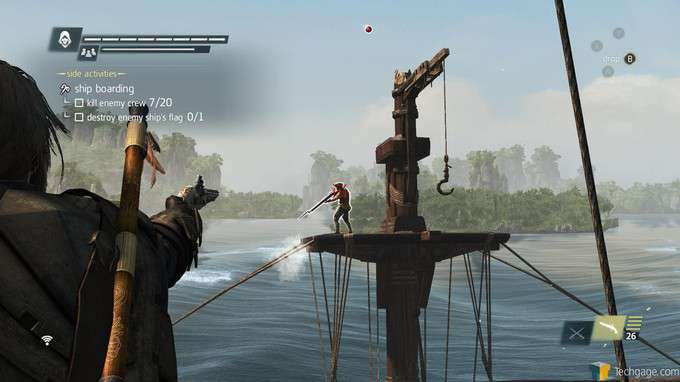 (Click Here for Multi-monitor Version)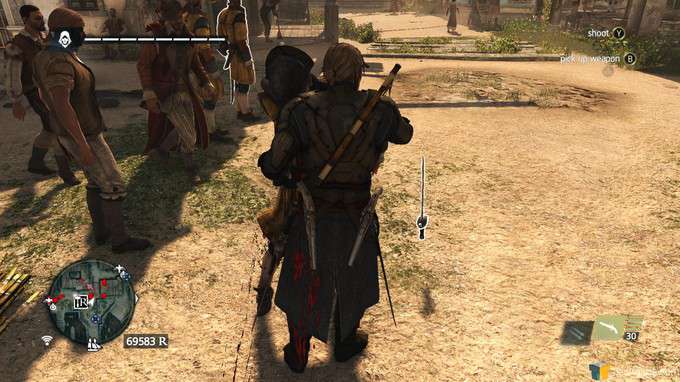 (Click Here for Multi-monitor Version)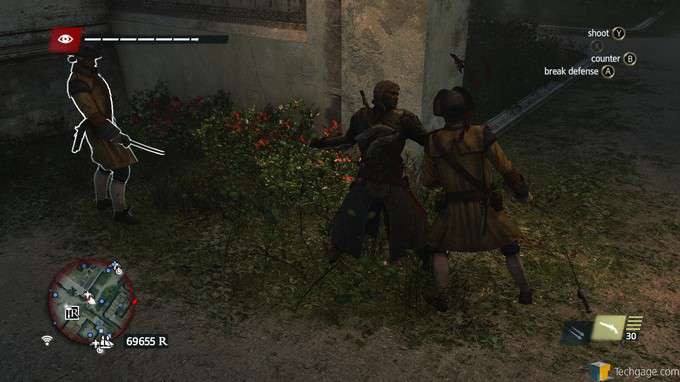 (Click Here for Multi-monitor Version)
Copyright © 2005-2020 Techgage Networks Inc. - All Rights Reserved.