ASUS P9X79 PRO Motherboard Review

Date: March 22, 2013
Author(s): Rob Williams

Intel's X79 platform may seem a little dated by this point, but it in fact remains the best choice for those needing to build the biggest, baddest PCs around – especially with Ivy Bridge-E likely 9+ months away. Complementing X79's goals perfectly is ASUS' P9X79 PRO, a motherboard that offers a rich feature-set in both hardware and software.
---
Introduction, Specifications & Hardware Tour
Although Intel's X79 platform was released-to-market about a year-and-a-half ago, it remains the go-to choice for builders who need the beefiest PC possible. We're talking the most capable processors, the craziest GPU configurations, the fastest memory, the most storage, and the richest connectivity options. It's for this reason that few X79 boards have sold for under $200, and it's also the driving-force behind a board like ASUS' P9X79 PRO.
ASUS is obviously no stranger to the motherboard scene. It's been crafting what I feel are the most competitive boards out there for quite some time, from both a features and design stand-point.
With its P9X79 PRO, ASUS caters to those who are looking for the ultimate in flexibility with their motherboard. We can see that evidenced here with 8x internal SATA ports, 10x USB ports at the back, capabilities for 4 GPUs, and more. At about ~$320, this PRO board packs in a ton of features, but for those who need even more, there's DELUXE. For its ~$380 price-tag, the DELUXE adds a second LAN port, 2 additional external USB 3.0 ports, 2 additional internal USB 3.0 ports, a wireless adapter and a couple of extra accessories. Of course – things work in the opposite direction as well. Does the PRO offer too much? There are lesser P9X79 models that could be considered.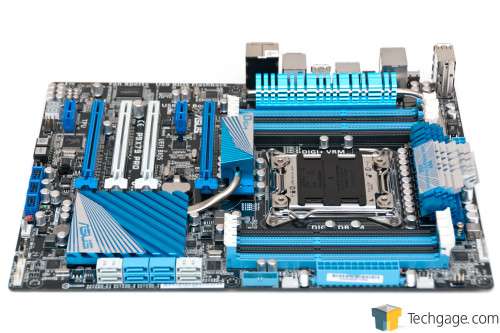 At first glance, ASUS' P9X79 PRO is quite an attractive board, and layout-wise, I've yet to conjure up a complaint. I admit that I've been testing this board for a number of months, so I've gained quite a bit of experience with it. It's not uncommon for a user to begin to discover small niggles with their hardware after a couple of months of using it, but the P9X79 PRO placed me in an interesting situation where I began to discover more cool things as time went on. I'll be covering most of those in this review – but not all, because I can't dedicate half a month to writing a single motherboard review.
Though it can't be seen that well in the photo above, one of the biggest perks this board offers is the inclusion of six fan headers. We'd expect at least five for a board of this price-range, but six remains a nice surprise when it does happen. Better-still, all six of them are 4-pin (PWM Enabled), meaning each can be manually controlled by the user. Finally, their placements are also thoughtfully chosen-upon – two on the right, one at the bottom, two at the top and one directly below the left DIMM array. If you're not using a memory cooler, the top-right of the board should easily accommodate three nearby fans, while your back chassis fan can reach down to below the DIMM slot.
For a quick look at what the P9X79 PRO offers, the table below should help.
 
ASUS P9X79 PRO
Architecture
Intel X79 (LGA2011)
Form-Factor
ATX (12″ x 9.6″)
Memory
Up to 8x8GB DDR3-2400
Multi-GPU
3-way NVIDIA SLI
4-way AMD CrossFireX
Expansion
4x PCIe 3.0 x16 (Dual x16 or x16+x8+x8+x8)
1x PCIe 3.0 2x PCIe 2.0 x1
Storage
2x SATA 6Gbit/s (Intel)
4x SATA 3Gbit/s (Intel)
2x SATA 6Gbit/s (Marvell 9128)
2x eSATA 6Gbit/s (ASMedia ASM1061)
Network
1x Gigabit Ethernet (Intel 82579V)
Wireless
Bluetooth 2.1+EDR
Audio
8-Channel Realtek ALC898
Input/Output + S/PDIF
USB
6x USB 3.0 (ASMedia)
6x USB 2.0 Internal (Intel)
6x USB 2.0 External (Intel)
Back I/O
1x Bluetooth, 2x eSATA 6Gbit/s, 1x 1Gbit/s LAN, 4x USB 3.0, 6x USB 2.0, 1x Optical S/PDIF, 6x Audio Jacks, BIOS Flashback
Features
ASUS DIGI+ Power Control, ASUS TurboV EVO, ASUS EPU, ASUS BT GO!, Ai Suite II, ASUS SSD Caching, USB 3.0 Boost, ASUS Q-Design
For the sake of not being redundant, I won't discuss the table directly, but instead tackle all of the components as we come across them with the help of our photos below.
Speaking of, let's kick things off with a look at some slots. Should you be so inclined, you'll be able to run 3x NVIDIA GeForce cards in SLI or 4x AMD Radeon HD cards in CrossFireX; for 2x GPUs, the PCIe configuration will remain at x16+x16, but at 3+ GPUs, that changes to x16+x8+x8(+x8). Being a higher-end board, it's no surprise to see legacy PCI slots non-existent. In their place, dual PCIe x1 slots.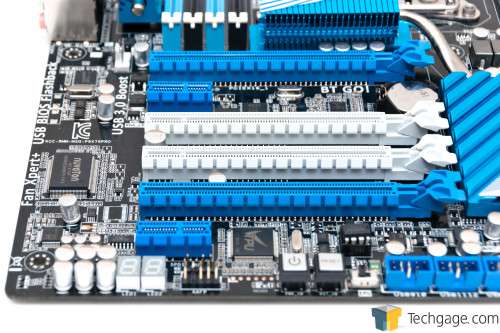 In the above shot, and along the bottom of the board, we can see an LED EFI status read-out, on-board power and reset buttons, the on-board EPU switch (we'll talk about this later) and also 3x internal USB 2.0 headers. The below shot continues our trek, revealing a CMOS clear button, the lone bottom 4-pin fan header, the TPU on-board switch along with the ATX chassis connectors.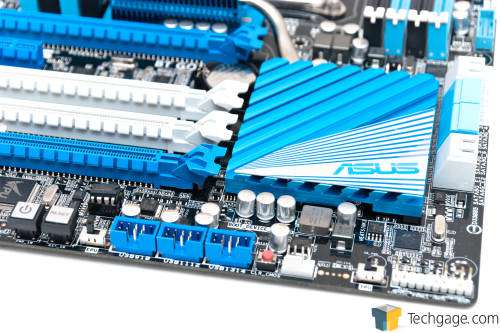 I don't often talk at length about chassis front panel headers (power and reset buttons, and activity LEDs), but ASUS' decision to place them at the absolute bottom-right corner stood out to me – in a good way. That's exactly where I want them, because that's the closest place to where the connectors will actually stem from. I can't imagine a chassis design that would favor the headers to be placed anywhere else, so I'd love to see this more often
Back towards the left side of the board, we can get a better view of some chips found here (namely, TPU and the Nuvoton sensors chip), along with a better view of where the only fan header on the left side of the board is placed.
Forgoing a look at the 8x SATA ports (you do all know what those look like, right?), let's tackle the top-right of the board. Here, we can see a total of four fan headers (two on the side, two at the top), along with the lone internal USB 3.0 header. The first half of the DIMM equation is also seen here.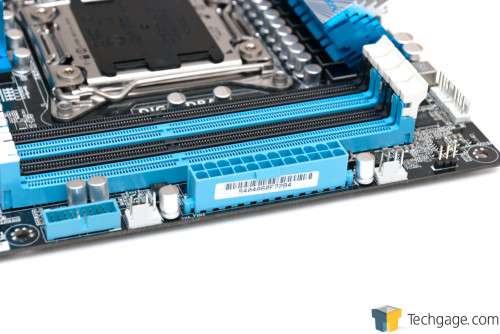 The LGA2011 socket is so beefy, it's almost ridiculous – LGA1155 looks like a squirt in comparison. Though things appear a bit tight around this area, installing even the largest coolers shouldn't be a problem. However, because the DIMM slots are this close, you'll definitely want to install your memory before installing the board – unless you happen to have modules with normal heat-spreaders.
In my particular case, I had to install the RAM ahead of time because the radiator/fan combo from our Corsair H70 CPU cooler blocked that area. While you can install small modules in that instance, it's not a lot of fun.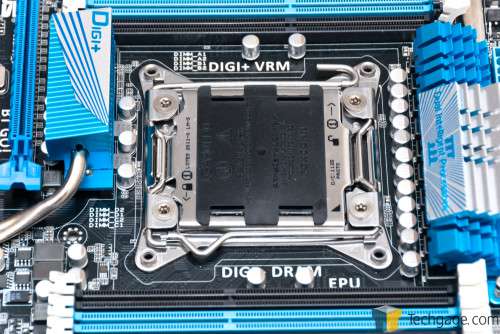 Admittedly, the next shot features an angle we don't often include, but it's one I plan to begin remembering to photograph. All-too-often, the top of a motherboard will have some flaw that none of us notice until we actually install it (offense #1: a hard-to-reach 8-pin connector). Fortunately for ASUS, everything checks-out here. Even the 8-pin connector is easily-accessible.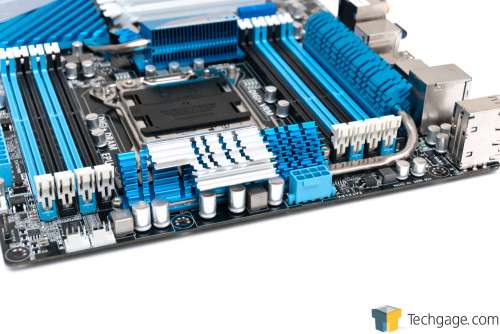 The back I/O panel helps proves this board's connectivity prowess, with a total of 10 USB ports (four of which are 3.0), a single LAN port, full audio jacks (including optical S/PDIF), dual eSATA 6Gbit/s ports and the non-removable Bluetooth dongle. Oh – and let's not forget the EFI flashback button, one that allows you to flash the EFI without even turning the machine on – heck, you don't even need to have a CPU installed. I took advantage of this during testing and it worked just as advertised. For those interested in a bit more info, I recommend checking out ASUS' official landing page.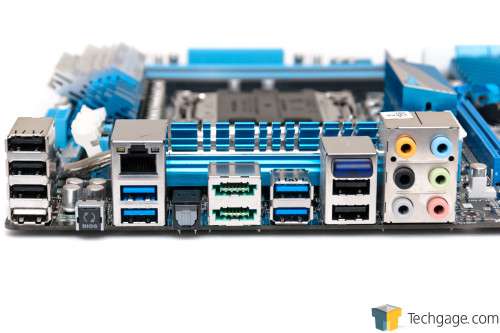 The P9X79 PRO doesn't include quite the same number of accessories that its bigger brother DELUXE does, but it's still competent. Included are six SATA cables, SLI bridges (2-way and 3-way), the Q-Connector (for ease of plugging in the ATX chassis connectors), the back panel and of course, the manual and driver CD.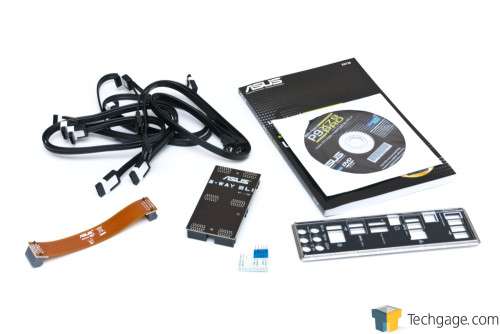 As I mentioned earlier, I've been testing the P9X79 PRO off and on for quite a number of months, and so far, I have found little to complain about. Overall, I feel ASUS did a fantastic job in the construction of this board – it's easy to build a PC with and offers a ton of flexibility. Does the EFI match up? There's only one way to find out (hint, go to the next page).
A Look at the EFI
An archive including all of these screenshots can be snatched here (.ZIP, 3.6MB).
For ASUS, the hardware is just one-half of the motherboard equation; the company also believes that the EFI and desktop software is also important, and that's something we sure can't disagree with. The interesting thing about ASUS and EFI is that it was the first company out the door with a solution, and further, it to this day still offers the best, easiest-to-use solution on the market. Such claims are useless without further words, so allow me to expand.
It's become clear to me that to some companies, the EFI is little more than a BIOS to pretty up. I admit, when I first saw EFI hit the market, all I actually thought about was how cool it looked. But after actually using the different solutions on the market, I've come to realize that looks should come last on the bullet-list, not the forefront. Again, it's all about ease-of-use.
When you boot into ASUS' EFI, you get a no-nonsense "EZ Mode" screen that allows you to quickly monitor system sensors (temperature, fan speed and voltages) – which to some, might be all that's needed. How many times have you built a system and have had to mess around in the BIOS in order to get to the PC Health location to look at the temperatures? Generally, the reason you do this is because you want to make sure you installed the CPU cooler correctly – so it's maddening when you have to waste time with it. Here, the information is laid out, plain and simple.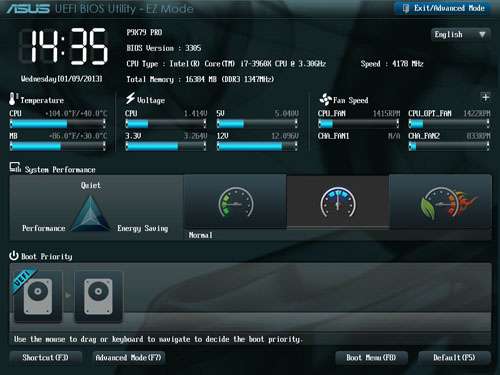 Most enthusiasts are going to shove the EZ Mode aside pretty quickly in order to get into the nitty-gritty options, and this introduces another way that ASUS' EFI is so easy to use. Straight from this EZ Mode, you can hit F3 in order to get the menu you see below. This allows you the quickest possible access to DIGI+ power control, fan control, various overclocking options and the EZ Flash 2 EFI-flashing utility. This is convenience at its finest.
If you never want to see the EZ Mode, it can be disabled so that you'll be greeted to the traditional layout system just fine. Personally, I found myself liking the EZ Mode screen as a start-up well enough to keep it, and then just relied on the shortcuts to get to specific areas quickly.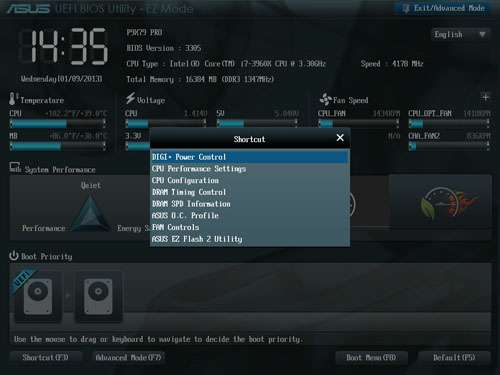 Behold, the "Advanced Mode":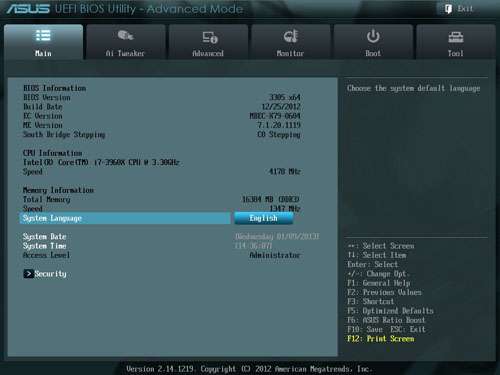 Before we go further, I'd like to touch on a couple of points. I mentioned the "ease-of-use" aspect of ASUS' EFI a couple of times above, but most of the reasons are impossible to acknowledge simply with images alone. So, I hope you're hungry for more words.
Since EFI's introduction, I've found that most companies believe that EFI = Mouse Use. You can use a mouse, of course, and it's in fact a great option for EFI, but simply put, the EFI should never be built around the idea that the user is going to use a mouse. Some of you might be able to relate to the less-than-perfect movement of a cursor when moving it on a monitor that has a native resolution higher than the content that's displayed. EFI (to my knowledge) never scales to your native resolution, and past that, it's not accelerated in the sense that your desktop is. This results in a design that's not so natural-feeling, at least for me.
MSI is particularly a guilty party in this regard. Its EFI is designed in such a way that it's simply easier to stick with the mouse (even if you don't want to use it). For example, you can see three major options on either side of the center. You'd assume that you could hit the right arrow key while on "Settings" to go over to "Browser", but not so. Instead, you must push the down arrow a couple of times to reach your destination.
I believe that the EFI should work like a traditional old-school BIOS where menus are up top, and "Esc" will push you back a menu – a scheme ASUS' EFI follows. In addition, here you're also able to type in your values rather than hit enter and select an option from a drop-down – both options is best, having just the latter is not.
I do expect that as time goes on, the other solutions will improve. After all, we really are still in the early days of EFI adoption on the enthusiast side. However, what this highlights is just how on top of things ASUS was, to actually launch with a solution so good right off-the-bat, that it's been able to continue using the same design since.
In the past, our look at the BIOS / EFI has been rather brief, but going-forward, we're going to begin picking and choosing some aspects of each EFI worth talking about – essentially, features that caught our eye and left an impression. There's little point in discussing each and every section or option (and I won't even pretend like I understand half of what's in the tweaking section), but the images are here for those who do in fact want to see all of what the EFI offers. Don't want to click on each and every image? Hit up the link at the top of the page to snag them all in one go.
Ai Tweaker
After first entering the EFI, the first stop for most enthusiasts will be the second menu, "Ai Tweaker". This is where all of the overclocking-related options are stationed, with the most popular options found up top. The first option should be used by those interested in setting their XMP memory profile and then simply allow that to handle the overclock. Alternatively, you can choose the manual option and choose your basic overclocking options as normal.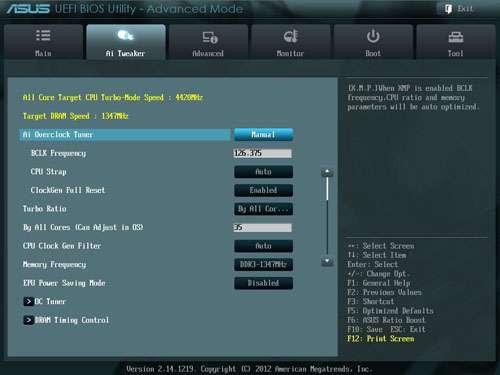 Since its first P67 offerings, ASUS has implemented an overclocking mechanic that automatically boosts your CPU speed even if you don't touch the BCLK or ratios – simply changing the memory clocks (even on an unlocked processor) will do it. If you don't want this functionality, you can change the Turbo Ratio manually to put the CPU back to its default per-core values.
The reason ASUS auto-OCs your CPU is because it'll provide a free and absolutely safe boost (in its opinion, and ours), and even with the boost, power efficiency shouldn't be affected except at max load – but it'd be the hope that whatever you're using your CPU for will finish quicker as a result. Even so, while I'm all for this mechanic being default, I do wish there were an option to disable it for those who want it (like me when I'm testing various things).
I'll let the rest of these options speak for themselves, and give major kudos to those who can make sense of even half of them.
Advanced
If this is the Advanced section, the previous one should really be called "Hella-Extreme". Under Advanced, you can tackle everything from CPU configuration (HyperThreading, active cores, ratio, Turbo, C-states), SATA configuration (including hot-plugging), USB control and a plethora of peripheral configuration options.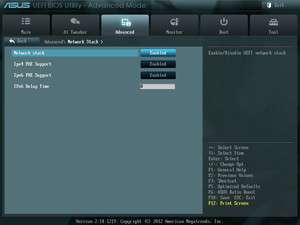 Monitor
The monitor section is where some good stuff happens. At the forefront are statuses for temperatures, voltages and fan speeds. Further down are a slew of options related to tweaking the fans via the Q-Fan Control feature.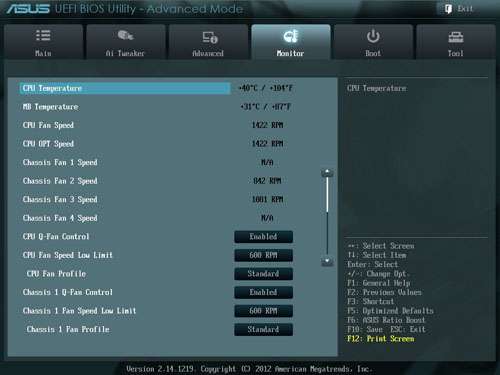 The Low Limit option here refers to the minimum RPM value that a fan can reach before the board gives off a fan-warning error. Past that, each fan can have its own speed profile, with Standard being the default. That option allows the fans to speed up or down automatically based on CPU temperature. For those who prefer their PC as quiet as possible and are not quite as concerned with achieving the best-possible temperatures, there's the Silent option. For the overclockers, there's Turbo, which runs all fans at their maximum speeds. *
* Correction: Turbo does not ramp up the fans to 100%, but rather sticks to normal scaling. The difference is that it's more aggressive, catering to those who never want temperatures to be an issue.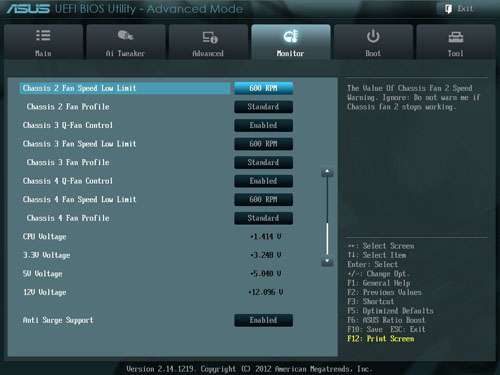 An option I failed to do any real testing with here was Manual, although I made up for it with the Ai Suite II software that I'll tackle on the next page. Manual allows you to set a multitude of values to each fan. If the CPU reaches 60°C, would you like all fans to ramp up to 80%? You can do that. For most, the automatic fan control is going to be sufficient, but for who prefer ultimate control over even the most minute details, the options are right here.
Boot
If you're looking to disable the board's boot splash screen, disable fast boot or change the boot order, it can be done right here in the Boot menu (surprised?). To enable the fastest possible boot times that affect the boot straight up until the Windows desktop, a couple of options are worth paying attention to here, such as Fast Boot (enabled by default) and USB device initialization. In truth, none of these options should have to be touched, but if you happen to have a stubborn USB device that fails to initiate properly, you'll want to change the USB Support mode to Full Initialization. It'll slow-down the boot speed, but that's a small trade-off for having that USB device function before the POST finishes.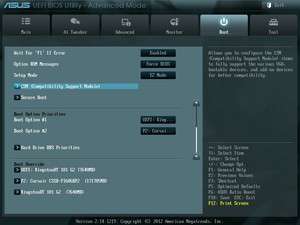 Tool
The last menu in ASUS' EFI is Tool. Here, you can find the EZ Flash 2 EFI-flashing utility, a DRAM SPD-reading tool (a fantastic feature since almost no memory vendor includes the entire list of timing values on their website), EFI (or overclocking) profiles and Drive Xpert for taking advantage of the on-board RAID controller.
It goes without saying, but I'll say it anyway: ASUS produces a very nice EFI here. It's not only feature-packed, but it's easy-to-use (there I go again). Simply put, there are a couple of other manufacturers that should definitely take note here.
From hardware to EFI to… software! Let's press onward.
Features: TurboV EVO, DIGI+ & EPU
You might have noticed that on the last page, I expanded a bit more than usual (alright, a lot more than usual) on different aspects of the EFI. In the past, I admit, this one one area where our motherboard reviews have been lacking. With the advent of EFI, vendors have been going the extra mile with their on-board features, and for the most part, they're a lot more enjoyable to explore and use – hence, we've lately felt a little more obligated to talk about them.
In a similar vein, another area we've failed to cover well has been software. I'd like to think it's for good reason, however, because until recently, most of it has been… well let's just say I preferred to avoid it. Again though, much like EFI, the software side of things is changing, with each vendor working hard to improve their offerings in order to deliver somewhat of a unique experience to their users.
ASUS has not surprisingly been one of those companies, and so far, I'm truly liking what I'm seeing. For the sake of convenience, ASUS bundles every Windows tool into its Ai Suite II, although to give some flexibility to its users, any component can easily be installed or uninstalled, as seen in the following screenshot.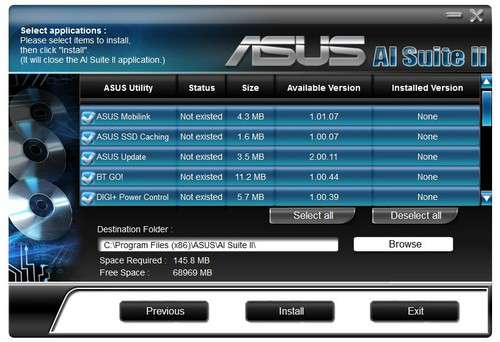 Once opened, Ai Suite II looks modest – it's a simple bar with a couple of options. It's not until you begin to explore any of these options that the program expands and allows you to go right to town tweaking.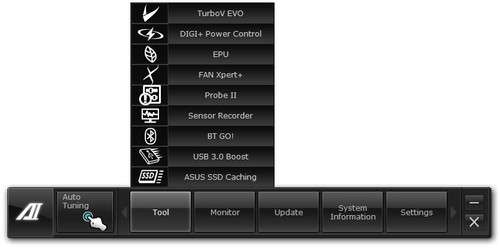 Over the course of this page and next, we'll be taking a look at all of the notable features that this app offers. However, it's important to note that what's made possible with Ai Suite II is due mostly to on-board components, and as such, all of these options can also be tweaked in the EFI.
TurboV EVO / TPU
As has become common over the years, ASUS allows you access to every overclocking option from within Windows. The perks here are obvious – there's the added convenience and the added ease. Personally, I still prefer to conduct all of my overclocking in the EFI since I hate applying a setting that crashes the OS, but it's nice to have both options. And it's great if you're not much of an overclocker but wouldn't mind a little boost. That's where the "Auto Tuning" option comes into play, as seen in the following screenshot.
There are two levels of intensity offered here, though even "Extreme" is likely to be considered 100% stable, since ASUS is not in the business to crash people's computers. In a quick test with that Extreme option, the board overclocked our Core i7-3960X to 4.4GHz – up from 3.3GHz stock. That is, without question, a nice overclock for as much effort as it required. Though I didn't benchmark using those overclocked settings, they proved stable in a 3x loop of Futuremark's latest 3DMark.
For manual tweaking, you can move on over to the "Manual" section. If you used the Auto Tuning option first, the applied settings will remain here, so that you can simply continue tweaking to take things a bit further.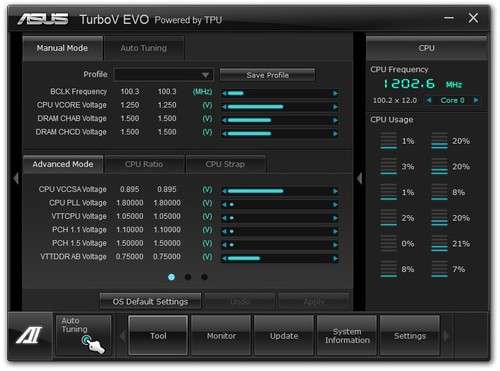 You might have noticed that this software lacks something the EFI offers: the ability to click on a value and type in a new one. However, unlike the EFI, it's much faster to increase values using the Windows application (in terms of fluidity from start to finish), so it's not too much of a problem. In addition, it's doubtful that too many people are going to be applying a mammoth overclock right from the start with this tool, but rather take the first step in the EFI, then boot into Windows in order to continue tweaking. So that you don't have to load up Task Manager or some other CPU monitoring app, you can see to the right of the screen above the usage for each core – another nice touch.
DIGI+ Power Control
Next up, a feature that's not for the feint of heart: DIGI+ Power Control. This is a feature that ASUS takes great pride in for a couple of reasons. For starters, and to our knowledge, it was the first vendor out the door with a digital design, and second, the company feels that its solution remains the best out there. We (not surprisingly) lack the testing equipment that can range in the hundreds of thousands of dollars to test each solution appropriately, but that doesn't prevent us from being able to appreciate their designs.
The reason that a digital design is so important is that analog inherently lacks precision – you may choose a certain voltage in the BIOS/EFI, but variance is bound to occur. By contrast, digital offers an unparalleled level of precision. Further, an analog design suffers a weak software to hardware translation layer, as it requires an OS driver to function – digital does not.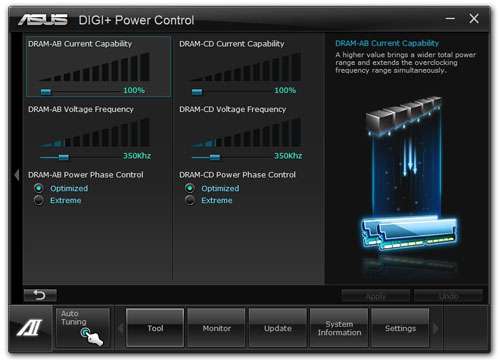 This all said, while it's clear that DIGI+ Power Control could provide a nice benefit to overclockers, it can also be used by those who simply want to tweak their PC to be as power-efficient as possible, even if the goal is to retain stock CPU values. As alluded to above, though, this feature is not going to be for everyone – it definitely requires some knowledge of the various power functions on a motherboard.
ASUS' particular design involves dual hardware ICs (TPU for overclocking and EPU for power-efficiency) on the motherboard that tie into the CPU's PWM and VRM, along with the DRAM's VRM. ASUS' boards that support a CPU equipped with an iGPU gain DIGI+ support for that as well. The overall goal of this implementation is to offer the utmost accuracy, along with enabling the perk of allowing the user the same tweaking options via the EFI or inside of the OS.
One feature in particular that stands-out here is CPU Power Phase Control. By default, motherboards ramp up the usage of power phases based on the current CPU load. However, for overclockers or tweakers, that might not be the most efficient design, given the board might use more or less phases than they'd prefer.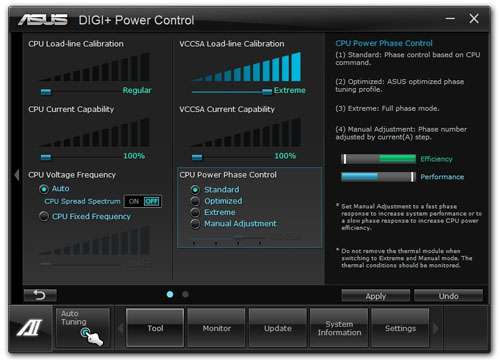 That's where the further three options here come in; Optimal, Extreme and Manual. The latter is used by those who want to limit the number of phases that will be used, although that will result in a complete lack of power-efficiency if not used and understood properly. Extreme pegs 100% of the power phases at 100%, 100% of the time (that's a lot of 100%s), perfect for overclockers that peg their CPU clock speed to the same value 100% of the time (that's the last 100% for a while).
What about the overclockers that want to retain their C-states and other innate power options available on their CPU? That's where "Optimal" comes in. This, like "Standard", will ramp up the power phases when required, but rather than be controlled by CPU commands, it's controlled by the DIGI+ controller which accurately measures the CPU load. At idle, one phase is likely to be used, while 2-4 could be used during regular use, and the full 8 (or whatever the maximum is) when the CPU is really burning away on a project.
Personally, most of these options, I wouldn't touch, but Power Phase Control, I certainly would if I were overclocking – and maybe even if not. "Optimal" sounds like a good sweet spot.
EPU
Where the TPU-backed TurboV EVO is designed to give overclockers the best-possible experience in pushing their hardware to the next level, EPU has opposing goals in mind – it caters to those looking to make their PC as energy-efficient as possible (I'll avoid going into how this is a little ironic for an X79 motherboard). Naturally, because TPU and EPU's goals contrast with each other, only one can be used at any given time.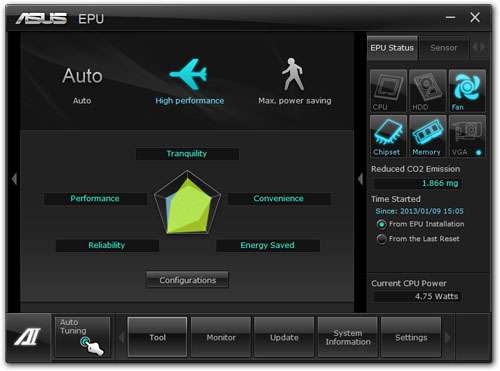 From this screen, users can choose to either run their PC in high-performance mode, which spreads its strengths around almost evenly, or Max. Power Saving, which aims to reduce performance, noise and power, and increase energy saved. The tool also gives you a status on how much CO2 emission you've failed to produce on account of using the power-saving mode. "Auto" would run the PC settings at normal.
Also helpful here is the "Sensor" tab up above, which you can see here. Generally speaking, it's not hard to find sensor read-outs in Ai Suite II, but they're especially convenient here since you can immediately see some of the differences caused by the different modes.
Features: Fan Xpert+, USB 3.0 Boost & Other Tools
Fan Xpert+
Today's motherboards are beyond feature-packed, but something many of them still lack is truly robust fan control. For those who really want to tweak their fan's behavior, this has no doubt been a little frustrating. When ASUS noted this void in the market, it released Fan Xpert+. This solution is driven by an on-board fan controller, negating the need for a hardware fan controller (unless you happen to want one for easy manual control).
In Fan Xpert+ (there's a sequel, which I'll touch on in a moment), you're able to choose between a couple of different profiles; Standard, Silent, Turbo and User – all of which I'm sure are self-explanatory. User is the most powerful option here, as it allows you too choose exactly how fast each fan will go at a given CPU temperature. But how could you possibly know which RPM the fan will output at a given power output percentage? That's where the "Test" option comes in.
Clicking the Test option will spin down the chosen fan and slowly ramp it up to its max value. Along the way, it will record the given RPM value at each each increment of 10%. You can see an example of a result in the shot below: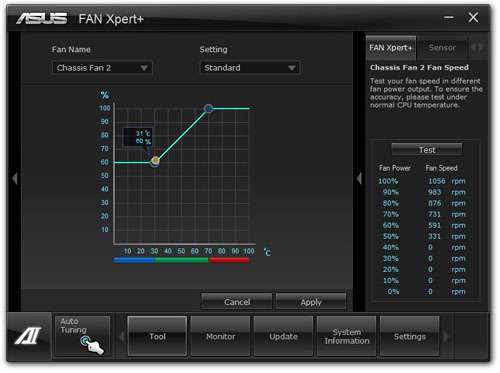 As you can imagine, different fans can behave in very different ways, and it's for that reason that this Test tool is so useful. In this particular case, I have a fan that doesn't even power on until 50% of its voltage is applied – rather nonsense if you ask me. However, between 50~100%, the fan ranges from 331 RPM straight up to 1,056 RPM. With these nice jumps in between each 10%, you can easily create the perfect profile for a given CPU temperature. The software is also aware of two fans for the same CPU, labelled as CPU_FAN and CPU_OPT, so the second fan won't be treated as a chassis fan.
More ridiculous than the fan above might be one that doesn't scale based on power at all, such as this one. It could be that this fan actually is ramping up in a regular manner, but for some reason isn't reporting back the appropriate value. In this case, you'd actually have to listen by ear as the test conducts and get a feel for things that way. Ideally, you won't have fans like this installed in your PC.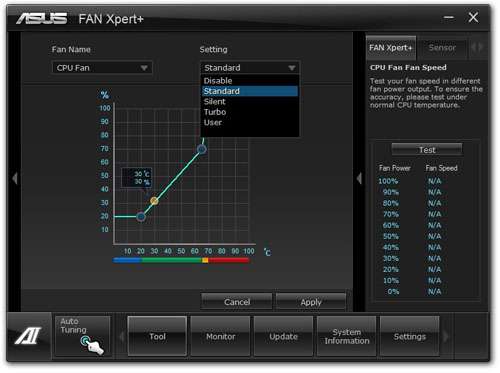 With ASUS' Z77 launch came Fan Xpert+ 2. What it adds is an auto-tuning option which tests each and every installed fan, one by one, much in the same way the test does above. However here, the tool will automatically create profiles using advanced algorithms built in-house based off of testing with a large collection of different fan models. Of course, once the profile is created, you're able to further tune each and every value. It's a little unfortunate to not have this ability available here, but on the upside, the Test feature at least is.
USB 3.0 Boost
Ever since the release of the first USB 3.0 products, we've heard the word "boost" everywhere, either in regards to transfer speeds or charging. It's for that reason that I didn't quite appreciate ASUS' USB 3.0 Boost to the extent I think I should have. However, as I discovered, it does in fact have quite a bit of value.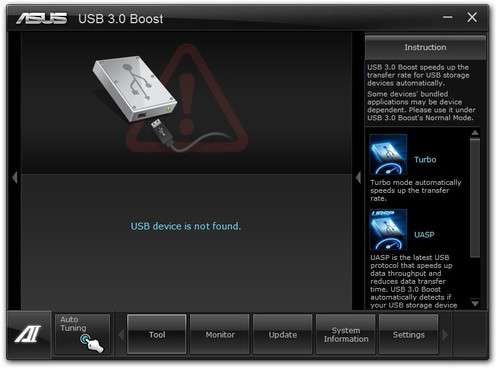 The most effective USB 3.0 transfer protocol is UASP, "USB Attached SCSI Protocol". Compared to the traditional BOT transfer method, UASP is able to send files along more effectively at higher queue-depths. When you can copy more than one file at a time, that's much more effective than going in a sequential order. Even though UASP, to me, should be standard on every motherboard, that's not the case even at this point in time. ASUS once again had the foresight to include the solution as early as possible – so early, that it had to release the official upgrade after this board was released. If you want to know just how standard UASP is – Windows 8 utlizes it by default.
Here are the differences between the traditional BOT and new UASP protocols in terms of throughput:
It goes without saying that I'm a lot more interested in UASP than BOT after seeing these results. The other X79 board we tested ASUS' P9X79 PRO against does not have UASP, so it's our hope that it's a feature that will become 100% common with the updating Haswell-targeted motherboards. It's worth mentioning that you need a UASP compatible device (card reader or dock) in order to take advantage of the extra speed. Unfortunately, these are still quite rare at this time, and the only hard drive dock that we're aware of is the updated Thermaltake BlackX 5G.
Other Tools
To help wrap up our look at Ai Suite II, we'll just briefly talk about a couple of the other smaller tools that ASUS includes in the package. Probe II is a hardware monitor that has the ability to alert you if one value experiences an unsafe variance; Sensor Recorder needs no explanation; BT GO! is ASUS' Bluetooth solution that can provide extended interoperability with mobile devices (though my experience with my Transformer Prime was limited); SSD Caching, yet another self-explanatory feature by this point, and finally, System Information, a minimal system information tool.
Have you had your fill of Ai Suite II yet? If not, please re-read this page and the last. If so, let's jump right into the benchmarks!
Performance Testing
From a performance perspective, we feel that motherboard benchmarking is useless. It's the motherboard's job to allow all of the installed hardware to operate at its full potential, so in theory, a $100 option shouldn't be much (or any) slower than a $300 one. The differences in price instead come down to the quality of the on-board components and other features.
So why do it at all, then? We still perform benchmarks because it's important to make sure that the board we're dealing with doesn't lack in one particular area versus the rest. If board A performs 2% slower than board B in PCMark 7, for example, that's of no concern to us – random variance is a fact of life with benchmarking. However, if one board consistently performs weaker than the rest, that's worthy of note – it could suggest that weaker components have been used which do not allow the hardware to operate at its full potential.
Please bare this all in mind when perusing our results. Just because a board under-performs in a single test, it doesn't mean anything with regards to its quality as a whole. Our ultimate goal here is to make sure that each board we test performs as we'd expect across the gamut of scenarios we pit them against.
 
Intel LGA2011 Test System
Processor
Intel Core i7-3960X – Six-Core, 3.30GHz, Default Voltage
Motherboard
ASUS P9X79 PRO (BIOS: '3305' 01/10/2013)
MSI X79A-GD65 8D (BIOS: 'F14' 08/23/2012)
Memory
Kingston HyperX Genesis 4x4GB – DDR3-1333 9-9-9-24
Kingston HyperX Predator 8x8GB – DDR3-2133 11-12-11-32
Graphics
AMD Radeon HD 7770 2GB GHz Edition (Catalyst 13.1 Driver)
Audio
On-Board Audio
Storage
Corsair Force F160 160GB Solid-State Drive (OS Drive)
Kingston HyperX 240 Solid-State Drive (I/O Testing)
Power Supply
Corsair HX850W
Chassis
Corsair Obsidian 700D Full-Tower
Cooling
Corsair H70 Self-Contained Liquid Cooler
Et cetera
Windows 7 Professional 64-bit
With Windows 8 having hit the market this past fall, I had considered moving our test-benches on over. However, because the differences between the OSes are minimal, and also because Windows 8 kind of adds more complexity to our testing with its Start screen, we're preferring to stick with Windows 7 for the time-being. Depending on how Microsoft's roadmap looks at the time, we may decide to hop on over to Windows Blue when it arrives (aka: Windows 8.1).
One trick that some vendors have liked to play in the past is to increase their Base Clock ever-so-slightly so as to give their board an edge over the others. With a multiplier of 35, even a single 1MHz BCLK increase can result in seconds being shaved off of most benchmarks. It's for this reason that we perform this simple check before evaluating the performance.
| | |
| --- | --- |
| BCLK Values | Result |
| ASUS P9X79 PRO | 100.1 MHz |
| MSI X79A-GD65 8D | 100.0 MHz |
All checks out – let's move on.
General System Performance
To take a look at the "overall" performance of our PC configuration, we rely on a simple Windows boot test (cold boot > usable desktop) and dual Futuremark suites; PCMark 7 and 3DMark 11. Please note that we're using PCMark 7 1.0.4, not the recently-released 1.4.0 (which has resulted in score changes).
Cold Boot to Desktop
Result
ASUS P9X79 PRO
27.70s
MSI X79A-GD65 8D
32.47s
PCMark 7
Test 1
Test 2
Test 3
Test 4
Test 5
Test 6
Test 7
ASUS P9X79 PRO
23.11
7092.91
75.72
11.45
18.96
22.09
5.34
MSI X79A-GD65 8D
23.07
7339.37
72.94
11.11
18.84
19.56
5.40
PCMark 7 Suite Scores
Result
ASUS P9X79 PRO
4994
MSI X79A-GD65 8D
4895
3DMark 11
3DMark
GPU
ASUS P9X79 PRO
4243
3793
MSI X79A-GD65 8D
4233
3790
ASUS clearly had an advantage in the boot test here, shaving 4.5 seconds off the total time. In 3DMark, both boards resulted much the same, while MSI slid just an inch behind in our PCMark 7 testing.
I/O Performance
To properly give both the internal SATA 6Gbit/s and USB 3.0 controller a good workout, we turn to CrystalDiskMark and Iometer – the latter of which is the first benchmark in our entire test suite that we run.
CrystalDiskMark
Read Seq.
Read 4K
Write Seq.
Write 4K
ASUS P9X79 PRO
505.9
35.42
315.8
101.9
MSI X79A-GD65 8D
496.6
33.68
312.6
97.24
CrystalDiskMark (USB)
Read Seq.
Read 4K
Write Seq.
Write 4K
ASUS P9X79 PRO
281.8
20.72
271.0
33.47
MSI X79A-GD65 8D
208.1
21.06
165.6
33.19
 
Database
Workstation
File Server
Iometer 1.1.0
Read
Write
Read
Write
Read
Write
ASUS P9X79 PRO
4584.94
2260.16
6073.59
1515.03
6142.27
1536.85
MSI X79A-GD65 8D
4438.68
2189.20
5971.63
1492.61
6030.63
1509.26
As pointed out on the previous page, ASUS' inclusion of support for the UASP USB 3.0 protocol helps to increase overall throughput, and CDM sure proves that well here. MSI's board does not support UASP, leading to much weaker sequential results. Fortunately for MSI, 4K results come out even.
Rendering & Image Manipulation
Writing files to disk or reading a website doesn't do much to exercise our CPU, so for that, we turn to a couple of common scenarios; image editing, video rendering and 3D rendering, using a combination of Adobe and Autodesk products.
Adobe Lightroom 4.1
Result
ASUS P9X79 PRO
441.11s
MSI X79A-GD65 8D
441.23s
Adobe Premiere Pro CS5.5
Result
ASUS P9X79 PRO
698
MSI X79A-GD65 8D
695
Autodesk 3ds Max 2011
Result
ASUS P9X79 PRO
1030s
MSI X79A-GD65 8D
1058s
Cinebench R11.5
CPU
OpenGL
ASUS P9X79 PRO
86.17
10.45
MSI X79A-GD65 8D
85.41
10.47
Our 3ds Max run is the only one that was able to differentiate these boards in any real way, with ASUS cutting close to 3% off of the total rendering time.
Sub-system Performance
For memory and CPU throughput testing, we utilize SiSoftware's Sandra 2012 (SP4), and for Ethernet testing, we use iperf (or more appropriately, the Java-based jperf which utilizes it). The stock memory configuration uses 4x4GB Kingston HyperX modules clocked at DDR3-1333 and using timings of 9-9-9-24. While 64GB testing isn't going to be a common theme in our motherboard reviews, we decided to give Kingston's 8x8GB HyperX Predator kit a test for fun. Those modules are clocked at DDR3-2133 with timings of 11-12-11-32.
Sandra Memory
Integer
Float
Cache
Latency
ASUS P9X79 PRO
34.415 GB/s
34.431 GB/s
196.81 GB/s
27.4 ns
ASUS P9X79 PRO (8x8GB)
49.884 GB/s
49.892 GB/s
234.28 GB/s
23.1 ns
MSI X79A-GD65 8D
34.830 GB/s
34.827 GB/s
198.33 GB/s
27.3 ns
Sandra Multi-Core
Cache
Latency
ASUS P9X79 PRO
36.35 GB/s
45.7 ns
MSI X79A-GD65 8D
36.18 GB/s
46.4 ns
Ethernet (iperf)
50 Jobs (64KB)
50 Jobs (1518KB)
ASUS P9X79 PRO (Intel 82579V)
938
942
MSI X79A-GD65 8D (Intel 82579V)
939
944
It's become obvious over the past year or two that motherboard vendors believe Intel's integrated NICs are the way to go for the initial LAN port. Could it be that too many Marvell's died and caused RMAs to occur? That'd be hard to find out, but it wouldn't surprise me, based on my experience with those controllers in the past. Given both boards here use identical controllers, it's no surprise to see them both come out evenly. The same outcome applies to the Sandra tests as well.
With testing out of the way, let's get to wrapping this review up.
Final Thoughts
Wait – you're still here? You mean the previous 6,000 words weren't enough to solidify your overall opinion on the board? Well then. Let's help to wrap things up here with a recap, and also attempt to judge the P9X79 PRO from a value standpoint.
I'm sure it's obvious by now, but ASUS' P9X79 PRO is one heck of a packed board, both in terms of features and actual connectivity. As I mentioned in the intro, it's designed for those who want – or need – such flexibility from their motherboard. X79 is currently the only way to equip yourself with a six-core Intel processor, or to use 3x or 4x GPU configurations with the beefiest allocated bandwidth.
ASUS improves on all this by providing enough sufficient connectivity options so that running out should never be a problem for the vast majority of users. If the 8x SATA ports are not enough for you, there's two more at the back in the form of eSATA. The same generous helping of USB ports exist – 4x USB 3.0 and 6x USB 2.0 external, and 2x USB 3.0 and 6x USB 2.0 internal. To some, this number of USB ports might seem to be a bit overkill, but as I've at times used up to 10x on my own machine, it wouldn't surprise me if others used even more than that on a regular basis.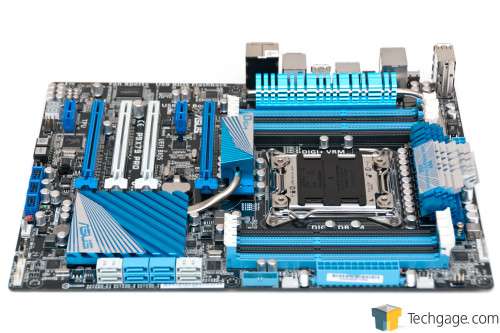 One not-so-common feature on this motherboard (which I feel should be common) is Bluetooth. While it's based on the older 2.1+EDR spec (to be fair, this board is over a year old), it's no doubt going to be appreciated by many who actually want to take advantage of Bluetooth on the desktop, either to transfer files to or from a mobile device, or to stream content. For the minimal price Bluetooth adapters retail for, I'm surprised that seeing them built into desktop motherboards hasn't already become a common occurrence.
Looking past the software, the P9X79 PRO excels with both its EFI and software implementations. We took a look at both in great detail already, so I'll try to keep re-hashing to a minimum here. As I mentioned during the look at the EFI, I believe ASUS offers the best solution on the market, bar none. It's clean, easy to use with either the mouse or keyboard, and doesn't behave in a way that slows you down. In many regards, it mimics the old-style of BIOS, which is a good thing, and then improves upon things with mouse support, a pretty design and the useful EZ Mode splash screen.
Then there's the software, which comes to us in the form of Ai Suite II. Never before have I used such an elegant software solution from a motherboard vendor before. It's clear that ASUS has taken all aspects of its motherboard line seriously, and didn't want to finish things off with a mediocre software package.
The most obvious highlight of Ai Suite II is that it looks good. It's not gaudy like so many motherboard and peripheral solutions are. Dare I call it, "classy"? Looks mean nothing if the functionality is bad, but that's a fate Ai Suite II escapes. Thanks in major part to both the EPU and TPU chips on the motherboard, users are granted unparalleled access to their overclocking and power options. Want to overclock the hell out of your chip? Your experience is going to be a good one. Want to run the most energy-efficient rig possible? Ditto.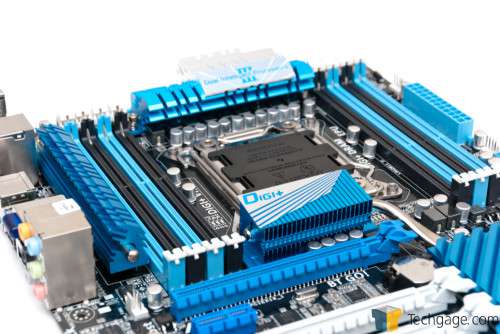 Bottom-line: is ASUS' P9X79 PRO worth picking up your X79 build? I couldn't be more confident in answering "yes" to that question. This is a board that I've been using on-and-off for months (more than I'd like to admit; this review should have been out ages ago), and in that time, I never encountered a show-stopper, and general use of the board was fantastic. As I mentioned earlier, unlike most motherboards I use that I begin to discover niggles about as time passes, the opposite was true here. The more I used the P9X79 PRO, the more I discovered to like.
If there's a single down-side I can claim, it's that some Z77 perks are missing. It's hard to fault ASUS for that, however, as these X79 boards launched before its Z77 line did. For that matter, the CPUs themselves are no different. In some ways, Intel's Ivy Bridge processors are superior to Sandy Bridge-E – but when you want six-cores, a quad-channel memory controller and much beefier bandwidth allocation across the PCIe ports, you're pretty much locked into it.
At its price-point of about $320, I feel the board is worth the cost-of-entry, but what could have put the board over the top is if it included a wireless adapter – something the $30 cheaper GIGABYTE GA-X79-UD5 does happen to include. That board does sacrifice a couple of other things, however; it can't do 4x CrossFireX (sorry, all 3 of you); it includes a PCI legacy slot in lieu of an extra PCIe; it lacks a complete collection of 4-pin fan connectors, which in turn reduces the amount of user control over how the fans behave and it doesn't include a EFI LED read-out (oh-so-important for overclocking or hardware failure). Lastly, if the EFI and software package are important to you, that's an area where I feel ASUS deserves the nod.
For me personally, the main alternative I'd consider would be ASUS' own Sabertooth X79, for about $20 more than the P9X79 PRO. But that's primarily because I respect the overall design and goals of ASUS' TUF features, not to mention the aesthetics – seriously, I'd never imagine a brown motherboard looking "good", but Sabertooths certainly do.
Have you skipped right to this page after opening this review? Fine – here's your tl;dr:
Pros
Fantastic board design; components in well-thought-out locations.
Easy-to-use and elegant EFI solution.
Ai Suite II in conjunection with DIGI+ offers the user amazing control over their power and OCing.
6x 4-pin fan connectors, all of which can be controlled via Fan Xpert+.
Fan Xpert+ is useful for creating your own fan profiles, or using ASUS' built-in options.
Ton of connectivity: 8x SATA, 8x USB internal and 10x USB external.
USB 3.0 Boost + UASP support.
Great performer.
Cons
Wireless would have been an appreciated perk for some.
Is unable to spawn multiple copies of our Core i7-3960X.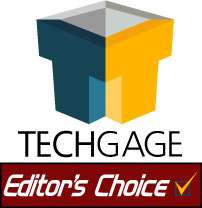 ASUS P9X79 PRO
Copyright © 2005-2019 Techgage Networks Inc. - All Rights Reserved.