ASUS VivoBook X202E 11.6-inch Notebook Review

Date: February 6, 2013
Author(s): Rob Williams

It might not be an Ultrabook, but for what ASUS' VivoBook X202E offers, that might not matter. Instead of focusing on performance, ASUS has concentrated on the feature-set, overall design and the aesthetics. Then it piled on a touchscreen for good measure. Sounds good for a $500 notebook, so it's time to see if it impresses.
---
Introduction
The mobile market has sure changed over the course of the past couple of years. Prior to the launch of Apple's iPad, few people would have ever guessed that tablets had a real future – and to be frank, a lot of people (including me) continued to think that even after it launched. Yet, here we are, sitting among a market that's on fire with tablet releases but declining notebook sales.
The fact that the tablet market had the potential to adversely affect the notebook market was a secret to no one. The original iPad was released in spring 2010, and Intel's Ultrabook concept was announced in the summer of 2011. This timing was no coincidence. To compete with the onslaught of tablets, and not to mention Apple's MacBook Air, Intel's Ultrabook designs insisted on super-slim, light-weight notebooks that performed closer to regular notebooks than netbooks.
Since the launch of the first Ultrabook models, things have fared well enough for Intel, but the notebook market as a whole has continued to decline. That's not helped by the fact that Ultrabooks, due to their strict design requirements, tend to be more expensive than models that most non-Apple vendors focused on before. That's resulted in some vendors deciding to tweak the formula to deliver a better product even if it means it doesn't quite earn the Ultrabook status. Case-in-point, the model we're looking at today: ASUS' X202E.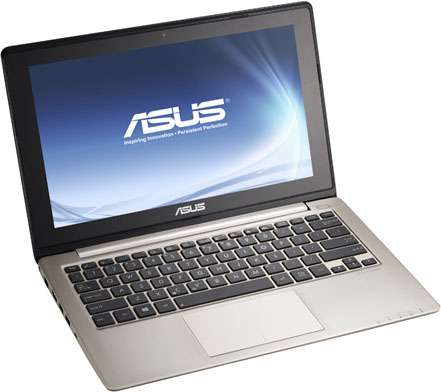 Does this look like a notebook that retails for only $500?
ASUS' goals with its X202E are ambitious. It's attempting to deliver an affordable, small-sized notebook that delivers on three important bullet-points: performance, aesthetics and features. Throughout the review, we'll see just how well it manages to hit on each one of those, but for now, let's take a look at the tech specs and get a feel for what we're being offered here:
 
ASUS VivoBook X202E 11.6″ Notebook
Processor
Intel Core i3-3217U Dual-Core (1.8GHz, 3MB Cache)
Memory
4GB DDR3-1333 (Single-Channel)
Display
AU Optronics B116XW03 V0 11.6″ TN-based LCD
10-point Touch Screen
Graphics
Intel HD Graphics 4000
Storage
Seagate ST500LT012-9WS142 500GB Hard Drive (5,400 RPM)
Connectivity
Qualcomm Atheros AR8162/8166/8168 PCIe 10/100Mbit/s Ethernet
Qualcomm Atheros AR9485WB-EG 802.11b/g/n Wireless
Bluetooth 4.0
Headphone / Microphone Combo Jack
2 x USB 2.0
1 x USB 3.0
Card Reader: SD, MMC, MS
VGA
HDMI
Et cetera
Windows 8 64-bit
For its price-point, these specs are just about what we'd expect. We should point out though that unlike some of Intel's higher-end processors, the i3-3217U does not feature Turbo. So what we have here is a modest dual-core i3 that tops-out at 1.8GHz. That, coupled with the fact that the 4GB of RAM is accomplished with one stick (meaning, single-channel operations) should give you a good idea of what to expect performance-wise from the X202E.
One of the best features of the X202E is its touchscreen, which throughout all of our testing proved to be a dream to use. While touchscreens on notebooks may be completely common a year or so from now, they're not now, so that does help this particular model stand out from the crowd a bit. Do you need a touchscreen? Maybe not, but after using one for a certain length of time, your opinion may sway. I'll talk more about my personal experiences later.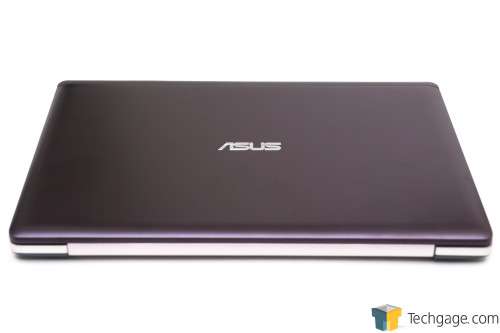 While the X202E's hood is metal, the rest of the exterior build is comprised of hard plastics. No part of the notebook lacks durability, and none of it certainly feels or appears "cheap". This is especially true with the touchpad, which I usually worry about on notebooks at this price-range. It's simply one of the better ones I've ever used.
Despite its use of simpler colors, the purplish hue on the notebook isn't quite as deep as it appears in the above photo. As ASUS itself manages to suffer the same issue with its own photos, I can't feel too bad. The X202E is also available in black, pink and pearl. I'm totally jealous of whoever it was that received a pink sample from ASUS.
The hood of the X202E isn't the only part of the notebook that received a brushed aluminum treatment: so did the working area. I'm pleased to note that the effect isn't quite as pronounced as it is on some notebooks I've tested in the past, where it almost feels like you're getting micro-cuts on your finger when you slide along it.
A chiclet keyboard design is employed here, which is quite fine by me. I've come to like the design more than any other as it's very easy to type on and (for me) results in less tpyos. Due to the fact that we're dealing with an 11.6-inch notebook here, it should come as no surprise that there is no numpad. That does lead me to a small beef, however: the fact that there is no alternate numpad for use with the Fn keys. Granted, a lot of people never use numpads, but if you ever do, either for gaming or work, it's really annoying when there isn't some makeshift option available.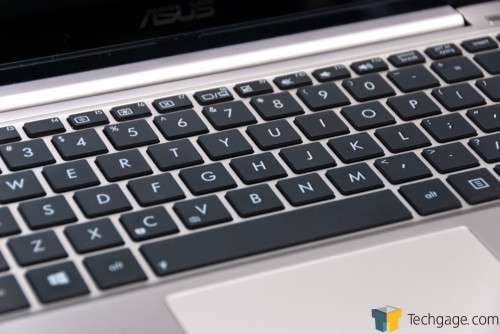 In relative size to the rest of the notebook, I'd wager that the touchpad is a perfect size, and going further, it has a perfect feel, as well. On lesser-expensive notebooks, it's not uncommon to have to deal with a touchpad that's built using less-than-ideal materials which in turn makes it hard on the fingers, but the X202E managed to escape that fate. It's super-smooth and doesn't get warm after long use – it's a winner in my book.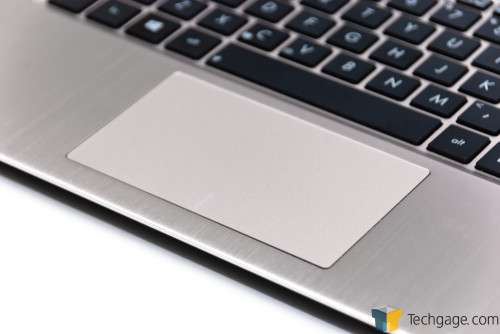 On the left side of the notebook, the power adapter port kicks things off, to be followed by Ethernet, HDMI, USB 3.0, USB 2.0 and Kensington lock.
Moving over to the right side and starting from the left, we have an SD/MMC card reader, In/Out audio combo-port, another USB 2.0 port followed by a VGA port. Overall, a nice collection of connectivity options with nothing notable missing.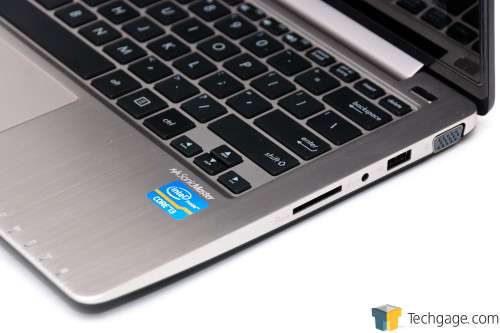 To wrap up our glamour shots, let's take a quick look at the front-right corner. In order, these LEDs represent: power on, battery charging, hard disk activity, WiFi enabled and, of all things, caps lock.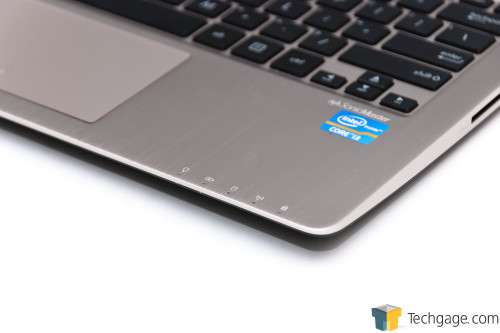 In terms of both aesthetics and design, I can't find a real fault with ASUS' X202E. Things are made all the better when its modest price-point of $500 is taken into consideration. Are there any "gotchas" waiting around the corner? We'll soon find out. For now, let's tackle software.
A Look at the X202E's Software
Alongside the release of Windows 8 came the need for companies like ASUS to re-think the way they manage software on their products. Take bundled software, for example. It's hardly been atypical to see vendors load the desktop up with shortcut icons for applications it believes you should notice right away, but with Windows 8, the desktop is no longer the focus, and the clean aesthetics of the "Modern UI" simply don't favor such clutter. We'll talk about what can result from this in just a short bit.
Also changed is the way companies are able to handle restoring the PC to a factory-fresh state. Previously, companies would employ their own, sometimes not-so-elegant solutions. However, because Windows 8 includes similar functionality, some companies, including ASUS, have merged the two recovery solutions together. The result is a recovery solution that runs through Microsoft's Windows 8 solution, but is tweaked for ASUS' purposes – aka: to install the bundled software and drivers.
For the purpose, this particular notebook has three partitions sitting next to the other two that are for personal use. These consist of a 300 MB "EFI" partition and dual "Recovery" partitions – one weighing in at 300 MB, the other at 20 GB. The price we pay for being able to recover our PCs the easiest way possible.
With that sorted out, let's move along and boot the X202E up: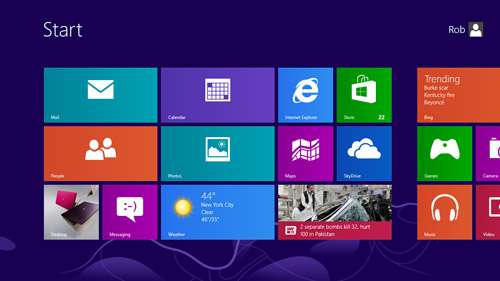 It's long been difficult for companies to differentiate their OS installs from the competition, and Windows 8 does nothing to remedy that. In fact, things have been made even worse, thanks to the absolute lack of flexibility of the Start screen. Windows 8 on this notebook looks little different than it does on any other notebook.
The first hint of uniqueness can be seen when the Start screen is scrolled to the right. Here, we can see some pre-installed Xbox Arcade games along with ASUS World Clock, Calculator and Converter. These are simple apps that do as their name implies, with Converter being the most interesting as it covers weight, length, volume, temperature, data storage and area. Want to know how many bytes make up 56 GB? This app will quickly tell you the answer.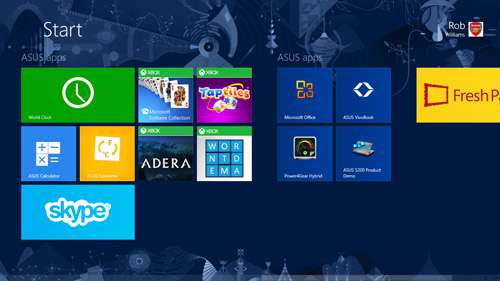 Being a notebook review, I don't want to harp too much on the OS aspect of things, but a personal beef of mine with Microsoft's latest OS hit me in the face when navigating the X202E's software. Unlike the classic Start Menu, the Start screen doesn't support folders for tiles. This leaves companies the option of relegating certain applications to the All Apps screen, creating their own faux folder application that acts as a launcher (which rarely look good) or litter the Start screen with a bunch of tiles that most people will never use. The choices here are not exactly great.
For this notebook, ASUS took the route of hiding most of its own software inside of the All Apps menu. For those new to Windows 8, this menu is not easy to stumble on – especially on a touch device. That leads me to another problem: Microsoft doesn't explain in any real detail how to use the Start screen, save for two of the most basic explanations at install time. There's no tutor of any sort, despite there being 10 or so functions that those using the Start screen should know about.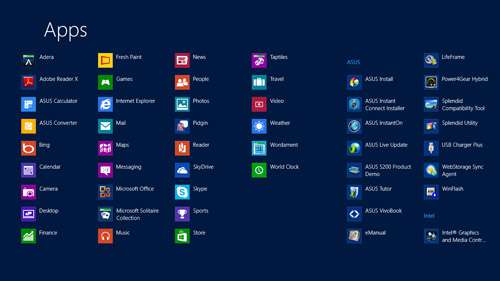 Here's where things become ironic. As seen in the shot above, ASUS has bundled in an app called "ASUS Tutor" which, to me, represents what Microsoft itself should have included with Windows 8. The irony stems from the fact that one thing this program teaches you is how to go to the All Apps menu in order to access apps like it and others. Ignoring the fact that ASUS should have included a tile shortcut for this on the main Start screen, let's take a quick look at what we're dealing with: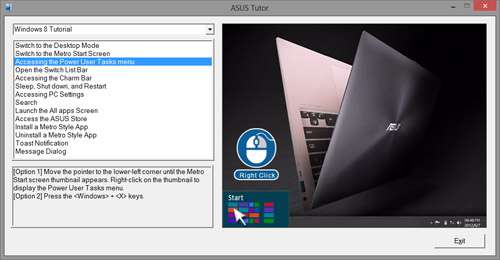 It looks simple, but looks can be deceiving. I've been using Windows 8 since October, and despite being experienced, I decided to humor myself and go through the tutorial here to see if I could learn anything new. I did. The tip shown above shows you how to access a menu by putting your mouse to the bottom left-hand corner of the screen and then right-clicking. This menu has many different shortcuts to various parts of the system, including Programs and Features, System, Device Manager and so on. To access these things before, I've had to go to the Start screen, type in a few letters, click on "Settings" and then the program. Yet – here's a method that's about 5x quicker that Microsoft itself couldn't even be bothered to tell people.
I'm sure someone will comment and tell me that it is mentioned somewhere, but the problem is that it's not obvious enough. Simply put, ASUS has designed a fantastic tutor program that teaches you the basics very quickly. Microsoft should take note.
Let's take a look at the other software, shall we? One sticking point for me across all of the software was with the "Live Update" tool. This tool automatically starts after a fresh install and downloads updates from the Internet – it's completely typical for any pre-built PC. This one, however, manages to hang almost definitively – something I've experienced on two different current-gen ASUS notebooks.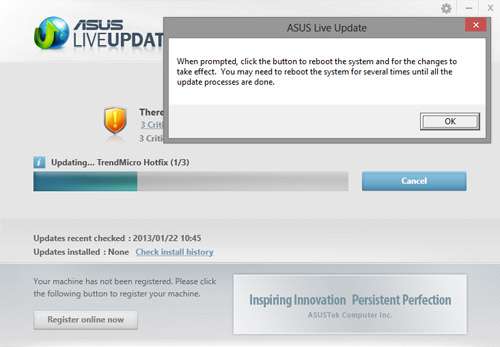 You'll note the pop-up box in the shot above – it tells you to click "OK" to reboot the system whenever the updates are finished. The problem is, these updates never managed to finish for me. The shot you see above was actually captured after an hour of it sitting on that exact spot. The kicker: the updates actually are applied, as a reboot will continue on with the next one. For some reason, the software doesn't cleanly wrap one update up to go onto the next. I'm willing to bet that this is an issue that will be remedied in time.
ASUS has long prided itself on its power-efficient products, and a popular stature for its notebooks has been "Power4Gear". This is in effect a simplfied power manager tool, though the profiles created have been fine-tuned by ASUS itself. You're able to fine-tune them further with the Power Options tool in Windows, or adjust simple things with ASUS' tool.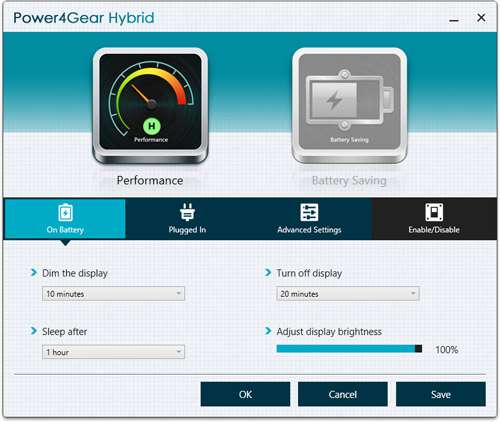 It's important to note that Power4Gear overrides the default power options in Windows, so if you need anything specific changed, you'll need to edit the special Power4Gear profiles and not those defaults (Performance, Balanced, et cetera). If you choose one of the standard Windows power modes, Power4Gear will simply default back to its own after a reboot. Thus, if you use Power4Gear, you must stick with it.
"ASUS Installation Wizard" speaks for itself. It lists all of the official software that ships with the notebook and allows you to both uninstall or install any and all of it. From what I can tell, this is not an updater – those duties would be left to the Live Update tool mentioned above.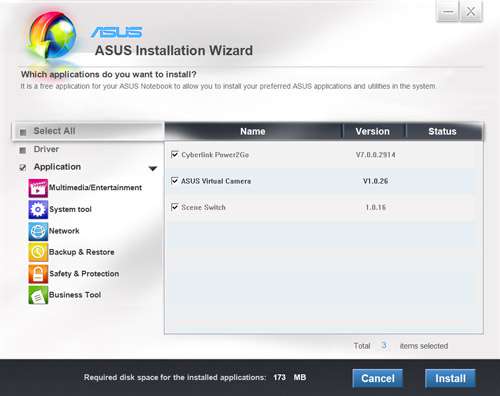 Of all the software bundled with the X202E, "Instant Connect" is the one with the least amount of documentation. It looks to be tethering software for certain phones to help get around the need to pay for the feature through your carrier. Perhaps this is the reason ASUS is playing it cool? At the moment, only Samsung's Galaxy S2, Galaxy S3, Galaxy Note and Galaxy Nexus are supported along with ASUS' own PadFone and MEMO ME171. As we have none of these devices on-hand, this is one feature we were unable to test out.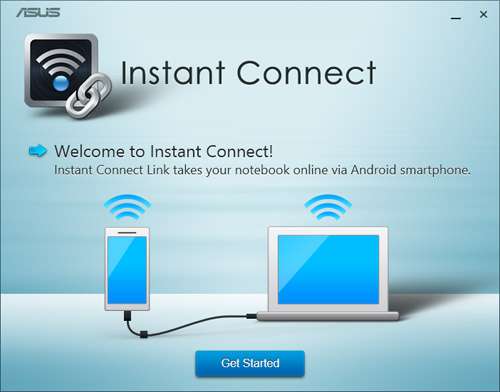 Along with ASUS Tutor, ASUS Smart Gesture is a great program for teaching you shortcuts that can be done on the touchpad or touchscreen. It's highly recommended that you refer to this tool, as it will make your experience with the notebook all the more better.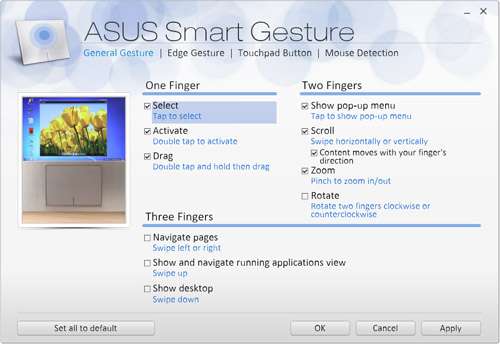 Other software includes a semi-interactive demo typical of what you'd see at the stores, Microsoft Office 2010 and McAfee Internet Security. The latter two are trialware, good for 30 days a piece, with McAfee in particular proving to be an absolute nag until you uninstall or activate it (the latter will still deliver an occasional pop-up at the bottom).
Trialware bloat is kept to a minimum for the most part, and ASUS' own software proves to be quite nice. It still boggles my mind as to why the company didn't at least pin its Tutor and Smart Gesture to the Start screen, however, as it's the first thing anyone new to Windows 8 should be looking at. They're simple tools, but can teach you things that are not common-sense.
Final Thoughts
Unlike our previous notebook reviews, I didn't plan on jumping into this one and conducting much benchmarking. The reason is simple: we're finding that most benchmarks hold little value overall. Things might change if we had access to a slew of current-gen notebooks at the given price-point we're focusing on, but that's just not realistic. But we don't consider that inability to be a downside, because a major focus of consumers today is the "experience", not raw performance numbers that are hard to relate to.
Just a quick note, though. If we are to take a look at a high-performance notebook, you can expect there to be some benchmarks. On a notebook like this, with such modest specs, there seems to be little point.
That said, I liked the X202E from the moment I hauled it out of the box. I actually received two notebooks at the same time from ASUS (the other is the 15.6-inch S56C), and it's the X202E that's proven to grab me the most. Size aside, both notebooks look similar, so what is it about the X202E that attracts me? Oddly enough, the touchscreen.
I've never been too sold on touchscreens for PCs, and even still, I couldn't imagine having to use only a touchscreen for Windows (sorry, Microsoft), but as a complement, it's fantastic. If not for Windows 8, I'm not sure I'd feel this way, because where I've used the touchscreen the most has been inside the Start screen. Even when I have had a mouse hooked up, I found it much easier to navigate left and right with the touchscreen. With no mouse hooked up, I found myself using it even more because I generally don't care for touchpads too much. Though some buttons on the screen could be small, I was most often fine using touch versus the touchpad for them. If you had asked me a year ago if I could have imagined I'd have these thoughts today, I would have probably been pretty blunt in saying no.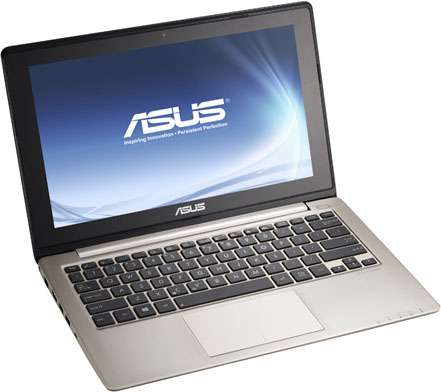 I don't expect everyone to enjoy the touchscreen in those ways like I do, though, and I even feel a little bit odd preferring to touch a button than deal with a touchpad. But it is what it is.
There's of course a lot more to the X202E than a touchscreen though, so let's move on. In terms of comfort during use, I found the notebook to be a winner there as well. The keyboard is about as perfect as I'd expect one on a notebook to be (a mechanical KB on a notebook might be a little off-putting), and as mentioned before, the touchpad is also great.
The "Smart Gesture" software we talked about on the previous page shows all of the things that can be done with touchpad gestures, and because some are pretty subtle, it's worth checking out. For example, I'm sure I'm not the only one who sometimes finds it difficult to right-click something with a touchpad. ASUS eases the pain by allowing you to bring up the right-click menu by tapping with two fingers. As you'd expect, you can also zoom in and out where the opportunity exists, and rotate as well. You can also scroll up and down a page using two fingers, but I found that to only be ideal if you're planning to read something rather slowly. You cannot go from the top to the bottom of a page quickly with this method, so for that, I instead used the touchscreen, which wasn't just quicker, but felt more natural as well (in this instance, it becomes like a tablet).
| | | |
| --- | --- | --- |
| Powermark | ASUS S56C | ASUS X202E |
| Balanced | 2h 36m | 3h 31m |
| Productivity | 4h 19m | 4h 40m |
| Entertainment | 1h 54m | 2h 45m |
For its price-point of $500, I think the X202E is an impressive notebook in terms of design, aesthetic and features, but the one sticking-point is with the display and performance.
The display, while able to deliver a spot-on touch experience, lacks the crispness and color-richness of an IPS panel. When using the notebook away from any other computer, the downsides are less obvious, but I was pretty shocked when I was looking at the same thing on both the notebook and my aging Dell 2408WFP in terms of color accuracy. Perhaps even crazier, my ASUS Transformer TF201, a tablet of about 14 months old, has a better display than the X202E does.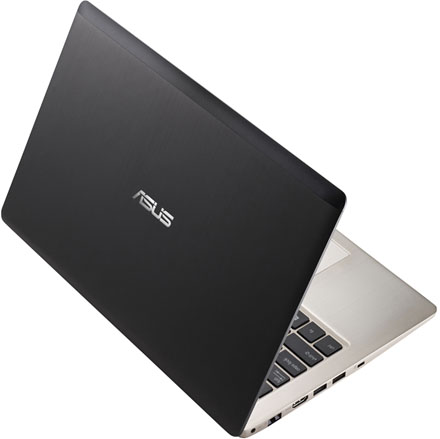 The performance issue should be obvious. We're dealing with a notebook equipped with a modest Intel Core i3 dual-core chip that tops-out at 1.8GHz. This, along with the fact that we're dealing with a single-channel memory configuration, means that the notebook will be good for overall use, but nothing too heavy. Juggling Photoshop among other applications wasn't what I'd consider smooth, but it isn't too atypical of what I'd expect at this price-range. And please don't make me talk about gaming. It's better to pretend that gaming doesn't exist with this notebook, because even at low settings, Counter-Strike: Global Offensive was unacceptable. I had much better luck with some aged games, such as Asheron's Call 2 and The Sims 3. 
It's obvious that ASUS' goal here wasn't to deliver high performance or a high-quality display, bur rather a great design, eye-catching aesthetics and an admirable feature-set. That's an important trade-off to note. The X202E is like a Smart car that looks like a Porsche that has the versatility of an SUV.
And that's what the X202E boils down to. If performance or an IPS display isn't a major concern, the X202E offers a lot. It's attractive, sports a great keyboard and touchpad, has a touchscreen that works very well, boasts the best audio system we've ever heard in a notebook at this price-point and it offers decent battery-life ratings. The lack of an IPS panel is undeniably a downside, but we couldn't find an equivalent system to this that had one (those that did were 15-inch models). I spent a good hour perusing Amazon's top 100 list, and of all the laptops at this price-point and form-factor, I'd quicker pick it up than the others.
If you understand the goals and caveats of the X202E, it makes for an excellent choice at its given price-point.
Pros
Excellent design.
Attractive aesthetics.
Smooth, easy-to-use touchpad.
Touchscreen works beautifully.
Superb audio system for this form-factor and price-point.
Handles 1080p high-bitrate (<20Mbit/s) content like a breeze.
Solid battery-life.
Good price ($500 USD at select e-tailers, including Microsoft).
Cons
Performance is lackluster. Single-channel memory implementation is baffling.
Not for beefier games – at all.
No IPS display, and it shows.
No Gigabit Ethernet.
McAfee's trialware is so naggy, you'll be quick to uninstall it.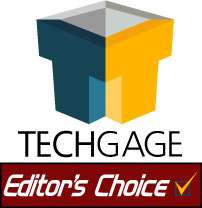 ASUS VivoBook X202E Notebook
Copyright © 2005-2019 Techgage Networks Inc. - All Rights Reserved.