ASUS ZenFone 2 Smartphone Review: The Budget Android Wonder

Date: August 28, 2015
Author(s): Rob Williams

Great smartphones don't need to break the bank, which is something ASUS' $200 ZenFone 2 proves a couple of times over. This 5.5-inch Android phone sports a 1080p display, packs 2GB of RAM under its hood, has a good-performing Intel SoC, and even offers dual SIM capabilities. Let's check it out.
---
Introduction; A Look At ZenFone 2's Hardware & Specs
A lot of manufacturers claim to pack as much into a given price tag as possible, and when that price tag is modest, it's rare to see that claim lived up to. With the ZenFone 2, though, ASUS has proven that it is possible to give people more than they're expecting. At $200, the ZenFone 2 is an inexpensive smartphone, but it manages to pack in a couple of features not even found on most higher-end models.
I should note right from the get go that like most smartphones out there, ASUS' ZenFone 2 comes in multiple versions. The most common one is the ZE551ML, which I'm taking a look at here. What helps this model stand out from the crowd is that it's one of the few to take advantage of some Intel hardware, which includes the CPU and modem.
A new ZenFone 2 variant is due out soon, dubbed Laser. This one swaps out Intel's Atom for a Qualcomm Snapdragon and will see reductions elsewhere, either by offering less RAM, a smaller resolution, or even a drop from 802.11ac wireless down to 802.11n. Personally, I find this ZE551ML model to be more appealing than the Laser.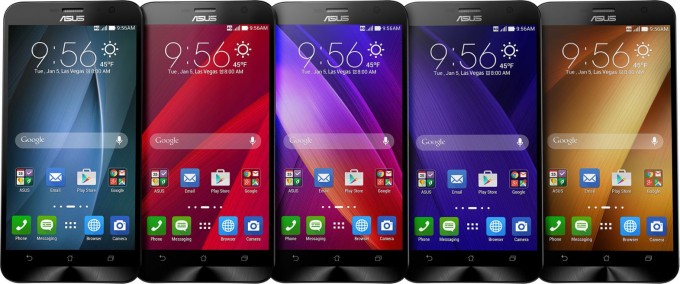 But enough about other ZenFone 2 models; let's take a deeper look at this one.
ASUS' ZenFone 2 (ZE551ML)
SoC
Intel Atom Quad-Core Z3580 (2.3GHz) CPU
PowerVR G6430 GPU
Display
5.5-inch 1080p (401ppi) IPS
Corning Gorilla Glass 3
Storage
16/32/64GB
Up to 64GB microSD
5GB Lifetime ASUS WebStorage
Memory
2/4GB LPDDR3
Wireless
Intel 7262 + Intel 2230 Modem
Supports LTE, GSM & HSPA
Supports 802.11ac, Bluetooth 4, GPS & NFC
Camera
Front: 5 megapixel
Rear: 13 megapixel
Battery
3000mAh Li-Polymer
Weight
170g
Dimensions
77.2 x 152.5 x 3.9mm
Et cetera
Support for 2 SIMs
Connects to a PC through microUSB
Supports FM radio
Phone DRAM can't be that expensive if ASUS manages to pack 4GB of the stuff into a $200 phone. (Edit: I somehow missed the fact that the $199 phone has just 2GB of RAM; it's the $299 model that has 4GB). On the processing side of things, Intel's Atom Z3580 is no slouch, boasting four cores that can operate at 2.3GHz. The graphics might leave a bit to be desired, however.
The ZenFone 2 comes in a few different sizes, but this 5.5-inch model will again be the most popular. As someone who appreciates a larger screen, I am at the point where I couldn't imagine using a phone much smaller than this – the large screen reduces eye strain and makes it far easier to navigate while on-the-go. This particular panel is also great to look at; crisp and bright.
Under this phone's belly is a 3,000mAh battery, but that in itself isn't too impressive. What is, is the fact that ASUS promises the ZenFone 2 to be one of the quickest-charging phones out there, able to restore 60% of its life in a mere 39 minutes. Part of this is thanks to the included 18W "BoostMaster" power adapter. I'll talk more about this on the testing page, but I'll say this up front: be sure to use this charger and not some other one you have hanging around.
I've mentioned a couple of times that the ZF2 is a $200 phone, but I should elaborate on the fact that that represents the 16GB model. If you're media hungry, the 64GB model will add $100 the price (as well as increase the RAM to 4GB). I should also note that in addition to the red model I'm looking at, gold, silver, and black models are also available.
As some of the shots above highlight, the ZenFone 2 has a curved back, and overall, I've found it to be very comfortable to hold. Also, while the back may look like brushed aluminum, it's in fact plastic. While it would have been great to see a metal back, it's clear that it couldn't have happened while retaining the phone's desired price point. Part of me wishes ASUS sold replacement backs to satiate the appetites of those who love heavier, more durable devices.
Thanks to its slim, curved design, ASUS relegated the volume rocker to the back. At least to me, this has proven to be a little more convenient than having it on the side since my index finger sits right on it as I hold the phone. Overall, I have no complaints about this particular design.
Finally, one of the shots above shows one of the coolest perks I wouldn't have expected to see on a $200 full-featured Android phone – dual SIM capabilities. There is a caveat to this, though: the second SIM will be unable to transfer Internet data. That means that the first card will be used for everything, while the second will be for calling and texting only. I found out the hard way last week while out-of-town that this was the phone's design; I could have saved about a half an hour of time had I realized it in advance.
A Look At ZenFone 2's Software
When a phone is as packed as the ZenFone 2 is and costs just $200, there has to be a catch, right? Of course! In this particular case, it's that the phone comes with a good amount of bloatware. To be fair to ASUS, most of the bundled software is its own, and a lot of that happens to be quite good.
In total, the ZF2 includes 16 apps from ASUS itself, 13 from Google, and 6 from third-parties: Amazon Kindle, Clean Master, Dr. Safety, TripAdvisor, Zinio, and a GameLoft game portal.
Own a ZF2 and want to get rid of some of that bloat? There's an article for that.
The screenshots above show off the ZenFone's 2 default launcher, which as most of the software bundled is ASUS' own creation. Overall, it's quite attractive, and after having used the phone for more than a month, I can't conjure up a real complaint. One option I would like to see is one that lets you squeeze more than just four apps into the bottom bar, but admittedly that's not something everyone would want.
I mentioned a moment ago that a lot of the software available here that ASUS itself develops is good, so I'd like to touch more on that now. After I got this phone, I realized I could forego some third-party apps I install on every single device, including a stopwatch and a file manager. I've relied-upon ES File Explorer for as long as I can remember, but ASUS' own file manager is more than suitable for my needs. It can even access some cloud services, and it never gave me a hassle when connecting to a network share.
Not everyone will take advantage of every app ASUS bundles here, but some of them are likely to be really appreciated by those who do want them. We can take the Splendid app, for example, which allows you to apply a bluelight filter or adjust the color temperature very easily. The same kind of tweaking can be done with AudioWizard. Mobile Manager is another one worth looking at, as it will allow you to free up RAM (not that it's ever going to be needed), adjust performance levels, change auto-started apps, and check up on data usage.
One thing ASUS seems to care a lot about is flexibility. On the phone out-of-the-box are a number of tools used to tweak how the launcher behaves, but if you want to change a lot more than that, you can take advantage of a handful of alternative themes. At last check, there are 14 to choose from, and all of them are free. You can see a few examples above.
What makes these themes a bit cooler than those for some other launchers I've used is that they're also able to skin the slide-down system settings menu, which can also be seen above.
Because this is Android, and because the ZenFone 2 is really easy to root and tweak the heck out of, if you don't like the default software configuration, you can customize things to your heart's content.
Test Results & Final Thoughts
We've now taken a look at both the hardware and software, so what about performance? It's time to tackle that, but I'll first start out with relaying actual experience, rather than just jump into numbers.
The ZenFone 2 is the first Intel-equipped smartphone I've ever used, and I admit that at first, I wasn't sure whether I'd find it slow or not. The phone's $200 price tag encouraged certain thoughts, as well. After over a month-and-a-half of use, though, I can honestly say that I'm very impressed with the performance of this phone, and that I expected it to be a lot worse.
While most Android smartphones (and tablets, for that matter) seem to suffer from certain app lag before I know it, I've yet to experience that with this phone. I should note that while I've largely been using the SuperZen ROM, which removes a bunch of the bloat, I didn't find the phone any slower with its stock configuration. The phone simply seems to be very optimized; or, it could be that the Intel Atom SoC used in this phone is not as poor as some who jump to conclusions (including me, in this case) tend to believe.
That all said, this phone from a benchmarking standpoint is not going to be as impressive as some other current phones, but it still does perform well in its class. Since I haven't recently benchmarked other comparable phones, I benchmarked the ZenFone 2 using largely the same benchmark suite that we tested out NVIDIA's SHIELD TV and Tablet with. Those sport chips that are designed for gaming, so some of these results won't come as too much of a surprise.
| | | | |
| --- | --- | --- | --- |
| | ASUS ZenFone 2 | SHIELD (TV) | SHIELD Tablet |
| Geekbench (Single) | 920 | 1576 | 1140 |
| Geekbench (Multi) | 2881 | 4694 | 3632 |
| MobileXPRT – Overall Perf | 300 | 393 | 315 |
| MobileXPRT – UX | 100 | 104 | 104 |
| 3DMark Ice Storm | 20520 | 45604 | 29532 |
| GFXBench T-Rex Onscreen | 1466 | 3352 | 2876 |
See? Not much of a surprise. Even so, the Intel and PowerVR combo will enable some good gaming – just not on par with what some top-end chips, including NVIDIA's Tegra, can enable. Yet again, for a phone of this price point, the performance is to be expected.
On the first page of this article, I mentioned that ASUS touts the ZenFone 2 as being one of the fastest charging phones on the market, able to avail 60% in a mere 39 minutes. Of course, this is something I had to test out.
I do need to reiterate one thing, though: the charger that comes in the box of the ZenFone 2 needs to be used to take advantage of this quick-charging feature. That's because the charger outputs at 18W, much more than most others do. This means one thing that will be obvious when charging with it: the phone is going to get quite warm. In some scenarios, that could be a small price to pay.
To test the quick-charging feature, I stressed the phone until it got down to 6% battery-life, and then shut it down. After the phone cooled, I booted it back up, at which point it sat at 5%. I then plugged in the charger and monitored where the battery-life was every 15 minutes. The results are:
5% > 25% > 45% > 65% > 77% > 87% > 92% > 98% > (10 minutes later) 100% = 1 hour 55 minutes
It took 45 minutes to see an even 60% increase, so I have a feeling ASUS is measuring the "60 in 39" from the phone at 0% or 1%. Nonetheless, some great results. It's comforting to know that if you goof and forget to charge your phone, a mere half an hour will almost half-fill the phone's battery.
Another interesting claim by ASUS is that the ZenFone 2 can handle LTE speeds at up to 150Mbps. That's impressive, but more impressive would be finding an area where speeds even close to that can be attained. In my lowly east Canadian town of Fredericton, New Brunswick, I managed to hit ~51Mbps down and ~20Mbps up.
Final Thoughts
Since we're nearing the end of the review and I still haven't touched on the ZenFone 2's camera, I'll do that now. During the time I've had with the phone, I didn't put too much emphasis on photo snapping simply because it became obvious quick that this phone's camera isn't going to impress too many people. Yet again, I have to pull the "What else do you expect from a $200 phone?" trick out of my hat.
Below are nine random photos I shot where I had no intention of making sure the image came out as good as it could – aka: I used it like a normal person. HDR was not enabled, and in many cases, neither was the flash (due to not being distracting). Overall, the camera featured in this phone gets the job done, and could look a lot worse.
Given the ZenFone 2's price point of $200, it's hard to come up with a major complaint. It's as if ASUS had something to prove with this particular model, because it's a well-designed product that offers a bit more than we'd expect. It might be held back by the Intel SoC in some cases, but as I mentioned earlier, during normal use, the last thing I thought of was that the phone was slow – any lacking performance wasn't even noticeable while I was at Intel's Developer Forum last week and used the phone like a mad man.
Highlights of the phone include its 1080p screen, which comes in at 401ppi. It's crisp, colorful, and offers a number of tweaking options to make it look better in different scenarios. It even includes dual SIM capabilities, which can prove to be a boon to anyone who travels over the border a lot or requires two SIMs for business or some other reason. Of course, it's hard to ignore the fact that this phone can also have 4GB of RAM – a feature most high-end phones don't even have. That to me, though, is proof that ASUS wanted to push its name into this ultra-competitive market hard, because I can't help but feel like 4GB is going to be considered overkill for the next while.
If there's one thing that's stuck with me that I could consider a complaint, it's that the phone's touchscreen is sometimes a bit finicky. I've really only noticed this when entering a pin to unlock the phone, and I've been told that it's probably because I'm holding the phone so that my palm is touching the side of the display slightly, which backs up what I had previously thought. Holding the phone in such a way that it allows me to type the pin on my opposite hand never exhibited this issue; only when I gripped the phone to type it in with both hands. An odd complaint, and one that most may not see, but I wanted to mention it nonetheless.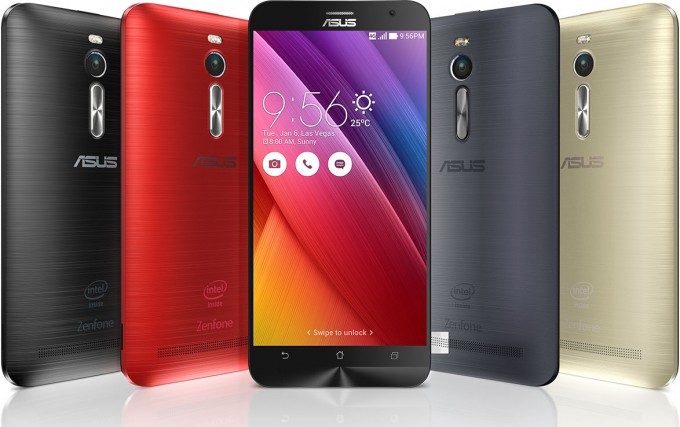 If you're in the market for a new phone and don't want to spend more than $200, ASUS' ZenFone 2 is an awesome offering. Those looking for a bit more performance might want to consider OnePlus' 2, although for the extra $100 it costs, the 64GB model ZenFone 2 could be hard to ignore (especially when the OnePlus 2 doesn't have a microSD slot.)
When I purchased the $200 first-gen Moto G a couple of years ago, I never felt like it was a "great" phone. I knew there were far better options out there had I wanted to spend two or three times as much. I sure wish a phone like the ZenFone 2 existed back then. The ZenFone 2 is $200 like that Moto G was, but has capabilities that go far beyond it – from a bigger full HD screen to dual SIM to having a ton of RAM (and not to mention more storage) to having a far better camera (which goes to show how bad that phone's camera was) to having ac wireless, and so on and so forth.
For its price point, ASUS' ZenFone 2 is a seriously hard smartphone to beat.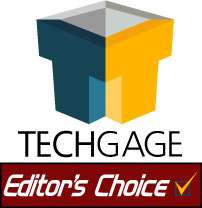 ASUS ZenFone 2 Smartphone
Pros
Offers great specs for its $200 price.
Crisp 5.5-inch 1080p display.
Great real-world performance, no visible reduction in performance after a month of hard use.
Dual SIM capabilities.
ASUS' launcher offers good customization.
Very easy to root and unlock the bootloader (and thus replace the stock ROM.)
Many of ASUS' preinstalled apps are useful, which is why the SuperZen ROM retains most of them.
Over a dozen free (and good-looking) themes can be downloaded for ASUS' launcher.
Cons
Depending on how the phone is held, the touchscreen can be a little finicky when entering a pin.
Like me after takeout, this phone arrives bloated.
Copyright © 2005-2021 Techgage Networks Inc. - All Rights Reserved.