ASUS at CES 2011
Date: January 4, 2011
Author(s): Rob Williams

At a press conference held well before the official CES launch, ASUS unveiled four new Eee models, all of which are touch-enabled and can be considered "tablets". These include the feature-rich and powerful "Eee Slate" 12.1-inch, the Eee Pad Transformer (a personal favorite), the super small Eee Pad MeMo and also the Eee Pad Slider.
---
ASUS at CES
At an ASUS press conference held two days in advance of the official CES kick-off, the Taiwanese tech giant showed off a lot of mobility, which of course means a lot of Eee. A popular prediction of products to be seen at this CES is tablets and similar devices, and ASUS helped confirm that with the four products it unveiled.
It's no secret that Apple's iPad has been majorly successful, and I admit that its success surprised even me. It's clear that the tablet PC has a purpose, although the iPad does have obvious limitations. Because of this, companies like ASUS are looking to give consumers another, and possibly more attractive, alternative.
ASUS Eee Slate EP121
The first product unveiled was the Eee Slate EP121, a powerful PC in a still-mobile tablet. This 12.1″ LED-backlit tablet features a Core i5 dual-core CPU and supports a 1280×800 resolution, and based on these specs alone, it's clear that this can be used for some actual computing on the go.
An example we were given related to us as press, and it hit home. Imagine having an Eee Slate, popping in an SD memory card, quickly editing photos, then uploading them. This could be done without a mouse, but probably preferred with a stylus. Why this would be preferred over an actual notebook is that it could be handheld, and easier to manage.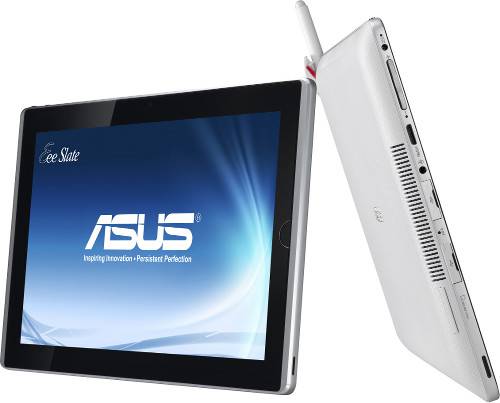 Unlike a product like the iPad, the Eee Slate features a full OS (Windows 7 Home Premium) so you can run your regular desktop applications no problem – even Adobe Photoshop. For keyboard usage, you could use either an on-screen option or take advantage of the Bluetooth feature to use a physical device.
Once the Eee Slate EP121 hits the market, it will be available in both 32GB or 64GB options (expandable with SDXC), up to 4GB of RAM, an 802.11n WiFi adapter, Bluetooth 3.0, a 2 megapixel camera and two USB 2.0 ports. At around ~$1,000, this tablet PC might not jump at most people, but it does have some major potential.
ASUS Eee Pad Slider
A typical tablet design might not be for everyone, so to capitalize on a popular format of many cell phones, ASUS offers the Eee Pad Slider. This interesting mobile device can remain in its closed position to be used as a tablet PC, or can have the physical keyboard slide out in order to make writing a bit easier.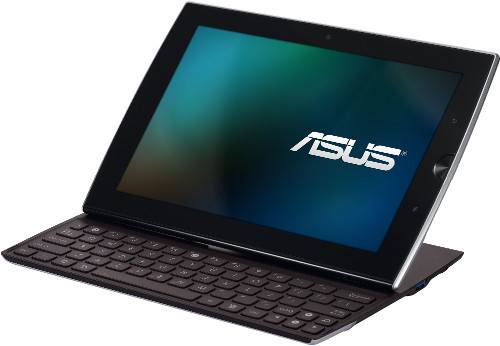 The product looks rather simple at first, but it has the goods to help it deliver a great experience on the go – including NVIDIA's Tegra 2 processor. At 10.1″, the Eee Pad Slider isn't super small, but it does remain completely mobile and can somewhat act like a laptop while on the go (no mouse or touchpad), making it a good two-in-one.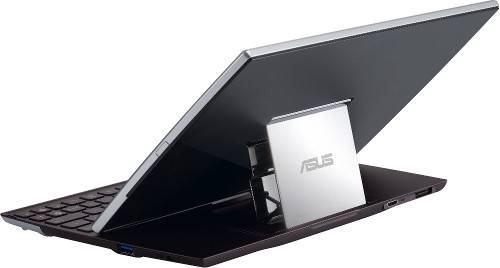 Unlike the Slate, the Eee Pad Slider runs on Android 3.0, making it a perfect device for Internet use. It features a 1.2 megapixel camera on the front, and a 5 megapixel camera on the back, and photos and the like can be easily shared. Of course, this device also features a capacitative touch-screen, and for Internet use, it can run on a 3G network. There was no mention of WiFi, so at this point it can be assumed that it's not supported.
ASUS Eee Pad Transformer
We just tackled a full-out tablet (or "slate") and also a two-in-one device, so what else could there be? A "transformer" design, of course. This device is like a tablet and notebook in one, more so than the Eee Pad Slider because it has more of a laptop-like form-factor. Plus, both the keyboard and tablet can be completely separated, which is where this device's selling-point is. You can take either the tablet, or the entire unit, which in essence is a notebook.
Similar to the Eee Pad Slider, the Eee Pad Transformer features a 10.1″ IPS touch-screen, NVIDIA's Tegra 2 processor, and again runs on Android 3.0. Once the docking station is applied (to create the "notebook"), the battery-life is extended up to 16 hours. And once again, this device also features a 1.2 megapixel front and 5 megapixel back camera.
Interestingly, this device also includes a mini-HDMI portal for full 1080p playback, which is exactly the kind of scenario NVIDIA showed off at Computex a couple of years ago with its Tegra launch.
ASUS Eee Pad MeMo
Due to arriving a bit late to this ASUS event (thanks Air Canada!), I missed all of the details on this product, but given the information we were handed afterwards, this is the most mobile of all the Eee Pads announced. It uses a 7″ capacitive touch screen and is meant to be mobile enough to slip into a jacket pocket.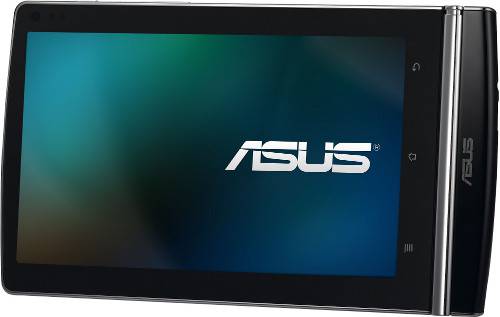 Like the Eee Pad Slider and Transformer, the MeMo also runs Android 3.0 (there sure is a lot of support behind this OS), and also supports 1080p video. Thanks to the included stylus, it's a perfect digital note-taker as well. That idea alone makes me want one… it'd sure make events like CES easier to deal with!
Overall, ASUS had some interesting goods to show off, and of most interest to me is the Eee Pad Transformer. This is a product I could see me adopting quickly, because it provides the best of both worlds, and is convenient. Even more so, I'd love to see a variant run Windows, because that might just be the ultimate "tablet".
We're not done seeing what ASUS has new to show off, as we'll be paying the company a visit later this week to see what other products it has en route. These will include motherboards, GPUs and other hardware we're used to reviewing, and once we have that information, we'll extend this article to include it. Stay tuned!
Discuss this article in our forums!
Have a comment you wish to make on this article? Recommendations? Criticism? Feel free to head over to our related thread and put your words to our virtual paper! There is no requirement to register in order to respond to these threads, but it sure doesn't hurt!
Copyright © 2005-2020 Techgage Networks Inc. - All Rights Reserved.