ASUS Eee PC 1008HA Seashell Netbook

Date: June 29, 2009
Author(s): Rob Williams

With an incredible number of netbooks available on the market, how does one compete? With ASUS and their 1008HA (Seashell), the simple answer is to make not a faster notebook, but a feature-rich netbook with a better design. The 1008HA delivers on both counts, with the best netbook design we've seen to date and other bonuses on the software front.
---
Introduction
By now, you're probably all well-aware of what a netbook is, and what a netbook isn't. In fact, the proper question to ask might be, "Who doesn't know what a netbook is?", because the number of responses would be far fewer. In fact, it's rather rare when a new piece of technology launches and even the most non-techy people know what it is within a two year span. Indeed, the reach of netbooks has blown away all expectations.
We're now half-way through 2009, and the netbook idea isn't so fresh anymore. But despite that, they're still selling like hotcakes, to new adopters and upgraders alike. The good news is that these devices continue to improve (just look at the launch units and then what we have today… it's like night and day), and competition is absolutely fierce. It's extremely impressive that for a mere $400, you can pick up a fully-functional netbook that can be tossed pretty-well anywhere.
When ASUS first launched their Eee PC in late 2007, there was no competition, thanks to the fact that they were the originators. But it didn't take too long before the market become saturated, and before we knew it, even companies we've never heard of were jumping on the bandwagon and releasing their own netbooks. That makes it tough to find one truly unique, not to mention find one that's simply better than another for a given price-range.
Closer Look at ASUS' Eee PC 1008HA
With such competition, companies are required to continually innovate, and although ASUS doesn't currently own the top spot for netbook sales (that belongs to Acer thanks to their incredible reach and market presence), they've been releasing new models for what seems like every other week, and making some fine improvements on each successor. With the 1008HA, though, the didn't simply tack on a few new features, but rather wanted to change the actual look, despite the lack of room they're given.
That's how the "Seashell" name was born. Although the physical dimensions are on par with other Eee PC 1000-series models, both the lid and underbelly are curved to mimic a seashell shape. I admit, the first time I saw this design, I wasn't at all a fan. But I'm not sure what side of the bed I woke up on that morning, because now that I've spent some good time with it, I'd have to say it easily goes down as the best-looking netbook out there.
We'll tackle the intricacies such as included hardware on the following page, but here we'll take a tour around the latest model and see all of what it offers. First, you can see its glossy cover, and incredibly clean design: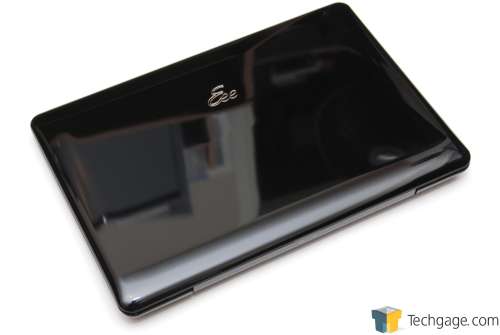 We received the black version (as you can see), but for those looking for a more flavorful netbook, the 1008HA also comes in White, Pink, Blue, Sapphire Blue and Ruby Red (to match ladies lipstick, perhaps?). And for those who might not yet understand just how small a netbook is, here's a size comparison with a standard audio CD case. The 1008HA is close to being two full CDs side-by-side and 1 1/3 of a CD tall. If you stack two standard CDs on top of each other, their height will be taller than the thickest point of the Eee PC.
With the "Seashell" design, ASUS wanted to take the opportunity to create the cleanest-looking netbook possible, and well, they've done it in my opinion. With nothing plugged into the device, there's absolutely no available connector slots/ports visible, except for the memory card reader (and perhaps the AC/DC power port). Instead, each set of connectors is protected by a small door that opens and closes with ease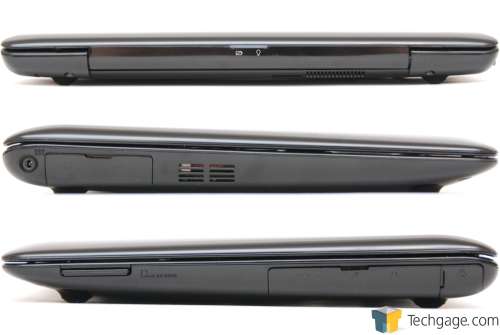 The first view in the above image is the back of the unit. The center LED lights up depending on the netbooks standby mode or charging state, and aside from that, there's no other connectivity options here. The center image is the left-side view, and that small door next to the power offers a mini-USB port and also a regular USB port. On the right-side, we have the memory card reader, another USB port, audio jacks and also the LAN port. To help keep in line with the clean aesthetics, the LAN port at first glance doesn't actually look large enough to use, but the bottom part of this opening lowers just a tad in order to open up the needed space. This doesn't at all affect the sitting position.
I mentioned the Eee PC includes a mini-USB port, but what on earth could that be for? Well, the below photo will tell you. Again, in order to help continue the clean design of the unit, ASUS opted to include VGA support with the help of a removable dongle which stores into the back of the unit. To use VGA, you simply take this out and plug it into the mini-USB port. I'm guessing the majority of people will never use the VGA ability to begin with, so keeping it out of sight will be appreciated.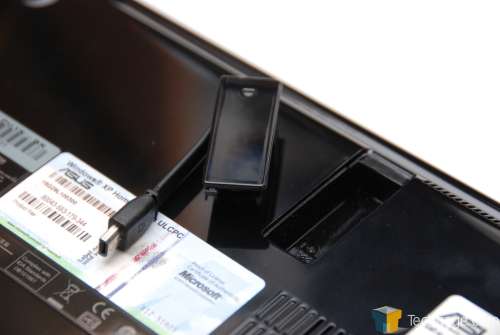 There are a total of four air vents on the 1008HA, three of which are found on the bottom (and one on the left side). Here you can also get a better view of the included VGA dongle, and also the placement of the feet, which keep the netbook raised just enough to offer a comfortable experience when sitting with it at a table or desk.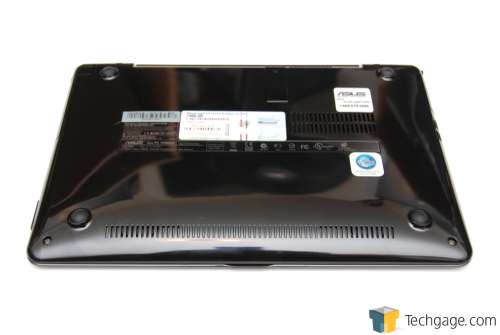 When Apple first launched their iPhone, people raved over the multi-touch functionality. That is, to be able to use more than one finger at a time on the screen or touchpad, which would allow you to use two fingers to zoom in or out on a photo (there are more uses, but that's the most common). ASUS included the same feature here, and as a result, the touchpad is quite a bit different than most. Rather than a typical pad design, there are many small bumps which offers a very unique feel.
For short doses, I didn't mind using this pad too much, but after long use, the tip of my finger would begin to tingle, and it wasn't totally comfortable. This may vary from user to user, but I would have preferred a standard touchpad in lieu of one that supports multi-touch. That's just me, and again, opinions may and will vary.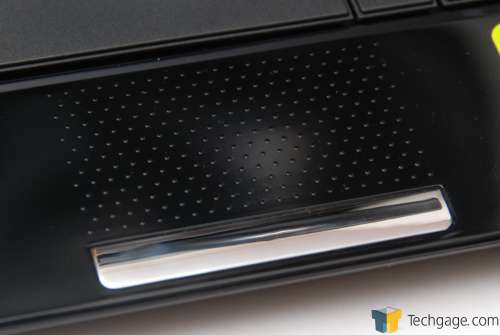 ASUS used every available millimeter of the Eee PC's width to store a large keyboard, and it's almost full size, and though I'm not positive of the exact % difference, I'd have to imagine the keys here are at least 90% of a regular keyboard. Yes that's right… you can actually use a netbook and not typo on every other word. It's still not as comfortable as a 12″+ notebook's keyboard for me, but I've never been one to enjoy using smaller-than-desktop-size notebook keys.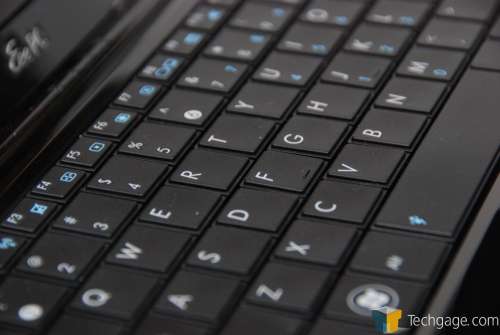 Finally, both the top-left and top-right corners of the keyboard feature buttons. On the left side, you can find the WiFi and Touchpad enable/disable, while on the right-side you simply have the power button.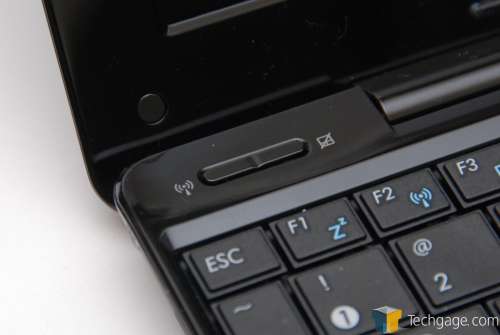 Now this is a handsome-looking netbook: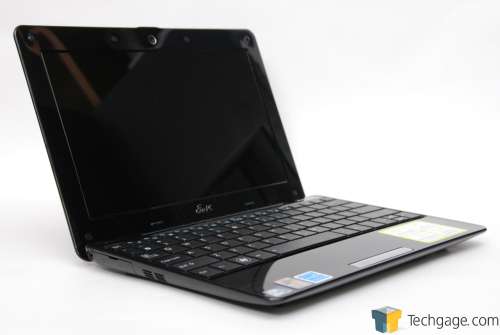 On the following page, we'll take a deep look at the tech specs, included software (also the robust backup software unique to the Eee PC) and more.
Tech Specs, Included Software
One major issue that plagues current netbooks is that among the hundred different models available from various vendors, almost all of them pack similar components. What it comes down to most is storage size, the battery and also whether or not useful accessories are included. With regard to that last point, aside from a cool little felt protection case, nothing else is included (aside from the recovery CD and manuals).
When Intel launched their N280 Atom, netbook vendors jumped on them fast, even though the speed boost over the previously-popular N270 (1.66GHz vs. 1.60GHz) is rather minor. On all current Eee PC products, ASUS automatically overclocks the processor just a wee bit to offer even better performance. In this case, the CPU tops out at 1.70GHz (a 40MHz boost). The real-world difference would be unbelievably small, but it's appreciated nonetheless.
Also like the vast majority of other netbooks, the 1008HA includes 1GB of RAM, which cannot be upgraded (that perk is left to the 1005HA). For storage, ASUS has packed in a Seagate Momentus 160 GB drive, with a rotational speed of 5400 RPM. For additional storage, ASUS also offers their "Eee Storage" service to new owners, which totals 10GB. I'll touch up more on that in a moment.
Model

ASUS Eee PC 1008HA (Seashell)

Processor
Chipset
Graphics
Display

10.1" LED Backlight WSVGA (1024×600)

Memory

Samsung 1GB DDR2-667 5-5-5-15

Hard Drive

Seagate ST9160310AS
160 GB, 5400 RPM, 8MB Cache, S-ATA 3.0GB/s

10 GB Eee Storage (Online)

ODD
Audio

Realtek ALC269 (Intel 82801GBM)

Network

Atheros AR8132 PCI-E NIC
Atheros AR9285 WiFi (a/b/g/n)


Et cetera

Weight: 2.42 lbs (1.1 kg)
Dimensions: 18mm~25.7mm (H) x 262mm (W) x 178mm (D)
Battery: 3-Cell Lithium Ion (~6 hours)
1.3 Megapixel Webcam
2x USB, 1x mini VGA, 1x Memory Card (SD/MMC)

Bluetooth
1 Year Parts and Labor Warranty

OS

Windows XP

Home Edition 32-bit
For now, the maximum-supported resolution for 10″ netbooks continues to be 1024×600, and the 1008HA reflects that. You can change that to 1024×768 if you like, but the height will exceed the display, so you'll have to mouse up and down to explore the entire desktop. It's not too convenient, so the only time it ever becomes useful is if you're using an application which loads a dialog box that gets cut off by the restrictive 600px height.
Below is a shot of the stock 1008HA desktop, leaving no doubts that this is the "Seashell" model. ASUS includes multiple Seashell-inspired wallpapers, but all are similar, and no, it's not a real photograph, but rather a superb Photoshop job.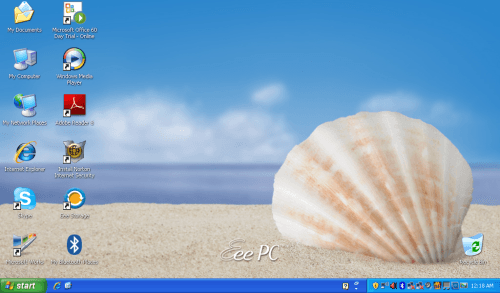 Here you can get an idea of what "bloatware" is pre-installed, although to be honest, there's very little. Commercial software that's included comes in the form of trials, for Office 2007 and also Norton Internet Security. The former application is pre-installed, but the user has to use the icon on the desktop to go ahead with the Norton install (thank you ASUS!). Aside from those, free applications include Skype, Eee Storage and Microsoft Works.
One feature ASUS has been touting for a while with their Eee PC line-up the online storage feature, so I figured since this is the first Eee PC I've touched with the support included, I'd give it a shot. At first, I assumed the service would be a simple drag+drop ordeal where you could later obtain files you've uploaded at another location or on another PC, but there's a lot more than immediately meets the eye.
In gist, the Eee Storage feature is designed to offer users a safe place to store certain files, and also use for backing-up important folders automatically. As you can see in the below screenshot, clicking on the "Eee Storage" icon on the desktop shows various folders and options, as well as tutorials. Once you sign up for an account (first two years are free), you're able to simply use these like regular folders. Once a file or folder is dropped in this folder, the upload process will take place seamlessly – it looks like a regular Windows' copy process (although with obvious latencies).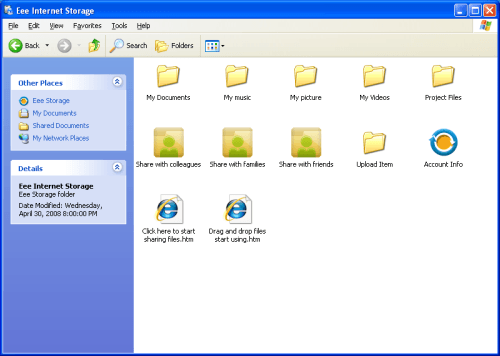 Once signed up and signed-in (on both the site and the Eee PC itself), you can then use the Eee Storage website to further handle the files, download them to other PCs or even send friends URLs to share what you have. The front page to the site once signed in is rather informative. It first tells you when your account was started, and also when it expires (of course there's an option to upgrade or renew the subscription).
In addition, it also tells you whether or not you've set up your Eee PC for automatic backup and also how much space you're currently using on the service (split nicely into categories so you can really understand what's going on). Want to find a specific file you've uploaded, fast? The search box up top takes care of that, and in my experience, it works well.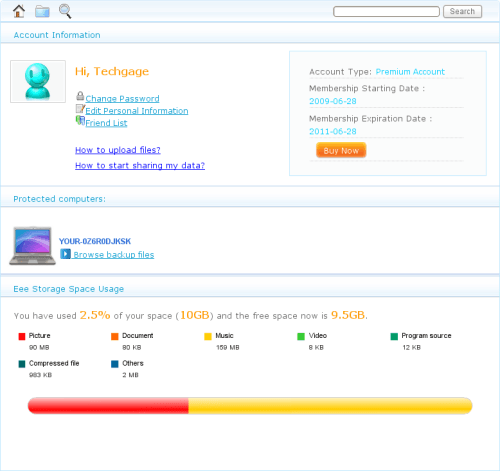 If you're not on your Eee PC, or would rather use the Internet to browse your files, it couldn't be any easier. At the top of the Eee Storage page, you can click the little folder icon and it will load the view you see below. You simply click on "Eee Internet Storage" and browse your folders until you find the folder or file you need. If you want to share the entire folder or file with someone, you can click the "Share" icon and a link will be generated.
Files or folders you link to the the share feature are not private to any degree. If you make one available and provide a URL to your friends, absolutely anyone with that URL can access the data, so be careful. If you no longer want to share a particular file or folder, you can simply deactivate it. Friends you share with do not also need an Eee Storage account, so no login on their end is required, making the entire process extremely simple.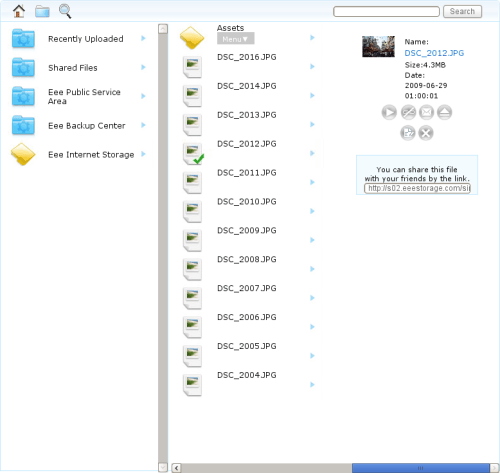 One important feature of this online storage would have to be the backup feature, though. With the Eee Storage software, you can select the backup to occur automatically (it will automatically upload new or updated files whenever the Internet connection has no load), and you can also choose specific folders for it to keep an eye on. Once you set this up, the process happens automatically and you don't have to worry about a thing. It's actually extremely useful, because if you're not on your Eee PC but need a file on it, it's likely to be available on your Eee Storage, as long as that folder is in the backup software's sights.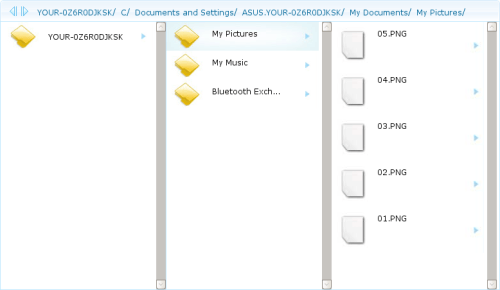 ASUS isn't known for their robust software, but they really went the extra mile with their Eee Storage. Not only does the feature work as intended and also happens to be feature-robust, the Eee Storage website looks fantastic, with clean lines and smooth colors. It's also a cinch to use. If you have an Eee PC and aren't using this feature, you're really missing out. If there's only one thing to make sure of, though, it's that you keep NO sensitive data in your backup folder, because you do not want that to wind up on the Internet, even if it's in a protected environment like this. It's best to back up such data yourself to a separate storage device.
Usage, Final Thoughts
I've mentioned on our pages in the past that I'm not much of a netbook guy. It's not that I don't understand their appeal or uses, but rather the fact that I just can't seem to "get used" to them. I don't have big hands, but I still manage to fumble over the keyboard. Then there's the limiting resolution (1024×600), but that's self-explanatory. I do seem to be in the minority, though, as netbook growth isn't slowing down, and I've yet to meet anyone who owns one and isn't satisfied overall.
As a non-netbook user, I didn't know what kind of conclusions I'd be making on the final page of this review, but I have to say, the 1008HA really impressed me. It's not perfect by any means, but there are so many pluses, that I feel inclined to award it one of our Editor's Choice awards (and I have).
Let's start with the keyboard. I mentioned that I tend to fumble all over them on netbooks, and this one isn't that much different, although what helps are the full-size shift keys. Rather than the right Shift button size be on par with the letter keys, the one found here is about 2.5x larger, making hitting it far, far easier.
What impressed me most seems simple… the design. Sure, anyone can refine a netbook chassis a wee bit to make it look sexier and cleaner, but ASUS took things to the next level here. There are some trade-offs, but I'll touch on those in a moment. Plain and simple, the Seashell features the cleanest design of any netbook out there. Everything from the glossy paint to even the Eee logo looks perfect, and even though I didn't like it at first, the seashell shape is a winner.
What I like most about the Seashell is the fact that ASUS tried to keep things simple, and as clean as possible. You don't see connectors on the sides like you do other netbooks, thanks to the small doors, and that really does add a lot to the appeal. The downside is that each time you want to plug in a mouse or any other USB device, you'll have to go through the hassle of popping open the door and closing it again afterwards, but this may prove to be a worthwhile trade-off for some.
The other downsides are a little harsher. Because of the goal to keep the cleanest design possible, users lose the ability to upgrade their battery and memory, and although I'm not certain, I don't believe the hard drive is upgradable either. If you look again at the back of the unit, there doesn't appear to be an easy way to prop it open, and that's the simple reason that the user will lack upgradability.
If looks are more important to you than upgradability, then none of this will matter. But here's the kicker. This ultra-clean design costs a premium, and at ~$420, the 1008HA costs $30 more than the $390 1005HA. To make matters worse, the 1005HA has a few perks the 1008HA doesn't, such as upgradability for the HDD, memory and also includes a removable battery. It doesn't end there, either. The 1005HA also packs a 6-cell battery, so ASUS promises 10+ hours of battery-life.
But none of this matters a great deal, because both models target a different audience – one strictly for looks, and one for looks and upgradability (and ultimate battery-life). I do feel, though, that since the 1005HA packs a wicked battery upgrade, the 1008HA shouldn't be so expensive. In my opinion, the sweet design of the 1008HA would be on par with the perk of the larger battery of the 1005HA, but ASUS must not agree.
That issue doesn't take me down off the high that the 1008HA put me on though, because despite the cost premium and the 3-cell battery, it's still one heck of a sweet netbook. If offers some innovative features such as the hidden VGA dongle and also the hidden ports, and the cleanest design of a netbook anywhere. Even the 1005HA can't compete in that regard (that model's ports are all exposed, and the model is also thicker).
In my personal tests, I used the 1008HA over the course of two days on battery-power, doing everything from web-surfing, to listening to music, to more web-surfing and also typing up some of this article. In all the time combined, the Eee PC lasted just under the projected 6-hour mark (I hit 5h 50m), so I'm quite impressed there. Note that I used the "Power Saver" function, which didn't decrease the display's brightness, but did downclock the processor.
In all that time, I never felt the unit was getting too warm, even when using it in my lap. This is no doubt in thanks to the modest processor, but even while watching video on YouTube and stressing the CPU, it didn't once heat up to an uncomfortable level. Where performance is concerned, you can't expect that much from a netbook, but the 1GB of RAM coupled with the processor should be sufficient for most needs.
Overall, I'm very impressed with the 1008HA, and though it has a few drawbacks, it's the best-looking netbook available (in my opinion) and lacks nothing (aside from upgradable storage and memory). If you like the design of the Seashell but aren't that fussy, then I highly recommend you take a look at the 1005HA. It doesn't look quite as clean, but the other perks (among a lower price) make it almost unbeatable.
Pros
Superb design and aesthetics.
Near-full-sized keyboard.
Speedy processor (for a netbook, ~1.70GHz during full load).
6+ hours of battery-life.
Crisp, bright LED-backlit display.
10GB online storage space is a nice touch.
Online backup software is useful and works well.
Minimal traces of "bloatware".
Cons
Non-removable battery.
Non-upgradable memory.
Touchpad a little rough on finger tips after long use.
Should include 2GB of RAM, given it's non-user-upgradable.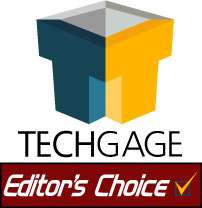 ASUS Eee PC 1008HA Seashell
Discuss this article in our forums!
Have a comment you wish to make on this article? Recommendations? Criticism? Feel free to head over to our related thread and put your words to our virtual paper! There is no requirement to register in order to respond to these threads, but it sure doesn't hurt!
Copyright © 2005-2019 Techgage Networks Inc. - All Rights Reserved.