ASUS EN9800GTX+ 512MB Dark Knight

Date: October 21, 2008
Author(s): Rob Williams

Need a new mid-range GPU for under $200? NVIDIA's 9800 GTX+ is a good model to keep in mind, and ASUS' Dark Knight card in particular proves to be one well-worth considering. The card offers great gaming performance for the cash, even handling certain games at 2560×1600 with ease, has a sweet-looking cooler, and best of all, is priced-right.
---
Introduction, Closer Look
The summer might be long gone, but it's interesting to look back and see all that took place in the GPU world. ATI came out of nowhere with stellar products, and not even NVIDIA could predict the intense performance that the new models would deliver. That set off a chain reaction of new follow-up models from NVIDIA, some of which are a little silly, some of which are not. For the most part, the 9800 GTX+ we're taking a look at today likely belongs to the former camp.
Rewind back to April to our review of the launch 9800 GTX. At that time, I was rubbed the wrong way, because while the card offered good performance, it was nothing more than an overclocked 8800 GT, or 8800 GTS, more specifically. It was made worse that even our pre-overclocked 8800 GTS' we had lying around surpassed its performance – sad for a brand-new release, and certainly not what we were expecting to see from a "major" series jump.
Where this puts the 9800 GTX+ is above the 9800 GTX and below the 9800 GX2. Performance-wise, it's not going to compete to the next-step up, the GTX 260, but it costs a little over $100 less, so the models currently scale pretty well. The main competitor to the 9800 GTX+ is ATI's Radeon HD 4850, price-wise, and we'll find out today just how well NVIDIA can compete.
Closer Look
Before we take a look at ASUS' card specifically, you can take a look at the table below and see just where the 9800 GTX+ stands within the rest of NVIDIA's current line-up. Compared to the original, the 9800 GTX+ has bumped Core and Shader clocks, and is also based on a 55nm process, whereas the original is based on a 65nm process.
| | | | | | | |
| --- | --- | --- | --- | --- | --- | --- |
| | | | | | | |
| GTX 280 | 602 | 1296 | 1107 | 1GB | 512-bit | 240 |
| GTX 260/216 | 576 | 1242 | 999 | 896MB | 448-bit | 216 |
| GTX 260 | 576 | 1242 | 999 | 896MB | 448-bit | 192 |
| 9800 GX2 | 600 | 1500 | 1000 | 1GB | 512-bit | 256 |
| 9800 GTX+ | 738 | 1836 | 1100 | 512MB | 256-bit | 128 |
| 9800 GTX | 675 | 1688 | 1100 | 512MB | 256-bit | 128 |
| 9600 GT | 650 | 1625 | 900 | 512MB | 256-bit | 64 |
| 9600 GSO | 550 | 1375 | 800 | 384MB | 192-bit | 96 |
Price-wise, the 9800 GTX+ is currently no more expensive than the original, so it's important to dig for the best deals. In some cases, the original costs more, so make sure a plus sign is in the title, and you'll wind up with a better product. Most 9800 GTX+ cards can be had for around the $200 mark, but some e-tailers are offering mail-in-rebates to help bring it down close to $175, or even lower.
In the case of this particular ASUS card, one popular e-tailer is selling the card for $160 after MIR ($190 before), which even without testing the card out seems like an incredible deal.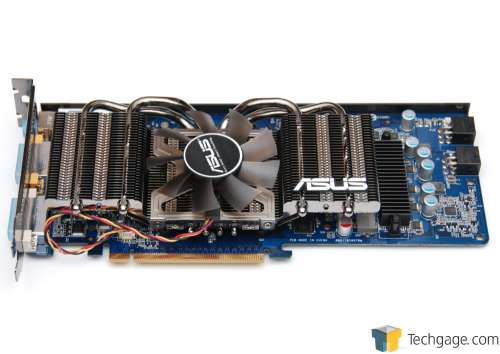 What sets ASUS' 9800 GTX+ Dark Knight apart is its unique dark-colored cooler. I have to admit I like this design quite a bit. It's not that simple in construction, but appears sleek and streamlined with the PCB. The dark-colored fan in the center helps complete the card, and it looks great overall. After-market coolers are common though, but what's rare is when one happens to look good and cools well at the same time. This is something we'll be testing out later in the article.
Taking a look at the back view, we can better see how the cooler is constructed. According to the box, the card includes an "Enthusiastic 4 Heat Pipe", and while I don't get too enthusiastic personally, it seems like a no-brainer to include them in any cooler design nowadays.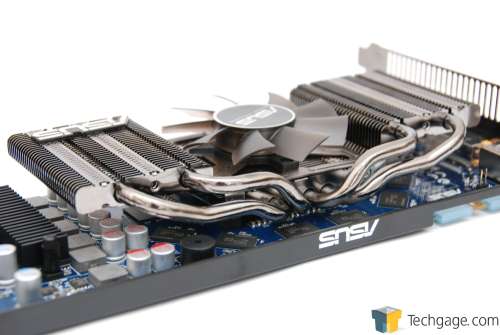 With a side view, we can even better see how the the cooler will dissipate heat. Looking at a top-down view, the cooler looks rather large, but on this side view, is easy to see just how small it really is. The only part of the cooler to touch the board is the center, which sits atop the GPU core. No memory chips are actively cooled, as they run pretty cool on their own.
Finally, this card requires two 6-pin PCI-E power connections, so it's important to make sure your PSU includes them. It might be possible to use a Molex-to-PCI-E 6-pin adapter if your PSU is an older model. Any recent PSU should include two, however.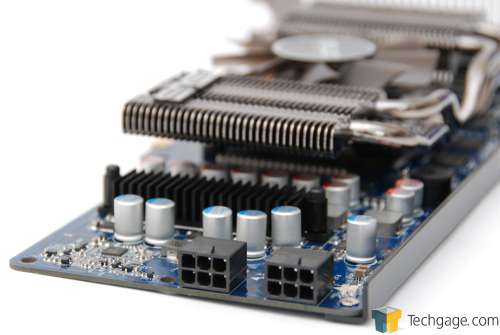 Though not pictured, the Dark Knight includes two DVI ports on the back, in addition to a TV-Out. Included in the box, alongside the various related material, are two adapters, one for HDMI, the other for VGA. There's nothing missing from the box that should be there, but the card doesn't include certain extras that are included in some other ASUS cards, like a CD holder case and/or game. Given the price of the card on the market though, we can let this little complaint slide.
Test System & Methodology
At Techgage, we strive to make sure our results are as accurate as possible. Our testing is rigorous and time-consuming, but we feel the effort is worth it. In an attempt to leave no question unanswered, this page contains not only our testbed specifications, but also a fully-detailed look at how we conduct our testing.
If there is a bit of information that we've omitted, or you wish to offer thoughts or suggest changes, please feel free to shoot us an e-mail or post in our forums.
Test System
The below table lists our testing machine's hardware, which remains unchanged throughout all GPU testing, minus the graphics card. Each card used for comparison is also listed here, along with the driver version used. Each one of the URLs in this table can be clicked to view the respective review of that product, or if a review doesn't exist, it will bring you to the product on the manufacturer's website.
When preparing our testbeds for any type of performance testing, we follow these guidelines:
General Guidelines
No power-saving options are enabled in the motherboard's BIOS.
Internet is disabled.
No Virus Scanner or Firewall is installed.
The OS is kept clean; no scrap files are left in between runs.
Hard drives affected are defragged with Diskeeper 2008 prior to a fresh benchmarking run.
Machine has proper airflow and the room temperature is 80°F (27°C) or less.
Windows Vista Optimizations
User Account Control (UAC) and screen saver are disabled.
Windows Defender, Firewall, Security Center, Search, Sidebar and Updates are disabled.
To aide with the goal of keeping accurate and repeatable results, we alter certain services in Windows Vista from starting up at boot. This is due to the fact that these services have the tendency to start up in the background without notice, potentially causing slightly inaccurate results. Disabling "Windows Search" turns off the OS' indexing which can at times utilize the hard drive and memory more than we'd like.
Game Benchmarks
For graphic card reviews that pit us with a mid-range card or higher, we test at three popular resolutions that span the mid-range to high-end ground, consisting of monitor sizes of 20″ (1680×1050), 24″ (1920×1200) and 30″ (2560×1600).
In an attempt to offer "real-world" results, we do not utilize timedemos in our graphic card reviews, with the exception of Futuremark's automated 3DMark Vantage. Each game in our test suite is benchmarked manually, with the minimum and average frames-per-second (FPS) captured with the help of FRAPS 2.9.5.
To deliver the best overall results, each title we use is exhaustively explored in order to find the best possible level in terms of intensiveness and replayability. Once a level is chosen, we play through repeatedly to find the best possible route and then in our official benchmarking, we stick to that route as close as possible. Since we are not robots and the game can throw in minor twists with each run, no run can be identical to the pixel.
Each game and setting combination is tested twice, and if there is a discrepancy between the initial results, the testing is repeated until we see results we are confident with.
The six games we currently use for our GPU reviews are listed below, with direct screenshots of the game's setting screens and explanations of why we chose what we did.
Crysis Warhead
Crysis and its Warhead successor are two of the most demanding games on the PC today, and as a result, Anti-Aliasing is not our focus in testing. The noticeable differences come when the advanced options are increased, and to keep things simple, Crytek offers four profiles to choose from: Entry, Mainstream, Gamer and Enthusiast.
We run all three of our resolutions at the "Gamer" setting as it's playable enough on all current mid-range (and higher) GPUs to complete a full run-through. The game unquestionably runs better on "Mainstream", but "Gamer" helps push even the highest-end GPUs to their breaking-point.
Call of Duty 4
The Call of Duty series of war-shooters are without question some of the most gorgeous on the PC (and consoles), but what's great is the fact that the games are also highly optimized, so no one has to max out their machine's specs in order to play it. Since that's the case, the in-game options are maxed out in all regards, except the Anisotropic Filtering, which is set to the center of the slider bar.
Half-Life 2: Episode Two
It might have been four-years-ago that we were able to play the first installment of the Half-Life 2 series, but it's held up well with its new releases and engine upgrades. This is one title that thrives on both a fast CPU and GPU, and though it's demanding at times, most any recent computer should be able to play the game with close to maxed-out detail settings, aside from the Anti-Aliasing.
In the case of very-recent mid-range cards, the game will run fine all the way up to 2560×1600 with maxed-out detail, minus Anti-Aliasing. All of our tested resolutions use identical settings, with 4xAA and 8xAF.
Unreal Tournament III
For as long as the Unreal Tournament series has been around, people have been benchmarking it. So it's a little strange that UT III offers some of the most simplistic in-game graphics settings ever, with the "Texture Detail" and "World Detail" being of most importance. These two options scale between 1 and 5, and we of course use 5 as it can be used on almost any current mid-range GPU as long as the resolution is kept in check.
To help make both the game look better and our test more demanding, we force an Anti-Aliasing setting with the help of either ATI's or NVIDIA's Control Center. Both allow us to force a 4xAA setting, which is where we keep it.
S.T.A.L.K.E.R.: Clear Sky
The original S.T.A.L.K.E.R. was one of the most demanding games we've ever tested with, and its Clear Sky sequel is no different. Unlike most other games, S.T.A.L.K.E.R. not only offers quality setting profiles (Medium, High, etc) but also render settings. New to Clear Sky though is the "Enhanced Full Dynamic Lighting DX10" render setting, which enables all of the DX10 goodies that fans were waiting for.
We test the game at this setting for two reasons. First, it's incredibly demanding on even the highest-end GPU, and second, FRAPS will not properly show the FPS counter or record an average FPS with any other render setting – I'm unsure why.
Need for Speed: ProStreet
The Need for Speed series has been a personal favorite ever since I first laid my hands on the third iteration, and I cannot see myself getting bored with any of the games soon. Sadly, Electronic Arts does not allow a 2560×1600 resolution with ProStreet, so we are limited to testing at both 1680×1050 and 1920×1200 only. In-game settings are completely maxed out, with 4xAA and V-Sync Off.
The next release from the NFS series will be Undercover, which is due out in late November. We will more than likely replace ProStreet soon afterwards, and we can only hope that EA learned their lesson from ProStreet and opens up 2560×1600 support.
Crysis Warhead
As PC enthusiasts, we tend to be drawn to games that offer spectacular graphics… titles that help reaffirm your belief that shelling out lots of cash for that high-end monitor and PC was well worth it. But it's rare when a game comes along that is so visually-demanding, it's unable to run fully maxed out on even the highest-end systems on the market. In the case of the original Crysis, it's easy to see that's what Crytek was going for.
Funny enough, even though Crysis was released close to a year ago, the game today still has difficulty running at 2560×1600 with full detail settings – and that's even with overlooking the use of anti-aliasing! Luckily, Warhead is better optimized and will run smoother on almost any GPU, despite looking just as gorgeous as its predecessor, as you can see in the screenshot below.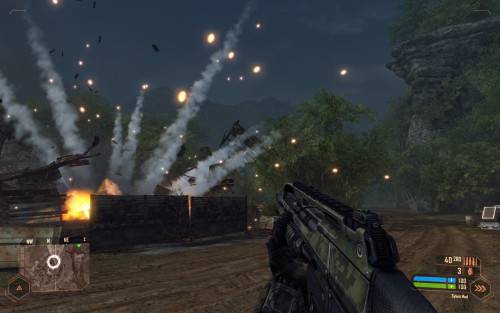 The game includes four basic profiles to help you adjust the settings based on how good your system is. These include Entry, Mainstream, Gamer and Enthusiast – the latter of which is for the biggest of systems out there, unless you have a sweet graphics card and are only running 1680×1050. We run our tests at the Gamer setting as it's very demanding on any current GPU and is a proper baseline of the level of detail that hardcore gamers would demand from the game.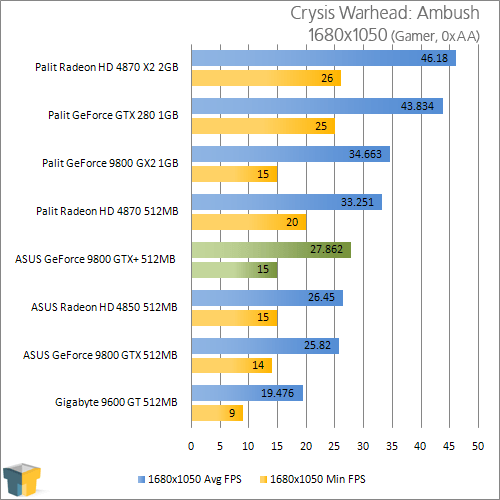 ASUS' 9800 GTX+ scaled well within our expectations here, but neither of our three resolutions delivered great gaming performance using the Gamer profile… it's just too demanding. For Crysis to be truly enjoyable, it should be played with at least 30FPS, and even our 1680×1050 setting couldn't hit that mark…
| | | |
| --- | --- | --- |
| | | |
| Palit HD 4870 X2 2GB | 2560×1600, Gamer, 0xAA | 31.382 FPS |
| Palit 9800 GX2 1GB | 2560×1600, Mainstream, 0xAA | 50.550 FPS |
| Palit GTX 280 1GB | 2560×1600, Mainstream, 0xAA | 46.038 FPS |
| ASUS 9800 GTX+ 512MB | 2560×1600, Mainstream, 0xAA | 34.319 FPS |
| Palit HD 4870 512MB | 2560×1600, Mainstream, 0xAA | 32.973 FPS |
| ASUS 9800 GTX 512MB | 2560×1600, Mainstream, 0xAA | 30.840 FPS |
| ASUS HD 4850 512MB | 2560×1600, Mainstream, 0xAA | 26.530 FPS |
| Gigabyte 9600 GT 512MB | 1920×1200, Mainstream, 0xAA | 31.979 FPS |
…but move Gamer down to Mainstream and the story changes dramatically. With this $~175 GPU, Crysis becomes playable at 2560×1600, and it's a gorgeous experience. Hard to be upset about that!
Call of Duty 4
Crysis Warhead might have the ability to bring any system to its knees even with what we consider to be reasonable settings, but Call of Duty 4 manages to look great regardless of your hardware, as long as it's reasonably current. It's also one of the few games on the market that will actually benefit from having a multi-core processor, although Quad-Cores offer no performance gain over a Dual-Core of the same frequency.
For our testing, we use a level called The Bog. The reason is simple… it looks great, plays well and happens to be incredibly demanding on the system. It takes place at night, but there is more gunfire, explosions, smoke, specular lighting and flying corpses than you can shake an assault rifle at.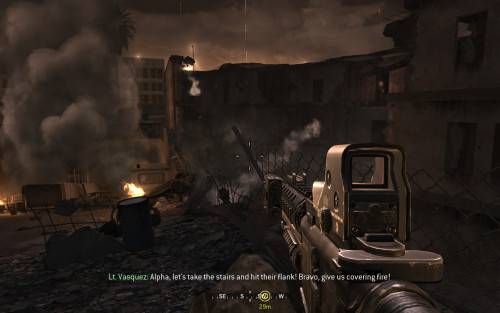 Because the game runs well on all current mid-range GPUs at reasonable graphic settings, we max out what's available to us, which includes enabling 4xAA and 8xAF, along with choosing the highest available options for everything else.
The story continues here, with the GTX+ scaling quite well when compared to the original model. It also scales well compared to the HD 4850, which costs about $20 less on average (if you look hard enough).
| | | |
| --- | --- | --- |
| | | |
| Palit HD 4870 X2 2GB | 2560×1600, Max Detail, 8xAA | 113.024 FPS |
| Palit GTX 280 1GB | 2560×1600, Max Detail, 8xAA | 85.440 FPS |
| Palit 9800 GX2 1GB | 2560×1600, Max Detail, 4xAA | 76.192 FPS |
| Palit HD 4870 512MB | 2560×1600, Max Detail, 4xAA | 64.825 FPS |
| ASUS 9800 GTX+ 512MB | 2560×1600, Max Detail, 0xAA | 74.392 FPS |
| ASUS 9800 GTX 512MB | 2560×1600, Max Detail, 0xAA | 70.363 FPS |
| ASUS HD 4850 512MB | 2560×1600, Max Detail, 0xAA | 69.745 FPS |
| Gigabyte 9600 GT 512MB | 2560×1600, Max Detail, 0xAA | 48.180 FPS |
Although the 4xAA setting at 2560×1600 as seen in our graph above was "playable" enough, it wasn't completely fluid as we'd hope, despite running at 55FPS. Like the original 9800 GTX, disabling AA entirely boosts up performance and the game becomes much smoother.
Half-Life 2: Episode Two
The original Half-Life 2 might have first seen the light of day close to four years ago, but it's still arguably one of the greatest-looking games ever seen on the PC. Follow-up versions, including Episode One and Episode Two, do well to put the Source Engine upgrades to full use. While playing, it's hard to believe that the game is based on a four+ year old engine, but it still looks great and runs well on almost any GPU purchased over the past few years.
Like Call of Duty 4, Half-Life 2: Episode Two runs well on modest hardware, but a recent mid-range graphics card is recommended if you wish to play at higher than 1680×1050 or would like to top out the available options, including anti-aliasing and very high texture settings.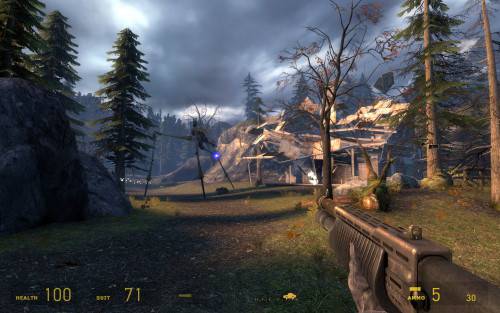 This game benefits from both the CPU and GPU, and the skies the limit. In order to fully top out the available settings and run the highest resolution possible, you need a very fast GPU or GPUs along with a fast processor. Though the in-game options go much higher, we run our tests with 4xAA and 8xAF to allow the game to remain playable on the smaller mid-range cards.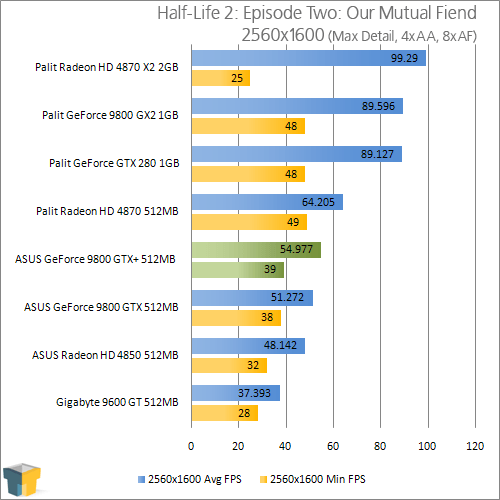 Our 9800 GTX+ continues to perform well throughout all the tests, with even our 2560×1600 setting being completely playable. Half-Life 2 isn't that demanding, but it still manages to look superb on a high-end resolution.
| | | |
| --- | --- | --- |
| | | |
| Palit HD 4870 X2 2GB | 2560×1600, Max Detail, 8xAA, 16xAF | 81.418 FPS |
| Palit GTX 280 1GB | 2560×1600, Max Detail, 8xAA, 16xAF | 61.437 FPS |
| Palit HD 4870 512MB | 2560×1600, Max Detail, 8xAA, 16xAF | 56.572 FPS |
| Palit 9800 GX2 1GB | 2560×1600, Max Detail, 4xAA, 8xAF | 89.596 FPS |
| ASUS 9800 GTX+ 512MB | 2560×1600, Max Detail, 4xAA, 8xAF | 54.977 FPS |
| ASUS 9800 GTX 512MB | 2560×1600, Max Detail, 4xAA, 8xAF | 51.272 FPS |
| ASUS HD 4850 512MB | 2560×1600, Max Detail, 4xAA, 8xAF | 48.142 FPS |
| Gigabyte 9600 GT 512MB | 2560×1600, Max Detail, 0xAA, 8xAF | 52.297 FPS |
Generally speaking, Half-Life 2 should have around 60FPS to be completely fluid, but I found with this card, there wasn't any noticable lag or tearing using 4xAA, and it looked noticably better than if AA was removed. Anyone will be able to enjoy 2560×1600 performance on this card with AA enabled.
Unreal Tournament III
As odd as it may seem, every single game we currently use for our graphic card benchmarking is a sequel or an entry in a series of games, including this one. The original Unreal Tournament launched in late 1999, and since then, it has become a stature with GPU benchmarking. Similar to Call of Duty, the UT series of games is one that manages to deliver spectacular graphics, but doesn't require a bleeding-edge machine to see them.
UTIII offers a variety of modes and levels, and has some of the most interesting and lush environments ever seen in a video game. If I could choose where I wanted to die, it would most likely be in the Gateway level, which you can see in the screenshot below. This level is one of the most interesting in the game as it's essentially three levels in one, linked together with portals – and it's hard to beat the feeling of scoring a portal frag.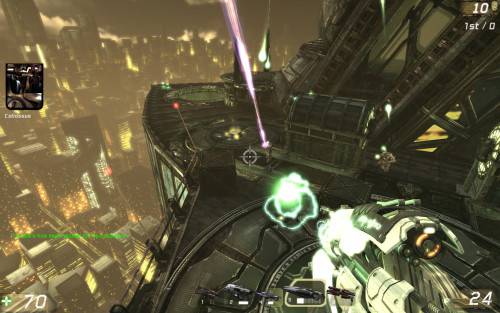 The game might be one of the best-looking currently on the PC, but it doesn't offer robust in-game settings like some others in our suite. Because of this, we are forced to enable anti-aliasing in the control panel of the current graphics card. Both ATI's and NVIDIA's drivers allow us to choose 4xAA, so that's what we stick with throughout all of our testing.
At all resolutions, the differences between the original 9800 GTX and the newer 9800 GTX+ is incredibly minimal, but they are gains nonetheless, and given that most 9800 GTX+ GPUs cost the same or less than the original, any gains can be appreciated.
| | | |
| --- | --- | --- |
| | | |
| Palit GTX 280 1GB | 2560×1600, Max Detail, 4xAA | 72.148 FPS |
| Palit HD 4870 X2 2GB | 2560×1600, Max Detail, 4xAA | 55.479 FPS |
| Palit 9800 GX2 1GB | 2560×1600, Max Detail, 0xAA | 78.909 FPS |
| Palit HD 4870 512MB | 2560×1600, Max Detail, 0xAA | 57.617 FPS |
| ASUS 9800 GTX 512MB | 2560×1600, Max Detail, 0xAA | 48.874 FPS |
| ASUS 9800 GTX+ 512MB | 2560×1600, Max Detail, 0xAA | 47.707 FPS |
| Gigabyte 9600 GT 512MB | 2560×1600, Max Detail, 0xAA | 43.781 FPS |
| ASUS HD 4850 512MB | 2560×1600, Max Detail, 0xAA | 42.228 FPS |
Our original 9800 GTX had to have its AA dropped in order to bolster up performance enough to make the gameplay really fluid, and the 9800 GTX+ followed the same track. Disabling it brought our average FPS up to 47.707 FPS at 2560×1600, becoming really quite playable. Oddly though, the 9800 GTX+ somehow consistantly scored about one less FPS than the original.
S.T.A.L.K.E.R.: Clear Sky
When it comes to first-person shooters, post-apocalyptic adventures are a dime a dozen. But when S.T.A.L.K.E.R. was first released in the spring of 2007, it dared to be different. How? By basing the game off of a real-world tragedy, the Chernobyl nuclear disaster, which occurred way back in 1986 near the city of Prypiat in the Ukraine. Despite the disaster happening so long ago, people are still unable to live in the surrounding area, and will be unable to for at least another 150 years.
In addition to the games real-world ties, S.T.A.L.K.E.R. happened to be one of the grittiest, realistic (aside from the problematic AI) and expansive games we've seen on the PC in a while. Having the ability to roam as you like is a huge benefit and really helped make the game feel real. Clear Sky further delivers on what made the original so great, but at the same time, adds support for DX10.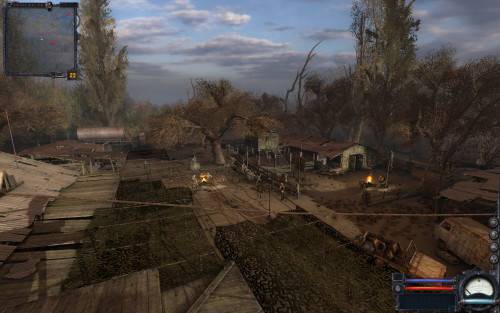 It might be difficult to judge from the screenshot, but Clear Sky (like the original) is one of the most demanding games on the PC today, especially if you wish to play using DX10. To help push all of our GPUs to their breaking-point, we stick to that mode while using the "High" quality setting.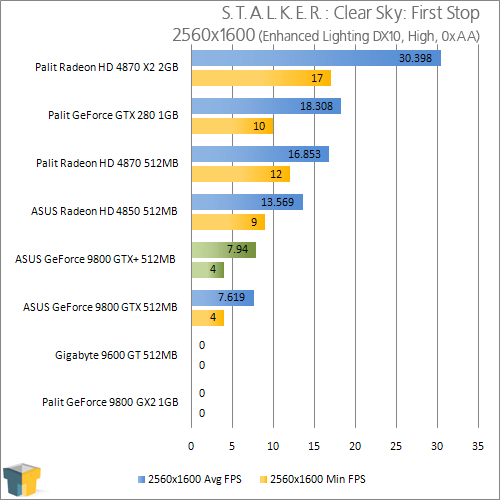 Continuing along with what we've seen so far, the performance scales with our expectations. The increases in the performance is still incredibly minor though, and neither of these three resolutions were remotely "fluid" with such high detail settings.
| | |
| --- | --- |
| | |
| Palit HD 4870 X2 2GB | 2560×1600, Enhanced Full Dynamic Lighting, Medium |
| Palit GTX 280 1GB | 2560×1600, Enhanced Full Dynamic Lighting, Medium |
| Palit 9800 GX2 1GB | 2560×1600, Full Dynamic Lighting, High |
| Palit HD 4870 512MB | 2560×1600, Full Dynamic Lighting, High |
| ASUS HD 4850 512MB | 2560×1600, Full Dynamic Lighting, Medium |
| ASUS 9800 GTX+ 512MB | 1920×1200, Full Dynamic Lighting, High |
| ASUS 9800 GTX 512MB | 1920×1200, Full Dynamic Lighting, High |
| Gigabyte 9600 GT 512MB | 1920×1200, Full Dynamic Lighting, Medium |
While most of our GPUs here could handle 2560×1600 at reasonable detail settings, neither of our GTX's could manage it. You really shouldn't expect anything higher than 1920×1200 with this particular GPU, unless you really want to lower all detail settings to levels that will cause the game to appear ugly – which tends to defeat the purpose of running a game at such a high resolution.
Need for Speed: ProStreet
Where the racing genre is concerned, there are few games like Need for Speed. The first title launched in 1994, and since then, the series has done well to stick to its roots by offering an exciting racing experience that doesn't hinge on being a simulator, like Gran Turismo or Forza. Instead, it delivers close to an arcade-like experience, which seems to be preferred by most people. EA has also kept incredibly regular with the series, having released sixteen different versions in a fourteen year span. That's impressive.
What wasn't impressive was ProStreet, however, as it took the franchise and turned it upside down. Sometimes reinventing a series is a good thing, but with concern to this game, EA should have left things as they were. The developers realized they goofed though, and the upcoming Undercover game (slated for a Nov. 17 release) looks to bring the series back on track. On release, we'll replace ProStreet with Undercover in our testing.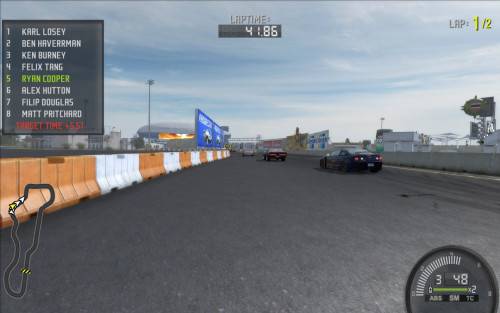 ProStreet offers a wide-range of graphics options, allowing you to intricately tweak the game to work on your machine, regardless of what hardware you have. However, even when using maxed out detail settings, the game is still playable enough to complete a reliable benchmarking run, so we take that route. We also enable anisotropic filtering and 4x anti-aliasing.
In most of our gaming tests, the 9800 GTX+ didn't make significant leaps in performance, but ProStreet did show a ~4.5FPS increase in both resolutions… nice to see.
| | | |
| --- | --- | --- |
| | | |
| Palit 9800 GX2 1GB | 1920×1200 Max Detail, 4xAA | 111.112 FPS |
| Palit GTX 280 1GB | 1920×1200 Max Detail, 4xAA | 93.939 FPS |
| Palit HD 4870 512MB | 1920×1200 Max Detail, 4xAA | 81.253 FPS |
| ASUS 9800 GTX+ 512MB | 1920×1200 Max Detail, 4xAA | 70.844 FPS |
| ASUS 9800 GTX 512MB | 1920×1200 Max Detail, 4xAA | 66.830 FPS |
| ASUS HD 4850 512MB | 1920×1200 Max Detail, 4xAA | 64.861 FPS |
| Gigabyte 9600 GT 512MB | 1920×1200 Max Detail, 4xAA | 52.189 FPS |
Since ProStreet tops out at 1920×1200, which happens to be far less intensive than 2560×1600, all GPUs in our lineup could run the game fine with our topped-out settings. The 9800 GTX+ had no problem running the game with maxed out settings, which to me means we really need Undercover to hurry up and get released. We desperately need 2560×1600 in Need for Speed!
Futuremark 3DMark Vantage
Although we generally shun automated gaming benchmarks, we do like to run at least one to see how our GPUs scale when used in a 'timedemo'-type scenario. Futuremark's 3DMark Vantage is without question the best such test on the market, and it's a joy to use, and watch. The folks at Futuremark are experts in what they do, and they really know how to push that hardware of yours to its limit.
The company first started out as MadOnion and released a GPU-benchmarking tool called XLR8R, which was soon replaced with 3DMark 99. Since that time, we've seen seven different versions of the software, including two major updates (3DMark 99 Max, 3DMark 2001 SE). With each new release, the graphics get better, the capabilities get better and the sudden hit of ambition to get down and dirty with overclocking comes at you fast.
Similar to a real game, 3DMark Vantage offers many configuration options, although many (including us) prefer to stick to the profiles which include Performance, High and Extreme. Depending on which one you choose, the graphic options are tweaked accordingly, as well as the resolution. As you'd expect, the better the profile, the more intensive the test.
Performance is the stock mode that most use when benchmarking, but it only uses a resolution of 1280×1024, which isn't representative of today's gamers. Extreme is more appropriate, as it runs at 1920×1200 and does well to push any single or multi-GPU configuration currently on the market – and will do so for some time to come.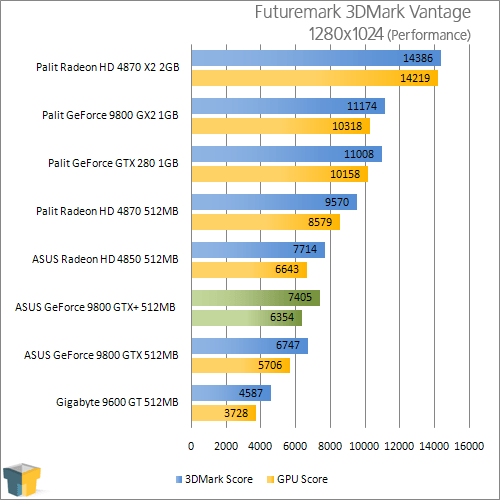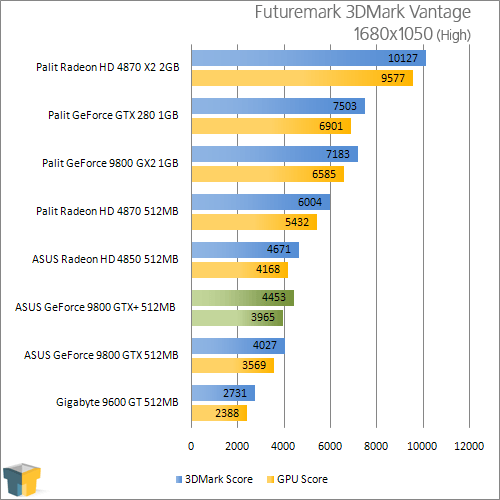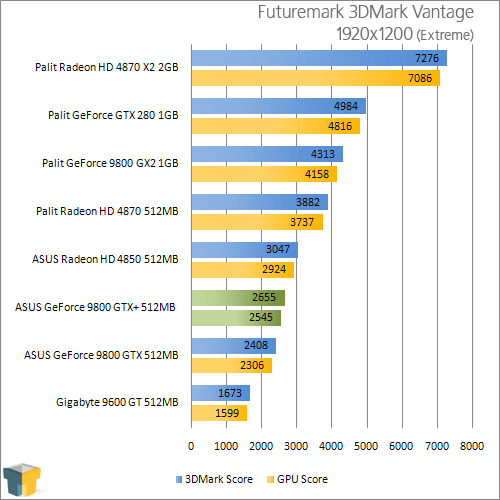 Once again, ASUS' 9800 GTX+ scaled well when compared to the original, although the biggest gains are seen at the smallest resolution of 1680×1050.
Overclocking, Temperatures
Before tackling our overclocking results, let's first clear up what we consider to be a real overclock and how we go about achieving it. If you've read our processor reviews, you might already be aware that I personally don't care for an unstable overclock. It might look good on paper, but if it's not stable, then it won't be used. Very few people purchase a new GPU for the sole purpose of finding the maximum overclock, which is why we focus on finding what's stable and usable.
To help find the max stable overclock on an ATI card, we stick to the Catalyst Control Center included with the official driver. Sadly, ATI's limits are real conservative, so it's rare when at least the Core clock can't be totally maxed out, as long as temperatures are kept within check.
Once we find what we feel could be a stable overclock, the card is put through the stress of dealing with 3DMark Vantage's "Extreme" test, looped three times. Although previous versions of 3DMark offered the ability to loop the test infinitely, Vantage for some reason doesn't. It's too bad, as it would be the ideal GPU-stress test.
If no artifacts or performance issues arise, we continue to test the card in multiple games from our test suite, at their maximum available resolutions and settings that the card is capable of handling. If no issues arise during our real-world gameplay, we can consider the overclock to be stable and then proceed with testing.
Overclocking ASUS' GeForce 9800 GTX+ 512MB Dark Knight
The default clocks on the 9800 GTX+ are 738MHz Core, 1836MHz Shader and 1100MHz memory. Spending a little time with RivaTuner, I was able to achieve 840MHz Core, 1975MHz Shader and 1100MHz memory as the max stable overclock. Going any higher on either the Core or Shader would result in near-immediate crashing when running 3DMark Vantage.
As expected, the differences are minimal, but that's to be expected. We did see noticeable (not in real-world) differences with CoD 4, with a 4FPS boost, but that's about as big as it gets.
GPU Temperatures
Regardless of whether or not you plan to overclock, having reasonable system temperatures is always welcomed. Not only will your machine be more reliable with cooler temps, it will likewise not add any unneeded heat to the room you are in (unless it happens to be wintertime and you keep the windows open, then it might be a good thing).
To test a GPU for idle and load temps, we do a couple things. First, with the test system turned off for at least a period of ten minutes, we measure the room temperature using a Type-K thermometer sensitive of up to 0.1°F. The result from this is placed beside the GPUs name in the graph below. Since we don't test in a temperature-controlled environment, the room temp can vary by a few degrees, which is why we include the information here.
Once the room temp is captured, the test system is booted up and left idle for ten minutes, at which point GPU-Z is loaded up to grab the current GPU Core temperature. Then, a full run of 3DMark Vantage is run to help warm the card up, followed by another run of the same benchmark using the Extreme mode (1920×1200). Once the test is completed, we refer to the GPU-Z log file to find the maximum temperature hit. Please note that this is not an average. Even if the highest point was only hit once, it's what we keep as a result.
After-market coolers generally perform much better than the stock versions, and that proved to be the case here. Although we don't have a reference 9800 GTX+, compared to the 9800 GTX, ASUS' cooler dropped 6°C off the load and 13°C off idle… all while being faster in the process.
Power Consumption, Final Thoughts
In the age where anyone can appreciate good power efficiency, it's almost upsetting to see how much wattage any graphics card manages to pull from our walls. Even the lowest-end models don't seem too impressive when compared to the power efficiency of a CPU, but that's how it is, at least right now. It's interesting to see how different GPUs compare in this regard, as some might perform better than others, but use less power, like we normally see with a shift to a smaller process node.
To help see what kind of wattage a given GPU eats on average, we use a Kill-A-Watt that's plugged into a power bar that's in turn plugged into one of the wall sockets, with the test system plugged directly into that. The monitor and other components are plugged into the other socket and is not connected to the Kill-A-Watt. For our system specifications, please refer to our methodology page.
Like our temperature testing, the computer is boot up and left idle for ten minutes, at which point the current wattage reading is recorded. To test for full load wattage, 3DMark Vantage is again loaded up and run at the "Extreme" setting. The space flight test is used here, with the result being recorded during a specific sequence during that run where it seems to stress the GPU the most.
Similar to our temperature tests, the GTX+ proved not only to run cooler than the original, but it also sucks less power from the wall, thanks in part to its die shrink. Runs cooler, more power efficient and more powerful? Three things we love to see in any computer component.
Final Thoughts
When all said and done, ASUS has a quality release with the Dark Knight version of their 9800 GTX+. The GPU itself is already quite capable of handling the most demanding games at nice resolutions, as we've seen in our performance reports, and it comes in at a great price to boot. As pointed out earlier in the article, this particular GPU can be had for as low as $160 with the help of a mail-in-rebate, making it an affordable, yet still powerful choice.
As with any GPU purchase though, it's important to keep an eye out for instant and mail-in-rebates, if you are looking to save some money. Rebates used to be a fad, but now it seems they're almost a requirement, because at sites like NewEgg, every second GPU seems to carry one. Because of that, it's very easy to wind up paying more for a lesser product, so keeping your eyes peeled is imperative.
Luckily though, this ASUS card costs no more than the rest of the GTX+ cards I've found, especially after taking the MIR into play, so it should undoubtedly be considered if you are on the lookout for such a card. Why you wouldn't purchase this card is if you are willing to spend a little more money to pick up an HD 4870, which is pretty-well the next step up. This GTX+ beat out the HD 4850 in every one of our results, so there is no competition there, despite that card carrying a similar price tag.
This is a quality GPU, no question about it, but I'd love to see ASUS release the Radeon HD 4870 version of their Dark Knight on these shores, as that's a GPU that really could take advantage of superb cooling.
Pros
Well-priced (especially after taking advantage of a mail-in-rebate).
Performs well, better than the Radeon HD 4850.
Dark Knight cooler looks sweet and does its job well.
Both temperatures and power consumption is better when compared to original GTX.
Cons
Not much to complain about. Bundle could be a bit better.
Discuss this article in our forums!
Have a comment you wish to make on this article? Recommendations? Criticism? Feel free to head over to our related thread and put your words to our virtual paper! There is no requirement to register in order to respond to these threads, but it sure doesn't hurt!
Copyright © 2005-2021 Techgage Networks Inc. - All Rights Reserved.