ASUS P-Series AMD 690G Barebone PC

Date: July 14, 2008
Author(s): Rory Buszka

What if you could build a sub-$500 HTPC that was slim, fast, and capable, without the headache of picking bargain-barrel parts to accomplish your design goals? What if it had HDMI and 7.1 audio? With the help of their Pundit series, ASUS hopes to make barebones relevant again. Have they done it?
---
Introduction
Remember barebone systems? Those cheap-looking cases standing open at the local Steve's Computer Emporium, ugly low-end motherboards bared, promising a quick, inexpensive system with the addition of only a CPU, memory, storage, and expansion cards? Somehow, whoever designed those systems always knew how to pick the un-sexiest cases imaginable, and pair them with the chintziest power supplies and the sketchiest motherboards, all in an effort to woo your dollar with the promise of a system with the specs you wanted, but at a lower final price.
You may have seen those barebone systems of old and wondered to yourself, "who in their right mind would spring for one of these el-cheapo monstrosities?" And yet somehow they still sold, and the approach caught on, since it seemed like every major PC hardware supply house had their own selection.
More recently, the barebone system format has proven useful to manufacturers like Shuttle with their popular small-form-factor gaming PCs. With the barebone format, there's no need to create a new motherboard standard when a different form factor is desired, and try to coerce case manufacturers into picking the standard up – the case, motherboard, and power supply match by design.
Alternate form factors are an arena where the barebone-style product really shines, whether it's Shuttle with their cube-shaped xPC models, or with small-form-factor "slim desktop" and "book-style" PCs that try to cram full PC functionality into an impossibly small space. Of course, there are Micro-ATX barebone systems out the 'wazoo' as well, since that's where barebone systems first became popular, thanks to a smaller selection of Micro ATX motherboards than exists today.
The ASUS Pundit series of barebone PCs is built around a 'book-style' chassis that's intended to save desk space. In this article, we'll be taking a look at an ASUS Pundit P2-M2A690G barebone system, which is especially interesting because of the AMD 690G IGP's ability to support HDMI output. That gives the P2-M2A690G a particular noteworthy point over many of its plain-Jane competitors – with just the onboard video solution, it would appear that the Pundit P2-M2A690G barebone provides the necessary underpinnings for a capable home theater PC.
Aside from its HDMI output feature, the P2 690G barebone system is relatively standard fare. It relies on an integrated graphics chipset (the AMD Radeon X1250), and its built-in motherboard is simply a different layout of the company's M2A-VM Micro ATX motherboard that's also based on the AMD 690G chipset. Does the combination of a socket AM2 platform with integrated ATI graphics deliver the functionality and versatility that barebone system buyers are looking for?
First Impressions
The ASUS Pundit P2-M2A690G barebone system comes in a fairly nondescript briefcase-sized carton that's equipped with a carrying handle. Here's what you get in the P2-M2A690G package: the P2 chassis with M2A-based 690G motherboard and power supply, a (beige?!) power cable, and a trio of CDs with driver software, utilities, and Phoenix Recover Pro, which offers system recovery capability even when Windows won't boot up.
You also get a single right-angle SATA cable and a parallel-ATA ribbon cable for connecting drives. If you've got an SATA optical drive, you'll need to source another right-angle SATA cable. You also get a 4-pin Molex-to-SATA power cable adapter.
The P2-M2A690G barebone system features an upright "book-style" design that's slimmer than a typical micro-ATX tower, and would fit nicely on a desk or beside a HDTV. Three colors are offered – textured black, a vibrant white, and a bluish-tinged dark gray, which is what ASUS sent for review.
The front of the P-Series barebone's case is dominated by a door that runs the full height of the case on the right side of the front bezel, which hides card reader slots, a pair of extra USB ports, and a single mini IEEE 1394 'Firewire 400' port. A spring-loaded flap on the left side of the front bezel hides the optical drive tray, and the system's power button and optical drive eject button are integrated into a vertical plastic bar along the inner edge of the door, that also integrates the power and HDD activity lights.
The case itself is less than four inches wide, and the entire cover of the case lifts off to allow access to the internals. Air intake occurs underneath the front and rear edges of the case, and a large air intake on the left side of the unit feeds cool intake air directly to the CPU fan. The case is solidly built, and reassuringly heavy, even without the CPU, memory, or drives installed.
The rear of the P-Series barebone case is dominated by the PSU's exhaust vent at the top, which handles all exhaust airflow for the case. The P2-M2A690G offers an impressive complement of I/O ports, including four USB ports, full 7.1-channel analog audio inputs and outputs, an optical Toslink digital audio output, a HDMI port, and legacy PS/2, Serial, and VGA ports. With connections for older hardware, this barebone PC makes just as much sense for a business-class desktop PC as it does for a rudimentary home theater PC. The slim case also offers room for two expansion cards.
Specifications (Source: ASUS)
CPU: AMD Socket AM2, 1000 MHz HTT/800MHz RAM
Chipset: AMD 690G Northbridge, AMD SB600 Southbridge
Memory: 2x DIMM, DDR2 800/667/533, up to 4GB supported
Expansion Slots: 1x PCI, 1x PCI-e x1
Graphics: Integrated ATI Radeon™ 1250
IDE: 1x ATA 100
SATA: 2x SATA II
LAN: 10/100/1000 Mbps, single controller
Audio: Onboard Realtek ALC883, Intel Azalia 8 Channel HD Audio
Drive Bays: 1x 3.5″ Internal, 1x 5.25″ External
Front Panel Ports: 1x Headphone, 1x Microphone, 1x IEEE 1394, 2x USB 2.0, 1x 4-in-1 Card Reader (MS, MS Pro, MMC, SD), 1x CF card reader
Rear Panel Ports: 1x D-Sub, 1x HDMI, 8-channel (7.1) audio output, Line-in, Mic-in, 1x PS/2 Keyboard, 1x PS/2 Mouse, 1x RJ-45 LAN, 1x Toslink S/PDIF Output, 1x Serial Port, 4x USB 2.0
Power Supply: 200W PFC
OS Support: Windows Vista/XP
MB Features: ASUS CrashFree BIOS2, ASUS CrashFree BIOS3, ASUS Ez Flash, ASUS My Logo2, ASUS My Logo3, ASUS Q-Fan, AMD Cool n' Quiet, AMD Live!, Phoenix Recover Pro
Accessories: CPU Cooler
Now that we've taken a look at the ASUS P2-M2A690G barebone system's features from the outside, let's delve into some deeper details of the hardware and internal layout.
Internal Hardware
ASUS' Pundit-series P2-M2A690G barebone system is billed by the company as the world's first book-size PC with HDMI functionality. To make the system's slim design possible, ASUS uses a proprietary enclosure and motherboard form factor that bears resemblance to both the older Intel NLX and the newer AMD DTX form factors for compact systems.
The lack of a consistent form factor has been a major stumbling block for the small form factor market segment, but ASUS' barebone offering overcomes this shortcoming by offering the motherboard and chassis together in a complete package. Let's take a look at what you can expect when opening up the ASUS P2-M2A690G system for the first time.
The P2-M2A690G barebone system's enclosure uses a one-piece cover that slides back and upward to reveal the system's innards. Upon first opening the system, the interior may look horribly cramped and nearly impossible to work on. But the Pundit P2-style enclosure has been well thought out, and most of the internal structure is removable, including the drive cage and the NLX-style riser card.
The P2-M2A690G uses a special motherboard form factor that's notched to make room for the PSU. The motherboard itself is largely a derivative of the ASUS M2A-VM 690G-based Micro ATX motherboard, but with two fewer RAM slots, a right-angle riser card for the expansion slots, and onboard memory card readers. The P2-M2A690G's motherboard also adds IEEE 1394 support, and only offers two internal SATA ports. It's based on the same AMD RS690G northbridge and SB600 southbridge as the M2A-VM, however, so it'll likely offer similar performance to its Micro ATX cousin.
Your first order of business when building a system in the P2-M2A690G will likely be to install the CPU. To do that, you'll first need to remove the CPU cooler. The P2-M2A690G barebone system uses a non-standard CPU cooler mounting bracket that's more similar to a Socket 478 cooler. However, this is unlikely to be a gripe, since you probably won't be changing out the stock CPU cooler for another, anyhow – the included cooler has an airflow direction shroud that mates to the side air intake, feeding colder exterior air directly to the CPU heatsink. Once you've got the cooler removed and the CPU installed, you may want to install your memory at this point – it's easier without the CPU cooler's shroud in the way.
The AMD RS690G northbridge is located underneath a small extruded-aluminum heatsink, which is more than sufficient to cool the low-power chipset. In operation, it only becomes warm to the touch, but not uncomfortably hot. It also receives some airflow from the CPU's fan as well. The northbridge heatsink is short enough that it won't interfere with any expansion cards installed in the riser.
The motherboard's AMD SB600 southbridge is placed, counterintuitively enough, in the upper section of the motherboard behind the drive cage. No heatsinking is provided for the SB600 – though its manufacturing process only provides a miniscule amount of heat-dissipating surface area, the chip itself uses so little power that heat generation isn't a major concern. While the chip does feel hot to the touch, it's not hot enough to cause burns. Early 690G-based motherboards from MSI also omitted the southbridge heatsink safely.
The drive mounting cage itself provides mounting locations for one 5.25″ optical drive and a single 3.5″ internal hard drive. This may dampen your enthusiasm for this barebone system for a home theater PC application, unless you're prepared to invest in a single 750GB or 1-terabyte drive to store their HD-quality media.
If you're building a HTPC system from scratch, however, you're probably already looking at hard drives in these capacities. Simply be aware that the P2-M2A690G will limit you to one. The P2-M2A690G's chassis provides ventilation holes behind the bezel that draw cool outside air over the hard drive, so its cramped location isn't too much of a concern here.
To install your drives, simply remove the two screws in front and a third screw on the top of the chassis that hold the drive cage in place. Once these screws are removed, the drive cage can be easily lifted out. Be careful as you're sliding the cage back into place, since it has channels and tangs that must align to give the enclosure structural strength once reassembled.
The P2-M2A690G's motherboard provides two internal SATA2 connectors, which means that if you've got a newer serial ATA optical drive, you're still covered when it comes to connectors. However, the barebone's accessory package only includes one SATA cable and one parallel ATA cable, so if you have a serial ATA optical drive, you'll need to source an additional SATA cable. All parallel ATA traffic is handled by a single parallel ATA channel.
Located directly behind the drive cage is the system's PSU. The PSU is a Delta Electronics (Yeah, the same company that makes fans) 200W unit with power factor correction (PFC). This means that the power supply contains circuitry that makes its complex AC load (affected by momentary bursts of power demand) look more like a simple AC load (with more consistent power demand) to improve the PSU's efficiency in utilizing the power it draws from the wall socket. It also won't inject as much line noise into the AC circuitry of your home, or the power grid as a whole. PSU designs with PFC are more complex, and this particular PSU has two internal PCBs filled with components, despite its modest 200W rating.
The PSU integrates a single 80mm x 15mm fan at its interior end, which pushes air through the PSU instead of drawing it from the rear. The advantage to this approach is that it allows the internal components of the PSU to act as a resistive 'muffler' to noise propagation from the fan, lowering its overall operating noise. The PSU uses a proprietary form factor, so you'll need to source replacements directly from ASUS.
Even though the P2-M2A690G barebone system's chassis is extremely slim, it accommodates two full-height expansion cards via a right-angle riser card. This means you won't need to find low-profile versions of the expansion cards you wish to install. The riser card mounts to a bracket that slides in and out much like the drive cage – use care when reassembling the system to ensure that the tangs and channels line up properly.
The riser card offers a single PCI slot and a single PCI-Express 1x slot. This will be a disappointment to anyone who wants to upgrade the machine's graphics capabilities, as there's no 16x PCI-express slot provided anywhere on the motherboard. The 690G chipset's Radeon X1250 graphics core provides just enough horsepower for most productivity and home theater tasks, though as you'll see in the testing portion of this article, hardware-accelerated 1080p video playback taxes its capabilities, and it's almost thoroughly unfit for any serious gaming (beyond, of course, last-generation DX9 games like World of Warcraft.) You'll likely end up populating these two expansion slots with an 802.11n wireless adapter (if you're on a wireless home network), and a TV tuner card like PowerColor's AMD TV Wonder if you intend to incorporate the machine into a home theater system.
Once you've installed the CPU (and replaced the CPU cooler), memory, hard drive, optical drive, and any desired expansion cards, it's time to power up the system and check out its BIOS settings.
BIOS Settings
The ASUS P2-M2A690G barebone system offers system builders a low-cost, small-form-factor option that would be difficult to achieve with ordinary off-the-shelf components. It's based around an integrated graphics chipset with HDMI support, but given its obvious orientation toward basic productivity and less-demanding home theater PC applications, we don't expect to see a wealth of performance-tweaking functionality in the BIOS menu. Here's a targeted look at the BIOS menu options that you'll be most interested in for tweaking.
When you power on the machine, you'll see a custom boot screen with the ASUS logo and instructions for accessing the BIOS menu or POST messages. Pressing the Delete key takes you into the BIOS menu, which has all the characteristics of a typical ASUS-provided American Megatrends BIOS.
The first BIOS screen, labeled "Main," contains configuration options for the board's two SATA channels and single IDE channel, as well as operating mode settings for the SATA controller. If everything's working properly, you won't need to change anything here. Of much more interest to us is the "Advanced" menu, where you'll find most of the motherboard's tweakability.
Here's the Advanced menu, where you can access many of the more important tweaks that this motherboard's limited BIOS makes available. We'll be most interested in the CPU Configuration and Chipset menus.
The CPU configuration screen is where we would expect to find options for FSB speed and CPU multiplier, but any overclocking-related features are conspicuously absent from this screen, replaced by immutable gray text that lists the CPU's default operating parameters.
If we were dealing with a motherboard product, even one targeted at the low-end market, lack of overclocking features would be a deal-killer. However, the P2-M2A690G barebone system is targeted at a very specific set of applications, and the omission of overclocking features may help keep novice system builders out of trouble. ASUS could have included overclocking functionality, but it would be mostly pointless.
The Chipset screen is your gateway to memory speeds and timings, as well as settings related to the 690G chipset's IGP. First, let's take a look at the memory configuration menu.
The "Memory Controller" screen brings up a list of current memory operating parameters, such as timings and effective operating speeds, but to make any changes, you'll need to enter the Memory Configuration screen. The only setting available from the Memory Controller screen is the energy-saving Power Down Control, which allows the system to save energy by powering down the memory modules in standby mode. From the Memory Configuration screen, you'll be able to adjust the memory clock speed, timing, and other relevant settings.
From the Memory Configuration screen, you'll have access to virtually all the memory tweaks you could want, which makes it an oasis of customization in an otherwise crippled BIOS. The Memory Configuration screen provides the typical range of adjustments we typically expect from any motherboard, but with the notable omission of memory voltage controls. Any improvements in memory performance that you can effect from this screen will be limited to what your memory can manage at its stock voltage.
On the Internal Graphics screen, you've got far fewer options at your disposal, but they can affect the performance of the 690G chipset's Radeon X1250 IGP. The Internal Graphics Mode option only has one setting – UMA, which means that the IGP borrows its video memory from the main system memory, via the CPU's memory controller. The UMA Frame Buffer Size setting allows you to 'force' a specific frame buffer size at all times, regardless of what is specified in the operating system. The default frame buffer setting is 128MB, but this is bumped up to 256MB when the operating system loads, unless you've selected a different setting in the Catalyst Control Center software.
The Hardware Monitor screen under the Power menu allows you to monitor the CPU and northbridge temperatures and system voltages, and enable or disable the "Smart Q-Fan" functionality, which controls the CPU fan's speed based on thermal load. I'll explain later why this is especially important in the case of this system. For now, you may want to leave this enabled.
The BIOS also includes ASUS' EZ Flash utility, which makes it easy to update the BIOS firmware. Simply locate the file, and EZ Flash handles the rest. You won't need a separate floppy disk or USB key to boot from, since the entire updating process is handled in the BIOS firmware itself, adding an extra measure of simplicity, safety (corrupt boot media won't wreck the whole updating process), and convenience.
Now that we've seen everything that's of interest in the P2-M2A690G's motherboard BIOS, let's move on to performance testing.
Test Machine Specs & Methodology
At Techgage, we strive to make sure the results derived from hardware testing are as accurate as possible. Our rigorous testing focuses not only on testing the hardware in a wide variety of anticipated uses and capacities, but on ensuring that results are both accurate and repeatable, as well as consistent with our expectations for a particular piece of gear.
We feel that while this effort to perfect our benchmarking methods and test suites can be time-consuming, the time spent is well worth it to deliver high-quality, easily-interpreted data for our readers that reflects levels of performance that they can expect to achieve.
Here's our full-disclosure rundown of all involved hardware, software, and global testing variables. If there's something we've overlooked, or if you wish to make recommendations, please feel free to contact us via email, or create a post in our forums.
System Preparation
To ensure that our hardware test-beds perform consistently, we follow the following system preparation procedures and guidelines.
The OS installation is left as basic as possible, with the latest service pack applied to bring the operating system software up-to-date in a fashion that's easily comparable to prior benchmarking runs.
All required drivers are installed from the motherboard CD-ROM. If there exists an improved version of the driver that is known to provide improved performance, we'll upgrade to that one.
No virus scanners, firewalls, or security applications are installed. These programs often run in the background, introducing performance-robbing 'lurking variables' to the testing process. However, when possible, we ensure that all installers for drivers and testing software have been scanned to be virus-free beforehand, if they weren't installed from media supplied by the manufacturer.
Scrap files from previous testing are cleaned up, and the 'Recycle Bin' or 'Trash' is emptied. This measure avoids clutter and slowed file system performance from benchmarking runs replacing or overwriting files that already exist.
Internet access is disabled. Our benchmarking hardware test-beds literally have no link to the outside world. This avoids any CPU cycles being devoted to handling of network or internet traffic.
The computer has proper airflow, and ambient air temperature is less than 80°F. While it's rare that a PC operating at its stock specifications will encounter overheating, high ambient temperatures can put an artificially low ceiling on overclocking results.
Hard drives affected by testing software are defragmented. We use Diskeeper 2008 to defragment the hard drive prior to every fresh benchmarking run, except when individual testing runs require a clean installation of Windows, as in the case of SYSmark 2007.
Test System Hardware
No hardware is changed during performance testing except for the part under test, when comparisons between multiple products must be made. The system configuration used in testing for this article is as follows:
CPU: AMD Athlon 64 X2 4200+ EE (65W)
Reference Motherboard: ASUS M2NPV-VM (NVIDIA nForce 430)
Memory: Crucial Ballistix 2GB DDR2-800 (DDR2-800 5-5-5-18 2T)
Video Subsystem: Integrated Graphics Processor (AMD Radeon X1250, NVIDIA GeForce 6150)
Audio Subsystem: Onboard HD Audio Chipset
Storage: Western Digital Caviar 160GB, 7200RPM, 8MB Cache, SATA 2.0
Power Supply: Included PSU; Corsair VX450W (reference machine)
Chassis: Included Chassis; NZXT Hush (reference machine)
Operating System: Windows Vista Ultimate 32-Bit
Cooling: Stock Thermal Solution; Noctua NH-U12P (reference machine)
Note: The NVIDIA nForce 430 chipset's "ForceWare" driver software attempts to install NVIDIA Network Access Manager, a hardware-accelerated software firewall. The installation program is not permitted to install this feature during our driver installations, pursuant to our guidelines regarding system preparation.
Operating System
For this review, we'll be using Windows Vista 32-bit in order to maximize driver compatibility. Windows Vista Service Pack 1 (32-bit) is installed, and all screen saver or power-saving options are disabled. The Vista Welcome Center, UAC, and Sidebar are all disabled. A recent driver is used for our reference motherboard, while the ASUS-provided drivers for the P2-M2A690G are used for the barebone system under review.
For all testing with the exception of SYSMark 2007, all benchmarks are run once, and then the system is restarted before running the suite of benchmarks again. The scores are then averaged. All testing is performed with the Aero UI active.
Gaming
To deliver the most accurate results possible, games that we test with are played manually, with FRAPS 2.9.4 being used to collect FPS (frames-per-second) data. We have determined experimentally that manual gameplay provides more consistent, true-to-life results than time demos for FPS testing, since time demos rely heavily on the CPU's speed.
Each title we use is thoroughly explored to find the level that's best-suited to benchmarking, and a route through the level is then chosen and followed for all subsequent test runs. We are not robots, so we cannot make sure that each run is identical, but the duration of the testing run ensures that differences in gameplay decisions have virtually no impact on the scores developed. We play each level for a minimum of five minutes to achieve this consistency.
Let's be realistic here — because integrated graphics processors are being used in both test systems for this review, we'll need to dial back the graphics settings quite a bit. We'll be testing all games at 1024×768 resolution to ensure that meaningful FPS figures can be obtained, and Half-Life 2 will get additional testing at a resolution of 1152×864 with the same settings.
In addition, we'll be choosing combinations of lower-quality graphics settings developed specifically for each game to allow it to run with satisfactory performance on IGPs and very low-end GPUs, though the settings will be the same across all machines under test Below are the settings matrices for both games used in testing.
Company of Heroes:
| | | | |
| --- | --- | --- | --- |
| | | | |
| Shader Quality | | Physics | |
| Model Quality | | Tree Quality | |
| Anti-Aliasing | | Terrain Detail | |
| Texture Detail | | Effects Fidelity | |
| Shadows | | Effects Density | |
| Reflections | | Object Scarring | |
| Post-Processing | | Model Detail | |
| Building Detail | | Resolution | |
Half-Life 2: Episode Two:
On the next page, we'll kick off the testing portion of this article with SYSmark 2007 Preview and PCMark Vantage results.
SYSmark 2007 Preview; PCMark Vantage
Synthetic benchmarks have typically been favored for performance testing, but the results they provide can be fairly abstract, and the methods they use to assign their scores can be dubious at times. By contrast, real-world application benchmarks provide performance metrics that apply directly to real-world usage, and we endeavor to apply both in our performance comparisons.
SYSmark 2007 Preview
SYSmark 2007 Preview from BAPCo is a special case, because its synthetic scores are derived from tests in real-world applications. However, we still believe that synthetic benchmarking scores are best used to directly compare the performance of one piece of hardware to another, and not for developing an impression of real-world performance expectations. SYSmark is more useful than most synthetic benchmarking programs in our opinion, because its test emulate tasks that people actually perform, in actual software programs that they are likely to use.
SYSmark 2007 is hands-free, using scripts to execute all of the real-world scenarios identically, such as video editing in Sony Vegas and image manipulation in Adobe Photoshop. At the conclusion of the suite of tests, five scores are delivered: an E-learning score, a Video Creation score, a Productivity score, and a 3D Performance score, as well as an aggregated 'overall' score. These scores can still be fairly abstract, and are most useful for direct comparisons between test systems.
A note on methodology: SYSmark 2007 requires a clean install of Windows Vista to run optimally. Before any testing is conducted, the hard drive is first wiped clean, and then a fresh Windows installation is conducted, and the necessary hardware drivers are installed. The 'Three Iterations' test suite is run, with the 'Conditioning Run' setting enabled. Then the results from the three runs are averaged and rounded up or down to the next whole number.
Here's what the results show: the P2-M2A690G falls slightly behind the reference motherboard in E-Learning and Video Creation tasks, but it excelled in productivity-related tasks. The barebone did take a back seat to the reference machine in 3D performance, however, and its overall score reflects its marginally lower performance when compared to the reference motherboard.
Futuremark PCMark Vantage
Futuremark's PCMark suite of synthetic hardware benchmarks has been a staple of PC journalism for years. Until just recently, we'd used PCMark 2005 to great effect for benchmarking systems under Windows XP, and the new PCMark Vantage product for Windows Vista systems quickly gained our interest as well.
However, we're not completely satisfied with everything about Futuremark's latest PCMark effort, finding that its consistency leaves a bit to be desired when the benchmark is run multiple times with the system under test being restarted after each benchmarking run. PCMark Vantage has a new trick up its sleeve, however, showing where a particular system excels for certain applications and tasks, so it's being included here for that reason. Our practice of averaging the scores from multiple benchmarking runs helps to reduce the effects of any variability in the test method itself on the reported scores.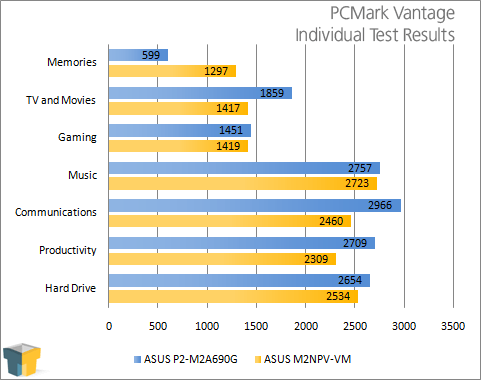 Once again, the two systems are virtually neck-and-neck. The more traditional reference system runs away from the P2-M2A690G barebone in the 'Memories' section of the benchmark, but in all other tests, the advantage decidedly belongs to the barebone system. To understand the performance discrepancy in the 'Memories' benchmark, let's look at what's included there.
Memories 1

Two simultaneous threads
CPU image manipulation
HDD picture import

Memories 2

Two simultaneous threads
GPU-accelerated image manipulation
HDD video editing

Memories 3

Video transcoding: DV to portable device

Memories 4

Video transcoding: Media server archive to portable device
In the Memories test, the barebone's 690G graphics processor likely had trouble with video transcoding, due to the possibility of encoding with a codec not supported by AMD's AVIVO technology. However, in our own transcoding tests using the DivX H.264 codec, we see results that are more competitive between the two systems.
Next, let's take a look at what our real-world multimedia app testing turned up.
Multi-Media: DivX, Adobe Lightroom & 3DS Max 9
DivX 6.7 Transcoding
For our video conversion test, we use VirtualDub to transcode (transform + encode) a 0.99GB high-quality DivX H.264 AVI video of Half-Life 2: Episode Two gameplay with stereo audio. The video is just under 4 minutes in length and has a resolution of 1280×720 (720p HD video).
For our testing, we encode the video two different ways. The first transcoding run ("720p Video Recode") encodes the video at the same 720p resolution but a lower quality, to achieve a more acceptable file size for distribution (~150MB). The second transcoding run ("Mobile Video Recode") scales the video to a 480×272 resolution (widescreen), similar to what some mobile devices such as Apple's iPod use. For both tests, "Advanced Multithreading" is enabled in the codec control panel, as well as "Advanced Search" using the highest version of the SSE instruction set that the CPU supports.
Here, the reference GeForce 6150-based system still edges out the 690G-based barebone, but not by the nearly 2:1 margin observed in PCMark Vantage's 'Memories' test. Keep in mind here that the only variable in the performance testing for this review is the motherboard in use.
Adobe Lightroom 1.4
Photo manipulation benchmarks are more relevant than ever, given the proliferation of high-end digital photography hardware. For this benchmark, we test the system's handling of RAW photo data using Adobe Lightroom, an excellent RAW photo editor and organizer that's easy to use and looks fantastic.
For our testing, we take 100 RAW files (in Nikon's .NEF file format) which have a 10-megapixel resolution, and export them as JPEG files in 1000×669 resolution, like the photo image files we use here on the Techgage web site. Such a result could also be easily distributed online or saved as a low-resolution backup. This test involves not only scaling of the image itself, but encoding in a different image format entirely. The test is timed indirectly using a stopwatch, and times are accurate to within +/- 0.25 seconds.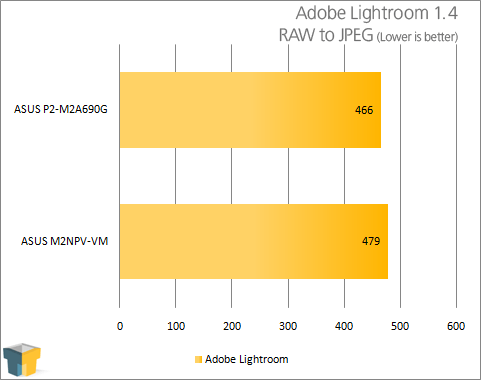 In this test, the P2-M2A690G barebone fares significantly better than its competition, though the two are still pretty much neck-and-neck. The 13-second margin possessed by the ASUS barebone system doesn't amount to particularly much, unless you're resizing a LOT of photos (and I mean a LOT – you'd need to process over 500 images for the discrepancy to be greater than 1 minute between the two systems).
Autodesk 3ds Max 9
Formerly known as Kinetix 3D Studio Max, Autodesk's 3ds Max 9 is considered the industry standard when it comes to 3D modeling and animation, counting DreamWorks, BioWare, and Blizzard Entertainment among its users. It's a multithreaded application that's designed to be right at home on multi-CPU workstations or render farms, so it's right up our alley for testing systems with multi-core processors.
Instead of the polygon-based rasterization handled by most GPUs, 3ds Max 9 uses scanline rendering as its chief rendering method, but some ray-tracing plugins exist (which we don't use). At this time, the only thing it doesn't support is Intel's SSE4 instruction set, since the new instructions in SSE4 aren't relevant to its tasks.
In our testing, we use a standard dragon model provided with the 3ds Max application, Dragon_Character_Rig.max. The scene is rendered in two formats. First, a single frame from the animation is rendered at a resolution of 1920×1080 (1080p widescreen HDTV). Then a 60-frame sequence of the same model is rendered to a 490×270 (widescreen) resolution AVI file which can be exported to a portable media player. The test is timed directly, by the program itself. It should also be known that this test disables the Aero Glass UI in Windows Vista whenever the 3ds Max application is open.
The 3ds Max rendering test is a bit more CPU-bound than our other two tests, but it gives a slight nod to the ASUS M2NPV-VM motherboard used in the reference system. This may have something to do with the slightly better memory bandwidth of the GeForce 6150-based motherboard (though the same memory modules were used in both machines).
Next, we'll look at test results for the storage and memory subsystems.
System: HD Tach RW3 & Sandra Memory Tests
Simpli Software HD Tach RW 3
To test the storage subsystem, we rely on Simpli Software's HD Tach, a superb storage benchmarking tool that's now free for everyone to use. It excels at benchmarking a variety of internal and external storage devices, and produces consistent data and information-rich reports.
For this review, HD Tach will be used to test the internal hard drive's data transfer rates. Since the main system drive is being tested, which contains the operating system software, we will only be performing read tests, not write tests (which might cause data corruption.) Also, since we're not specifically interested in the drive's performance per se, we won't be running any access time testing.
From these results, it would appear that the SATA controller aboard the SB600 southbridge is capable of approximately equal continuous read transfer rates, though the difference is so small that it's likely more affected by the hard drive we're using than the SATA controller. When it comes to burst read rates, however, the AMD SB600's onboard controller manages a transfer rate that beats the nForce 430-based motherboard by 16 MB/s.
SiSoftware Sandra XII 2008 SP2
SiSoft's Sandra benchmarking package has long been one of our favorite tools, because of its comprehensive set of specific hardware benchmarks. It delivers excellent consistency, and offers a variety of tests devoted to the memory subsystem. Here, we'll use it to test memory bandwidth and latency.
Overall, the motherboard based on the GeForce 6150 chipset turned in better numbers consistently through our memory benchmark testing. AMD Socket AM2 and AM2+ IGP motherboards gain access to RAM via the CPU's onboard memory controller, so the quality of the link between the CPU and memory can also affect the performance of the motherboard chipset's integrated GPU. Here, the reference nForce 430-based motherboard outpaces the AMD 690G-based barebone by about 4% in either of our bandwidth tests, and claims a solid 17% lead over the 690G-based barebone in memory latency.
Now that we've seen how well the ASUS P2-M2A690G handles data, let's look at the differences in gaming performance you can expect between the two. Of course, we don't anticipate either our reference GeForce 6150-based motherboard or the P2-M2A690G's integrated Radeon X1250 GPU to be stellar performers, but we're more interested in observing differences in performance.
Gaming: Company of Heroes; Half-Life 2: Episode Two
If there's an application that you're particularly unlikely to use the ASUS P2-M2A690G barebone system for, it's gaming. Still, the fact remains that PC games are among the most effective of hardware tests, because they stress all major subsystems of the PC simultaneously. If any link in the hardware chain is particularly weak, gaming performance will suffer. In the case of the P2-M2A690G barebone, the weakest link is likely to be the integrated Radeon X1250 graphics processor, which AMD says is equivalent to half of an AMD Radeon X700 GPU core.
THQ Company of Heroes
THQ's popular World War II real-time strategy game Company of Heroes is an excellent example of a demanding DirectX 9 title. Since the 690G isn't DX10 compliant (though its successor, the 780G, is), it made no sense to include any DirectX 10 titles in our tests.
Company of Heroes features a built-in graphics benchmark that tests the GPU's performance through the game's opening cinematic sequence, giving maximum, minimum, and average frame rates. For the settings used through these tests, see the settings matrix on the Testing Methodology page of this article. We collect average and minimum framerate data, since minimum frame rates help give an impression of how 'choppy' gameplay will seem to be.
Though it lacks support for Shader Model 3.0, the Radeon X1250 pulled out a huge lead here, thanks to its higher clock frequency and superior graphics horsepower. The aging GeForce 6150 chipset put the reference machine at a distinct disadvantage, though neither chipset really achieved a 'playable' result by our definition (that is, a minimum frame rate greater than 24 fps, the frame rate of broadcast TV.)
Valve Half-Life 2: Episode Two
For real-world game testing, we turn to Valve's Half-Life 2: Episode Two, which has long been a standard for our game benchmarking. With Episode Two, Valve delivers more of what fans loved about the original Half-Life 2, as well as a few twists, including a level where players pilot a cobbled-together dune buggy through an obstacle course. Driving may seem like a strange addition to what is typically considered a first-person shooter, but the "Riding Shotgun" level we're using in this testing combines fast-moving scenery with complex AI, which is a perfect test for the capabilities of more modest hardware.
For our testing, we begin by loading the level from the console and initiating the benchmarking run in FRAPS 2.9.4, which is used to collect frame rate data during the test. The vehicle begins the level in exactly the same spot, and follows a well-defined path through the obstacle course to its finish. For detailed information about the settings used in testing, see the screen shots of the 'settings' screens on the Testing Methodology page of this article. Again, average and minimum frame rate data is collected, as well as frametime data which is translated to frame-by-frame frame rate data and plotted vs. time below.
Even in this simpler test that's intended to be a lighter load on less-capable internal graphics chipsets, the older 690G and GeForce 6150 struggled mightily through the test, with the GeForce 6150 failing to deliver double-digit frame rates altogether. Neither of these results fit our definition of 'playable' for gaming, at least as far as Half-Life 2 is concerned. However, much less demanding games like World of Warcraft should be playable, with the quality settings suitably reduced. Antialiasing on either of these chipsets remains a pipe dream.
Now that we've seen how the ASUS P2-M2A690G barebone performs under light-duty gaming usage, let's take a look at the system's audio performance, as well as a brief treatment of the chassis' thermal performance and noise characteristics.
Audio; Thermal Performance & Noise
The ASUS P2-M2A690G's onboard audio is provided by a Realtek ALC883 audio chipset, which delivers 7.1-channel analog audio output as well as digital output via optical Toslink or the onboard HDMI port. Onboard audio chipsets typically can't match the audio quality of a discrete audio solution like ASUS' mid-priced Xonar DX card, and they're known for hogging more CPU power to handle audio processing.
Typically, onboard audio chipsets are selected on the basis of price, not quality. However, the optical and HDMI digital outputs may deliver far better results for home theater use than simply using the analog outputs, where quality sacrifices are usually made.
RightMark Audio Analyzer 6.1.1
To test the ASUS P2-M2A690G's onboard audio, we're using the latest version of RightMark's Audio Analyzer, which has recently been updated to version 6.1.1. We've used RightMark Audio Analyzer extensively in the past to test discrete audio solutions using a 'loopback' test.
However, since the analog input quality of the onboard audio solution is likely very low, we're using a separate machine with our reference ASUS Xonar D2 sound card to record the output of the P2-M2A690G barebone's onboard audio. The Xonar D2 boasts a SNR in excess of 118dB on its analog line-input and vanishingly-low distortion, so its effect on the overall measurements is trivial.
RightMark Audio Analyzer 6.1.1 was run on both the playback PC (the P2-M2A690G barebone) and the recording PC (another reference machine). Recording of the test signal was conducted at a 24-bit, 192kHz sample rate. Only the analog outputs for the front two channels were tested.
| | |
| --- | --- |
| | |
| Frequency Response (Multitone), dB | |
| Noise Level, dBA | |
| Dynamic Range, dBA | |
| Total Harmonic Distortion (THD), % | |
| Intermodulation Distortion + Noise (IMD+N), % | |
| Stereo Crosstalk, dB | |
| Intermodulation Distortion + Noise (IMD+N, Swept Frequencies) | |
| Frequency Response (Swept Sine), dB | |
The overall measured noise level (which is often the limiting factor on dynamic range) was fairly high when compared to discrete audio chipsets like the ASUS AV100 and AV200, or Creative's X-Fi chipset. It even lags behind high-quality onboard audio chipsets like the Analog Devices SoundMAX chipset on the reference ASUS M2NPV-VM motherboard in just about every fashion.
Below are the spectral frequency response, noise level, dynamic range, THD, IMD+N, crosstalk, IMD+N swept frequency, and frequency response sweep plots generated during testing, in that respective order.
Overall, during a quick listening test of Switchfoot's The Beautiful Letdown through my reference Beyerdynamic DT770 headphones, the P2-M2A690G barebone's onboard Realtek audio system produced reasonably good sound, though it lacked the detail, punch, and 'vibe' that a decent discrete audio solution can provide. It should be sufficient for most PC speakers in the $20-$150 range, though you'll want to consider a discrete audio solution if you're interested in more expensive speakers.
Thermal Performance and Noise
The ASUS P2-M2A690G does several intelligent things with respect to internal airflow. First of all, its CPU fan draws cold intake air directly from the outside of the case, ensuring that the CPU fan won't need to ramp up due to a high internal ambient air temperature. Secondly, it's a negative pressure system, which means that every exterior vent draws in cool air. The CPU cooler features a copper slug in the center, which improves its heat transfer effectiveness from the CPU itself to the heatsink thanks to its low thermal resistance.
Since the BIOS of the P2-M2A690G precludes any kind of overclocking experimentation, we're not as worried here about specific CPU temperatures, as long as there's enough thermal headroom to handle any CPU you're likely to install. Thankfully, with its aluminum-over-copper design and a fan that maxes out at 6000 RPM the CPU cooler included with the M2A690G can easily dissipate the 125 watts of heat generated by a 3.2GHz AMD Athlon 64 X2 6400+ at full load while keeping the CPU below the top end of the 'reasonable' temperature range for a high-performance CPU.
When it comes to noise generation, small machines have it tough, because their fans need to move enough air to compensate for the low efficiency of compact heatsinks. ASUS includes Q-Fan technology on the motherboard of the P2-M2A690G, which allows the motherboard to modulate the CPU fan speed based on core temperature, which is a function of CPU load. And you'll want to use it – with Q-Fan disabled, and the CPU fan spooled up to its full 6000RPM speed, the machine was nearly unbearable to work around, inducing flashbacks to the earlier days of CPU overclocking, when an enthusiast heatsink was simply an ordinary heatsink with a screaming, 7000 RPM finger-chopping 60x38mm fan bolted to the top. With Q-Fan enabled, the system operated quietly, though we can't call it 'silent' since it didn't disappear below the noise floor of our quiet testing room. You'll certainly be able to work long hours beside this machine comfortably, but don't expect perfect silence.
With that, we conclude the testing portion of the article. Let's tie it all together with some final thoughts.
Final Thoughts
Whether you're a novice system builder, or a more accomplished enthusiast looking for a quick and easy path to a small form-factor system for less-demanding computing tasks, the ASUS Pundit P2-M2A690G offers plenty of reasons to give it a second look. It's slimmer and more compact than Dell's slim Inspiron mini-towers, and elegantly styled as well, from its glossy front bezel door to its subtle blue front-panel LEDs.
At the same time, its chassis is easy to work on; despite the cramped internal quarters, we had no trouble assembling and disassembling various hardware configurations in the case. The machine also ran quietly enough to live with, and its low noise level would certainly be tolerable for 24/7 operation.
The P2-M2A690G's support for HDMI video output comes courtesy of a capable – albeit last-generation – integrated graphics chipset, AMD's 690G, and while this doesn't do much for its gaming abilities, it had no trouble with 1080p HD video playback in our testing, nor did it struggle in the slightest with Vista's Aero Glass interface.
For HTPC duties, it's certainly a viable contender at the bottom end. We'd like to see a system based around AMD's new 780G integrated graphics chipset, however, which provides a full DX10-capable Radeon HD3200 graphics core on-die. More new photo manipulation applications are relying on GPU acceleration, so a competent GPU makes sense even for a productivity or content creation PC.
Our biggest concern with the P2-M2A690G barebone is upgradability. Some barebone systems can be upgraded to support gaming applications, but the P2-M2A690G isn't one of them, due to the lack of a 16-lane PCI Express expansion slot, which condemns the system to bottom-of-the-barrel gaming performance. You're also restricted to one internal 3.5″ hard drive, one PCI expansion card, and one single-lane PCI Express card.
With these constraints in mind, you'll likely end up using this barebone system in one of three ways – as a simple productivity machine, a low-end home theater PC (the two expansion slots providing space for an improved discrete audio solution and a TV tuner card), or a very basic home server.
Taking all of this into consideration, we're awarding the ASUS Pundit P2-M2A690G barebone system a Techgage score of 7/10. Its last-generation IGP chipset is the machine's greatest weakness, and the inability to upgrade beyond that level of performance is enough to give us pause before we'd take the plunge with this system.
A Shuttle XPC cube-style barebone system, for example, would afford us the ability to install a competent mid-range GPU, for light gaming use and future-proofing. However, if you've considered your intended application carefully, and can live with its 'just enough' graphics performance for home theater PC or productivity PC usage, the P2-M2A690G deserves your serious consideration.
Pros
Compact, space-saving design
HDMI video output with digital audio
Quiet operation
Easy to assemble
Cons
Poor gaming performance
Single internal 3.5″ drive bay
No PCI Express x16 expansion slot
Last-generation IGP chipset
Discuss in our forums!
If you have a comment you wish to make on this review, feel free to head on into our forums! There is no need to register in order to reply to such threads.
Copyright © 2005-2019 Techgage Networks Inc. - All Rights Reserved.