ASUS P6T Deluxe OC Palm Edition
Date: November 18, 2008
Author(s): Rob Williams

Need a solid motherboard offering for that brand-new Core i7 processor? ASUS' first "mainstream" X58 board proves to be a true winner, offering a feature-packed and well-thought-out design, support for both CrossFireX and SLI, plentiful accessories and overclocking potential to keep even the most hardcore enthusiast pleased.
---
Introduction
Intel's Core i7 processors are here, and if you are planning on making a purchase, your decision is going to made easier thanks to a few factors. First and foremost, having three processor models doesn't offer much leeway in the decision-making process. The most cost-effective model is the Core i7 920, which at 2.66GHz and ~$319, becomes the most obvious choice for most people.
While three CPUs are easy to choose from, the selection for motherboards gets a little more complicated, but not by much. Currently, the only vendors I can find selling product on these shores are ASUS, Gigabyte, Intel and MSI. All except Intel offer two different models, each with a varying price-range. Today, we're taking a look at ASUS' "mainstream" model, the P6T Deluxe.
For the most part, this board shouldn't be considered a "mainstream" product given it's $300 price tag, but it's not unlike any of the competition out there right now. ASUS also offers an "OC Palm" edition of the board, which features a small gadget used for Yahoo! widgets and overclocking. It tacks close to $40 to the price of the board though, so some may prefer to omit it.
Compared to the $400 Rampage II Extreme (which we will have a review for soon), the P6T Deluxe will be a much more attractive choice between the two for many people. Should it be the choice, though? Let's find out.
Closer Look at ASUS' P6T Deluxe
As we'd expect from ASUS, the P6T Deluxe is no slouch. It's feature-packed (even without the OC Palm device), offers support for all of what the Core i7 / X58 platform brings to table, and though it's a solid board for the regular consumer, it's also targeted at enthusiasts, as we'll see proof of in our look at the BIOS on the next page.
Like some of the other higher-end launch motherboards, the P6T Deluxe offers support for both CrossFireX and NVIDIA's SLI… marking the first time that SLI has been available on a non-NVIDIA motherboard, aside from Intel's one-off Skulltrail workstation board. It's hard to stress just how great this is, because for so long, if you wanted SLI, you'd have no choice but to pick up an NVIDIA board. While their boards are solid offerings to begin with, being forced into them isn't an ideal solution for anyone.
Thanks to this dual-capability, the upgrade path is far better than it would have been otherwise. If you pick up a single ATI GPU right now and decide to move up to NVIDIA SLI down the road, it's possible, all without replacing the board. There are many reasons this will pay off to the consumer, so it's good to finally see this as a reality.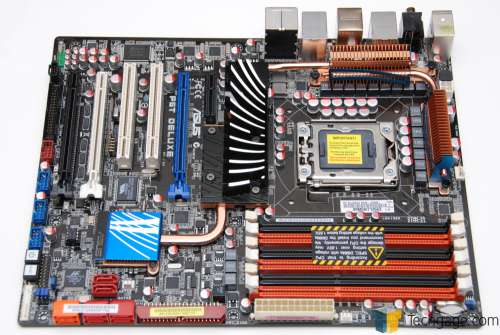 Like ASUS' previous "Deluxe" boards, this one features a dark brown PCB, a fair amount of copper and many connections, whether it be USB or S-ATA. Also, for those who love having great chassis airflow (and who doesn't), you'll be pleased to find multiple fan connectors placed around the board in convenient locations.
Most of the launch boards include six separate DIMM slots, and so does this one. For some reason though, ASUS has only specified 12GB as being the maximum, which is a little odd as X58 supports up to 24GB (which would equate to 6 x 4GB). It goes without saying that chances are good very few would need more than 12GB of RAM, but the lack of support is strange regardless.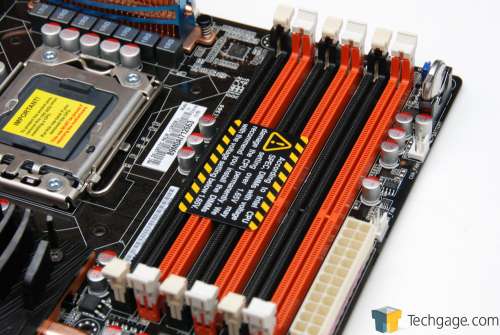 Moving along to the PCI slots, we find three PCI-E 16x, one PCI-E 4x and two legacy PCI slots. These ports support both CrossFireX and SLI, both up to Quad-GPU (using two cards).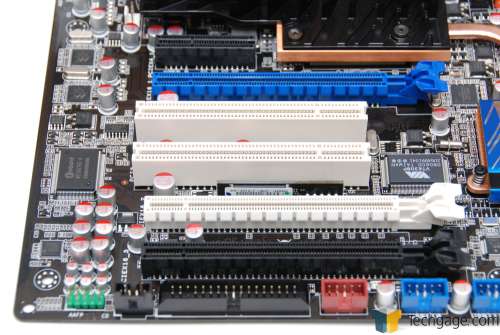 The board offers storage support for up to eight S-ATA devices, which is likely enough for most anyone who picks the board up. For those who crave speed more than overall density, the two orange ports can handle SAS drives. Personally, I really don't think the increase in speed is worth the extra cash and lower density, but your opinion may vary. I'll hold out for larger and more affordable SSDs, personally.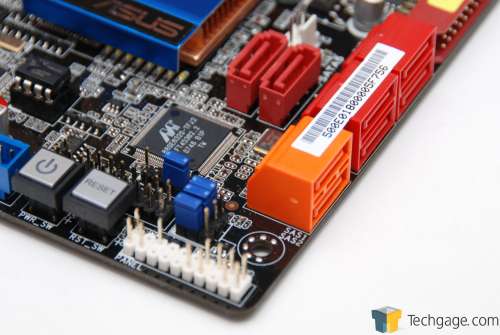 Both ASUS and Gigabyte are major supporters of extreme "power phase" solutions, and it's proven here with 16+2 phases. The sixteen surrounding the socket are dedicated to CPU operation, while the two located towards the top-left corner are dedicated to the QPI/Memory. Overkill? Probably, but it might very-well improve our chances at fantastic overclocks.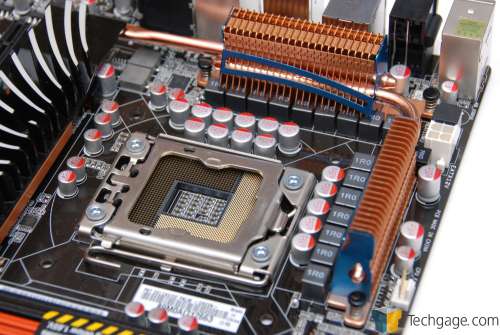 This bulky heatsink takes care of the Northbridge, and can be further cooled with an add-on fan that's not included. Screw holes are available for that specific purpose. For overclocking, this area is important to keep cool, although it's less of an issue with stock clocks.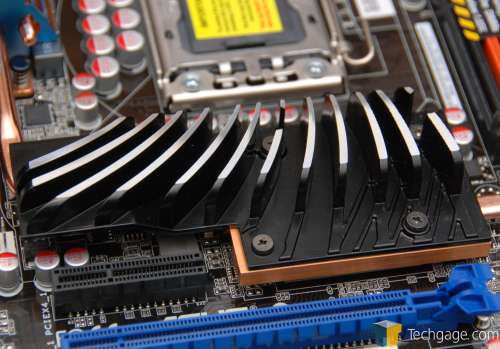 On the back I/O section we find a total of eight USB ports (two are red), one Firewire, one E-SATA, two LAN, audio including S/PDIF and also a PS/2 port that can be used for either a mouse or keyboard. Overall, functionality is one thing this board certainly doesn't lack.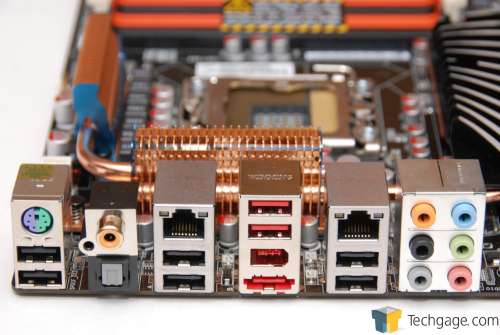 Let's take a brief look at the included extras below. In the first image we can see SAS cables, the back I/O guard, chipset fan, SLI bridge and the OC Palm gadget, which is only included with the OC Palm Edition version of the motherboard.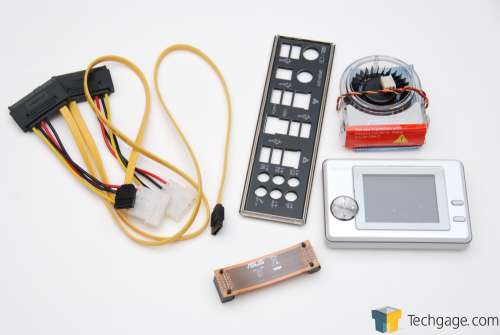 Below you can see the various included cables, as well as the manual, driver DVD-ROM, USB cable for use with the OC Palm, Q-Connectors (makes connecting of the ATX connectors much easier) and also two screw pillars used for installing the small chipset fan, if you choose to purchase one.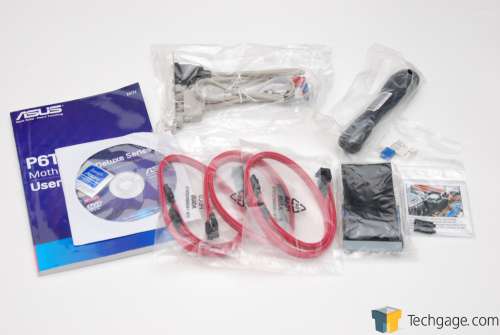 Finally, here is a shot of the OC Palm in action. I didn't test this out a great deal, but I can honestly say it's not going to be for everyone. It works well and looks good, but I'm not sure how many people want something like this on their desk. It offers Yahoo!'s widgets support, so that's a huge bonus, and for those who want a very unique way of overclocking, the option is here as well. ASUS is really trying to create a special package with this, and it's good to see. It's up to you to determine whether or not you need to opt for this edition of the board, though.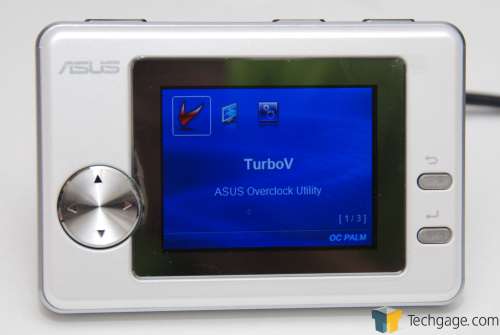 With that exhaustive look out of the way, let's jump right into our look at ASUS' very thorough BIOS, followed by our testing methodology and test results.
Checking Out the BIOS
Over the past few years, we've reviewed numerous ASUS motherboards, and if there's one thing we've come to find out, it's that almost every single one of them have had overclockers in mind. This one is no exception, as we'll see in the BIOS shots below. This board is a little different than any we've previously taken a look at though, and I'll tell you why.
At both the top and bottom of the board, you'll find extra jumper switches, like the one in the photo below. With these left in their default places, voltages in the BIOS will only go so high. For those who want even more headroom, these can be switched to allow much higher voltages… heights that should be considered very dangerous regardless of whether or not you know what you are doing.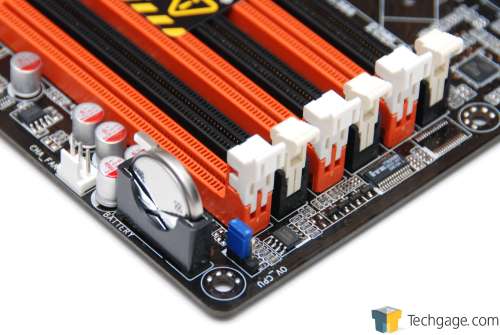 Let's dive right into the tweaking section, because overall, the rest of the BIOS isn't any different than what we are used to. There is so much tweaking-ability in this BIOS, that we had to split them all across four pictures, which is the first time to my knowledge that we've had to do that. Luckily, modest overclockers won't need to pay attention to most of it, but for those dedicated enthusiasts, this BIOS doesn't hold back.
Unlike Intel's DX580SO motherboard, which hides a lot of the real overclocking information from you, the BIOS here keeps everything clear so you really know what you are overclocking. Rather than deal with raw multipliers, the actual frequencies that will be equipped are shown instead… making overclocking a rather simple procedure.
For Core 2, we mainly had to worry about the Front-Side Bus, but here, we have the Uncore Clock, QPI Frequency and of course, the Base Clock. Each one of these figures are displayed in such a way that there is no chance for confusion, and it's appreciated. It's important to bear in mind stock figures though, so that when overclocking, you have a good baseline.
On all three new processors, the base Uncore Clock (UCLK) is 2666MHz, while the QPI is 2400MHz on the 920 and 940, and 3200MHz on the Extreme 965. The multipliers for these values, though hidden, are 18x for the 4.8GT/s processors and 24x for the Extreme 965, at 6.4GT/s. The Uncore Clock multiplier can be adjusted to a certain degree on all three processors, but that frequency has to be at least twice the DRAM frequency.
It might seem complicated, but as long as you keep the Uncore Clock and QPI clocks near their stock clocks, you will be fine. There seems to be very, very little performance benefits seen when increasing either of these clocks, so keeping them as close to stock as possible might be a good idea.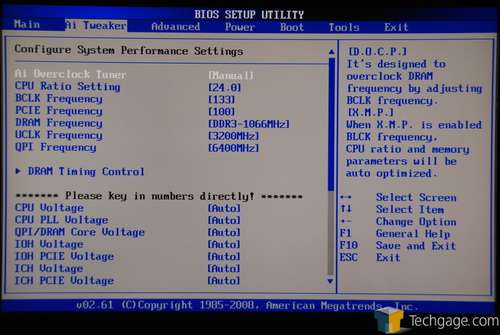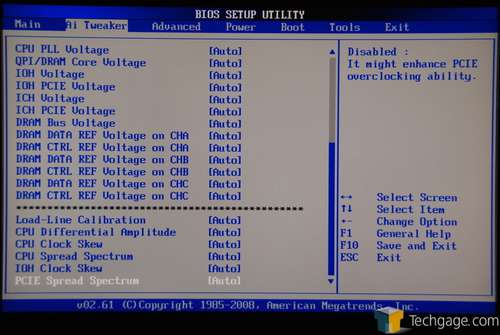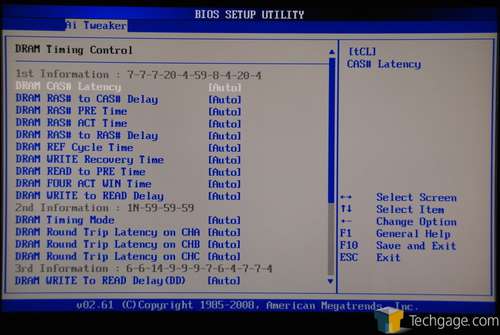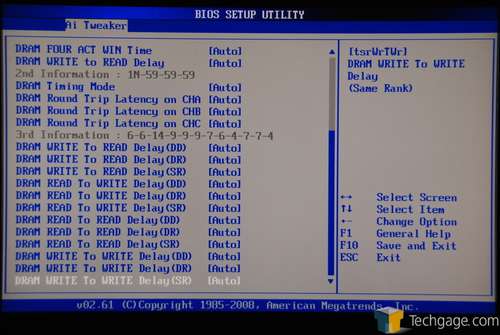 Exhaustive, to say the least. Here are the voltage ranges:
CPU Voltage: 0.85v – 2.10v (Increments of 0.00625v)
CPU PLL Voltage: 1.80v – 2.50v (Increments of 0.02v)
QPI/DRAM Voltage: 1.20v – 1.90v (Increments of 0.00625v)
IOH Voltage: 1.10v – 1.70v (Increments of 0.02v)
IOH PCI-E Voltage: 1.50v – 2.76v (Increments of 0.02v)
ICH Voltage: 1.10v – 1.40v (Increments of 0.10v)
ICH PCI-E Voltage: 1.50v – 1.80v (Increments of 0.10v)
DRAM Bus: 1.50v – 2.46v (Increments of 0.02v)
As always, it's good to see such tweaking-ability where the voltages are concerned, but as always, the top-end voltages are not there for just anyone to touch. But, if you have the cooling system capable of handling such voltages, you already know this.
Because Core i7 brings an integrated memory controller to the table, DRAM voltages are quite limited compared to the previous generation. The standard voltage for DDR3 is 1.50v, but with Core i7, Intel highly recommends sticking within 1.65v. Why? Because anything higher increases the chance of killing your CPU. How? No one seems to know. The good thing though, is that faster RAM doesn't really mean much, as we found out in our article last week, so extremely tight timings and high frequencies aren't quite as important as they once were.
With that all said, I'll let the remaining images speak for themselves, since nothing is really out of the ordinary.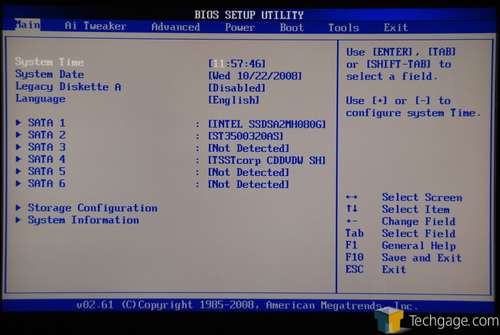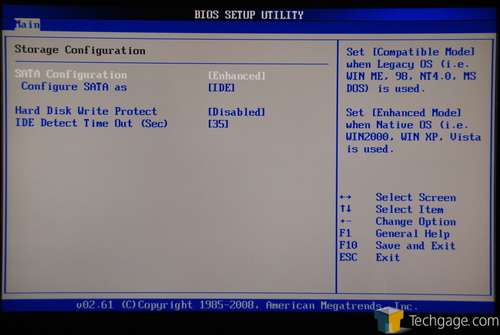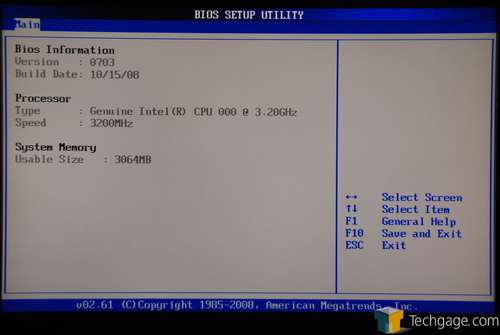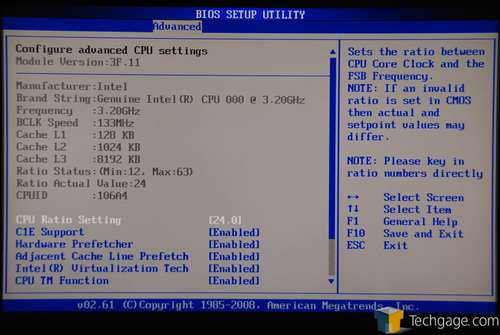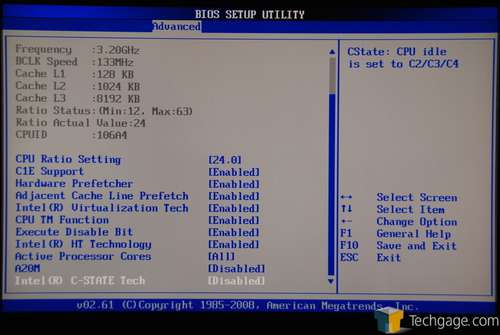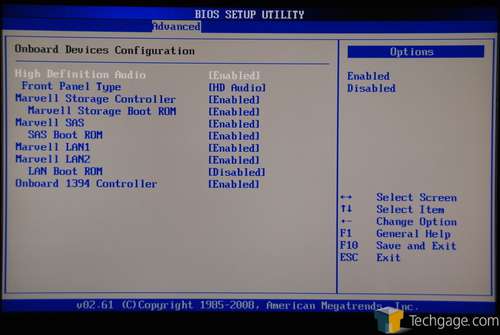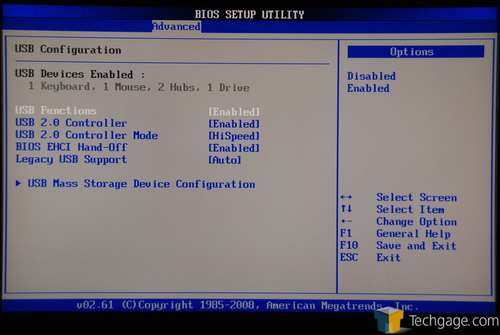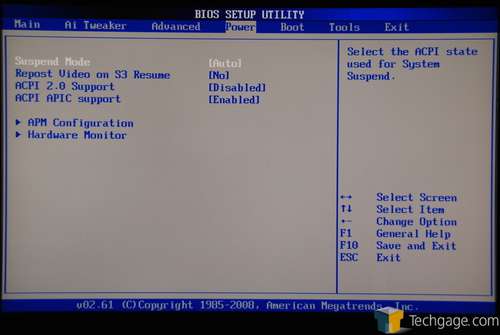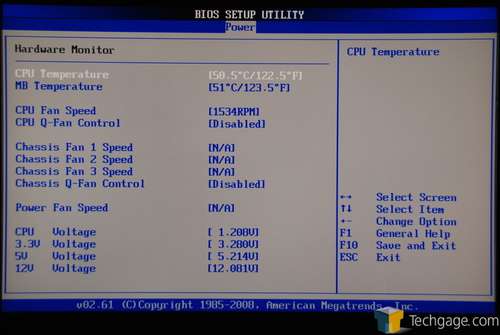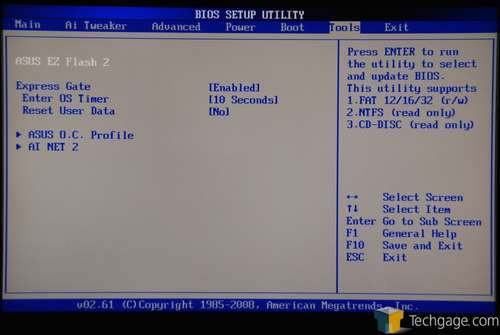 Finally, let's move right into a look at our test system and methodology, which we highly recommend you take a look at if you are unfamiliar with how we handle things. Following that, we'll jump right into our test results.
Test System & Methodology
At Techgage, we strive to make sure our results are as accurate as possible. Our testing is rigorous and time-consuming, but we feel the effort is worth it. In an attempt to leave no question unanswered, this page contains not only our testbed specifications, but also a fully-detailed look at how we conduct our testing.
If there is a bit of information that we've omitted, or you wish to offer thoughts or suggest changes, please feel free to shoot us an e-mail or post in our forums.
Test System
The table below lists our machine's hardware, which remains unchanged throughout all testing, with the exception of the motherboard. Each board used for the sake of comparison is also listed here, along with the BIOS version used. In addition, each one of the URLs in this table can be clicked to view the respective review of that product, or if a review doesn't exist, you will be led to the product on the manufacturer's website.
When preparing our testbeds for any type of performance testing, we follow these guidelines:
General Guidelines
No power-saving options are enabled in the motherboard's BIOS.
Internet is disabled.
No Virus Scanner or Firewall is installed.
The OS is kept clean; no scrap files are left in between runs.
Hard drives affected are defragged with Diskeeper 2008 prior to a fresh benchmarking run.
Machine has proper airflow and the room temperature is 80°F (27°C) or less.
Windows Vista Optimizations
User Account Control (UAC) and screen saver are disabled.
Windows Defender, Firewall, Security Center, Search, Sidebar and Updates are disabled.
To aide with the goal of keeping accurate and repeatable results, we alter certain services in Windows Vista from starting up at boot. This is due to the fact that these services have the tendency to start up in the background without notice, potentially causing slightly inaccurate results. Disabling "Windows Search" turns off the OS' indexing which can at times utilize the hard drive and memory more than we'd like.
Application Benchmarks
When benchmarking a graphics card or processor, performance is expected to scale in a certain manner, but that's not the case with motherboards. Since motherboards tend to only be as fast as the hardware installed on them, we don't run an exhaustive collection of benchmarks for the sake of avoiding redundancy. For the most part, one motherboard with an equal chipset to another should offer close to equal performance.
Our primary goal with motherboard-related benchmarking is to see if one motherboard is lacking in a certain area when compared to the rest. These discrepancies, if they exist, are usually caused by lackluster components on the board itself, which is why higher-end motherboards tend to see slightly better results than the more budget-oriented offerings.
To properly test the performance of a motherboard, we run a small collection of system-specific tools, such as SYSmark 2007, Sandra and HD Tune Pro. We then run real-world benchmarks using popular multi-media applications, such as Adobe Lightroom. To see how a board stacks up in the gaming arena, we benchmark using both Call of Duty: World at War and Half-Life 2: Episode Two.
We strongly feel that there is such thing as too many benchmarks when it comes to a motherboard review, so we keep things light, while still being able to offer definitive performance data.
Game Benchmarks
In an attempt to offer "real-world" results, we do not utilize timedemos in any of our reviews. Each game in our test suite is benchmarked manually, with the minimum and average frames-per-second (FPS) captured with the help of FRAPS 2.9.6.
To deliver the best overall results, each title we use is exhaustively explored in order to find the best possible level in terms of intensiveness and replayability. Once a level is chosen, we play through repeatedly to find the best possible route and then in our official benchmarking, we stick to that route as close as possible. Since we are not robots and the game can throw in minor twists with each run, no run can be identical to the pixel.
Each game and setting combination is tested twice, and if there is a discrepancy between the initial results, the testing is repeated until we see results we are confident with.
The two games we currently use for our motherboard reviews are listed below, with direct screenshots of the game's setting screens and explanations of why we chose what we did.
Call of Duty: World at War
The Call of Duty series of war-shooters are without question some of the most gorgeous on the PC (and consoles), but what's great is the fact that the games are also highly optimized, so no one has to max out their machine's specs in order to play it. Since that's the case, the in-game options are maxed out in all regards.
Half-Life 2: Episode Two
It might have been four-years-ago that we were able to play the first installment of the Half-Life 2 series, but it's held up well with its new releases and engine upgrades. This is one title that thrives on both a fast CPU and GPU, and though it's demanding at times, most any recent computer should be able to play the game with close to maxed-out detail settings, aside from the Anti-Aliasing.
In the case of very-recent mid-range cards, the game will run fine all the way up to 2560×1600 with maxed-out detail, minus Anti-Aliasing. All of our tested resolutions use identical settings, with 4xAA and 8xAF.
SYSmark 2007 Preview
Synthetic benchmarks have typically been favored for performance testing, but the results they provide can be fairly abstract, and the methods they use to assign their scores can be dubious at times. By contrast, real-world application benchmarks provide performance metrics that apply directly to real-world usage, and we endeavor to apply both in our performance comparisons.
SYSmark 2007 Preview from BAPCo is a special case, because its synthetic scores are derived from tests in real-world applications. However, we still believe that synthetic benchmarking scores are best used to directly compare the performance of one piece of hardware to another, and not for developing an impression of real-world performance expectations. SYSmark is more useful than most synthetic benchmarking programs in our opinion, because its tests emulate tasks that people actually perform, in actual software programs that they are likely to use.
The benchmark is hands-free, using scripts to execute all of the real-world scenarios identically, such as video editing in Sony Vegas and image manipulation in Adobe Photoshop. At the conclusion of the suite of tests, five scores are delivered: an E-learning score, a Video Creation score, a Productivity score, and a 3D Performance score, as well as an aggregated 'Overall' score. These scores can still be fairly abstract, and are most useful for direct comparisons between test systems.
A quick note on methodology: SYSmark 2007 requires a clean install of Windows Vista 32-bit to run optimally. Before any testing is conducted, the hard drive is first wiped clean, and then a fresh Windows installation is conducted, then lastly, the necessary hardware drivers are installed. The 'Three Iterations' test suite is run, with the 'Conditioning Run' setting enabled. Then the results from the three runs are averaged and rounded up or down to the next whole number.
These graphs might look a bit odd right now, but soon enough we'll be able to put many different X58 boards through the ringer and see how things compare on a grander scale. Between these two though, the Intel board comes out on top overall, but by a very slim margin. The two tests to make any real difference between the two were the E-Learning and VideoCreation, where the advantages flip-flopped.
Multi-Media: TMPGEnc Xpress, Adobe Lightroom, 3ds Max
When it comes to video transcoding, one of the best offerings on the market is TMPGEnc Xpress. Although a bit pricey, the software offers an incredible amount of flexibility and customization, not to mention superb format support. From the get go, you can output to DivX, DVD, Video-CD, Super Video-CD, HDV, QuickTime, MPEG, and more. It even goes as far as to include support for Blu-ray video!
There are a few reasons why we choose to use TMPGEnc for our tests. The first relates to the reasons laid out above. The sheer ease of use and flexibility is appreciated. Beyond that, the application does us a huge favor by tracking the encoding time, so that we can actually look away while an encode is taking place and not be afraid that we'll miss the final encoding time. Believe it or not, not all transcoding applications work like this.
For our test, we take a 0.99GB high-quality DivX H.264 AVI video of Half-Life 2: Episode Two gameplay with stereo audio and transcode it to the same resolution of 720p (1280×720), but lower the bitrate in order to attain a modest filesize. Since the QX9770 we are using for testing supports the SSE4 instruction set, we enable it in the DivX control panel, which improves both the encoding time and quality.
Adobe Lightroom 2
Photo manipulation benchmarks are more relevant than ever, given the proliferation of high-end digital photography hardware. For this benchmark, we test the system's handling of RAW photo data using Adobe Lightroom, an excellent RAW photo editor and organizer that's easy to use and looks fantastic.
For our testing, we take 100 RAW files (in Nikon's .NEF file format) which have a 10-megapixel resolution, and export them as JPEG files in 1000×669 resolution, similar to most of the photos we use here on the website. Such a result could also be easily distributed online or saved as a low-resolution backup. This test involves not only scaling of the image itself, but encoding in a different image format. The test is timed indirectly using a stopwatch, and times are accurate to within +/- 0.25 seconds.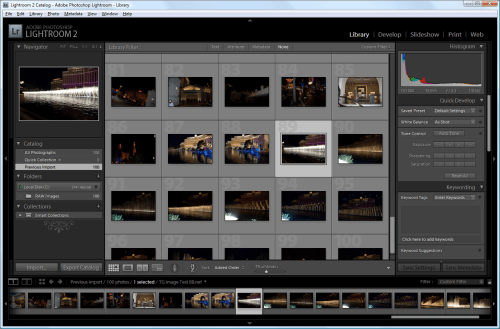 Autodesk 3ds Max 2009
Autodesk's 3ds Max is without question an industry standard when it comes to 3D modeling and animation, with DreamWorks, BioWare and Blizzard Entertainment being a few of its notable users. It's a multi-threaded application that's designed to be right at home on multi-core and multi-processor workstations or render farms, so it easily tasks even the biggest system we can currently throw at it.
For our testing, we use two project files that are designed to last long enough to find any weakness in our setup and also allows us to find a result that's easily comparable between both motherboards and processors. The first project is a dog model included on recent 3ds Max DVD's, which we infused with some Techgage flavor.
Our second project is a Bathroom scene that makes heavy use of ray tracing. Like the dog model, this one is also included with the application's sample files DVD. The dog is rendered at a 1400×1050 resolution, while the Bathroom is rendered as 1080p (1920×1080).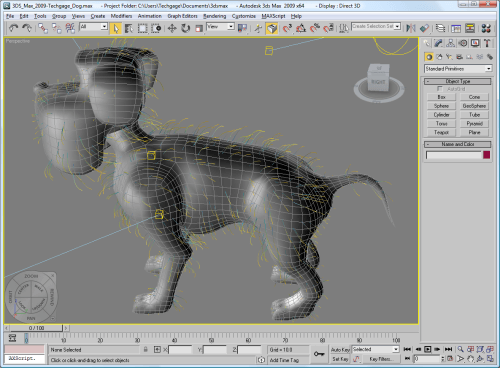 Although our TMPGEnc Xpress test proved equal between the two boards, ASUS' P6T inched ahead in both our Lightroom and 3ds Max tests. I believe the reason for the lagging Intel board is due to the RAM. Even though the primary settings were the same across both boards, prior memory issues with Intel's board tells me that it's not entirely receptive of certain kits of memory. The latest BIOS fixes things a bit, but not entirely it seems.
System: HD Tune Pro, SiSoftware Sandra 2009
While application performance shouldn't vary much between motherboards, one area where we can see greater differences is with synthetic benchmarks – at least with those that test both the storage and memory bandwidth/latency. Even still, if differences are seen, you are very unlikely to notice the difference in real-world usage, unless the performance hit is significant, which we've not found on any board we've tested in the past.
To test the storage I/O, we use a tool that we've been using for a number of years, HD Tune. The developer released a "Pro" version not long ago, so that's what we are using for all of our storage-related benchmarking. The drive being tested is a secondary, installed into the first available Slave port, and is not the drive with the OS installed. To avoid potential latency, the drive is tested once Vista is idle for at least five minutes, and CPU usage remains stable at >1%.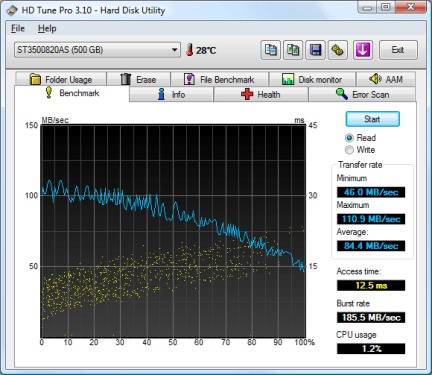 Intel's board might have fell short a bit on the previous page, but it starts to make up a little ground here. As usual though, the differences between the two boards are incredibly minor, and chances are that if run one hundred times over, both boards would deliver almost equal medians. Life's too short to go that far, though!
SiSoftware Sandra 2009
Yet another classic tool from our toolbox, SiSoftware's Sandra is one of the ultimate benchmarking sidekicks around, allowing us to test almost every-single component in our PC, from CPU to GPU to memory to storage. In the case of our motherboard reviews, we stick with the memory bandwidth and latency tests, since its an area where some differences could very-well be seen.
As mentioned above, the results here don't represent real-world performance, and if one motherboard sees the memory 4ns slower, the chances of you noticing the hit in real usage is highly unlikely, if not impossible. If any scenario would be effected, it would be processes that last the course of a few hours, not a few minutes.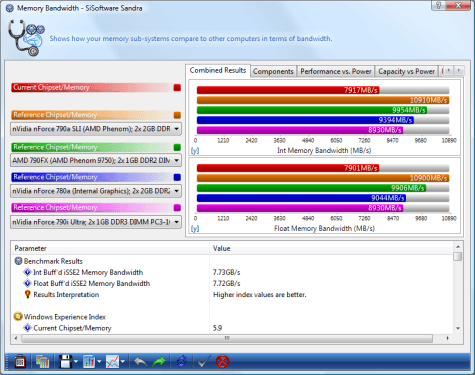 As mentioned on the previous page, memory seems to be lacking a bit on Intel's board, and it's somewhat proven here. Luckily, given the Core i7's outstanding memory controller, these differences are very unlikely to be seen in the real-world, except for the latency in very few cases.
Gaming: Call of Duty: World at War, Half-Life 2: Episode Two
While some popular game franchises are struggling to keep themselves healthy, Call of Duty doesn't have much to worry about. This is Treyarch's third go at a game in the series, and a first for one that's featured on the PC. All worries leading up to this title were all for naught, though, as Treyarch delivered on all promises.
To help keep things fresh, CoD: World at War focuses on battles not exhaustively explored in previous WWII-inspired games. These include battles which take place in the Pacific region, Russia and Berlin, and variety is definitely something this game pulls off well, so it's unlikely you'll be off your toes until the end of the game.
For our testing, we use a level called "Relentless", as it's easily one of the most intensive levels in the game. It features tanks, a large forest environment and even a few explosions. This level depicts the Battle of Peleliu, where American soldiers advance to capture an airstrip from the Japanese. It's a level that's both exciting to play and one that can bring even high-end systems to their knees.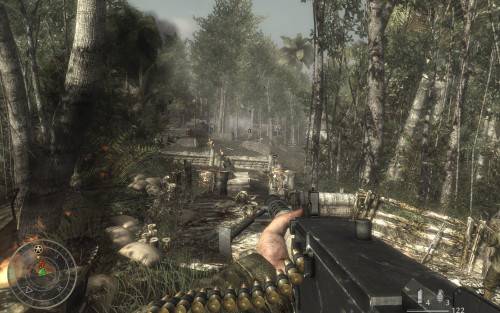 Half-Life 2: Episode Two
The original Half-Life 2 might have first seen the light of day close to four years ago, but it's still arguably one of the greatest-looking games ever seen on the PC. Follow-up versions, including Episode One and Episode Two, do well to put the Source Engine upgrades to full use. While playing, it's hard to believe that the game is based on a four+ year old engine, but it still looks great and runs well on almost any GPU purchased over the past few years.
Like Call of Duty, Half-Life 2: Episode Two runs well on modest hardware, but a recent mid-range graphics card is recommended if you wish to play at higher than 1680×1050 or would like to top out the available options, including anti-aliasing and very high texture settings.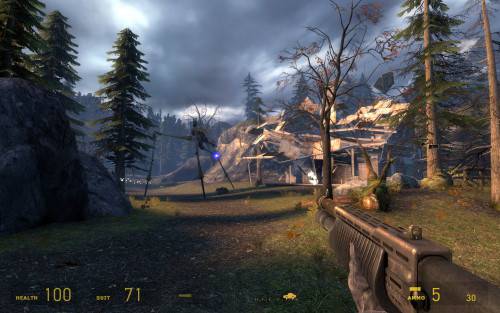 No definitive winner here, but the P6T Deluxe proves to be just a smidgen faster in each one of the tests.
Overclocking the P6T Deluxe
Before tackling our overclocking results, let's first clear up what we consider to be a real overclock and how we go about achieving it. If you regularly read our processor reviews, you may already be aware that I personally don't care for an unstable overclock. It might look good on paper, but if it's not stable, then it won't be used. Very few people purchase a new piece of equipment for the sole purpose of finding the maximum overclock, which is why we focus on finding what's stable and usable.
To help find the maximum stable overclock on any given motherboard, we focus on sticking to the simpler voltages, such as the ones for the Northbridge and CPU, and also the DIMM if it's required. We try to work within safe limits, because anything too high is going to only kill your hardware faster. Luckily, all computer components nowadays are designed to handle some abuse, so you never need a lot of voltage to get anywhere.
With Core i7, more factors can come into play with overclocking, but we focus on increasing the Base Clock first and foremost, just like we focus on the Front-Side Bus on Core 2 motherboards. Our goal is to keep voltages are low as possible while reaching the highest stable overclock. Areas where we will increase voltage if needed is the CPU, Northbridge and QPI.
Overclocking ASUS' P6T Deluxe
Because we are so early in the Core i7 scheme of things, it's difficult to know what a good baseline overclock should be, as we've only been able to spend a good amount of time with two different boards. But there's no doubt whatsoever that the P6T Deluxe is the better of the two where overclocking is concerned. Not to mention it's a lot easier to overclock.
Although we'll begin to use the Extreme 965 for our overclocking reports in future motherboard reviews, we stuck with the Core i7 920 for this one so we could see just how far this particular chip could be pushed. I'm happy to report that despite the locked multiplier, the processor ran at a stable 3.60GHz. The best part? Most voltages were left at stock, while the CPU was bumped up to 1.2875v, which is still well below a dangerous area.

(Click to view stability report. 1.8MB PNG)
I was a bit surprised at this overclock, because I wasn't sure if a 180MHz Base Clock would be possible, but it certainly was. Although the Northbridge and other non-CPU voltages were left to "auto", chances are they did increase beyond stock to a small degree, but not enough to generate more heat than what was expected.
Overall, this is impressive. The Base Clock has gone far beyond stock, with nothing at all touched except the CPU voltage… and even that was kept within very reasonable levels. It's almost a 1GHz overclock for the price of nothing, and at those speeds, it would obliterate anything from the Core 2 series and certainly even itself at stock speeds… not to mention the much more expensive Extreme 965. Gotta love that value!
Power Consumption, Final Thoughts
It goes without saying that power efficiency is at the forefront of many consumers' minds today, and for good reason. Whether you are trying to save money or the environment – or both – it's good to know just how much effort certain vendors are putting into their products to help them excel in this area. ASUS and Gigabyte are two that immediately come to mind that have put a lot of R&D into this, and I'm sure with their leadership, power consumption will consistently get better.
To help see what kind of wattage a given motherboard eats on average, we use a Kill-A-Watt that's plugged into a power bar that's in turn plugged into one of the wall sockets, with the test system plugged directly into that. The monitor and other components are plugged into the other socket and is not connected to the Kill-A-Watt. For our system specifications, please refer to our methodology page.
To test, the computer is first boot up and left to sit at idle for five minutes, at which point the current wattage is recorded if stable. To test for full CPU load, eight instances of SP2004 are run using the Small FFT test, one for each thread. For our last test, four of those instances are closed while an "Extreme" run of 3DMark Vantage is performed, which would mimic usage of a game that makes heavy use of the CPU.
Not surprisingly, Intel's DX58SO board consumed less power throughout all of our tests, but the differences at full load are much tighter than at idle. The increase in consumption on the ASUS board can likely be blamed for a few different reasons, but the fact that the board includes 18 power phases probably doesn't help things too much.
Final Thoughts
Despite the fact that Core i7 just launched, the competition where motherboards are concerned is rather tight, with eight motherboards from five different manufacturers being immediately available, two being from ASUS. Though I can't speak on behalf of all the launch boards, I have little doubt that the P6T Deluxe is a superb choice for your Core i7 build.
The first important factor is the price, which at $299, sits in line with all of the other launch boards. Like all of ASUS' Deluxe boards, this one includes many features targeting both the consumer and enthusiast, in addition to a great design, huge peripheral connectivity abilities and overclocking potential that should please almost anyone.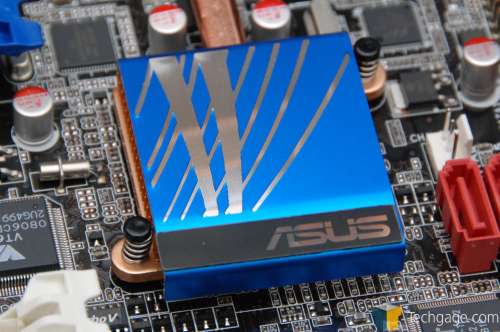 The fact that the board handled our Core i7 920 stable at 3.60GHz is enough for my thumbs up. I didn't expect to see that speed stable on that CPU at all, but it was possible here, and with stock voltages no less. Although the cost of entry into Core i7 isn't going to be cheap to start off, the overclocking-ability exhibited here should appease some of the pain.
In the coming weeks, we'll be delivering more X58-related reviews with boards from ASUS, Gigabyte and hopefully others, so stay tuned. As it stands though, ASUS did a superb job with their P6T Deluxe, and I can confidently recommend it to anyone who is looking to build an i7 machine and can't decide amongst the launch lineup.
Pros
Good performer.
Excellent overclocker (180MHz stable Base Clock).
Designed well, board layout is good.
Supports both CrossFireX and SLI.
Full-featured package.
Cons
The price, though not unlike competition (~$299.99).
OC Palm is a nice addition, but not everyone will opt for it.
Discuss this article in our forums!
Have a comment you wish to make on this article? Recommendations? Criticism? Feel free to head over to our related thread and put your words to our virtual paper! There is no requirement to register in order to respond to these threads, but it sure doesn't hurt!
Copyright © 2005-2019 Techgage Networks Inc. - All Rights Reserved.