ASUS PG221 22-inch Wide-Screen

Date: December 10, 2007
Author(s): Rob Williams

Smaller displays don't need to lack features, and ASUS proves this with their PG221 22-inch wide-screen. It boasts such specs as 2ms GTG, 2000:1 and stellar design. Where its unique though, is with it's large subwoofer. Yes, we said subwoofer! Do the features make up for it's higher price?
---
Introduction
When ASUS unloaded their PG221 22-inch gaming monitor on us, we were told to expect great things. In fact, we were told straight out that we would "love it". Of course, all companies will tout their own products as such, regardless of how great they actually are. But, being ASUS, I trust their judgement and looked forward to tearing it out of the box to see what made it unique.
I was in for a shock. More often than not, when I receive a new product for review, I don't peruse marketing material beforehand unless it's a product that requires a time-sensitive review. That said, I didn't know what to expect from this monitor, but… I guess you could say I was "blown away".
You see, what makes the PG221 unique is not the nice styling, not the 2ms GTG (albeit a nice feature) or even the great connectivity. No, what makes the PG221 unique is a huge subwoofer extruding from the back. ASUS calls this a "gaming" display, and they mean it. The PG221 is designed to be an all-in-one display, complete with competent speakers that will sound amazing with either a PC or a game console.
I've mentioned in previous reviews that ASUS is a company I tend to respect greatly. We've taken numerous products of theirs for a spin and have never been left with a bad taste in our mouth. The closest we've come, in fact, has been another monitor… the only other ASUS monitor we've ever taken a look at, the PW201. Although it had superb image quality (I still use this monitor on a daily basis) and smart styling, there were a few lingering problems that kept the score to a 7 out of 10. How will the second ASUS monitor to hit our labs fare?
Closer Look
Whenever I receive a new product to review, the first thing I check is the average retail price. For one, this helps me distinguish what market segment a product is targeted towards and also tells me what to expect in terms of quality. Therefore, if a product doesn't live up to the expectations sought out from such a price range, the overall score will be chosen accordingly.
That said, I almost lost my socks when I found out that the average retail price for the PG221 was $550 USD. That's a full $200 more than the recently evaluated Samsung 2232GW, which I already found to be slightly expensive. How ASUS plans to make up for the higher price though, is with pure quality. The important question is whether or not they managed to pull that off, and it's one we will answer before the review is through.
From a technical standpoint, this display delivers some great numbers, including 2ms GTG and a huge 2000:1 contrast ratio. As is standard of most 20" – 22" displays, 1680×1050 is the native resolution. The monitor doesn't have a large gamut to boast, but it does have a sufficient brightness of 350 cd/m2. During all my use with the PG221, I never found the monitor to be too dim or too bright – it was in a sweet spot.
This display can also tout better connectivity than most others, as DVI-D, VGA, composite, S-Video and component are all included. The obvious omission is HDMI, which would have been great to see offered, considering both current-gen consoles feature the connection.
Sweet, another monitor that reflects everything! This was one downside I had with the PW201, but it's hard to fault ASUS for their choice. The fact of the matter is, glossy displays look better to most people, but the downside is what's evidenced in the image. This means that any light source could be reflected off the monitor. It also creates one of the worlds best dust vacuums and fingerprint magnets.
One of the first features you might notice are the two speakers in the front. The entire audio setup is effectively 2.1, with the woofer being behind the display.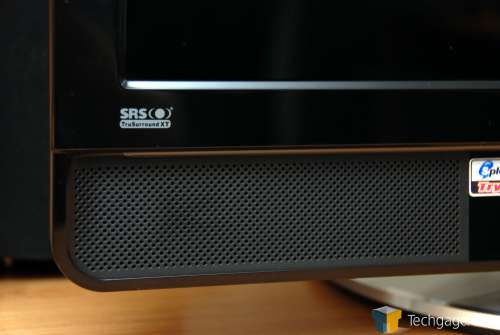 Like most ASUS monitors of late, this one includes a 1.3 megapixel webcam. In order for this to work, a USB cable will be run from the screen to the computer. However, that same cable also opens up support for the USB ports on the monitor as well.
Behold the beast that is woofer. In this image, you can see the three USB 2.0 ports in addition to headphone/microphone jacks. The top button is used to enable or disable the SRS TruSurround XT virtual "surround-sound", which enhances all audio, whether it's gaming, movies or music.
Being that the woofer is well enclosed, I didn't attempt to open it to see what was going on inside. The two front speakers are 5W each, while the woofer is 15W. Not huge power here, but it should prove sufficient for most people. Anything more powerful might not be safe for the display itself, since it's an all-in-one unit.
This display is targeted towards gamers, and that's evidenced by taking a look at the back. Whether or not you want to play your old Sega Dreamcast, Nintendo GameCube, or your still-fresh Playstation 3 or Xbox 360, you can hook it up here. For those still stuck on VGA video (is anyone, really?), there is the option for that here also.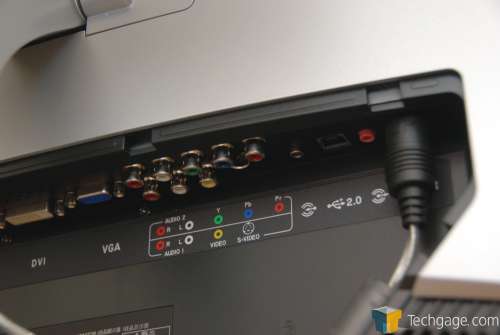 The ports to the absolute right are for the sound and USB functionality. The cord that's pre-plugged runs from the display to the woofer and cannot be removed.
Another feature that makes the PG221 unique is its LED fetish. The blue bar running directly below the screen changes color depending on what sound mode you are using: Standard = Blue, Fighting Game Mode = Red, Strategic Game Mode = Light Green, Theater Mode = Purple and Music Mode = Orange.
Each color mode is able to be dimmed or turned off completely. During normal use, however, the light will not be a bother since it's hidden under a fold. Only people sitting away from the display can see it. What makes it cool is that the color will illuminate your desk, as you can see in the photo. Yes, that's my hand in the monitor. I have no valid excuse for this.
Testing
Being that this is a display set out to please gamers exclusively, I made no effort to do anything else but load up a few games and see how they looked. Throughout the time spent with the PG221, I played a variety of games on both the PC (using DVI) and the Playstation 3 (using component) and overall have been left quite impressed.
One important fact to note is that this is not a display that will always choose the perfect color mode for you. Although a "Gaming Mode" preset is there, I found it increased the contrast and colors too much to be that enjoyable. Most notably, I found green grass and brown dirt to be far brighter than I would have liked. It just didn't seem to be that natural.
Luckily, however, the monitor includes all the tweaking ability you need to improve image quality. You can choose any preset you like and go from there, or stick to the Standard Mode and increase or decrease the brightness/contrast. To make things easier, you can alter any mode you like and it will stay where you set it. So for example, if you choose the Gaming Mode and alter it to your liking, it will stay that way unless you reset that specific preset to it's default settings. This is helpful as you will not need to tweak a setting every time you want to go from your desktop and into a game.
The key here is tweaking. One example I have is that at Standard Mode, I didn't find the desktop environment to be that impressive. In a word, the brightness was simply too high. While I kept it at 95/100 for all gaming, I found 70/100 to be absolutely ideal for all non-game/movie use. So with a little patience, you should be able to attain the perfect setting.
Overall, after tweaking the monitor a bit, I am left quite impressed with gaming on this display. I did not find the image quality to be as stellar as seen on the Samsung 2232GW, but it wasn't too far off either.
Playstation 3, Blu-ray
Because my Xbox 360 recently felt the wrath of a certain ring, I used the Playstation 3 for all testing here, using component connections. I tested both a variety of games and Blu-ray movies to fully understand what this display is capable of.
First thing to mention is that despite being a non-1080p monitor, it does allow that resolution, for whatever reason. On the desktop, it doesn't look that good, in addition to not aligning properly, but for gaming it can work well. How this makes sense, I am unsure. 1080p is essentially 1920×1080, but this monitor is only capable of 1680×1050, however, 1080p still works in gaming without cutting edges out.
Using 1080p can run you into a few problems though. The PS3 runs very well with 1080p selected… everything is crisp and clean looking. However, Blu-ray movies will not run in 1080p. Rather, it will automatically downscale to 720p or lower, depending on what's selected in your display settings. This isn't a big issue as the movies still look sharp at 720p, but seeing as how 1080p is somehow allowed, seeing movies in the same resolution would have been great.
For gaming, different rules apply. All games that supported 1080p (Ridge Racer 7, Gran Turismo HD Concept) looked good, without distortion from running a higher-than-720p resolution. When comparing either game at 1080p to 720p, the differences were visible. 1080p had smoother lines and crisper image quality overall. As long as both 720p and 1080p are chosen, the console will choose the best setting for whatever you want to do.
That said, games on the PS3 still look better on my actual LCD TV, however, the PG221 delivers the best results I've seen to date on a computer display. More often than not, the results of using a component connection on a monitor is lackluster. Some monitors can handle it better than others. The Samsung 275T did a horrible job with it, while the Dell 2707WFP did a rather nice job. However, even that monitor comes nowhere close to the quality exhibited on the PG221.
What stuck me though is how a few different things are handled. At the PS3 main screen, the graphics are as crisp as can be, with bright colors. It's perfect. It's at that point that you'd assume all the games would be represented the same way, but that's not the case. While the fonts are rendered very nicely on the main menu, inside a game, some of the fonts can appear blotchy, most notably if they are rendered in with the game, as opposed to being a separate layer. I noticed this most in Ridge Racer 7, with the race position at the top-right corner. That number appeared blotchy. However, the regular text in the game was fine.
As for Blu-ray movies, the results are once again impressive. I tested out both Casino Royale and Die Hard: Live Free or Die Hard and each looked fantastic. Blacks were very black and overall color was rich. I would have no huge complaint when watching movies on this screen, except that 1080p would have been a nice option, of course.
Final Thoughts
There are a few other features and gripes about the display that I haven't touched on, so I will do so now. First off is the fact that as with most of ASUS' gaming products, the PG221 plays a cool melody when the monitor is turned on and off… each being different. This is fun the first time it happens, but becomes annoying fast, especially if you turn the monitor off or on late at night and have other people in the house. It's -loud- by default, so it's best to keep the volume down before you turn it off… or turn that feature off completely.
As far as the sound goes, I wasn't blown away, but it was easy to tell that the audio output is better than a standard 2.1 set, and far better than any other display with built-in speakers. The rumble is very nice during movies or gaming and helped make gaming a little more interactive. I played through the last level in Half-Life 2: Episode Two which has numerous Striders roaming around. Whenever they make a step, the entire ground shakes, even if they are far away, and I could feel it because I kept my feet on the bottom portion of the desk.
When all said and done, I am awarding the PG221 a 7 out of 10. There is no primary reason, but rather just a handful of gripes wrapped into what I believe to be worth three points taken off of a perfect score.
For most people, the price might be the biggest problem, at $550. Even superb 22-inch displays cost around $350, so $550 is not something that can be ignored. However, I do feel the extra features definitely help that price even out a bit. Even $350 22-inch screens don't have good speakers or render component video well, if they include the support at all. They also don't look this good.
Pricing aside, while games looked great for the most part, I did see better quality with our previously reviewed Samsung 2232GW. During parts in a few games, I found the color in areas to be over-contrasted or overexposed – even after doing a fair amount of tweaking. Overall I am pleased to say that the monitor will not actually disappoint most. I could not have asked for anything more when it came to Half-Life 2, FlatOut 2 and Unreal Tournament III.
The last few of my gripes begin with the on-display touch buttons. Like the PW201, these are not entirely responsive all the time. On some occasions, I found myself having to tap the same button upwards of four or five times before something would happen. Compare this to Gateway's implementation, which is rather painless. I hope to see future ASUS displays equipped with a better solution. I agree that touch buttons look far better than actual buttons, but for them to be acceptable, they need to work, and work well.
The last real gripe I have is with regards to a flickering issue I experienced. I believe this to be an isolated incident, but I am going to mention it regardless since I've had it happen more than once. Sometimes when turning on the display, or switching from the component video to DVI, the screen would display my desktop environment, go black and then show the desktop again. This happened in an infinite loop, until I turned off the display and turned it back on. I am unsure how this happened, but looking around the web, I was unable to see a duplicate instance of this occurring, so it could have occurred thanks to rough shipping.
To me, this monitor would be a fantastic offering if it were larger. If the few problems this monitor had were corrected and the size increased to 24" with 1920×1200 resolution and a price hike to ~$650 – $700USD, I would feel the display would be far more worth it. $550 for a 22-inch monitor seems high regardless of how you look at it. That said, if you are looking for a solid display that is feature-packed and will act well as a game console display as well, the PG221 is worth looking into. If you are not concerned with built-in speakers or game consoles, I'd quicker recommend the Samsung 2232GW.
Pros
Great feature-set
Games look great overall
Built-in speakers are top-rate for a built-in solution
Connectivity is fantastic, component video is sharp
Cons
Price ($550USD)
Games look great, but same can't be said for desktop environment
Clunky OSD buttons
Flickering issue on occasion – could be an isolated incident
Discuss in our forums!
If you have a comment you wish to make on this review, feel free to head on into our forums! There is no need to register in order to reply to such threads.

Copyright © 2005-2020 Techgage Networks Inc. - All Rights Reserved.