ASUS Rampage Extreme

Date: September 22, 2008
Author(s): Rob Williams

When the time came to design the Rampage Extreme, ASUS' R&D went right to town. The X48-based board proves to be the most feature-packed one we've ever come across, and also one of the most overclockable. Aside from the robust design, water-cooled Northbridge and LCD Poster, the board even includes overclocking controls right on the PCB.
---
Introduction, ASUS Rampage Extreme Features
With so much talk around Intel's upcoming X58 chipset and Nehalem processor, it's not hard to become uncertain about what to do if you are looking to upgrade or build a completely new machine. Sadly, it's a difficult situation to have an answer for, as well. Rumor has it that Nehalem is set to drop in about two months, but if you are looking to build a new machine now, there's little sense in waiting.
The fact of the matter is, Nehalem will improve upon current CPU offerings in all regards, but it won't deliver such a stark increase in performance that you'd be kicking yourself for not waiting. That's not even touching on the fact that Nehalem will require more money to get set up than with current offerings, because as with most new launches, everything will be expensive. Motherboards, the CPU itself, special CPU cooler… it will add up.
If you are looking to upgrade your current machine, then the decision is a little easier. Either you have a CPU you want to continue using, or you have intentions of buying a current model that not only proves to be affordable, but truly incredible performance-wise. At that point, it would make sense to simply upgrade. Though no pricing information is available for everything that will surround Nehalem, it's no doubt going to be more expensive than setups today.
That all said, if you are preparing to build a completely new machine from the ground up, it might be worth your time holding out until Nehalem arrives, but for me to suggest that to anyone would be foolish. It's a chance you'd have to take, and if you need a PC now, then don't wait. You'll get a great PC now, instead of having to wait two months. You could even be saving money in the process.
Closer Look at ASUS' Rampage Extreme
Normally I begin off reviews talking about the actual product we'll be taking a look at, but that all had to be said. It's a confusing time right now, because with Intel's new products right around the corner, it's definitely easy to become uncertain, but hopefully now you can make the right decision for yourself.
Ironically, I spoke about saving money just a few paragraphs ago, and now we'll be taking a look at a product that's not exactly too affordable. Alright, the Rampage Extreme is expensive… there's no denying that. At $399, it's going to appeal to a select audience, but make no mistake, this is not your typical motherboard.
Unlike a few previous chipset generations, where ASUS released two versions of the same board depending on the memory, the X38-based Maximus and X48-based Rampage offerings throw that idea out the window. The DDR2-based Rampage Formula shares the same chipset as the Extreme, but both are very different boards. The Formula retails for close to $300, and considering what all comes with the Extreme, the extra $100 might almost feel warranted.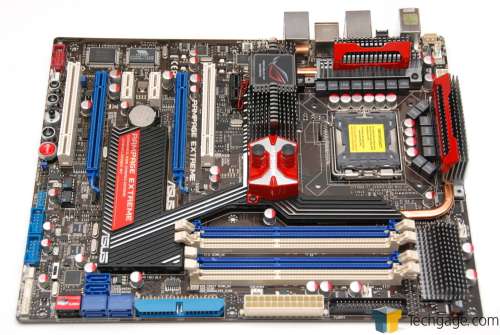 As you can see, the Rampage Extreme looks quite different than most other boards. ASUS took care to design the board in such a way that it would be lusted over by enthusiasts everywhere. They don't go overboard enough to cause the product to look bloated, but what is here, works well. In the picture, you can see the great-looking red-shrouded heatsinks, which as I found out during Computex, had its inspiration derived from a Ferrari engine.
The board also features a robust 16-phase power solution, although whether or not that's overkill is often debated. I've heard from non-motherboard vendors that adding too many phases can actually do more harm than good, but in the case of this board, what is here seems to work well… as we'll see in the overclocking reports later.
DDR3 is still more expensive than DDR2, but it's much more affordable than it was even just six months ago. It would make little sense to design such a high-end board and stick with DDR2, and ASUS decided that logic made perfect sense with them as well.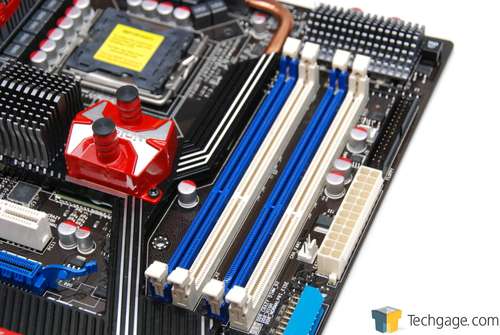 Like all Intel X38/X48-based motherboards, this one supports ATI's Crossfire in 16x mode, so picking up two identical cards will deliver some fantastic gaming performance. I tingle when I think of having two HD 4870's installed in this puppy.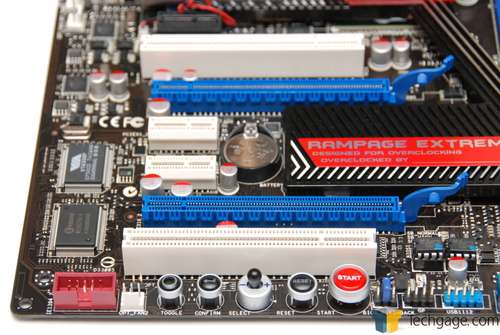 Wait a minute… what the heck are those buttons below the slots?!
I'm glad I asked. Err… I'm glad you asked. Because the Rampage Extreme is targeted towards extreme overclockers and hardcore gamers, ASUS packed as much punch into this board as possible. These buttons prove it. Combined with the included status LCD Poster accessory, these buttons can be used to control your overclocking. Yes, you can overclock the motherboard… with buttons.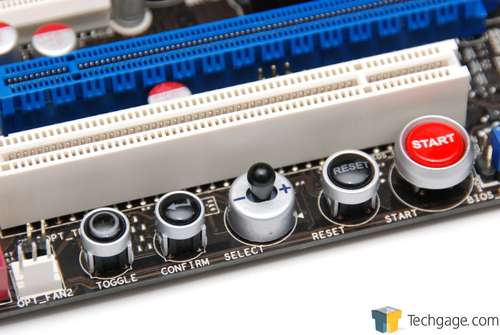 The buttons themselves are rather self-explanatory, and there's no hidden agenda here. The Toggle button toggles between the CPU and Northbridge, the Confirm accepts your entry, while the Select toggle switch allows you to change the values seen on the LCD Poster. The Reset and Start buttons are not overclocking-based, but rather allow you to turn the PC on if the motherboard isn't installed into a chassis. They're certainly the best-looking reset/start buttons I've ever seen, though.
Closer Look, Cont.
If you still doubt that this board is truly 'feature-packed', then keep reading. By the end of this page, you might just be eating your words! In the below picture, all the available S-ATA ports are shown, eight in total. Six of these are vertically-mounted, while the two others stick straight up, which is all-to-common.
I'm sure many who've used them will agree… vertically-mounted S-ATA ports are awesome. They are catching on with other manufacturers, but we really need to see more of them… they are just far, far too convenient. Not to mention sensible… it's so much nicer to install your components and still have a clean case when you are done with the installation.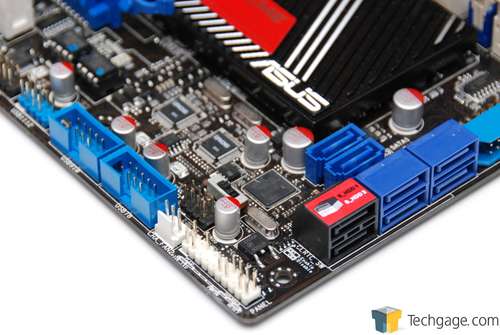 Also notice the little switch above the internal USB connectors and a little to the right. This is the CMOS clear switch, and all I can think of when I look at it is, "Why haven't we seen this before?". It's so common for overclockers to constantly bork their board, and moving a small toggle switch each time is not fun. This takes the hassle out of it all. I didn't get a chance to use it, however, as I didn't run into a failed overclock that put the board in such a state. But besides that, there's an easier method on the back, which we'll talk about soon.
Moving on towards the CPU socket, the elaborate heatsink setup becomes clearer. There's little chance that the CPU or surrounding area will overheat with so much surface area dedicated to dissipation… every angle is covered. The PWM and top of the board both have tall sinks, while the Northbridge and area have slightly shorter but wider heatsinks. The 'Republic of Gamers' badge as seen to the top-left of the image glows during use, and pulses when the PC is turned off.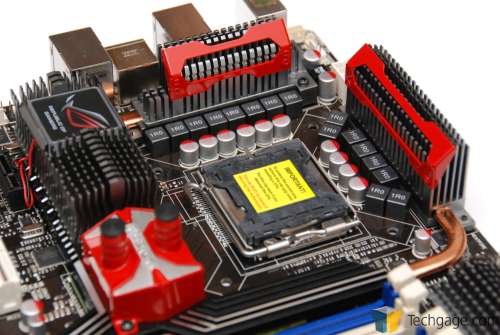 Here's another angle, which shows off the 8-pin motherboard and 3-pin fan connectors. In the corner of the board are two very small connectors. The smallest connects to the I/O panel (yes, seriously), so that you can plug your LED into the panel, rather than directly into the motherboard. The larger connector is if you wish to go the opposite route and plug directly into the board, which would be useful if you aren't using a chassis.
Last spring, when Intel launched their P35 chipset, ASUS launched the Blitz Formula and Blitz Extreme, the first two boards to support a water-cooled Northbridge natively. ASUS has stuck close to that feature and it's, not surprisingly, found on the Rampage Extreme as well.
Don't worry if you don't have the correct barbs to fit it within your loop, as required water-cooling accessories are included, where you'll find adapters among other things. I didn't test this motherboard on water-cooling due to not having an appropriate kit, but if history is anything to go by, I wouldn't expect it to improve overclocking. On both the P35 and X38-based Maximus Formula, adding water didn't help anything, except temperatures. If using water, you could expect a drop of close to 10°C for the Northbridge, but it could be even higher depending on various circumstances.
At the back we find six USB ports, which amount to a total if ten if you take advantage of the two internals (which add two each), one e-SATA, one Firewire, two LAN, a quick CMOS reset and a PS/2 keyboard.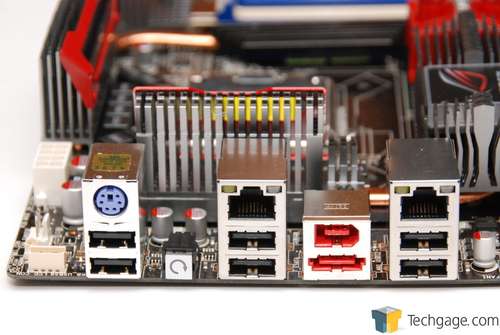 Not unlike any of the recent RoG boards, this one features an external audio card that's to be used in the top PCI-E 1x slot. What is different about this one in particular is that it has a big fat X-Fi logo on the front, which immediately had me excited, until I dug deeper.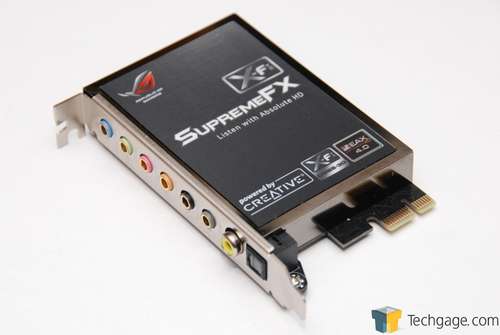 As it turns out, this card doesn't support an X-Fi chip, but rather the typical SoundMax solution that ASUS has been using on many of their enthusiast boards recently. Where the X-Fi comes in is with licensed software that enables certain exclusive features normally only found on real X-Fi cards from Creative, such as EAX. Creative isn't one to just hand over their technology, though, so this does add to the price of the board.
Where EAX is concerned, version 4 is where this card stops. EAX 5 has been out for some time, but it's support is limited, so it's unlikely to be missed. From what I understand also, EAX support here doesn't work on all games that are said to support it. Creative is to blame here, as we know EAX extensions could just as easy run off of our CPU via software, so it's their crippled software that's the problem.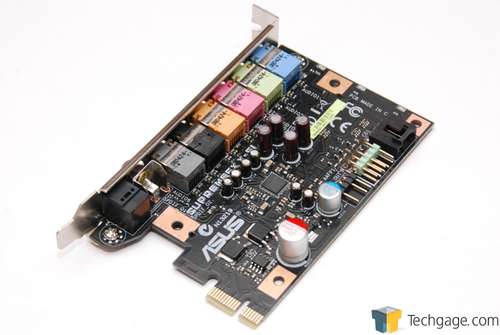 The fun stuff added in doesn't stop though, as ASUS has included two replacement heatsinks in case you prefer their style. They're unlikely to cool any better, but if you find yourself fond of one more than what's installed, then all the power to you. This to me is a little overkill, but it's there for those who want it.
In way of other accessories, there's a back panel connector for extending the amount of USB and Firewire ports available, in addition to the assortment of disk drive cables.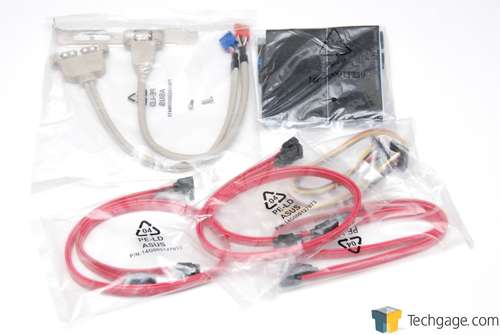 In addition to the manual and driver CD-ROM, you'll find the Q-Connectors (easier chassis connections), rubber stand-offs (for out-of-chassis use), a needless chipset fan, the LCD Poster and also the back I/O panel. The wire extruding from that is what plugs into the motherboard, so that you can plug the LCD Poster directly into it instead.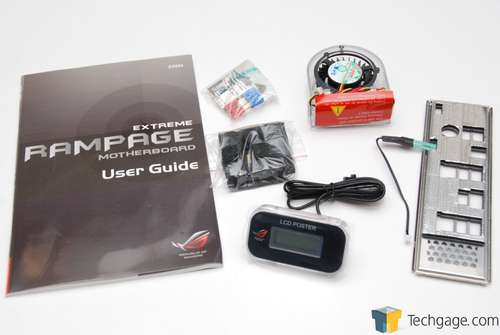 Lastly, below you can see the assortment of water-cooling accessories, some diodes for use with reporting through the LCD Poster and also some plastic straps for holding cables in place. Overall, to say this board is "packed" would be a gross understatement. It's filled to the brim with extras not found on most motherboards, so it's no surprise that it's price tag is a little rough to stomach.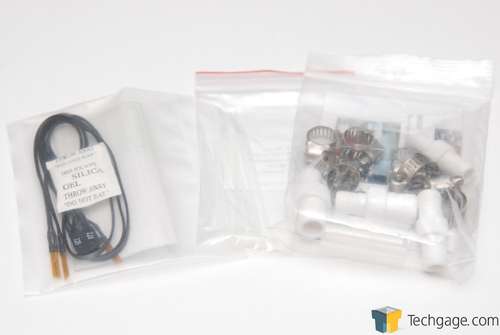 Is the BIOS as robust as the board itself? We'll find out on the next page.
Checking Out the BIOS
ASUS has well-established themselves as being fully capable of delivering a motherboard that can appease even the most hardcore overclocker. To become what we consider an "overclocking" motherboard, three factors have to be met. First, the board needs to allow reasonable voltage tweaking, without any sane hard limits. The board also needs to deliver a wide-variety of tweaking options… options that even 99% of overclockers can't fully understand.
Lastly, the board has to actually be able to overclock, and reach levels that are out of the ordinary for boards with equivalent chipsets. Well not surprisingly, the Rampage Extreme delivers on all accounts. When I first received the board, I was told to expect some very hardcore tweaking-ability and also that I should expect to hit well over 500MHz FSB with a Dual-Core. As you'll see later, 500MHz FSB will be considered low.
The first piece of proof of ASUS' serious attention to overclocking comes with the fact that the very first tab after opening the BIOS is the overclocking one. In total, you need to hit Page Down four times to soar through all of what's available. The fact is, this board is for the hardcore overclockers, and the skies really the limit. You don't need to be a hardcore overclocker to enjoy what's here though, as most of the common options are available nearer the top, with all of the voltages found at the bottom.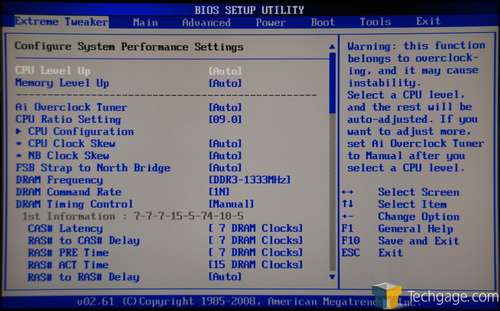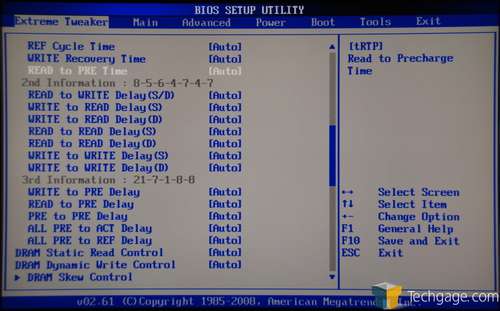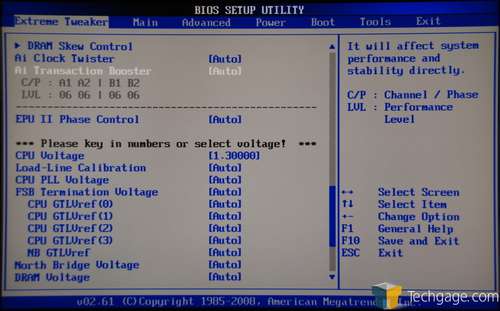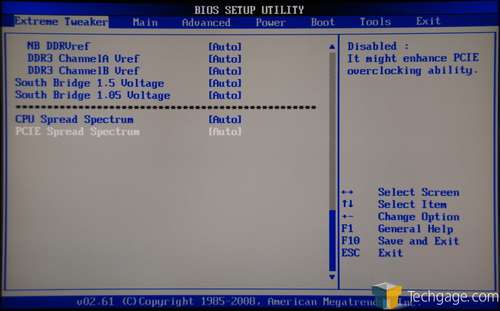 Moving along to the next few tabs, you can see many familiar options. Nothing at all should be surprising to anyone, so I'll let the next batch of photos speak for themselves.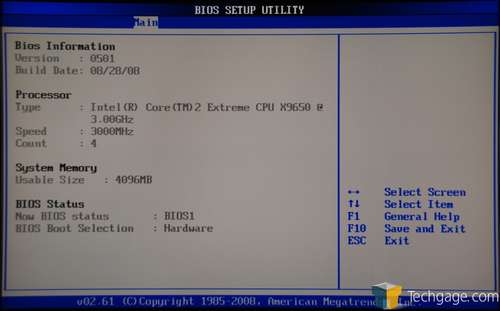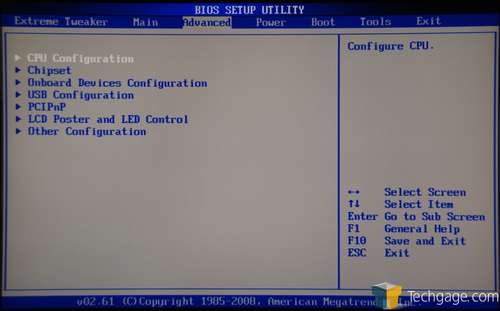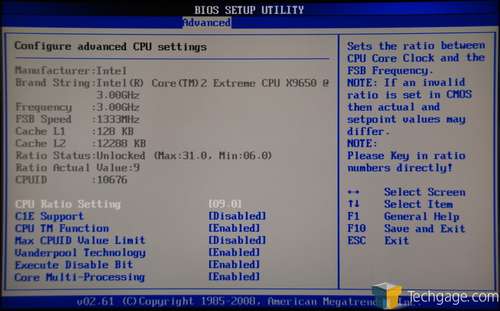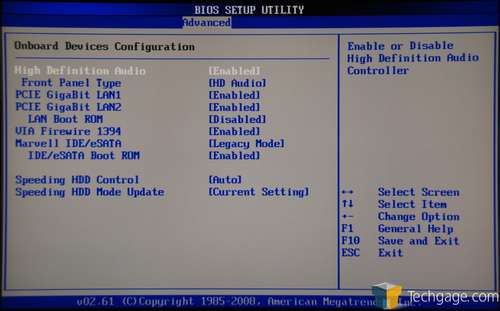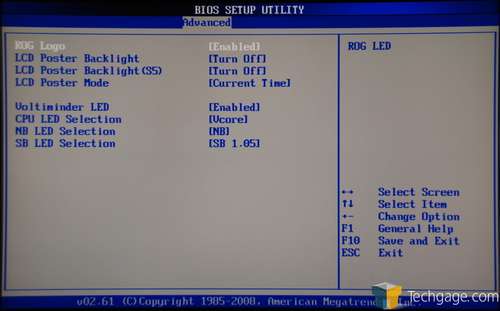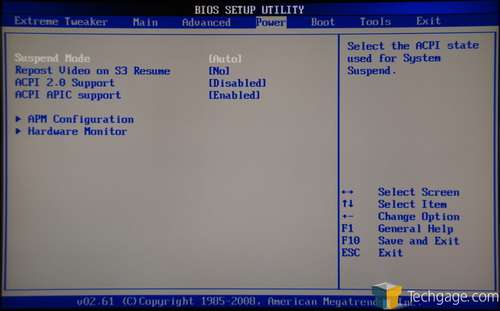 Another area where ASUS' enthusiasts' boards stand-out is with regards to the monitoring. On most consumer-level boards, accessing either the voltage or thermal monitors would be a slow process – it can take about two seconds to actually read all of the information and in turn display it to you. The RoG boards offer nothing of the sort, though. Accessing each sub-section is an instant proposition, which is appreciated especially if you think your PC is overheating.
The sheer amount of information found in each is also rather impressive.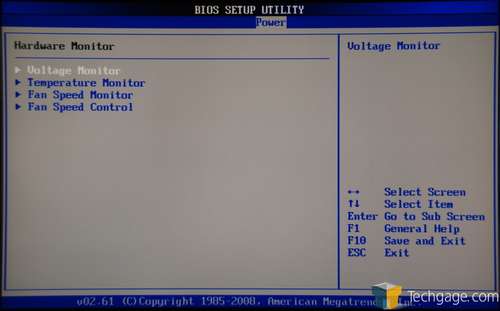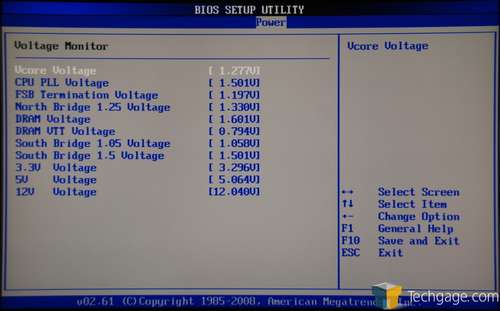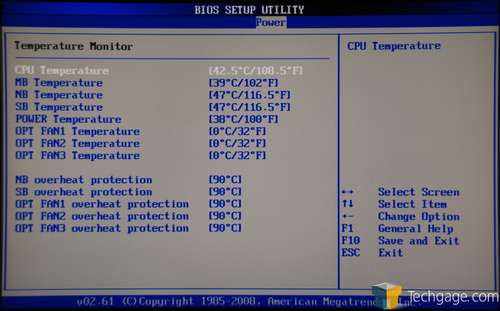 Below are the main boot options, none of which are any different than any other motherboard. This is one of the very few boards that actually disables the boot splash screen by default, however.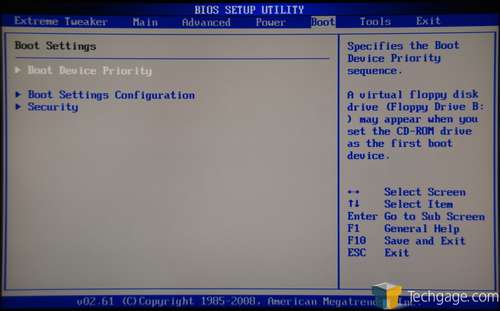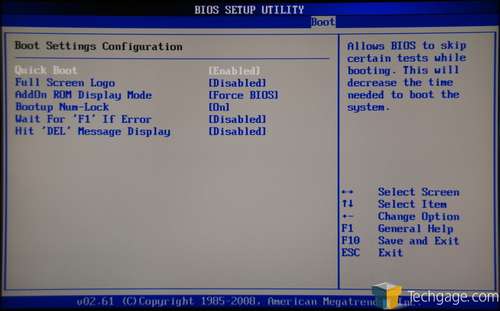 The last tab is for all your BIOS-flashing and profile-loading needs. Unlike many other ASUS enthusiast boards, this one features a backup BIOS that can be flashed to at any time. It's a good idea to do it once you set the board up for the first time. That way, if something does happen to go horribly wrong, the board will be able to restore to the good BIOS without issue. This is a feature found on many Gigabyte boards, and I can attest to their usefulness.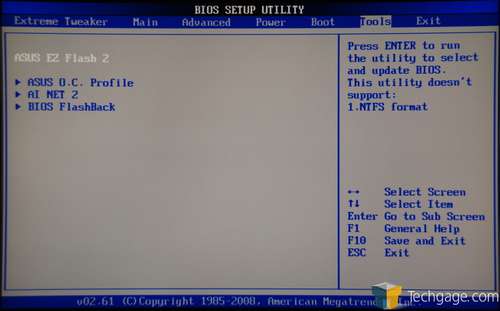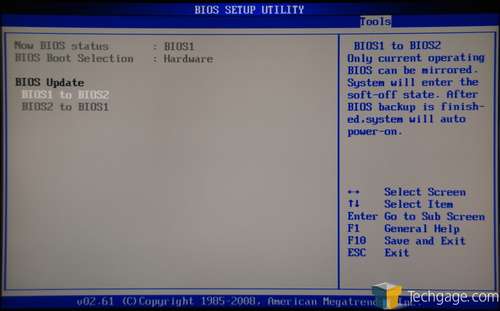 The OC profile section isn't the best I've seen, but it works. You can of course save a profile with all of the current settings and restore whenever you like. The problem is that saving and loading is awkward. The BIOS doesn't tell you that you can't use spaces in the names, and the general process isn't as simple as it was before. Certainly not a deal-breaker though.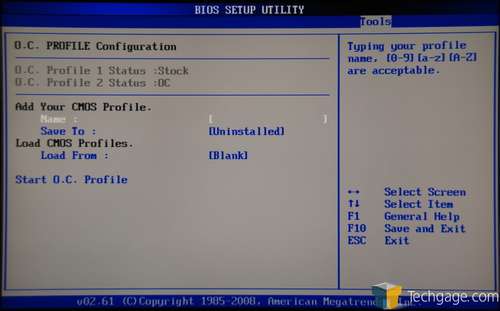 Before we get into our testing results, please read through our testing methodology page next, especially if you are new to the site, as valuable information regarding to how we conduct our testing is exposed in full detail. If you are already familiar with our methodologies, you can jump straight to page five.
Test Machine Specs & Methodology
At Techgage, we strive to make sure our results are as accurate as possible. Our testing is rigorous, and sometimes exhaustive, but we feel the effort is worth it. In an attempt to leave no question unanswered, this page contains not only our testbed specifications, but also a fully-detailed look at how we conduct our testing.
If there is a bit of information that we've omitted, or you wish to throw off recommendations or suggest changes, please feel free to shoot us an e-mail or post in our forums.
When preparing our testbeds for any type of performance testing, we follow these guidelines:
The OS installation is left as basic as possible, with important updates applied.
Required drivers from the motherboard CD-Rom are installed. Non-critical applications are omitted.
We do not install a virus scanner, firewall or any other security application.
Scrap files from previous testing are cleaned up; recycle bin / trash is emptied.
Internet is disabled via software driver.
Computer has proper airflow and room temperature of 80°F or less.
Hard-drives affected by testing are defragged with Diskeeper 2008 prior to each fresh run.
No hardware during our performance reviews is changed during testing, except for the product-type being reviewed, of course. Our current configuration is as follows:
For our testing, we use Microsoft Windows Vista Ultimate 64-bit. We chose to stick to a 64-bit Windows because throughout the past year of usage, we find it to be much more stable than the 32-bit counterpart.
Windows Vista Ultimate 64-bit
Windows is up to date via Windows Update (as of April 10, 2008).
Before testing begins, the screensaver and all power-related options are disabled.
Welcome Center and UAC is disabled.
A recent NVIDIA driver for the 9-series is used (174.35).
Once we set up our OS', nothing changes unless we revamp our entire methodology.
Gaming
In an attempt to deliver accurate results, games that we test with are played through manually, with the average FPS recorded with the help of FRAPS 2.9.4. In our personal tests, we have found that manually benchmarking games is the best way to deliver accurate results, since time demos rely heavily on the CPU.
In order to deliver the best results, each title we choose is explored to find the best possible level for our benchmarking. Once a level is chosen, we play through in order to find the best route, and then in future runs, we stick to that route as close as possible. We are not robots, so we cannot make sure that each run is identical, but they will never be far off from each other. As we see in our results, scaling is good, so we are confident that our methodology is a good one.
Because performance between motherboards shouldn't vary by much to begin with, we choose to run a single game for our tests, along with Futuremark's 3DMark Vantage.
Half Life 2: Episode Two
On the next page, we'll kick off our results with SYSmark 2007 Preview.
SYSmark 2007 Preview
Synthetic benchmarks have typically been favored for performance testing, but the results they provide can be fairly abstract, and the methods they use to assign their scores can be dubious at times. By contrast, real-world application benchmarks provide performance metrics that apply directly to real-world usage, and we endeavor to apply both in our performance comparisons.
SYSmark 2007 Preview from BAPCo is a special case, because its synthetic scores are derived from tests in real-world applications. However, we still believe that synthetic benchmarking scores are best used to directly compare the performance of one piece of hardware to another, and not for developing an impression of real-world performance expectations. SYSmark is more useful than most synthetic benchmarking programs in our opinion, because its tests emulate tasks that people actually perform, in actual software programs that they are likely to use.
The benchmark is hands-free, using scripts to execute all of the real-world scenarios identically, such as video editing in Sony Vegas and image manipulation in Adobe Photoshop. At the conclusion of the suite of tests, five scores are delivered: an E-learning score, a Video Creation score, a Productivity score, and a 3D Performance score, as well as an aggregated 'Overall' score. These scores can still be fairly abstract, and are most useful for direct comparisons between test systems.
A quick note on methodology: SYSmark 2007 requires a clean install of Windows Vista 32-bit to run optimally. Before any testing is conducted, the hard drive is first wiped clean, and then a fresh Windows installation is conducted, then lastly, the necessary hardware drivers are installed. The 'Three Iterations' test suite is run, with the 'Conditioning Run' setting enabled. Then the results from the three runs are averaged and rounded up or down to the next whole number.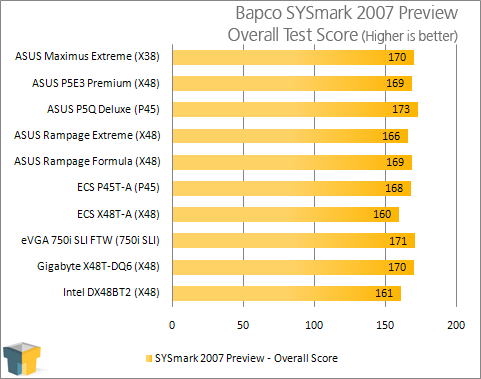 Our Rampage Extreme might be the most expensive board of the bunch, but it didn't prove itself with our SYSmark results, scoring a bit less than the majority.
Multi-Media: DivX, Adobe Lightroom & 3DS Max 9
For our video conversion test, we use VirtualDub to transcode (converting from one codec to another) a 0.99GB high-quality DivX H.264 AVI video of Half-Life 2: Episode Two gameplay with stereo audio. The video is just under 4 minutes in length and has a 720p resolution (1280×720).
For our testing, we encode the video two different ways. The first transcoding run ("720p Video Recode") encodes the video at the same 720p resolution but with a lower quality, to achieve a more acceptable file size for distribution (~150MB).
The second transcoding run ("Mobile Video Recode") scales the video to a 480×272 resolution, similar to what some mobile devices such as Apple's iPod use. For both tests, "Enhanced multithreading" is enabled in the codec control panel, as well as "Experimental full search" using the highest version of the SSE instruction set that the CPU supports.
Adobe Lightroom 1.4
Photo manipulation benchmarks are more relevant than ever, given the proliferation of high-end digital photography hardware. For this benchmark, we test the system's handling of RAW photo data using Adobe Lightroom, an excellent RAW photo editor and organizer that's easy to use and looks fantastic.
For our testing, we take 100 RAW files (in Nikon's .NEF file format) which have a 10-megapixel resolution, and export them as JPEG files in 1000×669 resolution, like most of the photos we use here on the website. Such a result could also be easily distributed online or saved as a low-resolution backup. This test involves not only scaling of the image itself, but encoding in a different image format entirely. The test is timed indirectly using a stopwatch, and times are accurate to within +/- 0.25 seconds.
3DS Max 9
Autodesk's 3ds Max 9 is considered the industry standard when it comes to 3D modeling and animation, counting DreamWorks, BioWare, and Blizzard Entertainment among its users. It's a multithreaded application that's designed to be right at home on multi-CPU workstations or render farms, so it's right up our alley for testing systems with multi-core processors.
Instead of the polygon-based rasterization handled by most GPUs, 3ds Max 9 uses scanline rendering as its chief method, but some ray-tracing plugins exist (which we don't use).
In our testing, we use a standard dragon model provided with 3ds Max, 'Dragon_Character_Rig.max'. The scene is rendered in two formats. First, a single frame from the animation is rendered at a resolution of 1920×1080 (1080p). Then, a 60-frame sequence of the same model is rendered to a 490×270 resolution AVI file, which can be exported to a portable media player.
Nothing out of the ordinary here, although the Rampage did manage to achieve the best Adobe Lightroom score – beating the second-place by two seconds.
System: HD Tach RW/3 & Sandra Memory Tests
To test the storage subsystem, we rely on Simpli Software's HD Tach, a superb storage benchmarking tool that's now free for everyone to use. It excels at benchmarking a variety of internal and external storage devices, and produces consistent data and information-rich reports.
For this review, HD Tach will be used to test the internal hard drive's data transfer rates. Since the main system drive is being tested, which contains the operating system software, we will only be performing read tests, not write tests (which might cause data corruption.) Also, since we're not specifically interested in the drive's performance per se, we won't be running any access time testing.
SiSoftware Sandra XII 2008 SP2
SiSoft's Sandra benchmarking package has long been one of our favorite tools, because of its comprehensive set of specific hardware benchmarks. It delivers excellent consistency, and offers a variety of tests devoted to the memory subsystem. Here, we'll use it to test memory bandwidth and latency.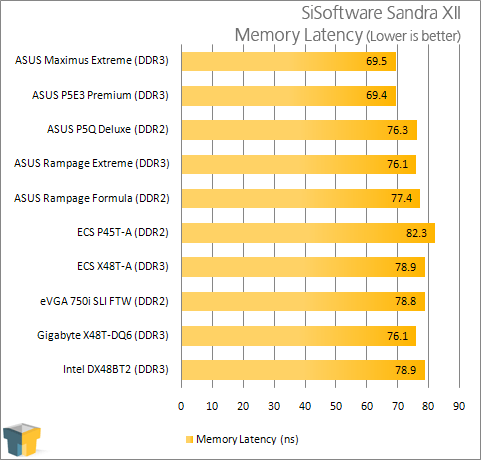 The Rampage Extreme managed to achieve the best overall HDD speed in Sandra, and it falls right in line with the others where latencies are concerned.
Gaming: Half-Life 2: Episode Two & Futuremark 3DMark Vantage
For real-world game testing, we turn to Valve's Half-Life 2: Episode Two, which has long been a standard for our game benchmarking. With Episode Two, Valve delivers more of what fans loved about the original game, but were kind enough to throw in a few twists. It's becoming increasingly difficult waiting for Episode Three!
The level used for testing here is 'Our Mutual Fiend', which has you navigating a large outdoor area with many Striders and buildings about. The goal is to make your way through the level, decapitating all the Striders you are able, while doing your best to save as many of the buildings as you can. It can be a stressful level, but is great for benchmarking thanks to the constant action and massive amounts of AI.
For our testing, we begin by loading the level from the console, and once loaded, we enable the FRAPS benchmarking feature which will track our overall FPS information. We begin the level in the same spot each time, and follow a well-defined path throughout until we reach a specific point of the level where we tell FRAPS to wrap up its FPS recording. For detailed information about the settings used in testing, see the screen shots in our Testing Methodology page.
Futuremark 3DMark Vantage
3DMark has been the 'gaming benchmark' standard for quite a while, with versions dating all the way back to 1998. Vantage is the latest iteration and is just as hardcore on your GPU as we had hoped. It will be a little while before it can be run on any hardware with relative ease, which makes it a perfect candidate for stressing our rig to the max.
As expected, there are no huge discrepancies here. The Rampage Extreme did finish off with the highest 3DMark Vantage score though, beating the P5E3 Premium by 28 points.
Overclocking the Rampage Extreme, EPU-6 Engine
If you've read any of my performance-related content in the past, especially processor reviews, you are probably aware that I tend to shun non-stable overclocks. While I respect overclockers who push their hardware to the absolute limit, I appreciate a stable overclock more – one that can be run on a day-to-day basis with an excruciatingly low chance of failure.
So while others might be able to achieve higher overclocks, please understand that our goal is for pure stability, not an overclock that we're willing to chance and hope won't crash our machine. With that, allow me to explain how we go about finding out whether a motherboard overclock is stable or not.
Our method of testing a motherboard for stability is the same as the one we use for our CPU reviews. It's a three-pronged test, beginning with the obvious stressing of both the CPU and memory. We accomplish this by using four instances of SP2004's Blend test, which effectively coats both components with constant traffic. After a twelve-hour period, if stability is intact, we move onto step two: gaming.
Here, we load up multiple games, such as Half-Life 2: Episode Two, Crysis and others for some manual play-throughs. This is followed by a full run of 3DMark Vantage at the highest-resolution possible by the monitor, looped three times. If the board continues to be stable, then we apply the 'cold boot test'.
Because overclocking can affect a computer's operation in the strangest of ways, we use a cold boot test to make sure that the overclock is stable all-around, not just while in Windows. To do this, it's a matter of turning the PC off for five minutes, then booting up, and then doing it again. If all these tests passed without issue, then we can consider the overclock to be stable.
With that all said, let's get into the good stuff…
Overclocking the Rampage Extreme
I was told to expect some easy overclocking with the Rampage Extreme, and ASUS wasn't kidding. I'm one of the furthest things from being a professional overclocker, but I still enjoy pushing hardware far beyond spec without having to study up on what every option in the BIOS will do. The fact is, you don't need to know half of what's available. If you understand the basics, you'll achieve a good overclock, guaranteed.
During all overclocking, the only settings I touched were the CPU voltage, Northbridge voltage, DRAM voltage and of course, the FSB and Multiplier. First stop, 580MHz with our Dual-Core E8400: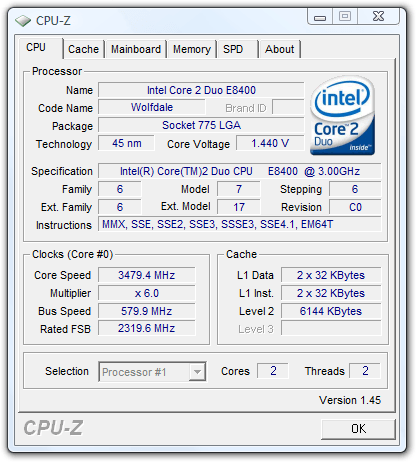 That overclock was rather impressive, because the Northbridge voltage required was only 1.55v, which is still within a very safe range (the option turns yellow at the 1.65v mark).
Things change when dealing with a Quad-Core, which isn't the least-bit surprising. This particular Quad (QX9650) has never gotten above 475MHz, and nothing changed in the Rampage Extreme. It could be a CPU issue, I'm unsure, but even with 475MHz, a 4.25GHz overclock could be achieved (if you have the brass for it) or 3.8GHz on most locked mid-range Quad-Cores.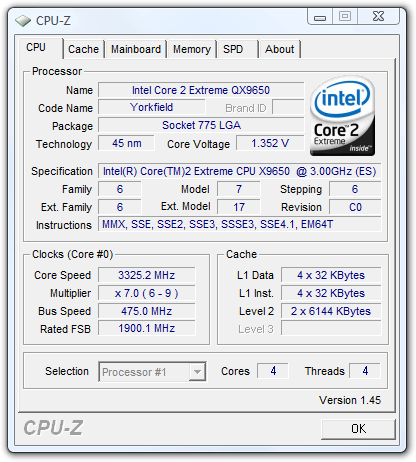 Overall, some great overclocks, and considering I didn't even touch any of the secondary (or even tertiary) settings, I'm confident that a pro-overclocker could reach higher heights than this – should you have the patience and will.
EPU-6 Engine
One of the biggest features ASUS enjoys touting lately is with their EPU, or Energy Processing Unit. This chip allows automatic handling of voltages of key components, in order to maximize your power efficiency. It's paired with the EPU-6 Engine software, and if you are overclocking, this software can't be used.
Should you want to overclock and use this tool at the same time, you can set one of the profiles to overclock the CPU up to 30%, but whether or not that will prove to be stable will have to be tested. I cranked the frequency straight up to 30% and it wasn't stable, so for a "real" overclock, it's best to stick to traditional methods.
Also, it's important to mention that in order for any benefits with the GPU, you need to use actual ASUS cards, along with drivers off their website, as they contain EPU-specific information. This is a rather significant downside of the EPU technology as far as I'm concerned, especially since the GPU is one of the biggest power-hogs in any PC today.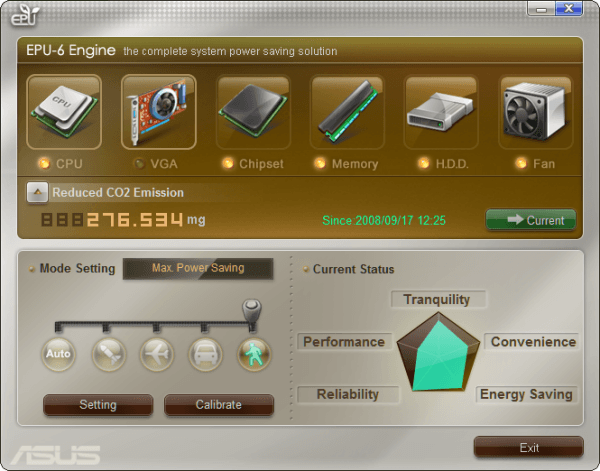 If you wish to keep stock settings (which would be strange given this would be your motherboard of choice), you can select from four different profiles, ranging from "full performance" to "max power saving". Choosing the "Max Power Saving", 15W was dropped off of idle usage, so EPU can make a difference in that regard.
Speaking of power consumption, let's help wrap up our review with a look at the wattage that the board pulls and also finish off with my final thoughts.
Power Consumption, Final Thoughts
To capture power consumption, we use a Kill-A-Watt, a cool gadget that plugs into your socket and reports the current wattage reading. We plug our testing machine directly into this, with our Gateway XHD3000 monitor plugged into the other available socket. Our results here show the power draw from the computer itself (including all internal components) and nothing else.
Please note that these figures also include the power draw from our Corsair Nautilus 500 water-cooling system, which gets its power from our PSU. Also, only one hard drive is connected to the motherboard and power supply, and the only 'extra' accessory used is the RAM fan. Before testing, network adapters are enabled, but no LAN cable is connected.
To record our results, we grab figures while the machine is completely idle, and then also while half of the processor (Core 2 Extreme QX9650 Quad-Core) is being utilized. The third and final set of results are grabbed while half of the CPU is being used in addition to the GPU (NVIDIA 9800 GTX), which represents a realistic result from normal gameplay.
Somewhat surprisingly, the Rampage Extreme managed to almost top the chart here, even when compared to other motherboards with an identical chipset. The only board to surpass it is eVGA's 750i SLI FTW, but that's thanks to its power-hungry Northbridge. It seems all those extra components on the Extreme make up for it, though, and it now makes sense why ASUS pushes the EPU technology so much.
Final Thoughts
Impossible: Recommending a $400 motherboard. It's true… how could I reasonably recommend such an expensive motherboard? Truth is, I really can't. But what's important to note, is that while the board is expensive, it delivers enough to actually warrant the price tag… but like most things, it all depends on what you are looking for or expect.
Let's start with the obvious… the overclocking-ability. ASUS really went to town with the Rampage Extreme, and it's apparent the first time you enter the BIOS. The tweaking-ability caters to both the layman and the hardcore overclocker, and nobody will feel left out. Best of all, even if you feel overwhelmed by the sheer amount of options available, you can just wimp out (like me) and stick with what you know, and you'll still be able to achieve a great clock.
Past that, the board is covered with more bling than a bad-boy hip-hop artist. Everywhere you look, there's robust-looking heatsinks with cool red shrouds, an RoG emblem that glows even when the PC is turned off, a Northbridge water-block, replacement sinks, the LCD Poster and oh, let's not forget the on-board overclocking controls.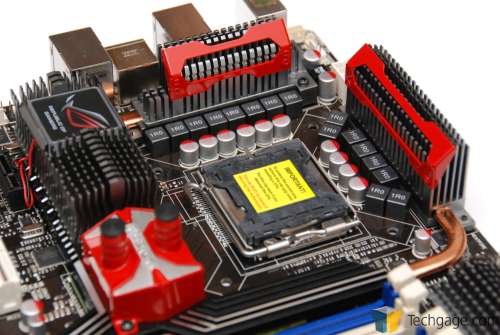 If you don't mind splurging on the most robust motherboard currently on the market, you won't regret this one. It's feature-packed, looks great and turned out to be one heck of an overclocking board. If I do have one notable gripe, it's that the X-Fi audio card does not utilize an X-Fi chip. Rather, it uses emulated drivers that almost accomplish the same thing.
For the price, a real X-Fi card would have made the board even more reasonable, but I do know that Creative isn't a company that particularly enjoys licensing out their chips to other companies, and that, to me, is undoubtedly the reason why a real X-Fi card is not used. At least ASUS did go as far as to include some emulation… that much in itself might be considered impressive.
Pros
The board's an overclocker's dream.
Feature-packed in every sense of the word.
Solid performer.
Unique features not found on other boards (on-board OC controls, LCD Poster).
Northbridge can be water-cooled.
Cons
$400 price tag is hard to swallow.
X-Fi audio card isn't a real X-Fi card.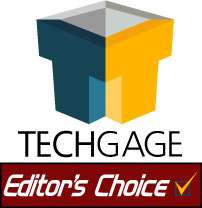 Discuss in our forums!
If you have a comment you wish to make on this review, feel free to head on into our forums! There is no need to register in order to reply to such threads.
Copyright © 2005-2022 Techgage Networks Inc. - All Rights Reserved.