ASUS W90 18.4″ Notebook – A True Desktop Replacement
Date: May 15, 2009
Author(s): Rob Williams

Looking for a modest notebook? Turn around and walk away! ASUS has sent us their W90 "Republic of Gamers" notebook, which although they don't call it as such, is a perfect desktop replacement. It offers incredible gaming ability (with an X2 ATI card), a Quad-Core processor, a massive display (18.4″) and a whole lot more.
---
Introduction
For many people looking to purchase a new notebook, there are a few things that a model must have. Of these, great battery-life, a light weight design and great aesthetics tends to top most lists. Aside from maybe the aesthetics, the W90 from ASUS certainly doesn't cater to those looking for an easy-to-carry model at all, or even one that has a "decent" battery-life.
Rather, the W90 is designed to be one of many things. First, it's a great desktop replacement, although this isn't the crowd ASUS is specifically targeting. Second, it's a great workstation notebook, offering exactly the kind of power that people expect from their home workstation machine. Third, it's a perfect HTPC. It offers up more than enough power for any possible media task, and thanks to its Blu-ray drive and HDMI output, it delivers on all fronts.
The fourth audience is actually ASUS' primary target, gamers. The W90 is officially a "Republic of Gamers" notebook, and as we'll see, it's for very good reason. Honestly though, regardless of which scenario here caters to you most, the W90 is set out to more than deliver, and after having spent some time with it for this article, I still haven't decided whether I should shut the site down and run off with it. Maybe not such a good idea!
Closer Look at ASUS' W90
What makes a notebook a proper DTR (desktop replacement) are a few things. First, it has to have a good CPU, because it has to be able to handle anything you'd want to do on a regular desktop, including intensive tasks like video encoding. Past that, it should have huge storage, and if you're a gamer, it should also have a capable graphics card – at least one that can handle most games at the display's native resolution.
The W90 delivers on all accounts. Because I had a limited time with the notebook and was requested for a quick turn-around, this notebook review isn't going to be typical of how we usually handle things. Also, although this is a performance beast, we're not going to exhaust our benchmark suite in order to deliver results, although we will touch on some of them lightly.
Rather, this article will take a look at the notebook from a features standpoint, and also a technical standpoint. You see, the W90 isn't a typical notebook. Sure, it's huge, but that's not what makes it special. Under the hood is an X38-based motherboard. Yes, you read right… a desktop motherboard, in a notebook. The goal? To make the W90 a true desktop replacement.
Finding a desktop board in a notebook isn't common, but given that ASUS has the technical resources to create their own custom designs, they were able to pull it off, and still offer a stable platform. By now, you're probably wondering what makes this beast a desktop replacement, so allow me to tell you.
For starters, we have Intel's latest "budget" mobile Quad-Core, the Q9000. Although it offers four cores, this particular model does turn out to be a small drawback for this notebook, as it's clocked at only 2.0GHz. The reasons behind this decision were obvious. For a notebook with ASUS' obvious goals, a Quad-Core was the only option. The Q9000 ships from Intel for just over $300, while the next step-up, a 2.33GHz model, sells for $850. Not a small difference.
But while that's the case, ASUS helps make up for things by including an overclocking tool with the notebook, which effectively can push the CPU to 2.30GHz… not a bad deal. Of course, overclocking is never guaranteed, so 2.3GHz might not be possible for everyone, but I'm willing to bet that very few, if any, will be unable to hold that clock. Room temperatures will make a difference as well though. As long as you keep a well-ventilated area, you should be fine.
Being a gaming notebook, the W90 should offer a fast GPU too, right? Well, it doesn't offer just a fast GPU, but technically two of them, in the form of the ATI Radeon HD 4870 X2. Yes… an ultra-fast CrossFireX solution in a notebook, it's true. This is a major feature of this notebook, and it's the reason behind the W90's target of gamers.
Of course, the GPU is only one part of the equation. The other is the display, and the W90 again delivers, with a freaking humongous 18.4″ glossy LCD, offering a resolution of 1920×1080 (1080p). On the storage front, we have 640GB total, split between two drives, and also a BD-ROM/DVD±RW. Usual connectivity is here as well, including HDMI, VGA, modem, LAN, eSATA, FireWire, four USB ports, multi-memory card reader and also an ExpressCard slot. Select models may also include a TV tuner. As I mentioned before, there's really nothing missing.
ASUS W90 Tour
For those interested in specifics, the complete system specifications can be seen in the table below. I covered most of this on the first page, so there's little point in repeating myself to a great extent. As a quick reminder though, this notebook is one of the few out there to include a Quad-Core, especially this particular model (it's rather new). For gamers, the HD 4870 X2 is here, and that again isn't seen on many notebooks. It's a real treat to see it here. It also offers 6GB of RAM, which is sure to be appreciated by enthusiasts.
Model
Processor

Intel Core 2 Quad Q9000 – 2.00GHz, 6MB L2 Cache, 1066MHz FSB

Chipset
Graphics

ATI Mobility Radeon HD 4870 X2 1GB

Display

Samsung 184HT01-A01 18.4" – Max Resolution: 1920×1080 at 60Hz

Memory

Hynix

3x2GB DDR2-667 (5-5-5-15)

Hard Drive

Seagate ST9320421AS x 2
320 GB, 7200 RPM, 8MB Cache, S-ATA 3.0GB/s

ODD
Audio

ATI Radeon HDMI (ATI RV770)
Realtek ALC888/1200 (Intel 82801JB ICH10)


Network

Atheros AR928X Wireless (802.11 a/b/g/n)
Realtek RTL8168C Gigabit Ethernet
Agere 56K Modem

Et cetera

Weight: 11.46 lbs (5.20 kg)
Dimensions: 17.4 " (H) x 12.91 " (W) x 2.48 " (D)
Battery: 12-Cell Lithium Ion
2.0 Megapixel Webcam
4x USB, 1x VGA, 1x HDMI, 1x Kensington Lock
1x ExpressCard Type 54, 1x Memory Card (SD/MMC/MS/Pro/xD)
1x FireWire
Bluetooth
1 Year Parts and Labor Warranty

OS

Windows Vista Home Premium 64-bit
I said earlier that there was little lacking here, and even after taking a look at the grouped components above, I still can't find a real fault. There are four USB ports available, which should be more than enough for most people, in addition to a FireWire for those who require it, in addition to VGA and HDMI for the video. Of course, the commonplace memory card reader and ExpressCard slot can also be found here.
To say that the W90 is a large notebook is an understatement, and honestly, these pictures don't do it justice. When ASUS said they were sending the notebook, they warned that it was large, but when the time came to hire a crane to take it out of the packaging, I realized they weren't kidding. The notebook is 11 pounds, which is quite heavy… something you really don't want to lug around all day. If you are looking to purchase one, keep in mind that it will actually take some effort to transport.
Taking a look at the chassis below, you can see just how thick it is, and it's pretty much just as thick all-around. Because of this, this is easily the most sturdy notebook I've ever touched. Dropping it would no doubt shift some components, but other than that, it's built like a rock, and I'm not saying that lightly.
Like most current ASUS notebooks, the touchpad area features a thumbprint reader for those who'd like a little bit of added security. The buttons aren't the best I used, and I found them to require a little more effort to push than I'd like, but on a notebook like this it's rare when you'll not be using a desktop mouse. Even if you do find yourself without one, this will suffice, but it's not ideal (especially given the high resolution… your hand will get tired quick).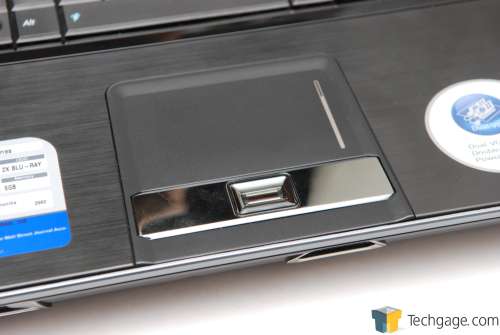 On such a huge notebook, you wouldn't expect to not see a numpad, and the W90 doesn't disappoint here. An interesting design move is that rather than have a double-sized 0 numpad key, they spread the right arrow to integrate into it, which does make sense in the end.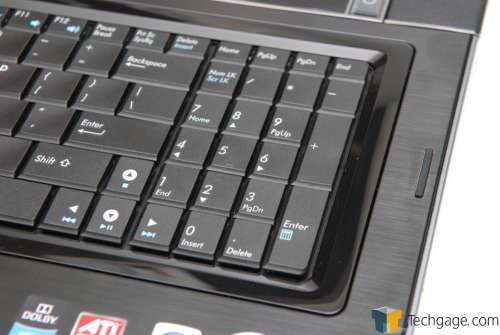 On the opposite end of the keyboard, a few media-related keys can be found. This is all touch-sensitive, so you can raise or decrease the volume with ease, fast-forward, pause, et cetera. The button on the top-left loads the ASUS TouchMedia's music section, while the right brings up the video.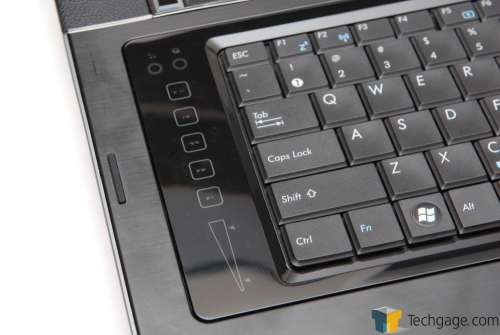 Overall, the keyboard area is well-designed and easy to use. On a notebook this large, the keyboard keys are almost on par with a desktop keyboard, but of course flatter. It's large enough that you won't suffer from many typos though, like is common on much smaller notebooks (especially netbooks!).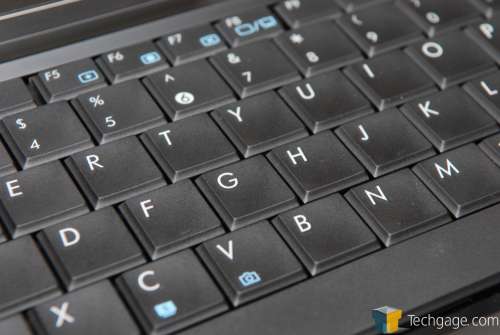 Running along the top are more media keys, including the mute. Also here are touch buttons for the touchpad enable/disable, Splendid color modes, a zoom feature, webcam access and also the performance mode changer. Also, on the left and right side, are two power buttons. The one on the left boots up in Splashtop mode (an odd choice to include on this notebook, in my opinion), while the right one boots normally.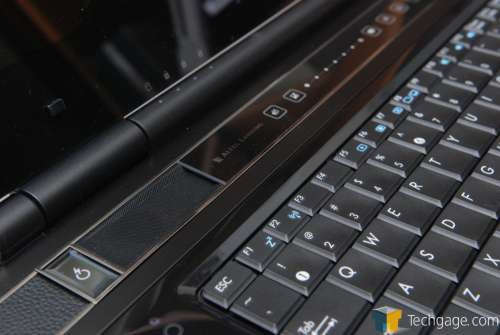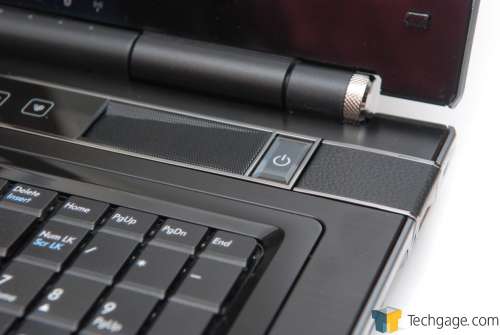 The left side of the notebook is rather barren, with a single USB port alongside the Kensington security lock (something I'd actually consider with a notebook this expensive).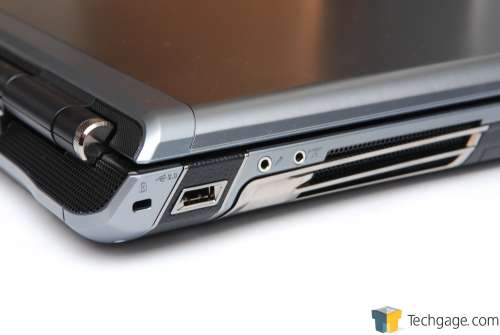 On the back is where the some important connectivity options can be found, such as the VGA, HDMI, network connectors and also the power connector.
Finally, the right-side pretty much explains itself. Three USB ports, FireWire, eSATA, WiFi enable/disable, memory card reader, ExpressCard slot and also the Blu-ray ROM drive.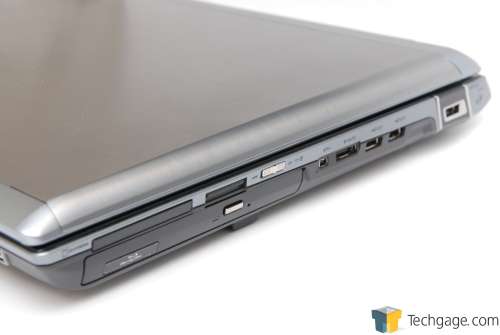 I didn't grab a shot of the monitor, but it's rather unimportant as the quality is hard to capture in a photograph. While not the best display I've used, it is one of the better ones I've used on a notebook. Text is crisp, colors are smooth and the screen is bright… all great features. The brightness does shift a little as you move back and forth, but it's not too noticeable while gaming, only while taking care of desktop work. It doesn't shift to such a degree that it's a real problem, however.
I've already said that this thing is as stable as a rock, but I can't stress it enough. This is meant to be toted around, so banging it into something isn't going to do much more than scuff it up. When not in use, it could also double as a unique weight for working out, or for use as a weapon.
Testing & Gaming
Before we tackle the results, let's quickly review our basic notebook testing methodology. The first step in preparing the notebook is to completely wipe the factory OS and install our own (Vista Home Premium 64-bit). This is to prevent pre-installed applications from skewing our performance results. We then use the included DVD-ROM to install all of the necessary drivers. Also, Windows Search Indexing and a few other Windows services are manually disabled, to further help with producing accurate and repeatable results.
Once the machine is prepared for benchmarking, it's shut down and set on a flat surface with plenty of room for airflow until it's completely cooled down. Once benchmarking gets underway, the machine is boot and left to sit idle at the Windows desktop for five minutes, at which point testing begins. Each test is run through twice, with a reboot taking place in between each run.
Testing Results
Let's start things off with a look at our SYSmark 2007 Preview results. For those unfamiliar, SYSmark is essentially one huge macro which utilizes numerous popular applications found on desktops and workstations, such as Adobe Photoshop, Sony Acid, Autodesk 3ds Max, and so forth. The suite is split into four different sections, including E-Learning and VideoCreation, with scores being awarded after the full suite iteration.
SYSmark tabulates scores based on how fast the given hardware was able to complete various tasks, and because the test emulates multi-tasking scenarios quite heavily, a fast processor and lots of RAM is required to achieve impressive results.
The W90 did, as expected, beat out the other recent notebooks we've taken a look at, but the difference isn't as stark as you'd imagine with a Quad-Core, except where video encoding is concerned. Part of the reason for this is first the lower stock frequency, and also that SYSmark doesn't take full advantage of multi-core processors at every angle. It is rather realistic to the common consumer scenarios, however.
PCMark Vantage
PCMark
Memories
TV and Movies
Gaming
Music
Communication
Productivity
Hard Drive

3772
2583
2704
3260
3618
3470
3396
3018

4647
3884
3886
4067
4275
3844
4172
4088
HD Tune Pro 3.5
Minimum
Average
Maximum
Burst
CPU Usage
29.0 MB/
49.2 MB/s
63.7 MB/s
98.3 MB/s
1.3%
42.5 MB/s
82.0 MB/s
65.7 MB/s
72.2 MB/s
1.4
%
Adobe Lightroom 2
100 10MP RAW to JPEG
238.664 s
211.57 s
TMPGEnc Xpress 4.6
720p Recode
407 s
385 s
dBpoweramp
Convert 100 FLAC to MP3
597 s
354 s
3DS Max 2009
Dog Render
389 s
420 s
Sandra 2009
Bandwidth Int
Bandwidth Float
Memory Latency
5478 MB/s
5472 MB/s
106 ns
4657 MB/s
4652 MB/s
106 ns
Temperatures
Main Exhaust Before Boot
Main Exhaust 5 Minutes Idle
Main Exhaust 30 Minutes Stress
30 Minutes Touchpad Center
30 Minutes Center of Keyboard
Bottom of LCD
22.2 °C (72.0 °F)
26.3 °C (79.3 °F)
38.8 °C (101.8 °F)
29.7 °C (85.5 °F)
28.7 °C (83.7 °F)
31.9 °C (89.4 °F)
24.9 °C (76.8 °F)
30.1 °C (86.2 °F)
67.3 °C (153.14 °F)
30.9 °C (87.6 °F)
36.4 °C (97.5 °F)
42.2 °C (108.0 °F)
Above, we can see a little more of the same, but where the Quad-Core is used, performance increases are seen, even with the lower clock-speed. For comparison's sake, the ASUS N50Vn is using a 2.4GHz Core 2 Duo. Faster clock speed, but fewer cores. In some of the tests, like Lightroom and TMPGEnc, minor differences are seen, but there's a rather stark difference in our dBpoweramp test. Oddly enough, our 3DS Max test performed worse on the Quad-Core, proving that our model apparently isn't intense enough for multi-core processors. With the advent of Quad-Core mobile processors, we'll have to revise which model we use for testing.
Gaming
Where gaming is concerned, this notebook shines. I admit, I haven't used high-end gaming notebooks in the past, but if the W90 is representative of most notebooks in this price range, then the only word to use is, "wow". Never have I enjoyed gaming on a notebook as much as I did here, and this is no overstatement… the gaming performance is incredible. Imagine picking out pretty much any current high-end game, maxing the graphics, and running with it. That's pretty much what the W90 is all about.
There is one caveat, and that's Crysis Warhead. Oddly enough, the game doesn't run perfectly with the Gamer profile and 1920×1080, which I find a bit odd, since the game looks nowhere near as good as some of the others I tested out. Games like F.E.A.R. 2 and Tom Clancy's H.A.W.X ran perfectly with completely maxed-out graphics, and yes, that includes 4x anti-aliasing.
Take a look for yourself:

Call of Duty: World at War (1920×1080, Max Detail, 16xAF, 4xAA)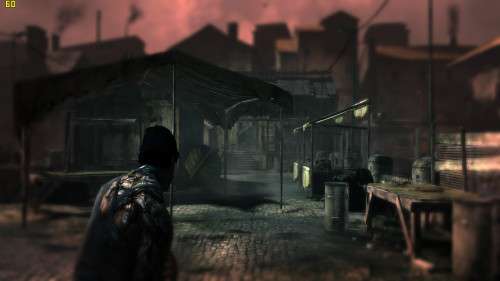 Dark Sector (1920×1080, Max Detail)

F.E.A.R. 2: Project Origin (1920×1080, Max Detail, 4xAA)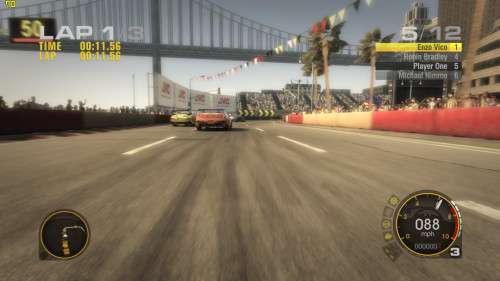 GRID (1920×1080, Max Detail, 4xAA)

Tom Clancy's H.A.W.X (1920×1080, Max Detail, 4xAA)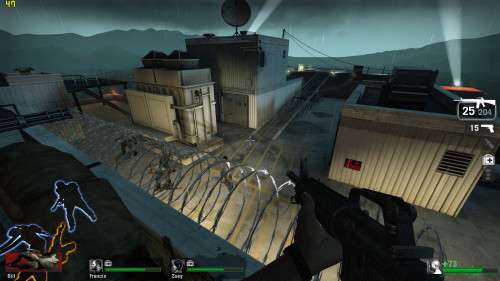 Left 4 Dead (1920×1080, Max Detail, 8xMSAA)
One common issue with gaming notebooks is that after a few hours of playing, the unit can become so hot, that performance slows down. On this notebook, it does get warm (especially in the back), but I spent hours on this thing and didn't have a real problem. There were of course some sticks during gameplay throughout some of the games, but this is typical behaviour, even on a desktop.
For the most part, I found games to almost work better here than on a desktop… especially games like H.A.W.X, which was completely fluid and usually kept a 50 – 60 average FPS. Overall, this has got to be the ultimate LAN party notebook, without question. It also costs nowhere near as much as a comparable Alienware offering, and while it doesn't look as cool, it certainly delivers the performance hardcore gamers are looking for.
Final Thoughts
As I mentioned in the intro, I was asked for a quick turn-around on this notebook, and it was for a good reason. As it stands today, the W90 has already been EOL'ed (end-of-life), meaning, it's not being produced anymore. It is however still available for sale on a few different e-tailers, but I'll leave it up to you to search around, as they are constantly changing.
ASUS originally released the W90 as more of a test, to see how it caught on and sold. After having spent some time with it, I'm highly doubtful that this idea is gone, and even recently, another company (name escapes me at the moment) announced a similar-designed notebook, but using a Core i7 processor. There's an obvious need to have notebooks like this, and I'm glad that they're getting made.
Clearly, a huge notebook like this isn't for everyone. It weighs a ton, has a massive build and has horrible battery-life. But when your on the go often, and refuse to use a lesser notebook or a hotel computer, this is truly the next-best thing to bringing your desktop PC with you. It's incredibly powerful, offers insane gaming ability, on top of other great features such as Blu-ray.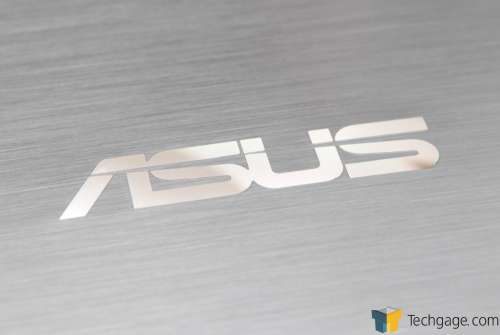 There are various configurations of this notebook, so I can't really comment on them all. This one in particular currently sells for around $2,400, and to me, that's not too bad. I've taken a look at notebooks in this price-range before that didn't offer near as much performance, and when you think of it, this notebook can do it all. It's a steep price, but you definitely get what you pay for.
I'm hoping this isn't the last of such notebooks from ASUS. Launching a product like this in the midst of a rough economy was definitely a risky proposition, but as far as I'm aware, they've still been selling well, and we could expect the remaining units to clear out soon. I wanted to take a look at this notebook from more of a tech perspective, given it's EOL status, but seeing as others are going down the similar paths with their own notebook line-ups, I'd love to get in more to get a good grasp of what else is out there.
I'll wrap up my thoughts here, but if you have any more questions that I failed to address here, please feel free to comment in our related thread, and I'll tackle them as soon as possible!
Pros
Quad-Core processor for all your multi-threading needs.
HD 4870 X2 graphics card is an incredible performer.
Huge, bright display (18.4, 1920×1080).
Blu-ray drive, on top of HDMI output, makes this a great HTPC.
Build quality is top-rate… very sturdy chassis.
Unique design… desktop motherboard, and 6GB of RAM.
Impressive "surround sound" speakers for a notebook.
Touch media keys are a nice "touch", although sometimes clunky.
Cons
Battery-life. Rather, what battery-life?
The notebook is almost as heavy as I am. And that's heavy.
System temps can increase a lot while gaming, but primarily in the back.
Discuss this article in our forums!
Have a comment you wish to make on this article? Recommendations? Criticism? Feel free to head over to our related thread and put your words to our virtual paper! There is no requirement to register in order to respond to these threads, but it sure doesn't hurt!
Copyright © 2005-2020 Techgage Networks Inc. - All Rights Reserved.