ASUS Xonar Essence STX

Date: April 6, 2009
Author(s): Rory Buszka

The majority of the high-end PC audio cards targeted at enthusiasts typically focus on multi-channel performance, with a variety of decoding modes, DSP enhancements, and other features tossed in. The Xonar Essence STX from ASUS has an entirely different focus – delivering audiophile-quality stereo output.
---
Introduction
The quality of PC audio has made incredible strides within just the past few years. At a CES a few years ago, Dave Wilson of Wilson Audio wowed show-goers when he demonstrated his imposing $135,000 Alexandria X-2 high-end speakers hitched to thousands of dollars of audiophile amplification, and fed by… an iPod. The point of the demonstration was to show the improvement that speakers can make in a signal source that many golden-eared audiophiles would consider low-quality.
Today, even audiophiles are beginning to take another look at PC audio, thanks to the rise of lossless audio codecs that make it possible to store bit-perfect music and play it back at high bit rates. The PC is one of the best places to enjoy great sound (by virtue of the amount of time spent there), but one of the most difficult places to create great sound. The "head-fi" crowd (that is, those who prefer to listen to high-end headphones) seem to have the high ground when it comes to enjoying great sound at their PCs, since headphones are designed to eliminate the listening space – with its obstacles and reflective boundaries – entirely.
Audiophile headphones exist, sold by companies like Beyerdynamic, Stax, AudioTechnica, AKG, Ultrasone, and Sennheiser – that's no problem. The weak link in many PC audio systems, where headphones are concerned, is actually the quality of the host machine's audio hardware. As it turns out, most PC sound cards are poorly suited to drive headphones of the high-impedance variety, which use voice coils wound with smaller-diameter wire, in order to create a more powerful electric field.
Looking at a headphone driver like a simple loudspeaker, this stronger field enables the voice coil to produce greater force on the diaphragm. This comes into play in high-frequency extension, where it becomes important to reverse the direction of the diaphragm very rapidly, and also in low-frequency output, where producing large diaphragm movements are essential to generating beefy bass.
The math here is simple – power is equal to voltage-squared over resistance. As resistance is increased, power decreases linearly, but as voltage is increased, power increases exponentially. Connecting high-end audiophile headphones (with their higher working resistance) to your PC's sound card means that you'll be driving less voltage into your headphones.
When we reviewed the Razer Barracuda and ASUS Xonar D2 audio cards, they represented the high-water mark of voltage output, at 5mVpp – five millivolts, peak-to-peak. However, even the Xonar D2 managed just 'decent' volume output from my reference Beyerdynamic DT 770 high-end headphones, which present a 250-ohm load – the earlier-reviewed Ultrasone HFI-700 headphones presented a much more manageable 75-ohm load.
Until recently, anyone hoping to get great headphone audio at their PC would need to invest not only in a high-end sound card, but a separate amplifier to boost the output voltage in order to achieve meaningful output from their audiophile cans, but an all-in-one internal solution capable of driving high-end headphones easily had yet to materialize. Then ASUS unveiled a rare curiosity at Computex 2008, a sound card dedicated to stereo output, with a built-in two-channel headphone amp, called the Xonar StereoX.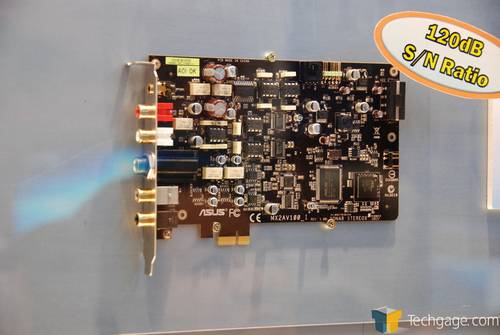 That card materialized early this year in a somewhat different form, as the ASUS Xonar Essence STX (with the STX perhaps referring to its forerunner's moniker). The Essence STX clarifies the product's audiophile targeting somewhat, and touts an incredible 124dB signal-to-noise ratio. The card loses its optical/coaxial digital input connection, but gains an additional quarter-inch input jack for analog audio input, and a metal EMI shield covering the upper half of the card containing the analog output stage.
The focus of the Essence STX is in providing the very highest-end experience for stereo music, not delivering realistic surround-sound effects, but the question is this – will you really miss them? The sound cards that currently top the charts are all multichannel jobs – with the ability to output 5 or 7 full-range channels and a separate, dedicated LFE channel for feeding a subwoofer, as well as the ability to synthesize multichannel reverb effects that lend a sense of spaciousness to PC games. The Essence STX, on the other hand, lacks analog outputs for multichannel audio, though it supports multichannel output via its S/PDIF digital output.
Does the Xonar Essence STX's stratospheric signal-to-noise ratio and onboard headphone amplifier really elevate the audiophile experience at your PC? Or is it only a curiosity in the overcrowded market for PC audio cards? We're about to find out.
First Impressions
The ASUS Xonar STX comes in a box that's similar in design to the one that our Xonar D2 card came in. The front of the box swings upward to reveal the card, encased along with its accessories in a multi-level plastic (PET) shell. However, the design on the carton is a departure from the other Xonar cards we've seen thus far. The entire box is black, and a Chinese tiger figure is emblazoned on the front. It's the same marvelous packing job we saw with the Xonar D2, and the effect is no less meaningful here – we're being introduced to a top-class product.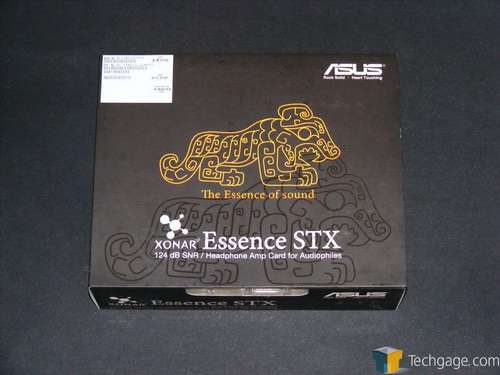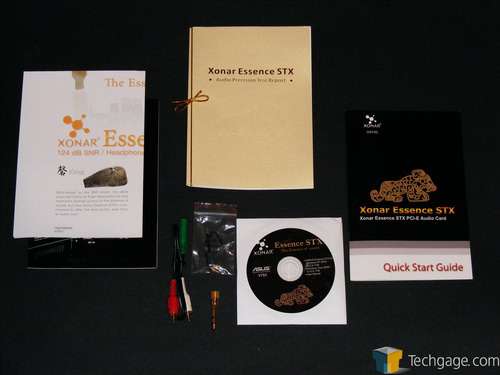 The products in ASUS' Xonar lineup have typically had excellent accessory bundles included with them – the Xonar D2, for example, included basic versions of popular multitrack audio recording software, a full set of adaptors, and even a short optical audio cable. The Xonar Essence STX bundle includes an adaptor from the card's mini-optical output jack to a Toslink connector (the type of digital connection on most home audio electronics) and an adaptor from the card's stereo RCA output jacks to a single 3.5mm stereo jack. The bundle also includes an instruction manual and a pair of poster-size pages that explain the significance of the tiger figure – it was discovered on a small chime that dates from ancient China, over 4000 years ago.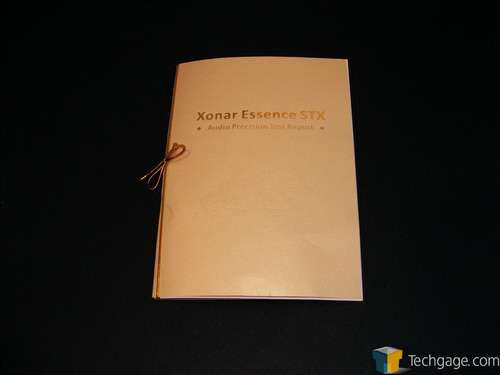 Also included with the Xonar Essence STX's bundle is an elegantly-bound "Audio Precision Test Report", which was generated using laboratory-grade test instruments made by Audio Precision. The same instruments used to measure the Xonar Essence STX's performance characteristics are used in the testing of high-end audio electronics that feed multi-kilobuck audiophile systems; ASUS' goal here is clearly to establish the Xonar Essence STX sound card as a true high-end audio component. The AP test report contains test results for a golden sample card's analog inputs and outputs, which are representative of the best performance from a typical non-modified card.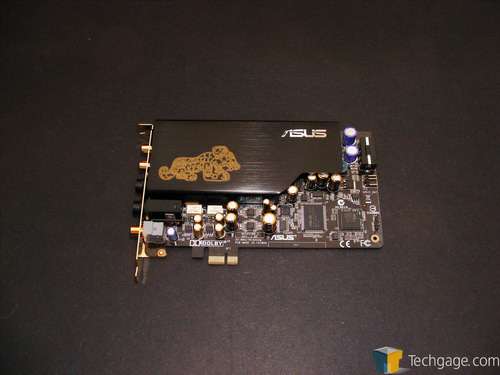 The Xonar Essence STX is a PCI Express 1x card, which means that like other PCI-E Xonars before it, it requires a 4-pin power connector. The card itself is built on a black PCB, and its upper half is shrouded by a black brushed-finish EMI shield, which also features the tiger figure from the front of the card's packaging. Together with the gold-plated connectors and the gold-colored capacitors on the card, it completes a styling motif that oozes panache and class.
ASUS Xonar Essence XTC Specifications
Audio Processor: ASUS AV100
Digital-to-Analog Converter: TI Burr-Brown PCM1792A (14bit, 127dB SNR)
Bus Compatibility: PCI Express x1
Signal-to-Noise Ratio (SNR, A-Weighted): 124dB for front-out, 117dB for 600-ohms headphone-out, 118dB for line input
THD+N (Total Harmonic Distortion + Noise; @1kHz): Front-out: 0.00003% (-110dB); headphone-out: 0.001% (-100dB); line-in: 0.0002% (-113dB)
Frequency Response: <10 Hz to 90kHz (-3.5 dB)
Analog Playback/Recording Resolution: 192kHz/24-bit
S/PDIF Digital Output: 192kHz/24-bit
Headphone Impedance: Optimized for 32-600 ohm
Analog Outputs: RCA x2 (Stereo L/R), 6.3mm x1 (1/4″ headphone output)
Analog Inputs: 6.3mm jack x1 (Line In/Mic In)
Digital Output: Coaxial/TOSLINK Combo
Aux I/O: Aux-In 4-pin header; Intel HD Audio and AC'97 Compatible Front Panel Header
Driver Features: Dolby Digital Live, Dolby Headphone, Dolby Virtual Speaker, Dolby Pro-Logic II, DS3D GX 2.5, VocalFX, SmartVolume, Acoustic Echo Cancellation, Karaoke Functions, FlexBass, ASIO 2.0
In terms of audio performance, judging by the specs alone, the Xonar Essence STX has it where it counts – it puts up the best specs we've yet seen for a PC sound card. The most remarkable specification is the Essence STX's stratospheric 124dB signal-to-noise ratio through its line-level stereo output, which is unmatched by any multichannel sound card, including Auzentech's X-Fi Prelude or ASUS' own Xonar HDAV1.3.
In addition, the Essence STX may lack multichannel analog outputs, but it's still capable of Dolby Digital multichannel output via its digital Toslink/coaxial combo jack, and it can produce virtual surround-sound effects via its stereo outputs. The focus of the card, of course, is headphone listening, and the card claims to drive headphones rated from 32 to 600 ohms to comfortable levels, though at a slightly-reduced 117dB SNR (which is still excellent).
Next, let's delve into the technical details of ASUS' latest Xonar creation, and find out what sets the Xonar Essence STX apart from the other high-end sound cards out there.
Design Features
As we've already covered so far, the ASUS Xonar Essence STX sound card is unique in that it caters specifically to audiophiles, particularly those who enjoy their music through a high-quality set of headphones. Its no-compromise branding suggests a similarly no-compromise attitude toward card design, and ASUS has pulled out all the stops (or at least, all the ones they haven't already pulled out) in order to wring the last drop of great sound from this card. Let's take a look at what ASUS has done to bring PC audio over to the lunatic fringe otherwise known as audiophilia.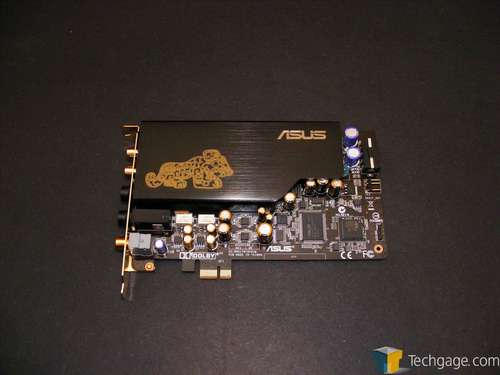 The ASUS Xonar Essence STX isn't any larger than a typical sound card, though its full-height design means it won't fit in a low-profile HTPC chassis. As we've already seen, the upper half of the card is enshrouded by a metal cover, whose job is to prevent electromagnetic interference (EMI) from entering the card's analog signal path. However, another defense against the electromagnetic field bombarding its components is a special layer of copper shielding built into the circuit board itself.
The copper shielding is grounded to the PC's case, a technique ASUS calls "hyper-grounding", and together with the EMI shield, they keep the card's output free of external noise. Note the 4-pin Molex connector at the right end of the card—the Xonar Essence STX requires external power because the PCI Express 1x slot doesn't satisfy the card's electrical needs.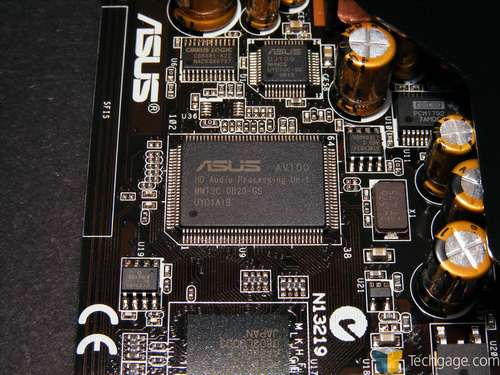 At the heart of the Xonar Essence STX is the ASUS AV100 audio processor, which is based on the C-Media CMI8788 OxygenHD processor. We've looked at this processor in detail in the past, but one important thing to note is that this processor doesn't have any digital signal processing functionality of its own. All processed effects, like Dolby Virtual Speaker or the card's DirectSound 3D Gaming Extensions, are processed fully in software, and then fed to the AV100. This means that additional functionality can, in theory, be added to the card with only a driver update.
The AV100 can process up to 8 channels of audio, and it's used in ASUS' Xonar D1 and DX, but in this application with only two channels in use, it produces even more pristine audio clarity. The AV200 audio processor used on the Xonar D2, D2X, and HDAV1.3 cards, which is a higher-binned version of the CMI8788 processor, is able to maintain the same audio quality with all eight channels passing a signal at the same time, but the AV100 is able to achieve the necessary levels of performance in a two-channel application.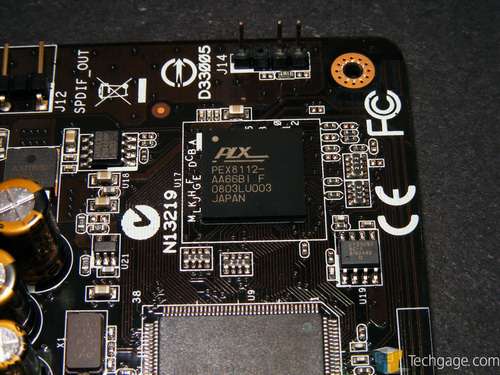 The ASUS AV100 and AV200 audio processors aren't PCI Express capable by themselves, so they need to be used with a PCI-to-PCI Express bridge chip. The Xonar Essence STX uses the same PLX Technologies bridge chip as the Xonar DX, D2X, and HDAV1.3, which enables it to communicate via a 1x PCI Express slot. While the more elegant solution would be to have PCI Express functionality built right onto the audio processor, it appears that ASUS hasn't been able yet to pressure C-Media into developing a PCI Express version of the CMI8788.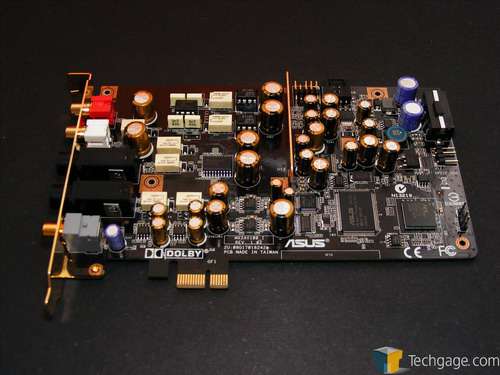 Underneath the EMI shield, which is held on from the back of the card by 4 screws, we see the Essence STX's analog output stage. Additional shielding is provided by a copper wall that separates the card's own digital section from its analog section. All of the capacitors on the card, with the exception of three (which aren't in the card's signal path) are Nichicon "Fine Gold" capacitors, from the company's "Muse" range of capacitors made specifically for high-end audio systems. Inferior capacitors in an audio signal path can create a 'grainy' sound, but the "Fine Gold" capacitors improve resolution and smoothness. It's just another trait that the Xonar Essence STX has in common with multi-kilobuck audio electronics.
One feature that's been offered by competitors like Auzentech for quite a while is user-replaceable opamps in the analog signal path, a feature that ASUS only recently adopted for their high-end Xonar HDAV1.3 multichannel sound card. The feature is present here as well, letting you replace the National Semiconductor LM4562 that feeds the stereo line-level outputs or the two JRC 2114D that feed the headphone amplifier section and the front-panel audio outputs with higher-quality opamps like the TI Burr-Brown OPA4134. What's mildly disappointing is that ASUS didn't simply pre-install high-end opamps, leaving the true performance potential of the card to be 'sold separately' instead.
Thankfully, ASUS spared no expense when it came to the IC just below the opamps – the TI TPA6120A2 headphone driver. With less than 14 hundred-thousandths of a percent of total harmonic distortion and a 120dB signal-to-noise ratio, and the ability to produce up to 0.14 watts of output, this headphone driver is considered by some to be the very best in the world. The output of this amp is channeled through the upper ¼" jack, and the device is rated to drive headphones with an impedance of up to 600 ohms – which means it can deliver enough juice to power even the most voltage-hungry headphones. (The Xonar Essence STX has a front panel audio header, but the front-panel output is not amplified.)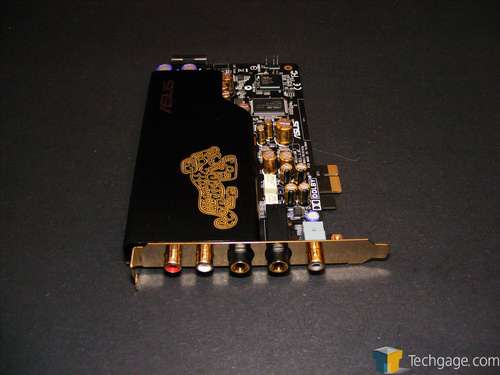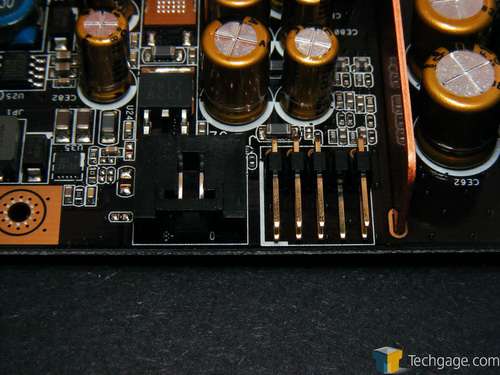 The Xonar Essence STX rear panel offers plenty of ways to get signals into and out of the card. The complement of rear-channel ports on the Essence STX is far from conventional, however, since the card is designed to interface with high-quality stereo components instead of your garden-variety PC speakers or cheapie headphones. There's no 3.5mm minijack – instead, the card's bundle includes a stereo-RCA 'y' cable that converts the card's stereo RCA-style line output jacks to a 3.5mm minijack.
The card's line input jack is via a 1/4″ stereo TRS jack that's placed right beside the 1/4″ jack that carries the card's amplified output for headphones. There's also a combination S/PDIF output jack that carries both a coaxial and an optical digital audio stream, for connecting to a multichannel receiver or high-end discrete DAC (digital-to-analog converter).
In spite of the fact that the Xonar Essence STX only has a stereo analog output section, its digital output can carry a full multichannel surround stream. The Xonar Essence STX also offers an internal "aux in" header, an internal SPDIF-IN header, and a front-panel I/O header. (The 124dB SNR is actually measured from this point.)
Simply from a hardware angle, the ASUS Xonar Essence STX is already unlike any other sound card we've ever tested. Next, let's look at the card's driver software, and the results from our audio hardware tests.
Driver Software; Hardware Testing
In order to be a serious contender in the world of audio cards, ASUS knew early on that driver support would be paramount. And the Xonar cards have always enjoyed fairly robust drivers, with virtually none of the bloat that many have criticized in the drivers of ASUS' closest competitor, Creative Technology. ASUS' Xonar drivers up to this point have shared the same intuitive user interface across the range, and the Xonar Essence STX continues that tradition.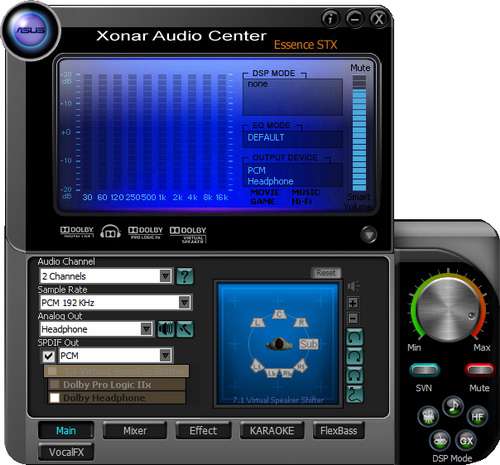 To activate the card's built-in headphone amp, you'll need to set the "Analog Out" option to 'Headphone' – the headphone output isn't enabled by default. The control panel also allows you to enable Dolby Headphone or Virtual Speaker processing, which lets you enjoy virtual surround-sound through your headphones or stereo speakers.
One unexpected bonus is the card's ability to support multichannel output via its digital output jack, so it's possible to use the control panel to configure the card to output a 6 or 8 channel signal via its digital output as well as a 2-channel one. However, the main focus of this card is its analog signal purity, so if you're connecting the Essence STX to a high-end audio system, you'll want to simply use a set of quality cables to connect the card's analog outputs to your receiver or high-end preamp unit.
Hardware Testing
Testing the Xonar Essence STX's hardware proved to be a challenging proposition. This unique audio card is capable of signal-to-noise ratios that are so great, even the quality of the cables used can have an impact on the results, and the kind of laboratory-quality testing equipment that ASUS used to measure the card's 124dB signal-to-noise ratio is in short supply around here. However, we're loathe to leave you without some representation of the card's performance, so we're willing to accept a little bit of a compromise in our data gathering methods in order to show other facets of the card's performance, such as frequency response.
The measurement method that has worked well for us in the past is the 'loopback' technique – where the sound card's output is routed through its line input, and the card simultaneously plays back and records a signal. Then the signal is analyzed by the host PC to generate the data you'll see below. This method only works well if the card has a high-quality input stage, and ASUS' higher-end Xonar cards are famous for having an input stage that closely matches the quality of their output side.
Processor
Motherboard
Memory
Graphics
Audio

ASUS Xonar Essence STX
Beyerdynamic DT770 Headphones (2005 ver, 250ohm)

Storage
Power Supply
Chassis
Display

Dell Ultrasharp 2208WFP 22" Widescreen

Cooling
Et cetera
The performance of an audio card isn't significantly affected by the performance the host PC's other hardware, and this setup represents a modern mid-range machine with modest specs in virtually every area. One detail to call out, however, is the choice of reference headphones for this audition. The German-made Beyerdynamic DT 770 headphones have a rather high impedance of 250 ohms, which makes them a difficult load even for beefier sound cards that provide the drive voltage directly from their opamps. These headphones positively soak up voltage, which makes them perfect for evaluating the Xonar Essence STX's built-in headphone amp.
RightMark Audio Analyzer 6.2.1
All audio testing was performed using RightMark's Audio Analyzer 6.2.1, which at present is the only packaged solution for performance-testing of sound cards. To showcase the card's best performance, the tests were run in 32-bit/192kHz mode.
| | | |
| --- | --- | --- |
| | | |
| Sampling Mode | | |
| Freq. Response (dB, multitone) | | |
| Noise Level (dBA) | | |
| Dynamic Range (dBA) | | |
| Total Harmonic Distortion (%) | | |
| Intermodulation Distortion + Noise % | | |
| Stereo Crosstalk, dB | | |
| Intermodulation Distortion + Noise (%, sweep) | | |
| Freq. Response (dB, sweep) | | |
Let's kick the analysis off with a bang – the results above are the best we've ever measured from any sound card, ever. Despite the fact that we relied on the admittedly fairly imperfect 'loopback' test, we measured an incredibly low -116.1 dB noise level, and less than one thousandth of one percent total harmonic distortion. The combination of ultra-low noise and vanishingly small distortion percentages means that this card should deliver audio that is unusually pristine, clear, and dynamic.
The limiting factor in this test is the card's input stage, which it shares with the Xonar D2 family. The input stage of the card is only capable of a 117dB SNR, which is still excellent, so the fact that we weren't able to measure the same ultra-low 124dB signal-to-noise ratio from the card's output stage is due to an inherent flaw in our testing method when compared to ASUS' laboratory-quality testing, and not related in any way to an inability by the card to produce its stated signal-to-noise ratio.
The objective testing results paint the Xonar Essence STX as a stellar audio performer, but how well does that translate into a more enlightened listening experience? Hop to the next page for the most important testing of all: listening.
Listening Tests
Just in case we might've said something to give you the impression otherwise, the ASUS Xonar Essence STX is a peculiar animal as PC audio cards are concerned, and that's before you even consider the qualities that place it in the audiophile realm. Just about every motherboard we test nowadays has onboard 7.1-channel audio provided by a marginal integrated audio chipset (usually by Realtek), and the vast, vast majority of discrete audio solutions are capable of providing at least 5.1-channel reproduction. At least at the hardware level, multichannel surround audio on the PC is everywhere. So for ASUS' 'statement' product in their audio card range to be a stereo-only card is quite unexpected, indeed.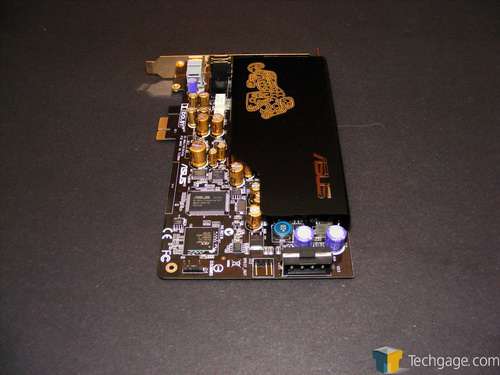 The point here is that the ASUS Xonar Essence STX is a listener's audio card, and the listening experience itself is the main event. If you're looking for a sound card to provide a multichannel soundtrack to what's happening on the screen, there are plenty of other cards out there for you, but if your passion is audio, then more than likely, you plan to savor high-quality recordings made in stereo. Thus, the listening tests for the Xonar Essence STX in this article will center around music playback, since that's what you'll likely purchase the card for.
Headphone Listening
The experience of listening to music through headphones is quite different from listening to the same music through a pair of speakers, no matter how high-quality. When listening to a pair of speakers placed in front of you, quite a bit of mixing between the left and right stereo channels goes on, and the shape of your head and the directionality of the speakers involved will have an effect on how well the speakers 'separate' the two channels of the stereo experience.
With headphones, however, no such mixing between channels occurs, because the output from each driver is coupled to its corresponding ear and thoroughly isolated from the driver firing into your other ear. Also, most headphones are capable of reproducing sound with very little distortion, since the drivers do not need to move a great deal to move the necessary amount of air to create an equivalent sound level. As a result, headphones can be ruthlessly revealing of the quality of the source electronics. While they generally lack the visceral impact and expansive stereo 'image' that loudspeakers can produce, listeners prize high-quality headphones for their ability to reveal subtle musical details that likely wouldn't be heard even with the very best speakers.
Music Listening
The first thing you'll notice about the ASUS Xonar Essence STX is an immediate improvement in transparency – the card's ability to get out of the way and not add anything to the output by way of noise or distortion. On Track 5 of Jon McLaughlin's OK Now release, "The Middle", it's possible to hear the subtle noises of the piano key mechanisms through the song's quiet introduction, and as the acoustic guitar enters, it's even possible to hear differences in the material of the guitar's strings. McLaughlin is far from a 'throaty' singer, but the relative strain in his voice as he reaches the highest notes can be heard.
On track 7 of OK Now, "Always On My Mind", the 'strike' and ring of the triangle is audible even as more instruments enter, and the tom hits possess both immediacy in the attack, and shape and texture in their decay. Within the ensemble, each instrument is nicely-separated, though the presentation is cohesive. Even as the music becomes more and more complex, each instrument's attack is fully-preserved, and dynamics are perfectly preserved. In fact, the Xonar Essence STX has the uncanny ability to grab you by the shirt collar and pull you into the musical experience, surrounding you with both the power and the subtle detail of the ensemble's performance.
Track 9 of OK Now, "Why I'm Talking To You", showcases the Xonar Essence STX's ability to extract better performance from difficult-to-drive headphones like the 250-ohm Beyerdynamic DT 770 headphones used as a reference in this review. While the Beyer DT 770 cans are known for their almost skull-crushing bass response, the Xonar Essence STX introduced a heretofore unnoticed growl in the sound of the bass guitar, though the 'growl' never took on the character of commonplace low-frequency distortion. The additional drive voltage on tap in the Essence STX's headphone driver chip grabbed a tight-fisted hold of the headphone's drivers and made a significant improvement in the accuracy of the bass response itself, complimenting the headphones' typically more resolved middle and treble ranges.
Dana Glover isn't a widely known name among female vocalists to nearly the same threshold as Bonnie Raitt or Sheryl Crow, but her single career solo album Testimony features one of the finest studio bands ever assembled, including Abe Laboriel Sr. on bass guitar. Track two of the album, "Thinking Over", begins with a string ensemble, within which it's possible to hear multiple musicians playing the same parts, not just multiple parts. Within the silences in the song, instruments die away into blackness, never completely fading before picking up again, though the higher noise floor of a lesser sound card might mask some of the contrast at high volumes. The Essence STX preserves this critical delay characteristic – that is, it's possible to hear the 'music between the music'.
This 'music-between-the-music' characteristic is also apparent on track 6, "Maybe", in which the decay of the piano dying away in the song's intro gives the song a deep sense of melancholy and regret. This song had me turning up the Essence STX's output to nearly painful levels, simply to explore the range of dynamics that the card had to offer, as Glover's voice and the band reached an impassioned crescendo and then died away slowly to virtually nothing.
That's another thing – and one of the main points of this article. While my previous reference sound card, the ASUS Xonar D2, could drive the 250-ohm Beyers to reasonably high levels, some of the fullness was compromised as a result of the headphones' high 250-ohm impedance, and the difficulty that even the Xonar D2's excellent output stage had in delivering enough voltage. But as I pushed the headphones further and further on the Essence STX, there was no noticeable change in the character of the sound – it remained full and smooth to the very limits of the volume slider.
A Caution
In fact, you might find yourself listening to your headphones a little -too- loudly. Remember to use good volume-setting practice: turn it up until it's just comfortable, then don't push the level any further. Your ears will begin to distort before your headphones will, and by that point you've begun to damage your hearing.
Movie Listening
Originally, this article had intended to focus on the Xonar Essence's performance in a music playback scenario. However, curiosity got the upper hand, and we decided to see how well the Xonar Essence STX handled movie playback through headphones with Dolby Headphone activated. For this testing, we popped in an old favorite, Dodgeball, with Vince Vaughn and Ben Stiller.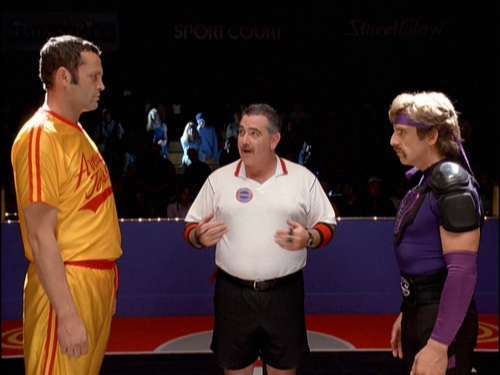 With Dolby Headphone enabled, the sound from our reference headphones took on a new dimensionality, with the Dolby Headphone "Reference Room" DSP mode producing a reasonably convincing surround sound experience. The most vivid surround effects occurred when a sound source 'flew' around the listener's head – otherwise, the experience was more like listening to a surround-sound system in a moderately-sized room. But whether using the virtual-surround algorithm or listening in stereo, you'll find that the Xonar Essence STX hasn't left you out in the cold when it comes time to enjoy a movie.
The ASUS Xonar Essence STX deserves a standing ovation for its performance in our listening tests. Now, let's wrap things up with some final thoughts.
Final Thoughts
Without a doubt, ASUS has taken a broad and varied approach to the audio card market. What started with the Xonar D2, a solid all-around contender to take the performance crown away from Creative, has morphed into one of the most well-rounded audio product lines from any vendor. Perhaps what's most encouraging about the Xonar product line is that ASUS hasn't paused to rest on its laurels (unlike Creative, which has at times seemed more interested in protecting its proprietary technology than encouraging broad support or advancing the state-of-the-art).
Instead, ASUS has continued to deliver new and more application-specific Xonar products based on their solid C-Media-sourced audio processors. The Xonar Essence STX is just such an application-specific product, targeted toward two-channel listening and decked-out with drool-worthy audiophile features like its integrated headphone amplifier and user-upgradeable analog components. In listening tests, it delivered one of the most natural, powerful, and compelling PC audio performances we've yet experienced, backing up its excellent performance specs with crisp fidelity and plenty of 'oomph' to drive even difficult headphones.
The Xonar Essence STX isn't for everyone. If you're looking for a sound card to feed a multi-channel surround sound speaker package, look elsewhere. We'd go so far as to say that if you're looking for a sound card to integrate into a home theater PC, there are better options from ASUS, Creative, and Auzentech, just to name a few.
Some of those cards even include features like multi-channel RCA audio outputs, as well as digital output over a HDMI pass-through connector. But if you're looking to enjoy an audiophile-level audio experience at your PC, and don't want to add the complexity of external DAC and headphone amplifier units, we're convinced that the Xonar Essence STX is the one-box solution you're after.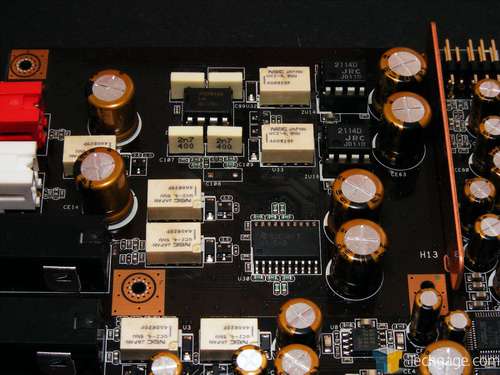 The Xonar Essence STX also comes at an interesting time for another piece of audiophile hardware – the audiophile music server, which is finally finding widespread acceptance. With current low-power and quiet cooling technology, a PC-based music server can be integrated into the extremely low-noise environments inhabited by most high-end audio systems, and the very high signal-to-noise ratio of the Xonar STX fits perfectly with the goals of reproducing a high dynamic range with detail, clarity, and flat frequency response.
On another level, it's great to see a hardware manufacturer paying more than just lip-service to audiophiles. The PC has long been maligned as a sub-par audio source, unable to deliver the resolution, clarity, and richness of analog media like LPs or digital media like CDs, SACDs, or DVD-Audio. With hardware like the ASUS Xonar Essence STX coming onto the market, keep an eye out – that's all about to change.
Pros
Pristine, powerful stereo sound.
Headphone amplifier boosts headphone performance.
Can output a multichannel surround audio stream via digital-out.
One-box solution for headphone listeners.
Cons
Requires external power supply.
Stereo-only analog output may have limited appeal for many.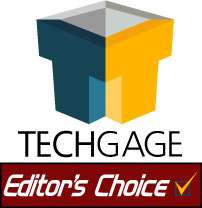 ASUS Xonar Essence STX
April 6 Addendum: This article was originally posted without the Pros and Cons list, and also the well-deserved Editor's Choice award. We apologize for this oversight.
Discuss this article in our forums!
Have a comment you wish to make on this article? Recommendations? Criticism? Feel free to head over to our related thread and put your words to our virtual paper! There is no requirement to register in order to respond to these threads, but it sure doesn't hurt!
Copyright © 2005-2021 Techgage Networks Inc. - All Rights Reserved.