A Matter of Perspective: ASUSTOR's AS4002T 10GbE NAS Reviewed

Date: February 26, 2019
Author(s): Greg King

ASUSTOR has been making NAS units for years, but it's begun to make a name for itself the very crowded market by doing something a bit different. Under review is one of the least expensive NAS units on the market to feature 10Gbps Ethernet in a 2-bay enclosure. Let's see how it performs.
---
ASUSTOR AS4002T: Introduction
It's been quite a while since my last review of a NAS unit, that one being ASUSTOR's AS6208T. Techgage has taken a look at some other NASes in the meantime, however, such as with Robert Tanner's look at Synology's DS1618+ last fall.
Today, we're again looking at an ASUSTOR unit that we've been anxious to get our hands on ever since we first saw it in person at 2018's CES. At our meeting with the company that year, it showed off a then yet-to-be-released product line of economically priced NAS units that, aside from one important feature, were just another yearly update to the product line. In fact, we were so excited, the move was named one of our Best of CES award winners.  That feature? 10G networking.
Now, one might rightfully ask what business 10G has on a slightly above budget priced NAS unit.  We ask that you hold any reservations you might have until you hear us out.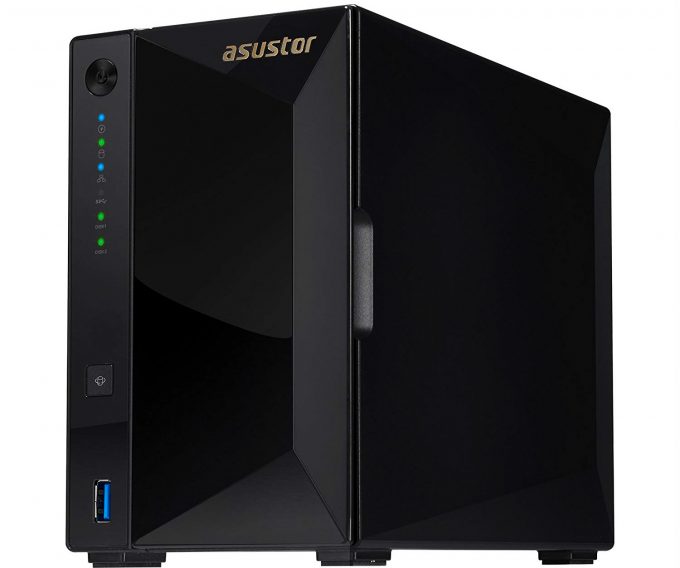 Coming in two options, four and two-bay, we are working with the two-bay variant today.  This is exciting because this is our first look at what performance we can expect to see out of a NAS device with 10G capabilities.  To get to this point we needed to overhaul our test environment, something we will outline in a bit.  To start, let's take a look at the AS4002T itself.
Hardware
The first thing that stands out on the AS4002T is the angular appearance.  This is something that ASUSTOR brought up at last year's CES.  It wanted to draw attention to the fact that the company was putting effort into making its NAS units more attractive to those using these devices in their home.
Another aesthetic trait ASUSTOR was happy to show off was the fact that the face plates of the AS4004T and AS4002T were held onto the body of the NAS magnetically.  No doors or screws to access the drive bays; just place it in front of the NAS and let science take over.
This feature is admittedly not an important one, but it is nice to see small conveniences being added.  To the left of face plate we find a power button, HDD and NIC activity LEDs, a copy button for attached external storage, and a USB 3.1 port.
With the face removed, we can see the two drive sleds.  They are not lockable, but they are tool less when using 3.5" drives.  2.5" drives or SSDs will require screws that are included with the unit.
The body of the AS4002T is black plastic with both sides continuing the angular design of the face plate.  With that being said, I have been critical of NAS manufacturers using so much plastic in their NAS units, and having relied heavily on NASes over the last decade, I'm aware of how little these things get touched or even seen.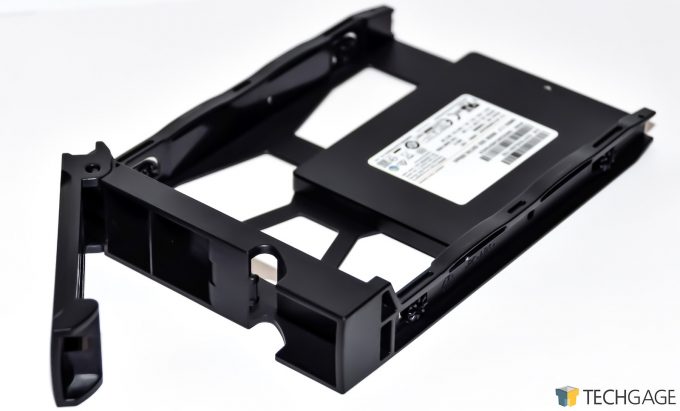 I'm not entirely sure what I was expecting to happen, but a body of plastic is, on the list of things to worry about, at the bottom.  Consider this a mea culpa on my part to all the manufacturers I've brought this up with in the past.
Around back, we find a pretty spartan layout with one exciting exception.  An 80mm fan dominates the back of the AS4002T and ensures adequate airflow across the NAS' vital components.  A pair of 1GbE NICs, something common on all NAS boxes today, allows connectivity for users, as well as all the standard options for teaming.  A single USB 3.1 port, bringing the AS4002T's USB offerings up to two, and a power port.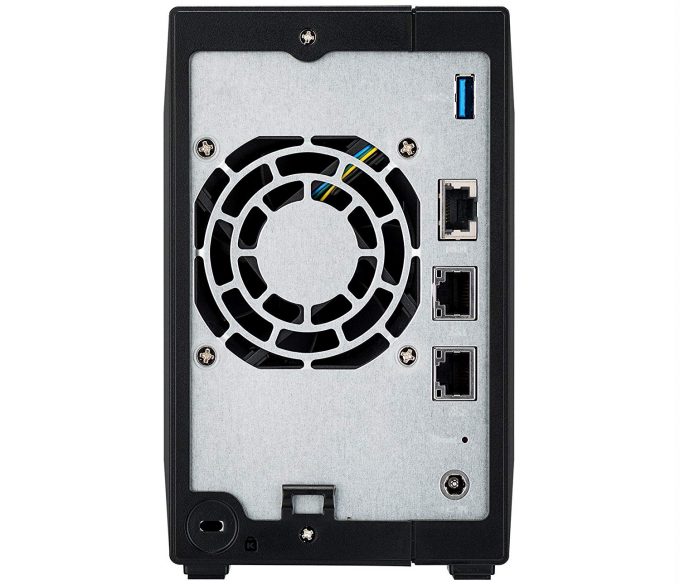 Sitting above the pair of 1GbE NICs, and the focus of this entire review, is a 10GbE NIC with its orientation inverted relative to the two 1GbE NICs, making it a bit easier to spot.
The specs of the AS4002T are pretty common for NAS units of this size and this price range.  One thing we don't like is that the RAM is not expandable.  You get 2GB and you live with it.  This is unfortunate, but ASUSTOR needed to keep the price of the unit as low as possible, and this was a good place to start.
CPU
Marvell ARMADA-7020 1.6GHz (Dual-Core) Processor
Memory
2GB DDR4 (not expandable)
Flash Memory
512MB DOM
HDD/SSD
2 x SATA3 6Gb/s; 3.5″/2.5″ HDD/SSD
Maximum Drive Bays
10 – with AS6004 Expansion Unit
Expansion
2 x USB 3.1 Gen-1
Network
2 x Gigabit Ethernet
1 x 10 Gigabit Ethernet
Software
The AS4002T was tested with ADM (the ASUSTOR operating system) 3.2.2 and as of writing, the current version is 3.2.4.  One area of focus for ASUSTOR over the last couple of years has been the user experience.  Not too long ago, the industry was playing catch up with Synology and its still-stellar DSM.  It's fair to say that today, both ASUSTOR and QNAP have pretty well caught up from a user experience.
ADM delivers a desktop like experience, allowing multiple windows to be open, each of which can be minimized but quickly recalled when needed.  This is all stuff that we take for granted today, but it wasn't too long ago that this type of experience wasn't possible.
There's a lot to be said about ADM, but experience is truly the best way to understand what it can do.  ASUSTOR has made this easy with a live demo site.  Here you can test drive the UI and see what it has and what it can offer.  For those interested, go here.
Before we move onto testing and performance numbers, we'd be remiss by not mentioning ASUSTOR's app store, called "App Central".  Here you can find 194 apps (at time of writing) and an additional 8 beta apps.  Not only has ASUSTOR worked hard to create a quality UI, it's also made it a point to add value through software.
AS4002T 10GbE Performance & Final Thoughts
Testing and Performance
Since the AS4002T is a 10GbE capable NAS, we had to completely revamp our testing platform.  Not only did we rethink the servers we use to test, but we also had to rethink the hardware we used to test with.  We can't do the AS4002T justice if we don't test its 10G capabilities.
In preparation of more 10G NAS testing, we upgraded from a 1G switch to one capable of 10G, the Quanta LB6M.  Long discussed and the darling of many home lab engineers, the Quanta LB6M offers 24 SFP+ ports, each offering 10G connectivity.  Since the AS4002T requires a copper connection, we needed more hardware to get things going.
A 10GBASE-T SFP+ transceiver was required.  We chose the FS.com SFP-10G-T module.  This would allow us to connect the NAS to the switch at 10G speeds using the ASUSTOR provided CAT6a.
The AS4002T was tested with a pair of Samsung 480GB Enterprise SSDs in RAID1 as well as a pair of 6TB Seagate Enterprise hard drives in RAID 1.  We chose RAID1 for the same reason we test four and greater bay NAS units in RAID5.  Very few users will run their NAS in RAID0, regardless of the possible speed benefits.  Therefore, it makes no sense to us test under that scenario.  We chose SSDs to maximize the performance on the two bay NAS in 10G tests and conventional hard drives to test a normal user's experience.
For our NASPT, CrystalDiskMark and iSCSI, we revamped our client-side PC.  We also consolidated two test machines into one.  We cannibalized our previous boxes for some parts and ended up with the following.
Dell Optiplex 990
Intel Core i5-2400
8GB DDR3
250GB Crucial SSD
Intel PRO/1000 PT Dual Port NIC – 1G Copper
Intel X520-2 – 10G NIC (SFP+)
Windows 10
| | | |
| --- | --- | --- |
| NASPT 10GbE | SSD | HDD |
| HDVideo_1Play | 217.6 | 201.8 |
| HDVideo_2Play | 232.2 | 212.4 |
| HDVideo_4Play | 276.7 | 247.7 |
| HDVideo_1Record | 267.1 | 251.8 |
| HDVideo_1Play_1Record | 282.2 | 261.6 |
| ContentCreation | 27.7 | 24.5 |
| OfficeProductivity | 61.4 | 58.1 |
| FileCopyToNAS | 237.6 | 199.2 |
| FileCopyFromNAS | 342.1 | 287.4 |
| DirectoryCopyToNAS | 21.6 | 19.5 |
| DirectoryCopyFromNAS | 48.2 | 47.9 |
| PhotoAlbum | 20.9 | 14.7 |
| | | |
| --- | --- | --- |
| NASPT 1GbE | SSD | HDD |
| HDVideo_1Play | 106.2 | 101.6 |
| HDVideo_2Play | 114.1 | 111.2 |
| HDVideo_4Play | 114.1 | 112.8 |
| HDVideo_1Record | 109.3 | 109.2 |
| HDVideo_1Play_1Record | 101.2 | 100.7 |
| ContentCreation | 11.8 | 10.9 |
| OfficeProductivity | 68.2 | 65.1 |
| FileCopyToNAS | 116.4 | 108.2 |
| FileCopyFromNAS | 107.4 | 105.9 |
| DirectoryCopyToNAS | 15.6 | 14.1 |
| DirectoryCopyFromNAS | 26.4 | 23.7 |
| PhotoAlbum | 14.2 | 11.8 |
CrystalDiskMark
1G_HDD
1G_SSD
10G_HDD
10G_SSD
Seq. Read (Q32)
118.48
118.49
1033.7
1094.51
Seq. Write (Q32)
112.42
118.43
111.28
212.79
Rnd. Read 4KiB (Q8)
114.48
114.44
157.52
151.49
Rnd. Write 4KiB (Q8)
50.52
98.82
49.27
101.79
Rnd. Read 4KiB (Q32)
114.61
103.94
152.8
149.88
Rnd. Write 4KiB (Q32)
44.59
85.89
50.01
86.41
Rnd. Read 4KiB (Q1)
11.31
10.68
12.15
12.06
Rnd. Write 4KiB (Q1)
11.44
11.5
11.96
11.52
iSCSI Tests
1GbE
HDD
SSD
Read
103.7
107.7
Write
98.4
101.3
10GbE
HDD
SSD
Read
282.1
327.9
Write
215.6
265.2
Final Thoughts
The ASUSTOR AS4002T surprised us. We've said for years that NAS has been able to saturate a 1G pipe, so the best way to increase value to the consumers is through software.  Over that same period of time, we've seen the slow trickle of 10G networking into units that are affordable to most anybody.
ASUSTOR has leaped ahead of its competition by introducing 10G capabilities to a line of NAS that is priced evenly with other comparable 1G units from other manufacturers.
The gotcha with anything 10G related is the infrastructure required to take advantage of those speeds.  Switching is expensive and so are individual NIC cards.  The cheapest 10G switch we could find was the NETGEAR GS110MX for $160 USD at the time of writing.  Even still, it only has a pair of 10G ports.
Say you buy that switch or another that offers 10G connectivity, you'll still want at least one other machine on your network to really take advantage of the speeds offered.  You'll then need a NIC for your desktop or another device.  That'll run you another $80 for an Aquantia AQtion AQN-107 NIC (the cheapest we could find on Amazon).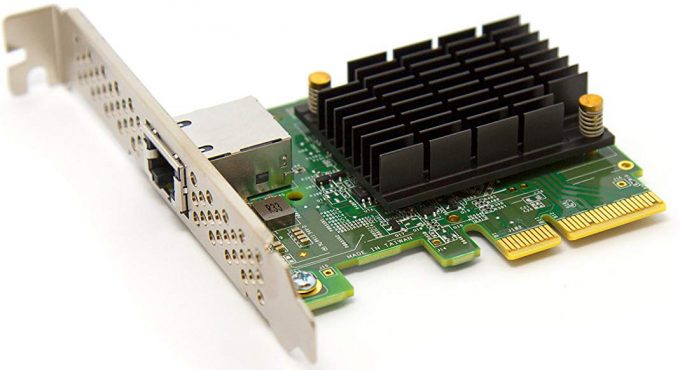 You've now exhausted both ports on your GS110MX, to the tune of an additional $240, but at least you have a device able to talk to your AS4002T at 10G speeds.
10G performance of the AS4002T was a little surprising as it wasn't quite as fast as we were expecting.  That said, it is over double the real-world speed of traditional 1G networking and in some cases, over three.  That's still a considerable jump up in performance and one that is basically free on the AS4002T.
With that last comment in mind, let's pivot away from the AS4002T being a 10G NAS and consider that it's a conventional 1G NAS with a 10G port.  If you look at it that way, you have NAS as fast as any other 1G NAS we've tested, and at a price better than most of its competition.  For example, let's look at Synology's offerings compared to the AS4002T, and its four-bay brother, the AS4004T.  All prices accurate at time of publication.
For $10 USD more, you get a two-bay NAS that competes with the Synology, but… you get a 10GbE port for future use, should you want/need it.  For $10 USD less, you get a four-bay NAS that offers the same 10GbE connectivity.  That's a compelling argument.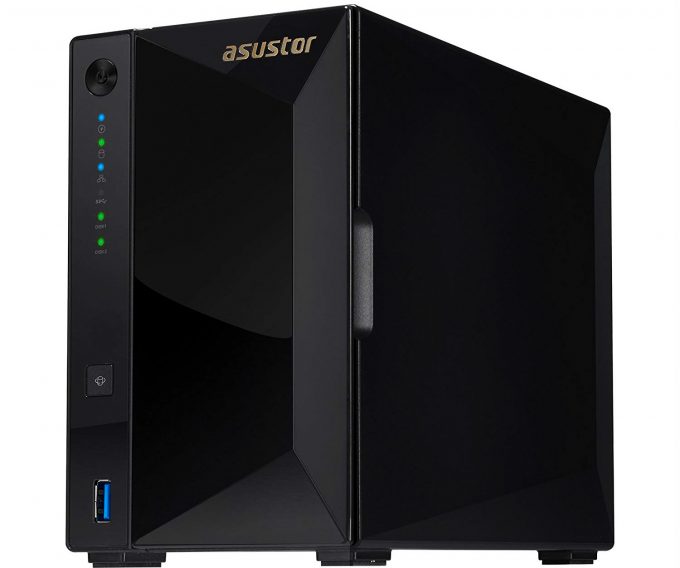 The ASUSTOR AS4002T, when viewed as a 1GbE two-bay NAS, offers performance on par with all other comparable NAS units on the market.  That's because, as we've all known for some time, the 1GbE pipe is easily saturated by any hard drive.  When viewed as a 10GbE NAS, the AS4002T is priced evenly with other NAS boxes with the same number of drives, but that have 1GbE NICs.  ASUSTOR basically eats the cost of the 10GbE NIC and provides it for free.
There's a lot to consider when buying a NAS, and that journey begins with identifying what your needs are.  If it's fast network addressable storage at a fair price, look no further than the AS4002T.  If it's the software that sits on top of a NAS, there's a very good chance that ASUSTOR offers it.  There are a few specialized apps that offer functionality on other platforms that ASUSTOR does not have yet, but beyond those outlying examples, App Central has you covered.
The ASUSTOR AS4002T earns an Editor's Choice award.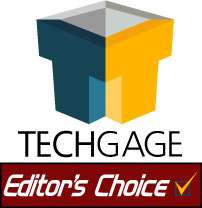 ASUSTOR AS4002T 2-Bay NAS
Pros
10GbE copper NIC.
Price is comparable to other NAS units that lack 10GbE.
ADM is mature and delivers an excellent UI.
Tool-less design.
Silent.
Cons
Copyright © 2005-2020 Techgage Networks Inc. - All Rights Reserved.