ASUSTOR AS6208T 8-Bay NAS Review

Date: April 14, 2017
Author(s): Greg King

Not everyone wants a huge collection of discs for movies, and not all content is available to stream. Storing content locally is often the best bet, but HDDs fill up quickly. The solution? If you have the budget, a NAS like ASUSTOR's AS6208T doesn't hurt, with its 8 bays (for up to 80TB!), four Gigabit Ethernet ports, and robust app support. Let's check it out.
---
ASUSTOR AS6208T Review
It's been six months since our last look at a NAS and that one was the excellent budget offering from Synology, the DS416j. While that review covered a NAS on the lower end of the price spectrum, what we have today finds itself well at the other end, and is not only the most expensive NAS we've looked at to date, but also the largest in size, capability and overall capacity. Today also returns our focus to another excellent NAS company, and still somewhat new to the market, ASUSTOR.
It's been eight months since we last worked with an ASUSTOR NAS and we're excited to return with the eight-bay AS6208T. Supporting up to 10TB drives, the AS6208T offers up just under 80TB of usable space when configured in RAID0. Think about that. 80TB of available space to be used for backups, file sharing, SMB workload, or even high-definition media playback. That's really and truly impressive.
All that being said, let's step back from the thoughts of that much space and fall back to reality. The AS6208T shipped to us without drives so we installed our own 4TB Western Digital Red NAS drives for testing. Somehow just under 32TB of usable disk space lacks the impressive punch of 80TB, but such is life. Boo hoo.
Hardware
For anyone familiar with ASUSTOR NAS devices, the overall look of most of its models remain common. Take the AS6104T we looked at last summer, flip the drive orientation 90 degrees and enlarge it enough to fit four more drives and you have the AS6208T.
Powered by a 64-bit Intel Braswell Celeron quad-core processor (then same family of CPUs in the AS6104T) that's clocked at 1.6GHz and burstable up to 2.24GHz, the AS6208T is more than capable of providing quick file services while running the multitude of third-party apps that fill the ASUSTOR app market. The AS6208T shipped with a pair of 2GB DDR3L DIMMs and is expandable up to 8GB (2x4GB).
Another great feature of the AS6208T is the inclusion of hardware encryption, which means should your NAS ever end up missing, your data will be safely encrypted and unrecoverable. I should note that enabling encryption can reduce the speed of data transfers, but for some use cases, that's a small price to pay.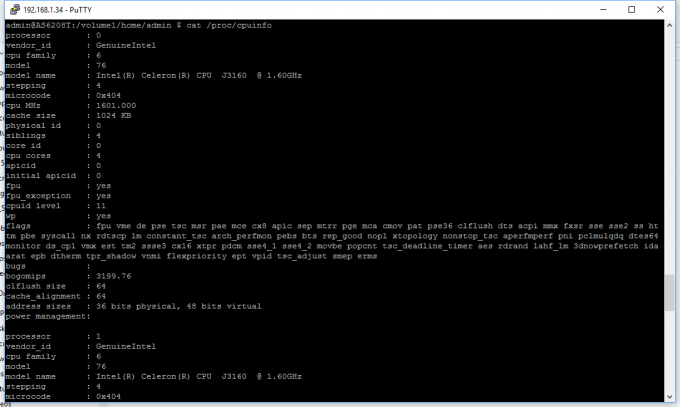 On the outside of the AS6208T, we have the standard NAS IO fare and then some. On the front we find a pair of buttons, power and USB copy, and a single USB 3.0 port. The back of the NAS is quite a bit busier, with a pair of eSATA ports, two USB 2.0 ports, two USB 3.0 ports, four Gigabit Ethernet NICs, a small form factor internal power supply and my favorites, an optical audio out and an HDMI port.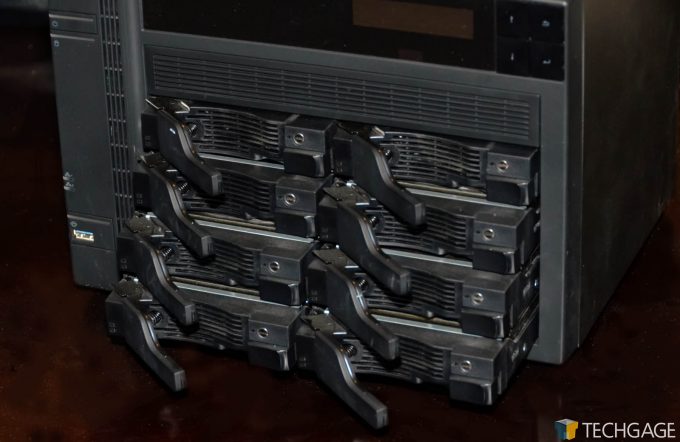 As exciting as it is to see four Gigabit Ethernet NICs on the back of the AS6208T, I am still impressed that ASUSTOR continues to include HDMI on almost all of its products. Not only is the NAS capable of 4K playback, but with the inclusion of HDMI and audio ports on its products, ASUSTOR is continuing to make the argument that the NAS has a place in the living room alongside all the other consumer electronics we've become accustomed to having connected to our televisions. Helping further to make its case is the inclusion of an IR receiver on the front.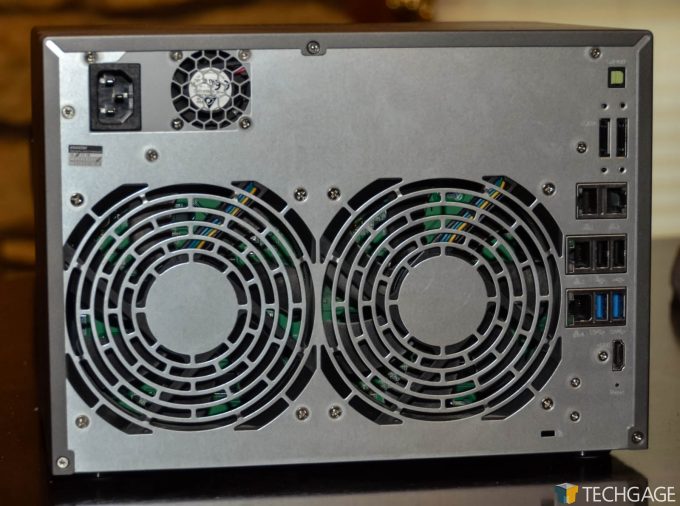 With the Intel CPU and eight spinning disks installed, there is going to be a decent amount of heat to be displaced. To do this, ASUSTOR engineered the AS6208T with a pair of large fans at the rear of the chassis to pull cool air across the perforations at the front and along the left side of the NAS. If you choose to install SSDs in your AS6208T instead of traditional hard drives, you can easily do this as the drive trays have mounting holes at the bottom of each tray.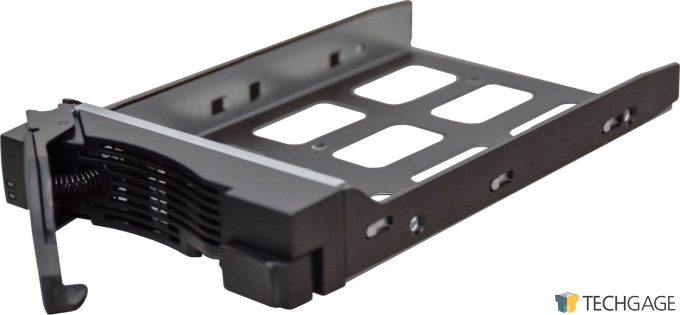 ASUSTOR OS: ADM
We've spent a lot of time speaking about the user experience found on Synology's products. DSM is still the gold standard for NAS user interfaces and while it might seem odd to bring up a competitor's product in this review, I do it only to state that ASUSTOR is quickly catching up.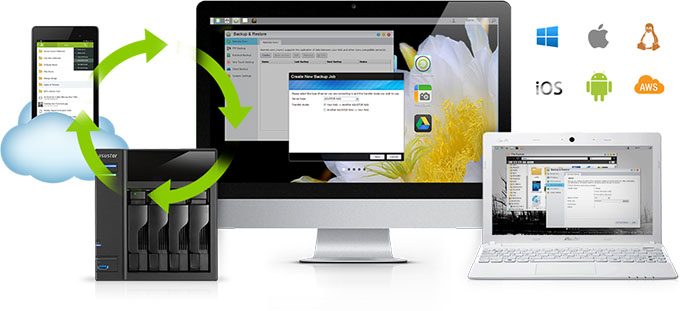 In our AS6104T review, we took a short look at the ASUSTOR operating system, ADM, and not wanting to repeat ourselves, please check out our thoughts on ADM in that review. The version of ADM in that review was 2.6 and the latest version available today is 2.7. Aesthetically, they both look identical, but there are some differences introduced in 2.7 that should be mentioned.
Linux kernel upgraded to 4.4.24 for upgraded security, stability and multimedia enhancements.
EZ Connect allows users to connect to their ASUSTOR NAS remotely without the hassle of router configurations. This feature will also do the router work for apps that are installed.
Scheduled and autonomous firmware and app updates.
Heterogeneous data sharing via CIFS shared folders (mounting files and directories within ADM file exporter).
PPPoE Broadband connection service
ADM 3.0 should enter beta testing in the coming weeks and when it becomes available, we will take a deep dive into what's new and exciting, but for now, anyone wanting to experience the ASUSTOR ADM operating system for themselves, you can do so at ASUSTOR's live demo page. Using 'demo | asustor' as the login credentials, you can experience all that ADM has to offer without the initial investment of buying your own box.
Testing & Final Thoughts
The methods and tools that we've used over the years have not always been consistent. While NASPT has been a part of our suite for quite some time, here and there we include different tools and tests that we feel might help show off the device we have on the bench at that time.
At the end of the day, I personally think that most NAS boxes we look at are destined for homes, not offices. That being said, the AS6208T requires additional testing above and beyond what NASPT offers. As our testing methodology evolves, we'd like to hear from you on what you would like to see in future tests.
A few years ago, Intel created its own benchmarking tool for NAS devices called NASPT. Short for NAS Performance Toolkit, NASPT is, to quote Intel, "a file system exerciser and analysis tool designed to enable direct measurement of home network attached storage (NAS) performance." Essentially what the company did was create a tool that mimics day-to-day workloads, such as video playback, content creation and office productivity.
By creating this tool, Intel has made it extremely easy on those of us tasked with benchmarking NAS devices. You install NASPT on a host machine (their recommended specs are 32-bit XP SP2 and 2GB of RAM), map a drive on that host that points to the NAS and decide which tests you want to run. These are the specs that I used when building out our test machine. It is admittedly getting old, but for NASPT, it serves us well in that capacity.
Dell Optiplex 755
Intel Core 2 Duo E6550
2GB DDR2 RAM
320GB Seagate 7200K
Integrated Video
Intel PRO/1000 PT Dual Port NIC
Our test bed is a simple, everyday machine. It's a capable PC and one that worked perfectly for the NASPT test. While getting a bit long in the tooth, we continue to use it to keep our results consistent and comparable.
Our test network is a flat network consisting of discrete network cards and our switch is a NETGEAR ProSAFE GS724T.
For our iSCSI and Robocopy tests, a Windows 10 machine is used. Its specs are:
Intel Core i5-2500K
Gigabyte Motherboard
4GB DDR3
640GB WD Black 7200K
Integrated Video
Intel Pro/1000 PT Dual Port NIC
It should be mentioned that only RAID5 was used in the testing of the AS6208T. This is the RAID mode most likely to be used with any four bay NAS and as a result, that is what was used.
ASUSTOR AS6208T – Intel NASPT
HD Playback
103.2
2x HD Playback
110.8
4x HD Playback
112.8
HD Video & Record
110.1
HD Playback and Record
101.6
Content Creation
11.2
Office Productivity
62.8
File Copy to NAS
116.3
File Copy from NAS
107.7
Directory Copy to NAS
14.2
Directory Copy from NAS
21.9
Photo Album
13.4
ASUSTOR AS6208T – CrystalDiskMark
Read
Write
SEQ Q32
119.4
115.7
RND 4KB Q32
12.1
54.62
SEQ
109.54
109.21
RDN 4KB
12.88
12.08
ASUSTOR AS6208T Transfer Tests
Read
Write
Robocopy
112.7
111.6
iSCSI
97.8
84.2
Final Thoughts
ASUSTOR has quickly made a name for itself in the NAS world. With products that run the full range of the NAS market, the six-year-old company had a lot of ground to make up, and has managed to do so in a short amount of time.
With any NAS, performance is paramount, but for most users who connect their NAS to their network with a single Gigabit connection, the true performance of a device like the AS6208T remains hidden behind the bottleneck of the network itself. What ASUSTOR and other companies have done to add value to their products, has been to grow their add-on applications.
ASUSTOR's App Central is a great example of a company not only dedicating its own resources into app development, but also fostering an environment that allows third party developers to work within and show off their ideas in ways to best leverage the power of today's NAS boxes. We've seen an explosion of applications available for installation on NAS boxes. Part of that can be attributed to manufacturers adopting x86 processors, but also simply because it makes sense.
The best part of it all is that it's free. Once you buy your NAS, you're in that company's walled garden and all the apps for that device are free. I've yet to see a paid app on any NAS platform. There aren't many other platforms that can say that.
I also would like to once again applaud ASUSTOR for its inclusion of HDMI into its devices. More and more media is consumed digitally. As devices get smarter and more and more begin to talk with one another, a NAS offers storage and the ability to consume your media on the largest screen in your home.
With all that out of the way, let's talk specifically about the AS6208T. Performance was superb. Its speeds were the fastest we've seen in a NAS and its eight drive bays offers a lot of potential storage for those that can afford use it. Its four Gigabit NICs offer a few different ways to use the NAS based on environments and needs and the App Central is full of useful and entertaining apps (emulation anyone?).
Speaking of apps, a common theme amongst NAS companies is surveillance. When all that is needed is a dumb box for storage, a NAS fits that build. But, what if that same box can be the brains behind your security setup? ASUSTOR's solution for IP based cameras is very good. We tested with two different IP based cameras (we'll see more of them in the coming weeks) and the interface is intuitive and stable.
All that said, who is the AS6208T for? At around $850 USD at the time of writing, it's not cheap, but it's not terribly expensive for what it is. Most users can happily get along with a two or four bay NAS, but for those that can't, the AS6208T is a pretty sweet choice. With its multimedia functionality, its storage capacity and very robust app store (over 200 apps), the AS6208T would be perfect in an office or a home. It's because of all this that the AS6208T wins an Editor's Choice Award.
Pros
High performance.
Quiet when fans are set to auto.
Two expandable RAM slots.
Built-in two line LCD screen.
Multimedia Focuses.
Build-in IR receiver.
Hardware transcoding.
Cons
Price is high, but not unfair.
ADM needs some minor tweaks, like resizable windows.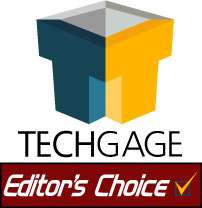 ASUSTOR AS6208T 8-bay NAS
Copyright © 2005-2019 Techgage Networks Inc. - All Rights Reserved.