AsylumLAN 33

Date: March 16, 2009
Author(s): Greg King

Ahh, nothing beats a good LAN party. Sitting back, chilling with friends, drinking a lot of Bawls and of course, getting hundreds of frags in… there's nothing quite like it. We made the trip to Evansville, Indiana recently to game it up at AsylumLAN's 33rd event. This is not the first AL we've attended, and we can honestly say… this one keeps getting better.
---
Introduction
If you have found your way to Techgage, I feel confident in assuming that you're a gamer. Games give us reason to continually upgrade our computers when they can no longer provide us with an acceptable experience. On that same note, games are the reason that companies like ATI and NVIDIA even exist.
Gamers fuel sales for developers, publishers and hardware manufacturers and in these troubled times, the gaming community has remained profitable. Most importantly, games provide us distractions. They are portals into worlds far away from the daily stress of our own lives and allow us to escape our troubles, even if only for an hour or two an evening.
The term gamer has evolved from originally meaning those who sit around playing role-playing games to anyone involved and dedicated enough to devote hours upon hours a week to playing their games of choice, either single-player, multi-player or online.
Every few months, the gamers from the tri-state area gather at the Vanderburgh county 4-H fairgrounds for AsylumLAN, a weekend's worth of non-stop games and camaraderie. Originally born in the home of Rick Trevino, AsylumLAN has grown in both their draw and their audience. With dedicated attendees forming from Indiana, Illinois and Kentucky, AsylumLAN quickly outgrew Rick's home and eventually made it's way to the fairgrounds where it is now held. After taking over the show, Derek Moore (who goes by Grymskull at the LAN, his gamer tag) has worked to grow the event's reach and juggles administrative duties with the rest of the AsylumLAN staff, including his wife Kim who maintains the network.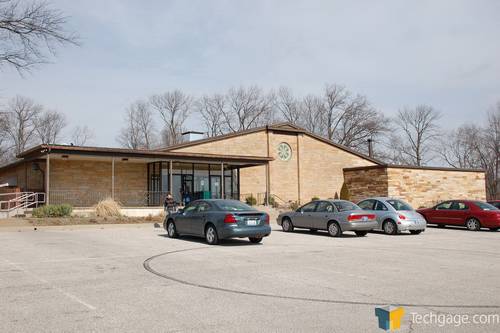 I was spoiled the last time we covered AsylumLAN. Not only was Rob able to make the trip down from Canada, but our very own Matt Harris made the trip up from Georgia as well. To add to the crew, THUMPer from our forums followed us down as well. There is little that I enjoy more than a weekend at a LAN with my friends so this time around, I was sad to be going to the 33rd AsylumLAN alone.
Being held this time at the 4-H fairgrounds auditorium, as opposed to the activities center, AsylumLAN kicked off with a slow trickle of attendees making their way into the building with the systems in hand. As more and more gamers showed up, the staff started to make the rounds, checking and double checking the network, making sure that each table had power and making last minute checks of the facilities.
One advantage to the new building was that everything can be held this time around in one large room. At the activities center, the LAN was in the main room and the console and cafeteria area was in another, separated by a long hallway. Another perk was that the auditorium provided far better cooling with more AC units and higher ceilings to keep the warm air put off by so many systems to rise far enough away to allow comfortable gaming for all.
As everyone made their way into the LAN, each attendee was greeted with a small grab bag full of candy and small swag provided by the sponsors of the event. Further exposure for each of the sponsors, past and present, was on display everywhere in the form of posters, banners, stickers and flyers. Also provided for everyone was the latest issue of CPU magazine. They have been providing issues for gamers for a while now and I always look forward to flipping through the magazine, reading our peers articles while taking a break from gaming.
Everyone brought something different. Many brought their sleeping gear such as inflatable mattresses, pillows, sleeping bags and clothes while others simply showed up with their computer and monitor. The hardware varied greatly depending on who you were talking to but the constant in it all was the love for their games. No one was there to judge what was driving your computer but rather everyone wanted to get into the games as quickly as possible.
Internet access was graciously provided by Insight Communications and unlike many LANs that I have been to in the past, there were no issues with reaching the outside world. The pipe wasn't overly large, but everyone was able to get out and browse if they wanted to take a break from gaming for a while. Also provided, for purchase, was a large list of concessions including candy, Bawls, chips and the obligatory pizza.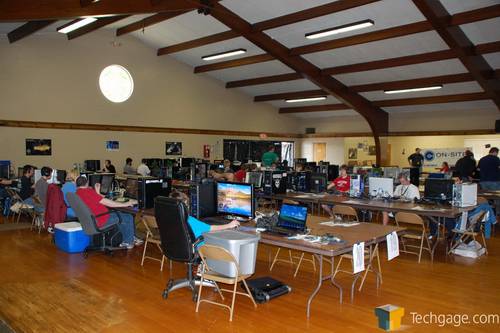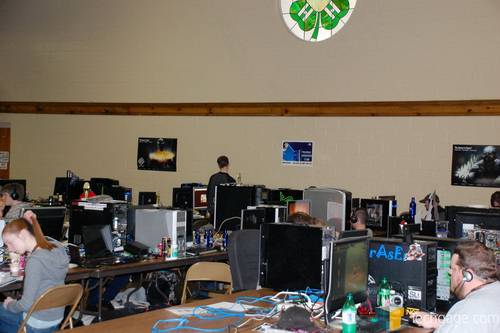 Like any LAN, AsylumLAN had a select number of official tournaments alongside plenty of open games as well. Not wanting to just cold frag everything that moved, I opted out of joining any of the tournaments (read: I suck) and instead joined the open rooms, spending most of my time at the LAN splitting time between Left 4 Dead and CoD 4. I have to say, there are few things more gratifying in gaming than playing as a Hunter, pouncing on an unsuspecting victim and hearing a scream of horror from across the room as your thrash them straight out of the game.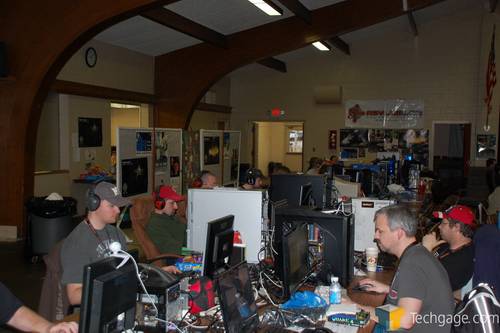 One of the coolest ideas I have ever seen at a LAN or anywhere else was a radio controlled blimp outfitted with a wireless web cam. Controlling the ships movement with a radio controller, the blimp streamed live video to its host PC, providing a constant feed of the activities of the event. Using a pair of inflatable balloons, the plastic and balsawood design was just light enough with the camera installed to float through the air, after a little modding of course.
To get the lift to weight ratio just right, a penny was strapped to the front, and then a glow stick, providing the perfect balance and allowing the blimp to float above the crowd. Once the games began, the lights went off. This wasn't an issue for the blimp thanks to its infrared camera. In all, just over 8 Gigabytes of video was streamed back, allowing for an entertaining viewing towards the end of the event. While the entire idea is going to be rethought and redone for the next LAN, the original was a fantastic start and really added a whole different level of awesomeness to the LAN. Score one for ingenuity.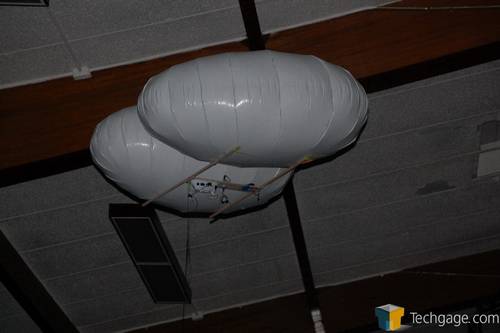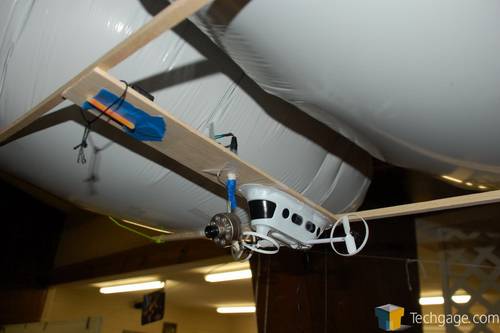 No LAN is complete without swag. Ranging from small to large, the prizes handed out, random or earned, are always a boost when trying to attract more and more attendees each time. Sponsorship is always first and foremost on the mind of any LAN organizer and this was no different with Derek. While the economy seems to be hurting everyone, he was still able to get sponsors to donate everything from gaming hardware from SilverStone, FSP, Thermaltake and BFG to routers from TRENDnet and beverages from Bawls. While down from previous years, the swag was there and plenty of people wanted in on the action. To win, you either had to finish first in your gaming tournament or be lucky enough to have your gamer tag drawn by Derek.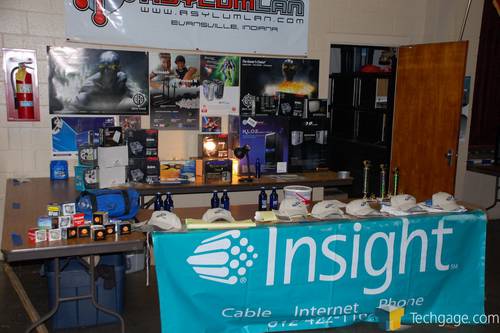 Derek also made it a point to present each of the AsylumLAN staff with plaques, thanking them for the time and services setting up, administrating, maintaining and tearing down the LAN parties' infrastructure. Many on staff also brought in their own machines to use as game servers, keeping not only the listed tourney games in business but also games that many simply like to play.
AsylumLAN 33 Continued
It's impossible to run an event like AsylumLAN without help and Derek certainly had plenty of it to go around, each dedicated in their own way. Once the staff recognition was out of the way, awards for tourney winners began. Each person received a trophy commemorating their victory and as you walked through the aisles, you saw that past winners brought their trophies with them to show off on top of their machines. There is a core crowd that keeps this LAN going and there isn't anything wrong with showing off your past achievements.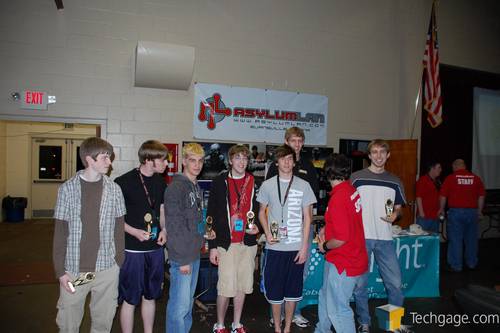 Also held were modding contest, both functional and ghetto. I was honored when asked to be a judge on this competition and in walking around, saw some really nice setups. There was an original Eee netbook that was taken completely apart and put back together with a very functional touch screen. We also saw a PC that would make even the most hardened gamer drool. With three or more video cards, not only did these users have the money to build nice systems, they also have the commitment and pride to do it right, managing their cables neatly and presenting very nice systems as evidence to their attention to detail.
The best mod of the LAN though was done the old fashioned way. With a dremel tool and pure ingenuity, this case would make our own Tech-Daddy proud. By removing sections here and adding section there, the case was truly unique and had a very clean look and feel to it. You could tell that time and effort went into this build.
On the ghetto front, there were two entry, each extremely ghetto in their own strange way. One build took pieces from discarded systems, sometimes literally digging through the trash, and the final product was to say the least, ghetto extraordinaire. Another builder took a large section of open area in their case and places a holder for his Mountain Dew. While unable to keep them cool, this case did provide refreshment to even the laziest of gamers and able to hold up to four soda's (or beer if you're me).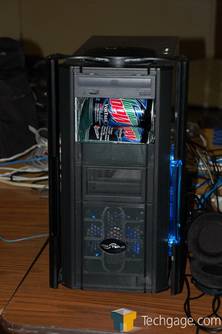 These kind of builds are always fun to see and speaking with the builders is an enjoyable time as well. They build these machines in their heads over and over until they go out and actually make it happen. In both instances, ingenuity prevailed and truly ghetto monstrosities emerged.
As more winners were announced, Rick and I both took pictures of the awards. These trophies will be displayed proudly at events to come and while not many will care outside of the LAN itself, inside, they demand respect.
Once the awards were handed out, then came the swag. You can always tell when stuff is being handed out because it's the one and only time that everyone will stop playing their games and hang out, hoping that their name gets called. The prizes ranged from Bawls and hats to one year subscriptions to CPU magazine and SilverStone cases. The grand prizes included power supplies and video cards graciously donated by BFG.
As the evening drew to a close, Iron Man was put up on the projector and people started making their way to their already made beds. The inflatable mattresses were blown up and ready to go for those that opted to bring their own but for me, it was a short drive to my cousin's house where a comfortable couch awaited my short, 5 hour nap (we all lost an hour to daylight savings time… thanks for nothing time change).
On Sunday, I got back to the fairgrounds as early as I possibly could so I could get in another few hours of gaming before we all had to make our way back home. As the event wrapped up with a Track Mania competition, I played my last few games of Call of Duty 4 until the gamers hosting the games finally had enough and shut down to leave. As I made my way around the room saying goodbye to my newfound friends, it was comforting to know that in a few months, we all would be back together again for AsylumLAN 34. Some of us will have different PCs and undoubtedly there will be new games but the most important thing for us all is that the people that we met would be back and ready to spend another weekend doing what we all love to do. Game.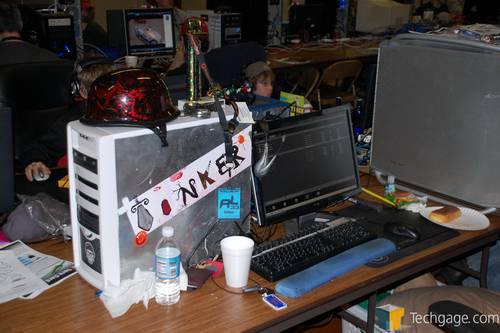 I want to thank Derek for once again inviting us down for what turned out to be a great time. There is a reason that AsylumLAN is as fun as it is and it starts with the dedication of Derek, his wife, Rick and the rest of the staff that made everything possible. They are a great group of guys and gals and I personally cannot wait to see them again in the summer. If you are interested, visit AsylumLAN's web site and see when the next event will be.
Discuss this article in our forums!
Have a comment you wish to make on this article? Recommendations? Criticism? Feel free to head over to our related thread and put your words to our virtual paper! There is no requirement to register in order to respond to these threads, but it sure doesn't hurt!
Copyright © 2005-2021 Techgage Networks Inc. - All Rights Reserved.