ATI Radeon x1950 Pro Preview

Date: October 17, 2006
Author(s): Greg King

Dongle-free Crossfire anyone? ATI has just announced their x1950 Pro cards which fall directly behind the XTX versions. Some benefits include a digital voltage regulator and a single slot cooler! Learn more inside..
---
Introduction
It's been a rather interesting time in the GPU market these past couple months. The guys in green released the monster 7950GX2 and thus brought quad SLI to the market and ATI came out with their R580 core x1950XTX and it suddenly became the world's most powerful single GPU card on the planet. This is all with DirectX 10 cards on the horizon. Good times indeed.
With this in mind, Kyle Felstein with All American Computers has allowed me to take a look at ATI's latest and greatest mid-range GPU. The before mentioned card has been lovingly dubbed the RV570 by ATI but to the rest of us, it will go by the x1950 Pro. At All American Computers, I have access to hardware that I otherwise would not be able to work with and this GPU is no different at all. With the blessing of ATI, let's get into the review.
As we get into the card itself, there are many details that should excite many of you. For starters, the x1950 Pro has a single slot cooling solution.
From there, we move on to the rest of the card and its details. The x1950 Pro is powered by a single 6 pin PCI-E power connector. While this should not come to any surprise to you, the placement seems rather odd to me. Right smack dab in the middle of the card. Not bad, just unusual.
While we are taking a look at the back of the card, take notice that there is no large heatsinks for the voltage regulator. This is because ATI decided to go with a digital voltage regulator. This is significant as it puts out far less heat and less heat is always a good thing. Always. This approach is similar to the one taken by DFI in Rob's DFI LanParty NF590 SLI-M2R/G that was reviewed 2 weeks ago.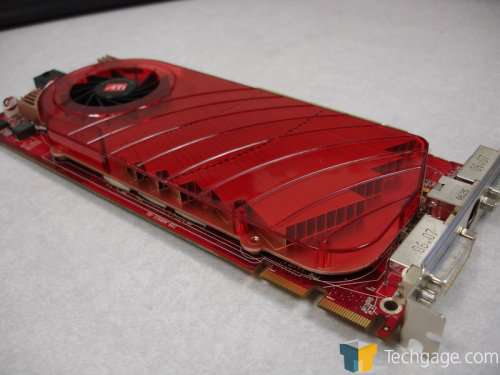 Going back to the single slot cooling design, ATI has retained the fan in the back design to blow over the copper fins, taking the heat away from the GPU.
Aside from the single slot cooling and the digital voltage regulator, the most impressive feature of the x1950 Pro is the dongle-less CrossFire capability. Doing away with the cumbersome dongle, the boys and girls in red have decided to allow CrossFire to be enabled with a pair of bridges, much like SLI has been using for quite some time.
The bridges are made by Molex and are designed to be used in pairs. In the lower right corner of the card, you can see the two male connectors that the bridges fit over, connecting the two x1950 Pros in CrossFire.
Pretty sharp if you as me. Now that we have seen the card, let's take a look at its specs and get to the results.
The RV570 comes with 256MB of GDDR3 memory and operates on a 256 bus. With its 36 pixel shaders and 12 texture units, the x1950 Pro is not as robust as its bigger brother, the x1950 XTX, but the specs are impressive none the less. The core of the x1950 Pro is clocked at 575 MHz and the memory clock comes in at 690 MHz. This all looks good on paper but how does it game.
A recap:
575 MHz core speeds
690 MHz memory clock speeds
36 Pixel Shaders
12 Texture Units
3D Mark, Far Cry, Oblivion
Now for our test machine, also provided by All American Computers.
Intel E6700 Core 2 Duo @ 2.66 GHz
Intel Bad Axe motherboard
Corsair DDR2 @ 5-5-5-15
Enermax Galaxy 1000W PSU
Not a bad setup if you ask me. Now, on with the testing.
We know the test setup, but what will we bench? We have to include the usual 3D Mark '05 and '06 benchmarks but that's not what I am interested in, I want to game. The games that I will be using will be:
Battlefield 2
Oblivion
Far Cry
Rise of Legends
These are a collection of my latest vices. My escape for everyday life if you will. All but Far Cry are new, but with Far Cry still being as beautiful as it is, I am including it in the review as well.
3D Mark 05
The 3D Mark suite is the resident benchmarking software for any and all GPU reviews. While it does have its flaws, it gives you a good idea on how the video card will compare to others. In this case, I will be running the bench in single card and CrossFire mode as well.
Single Card: 10295
CrossFire: 15300
3D Mark '06
Single Card: 4992
CrossFire: 8341
Just for comparison, I ran a pair of x1950 XTXs in CrossFire to see just how the x1950 Pro stacks up. In '05, the XTXs raked up a 16482 and in '06, the Pros pulled a 10490. As you can see, they are not as powerful but stack up nicely against the much more powerful x1950 XTX when run in CrossFire.
Far Cry
Far Cry has been out for a couple of years now and in the time it has been out, it has won many awards for it's game play as well as it's gorgeous graphics. At the time, the game brought the then current video cards to their knees. As card became more powerful in the time since its launch, the game has held up well against the latest cards. Using FRAPS to record the high, low and average frames per second, I ran the x1950 Pro through the game in single card mode, as well as in CrossFire.
With the minimum frames raising 5 FPS, the Crossfire enabled rig performs slightly better than its single card counterpart.
Oblivion
Oblivion needs no introduction. Being proclaimed as one of the greatest RPGs of all time, Oblivions is known for its in-depth game play as much as it is for its unbelievable scenery. It's a beast of a game but well worth. Let's see how the x1950 Pro handles it when ran at the highest quality settings.
In single card mode, the game hiccups a bit at 1280 x 1024 but when a second card is added, the minimum frame rate is greatly improved.
Battlefield 2
Battlefield 2 is an incredibly power hungry game. With the next episode in the Battlefield universe, the juggernaut doesn't look like it's slowing down anytime soon. Did it slow down the x1950 Pro? Let's see. The game was run at 1280×1024 with all setting set to high.
As you can see, the game played well with the minimum frames per second raising a bit when used in CrossFire.
Rise of Legends, Oblivion
Finally, we get to my personal favorite, Rise of Nations: Rise of Legends. Rise of Legends is a powerful game with its rich graphics and its in-depth physics. This game was run at a resolution of 1280 x 1024 with all setting set to their highest settings.
Once again, we see that in CrossFire, the average frames are higher. This is not a surprise but you get the picture.
Conclusion
The ATI x1950 Pro is a card designed to settle in right behind the X1950 XTX and it does so nicely. There are a lot of positives about the x1950 Pro that it make it an easy recommendation to anyone in the market for a good GPU but who doesn't have the cheddar to shell out for an x1950 XTX. When we get into CrossFire, the performance jumps accordingly. I would like to point out that in the review, I ran every game at 1280 x 1024 resolution as this is where most people with LCD screens will be gaming at. When this card launches in the coming days or weeks, I will be able to play with them more in-depth in our own lab and come up with a more in-depth set of results but for the meantime, from what I have seen, even by my severely CPU bound test setup, ATI has a winner in it's hands.
I have heard of the x1950 Pro being priced well in the range of the $200 price range. If it can stay towards the lower end of that range, this card will be a no brainer. Should the x1950 Pro come in closer to $300, it's still a great card that runs cool, makes little noise and can handle almost any game that you might throw at it.
Another great reason to lean towards the x1950 Pro is the lack of a dongle. Gone with the x1950 Pro is the need for a master card. You can purchase 2 of the same x1950 Pros and connect them with the 2 CrossFire bridges. Personally, I never had anything wrong with the old dongle, but I can see how people in close quarters could find the dongle quite cumbersome.
The x1950 Pro never got hot to the touch, even after long benching sessions. It did get warm but never hot to the touch. To reduce heat as well, ATI went with a digital voltage regulator and when added with the quiet cooler, the x1950 Pro stays cool under pressure.
Pros
Fast
Runs Cool
Quiet
No more dongle!
Single slot cooling solution
Digital voltage regulator
As this is not a complete review, I do not have any cons at this time. My only concerns are about availability at launch as well as pricing. These issues should become less of an issue once cards hit the market and can be purchased by anyone.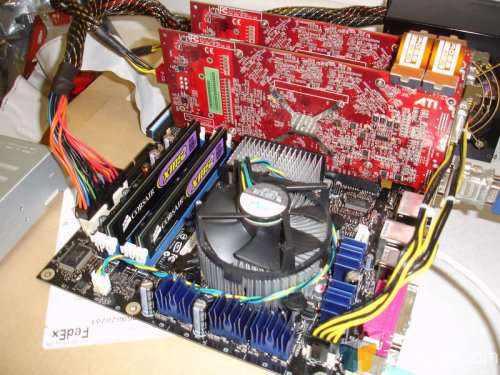 In the end, I come away from the x1950 Pro happy but unfulfilled. I want them to hit the market so I can pick up a pair for myself, test them against my 7800GT, 7900GT and x1900XT. As it stands now, the x1950 Pro is looking to be a winner in the mid-range market. If pricing is right, the x1950 Pro could be a knock out home run but that's unsure at this point. Check back when a more in-depth review can be given and take today's offering as a first run.
Many thanks again to Kyle with All American Computers for the support and help. Without him, we would not have the access to such hardware at this time. Kyle's support is valued and if you like what you see at Techgage, please check out his site aacdirect.com. AAC is home of the Liquid XS, one of the fastest enthusiast PCs on the planet.
Copyright © 2005-2020 Techgage Networks Inc. - All Rights Reserved.