Best of CES 2008

Date: January 21, 2008
Author(s): Techgage Staff

We saw numerous products and technologies at CES earlier this month, but only ten of those deserved our "Best of" award. Included inside is Gateway's latest gaming notebook, Logitech's Squeezebox Duet, CoolIT's dual-GPU cooler, DisplayLink's USB display tech and more.
---
Introduction, Rob: Gateway P-6831FX, Logitech diNovo Mini
CES is now long over, but the most recent event turned out to be a good one, although it's been argued to be one of the more stale shows in recent memory by many. But, to say that nothing good could be found throughout CES' many halls would be hugely inaccurate.
Although TV-enthusiasts were certainly in geek-heaven, there were numerous products that caught our eye as well – products that wouldn't leave our minds, even long after our first look. So, it would be fitting to complete our CES coverage for 2008 with a "Best Of" awards article.
We should make one thing clear: None of the choices here were taken lightly. These are products that left such an impression on us, we continued to think about them long-after our first encounter. If it's here, it's a stellar product that deserves recognition.
It should be also mentioned that even though some products impressed us, they are not included here for various reasons. When thinking up products for inclusion, we wanted our selections to be those that consumers could actually purchase now, or at least very soon. Therefore, a 150″ Plasma television or other prototypes, despite being impressive, are not included.
In all, ten products were chosen for our award this year. Because we had a small workforce at the show, it was virtually impossible for us to notice every product worthy of recognition, so some may not be mentioned due to that fact. If that's the case, feel free to voice your opinions in our related thread!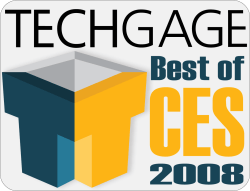 Over the next five pages, Rob lists off his favorites which include Gateway's killer mid-range gamers' notebook, Logitech's latest media keyboard (or handboard!), CoolIT's dual-GPU TEC-cooler, Seagate's latest software update for the Shared Storage II NAS and lastly, DisplayLink's USB-display technology.
Following that, our resident networking-guru Greg takes a look at Logitech's Squeezebox Duet and also Netgear's brand-new high-end ReadyNAS Duo. Kiersten helps wrap things up with Seamless Internet's S-Xgen, NoahPad and BugLabs. In case you didn't notice, Logitech walked away with two out of our ten awards… and they only released five products! That's impressive.
Let's continue on with our Best Of CES 2008 awards.
Gateway P-6831FX Gaming Notebook
There's no shortage of gaming-notebooks available, but a problem for many will rise when pricing is brought into the picture. Sure, a mid-range gaming notebook might look good, but many cannot even handle games at the displays native resolution without looking like a true mess. Thanks to that simple fact, many are left with a product that may not live up to their expectations.
Taking that into consideration, it's easy to understand why you should be interested in Gateway's latest gaming notebook series. Gateway first unveiled their FX line-up at last-years CES, however, the moniker was exclusive to their desktops. CES 2008 marks the launch of their FX notebook lineup.
The FX notebook series consists of four models which run between $1,349 and $2,999USD. Yes, the top-end offering is impressive, but price-wise, it's the lowest offering that's important. The P-6831FX is equipped with an Intel Core 2 Duo 1.60GHz Dual-Core processor, 3072MB (3GB) of DDR2-667 memory, a huge 250GB 5400RPM hard drive, a multi-layer DVD-RW drive which includes LabelFlash support and last but not least, a just-announced NVIDIA 8800M GTS graphics card with 512MB of GDDR3 memory.
The notebook lacks in a few areas, such as having a relatively slow processor and also a 1440×900 resolution (on a 17″ display), but those two issues are moot when the fact of the matter is, the notebook is $1,349. I am unsure of benchmarking numbers, but I do recall seeing a 3DMark 2006 score of 7,500 – 8,000.
Gateway didn't jump into the gaming notebook realm without performing extensive R&D first – and it shows. The P-6831FX has great styling, excellent gaming performance, and a $1,349 price tag. It well-deserves our CES 2008 Best Of award for being the only notebook at CES that we really wanted to own ourselves.
Logitech diNovo Mini Media Keyboard
Given the size of Logitech as a company, it's rare to not see something interesting from them at CES, and 2008's event was no different. During a private luncheon, we were shown first-hand the latest diNovo media keyboard. We have taken a look at the diNovo Edge keyboard in the past and were impressed with it's styling and functionality. The diNovo Mini takes what many loved about that model and made it smaller.
I have to admit, when I first saw this keyboard on stage, I thought it was kind of ridiculous. "Surely, it wouldn't make much sense to have such a small keyboard – even for a media PC". Once I got my hands on one however, opinions were changed.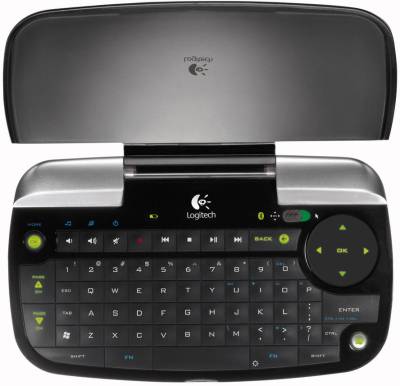 The Mini is not designed to totally replace a full-fledged keyboard, because quite frankly, typing out e-mails and the like will be slowed down due to the size. If you happen to be one of those texting-demons that can type on a small keyboard very fast, then you should feel right at home.
The entire keyboard is held like a portable game system. Speaking comparatively, the diNovo Mini is smaller all-around than a Sony PSP and is roughly the same size as a Nintendo DS. Despite the keyboards size, the Mini includes all of the keys you will need and even a mouse, a la diNovo Edge. Since most people will be using the diNovo Mini with a Vista machine, Logitech included a quick method for using CTRL+ATL+DEL. Simply push the Fn key and then Enter.
It's a small product, but the price tag is on par with other full-size media keyboard at $149.99USD. The price doesn't have an effect on how cool the product is however, and I personally find it reasonable. It's a full-fledged media keyboard in a small package that will look great whether it's in your hands or on the coffee table, all while being simple to use. You can pick up a diNovo Mini at the end of this month or early February.
Rob: CoolIT Dual-GPU Cooler, Maxtor Central Axis
CoolIT Dual Drive Bay VGA Coolers
CoolIT, an Alberta-based company, first came to market with their Freezone and Beverage Chiller in 2005 but have since grown exponentially and now offer a wide-variety of products. Their growth is incredible. At last years CES, they occupied a booth in the middle of the Sands Convention Center, taking up two spots total. This year, their booth was twice that size and right beside the entrance. They have intentions of having a booth size twice that for next year.
Up until late last year, CoolIT have been recognized for high-performance CPU cooling only. The Freezone and Eliminator TEC-based coolers offer far better performance than air and water, making overclocking a simple task. However, the company is now branching out in all directions, with the one catching my eye being their GPU coolers, the NVIDIA model in particular.
As you can see in the photo below, the entire system is comprised of a dual-5.25″ bay enclosure and two separate GPU coolers. CoolIT touts the fact that the unit is all-in-one… even the liquid is self-contained and should never need touching. By the looks of things, the cards need to be attached to the coolers prior to installation in the PC to allow enough room to work. Once the coolers are installed, they can be passed through the large open bays in your chassis and reach down to your motherboard. Once the power connectors are all plugged in, you should be good to go.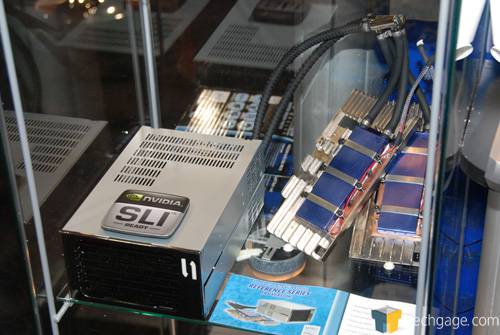 Though difficult to tell at a convention center, CoolIT promised very silent cooling with the help of multiple 80-mm fans inside the bay. The entire unit is pre-installed with coolant, so this setup should be straight-forward for most anyone. Performance-wise, I was told that the 8800GTX could see temperature decreases of up to 40%, including 3-Way SLI use.
CoolIT are not the only ones who believe in the performance and setup of these coolers either. The company has paired up with PNY to release special edition 8800 Ultra cards with their coolers pre-installed. These cards will be available towards the end of Q1 and will retail for $599. The upside is that your computer will run cooler due to single-slot cooling solutions and more room for airflow. You can pick up the Dual Drive Bay VGA Cooler for both NVIDIA and ATI cards (ATI version excludes use of TECs) soon, for around $299.99USD.
Maxtor Central Axis
Seagate's Maxtor Shared Storage "NAS" box is not that new, however the software update that we saw at CES is. First and foremost, the main product here is the Maxtor Shared Storage, which comes in 320GB, 500GB and 1TB sizes. It connects to the network like other NAS boxes and includes fast 7200RPM hard-drives, so streaming audio/video across a network should be no problem.
I mention network though, and that's the downside. Accessing the data around your house is not a problem with most NAS boxes, but what about accessing the same data when out on the road, whether on a trip or across town at a buddies house? That's where the new Central Axis software will come into play.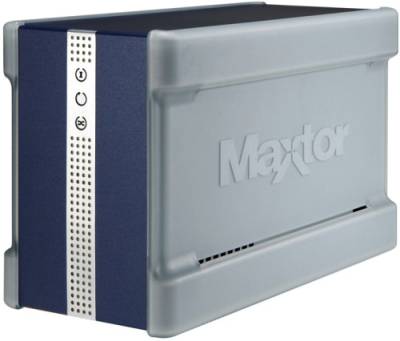 Due in the spring, this free update will allow you to set up a server of sorts, so that accessing the data while out on the road a breeze. In the past, I've used many various methods for setting up a server, such as setting up an FTP server or connecting via SSH, but this method, by far, blows the ease of use out of the water.
Seagate promises that the software installation will be painless and that the user will not have to worry about much hassle along the way, such as dealing with firewalls. Once set up, you will be able to login via the Seagate website which will connect to your Maxtor Shared Storage and allow you to access all of the files that you desire. Of course, the download speed will be based on your home connections upload speed, so you can expect 40KB/s on a common Internet connection.
This is not all about just allowing yourself download the files, however. Another scenario is offering to give a friend some data, but not having an easy way of passing it along. Or, you may just want to allow the friend to download at his/her leisure. So, you can set up a special user account for the friend, complete with unique logon and password. You can lock that user to certain folders and even allow them to upload their own files – it works both ways.
From what I saw at the demonstration at CES… this is going to make some peoples lives easier. Once available, we will take the software for a spin and give our thoughts at that time.
Rob: DisplayLink Multi-Monitor Technology
DisplayLink Technology
DisplayLink is a newer company that began growing in popularity last year thanks to the Samsung Syncmaster 940UX monitor, which was the first on the market to offer a USB interface, in addition to the usual VGA and DVI options. The goal of that monitor was simple… to have the ability to be added to any Windows machine on the market, as long as there was an open USB port somewhere.
The idea, at first, seems a little ridiculous. "Why not just install a second graphics card?" is a common question, but it boils down to two things. First and foremost, this solution is supposed to be simple to execute for anyone, not just techies. The other thing is that this solution is geared towards those who want to hook up to six monitors off of a single machine. It's difficult to get that done with a few video cards.
DisplayLink doesn't sell products to the end-user, but rather sells their chips to other companies to produce a fine-looking product for purchase. IOGear, Kensington and eVGA are the three companies I noticed at the show that all had similar products utilizing DisplayLink's technology. Pricing for these products are not exactly that inexpensive, at around $100, but to many, it will still beat installing a second graphics card. For those who want many monitors, DisplayLink might be the lone solution available.
Installation is a relative breeze, even for a novice. Depending on the solution you have, installation will vary, but the typical method is plugging in a USB cable to your machine and run it to the DisplayLink-enabled product, and then running the video cable from that box to the monitor you wish to use. After installing the appropriate software, the other screen should light up and be usable right away, or at least after a quick reboot.
As mentioned already, DisplayLink supports much more than a two or even three monitor setup. Depending on the workload, the technology supports up to six monitors, all which would be run at a modest resolution, such as 1280×1024, although 1600×1200 is supported. When throwing a slew of monitors into the pile, however, bandwidth might become a concern.
As far as gaming is concerned, it is a possibility, but DisplayLink notes that newer games may run into problems given the amount of video bandwidth they require. The USB connection on your machine will top out at a certain point, so 1080p video (an unlikely scenario) might stutter. I personally tested out 720p playback and had no issues, however. Though pricey, DisplayLink's technologies will help open doors for many people who want to add a second monitor to their setup, without much hassle.
Greg: Logitech Squeezebox Duet, NETGEAR ReadyNAS Duo
Logitech Squeezebox Duet
Having long been the 800 pound gorilla in the PC peripheral market, chances are, you have owned a Logitech product either in the past or currently. Having pretty much cornered the "computer hardware not installed inside a PC case" market, only a few companies have even come close to competing against Logitech and survived to talk about it.
To date, we have reviewed a staggering 36 items from Logitech with little sign of stopping in the foreseeable future. Of all of these pieces, my personal favorite has been the v3 Squeezebox. I liked it so much in fact that I went out and purchased one for my own home and to date, it's served me well.
Originally designed and developed by Slim Devices, the Squeezebox joined the rest of the Logitech portfolio when they acquired Slim Devices back in October of 2006. Having continued to develop and update the Slim Server software that drives the Squeezebox, the boys from Slim Devices have quietly been working on the next member of the Squeezebox family.
The Squeezebox Duet as it's been appropriately named ditches previous designs and can truly be classified as an evolutionary product in the Logitech streaming audio lineup.
Named after its two piece design, the Duet is made up of a base station as well as a completely redesigned and feature packs remote. In the original Squeezeboxes, the entire kit was built into the base station, including a bright VFD display.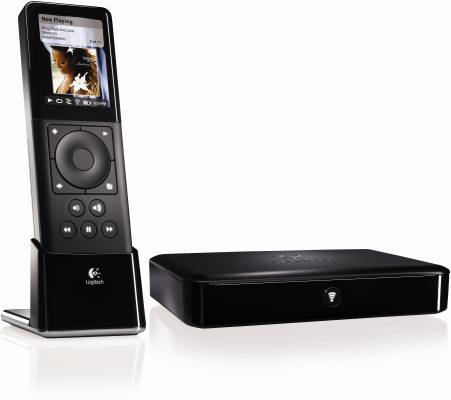 In the Duet however, the display itself is built into the remote and the base unit is nothing more than a featureless black box designed to sit in the background of your entertainment center. The background you say? Yes. With the older models, they incorporated an infrared remote that required line of sight with the base unit. With the Duet, the remote, or as Logitech calls it, the Squeezebox Controller, as well as the base unit operate over your existing 802.11g wireless network, eliminating the need for line of sight with the base.
Another nice feature of the remote is its incorporated headphone jack, allowing the user to walk around their home with a set of headphones on and listen to their music as long as they have connectivity to their wireless network if they decide to do so.
Jan 24, 2007 Addendum: During discussions at CES, we were told the headphone port would be functional, but Logitech has now clarified the issue:

"To clarify, the headphone jack is not enabled at this time. The Squeezebox Controller, like the rest of the Squeezebox family, has an open development model where the vast majority of the source code is made available to the public and third-party developers are encouraged to produce plug-ins, extras and applets for the platform. The Squeezebox Controller is actually a complete handheld computer and includes a number of hardware features that were added specifically for third-party developers. These include a headphone jack, an SD card slot, an IR emitter and a connector for external peripherals. We're not sure what the development community has in store, but until they are enabled by third-party applications, none of these connections have any function."
As we mentioned, the remote, or controller, is the center piece of the Squeezebox Duet. With its 2.4 inch color LCD screen and it's iPod like scroll wheel, the Duet remote is truly a work of art and places full control of your digital music library in the palm of your hand. With the added functionality, gone is the need for a pair of AA batteries and in is a recharging station to rest the remote when not in use.
We do not intend to give any final judgment on the Duet at this time as a full review will be available as soon as we can get or grubby little hands on our own kit. Until then, and from our experience at CES, the Duet looks to be a clear cut winner. The Sonos and iPod influences are there but Logitech's Slim Devices division has done what Logitech themselves have always done well… bring cutting edge technology to the masses with a stellar product at an affordable price. The Logitech duet has earned a Techgage Best of CES award hands down.
NETGEAR ReadyNAS Duo
Covering the NETGEAR press conference two weeks ago proved far more interesting than it looked on paper. As a networking buff, I love virtually everything TCP/IP. Keeping that in mind, one of my favorite pieces of hardware to write about as of late has been network attached storage and when NETGEAR acquired Infrant earlier this year, we all wondered how it would affect Infrant stellar lineup of ReadyNAS devices.
As it turns out, NETGEAR announced a much needed product into the mainstream SOHO NAS market, a two drive NAS called the Duo.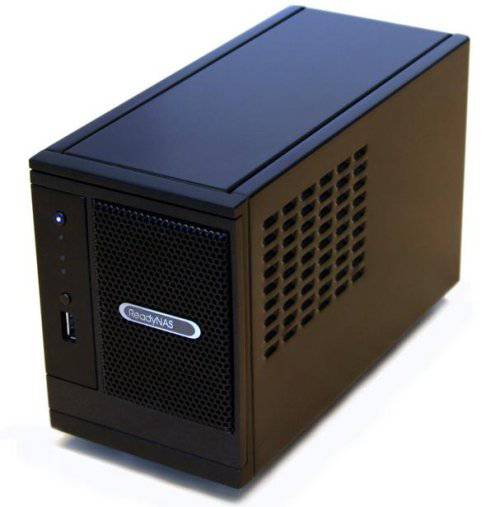 Keeping the popular X-RAID technology of previous models, the Duo can support up to two 1 TB SATA drives and connects to the network via a gigabit Ethernet port. One thing that stood out to us was the design of the unit itself. With both hot swappable drives accessible from the front of the NAS, the all black piece looked sharp and it's well ventilated screen front certainly didn't hurt things either.
While we don't know the exact CPU used in the Duo, a 500 MHz Marvel (or something comparable) seems to be the obvious choice and by looking at the other hardware, it would only make sense to pair that CPU with the included 256 MB PC2700 DDR memory.
One of the best features of the Duo is the openness of the device. Supporting most popular media streaming protocols such as iTunes, Squeezecenter and UPnP AV, the Duo can not only safely backup your important data but also serve your media player as well. Supporting RAID 1 and 0, you can choose your type of RAID and get your digital media flowing through them tubes.
Available later this quarter, the NETGEAR Duo will start out at $499 and that gets you the Duo as well as a 500GB drive. All this combined to make the Duo the best NAS solution at CES 2008. Congrats NETGEAR on a solid looking NAS… we can't wait to get our hands on one.
Kiersten: Seamless Internet S-Xgen, NoahPad & BugLabs
For most of CES, I let the boys play with their toys and I wandered around looking for something new that I'd never seen before, or a better way to do something that already exists. In a sea of digital photo frames, there were actually quite a few ingenious items that stood out.
I quite honestly saw many more impressive items in the smaller Sands Center, which allowed personal one on one time with the individual representatives and focused more on the product and now how much money the company paid their marketing department.
In some cases, the owner of the company was there to talk to you and tell you about their products and not just some booth babe hired for the event who knew nothing about technology, let alone the product whose very tight t-shirt she was sporting.
The larger portion of CES took place in the Las Vegas Convention Center, and one quote from Shakespeare sums up the majority of that part of the show: "Full of sound and fury, signifying nothing." We all know what an iPhone looks like, most of us have mp3 players we paid too much for, and our mouse and keyboard is a very personal choice. Once you saw a flat panel TV, you'd see one third of the show floor. So I'm going to show you some of the items you may not have noticed, that you'll wish you did.
Seamless Internet S-Xgen
The S-Xgen, by Seamless Internet, is a portable unit that encompasses your mobile phone, PDA, laptop, entertainment device and television. It's a total of 16 oz measuring 6″x4″x1.25″ and contains a flip out near full size keyboard that is also detachable, Intel Processor, 20GB hard drive, touch screen display, onboard webcam, embedded WiFi, Bluetooth and cellular wireless connectivity, multiple i/o options with gaming and video and music controls.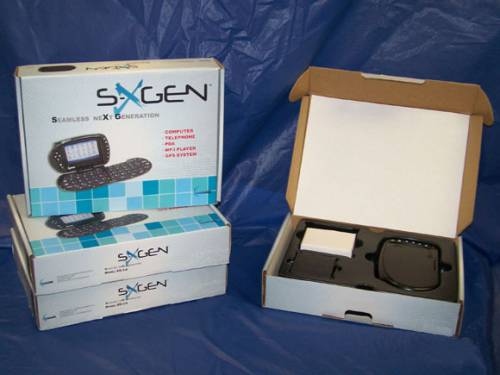 This certainly would have been a joy to carry around with you throughout CES and even on your everyday commute. It's light, multifunctional and about the size of a Nintendo DS, but has the power of your full size laptop.
NoahPad
This device functions in many capacities and looks to be perfect for school and travel. It's a palmtop PC, a GPS navigation system, a multimedia player, and a digital photo frame all with the ability to swing the screen around almost 360°.
Noahpad UMPC uses the touch panel technology as its keyboard. When typing, it not only provides users enough room for each finger but also mimics the feeling of pressing down the keys on regular keyboards. In essence, it performs all the functions of a standard QWERTY keyboard.
Noahpad PC clickable touchpad can act as both a keyboard and a cursor controller. When used as a cursor controller, it provides a touchpad surface of up to 70x70mm in size, bigger than any touchpad currently equipped in large notebook computers. As such, users can bring the cursor to anywhere on the screen with a single movement of their fingers and can enter any command without mistakes by a simple click, resembling the convenience of a mouse.
BugLabs
Something else that jumped out was BugLabs who are building better gadgets with their Bug system. BUG is a collection of easy-to-use electronic modules that snap together to build any gadget you can imagine. Each BUGmodule represents a specific gadget function (ex: a camera, a keyboard, a video output, etc).
You decide which functions to include and BUG takes care of the rest letting you try out different combinations quickly and easily. With BUG and the integrated programming environment/web community (BUGnet), anyone can build, program and share innovative devices and applications.
You start with the BugBase, which is a fully programmable and "hackable" Linux computer, equipped with a fast CPU, 128MB RAM, built-in WiFi, rechargeable battery, USB, Ethernet, and a small LCD with button controls. From there you add modules to create the item you want, including GPS, Digital Webcam, Touch Screen and Motion Sensor, with more to come. Add to that the open source software and YOU become the master of your gadgets.
And last but definitely not least, I'd like to give quiet thanks to two items that changed my experience at CES. At the end of my second hour on the first day, I wandered by a booth having a contest to choose a pattern for their product line.
This booth was the Alpine Innovations booth. They were showing off their new line of camera sleeves and the lens cleaning cloths that accompany them. Not exactly high tech, but when they noticed I was carrying my little camera around gingerly, they slipped one of their camera sleeves over it, and I was set for the rest of the show.
Their sleeve, paired with the strap from CamLeash.com, saved me from all sorts of horrors at the thought of bumping my camera, losing it, setting it down and forgetting it, or having it stolen. Between these two wonderfully paired products, I was able to snap happy pictures without worry for the safety of my little camera. So thank you!
Discuss in our forums!
If you have a comment you wish to make on this article, feel free to head on into our forums! There is no need to register in order to reply to such threads.
Copyright © 2005-2020 Techgage Networks Inc. - All Rights Reserved.