Best of CES 2009

Date: January 16, 2009
Author(s): Rob Williams

CES 2009 may have felt a little smaller than previous events, but one thing's for certain… there was no shortage of fantastic products on display. In this article, we've picked 10 such products that went above and beyond our expectations, and as a result, have earned our "Best of CES 2009" award. From simple ideas to things we haven't thought of before, it's all here.
---
Introduction, Boxee, NVIDIA Ion
Prior to attending this year's CES, we didn't know exactly what to expect. There's been a lot of doubt hovering around trade shows in general for a while now, and with the economy the way it is, people were beginning to wonder just how much of a success this particular event would be. Well, although we did notice a slight decline in attendance, it still turned out to be a great show, with countless products being announced and showed-off.
Being a "Consumer" show, we'd expect to see a lack of computer hardware announcements, but 2009's show proved us wrong. NVIDIA announced new mobile GPUs, along with their GeForce GTX 285/295. They also unveiled their Ion system for everyone to see, and even gave gamers a new peripheral to play around with, the GeForce 3D Vision. Likewise, AMD also launched new mobile GPU parts, along with an Atom competitor, the Athlon Neo. These announcements were refreshing to see, especially since we don't often cover gadgets and televisions.
Throughout the numerous press events that took place during the show, along with the various halls scattered among the Las Vegas Convention Center and the Sands Convention Center, we were able to select a handful of products and technologies that impressed us enough to earn themselves our "Best of CES 2009" award. We will be covering all of these here, so grab a fresh beverage, hide your wallet and prepare to sink your teeth into some of the coolest products exhibited at the show.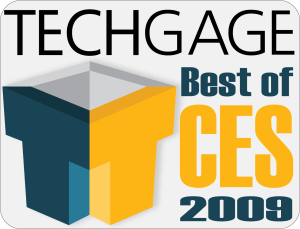 Like always, we should stress that given we don't attend CES with a massive team like some of the larger outlets, we're unable to see everything that the show has to offer, but we feel we have a good grasp on some of the best products showcased there. If you attended the show or stalked outlets that reported on things found there, and you have a product you think deserves to be awarded a "Best of" award, feel free to post about it in our related thread, and explain what makes it so great.
Without further ado, let's get right to it! Please note that these are not in any particular order, and each choice was written by the person who chose it, either Greg or Rob. Who chose what can be seen on the final page.
Boxee – Open-Source Media Center Software
One of the first booths we went to at the always-enjoyable CES press-only pre-show, CES Unveiled, was Boxee. Having used an old Xbox for many years now as a media center, I am very familiar with the XBMC project. The boys at Boxee have taken the best of XBMC and created a very social networking-conscious media center app that works under Linux, Mac and Windows. Written in C++ and distributed under the GNU general public license, Boxee is capable of playing just about any media format you can throw at it and can even decode high-definition video up to 1080p.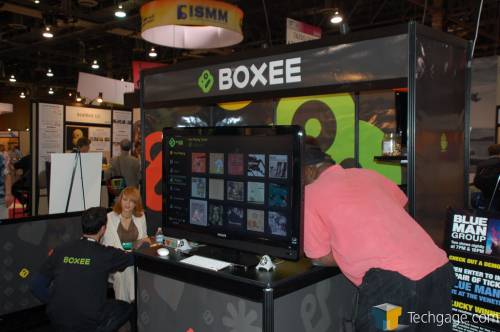 In our talks with the guys from Boxee, I could feel their excitement in the project and as I said earlier, as a fan of the XBMC project, it's nice to see them take that software and improve upon it according to their vision for the project. Rob and I both left very impressed with the social networking aspect of the program and the insane support for just about every format known to man (sadly, DRM media cannot be played with Boxee).
With the software eventually being free to anyone interested in downloading it, I asked where their funding for the project comes from and how they plan to sustain the project once it launches (it's currently in alpha status but available for download here). We were told that while the software is free to download (and from the looks of it, rather robust too!), there would be premium features that could be purchased as well as licensing fees to third parties that could use the app with their own set-top boxes With their goal being to have the software run on as many platforms as possible, look for more from Rob and I on the state of the application as I will be working with it under Windows, while Rob will be doing his thing with the software under Linux.
NVIDIA Ion – Desktop Computing is Smaller than Ever
We've heard plenty about this one well before CES began, and this past Monday, the embargo lifted on the details, and they are impressive. Before going into our meeting with NVIDIA, we pretty-much knew what to expect from our conversation. GeForce 3D Vision and Ion… our talking points were set.
When we got to NVIDIA's booth, we were scurried to a meeting room where we were able to talk about their latest technologies away from their very-busy booth. Literally not much larger than a standard business card, the Ion platform uses the low-wattage Intel Atom processor and couples it with their own low-power GeForce 9400M. With a working model on hand, NVIDIA went to great lengths to show just how versatile the platform can be. The device included a pair of eSATA ports, multiple USB 2.0 ports, DVI, VGA, HDMI, 7.1 and optical audio, along with a notebook hard drive as the system's main storage solution. While the base board that we were shown in the buff was small, NVIDIA was still able to cram all these features into a package literally less-than-double the size of the mouse being used to interact with the minuscule machine.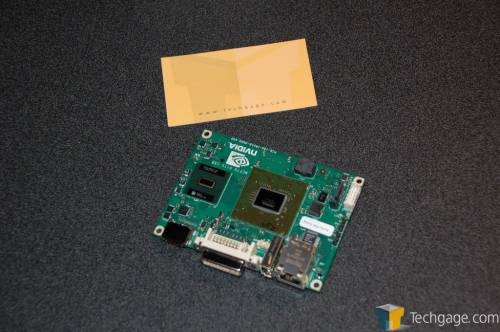 Hooked to a 1080p-capable monitor, the Ion was displaying 1080p content smoothly while a small netbook sat beside it; struggling with the exact same video, frame by slow frame. That said, and in all fairness, the comparison wasn't exactly apples-to-apples. The netbook was using a single-core Atom, while the Ion was using the Dual-Core Atom 330. On top of that, the Ion was taking advantage of the GeForce GPU for playback, while on the netbook, it relied on Intel's own GPU. PowerDVD utilizes NVIDIA's GPUs a great deal better than any of the competition.
Adding to the differences was the fact that the Ion was running a 7200 RPM hard drive and the netbook used a slower 5400 RPM drive. One last discrepancy was with the memory. The Ion used a 2GB stick of DDR3 memory compared to the single GB or DDR2 RAM in the netbook. The memory issue isn't as bad as the others simply because it's out of NVIDIA's hands considering the chipset that the netbook was running is incapable of using DDR3. With all that said, Rob and I were less concerned with how it compared to the netbook sitting in close proximity of the Ion, but rather the raw power of the platform using such little wattage. The fact that Ion includes a GeForce GPU, even a low-powered one, makes the deal that much sweeter.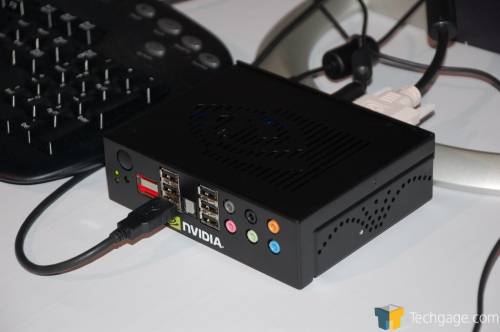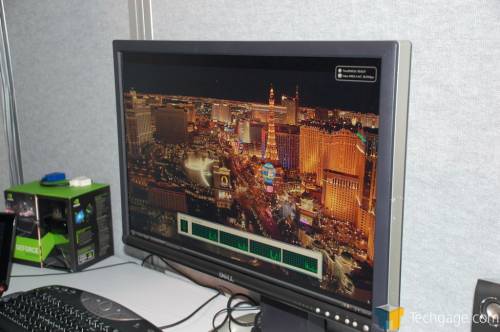 We are currently working on a write-up of the Ion, but based on what we saw, the power held in the platform is a superb start for NVIDIA. The Atom, paired with their GPU, is a potent little computer with almost limitless possibilities. Look for more info soon.
FlatWire, Crucial Ballistix Tracer
FlatWire – New-Age Thinking for Home Wiring
One of the more interesting products I saw while perusing the show floor in the LVCC was FlatWire's lineup of, well… flat wire. With demonstrations showing off the practical uses of the product, their booth always seemed to have a crowd assembled around, watching their demonstrations and installation competitions… although, it could also have something to do with their booth babes but really, does it matter!?
With a little mud work on your walls, you can literally PAINT over the wiring to your TV, stereo, wall lighting and even Ethernet. This, to me, is awesome. As the saying now goes, as soon as you drywall your new home, you instantly have a wiring problem. Nobody with a home over 6-8 years old considered wiring for a home network or surround sound, but with pricing of both dropping all the time, wiring this technology can be a royal pain if you want things to look clean.
FlatWire essentially gives you the perfect way to mount a flat panel on your wall and have ZERO visible wires. This includes HDMI, power and if its new enough, CAT6. Look, I have spent a lot of time wiring existing homes for networks. It sucks. FlatWire gives a user another avenue to head down, and while this application will undoubtedly cost more than conventional wiring, it will also look far better.
Instead of having a breakout box on the wall and at the floor, you can simply run the flat wire with boxes mounted on either end and then paint over the wire itself. If you choose to rip it down, you don't have to patch large holes where the boxes were. You can just remove the wire, patch the small holes used to mount the boxes, sand and paint. Minimal work for a potentially very-sharp look. For these reasons, FlatWire gets my nod of one of the best products on the CES show floor. While they aren't the only ones using this approach, they clearly seem to be the leader.
Crucial Ballistix DDR3 Tracer – Ooh, Pretty Lights!
Long listed among our favorite memory manufacturers, Crucial has produced quality products for many years. When we stopped by their booth last week, we were floored to see their new Ballistix Tracer line of modules. Now, it's true that memory modules are not exactly "awesome" anymore, but the styling of these Tracer's came across to Rob and I as being FREAKING AWESOME.
Shipping in colors of green, red, and blue, the sticks also have a colored PCB to match the color of the heat-spreader. Running along the top of the sticks are 12 LEDs, colored to match the color of the PCB and heat-spreader. Before, these lights were only in the center of the sticks, but with the use of adhesive to attach the spreaders, the entire top of the module is exposed, so according to how Crucial sees it, why the heck not run them all along the top?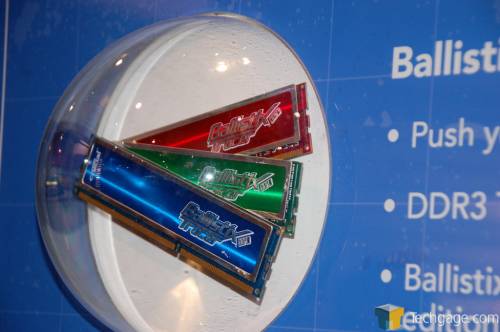 These sticks render me foolish in the sense that I just ordered 8GB of memory for my machine that use the previously cool, but suddenly lame-ish, older lighting pattern. While still functional, I think I would rather have the single-colored blue sticks. Silly advancements.
ASUS Eee Keyboard, SDXC Storage
ASUS Eee Keyboard – A PC You Literally Type On
Although we mentioned ASUS' Eee Keyboard in an article last week, I didn't come to realize just how cool this product was until I found myself with some hands-on experience, and after that experience, I have no hesitation in awarding it one of our "Best of" awards.
For those unaware, ASUS is pushing their Eee brand like humankind pushes the act of breathing. No joke. Taking a look at their (large) booth at CES this year, I actually had a difficult time finding their enthusiast products. On display, I found about five motherboards, four audio cards (all were HDAV's) and four graphics cards. About 90% of the entire booth was dedicated to Eee PCs, Eee accessories and their notebook line-up. It's easy to understand the reasoning behind this, though.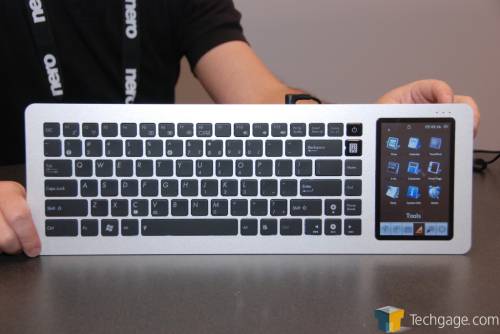 Although seeing more enthusiast products would have been nice, some of the launches ASUS made here were still well-worth the attention, and in our opinion, the Eee Keyboard tops them all. Essentially, it's a computer built into a keyboard, but there's so much more to it than that. It's designed to be an all-in-one PC, minus the display, and is currently based on Intel's Atom platform, using the N270 processor at the base. It also includes 1GB of memory, although anything can change before the projected launch of late Q3 2009.
The keyboard itself is full-sized, and is no different to use than a standard offering. The difference here is a 5″ LCD screen on the right-side, which when in regular use, will display a handsome GUI with lots of functionality. This functionality could range from a simple notepad or calculator to setting an alarm or editing your calendar. This screen will also allow full use of the Windows XP installation, although it's a rather small screen to use for that purpose.
Since the keyboard is to include Wireless HDMI, you'll be able to use this PC on your monitor or TV without being connected to it. If you don't care to use WiFi, you will be able to plug in a single LAN port, and for other connectivity, there two USB ports will also be available. Overall, the Eee Keyboard might still be early in development, but what ASUS had here to show off was impressive. Things should only improve between now and launch.
SDXC – Is that a 2TB SD Card In Your Pocket?
How is it that something as simple as a Secure Digital card gets awarded our "Best of CES 2009"? Simple. Let's take a look at how things are right now in the market. Almost any current digital camera (aside from the odd models that use proprietary formats) uses Secure Digital right now, and where cell phones and other devices are concerned, we usually find a "Mini SD" format. So for the most part, many people are familiar with SD, not just tech-heads.
So picture if you will, an SD card capable of holding up to 2TB (that's 2,000GB) worth of data. That's a massive shift, given the largest SD cards on the market right now hold 32GB (which is still a lot). Although SDXC won't start out quite so high, it will begin things out with a 64GB model in Q1, which will be capable of a Read speed of 104MB/s, far surpassing what SDHC is currently capable of.
Not only will the densities grow larger over time, but so will the speeds. At the top end, the SD Association foresees speeds of 300MB/s Read being capable, which, for those unaware, would actually far surpass current hard drive speeds. Although no mention of Write speed was disclosed, we can only hope that it will be equally impressive. The good thing is though, it might take a while before we have any devices capable of even tapping out the maximum speeds of the launch product. The future for mobile storage is looking good… very good.
HP DV2 Notebook, Psyko Gaming Headphones
HP DV2 Notebook – Value Notebooks Have New Meaning
As mentioned in our introduction, AMD took advantage of CES to launch their new ultra-low-power mobile processor, the Athlon Neo. Currently, only one model is available, the MV-40, but more are undoubtedly en route. At 1.6GHz, this out-of-order CPU competes nicely with Intel's own Atom N270, at least in raw specs. One of the first notebooks to take advantage of the new processor is HP's DV2, a 12″ notebook that simply blew me away. Sadly, AMD was successful in tackling me to the ground before I could run away with it.
If you'll recall my look at ASUS' U6E 12″ notebook last year, you might remember that I pretty-well settled on the fact that 12″ for a notebook is the "perfect" size for on-the-go travelers. At that size, it's neither too small, nor too large, and it still allows a full 1280×800 resolution – one that I wish netbooks would hurry up and adopt. The DV2 features all of this, so I had no choice but to pay closer attention.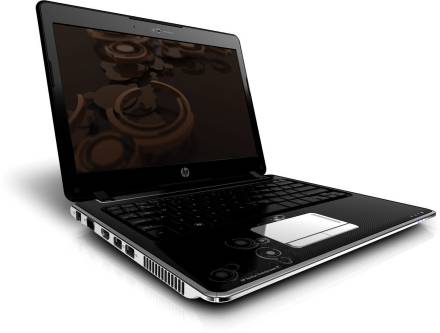 Let's get right to the nitty-gritty. The DV2 is set to launch within the next few months and will retail for $699. Included will be AMD's Athlon Neo MV-40, 1 or 2GB of RAM (expandable up to 4GB), an 8x DVD±RW drive, a 250GB hard drive (exact specs unknown), along with a wide-variety of wireless options.
What really sets this notebook apart is two things. First, it utilizes ATI's HD 3410 discrete GPU, meaning that despite having a netbook-esque processor, simple 3D graphics will be no problem. Beyond that, HD content will play without issue, while leaving the CPU mostly alone, as you can see in the screenshot below. The GPU will likely draw more power than if the playback was dedicated to the CPU, but I'm uncertain if 1080p content would even be possible on this particular CPU alone.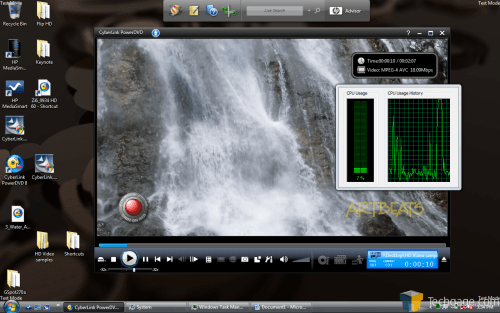 I should mention, while the video obviously wasn't 1080p on this 12″ display, I saw the video in action being pushed through to an external display fully-capable of displaying such content, and it looked good. So what else? How about the external Blu-ray drive option that will be available for between $100 – $150? Or the fact that the DV2 includes VGA, HDMI, 3x USB, LAN, speakers, memory card connectivity? All that along with 4 hours of battery-life for only $700 (or ~$850 with Blu-ray)? Sign me up!
Psyko Gaming Headphones – 5.1 on a Pair of Cans that Sounds Good!
When I first received a press release for Psyko's upcoming gaming headphones, I admit that I shrugged them off. Being someone who tends to enjoy high-end headphones more than a "gamer" model, I tend to shrug almost any gaming headset off, but I regret doing so to these. What makes Psyko different is that they're different. Think that doesn't make sense? Let me explain.
Take a look at any pair of 5.1 headphones on the market right now and you'll see one thing in common. They'll all have different driver layouts within the ear cup, positioned in such a way to emulate a 5.1 speaker setup. This usually requires more than 6 drivers (normally 8), but usually they do a pretty reasonable job of virtualizing surround sound. Psyko is thinking outside the box, though, and that's what drew me to their booth.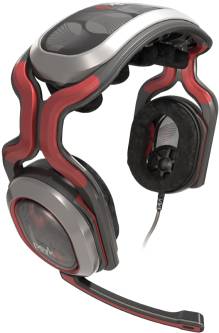 Gone are the drivers in the ear cups and here are the drivers in the headband. That alone is the reason why the top of the unit is so thick, and that alone. These drivers are all positioned in a very specific way to deliver realistic and accurate directional audio. Sadly, we weren't able to test these out for ourselves at the show, due to the demo being inoperable while we were there, but a few of our friends had the chance to check them out, and they walked away very impressed.
Although it's difficult to explain how they work, the sound essentially travels along certain "pipes", all timed appropriately, to deliver accurate sound, and this will give what Psyko considers an unfair advantage to gamers. That's been claimed before, so we're definitely looking forward to receiving a pair in the months to come to see how it compares to the equally-priced competition ($299).
NVIDIA GeForce 3D Vision, OLED, Wrap-Up
NVIDIA GeForce 3D Vision – 3D Gaming that Works
We tried hard to not award a single company more than one award, but it was impossible with NVIDIA this year. As you saw on the first page, their Ion platform revolutionizes what small computing is all about, and on the opposite end of the spectrum, their GeForce 3D Vision proves that 3D gaming isn't just a fad… it hold some real value. For the uninformed, 3D Vision is a peripheral that, when using a proper display, will allow you to see games in a truer 3D.
Rory explained in-depth what 3D Vision is all about, so I won't repeat his words here, but what the peripheral essentially does is layer two copies of the same frame over one another in such a way as to create a more realistic environment. We see things in 2D on our computer displays, so paired with this kit and a compatible monitor (120Hz or higher, or a DLP), we can experience more immersive gameplay.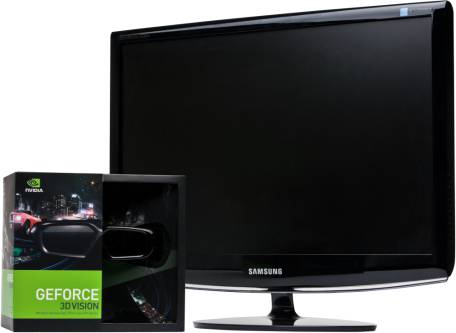 Ever since I first saw a "3D" gaming monitor at some event, I've pretty-much always been unimpressed. It might just be me, but I have never been impressed with these technologies, and most often, I'd rather just not use them at all. NVIDIA's solution is somehow different, though, and it "works". During a demo we were shown, I found that at first, I couldn't really "get it", but after a few minutes of playing, I began to become a little more immersed in the gameplay, finally realizing the potential here.
During a more robust demo, using a large projector, I began to see the potential even further. Although not all games were that impressive, I found two to be quite. Those were Mirror's Edge and Tomb Raider. The former is a game that puts you in a first-person mode… you literally see through the eyes of the player, so it, in a sense, is a quite realistic game to begin with. But during one scene, the player jumped from one roof to another, and I actually "felt" something, as if I was the one doing the running and jumping. I didn't feel that so much with Tomb Raider, but it definitely looked a lot more realistic than without the glasses.
As mentioned in our news earlier this week, we've had one of these kits in our labs for a few weeks now, and we are working hard to make time to tear it open and get to "work" on testing it out. You can be sure we'll be posting an in-depth look in the coming weeks, so don't miss it.
OLED Technology – Displays to Die For
Easily the coolest technology we saw at CES was anything that used OLED technology. Offering absolutely stunning picture quality, OLED is where the industry is heading. While we won't be there in the immediate future, it was stated to us by someone in the OLED alliance that, when compared to the proliferation of the LCD television, OLEDs are somewhere around state of where LCDs where in 2003 – 2005. This means that while they are small, expensive and rare, they will rise in popularity when production costs come down to somewhere out of the stratosphere.
Showing off plenty of applications for OLED screens, we saw a small alarm clock device with what I am guessing was a 7″ screen and plenty of other small television applications. Also impressive was the bendable/foldable screen being shown off. Displayed was a prototype that the military apparently has great interest in. The device appeared to be a gauntlet-type apparatus with a large widescreen OLED embedded into its casing. This would be great for mapping and tactical information in the battle field. Please, get these to our soldiers FAST!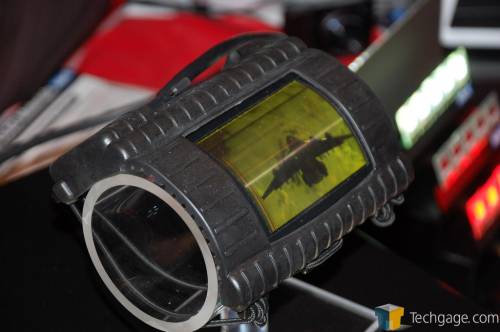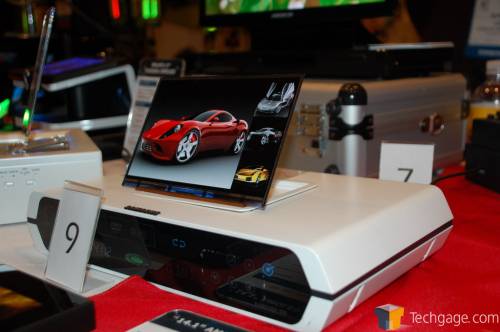 If bendable screens are your thing, how do you feel about the idea of folding them up? We were able to play around with a prototype cell phone that folded out into a great looking AMOLED screen. This thing was/is nuts and something that I am personally looking forward to. The day when this technology saturates our everyday devices will be an awesome day for humanity. Or something like that.
Wrapping-Up
At the end of CES, we both left brimming with optimism. While the economy is a valid concern for almost everybody, and at the show there were signs of its impact, for the most part it was just a buzz word used to start up a conversation. We are confident that these companies will, for the most part, conduct themselves within their means, and while that might mean a lower amount of monies for their engineers, their innovations will continue to set the market on fire.
Perhaps innovation will be boosted by smaller budgets… who knows? What we do know is that while CES 2009 was an overall good time, there were a few products that stood head and shoulders above the rest. Greg gave five of his favorites, and Rob, five of his. One thing's for certain – 2009 should be an interesting year.
Discuss this article in our forums!
Have a comment you wish to make on this article? Recommendations? Criticism? Feel free to head over to our related thread and put your words to our virtual paper! There is no requirement to register in order to respond to these threads, but it sure doesn't hurt!
Copyright © 2005-2019 Techgage Networks Inc. - All Rights Reserved.