Brando S-ATA/IDE USB Cable

Date: June 9, 2006
Author(s): Matthew Harris

There are dozens of USB to IDE or SATA external drive enclosures on the market today. We take a look at a device that does SATA and IDE to USB conversion without an enclosure, the perfect piece of hardware for doing bench top drive testing…or is it?
---
Introduction
Today we're looking at the Brando USB to SATA/IDE converter. If you're testing an unknown drive you have to either use a removable drive rack or an external drive enclosure to run the drive without ripping your PC apart. Either way is really a pain in the neck since you're either losing a 5.25″ bay or you have to tear the enclosure apart every time you want to swap a drive into it. Not only that but either method usually requires a specific interface for the drive, not many support both types. The Brando offering is different. It's basically a USB cable terminated with 2.5″ IDE, 3.5″ IDE and a SATA port. They thoughtfully include a mini power brick to power your drives. The brick comes with a standard IDE Molex and they include a SATA power adaptor for SATA drives that don't feature Molex connections.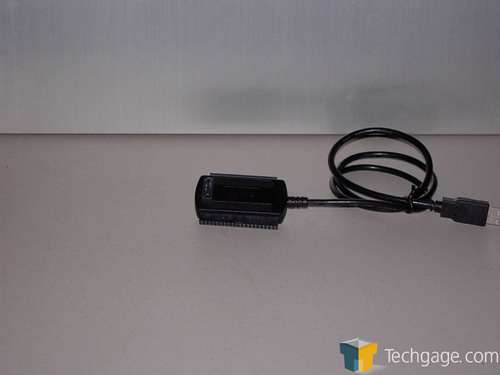 Also included is a SATA cable, Win9X driver mini CD, power cable for the power brick (along with worldwide cables, not pictured) and instruction sheet. The idea is simple, you hook the converter to the drive of choice, hook the power brick to the drive, supply power to the brick and plug it into an open USB port.
For testing purposes I used my storage SATA drive, a WD1600JD. Since it's already mounted in my drive gondola I just hooked the SATA cable to the converter and ran the tests.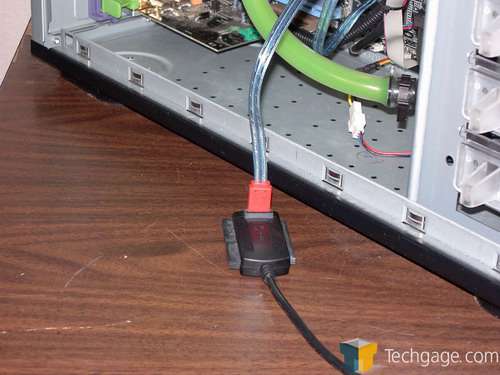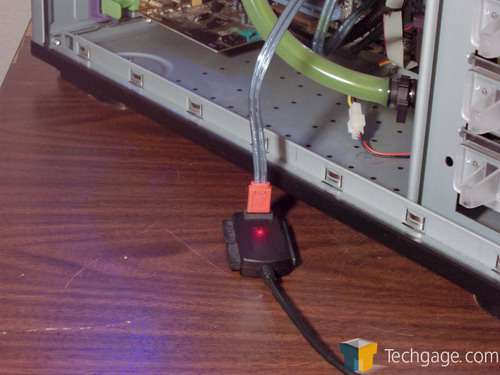 A very nice touch is the inclusion of an internal LED in the body of the converter that glows through the shell during accesses.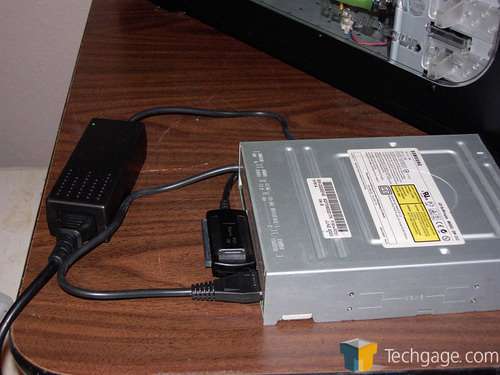 This image is simply to illustrate how the converter works with an IDE drive, for some reason the converter did not work with the drive pictured even though the drive was functioning normally when I pulled it from my rig. Since the documentation is so sparse I don't know if the Brando converter works with CD Drives or if it was a case of a faulty unit, Brando's site claims that id does work with CD drives so I'm leaning towards it being a faulty unit.
Testing, Conclusion
After running HDTach on the connected drive I came up with the following results.
An average read rate of 24.4Mb/s. Notice that the "curve" is pretty much flat, the drive is over-powering the interface of the converter. HD Tune tends to agree on the "curve" although they disagree as to the average rate and CPU utilization.
That trend continues on the onboard native SATA headers.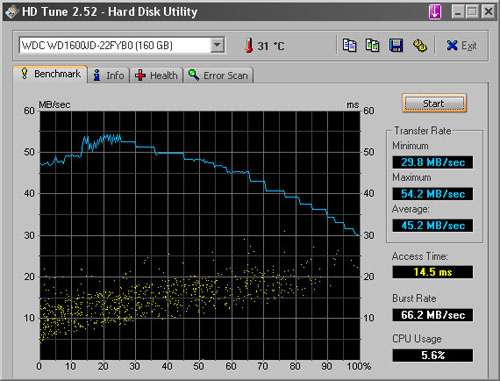 HD Tune is considerably closer on the native SATA headers but there is still some discrepancy but nowhere near the radical difference I saw on the USB interface.
Well, to sort through it all and get to the bits and bobs let's see how it fared.
Dongle
Supports most popular drive interfaces
Includes a dedicated power supply
Doesn't require time consuming disassembly to swap drives
Works with a wide variety of drive formats
Integrated drive access LED
Dangle
Limited documentation
IDE section of the test unit was DOA
No carry case
The Brando USB SATA/IDE Converter could be a handy tool for the home enthusiast as long as the unit is working properly. With the IDE interface being DOA on the test unit I was unable to see exactly how well it would work for, say, slapping a CDRW drive on the cable and pulling files off to CD-R which for a home service tech would be of great benefit when dealing with a customer's PC that lacks a burner although I suppose you could do the same thing with a SATA drive you tote with you in your toolkit. Sadly though in my opinion, if it's only partially working it's lost a large percentage of it's usefulness. On that thought I'm awarding the Brando USB to SATA/IDE Converter a 5/10 and giving it the caveat that "Your mileage may vary".
If you wish to discuss this review, feel free to head on into our related thread. You do not need to register in order to reply to these threads!
Copyright © 2005-2019 Techgage Networks Inc. - All Rights Reserved.