CES 2007: Part 1

Date: January 10, 2007
Author(s): Rob Williams

There are countless new products to inform you about, but here are our first ten. For our part 1, we will taking a look at products from Seagate, Zalman, Gateway, OCZ, Zalman and more.
---
Seagate, LG, Gateway
Techgage has been spending a lot of time at CES and have come across a lot of interesting technologies and products. Sadly, thanks to our incredibly slow (and sometimes non-existent) hotel internet, we've been unable to publish any content thus far. So, you can expect the majority of content from us after CES is over with, when we can reflect on what we saw at the show.
However, we do want to share some interesting things we have found so far, so that's what I will concentrate on in this article. Please note this is the first part to a few part series of articles. Without further ado, let's take a look at a few cool new products.
Seagate cares a lot about the digital lifestyle, but it's no surprise since that's what people are in to. With that in mind they are launching a new series of enclosures that are quite a bit different than anything else out there. They essentially have larger syncing capabilities than other enclosures on the market, which we will get into in far more detail with our future review. One thing that sets the enclosure apart however, is that instead of the light flickering to show you the read/write activity, it pulses instead. This results in a much more "soothing" experience.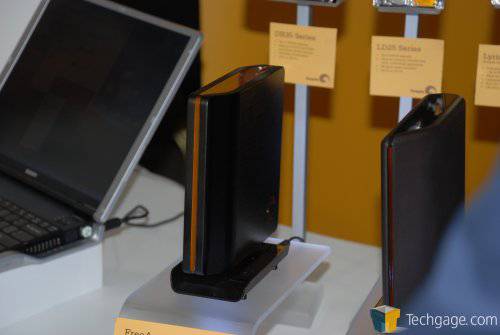 LG has proven to be one of my favorite tech companies thanks to the fact that I own many of their products and have never had an outstanding problem with any of them. I was pleased to see at CES that they had their dual HD-DVD/Blu-Ray drive on display. This is a drive that should easily solve the problems that are clearly evident in the war that's been going on.
What adds to the value is that the drive is also a Blu-Ray writer, which is great in case you have 50GB worth of data to back up. There was also a standalone player on display, for use with your television. So, this technology is clearly not just singled out for computer use.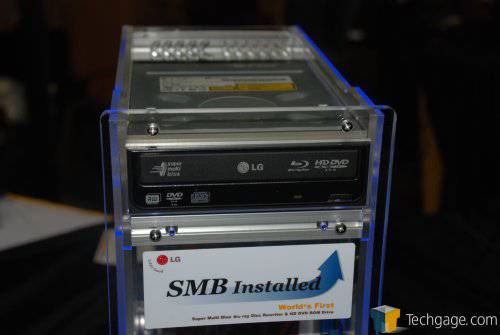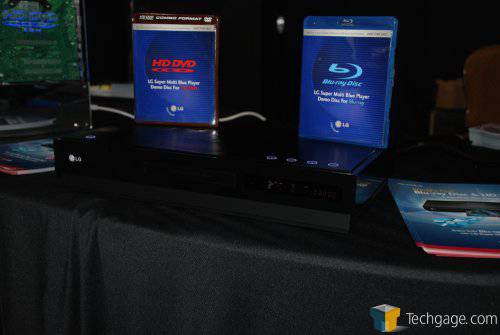 One line of products that both Greg and I got excited over was what Gateway had on display. We will get into their other products in the near future, but what stood out to us was their gorgeous 24″ FPD2485W. The picture quality is some of the best we've seen and the feature set makes it a great value. It has a PIP feature that works extremely well and looks great. With PIP enabled, the alternate picture in the corner is still very clear.
Another feature that's welcomed is that all of the buttons are hidden, so you just press the certain logos on the monitor instead of actual hard buttons. I currently run an ASUS monitor that has this same feature but they are incredibly difficult to use. Gateways implementation was perfect, completely responsive. The best part about this monitor is that it's $30 cheaper than the nearest competition… and is a good deal better.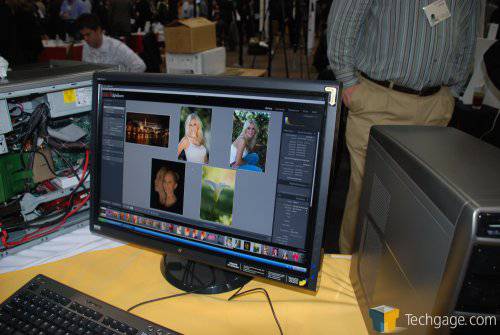 Tagan, OCZ, Patriot
Tagan has becoming well known for their power supplies over the past few months, but they have a few extra product lines as well including cases, unique keyboards and enclosures. We are not sure of the model, but the center case is the one that really caught our eye. Like Silverstones TJ07, this cases main panel is one piece, so no hard edges. It's also made of aluminum and proved to be quite strong. Other bonuses include the sheer size… this thing is massive. Their case line is called A+ and from what we've seen, they may be worthy of paying attention to.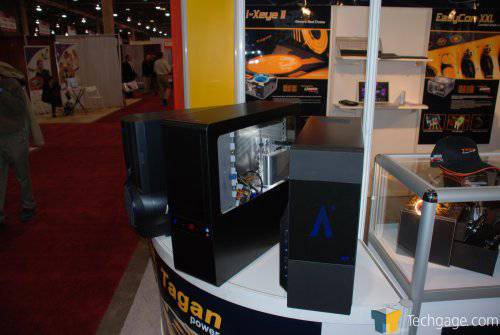 Although it seems kind of simple, WidgetStation is another product that drew us in. It's a small device that can sit on your desk and display widgets. As I said.. simple. These do not inter operate with widgets in Windows Vista, but there will be a large selection to choose from. If you are a developer and know HTML and Javascript, you can even code your own. What I liked about the product the most is the display.. incredibly sharp. This is one toy that would look great on any desk. Sadly, I was unable to find out an SRP.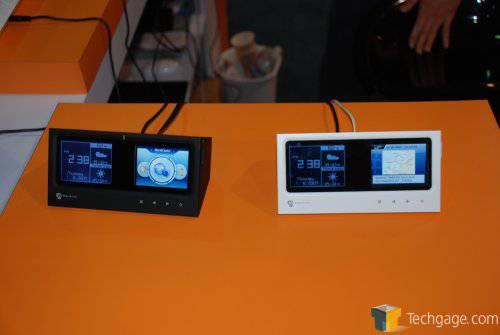 It's not a surprise that newer PC systems require big power supplies. While 400W a few years ago offered a lot of headroom, newer high-end systems shouldn't be run on anything less than 1000W. So what's next? 2000W, that's what. A few companies have 2KW supplies announced, but the one that stood out the most was OCZs since it's completely external. Along with that fact, it's huge.
Seriously huge, but great looking at the same time. Is 2000W overkill? Of course it is. All four of the PC's in my room no doubt don't even touch 1200W combined at full load, let alone a single rig. As far as I am aware, a single wall socket is not even able to handle more than ~1500W, so how does this power supply do it? You guessed it right. This supply requires two power cords to be plugged in, on -different- circuit breakers.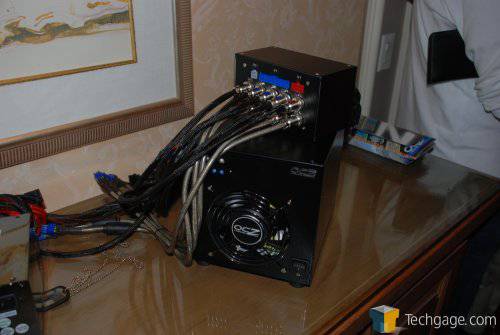 I'm a camera geek, so I was excited to see a lot of new innovations regarding this market. Since my Nikon D80 uses SD cards, I am always waiting for something bigger to come out. Do I need something bigger? That's not the point! Patriot had a brand new 16GB SDHC Class 6 card on display, which is simply incredible. Toshiba and Ultra have 8GB SDHC cards, but Patriot took it a step further. I will have to admit, I wasn't even sure 16GB would be possible so soon, since SDHC technology only arose recently.
Of course, there are two negatives to this card, but the positive is obvious. First, this is an SDHC card, and thanks to the higher density it will result in a slower write speed. But, it's a Class 6 card which is the highest SDHC standard available, which equates to 6MB/s. Another downside is the price I'm sure. I was not told an SRP, but current 16GB Compact Flash cards range in the $1,000 range, so we'll have to wait and see if this SD will be just as high.
Razer, Zalman
Razer is well known in the gaming community for their wide range of products, but they are about to add another addition to their arsenal, the 2.1 Mako. This is a great looking set that has plenty of power, 6 channels at 50W each. What makes these speakers cool are the design. We will get a lot more into this in our future review, but the general concept is that the sound is directed out of the speaker in such a manner that irregardless of where you are in the room, it will sound natural and not off-level.
We performed a few different tests to prove this fact. We placed the satellites in various positions, including directly against the wall. Then we cranked an Audioslave song and walked around the room and kneeled down to see if there was any difference, and there was not. Of course selective listening tests at home will have to be performed before we have a conclusion, but so far we are impressed. Very impressed.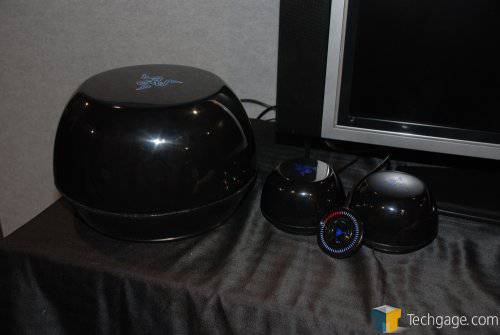 When we approached Zalmans booth, we were immediately asked, "Are you ready to see something you'd never expect Zalman to release?" Of course, we were intrigued. Lo and behold, a computer monitor! This is not a normal monitor though, but is designed with gaming in mind. It's touted as being the first 2D/3D convertible monitor, so that your games will seem more immersive and realistic.
The monitor uses the NVIDIA driver extensively, so at this point ATI is out of the question. This is the fault of a lack of a technology. Basically this tech overlays two images in such a way that when used with 3D glasses, it makes it look 3D. It's hard to explain without having it in front of me again, but it really has to be seen; It was a cool experience. Although I am still uncertain of the actual effect on the game and how much more fun it will add is yet to be seen. We will have a review when they become available and give you the scoop.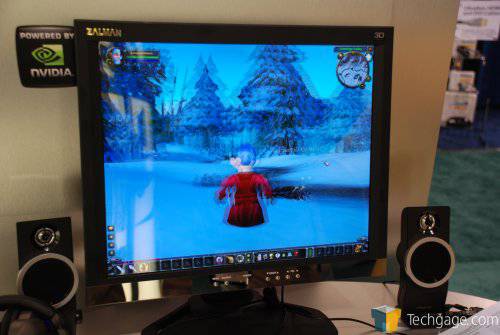 Last, but not least, is another Zalman product. I am unsure of the model number of this front panel, but it's a 4-fan controller that has a great looking interface and is easy to use. The reason I like the panel so much is the fact that it has an on-screen display of the current wattage being used, as you can see in the picture. To my knowledge, this has not been done in a panel before, but it's a great thing to have. If it's accurate, that is. It would be great to stress your PC to the max and easily see how much actual wattage is being used.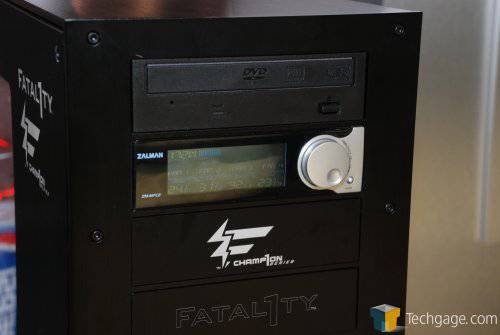 These are only 10 cool products we've passed by over the last couple days. As the days progress we will keep you updated and plan on continuing our coverage after CES is over to make sure you know all you need to know. Stay tuned.
Copyright © 2005-2020 Techgage Networks Inc. - All Rights Reserved.