CES 2007: Part 2

Date: January 18, 2007
Author(s): Rob Williams

In our second and final part of our CES "cool products" roundup we are taking a look at Intels 8-Core Xeon setup, Patriots PC2-10100 ram, Logitechs UltraVision webcam, D-Box's intense gaming setup, IBMs Mastor translator system and more.
---
Intel 8-Core, PDP PC2-10100, AGEIA PCI-E
Even though CES is long over, we still have a good deal of stuff to report on. In our part 1, we took a look at many products that caught our interest on day 0 and 1. Part 2 will concentrate on whatever really caught our interest during the remaining days.
Undoubtedly one of the most drool-worthy products I saw at the show isn't actually a product for sale, but rather one anyone with a huge wad of cash can build today. Intel had an 8-Core machine running using two Quad-Core Xeon processors and had the demos to prove it's usefulness. Even though this was more of a tech demo, there is nothing stopping anyone from running out and purchasing whatever is required to build such a machine today. Our friends at Phoronix took a look at a similar machine a few months ago, but ran Linux of course. So it was good to see a machine in person running Windows and benchmarks I was familiar with.
In terms of results, the approximate 3D Mark 06 CPU score was just over 6,000 and the Cinebench multi-thread benchmark was 2,350. These numbers go to show the potential that multi-core processors have. Intel also showed us a demo called Ice Storm Fighters which somewhat reminded me of the snow scene in Star Wars: Episode V (I believe). Although there is a lot of action on the screen, adding even more is possible with a keystroke. Once you add more action, you can halt the use of certain cores to see the performance difference. It's a somewhat simple demo, but again shows you what possibilities lie ahead in future games. As it stands, UT2007 is capable of handling 5 cores right out of the box, so it may not be too long before a system like this is on your list.
The only thing that may have been cooler than the 8 core machine was the blue ambient lighting that was going on. I now have to deck out my room like this ;-)
As I mention in all my memory reviews, it doesn't take long for one company to outperform another when it comes to raw frequencies. Patriot proved this at CES. While Corsair introduced a PC2-10000 kit, Patriot had a PC2-10100 kit in the showcase and another kit in a machine with CPU-z open to prove the speed. How much does something like this matter? It doesn't, but that's not the point. Seeing such high numbers for products "almost ready" for retail is great. I have to wonder when DDR2 is going to run out of steam though. Soon enough we will benefit far more from higher densities rather than raw frequency.
It has been a while since AGEIAs PhysX was launched and to be honest, we haven't seen anything explosive since then. However, we had a great meeting with them and they showcased some games that are on the horizon and even ones currently available. We will be getting into all of that soon though.
One of the biggest questions when the card first saw the light of day was, "Where the hell is a PCI-E version?" Well here it is… kind of. The PCI-E version is -only- available as an OEM, meaning it may be included with a purchase of a new pre-built rig, but it cannot be picked up off the shelf like this. We were not given a definitive answer as to when regular consumers can pick these up, but I think a good assumption would be the summer.
Logisys Panel, TT Hydraulic Case, SS TJ07-W
Logisys was another company that stuck to showcasing their already successful items, but they did have an upgraded media-panel on display. This panel can handle dual USB ports, dual Audio jacks, S-ATA, media cards, firewire and your fan speeds. There is a new LCD screen that keeps you informed on the status of the fans, including the temps of course.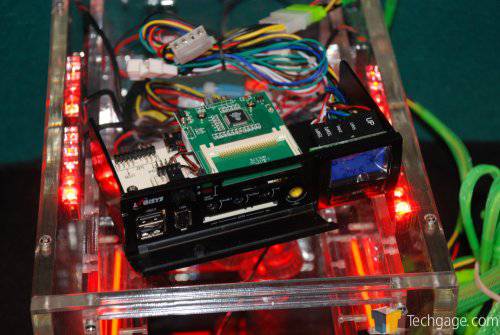 Thermaltake is well known for their cases. I have their Armor LCS and it's been treating me well. Though, nothing compares to a case like this. I don't recall the name, however it's going to be in very limited production with between 500 – 1000 manufactured. What helps the case stand apart would be the hydraulics which open the case at the top and the sides. It's unique to say the least.
I believe we were quoted the case as retailing for around $399, but they did not finalize what extras would be included. If the final version includes the water cooling, LCD and panels, you can expect that price to rise. Regardless, this is one of the nicest cases found at the show.
If the Thermaltake doesn't do anything for you, then how about this custom painted TJ07-W? I don't remember who did the paint job, but I did know one thing. I couldn't get away with stealing it.
With gaming becoming more realistic, it only makes sense to put your actual body in the middle of the action. Canadian company D-Box had this chair model on display, but have no ETA of final release. They currently mass produce similar chairs for the movie audience, but this is their first foray into the gaming market.
The game that was being run was an open source title which had specific code to tell the chair how to react. The exact same thing is done for movies. The D-Box rep shrugged when he told us that with movies, each and every frame is analyzed to make sure the chair is reacting as is should.
As you can see though, this was a setup that received a lot of attention. It's hard to say how soon we will see this hit the market, but hopefully sooner and not later.
D-Box Gaming, IBM Mastor, LG 71″, Logitech UltraVision
Skullycandy is a rapidly growing player in the headphones market. Their main selling point is the fact that they design their product for the people who are buying them. This is evident from the photo… there are even Jamaican themed ones. Some of the models include a pouch on the top, to store whatever it is you want, whether it be change or something less than legal, as we were told.
IBM is well known for new technologies but seem to have lost some limelight in recent years. They had a lot on display though, including their Cell CPU, gaming related tech and this MASTOR notebook. It's not really the notebook that's the selling feature but the software running. In gist, it's advanced translation software used for speaking to someone that speaks a different language. IBM informed us that this technology is already being used by the US Army overseas.
Basically, you choose your start and finish language and then speak into the microphone. As you speak you will see the text and wav file appear on the screen. Once you are finished, you push the Start button and it will both translate the English (or your native language) into the requested language in both text and voice. It even includes two different versions of the input and output, in case one is better than the other. As is common with most voice recognition software this one was not spot on, however it's uses are obvious.
High definition was a huge part of this years CES and was evident with the huge selections of TVs to oogle over. None grabbed my attention like the LG 71" Plasma 71PY1M, however. I am a big LCD TV buff myself and have always considered them to have better overall quality over Plasmas in both brightness and crispness of the picture. This TV proved me wrong though. It was the absolute clearest screen I have laid my eyes on. The image quality was clear and the text was as crisp as I had hoped, with no visible bleeding around the edges, even on the white fonts.
I am unsure of the retail price but specs wise it's capable of 1080p (1920×1080) with a contrast ratio of 1000:1. It has a brightness of 1,000 cd/m2 and includes not one, but two HMDI ports and is fully designed to work with your PC if that's what you wish to use it for.
Once in a while, I am impressed by a product that I would never expect. In this case, it's a Logitech Webcam. The QuickCam UltraVision to be exact. The webcam includes 5 high-quality lens elements for superb image clarity. It's also designed to function with all of the popular IM software available today. One thing that stood out was the fact that you can change your avatar on a dime. Included are many different avatars which will replace your face while talking to someone. This could include scary or funny characters. It doesn't matter what IM client you are using… you will be seen as your avatar because this feature runs right through the driver.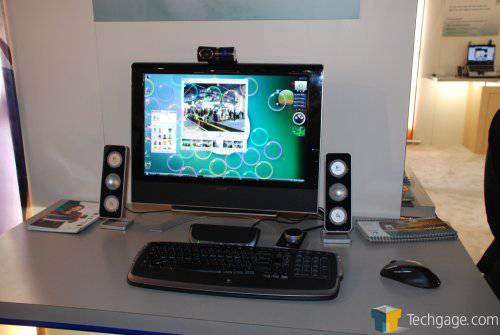 I was impressed by the accuracy though. The camera detected the face immediately and then wherever the person moved, the avatar was in the correct alignment and looked rather natural despite the fact that our Logitech rep looked like a true witch. We will be receiving one of these for review shortly, so I will get more in-depth at that time.
This is the bulk of the items we found of interest at CES. I've been hearing a lot of comments from others that this CES didn't do much to impress them, and I may have to agree. Within these two parts were the products that Greg and I were really impressed with or intrigued by. There are others, but they are in the works for more in-depth articles. I hope that you enjoyed our quick run-through and stay tuned for even more CES related content on the way.
Discuss in our forums!
If you have a comment you wish to make on this review, feel free to head on into our forums! There is no need to register in order to reply to such threads.
Copyright © 2005-2021 Techgage Networks Inc. - All Rights Reserved.