CES 2008: NETGEAR Press Conference
Date: January 7, 2008
Author(s): Greg King

Netgear's been positively humming with activity lately, averaging one product release per week in 2007 (with the exception of the holiday weeks.) We check in with them to see what they've got in store for us in 2008, and to put it plainly, we like what we see.
---
Introduction
Promising 18 new products at this year's CES, Netgear took the time at their pre-CES press conference to not only pat themselves on the back but also focus the attention of the members of the media to three particular devices. The press conference kicked off with Patrick Lo, CEO and founder of Netgear, taking the stage. Mr. Lo wasted no time in singing the praises of his company and pointing out various market statistics that show how well Netgear has grown and gained.
His aggressive opening speech was entertaining and to the point, pointing out that Netgear has grown to the largest home networking manufacturer in Europe and the second largest in America. With the company having released 48 products last year alone, Lo put things into perspective by pointing out that if you remove the holiday months from the equation, Netgear's proliferation of the home networking market grew at a pace of one new product per week last year… pretty aggressive indeed.
To follow a great 2007 up, he and VP of Product Marketing Vivek Pathela announced three great new products for 2008 and quickly pointed out that while they were focusing on three, there were 15 more new products on display at their booth this year at CES.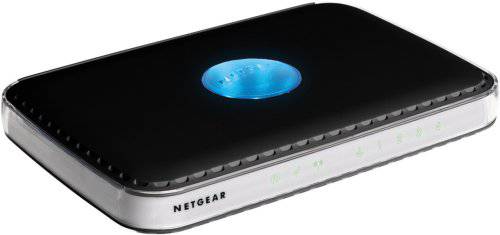 Starting with their newest addition to their router lineup, the RangeMax Dual Band Wireless N router brings to the table Netgear's own "metamaterial" antenna technology. Armed with EIGHT internal antennas, the RangeMax Dual Band router will apparently have better range and throughput when compared to other routers with the more traditional 3 external antennas.
What remains to be seen, and we hope to have one of these on our bench when they become available, is how well the internal antenna system works. We're a little bit skeptical of the internal antenna idea but if Netgear can pull it off — and from their presentation numbers they have — it's going to be a great day for visually appealing routers.
Operating over the conventional 2.4 GHz band as well as the 5 GHz band, Netgear's newest router looks to give the user a better wireless experience by opening up the far less populated 5 GHz band with the hopes that speed will be the direct byproduct. One killer feature of this router is that you can simultaneously use both bands for better compatibility with your existing wireless hardware. Another great feature of the router is its large blue center. This is a button that is back lit with multiple blue LEDs and can be lit or unlit depending on your preference.
Looks aside, the large blue button can also be pressed down and held for a few seconds to enable its Push N' Connect mode, allowing other wireless devices to detect the wireless settings and thus, get adopted by the router. This is great for the novice users who struggle with the basic of networking tasks but at this point, some questions remain unanswered. If the router is located in an apartment complex, will strangers be able to connect to your network when you enable the Push N' Connect mode? Further information about this technology is needed and we'll report back once we get that information from Netgear later today.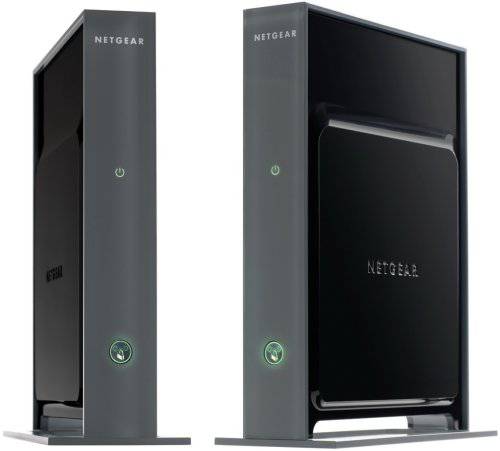 Next up was their wireless HD-Gaming networking kit. This allows the user to basically establish a secure wireless bridge between different areas of the house. Instead of running wires everywhere, you can setup this kit to expand your wireless network into areas of the house previously unreachable. You can connect your XBOX 360 to one side of the bridge and hook the other unit to your router, allowing your XBOX to connect to your router over the kit's 5 GHz band. It's a pretty snazzy device and should prove helpful for many people who need to connect their non-wireless devices to their home network but want to avoid the cable clutter that comes with such tasks.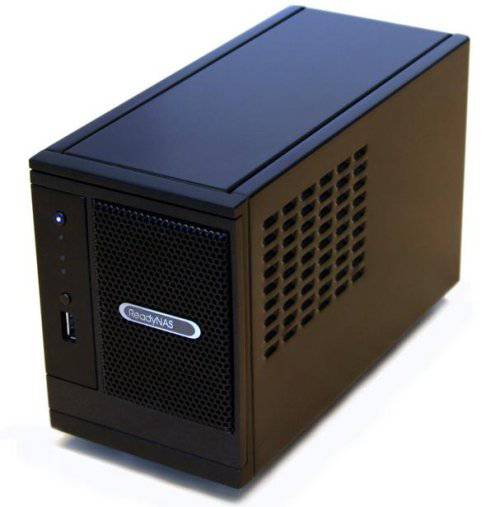 The final product that Netgear presented was their ReadyNAS Duo. As the name suggests, the ReadyNAS Duo is a dual drive NAS box that can accommodate up to a 1TB drive in each bay. If you're familiar with the site, you should not be surprised to hear that this is quite exciting news as the NV+ from Netgear has been a solid option for large needs network storage users. The Duo brings this technology to the masses with a smaller, easier to use device that still employs the X-RAID technology that all ReadyNAS devices have used in the past.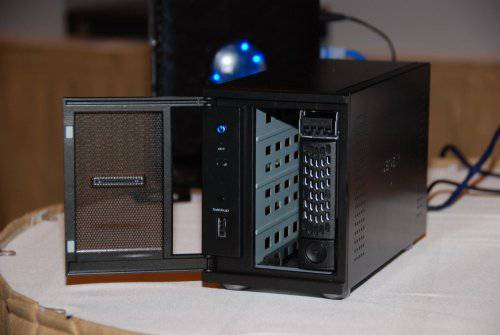 As you can see, the Duo is a swanky little device, and its all black appearance looks very good. Loading drives in from the front, the ReadyNAS Duo's drives are easily accessible. Like we mentioned earlier, the Duo uses the same X-RAID technology that other devices from this lineup have used, allowing seamless and uninterrupted data flow should one drive fail. This was demonstrated by Mr. Vivek when in the middle of streaming video to a local television, he pulled out a single drive to mimic a real life drive failure. There was no stutter in the video. When prompted to put the drive back in to allow the Duo to rebuild the array, he promptly declined but we were told that there would be a slight performance decrease when the drives were in fact syncing back up. This isn't a problem and won't be a problem for 99% of everyone out there, so I didn't view his reluctance to replace the drive as indicative of anything other than need to quickly wrap up the meeting.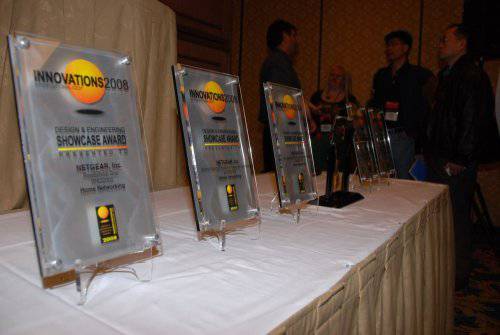 All in all, we walked away impressed by what we saw at the Netgear press conference. To give them their due, we also took a picture of their impressive 6 CES awards all lined up in a row for all to see. Netgear had a great 2007 and from the looks of things, their 2008 is starting off on the right foot. We will bring you more on this as information comes in.
Discuss in our forums!
If you have a comment you wish to make on this article, feel free to head on into our forums! There is no need to register in order to reply to such threads.
Copyright © 2005-2020 Techgage Networks Inc. - All Rights Reserved.