CES Unveiled: A CES Preview for the Press

Date: January 5, 2008
Author(s): Nate Marion

CES Unveiled is one of the smaller events at CES, but there were a handful of products being showcased worthy of your attention. Of these is Edifier's wireless Rainbow audio transmitter, Yoggie's security thumb drive, SentrySafe's hard-drive protectors, Beko's thin HDTVs and more.
---
Introduction
From flat screens to wireless networking devices to remote control beer coolers, and with more iPod accessories than should ever be allowed in the same county, CES Unveiled was certainly an interesting event, although there was a distinct lack of PC component companies represented.
Regardless, there were several companies displaying some potentially useful products.
Edifier was there promoting their new E3350 and S730 speaker systems and also their Rainbow audio streamer.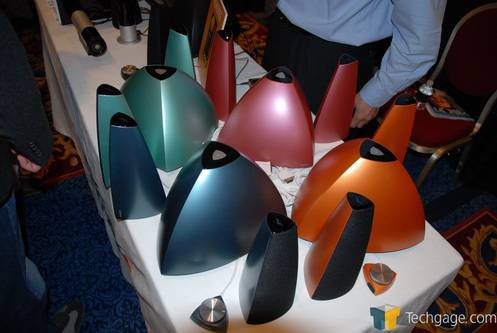 The E3350 won an International CES Innovations 2008 Design and Engineering Awards Honor for it's simplistically sleek design.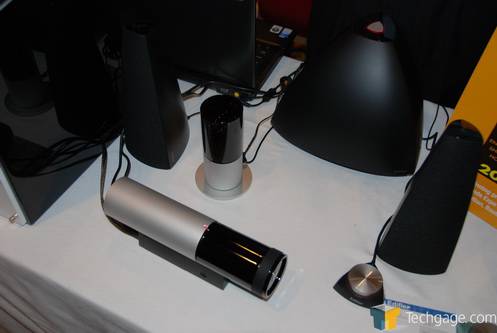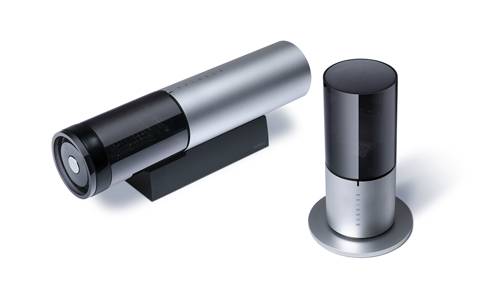 The Rainbow wireless audio transmitter also received an International CES Innovations 2008 Design and Engineering Awards Honor. The system uses a low-loss, no compression infrared technology to provide wireless audio signal transmission without the usual degradation in quality. The system can be used with any set of stereo speakers.
The S730 Multimedia Speaker Set will be the new big brother to the S330, stepping up the 6.5″ woofer to a beefy10″ with 180W of kick, along with much more powerful (75W) satellites to boot.
Yoggie was also there with their very tiny and very award-winning 'personal security server', the Gatekeeper Pico. Travelers who are often connected to various networks in varying states of secure-ness may be interested in this device.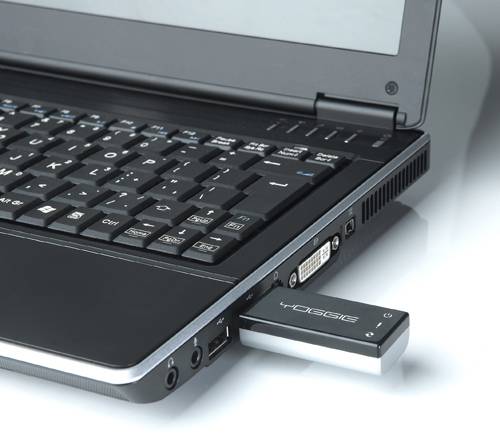 What might be mistaken for a simple thumb drive is actually a Linux-based computer loaded with 12 security features that can hide your IP address, provide spam and phishing filters, anti-virus, anti-spyware and more. These applications are run on the Gatekeeper Pico itself, and thus don't bog down your CPU. The only catch (if you can call it that) is that update support costs $30/year after the first year.
There were a number of companies offering various forms of HTPCs and HTPC components that most of us are already familiar with, however InternetVue was offering something a bit different along the HTPC vein.
That box is called the InternetVue 2020, and it's basically a specialized wireless receiver that plugs into a TV or monitor. Included software then allows users to stream video from any PC [usually a laptop] using any attached wireless 802.11b/g network adapter, so that whatever is displayed on the broadcasting PC is shown in up to 720p resolution at 30fps on the target monitor. It's a bit pricey at $250, but could be very convenient in a lot of circumstances, and may provide an alternative to building a full-fledged HTPC for casual users.
SentrySafe was showing a whack of fire and water resistant products designed to protect your data from anything mother nature can throw at it for up to 24 hours.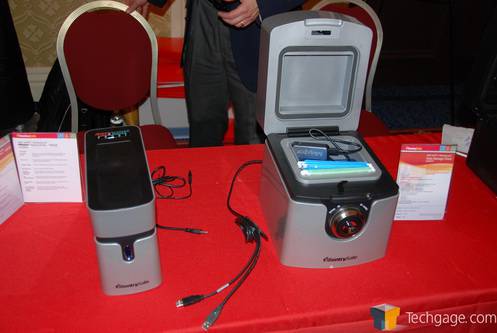 On the left is the QA0004, which is basically a 2.5″ Maxtor OneTouch 4 160gb hard drive enclosed in a protective shell. On the right, the QA0121 offers the same Maxtor drive as well as internal physical space to protect up to 30 optical discs. One of the nice things about these devices is that they have a USB pass-through plug so that you can access the protected hard disk drive without removing it from the protective safe.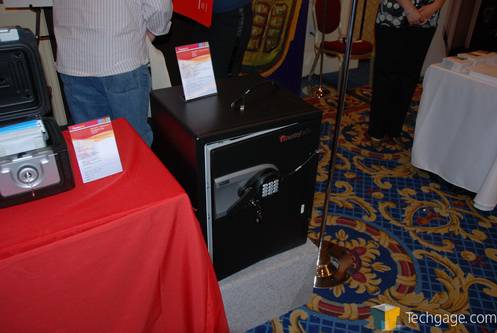 Things get bigger from there, with the QE4531 pictured above providing protection for up to 120 optical discs and connectivity for one user-supplied external hard drive. The QE5541 [not pictured] adds space for a rack of A-4 sized papers/folders/binders.
One of the few companies displaying their own LCDs was Beko, showing off their PIANO series.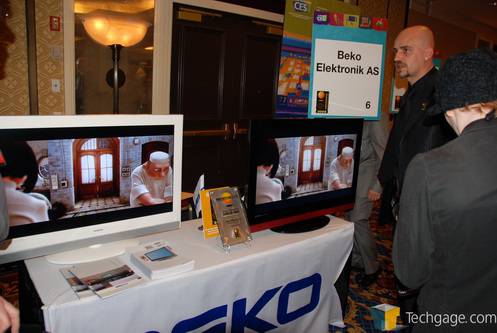 These HD panels are capable of 720p resolutions, 100Hz refresh rates, and offer optional built in SRS TruSurround XT audio. Motion compensation and Beko's 'VisionArt' technology help to improve image quality, and we can vouch for the clarity of the picture. Whether these TVs will be able to catch on in North America remains to be seen, but the quality is definitely there.
There'll be plenty more CES events in the coming days, and we'll be doing our best to make sure you're kept up to date, so check back often.
Discuss in our forums!
If you have a comment you wish to make on this article, feel free to head on into our forums! There is no need to register in order to reply to such threads.
Copyright © 2005-2020 Techgage Networks Inc. - All Rights Reserved.