CM Storm Pulse-R Aluminum Gaming Headset Review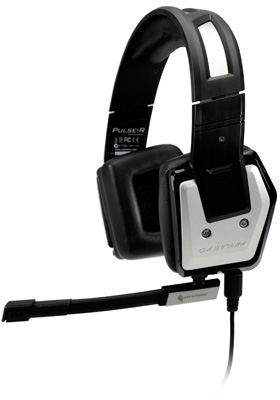 Date: September 2, 2013
Author(s): J.D. Kane

Killer looks? Check. Detachable microphone? Check. Detachable cable? Check. Bling? Check! Customizable ear cup panels? Check. On the surface, CM's Storm Pulse-R gaming headset ticks all of the right boxes as a LAN-ready, eSports-oriented stereo headset. But what is it like to live and play with? Let's put them on and find out.
---
Introduction
For better or for worse, one thing's certain about Cooler Master's new Storm Pulse-R gaming headset: It's going to catch your eye. Not sure what I mean? Just look at it.
This isn't Cooler Master's first headset, of course. Its first two, the 5.1 surround sound Sirus and the stereo Sonuz, look like they share a lot of the same design DNA. They share the same austere gray color scheme, with similar rounded contours and egg-shaped ear cups. Plastic is the dominant material for both of these headsets.
The Pulse-R, on the other hand, doesn't look like its older siblings. Instead of gray, it is black and aluminum; instead of the rounded contours, it has more linear shapes and chiseled surfaces. And there seems to be a bit less plastic in the Pulse-R's construction compared to its kin.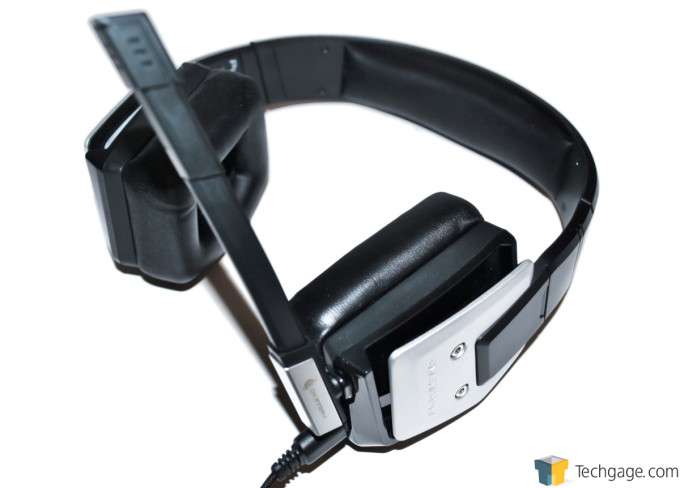 And it's not just in looks where the Pulse-R deviates from the Sirus and Sonuz, so let's have a closer look at its salient features.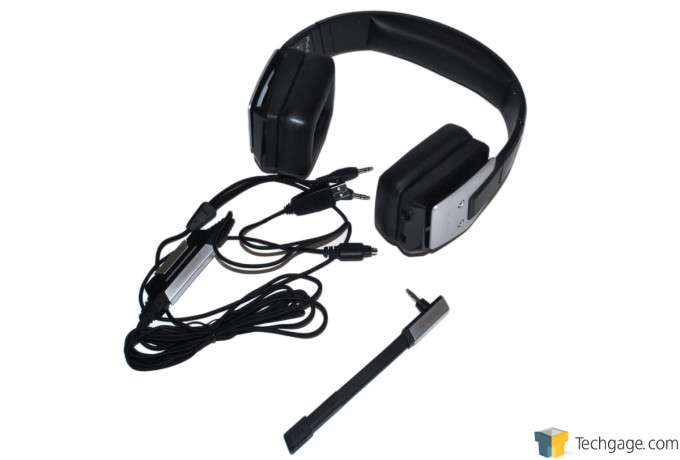 The Pulse-R is essentially composed of three interconnected components. There is the stereo headset itself, the detachable microphone stalk, and the cable. We'll see each of these in turn.
First, the headset itself.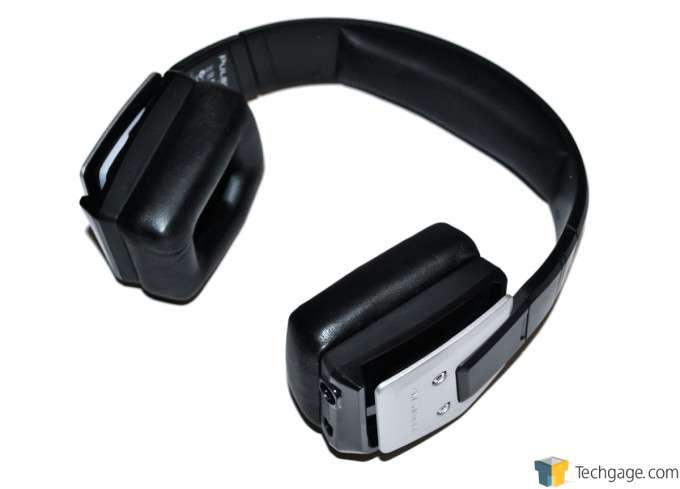 It's obvious that the Pulse-R represents a deviation from the design path established by the Sirus and Sonuz. Aluminum is very much in evidence in the construction, and it's even used as a visual highlighter on the Pulse-R.
There's a big piece of beveled aluminum adorning the outside of each ear cup. Mirroring the ear cups' asymmetrical pentagon shape, the aluminum plates are definitely eye-catching and serve to break up the visual monotony of all that black. These aluminum plates can be removed via undoing two Torx screws; once these Torx screws are removed, the aluminum accent pieces can be painted, anodized, or covered up by vinyl stickers (perhaps depicting a LAN clan logo – Hello, Team Hello Kitty!). I can even picture having patterns or logos etched into these plates. Cooler Master intended these to be customizable, so how you do it is completely up to you.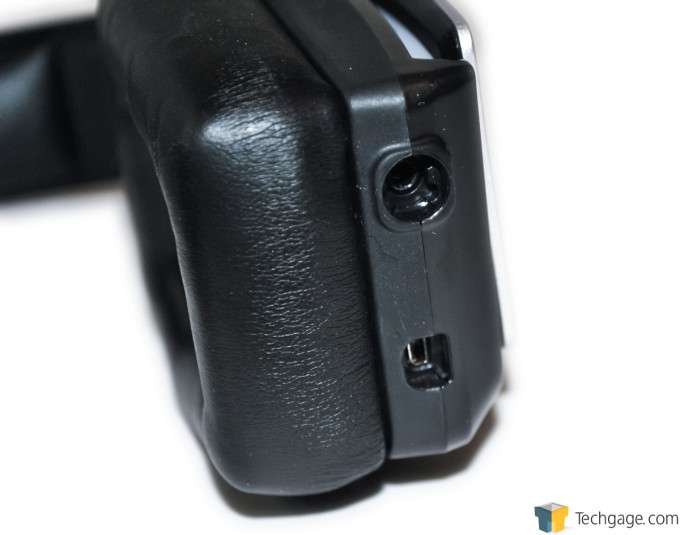 Under the left ear cup are two jacks. The round jack is a 3.5mm mic, while the one that looks vaguely like a mini-USB port is for the headset's cable. The mic jack is keyed; you have to insert the mic stalk in, then twist until you can push it into its connection. It takes a big tug to remove the mic stalk, but you have to be careful that you don't force the mic into its jack since the keyed structures are all made of plastic – it's certainly vulnerable to damage.
The headset cable connector mates up with the cable snugly as well, so there's very little chance of accidental disconnections.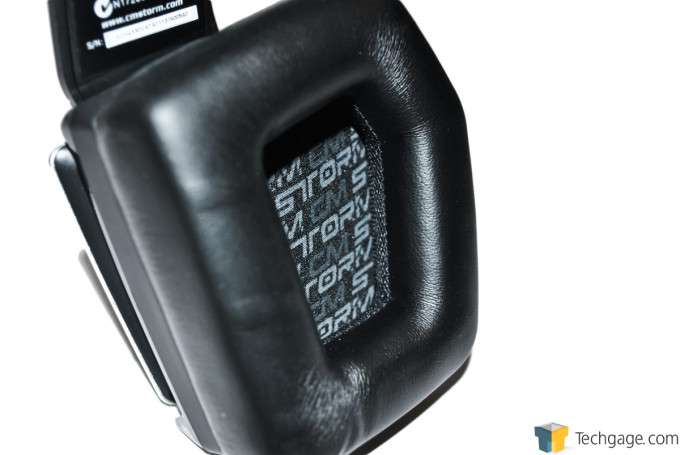 The ear cups each house a single 42mm driver inside, and are lined with a thickly-padded cushion covered by soft leather (or a very convincing imitation thereof). The ear cup's insides are covered with cloth emblazoned with CM Storm logos.
The ear cups are mounted to the headband (which itself boasts more than adequate padding) via ball joints. These ball joints allow limited movement in all directions, which go a long way towards ensuring a good, comfortable fit. Speaking of the headband, it is constructed from aluminum as well, and sheathed in plastic, leather and padding.
Now let's have a look at the microphone stalk.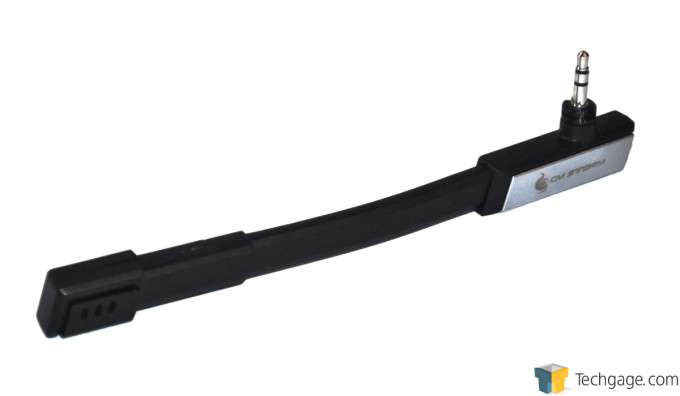 It's simple enough, with the pick-up on one end and the 3.5mm connector jutting up perpendicular to the horizontal on the other. As mentioned before, the connector is keyed. The pick-up lights up with a white LED when it is active. The stalk itself is flexible along most of its length, so you can place the pick-up closer or further from your mouth as you wish.
Finally, let's have a look at the cable.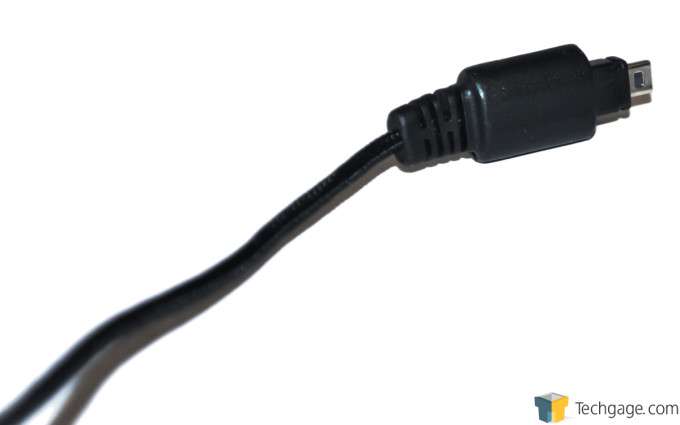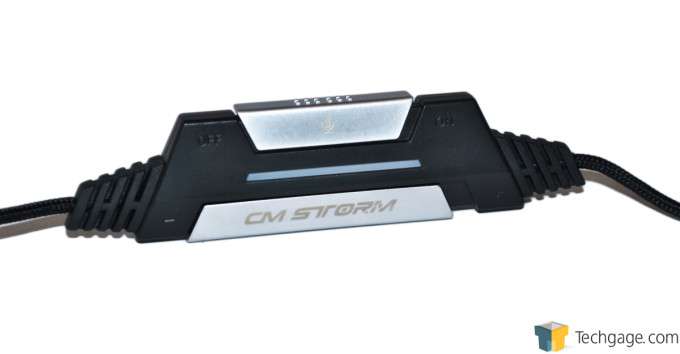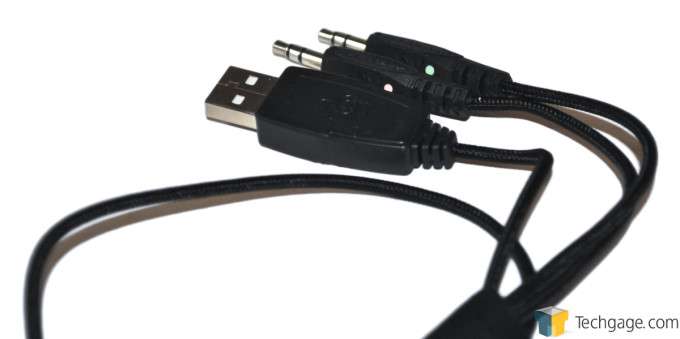 The Pulse-R is the first CM Storm headset to feature a detachable cable. I've only seen this feature implemented on more "serious" audio gear (my Shure SRH840 has this, for example), so it's interesting to see the Pulse-R have it. After thinking about it a little, it's a useful feature for a gaming headset, especially for gamers who engage in competitive eSports. eSports competitors (I almost wrote "athletes," but stopped myself) travel with their gear from LAN battle to LAN battle: They can now stow their cables neatly, without fear of tangles or breakage.
The cable features high-quality braiding. It also has a usefully large inline control box; on one edge is a mic on/off sliding switch, while the volume control slider is on the other edge. The cable terminates in three connectors: The lime green 3.5mm connector is for microphone out, the pink 3.5mm one is for microphone in, and the USB (not gold plated, which is strange for CM Storm) supplies power to the headset's LEDs.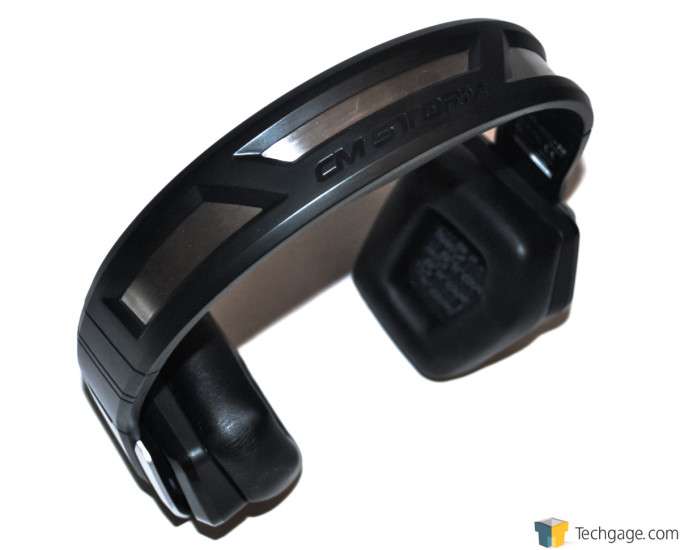 Speaking of those LEDs, they are white and mounted inside the aluminum trim pieces of the ear cups. The inline control box also lights up with the same white LEDs.
Now that we've had a good look at the Pulse-R, let's move on to performance evaluations and then some concluding thoughts.
Performance Testing & Final Thoughts
I tested the Pulse-R in various scenarios, including gaming, movies, and music playback, to get a good picture of its sound signature. I also tested its microphone's capabilities by using it in Skype. Finally, I also evaluated its ergonomics and aesthetics. By the end, we'll have a good picture of what it's like to live with – and play with – the Pulse-R.
First, a complimentary comment: I love the fact that, despite the three-piece presentation, the Pulse-R is a simple stereo headset. That means it doesn't need any drivers or software. It's plug-and-play all the way.
Now, some observations whilst gaming. The Pulse-R is unashamedly a gaming headset, so I wasn't surprised to discover there is much to like when it's used for that purpose. For one thing, its sound signature is heavily biased towards the bass end of the scale. Consequently, low frequency sounds really stand out. Big explosions in FPSes like Crysis 2 and Crysis 3, Call of Duty: Modern Warfare 3, and Battlefield 3 are particularly satisfying: They rumble without distortion, even at higher volume levels. The bias for low frequency sounds endows gaming sounds with a certain "bigness." It's a pleasant effect that's unique to this headset. Positional audio is also quite good, certainly no worse nor no better than other stereo headsets/headphones I've used. The "limitation" to just two drivers is no such thing, as it's still easy to tell where enemies, vehicles, and weapons discharges are relative to your in-game character's position.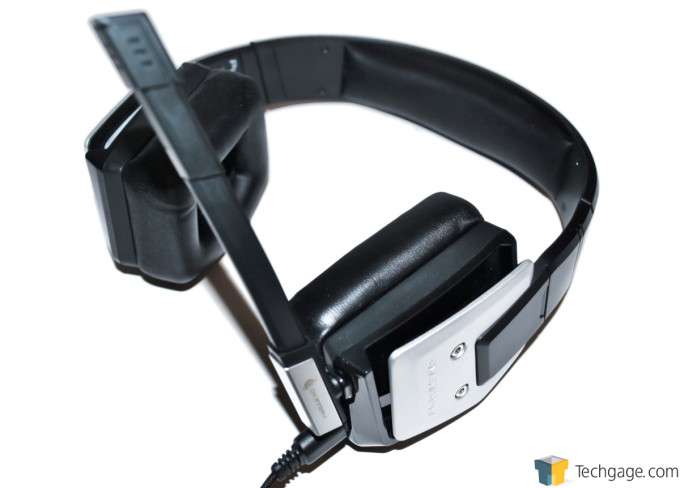 In movies, the Pulse-R performs much as it does in gaming. Its bias for bass emphasizes sounds from that end of the scale. But where the effect in games is pleasant, it is less so in movies. The biggest problem is in dialogue-heavy portions of the soundtrack: Voices sound unnatural, thicker and heavier than they should. It's a psychological effect, but it's no less distracting. Also, low-amplitude high-frequency sounds are simply overwhelmed: The bass sounds just dominate, and you can't hear quieter higher-pitched sounds. On the positive side, it's still quite good with sounds that pan from side-to-side; you can easily track spacecraft that fly across the screen, or that artillery shell that goes over the camera traveling diagonally from right to left.
While I prefer stereo when it comes to music playback, the Pulse-R leaves me a little miffed. Again, I blame the bass bias. Songs like the Foo Fighters' Ain't It The Life or the Byrds' rendition of Hey Mr. Tambourine Man have guitar bits that should sound sparkly and bright; on the Pulse-R, these treble notes sound dark and thick and muddled. On orchestral tracks, the Pulse-R tends to bury violins and flutes, bells and triangles, and other high-register instruments under an avalanche of heavier and darker sounds. Familiar songs played back through neutral monitor headphones such as my aforementioned Shure SRH840s take on an unpleasantly dark and weighty aspect on the Pulse-R. On the other hand, play a tune like Sweet Emotion by Aerosmith or Ben E. King's classic rendition of Stand By Me, you'd likely love the emphasis on the bottom end. Here's the bottom line (pun intended), when it comes to the Pulse-R's performance in music playback: Bass-heads would likely love the Pulse-R for its bass-bias, but listeners looking for nuance and precision really should look elsewhere.
Going on to the Pulse-R's microphone, the long and short of things is that it works fine. Skype conversations using the Pulse-R revealed zero issues. According to my conversation partners, my voice came through clear and distortion-free, which is a great thing indeed.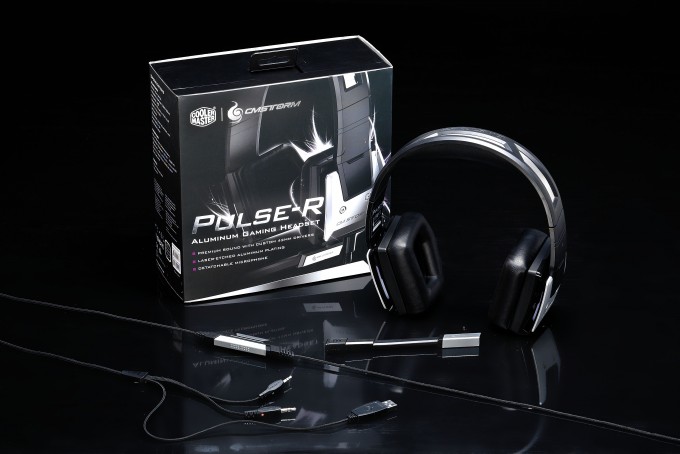 Ergonomically, the Pulse-R is mostly comfortable. The ear cups' thick padding aids the aluminum headband in keeping the headset on my melon with ease. The fit never feels too tight after the first couple of times using it – perhaps the aluminum headband needed to "memorize" the bend required for my head. Whatever the explanation, the Pulse-R will surely fit well on any end-user's head.
Unfortunately, there are some ergonomic niggles to report. Chief amongst these is the thick padding on the ear cups retains a lot of body heat. After just thirty minutes or so, my ears are fairly hot and moist, necessitating a break to give the Pulse-R's ear pieces (and my ears!) a wipe. Of course, right now it's summer in SoCal where I am; although it's really been a mild season, sometimes it gets up to 83°F in my apartment, and that's enough to get my ears sweaty. Then again, I can't say I can recall any of my other headsets/headphones (my collection of these rivals my keyboard collection) giving me similar issues.
Another slight complaint I'll make might just be unique to my ears: The ear cups seem just a touch too small. Ideally, the entire ear should sit inside the padded area of the ear cup. With the Pulse-R, though, part of my ear is pinched by the ear cup's padding. I don't really have ears the size of an African elephant's, but it's a little curious that the Pulse-R is the only headphone/headset that has ear cups that are just a mite undersized for my ears.
One final comment that is neither a word of praise nor a complaint has to do with the Pulse-R's prevalent use of aluminum in its construction. The headband is purely aluminum sheathed in some plastic and leather, while the ear cups have aluminum plates on the outside. All this metal has a certain amount of mass; you will feel it on your head and neck. It won't cause your neck muscles to break out in spasms (something else did that to me), but you will feel the Pulse-R's presence while you've got it on.
Aesthetically, the Pulse-R is eye-catching. I like how its visual styling is distinct from its CM Storm headset relatives. The asymmetrical pentagons of the ear cups are unique to this headset, and the beveled aluminum plates only accentuate that shape. The color scheme of black and aluminum exude a certain "tech-y" vibe, as well. The whole thing somewhat reminds me of a 1980s DMC DeLorean.
That DeLorean flavor only gets more pronounced once you plug this thing into a USB port, thereby activating the white LEDs secreted in the ear cups and in the inline control box on the cable. I can almost hear Doc Brown say, "Once this sucker hits 88mph, you're gonna see some serious $#17."
So what's the verdict on the CM Storm Pulse-R? It's visually distinctive and arresting, sure. It's one of the very few gaming headsets that features LED bling, detachable cable, and removable microphone. You can customize its signature aluminum ear cup plates however you want. It's fairly comfortable to use, smallish ear cups notwithstanding. I love how you don't need any drivers or software to use it. It's very good when used in gaming, for sure. Given its $89.99 MSRP, though, I think it's a little too specialized. You will have to put up with some fairly big compromises when it comes to its bass-biased sound signature. Its performance in movies isn't as good as it should have been, and unless you only listen to the thump and boom of heavy bass in your musical preferences this wouldn't be a headset I would recommend for you. Its strong emphasis on the bottom end means that the bottom line for the Pulse-R is less than favorable than it could have been.
I guess it all comes down to how you intend to use the Pulse-R: If you want a superb stereo headset to use just for gaming, it's a good buy. If you want something that can be used for movies and music as well, it's possible you might wind up being a bit disappointed.
Pros
No drivers or software needed
Visually distinctive
Good construction and materials
Very good performance in gaming
Scope for customization
Bling (LEDs) (if you're into that sort of thing)
Microphone with zero issues
Cons
Very heavy, dark, bass-biased sound signature (compromises movie and music playback performance)
Thick ear cup padding traps body heat
Price, given its one-note gaming specialization
Copyright © 2005-2020 Techgage Networks Inc. - All Rights Reserved.