CM Storm QuickFire Rapid Gaming Keyboard Review

Date: January 25, 2012
Author(s): Ryan Perry

CM's QuickFire Rapid gaming keyboard is unlike any other. It's not flashy, it doesn't have a bunch of bright LEDs, it has no macro support and… it has no numpad. So what is it that sets it apart? Its sturdy design and use of CHERRY MX blue mechanical key switches. Let's see if those features make up for what's lacking.
---
Introduction
I've started off many peripheral reviews with a little spiel about how companies who have established themselves in one market are branching out into others. It's something that we see more and more everyday and that's exactly where we are again with this review.
Cooler Master, which has been a case manufacturing juggernaut for as long as I can remember, has released several successful and well performing models of gaming mice and most recently a gaming headset under its CM Storm brand. Up until now the keyboard market has remained untouched but the CM Storm portfolio is being expanded with the launch of the QuickFire Rapid mechanical gaming keyboard.
Mechanical keyboards tend to be a bit of a niche item in today's market where they seem to be few and far between. Often, users who are on the hunt for a new keyboard might think that mechanical keyboards are too expensive or have heard from others that they are too noisy for everyday use and pass them by. There are even some who say that mechanical keyboards are meant more for typing than for gaming. That may or may not be a valid point and by the end of this review we hope to find the answer either way with this particular keyboard.
Moving onto the QuickFire Rapid itself there are two flavours available; the standard silver version that could ship with either black, brown or blue CHERRY MX switches depending on the region and the Red Switch version, which features exactly that along with an all black exterior. Regardless of the type of switches, they are all rated for over 50 million keystrokes.
Our review sample was the standard version so we'll start off with an overall look. The exterior features the same "soft touch" rubberized surface carried over from the CM Storm gaming mice. Right off the top most will notice that the number pad is missing, which gives the QuickFire Rapid a compact footprint. This further classifies the keyboard as a gaming keyboard seeing how while many people including myself use the number pad very frequently for day to day use, I can't recall the last time I used it for gaming. MMO gamers, however, might shudder at the thought. The smaller size also makes it ideal for gamers on the go.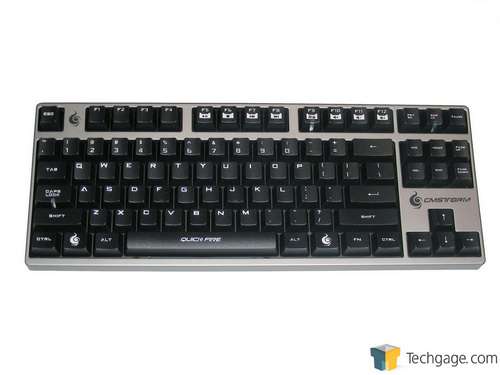 On the outside the keys are standard fare and sit above the keyboard body, so those looking for a low travel, scissor switch feel more in line with a laptop, you will need to keep searching. The keys are nicely sized with none of them squished in or reduced to make room and the characters have been laser-marked instead of using lower cost pad printing.
The keyboard features a 1000mhz/1ms response time when used in USB mode and being geared towards gamers offers "anti-ghosting" to allow for several keys to be pressed at once without interrupting input. For those who plan on connecting it via PS/2 it also features N-key roll over, which in the most basic explanation could be considered anti-ghosting for that form of connectivity, but on a much larger scale.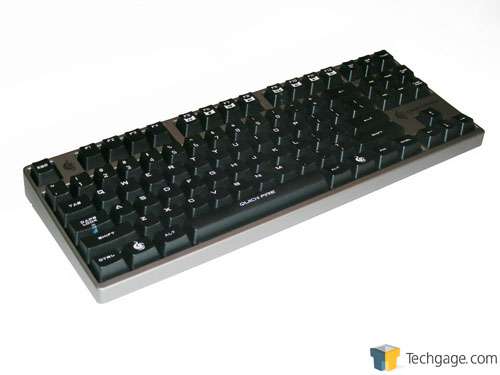 The function key labeled "FN" activates the secondary multimedia functions for keys F5 through F12 such as play, pause and the volume controls. For those who press the Windows key at inopportune times it can be disabled with the secondary function of the F9 key, but this is also done automatically once a game has been launched. When the Windows key is locked a red LED shines through a translucent insert that's also found on the CAPS LOCK and SCR LOCK keys.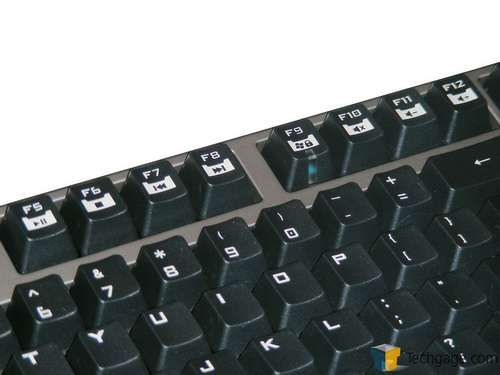 Even though I could tell which kind of switch was used with a simple keystroke, the box we received had a sticker on it. This will bode well for someone looking for a particular kind of switch based on their preference. With the pesky A key out of the way one of the CHERRY MX blue switches can be viewed. The blue switches feature low resistance, tactile feedback and give a click with each press. Just for fun I went on the hunt to see what people thought of this type of switch and found a few posts where they said to be better suited for typing, while black and red are better for gaming and brown is more middle of the road, but we'll see about that.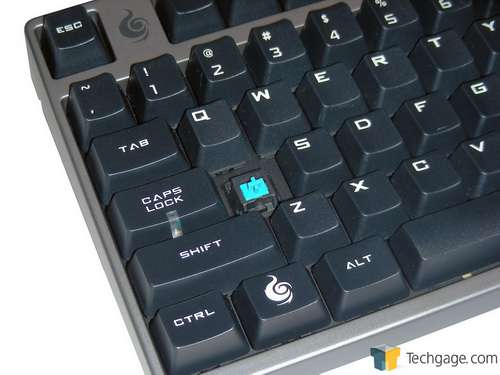 A recessed area on the underside of the keyboard houses the port for the detachable cable. There are also left, right and center channels that allow for the cable to be run where it is best suited depending on the user's setup or preference.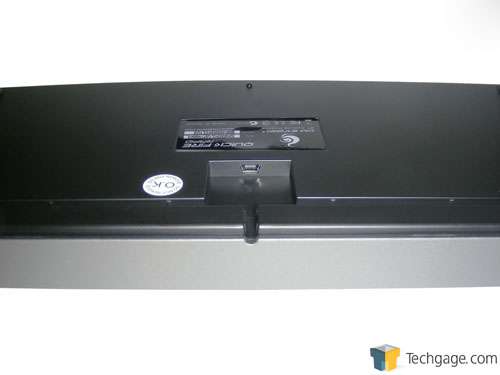 On each of the corners are the standard flip feet to raise the profile of the keyboard and rubber pads in each of the four corners to protect the surface it rests on.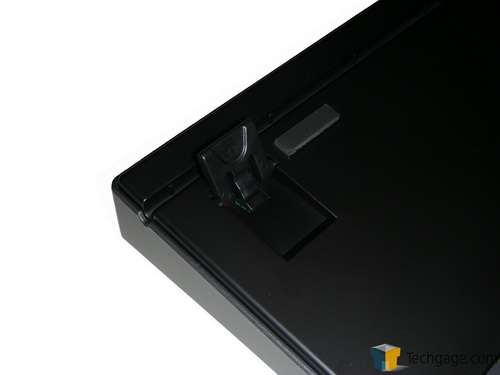 Included with the QuickFire Rapid are the key removal tool, red replacement WASD arrow keys and two black Cooler Master keys – all of which use pad printing for the labels. There is also the braided USB cable similar to what is found on some of the other CM Storm products, a PS/2 adapter and the user guide. There's no macro support for this keyboard so in turn that means no software CD is included.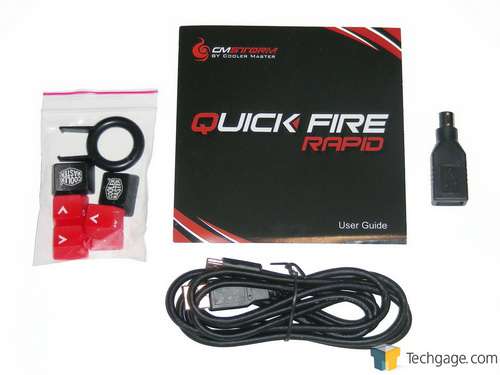 What better way to truly test out a keyboard than to use it while writing the review along with a little gaming sprinkled into the mix for good measure? Up next is my experience after using the QuickFire Rapid under some fairly heavy typing and some light gaming over the course of a week.
Testing
Overall, I've found the QuickFire Rapid to be an extremely sturdy keyboard with a lot of weight behind it due to the high quality individual switches. This gives it a quality feel with none of the creakiness in the body or the keys found in many of the other keyboards I've personally used that come of feeling flimsy and cheap.
When it comes to typing the QuickFire Rapid performed flawlessly. I didn't notice any strange quirks or abnormal character input while writing this review although the feel of the low resistance switches took a bit of getting used to after using a non-mechanical keyboard for so long. Missing the number pad was also something that took some time to adjust to and in the end I found it to be a minor annoyance but it could end up being a major factor while writing a case or cooler review that contains more numerical data.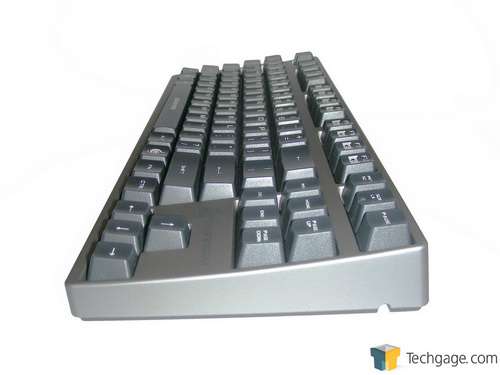 On an average day I clock in at about 110 words per minute and tend to type very heavily regardless of the keyboard being used and heavy typing means more noise. It's just the way my typing habits have developed over the years. Due to the clicking from the switches and the fact that they offer such low resistance the keys quickly travel to their maximum depth and then stop causing another click. All of this translates into additional noise on top of what I already make. Slowing my typing down the keyboard did become fairly quiet with mostly the click of the switch being heard and an occasional hit of the spacebar.
For gaming the keyboard held up very well but the loss of macro support may not sit well with some. I wouldn't say that I'm a hardcore gamer so I generally don't use macros unless it's for something tedious. My everyday driver system along with all of my games is out of action so testing fell on the shoulders of a hastily installed copy of Fear 3. It would have been nice to test with a game that I have played using my normal non-mechanical keyboard but when life gives you lemons…
The low resistance of the keys is perfect for my style of play since I like what would almost be considered a hair trigger. Since the keyboard uses a standard layout with nothing special added in all of the keys were easily pressed and again there was no abnormal input noticed. Overall the session was enjoyable with the exception of my lack of skill.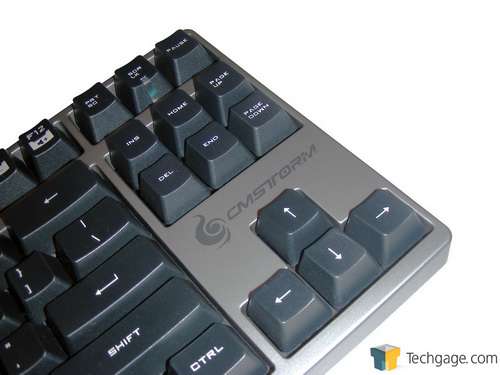 To have some sort of quantifiable data I decided to employ the method of testing that Jamie used when looking at the Enermax Aurora Lite Ultra Thin keyboard by using some common and uncommon key combinations that many may use while gaming.
Common
aw
wd
as
sd
we
wf
wr
wc
wg
1w
2w
w3
w4
awe
awr
awf
awg
awc
wcd
wce
wrc
wcf
scd
Uncommon
sde
sdf
awt
qwd
qwcd
awcr
awce
awcf
awcg
aw3c
awc4
1wcd
2wcd
Unlike the Enermax keyboard, which was not a gaming keyboard, all common and uncommon combinations were captured without any issues at all. Some of the uncommon combinations would be enough to make me cry uncle during intense gaming sessions and would require preparation, so even though I may not be able to save my skin, it's nice to know that a death here or there isn't due to the hardware.
Final Thoughts
At the end of the week I was left extremely impressed by the QuickFire Rapid. It screams quality when your hands are on it, but when they aren't it chooses to sit there on the desk without any of the flashiness found on other CM Storm products. It's kind of like the cool kid who knows they're cool but doesn't have to prove it.
The keyboard is rugged, well designed and performed extremely well during my typing and gaming sessions with all keys right where they should be. Too often manufacturers will sneak in special keys at the expense of others or will give the keyboard a custom layout that might take some time to get used to, but the QuickFire Rapid follows the tried and true configuration. Almost.
The missing number pad is sure to turn some away immediately, especially those who do as much typing as gaming, but I can't take away points for the design. It's not as if the box art shows it's included and when you open the box, surprise! No number pad! For those who just can't get past this the CM Storm Trigger was announced in June of last year on the official CM Storm forums and features the same high-end switches found on the QuickFire Rapid but with the number pad and some other bells and whistles, so stay tuned for that if it's still a go.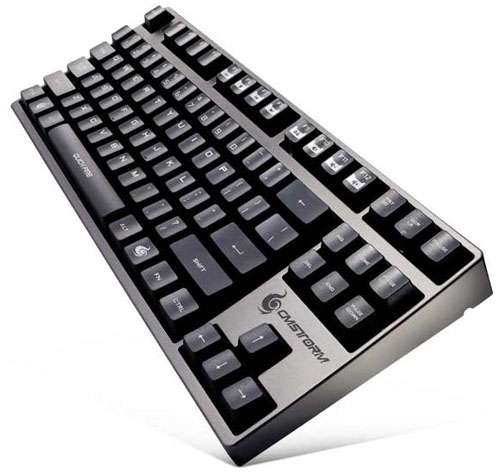 Most modern gaming keyboards generally include macro support and some of the more hardcore gamers will be put off by the fact that the QuickFire Rapid doesn't. As I said I don't tend to use macros anyway so it wasn't a make or break feature, however it does give off the feeling that the keyboard is almost too simplistic as macros always just seem to be available.
The only design change that I would like to see would be an increase in the amount of room where the cable connects on the underside of the keyboard. The area is cramped making the initial connection a little tough and unless extra slack is given the connection can be pulled off kilter if routed to the sides. The channels could have also been made just a hair wider to allow the cable to be pushed in with greater ease, but these are minor changes that did not hinder usage.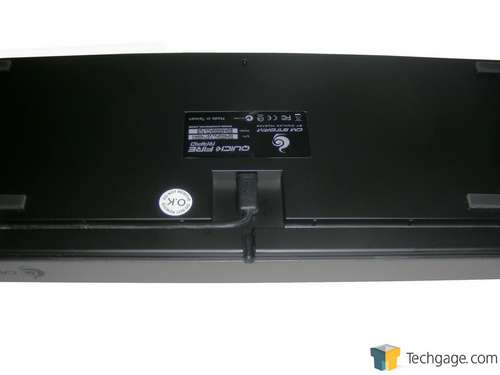 The QuickFire Rapid has performance locked up tight so that ultimately leaves personal preference, which when it comes to keyboards is just as big of a factor. Remember that different types of switches will be available and that the black, brown and red switches perform differently than the blue ones did in this review. Normally a review aims to be the leading source of information on a product but due to the variety of switches available this one is not the be all, end all.
I recommend that all potential buyers do some research on the type of switch that will best work for them based on their preference. This will allow them to pick up a keyboard that will work precisely the way they want while not sticking them with a bill for ~$80 bill when they can't return an open box item.
I'm currently a happy user of the CM Storm Sentinel Advance mouse and Sirus headset so when I heard that a keyboard was being launched I was excited to say the least. Thankfully I haven't been disappointed. The QuickFire Rapid is a great first offering in a market segment that can be won or lost on even the most minute details.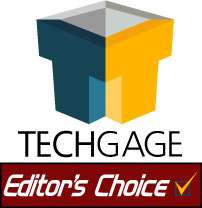 CM Storm QuickFire Rapid Gaming Keyboard
Discuss this article in our forums!
Have a comment you wish to make on this article? Recommendations? Criticism? Feel free to head over to our related thread and put your words to our virtual paper! There is no requirement to register in order to respond to these threads, but it sure doesn't hurt!
Copyright © 2005-2020 Techgage Networks Inc. - All Rights Reserved.