CM Storm Scout 2 Mid-Tower Gaming Chassis Review

Date: September 25, 2012
Author(s): Ryan Perry

Cooler Master's original Scout brought a lot to the table when it was released in 2009, and for all it did right, it came highly recommended by us. Will we be left just as impressed with its sequel, the "Scout 2"? On the surface, this LAN-inspired chassis looks the part and its feature-set proves sufficient, so let's find out.
---
Introduction
For gamers on the go, there are a whole separate set of wants and needs compared to gamers who setup their rig and leave it on the floor. When it comes to cases, they need to be lightweight, easy to transport and able to keep your bits and pieces safe, all without sacrificing features or build quality.
Enter the Scout 2 from Cooler Master, which has just been released today under the gamer-oriented CM Storm brand name. Like the original Scout, the Scout 2 is made for LAN gamers and aims to cover all of the above requirements without stripping down any of the must-have bells and whistles.
Made primarily of steel with plastic accents, the Scout 2 supports micro-ATX and ATX motherboard form factors, just as the original did. The entire front panel is covered by a filtered, metal mesh to provide maximum airflow. There's room at the top for up to three 5.25″ drives and up to two optional 120mm fans or a single optional 140mm fan that will take up the remaining space below.
Over on the left side is a raised trapezoid window and two vented areas where optional 120mm fans can be installed. Raising this area allows for extra room when using tower-style heatsinks and/or mounting fans over the GPU area. The right panel features the same raised area, but without the window or vents and makes for more room to tuck cables behind the motherboard tray.
Around back are features found on many popular cases including 7 expansion slots, grommet-lined holes for pass-through water cooling and the opening for a bottom-mounted power supply, complete with a removable dust filter. Seeing how this case is geared towards LAN party goers, Cooler Master has once again included its StormGuard "locking" system to keep your peripherals safe if you have to step away from your rig. This time around, it's placed vertically to free up an extra expansion slot.
Up top, a sliding cover on the front hides the microphone and headphone jacks, a pair of USB 3.0 ports and a set of USB 2.0 ports. Behind that are the power and reset buttons, along with the fan LED on/off button that can control the lights on up to 9 fans, including the stock exhaust fan. The rest of the top is taken up by a removable vent where up to two optional 120mm fans can be installed, and sitting over this is a reinforced, "soft touch" (aka rubber) coated handle to make transporting the case easier.
Removing the left panel gives an overall view that shows room for up to seven 3.5″ hard drives with one of the drive bays holding a tray for 2.5″ drives. The top half of the drive cage can be removed for extra airflow or left in place where an optional 120mm fan can be mounted to the side that faces the GPU. Rounding out the interior are the tool-less mounting system for 5.25″ drives, grommet-lined cable management holes and a cutout around the CPU area of the motherboard tray, room for another optional 120mm fan on the floor of the case, foam-capped risers to absorb any vibrations made by the power supply, and an included 120mm red LED exhaust fan.
Included with the Scout 2 are some brass motherboard standoffs and a socket for those tricky ones that just won't tighten down, screws to hold the motherboard and various drives in place if some extra stability is needed, a loop that will allow for a lock to be used on the left panel, a speaker, some zip ties and the rails used to mount 3.5″ drives.
Avid readers might notice that this review is shorter than past articles, but it's not because the Scout 2 lacks features. In fact it's quite the opposite, but chances are that those of you who feel the Scout 2 is an option for your system are likely to visit Cooler Master's site. Specs are specs and pictures are pictures. Anybody can read specs and anybody can look at pictures.
We feel that real-world testing is more applicable than going over what is listed on the official site or snapping a few extra pieces of eye candy since functionality and performance can make or break a case. With that said, we install our test system and put the Scout 2 through our usual battery of tests on the next page, so read on.
Installation & Testing
We've reviewed quite a few of Cooler Master's other cases in the past, but this is the first one from the CM Storm line up to now that has hit my bench. Having also reviewed a few CM Storm peripherals and finding them to be excellent products, expectations were naturally high.
Thankfully, I wasn't disappointed as every component installed perfectly without any clearance or alignment issues, however the long bolts used to secure the fan and radiator of the H60 did not sit flush like the screws for the stock exhaust fan. This kept the right panel from sliding closed completely and in turn threw off the alignment of the holes where the thumbscrews would thread. This isn't CM's fault and I found that if you remove the metal washers included with the H60 and use only the bolts, there is enough room to secure the panel.
I also wanted to take a closer look at the StormGuard-locking system. Users can loop the cords from their peripherals through the slots and then secure the cover with the thumbscrew. What I don't particularly like is that the cover can be removed from the outside, meaning your gear isn't truly safe if someone has enough time. I suppose the thumbscrew could really be tightened down to make it difficult, but having it accessible only from the inside or using a standard screw instead of a thumbscrew would be a better option.
Now, there's a good amount of room to work in and more than enough for those using larger components. The option to remove the top section of the drive cage is nice since some need extra airflow for hungry systems, are running larger GPUs or have one where the power connections are located on the end. With that said, here's a quick look at the finished installation.
The backside of the motherboard tray is a bus crash like always, however there's more room back here than any other case that I have looked at in the past. Users can expect almost 3.5cm or just over 1 1/4 inches of clearance from the back of the motherboard tray to the inside edge of the panel, so most should have more than enough room to run their cables.
Testing
All of our testing is performed in a near steady 20°C ambient environment with readings taken before and after with a standard room thermometer. AIDA64 Extreme Engineer is used for monitoring and recording all system temperatures throughout the testing process.
Windows is allowed to sit idle for 10 minutes after startup to ensure all services are loaded before recording the idle CPU and GPU temperatures. CPU load temperatures are generated by performing a 20 minute run of OCCT LINPACK using 90% of the available memory, while GPU load temperatures are generated by OCCT's built in test, also for 20 minutes.
Stock CPU settings were obtained by setting the AI Tweaker option with the BIOS to Auto and the maximum stable overclock frequency of 4.0GHz was obtained after extensive testing to ensure stability. The final clocks for the GPU are 760MHz on the core and 1000MHz QDR (4000MHz relative) for the memory with the voltage increased to 1.087V using MSI's Afterburner overclocking utility. As with the CPU overclock, testing was done prior to ensure full stability.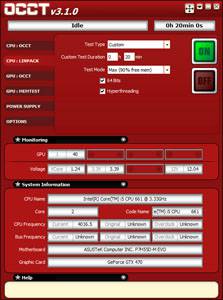 The components used for testing are:
Processor

Intel Core i5-661 – Dual-Core (3.33GHz)

Motherboard

ASUS P7H55D-M EVO mATX – H55-based

Memory

Corsair Dominator 2x2GB DDR3-1600 7-8-7-20-2T

Graphics

EVGA GeForce GTX 470

Audio

On-Board Audio

Storage

Western Digital 2TB Green

Power Supply

Antec TP-750 Blue

Chassis

Cooler Master Cosmos II
Cooler Master HAF 932 Advanced
Cooler Master Storm Scout 2
Corsair Carbide 400R
Corsair Obsidian 550D
Corsair Obsidian 650D
Corsair SE White 600T
NZXT Switch 810
NZXT Tempest 410 Elite
Silverstone Raven RV03
Thermaltake Chaser MK-1
Thermaltake Level 10 GT

CPU Cooling

Corsair H60 (Exhaust Configuration)

Et cetera

Windows 7 Ultimate 64-bit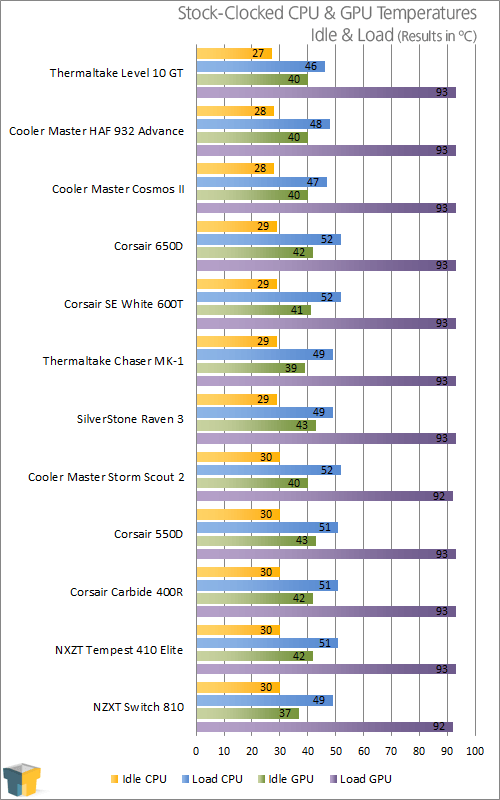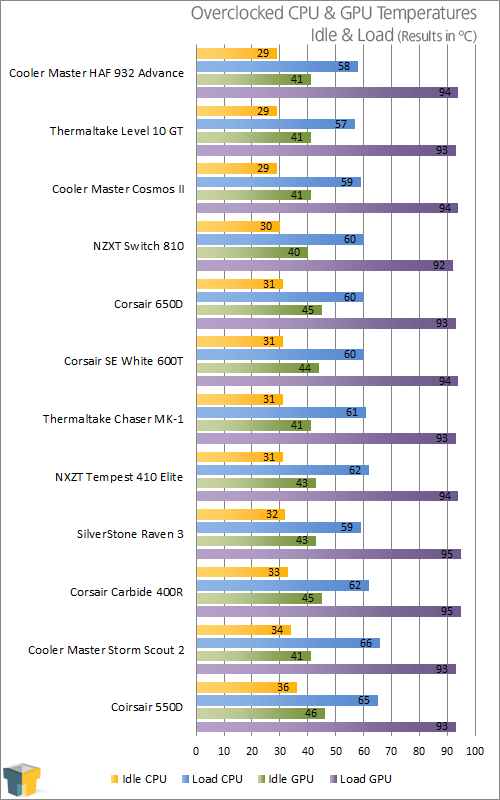 I can't say that I'm really surprised with the outcome of our temperature testing seeing how the Scout 2 only comes with one fan, which was replaced by the H60.
To be fair to Cooler Master, I had every intention of running the overclocked test again with the H60 secured to the top of the case and then leave the stock fan alone, however there isn't enough clearance for a top-mounted radiator. Instead, the stock fan was installed in the front, which dropped the fully loaded, overclocked CPU temperature by 3 degrees to 63, putting it in line with the rest of the field thanks to the cool air being pulled in.
Final Thoughts
Coming in at a penny shy of 100 smackers US, the Scout 2 isn't cheap, and having to add additional fans to achieve better cooling will drive the price up even further. I would like to see another fan included seeing how even one intake fan made for a nice drop in temperature.
There's also the issue of the well-intended, but poorly executed StormGuard locking system. This is more of a deterrent than a full-blown anti-theft system, seeing how I could remove the cover from the outside in about 7 seconds, but I knew what I was looking for whereas most thieves probably wouldn't and may walk on by in favour of an easier target.
Overall, I enjoyed tinkering with the Scout 2. The original Scout was released before I joined the Techgage roster, but I have read the review. Cooler Master has built a very solid follow-up case that should be able to survive multiple trips to LAN parties or wherever you need to go since the build quality is top-notch. In case you're wondering, that handle won't break anytime soon either as it's rock solid.
We all know that looks are subjective, but I like the clean look of the Scout 2 more than the original. The front I/O area is covered and the buttons have been left completely black, making them inconspicuous in order to keep the exterior clean.
All in all, the Scout 2 is a great case that falls short in the cooling department. If Cooler Master decided to throw in another fan like it did with the original Scout, I would have had no problem awarding it an Editor's Choice award, however, a case in the ~$100 price range should be able to keep such a light system cool.
Pros
Top-notch build quality.
Sports good looks.
Lots of room at the back for cables.
Built with the LAN partyer in mind.
Cons
Only a single fan? It results in sub-par cooling out-of-the-box.
The StormGuard-locking system would be more secure if the screw was on the inside of the chassis.
Discuss this article in our forums!
Have a comment you wish to make on this article? Recommendations? Criticism? Feel free to head over to our related thread and put your words to our virtual paper! There is no requirement to register in order to respond to these threads, but it sure doesn't hurt!
Copyright © 2005-2021 Techgage Networks Inc. - All Rights Reserved.