CM Storm Sonuz Stereo Gaming Headset Review
Date: August 1, 2012
Author(s): J.D. Kane

Cooler Master impressed us with its Sirus surround-sound headset last fall so much that we slapped an Editor's Choice award on it. But what about those folks who prefer their audio to be in stereo? Well, CM has answered the call and the result is Sonuz. Let's check it out, and see if it can impress us like the Sirus managed.
---
Introduction
Ever since Cooler Master released its first headset last year, the CM Storm Sirus, folks have been wondering what the company would do for an encore. After all, the 5.1 surround sound Sirus earned a Techgage Editor's Choice award when our own Ryan Perry reviewed it last October. Now, nearly a year later, the company has introduced Sonuz.
Sonuz is an interesting but logical follow-up to Sirus. Where the Sirus is a 5.1 surround sound headset, the Sonuz is purely stereo. Many gamers may like their games in surround sound, but there are people like me who strongly prefer stereo for different reasons. For music, I know I only want stereo – as most would. With the Sonuz, then, fans of the CM Storm brand now have more choice (never a bad thing).
Let's get acquainted with the Sonuz, then, shall we?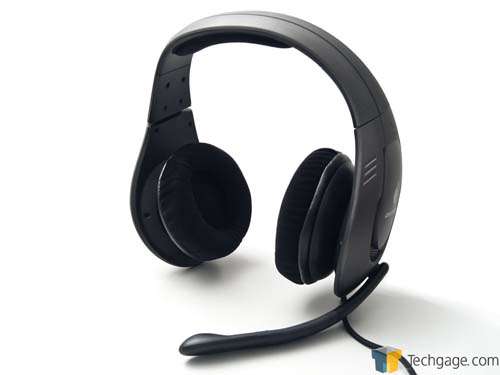 Like its CM Storm sister, the Sirus, the Sonuz is clad all in various shades of matte gray, with some smart black accents. Visually, there is less variation in the Sonuz's coloration compared to the Sirus'; the gray monochromatic presentation is austere yet very stylish and the color scheme conveys the impression that this is not a gimmicky piece of kit.
But it's not just the color scheme that helps sell that impression. The Sonuz's styling is as much a part of that equation. The earcups are somewhat egg-shaped, wide at the bottom and narrowing towards the top; they rise up towards the headband in a gentle sweep of a curve. The forward-swept contour is distinctive and dynamic, like a well-styled sports car.
Emblazoned proudly on the outside of both earcups is the CM Storm logo. Unlike the Sirus, the branding does not light up when the Sonuz is plugged in. This stays consistent with the austerity of the Sonuz's design – thus far there is nothing garish about this newest CM Storm headset.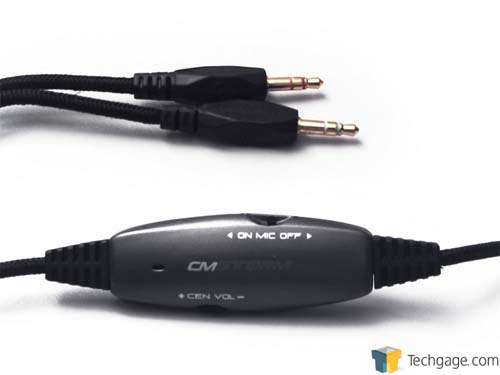 Like most wired headphones/headsets I know about, the Sonuz's cable dangles out of the left earcup. The cable itself, an adequate 2m (78.74″) long, is wrapped in a really high-quality braided sleeve. About 0.41m (16″) down the cable's length is the Sonuz's in-line volume and microphone control. The volume can be precisely controlled from 100% loud to mute via a scrolling wheel, while the mic can be turned on or off with a two-position switch.
The cable terminates in dual 3.5mm plugs: the one with the light green rings (look closely in a good light – Cooler Master's coloration is too faint, unfortunately) is for the headphone-out jack, while the one with the pink rings is for the microphone-in jack. No adapters (some sound cards, for example, feature 6.3mm headphone-out jacks) are included with the Sonuz.
The Sonuz's earcups incorporate 53mm (2.09″) drivers, which are fairly large for stereo headphones. The speakers are covered in detachable black foam pads, which are very comfortable even through extended use over several hours. The speakers are mounted on swivels which permit adequate movement, making it easy to find a comfortable fit. Adding to the user's comfort is a patch of thin but adequate foam padding on the headband's inner surface.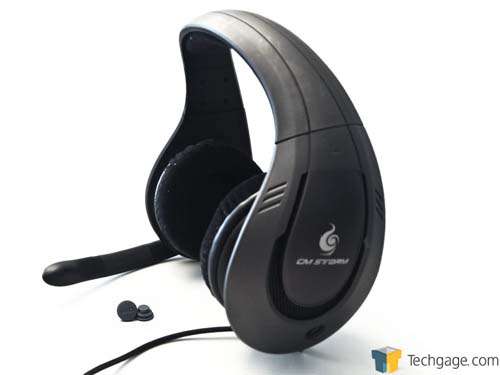 Perhaps the CM Storm Sonuz's signature feature is its microphone. While the mic itself is not particularly remarkable, the ability for the user to plug it into either the left earcup or the right is. I personally cannot think of any other headset that has this capability, although to be perfectly honest, I still haven't come up with a compelling or logical reason why this feature is necessary. Cooler Master helpfully provides two silicone plugs to cover whichever mic port is unused – one is a spare, while the other is already installed out of the box.
Now that we've had a look at the Sonuz, let's move on to testing.
Testing
The CM Storm Sonuz is a stereo headset, so I put its two major components – the microphone and the headphones – through a battery of testing. The following paragraphs, describe my testing methodology, observations and findings.
Testing the microphone's performance was quite straight-forward. Using Skype, I tested it for its sensitivity. I also tested both the left mic jack and the right, making sure that both were functional and whether or not there was any perceivable difference in their performance.
The microphone worked without any problems with Skype. My conversation partners reported that the audio on their end came in loud and clear, free of any distortions, static, or hiss. Ambient noise in the form of some music playing at a reasonable volume in the room where I conducted my tests; my conversation partners reported that the music was barely audible. Switching microphone jacks on the headset resulted in no perceivable change in their performance, either. I would expect this headset to perform identically in any other chat program.
Moving on to the headphones' performance, I ran the Sonuz through more varied tests. The first test, naturally, was in gaming. While virtually all PC games are more enjoyable with a good audio set-up, first-person shooters perhaps benefit the most from one. Indeed, success and failure in an FPS are often critically dependent on a good audio set-up – good headphones, even just a stereo pair, allow you to hear crucial auditory clues. A good pair of cans will often tell you where your allies and enemies are – and not only that, but they also add the critical layer of immersion in the game. After all, you would like for there to be a difference in the way, say, a SCAR assault rifle sound compared to an AK-47; there should be a difference in the way the explosion from a frag grenade going off sounds and that big wad of C4 that you planted at that tactical choke point where you bottle-necked the enemy.
The Sonuz was superb in every FPS I ran it through, including Crysis, Crysis 2, Battlefield: Bad Company 2, Battlefield 3, and even the old school Far Cry. In every instance, the Sonuz allowed you to whether the enemy was on your left or on your right; you could tell whether the enemy was trying to sneak to your flank or if a whole platoon was trying to bull rush your position. The Sonuz is a good weapon to have in your FPS gaming arsenal, even though it is just a pair of stereo headphones.
But gaming is not the only reason to use a pair of stereo headphones. I tested the Sonuz in movie soundtrack playback as well. I watched a couple of movies on Blu-ray on my PC, August Rush and Star Wars Episode III: Revenge of the Sith. I chose these movies because I'm very familiar with how they sound through stereo headphones; as such, I can judge how well the Sonuz could track the various elements of the soundtrack.
Stereo separation and definition of individual elements – voices, loud and quiet sound effects, etc. – are what you listen for. In both movies, stereo separation was very good: when sounds move from the right channel to the left channel, the Sonuz tracks them very well. Lower frequency sounds – rumbles, explosions – tend to drown out higher frequency sounds when they exist together in the soundtrack, but that's not unusual.
Audiophiles will tell you that headphones all have a signature sound, and the only way to find what that signature sound is is to test your cans' playback with high-fidelity recordings. Thanks to the fact that I have a pair of entry-level but studio-grade monitor headphones (Shure SRH840) which are designed to "make music sound the way the artists recorded them," I have a basis for comparison for the Sonuz.
Unsurprisingly, the Sonuz's stereo separation is as good in music as it was in movies. Instruments or voices that are mixed primarily on a particular channel stay on that channel. Thus, on Tom Petty and the Heartbreakers' Mary Jane's Last Dance, the harmonics in the song's opening bars came through loud and clear in the left channel. The Beatles often recorded their rhythm sections – drums, rhythm guitar, and bass guitar – on one channel, and the vocals and lead guitar on the other. The Sonuz tackled these without problems.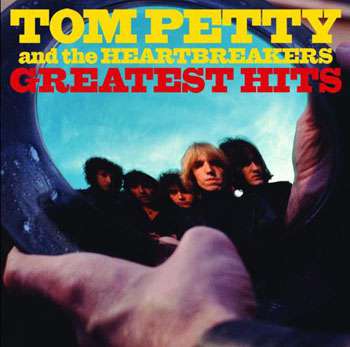 The Sonuz has a "warm" sound signature, biased towards bass and the lower-end of the midrange. Thanks to its large 53mm drivers, lower frequency notes enjoy predominance over the treble side of the range. That's not to say that the treble performance is bad or inadequate; treble notes still sound clear. They just have a tendency to sometimes get lost amongst the lower end of the range. There's also a touch of a little too much reverb in the playback, resulting in a slightly "airy" sound. Listeners of predominantly classical music and other non-amplified genres like folk would probably be found a little bit wanting.
Speaking of bass, I wouldn't call the Sonuz's bass performance great for really bass-heavy music. Some people think that the bass should shake your internal organs – the Sonuz won't do that. And that's a good thing, in my opinion. I'd rather have tight, full, precise bass. The Sonuz's bass performance is strong and tight, never boomy or sloppy. Thus this headset would be good for people who like their metal, rock, and R&B. Dubstep and bass-biased hip-hop and rap aficionados would probably be dissatisfied, though.
In terms of user comfort, the CM Storm Sonuz fits a little tightly fresh out of the box, with a slightly uncomfortable tendency to pinch your ears in. That's 100% normal, though; the stainless steel backbone of the headband adapts to your head through repeated use. Into my third day of using the Sonuz, the fit was a lot more comfortable. The headset is a little bit heavy, though, and although you get used to the weight it's an impression that never quite goes away. That's not to say it's uncomfortable to use; it's very easy to keep these on your head for hours on end.
Final Thoughts
The Sonuz hits most of the right notes as the encore to the CM Storm line's Sirus surround sound headset. Its unique microphone (capable of being plugged into one of two available ports on either earcup), while arguably gimmicky, loses nothing in terms of functionality. As a gamer's headset, it does the job quite well.
This, despite the supposed disadvantage of being "only" a stereo headset. Movie lovers might also prefer a surround sound headset, but the Sonuz does the job well. You'll still be able to track where characters are even without seeing them onscreen and you'll still be able to follow those Jedi interceptors' engine sounds as they pan from left to right.
The advantage of a stereo set-up for music playback, though, is arguably the most compelling reason to choose the Sonuz over its surround sound-endowed sister, the Sirus. In this context, the Sonuz is a very good choice given the fact that, at the end of the day, this is still a product marketed to gamers. Traditionally, gamer-oriented audio gear tends to sound very poorly when tasked to play back music.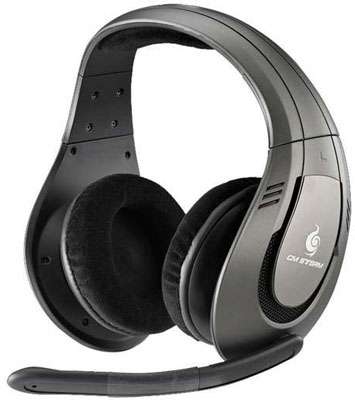 The Sonuz, while not meeting "audiophile standards" per se, will still perform better than any gamer-oriented headset out there. It's definitely got some weaknesses in music playback (the unmistakable bass bias, the slightly airy sound signature due to just a little too much reverb), but these short sour notes are not nearly enough to ruin the concert. These are small nits to pick, indeed.
Considering Cooler Master's asking price of around $69.99 at the time of writing, it's very clear that the company has another hit in their CM Storm's growing audio product line. That's significantly cheaper than most serious gamer headsets, and a steal compared to even just an entry-level audiophile-approved set of cans. Combined with its performance characteristics and its very good ergonomics once the user has lived with it for a couple of days, the CM Storm Sonuz should be, for some people, the preferred choice over a surround sound headset.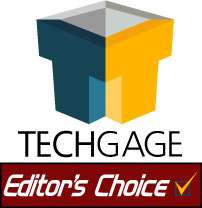 CM Storm Sonuz Stereo Gaming Headset
Discuss this article in our forums!
Have a comment you wish to make on this article? Recommendations? Criticism? Feel free to head over to our related thread and put your words to our virtual paper! There is no requirement to register in order to respond to these threads, but it sure doesn't hurt!
Copyright © 2005-2019 Techgage Networks Inc. - All Rights Reserved.