Cooler Master MasterLiquid Pro 240mm All in One Liquid CPU Cooler Review
Date: September 20, 2016
Author(s): Ryan Perry

Most of us have heard the quote, "Necessity is the mother of invention." It appears Cooler Master has taken it to heart with its MasterLiquid Pro 240 all-in-one liquid cooler. Read on as we cover the inventions that make this cooler an absolute necessity.
---
Introduction; A Look At The MasterLiquid Pro 240

It's an exciting time for me, the CPU cooler guy. We have a new test rig all setup and we're ready to see what the various manufacturers can do to keep it frosty.

From low profile air coolers, to monster 420mm custom setups, we're now ready to push them as hard as possible so that you know exactly what to expect before spending your money. We'll also be rebuilding our performance database to see how they stack up to each other.

Without further delay we're giving the honor of "firstsies" to the new Cooler Master MasterLiquid Pro 240 all-in-one (AIO) liquid cooler.

At first glance, it looks like just about any other AIO available today, but a closer look will reveal some new tricks that make up the new "Flow Op" technology that Cooler Master says will propel the MasterLiquid 240 past the competition.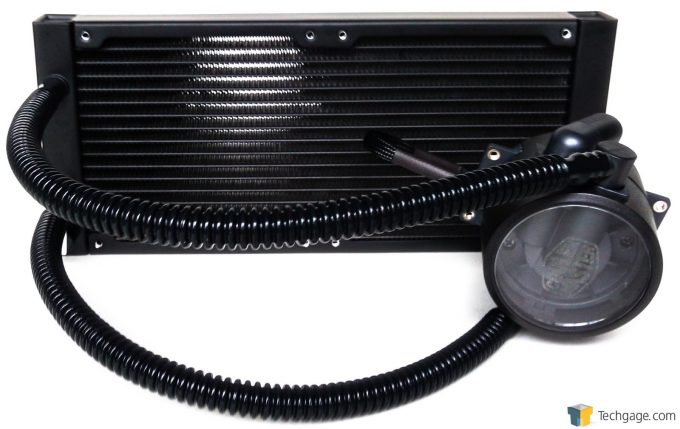 As always we'll start with the business end of the cooler, the block and pump unit. For those who aren't familiar with liquid cooling, custom kits usually have the pump and block separated, but with AIO systems, the pump is contained in the same housing with the block. This means that there's less space required to install the cooler, but performance is typically a smidgen less due to the small space requirements.
On the top side of the unit is a see through, illuminated cover with the company's logo etched into it. This glows blue when the system is powered on and makes for a fun bit of flair for those who want it. Power for the pump and lighting is provided by a 4-pin connector.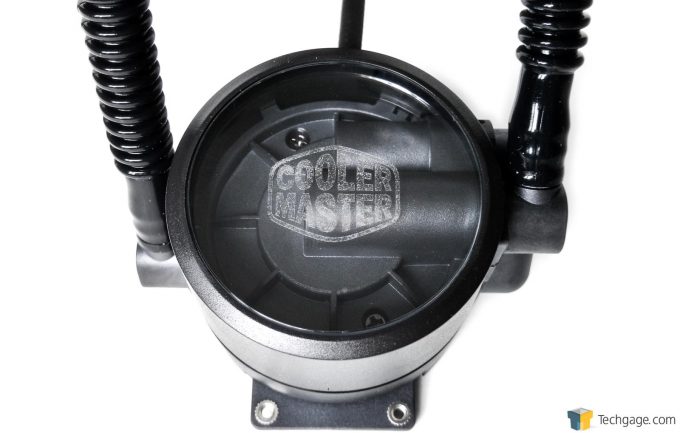 Flipping the block and pump unit over gives us a view of the copper block that directly contacts the CPU. The finish is impeccable and only the lightest machine marks are visible, however it's the part that we can't show you that's caught our eye.
Cooler Master has chosen to go a system that pumps water onto the center of the block, which then flows out to the sides between very fine fins. It claims to increase cooling performance by 40% due to 657% more surface area, which is a very hefty claim.
What may not be obvious as well, is something that should be there, but isn't. Can you guess? It's that little splatter of thermal interface compound. CM chose not to pre-apply it, and instead provides a syringe of the stuff for you to do yourself.
The coolant is pumped to and from the block through a pair of rigid FEP hoses. Many manufacturers have switched over to more flexible rubber hoses, but according to the info provided by Cooler Master, the FEP hoses have a lower absorption rate and a longer lifespan.
The trade off is that the FEP hoses tend to be a bit stiffer, possibly making installation a little trickier for some. Another feature that comes highly touted is the square fin array that promises increased contact with the liquid channels in order to pull more heat away, while creating larger spaces between the fins.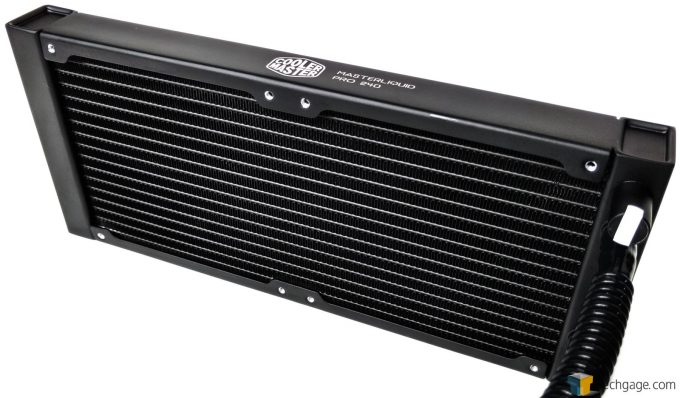 Larger spaces between the fins means the fans require less static pressure to push the air through the tight spaces in the fin array, in turn allowing them to run a little slower, resulting in less noise without affecting performance.
Cooler Master has chosen a pair of its MasterFan Pro 120 Air Balance 120mm fans to handle active cooling duty.  These fans spin up to 2,000 RPM, and push up to 66.7 CFM of air, at a maximum of 30 dBA.  In addition to some solid specs, these fans also feature a 4-pin PWM connection, and rubber coated mounting points to help absorb vibrations (and thus, noise).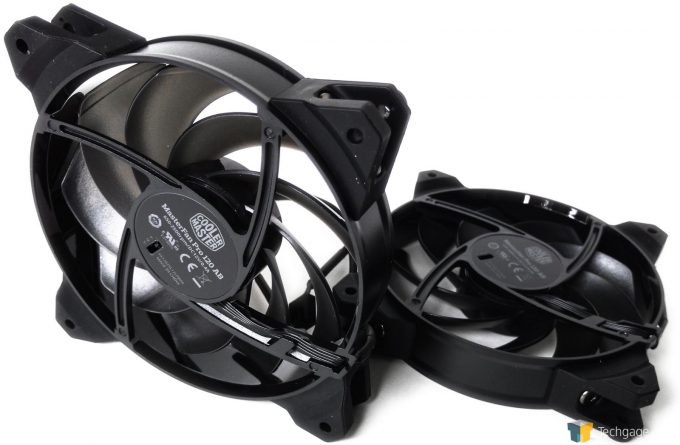 The accessory box is stuffed with the installation guide, combination Intel/AMD backplate, separate Intel and AMD mounting brackets that secure to the sides of the block and pump unit, a rubber dampener that sits between the fans and the radiator to further absorb vibrations, and a Y-cable that consolidates the two fan cables into a single, 4-pin PWM connection.
Also included was this jigsaw puzzle that awaited us after removing the bits mentioned above. While we can only imagine the bumps and tumbles that a sample must take during transit, it would be nice to see a few extra pieces of tape used to secure the hardware in the flip open plastic shell.
Installation
We're happy to report that when it came time to install the MasterLiquid Pro, there we no surprises or compromises that needed to be made.  Your mileage will vary of course, depending on the chassis and other components that are used, but in our full tower monstrosity, it was smooth sailing once we sorted out that jumbled mess of parts sitting in the box that we showed above.
Intel users can jump right in, but AMD users will need to remove the stock cooler mounts and backplate, which was the case with us. Once those were out of the way, the bolts are inserted through the correct holes in the backplate, and the handy black clips slid over the ends, effectively trapping them in place so they couldn't move while working away.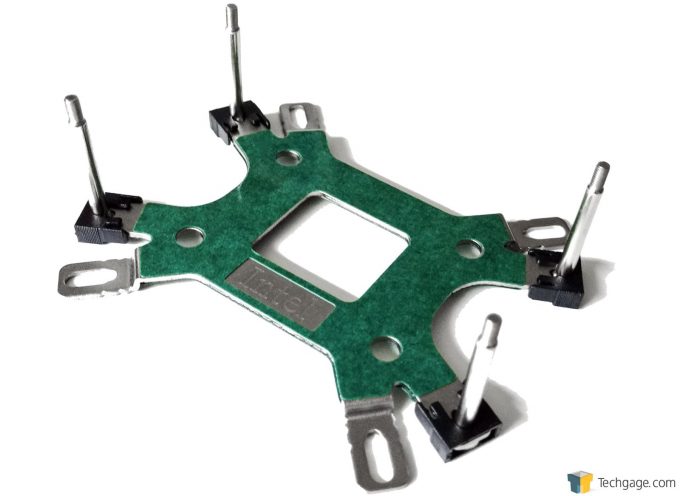 Next we secured the correct brackets to the block and pump unit, which was made even easier thanks to a notch in the bracket that fit over a tab on the unit to keep it from sliding around.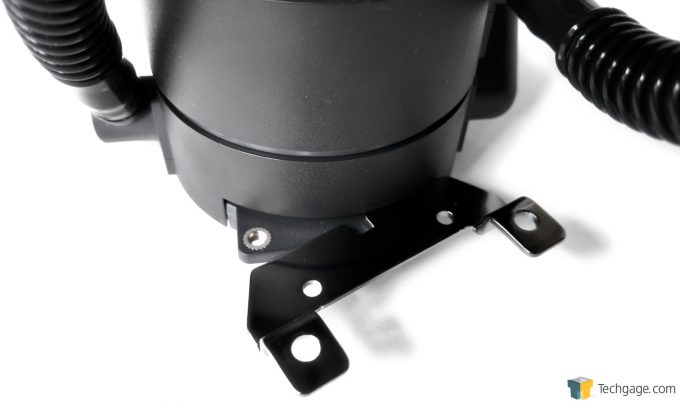 We then turned our attention to the fans, which we placed over the rubber dampener and secured using thumbscrews, which made for tool-less installation.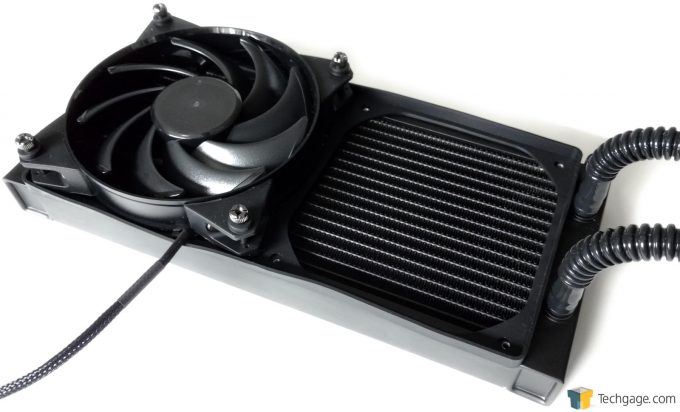 To finish things off, we applied our favorite thermal goo to the CPU, secured the radiator to the chassis, put the backplate in place, and secured the block and pump unit to it. Installation time was about 30 minutes from start to finish, and was done with minimal use of tools to see if another of Cooler Master's claims were true.
Aside from securing the mounting brackets to the block and pump unit, and securing the radiator to the chassis, everything else was done by hand.  Being able to secure the fans to the radiator with thumbscrews was very convenient, but locking down the pump and block unit properly required a screw driver for that last few of turns.
With the cooler installed we were ready to first dial in our maximum stable overclock that will be used in all of our cooler testing going forward, and then begin performance testing for the MasterLiquid Pro 240, so head on over to the next page for the dirty details.

Testing; Final Thoughts
All of our testing is performed under controlled conditions to ensure accurate and repeatable results. The test system is kept in a near steady 20°C ambient environment with readings taken before and after testing with a standard room thermometer. Temperature monitoring and recording was handled by AIDA64 Extreme throughout the entire testing process.
Stock CPU settings were obtained by reverting to the default settings via the motherboard BIOS, then disabling all power saving features along with Turbo Boost to ensure that we maintained a constant frequency.  We then changed the CPU ratio to 39 to mimic the maximum non-Turbo frequency of 3.9GHz.
While it's true that this isn't out-of-the-box-stock, it comes down to needing a solid operating frequency across all cores that doesn't change, resulting in unskewed temperature readings through the entire test.
The maximum stable overclocked frequency of 4.5GHz was reached by changing the multiplier to 45 and increasing the voltage core to a whopping 1.61v.  This is a ton of extra voltage, but it was the only way to keep the system stable while allowing an overclock that we feel is where most enthusiasts are likely to end up.
Every chip is different and some might be able to run a similar overclock without too much voltage beyond the stock setting, but this power hungry processor should give us a worst case scenario.
ASUS' Cool 'n Quiet fan speed management is disabled on all fan headers to ensure that the chassis and cooler fans run at full speed, resulting in the highest level of performance possible.
A fresh, fully updated installation of Windows 10 is allowed to sit idle for 10 minutes after startup to ensure all services are loaded before recording idle CPU temperatures. CPU load temperatures are generated by performing a 20 minute run of the OCCT Linpack CPU test to generate as much heat as possible.
| | |
| --- | --- |
| | Chassis Test System |
| Processor | AMD A10-7870K 3.9GHz, Overclocked to 4.5GHz/1.61 VCore |
| Motherboard | ASUS A88X-Pro |
| Memory | Kingston HyperX Fury 2 x 4GB @ 1866MHz |
| Graphics | Sapphire R9 285 2G D5 ITX Compact |
| Audio | Onboard |
| Storage | Kingston SSDNow M 80GB SATA 2 SSD |
| Power Supply | Corsair HX650 650W |
| Chassis | NZXT Switch 810 Full Tower |
| CPU Cooling | Cooler Master MasterLiquid Pro 240 AIO |
| GPU Cooling | Stock |
| OS | Windows 10 64-Bit |
Cooler Master MasterLiquid Pro 240 CPU Cooler Temps
Stock CPU Idle
28ºC
Stock CPU Load
40ºC
OC CPU Idle
32ºC
OC CPU Load
52ºC
Even with the insane amount of core voltage needed to make our A10-7870K stable, which jumped even higher to 1.64v during overclocked load testing thanks to Load Line Calibration, the MasterLiquid Pro had no problem keeping temperatures well below the thermal limit of 72.4 degrees Celsius.
This is more voltage than most will likely ever use, so they can expect even lower temperatures than we saw.  Intel users aren't likely to fret either seeing how those chips tend to run with far less voltage than those from the Red Team.
The evil scientist in me wondered just how far this cooler could really go, but making our new test rig melt into a pile of goo wouldn't be a good way to extend my tenure here at Techgage. Instead the focus was placed on reducing the amount of noise generated by the cooler, while still keeping temperatures in check.
To do this we entered the BIOS and enabled ASUS' Cool 'n Quiet fan control on the appropriate headers and let the motherboard handle the fan speed based on the temperature of the CPU. The default profile was set so that the fans would spin at 60%, or 1,200RPM with CPU temperatures up to 40 degrees, and gradually ramp up to 100% by the time the CPU reached 70 degrees.
This change brought sound levels down somewhat, but we still wouldn't call it quiet, however this speed reduction only resulted in a single degree increase to 53 degrees with the overclocked CPU placed under full load.
Unfortunately 1,200RPM, was the lowest speed allowed even though the included fans are able to spin at 650RPM.  Whether or not this low speed could keep our overclocked CPU under the thermal limit remains to be seen, but it appears that we've identified a gap in our testing that could be fixed by installing a separate fan controller since software solutions yielded no change in speed.
Final Thoughts
It has been a blast to finally get back into the cooler testing game.  Had the Cooler Master MasterLiquid Pro 240 not performed so well, my outlook after completing testing would likely be far less jubilant considering how much time was spent dialing in our maximum overclock.
However, there is a silver lining in all of this, and that's the fact that we have a stable rig with an overclock configured in such a way that it likely puts out more heat than most systems.  This in turn means that we'll be able to better see which coolers are worth your money and which ones should stay on the store shelf.
Whether it's marketing mumbo jumbo or not, it appears that all of the features that make up Cooler Master's Flow Op technology, make this AIO live up to the high performance claims.  The square fin array is hardly as square as it is made to look in the official marketing shots, but it's still easy to see that the gaps between the fins and the area that contacts the coolant channels  is wider than on many other AIO coolers we've tested before.
Installation was a breeze and was partially tool-less, although we still recommend using a screw driver when securing the block and pump unit.  The illumination on the unit is a nice touch for those who want a little extra flair, and including a rubber dampener to sit between the fans and the radiator to absorb vibrations, as well as a Y-cable for those who are running low on available fan headers is clear that Cooler Master is covering all of the bases.
The MasterLiquid Pro 240 is currently retailing for about ~$110 USD, while the Pro 120 variant with a 120mm radiator and a single 120mm fan will set you back almost ~$100 USD.  This is about $15 more than a direct competitor, which makes us wish we could secure a sample to compare the two larger versions in order to see if the price premium is warranted.  In the end we feel it is based on what we saw during testing, so don't let the price tag throw you off.
If you're in the market for an AIO liquid cooler, the Cooler Master MasterLiquid Pro 240 is certain to wow, regardless of the cost.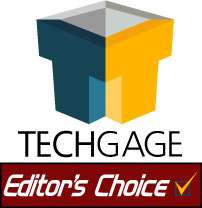 Cooler Master MasterLiquid Pro 240 AIO Liquid CPU Cooler
Pros:
Able to keep overclocked CPUs cool without breaking a sweat.
Partially tool-less installation.
Included Y-cable to reduce the number of fan headers required.
LED illumination makes for some extra eye candy.
Cons:
Price premium may push some prospective buyers away.
Copyright © 2005-2020 Techgage Networks Inc. - All Rights Reserved.