Cooler Master 690 II Advanced Mid-Tower

Date: January 20, 2010
Author(s): William Kelley

When Cooler Master released its 690 chassis over two years ago, we're doubtful that even it could have predicted just how well-received it was going to be. It did a lot right in terms of design and function, and with the 690 II, those two factors are pushed even further. The result? The best $100 chassis we've ever looked at, bar none.
---
Introduction
As I have often said, the venerable PC chassis is the most overlooked part in the average PC builder's shopping list. More often than not, the budget is pretty well spent when it comes time to make this purchase, yet the expected performance and style are often a lofty proposition. While the market has been producing some excellent budget cases, they are quite often lacking in key features. What is a builder to do?
Up to the plate steps one of the heavy hitters of the industry, Cooler Master. Having built up quite the batting average for producing some well-designed, yet budget-oriented cases brings the budget conundrum to its knees. Having built up a strong reputation for quality and customer service for over a decade, there seems no end in sight to their level of commitment to the game. With a strong focus on developing highly-efficient thermal solutions for us all, there is no doubt they will continue to give us hit after hit.
The original 690 debuted over two years ago and was a big hit with nearly everyone that crossed its path. It was very affordable, yet it was highly adaptable. Flexibility and ease of use were the strongest features. It was able to take on chassis' at twice the price and beat them hands down in almost every aspect. If anything bad could be said, it was that it was TOO budget oriented and lacked any real flash or extras. But, no one can deny that it was a winner and a solid player.
Just over two years later we have in front of us the next generation of the chassis, 690 II Advanced. There are four levels of trim for this release which are the 690 II, 690 II with window, the 690 II Advanced, and 690 II Advanced with window. Cooler Master has sent us the Advanced windowless model for our testing pleasure. While sporting a direct resemblance to its older sibling, the differences are not hard to spot. This time around there is some flash to go along with the function. Let's take a peek into the box and see if Cooler Master has hit another home run with the 690 II.
Closer Look
My initial impression once unwrapped and on the examination table was one of surprise as much as excitement. The 690 II Advanced is an almost uncanny reproduction of the original. Don't get me wrong, there are some big changes and such, but the overall appearance is very close. Cooler Master did an excellent job working within the boundaries of what a sequel should be and pulled it off nicely. The entire front panel is open mesh for excellent airflow. The chrome pinstripes flank the trademark CM badge.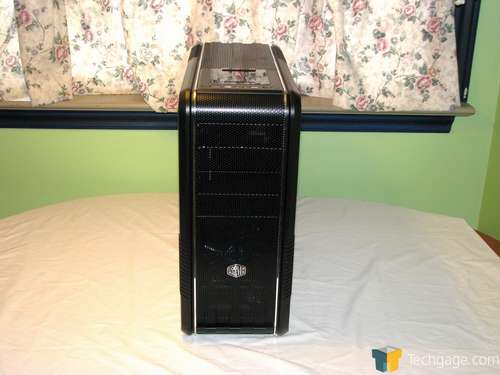 Possibly the biggest and most welcome change is seen up top. The entire I/O panel has been moved here. From right to left we have: power button, reset button, USB, microphone, headphone, USB, e-SATA and the power button for the front fan's blue LED lighting. Directly behind is the sliding door that covers the S-ATA docking port. Moving even further back showcases the wide open top which has a single 140mm fan residing beneath. There is room for another fan as well.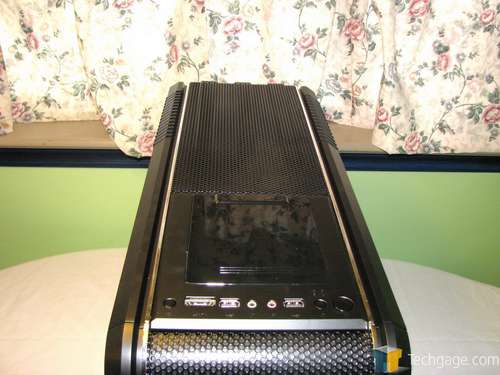 Sliding back the door reveals a simple yet very effective external S-ATA dock. Since the top panel is made of plastic, there is no worries about any electrical shorting. Fitting a drive is a snap and after running a few quick tests, I am happy to report there is absolutely no speed penalty when using the dock. While it may not be used on a constant basis, it is an excellent idea and most helpful when moving large quantities of data off a drive you do not wish to install internally. One important note is that the dock is self-powered, so there is nothing to but slide the drive into the receiver to get to work.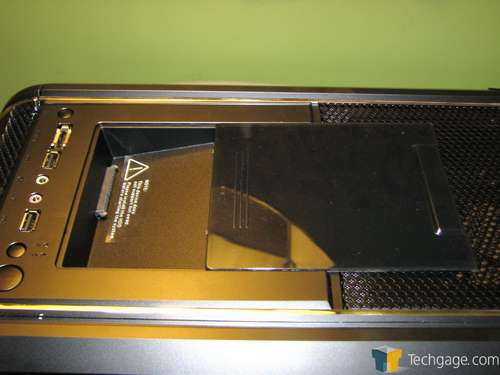 On to the left side panel you get two stamped mounting points for fans. Anywhere from an 80mm up to a 140mm fan can be mounted in either opening. This is a great feature for adding additional airflow over hot peripherals, although the upper mounting is unable to be used when you have a tall CPU cooler installed.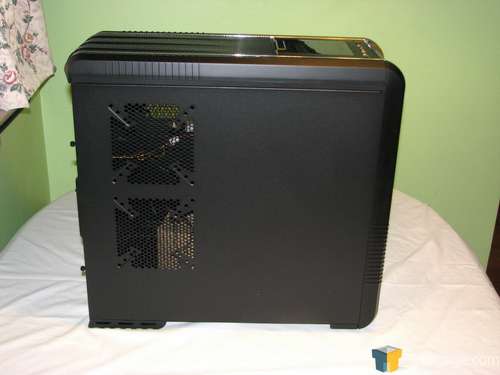 To the rear we have a standard bottom PSU mount arrangement. A single 120mm exhaust fan resides here as well as dual water cooling pass through holes capable of supporting 1/2″ ID tubing with ease. Also note that the entire panel is painted to match.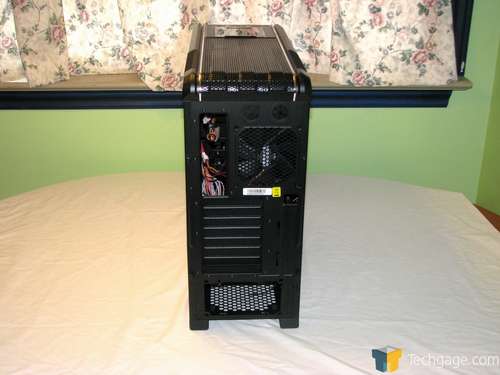 On to the right panel there is not a whole lot to see other than the venting provided behind the CPU area. You do get the option to mount a 80mm fan here and I can verify that it is possible to use a 25mm deep fan as well. While it may not be necessary to put one here, for those that can never have too many fans, it is a nice option to have.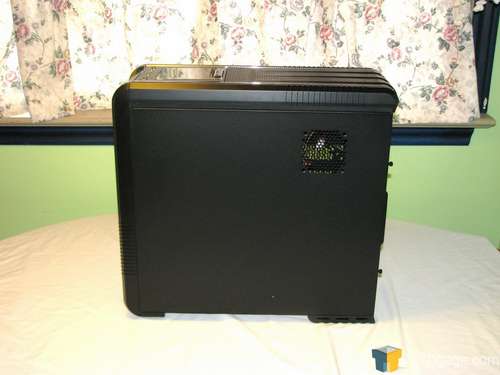 Down below on the bottom we see again the rampant use of venting. The power supply gets lots of fresh air drawn in from below as the large rubber feet keep it well spaced. Next, the rest of the case floor is open which does allow a few interesting cooling options. Since the internal HDD cage is removable it is quite possible to internally mount a dual 120mm water cooling radiator down here on the inside. Also note the mesh filter type cover to help with dust control.
Wire management is a breeze on the 690 II. With large openings sporting double-rolled edges for safety, there is an abundance of choice when routing wiring and cabling. All HDD's mount with their business ends facing this way, and again, there is plenty of room for all the required cables.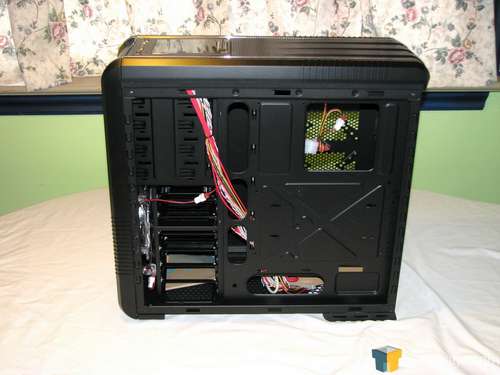 There are plenty of stamped slots to here as well for securing down with zip ties. This is a very simple yet extremely effective method of getting this job done and I wish ALL cases made would come this way. This makes a tough job easy and makes it look easy to get a tough job done.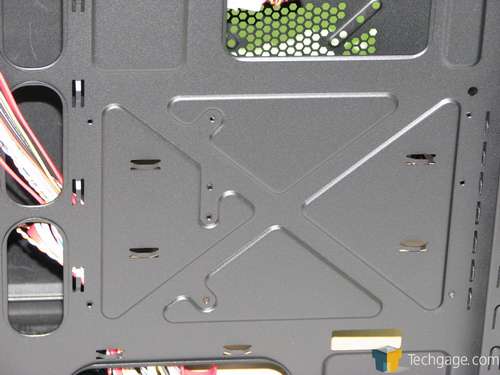 A closer look at the rear of the HDD area puts into perspective just how well-thought-out all this cable managing is. When the original 690 came out, it was able to beat out cases that cost twice as much since it too had some effective routing. It's nice to see that Cooler Master not only remembered this fact, but also improved upon it.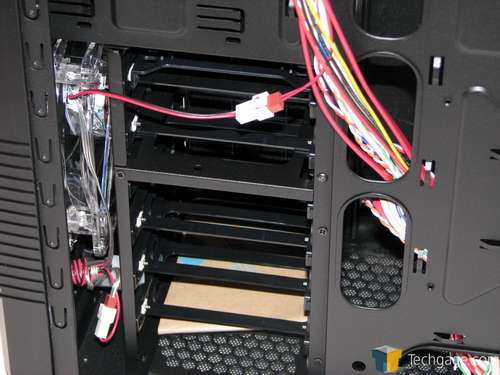 With the ability to install up to 7 3.5″ HDD's internally, even the most die-hard storage nut will have all the room required. We are also given a nice little 2.5″ adapter that neatly and securely holds two 2.5″ drives for those that are already adopting SSD drives into their systems. Sliding out the drive caddies is a simple push of the tab and out she comes. Take note that the bottom part of the caddy (which holds 5 drives) is removable to open up access on the floor for alternative cooling methods.
Up above we see the simple yet effective tool-less mounting mechanisms for your 5 1/4″ drives. A quick flip of the switch and your drive is locked into place. I would have preferred to see them on the other side as well, but the job does get done and you are provided screws to use to hard mount just in case you prefer that method.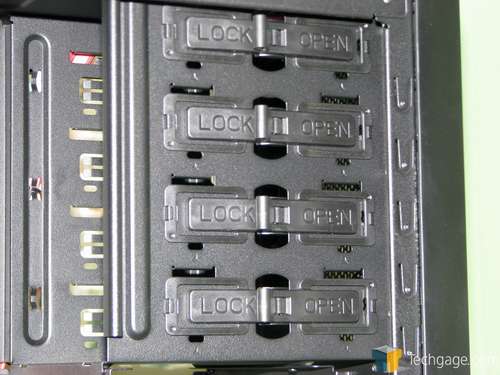 I wanted to highlight the mesh filtering that is present on the case floor. It is not overly required but it is a nice touch since there are more and more people worrying about cleanliness. It is a simple affair to pull it out for cleaning so there is no doubt this is a very useful feature.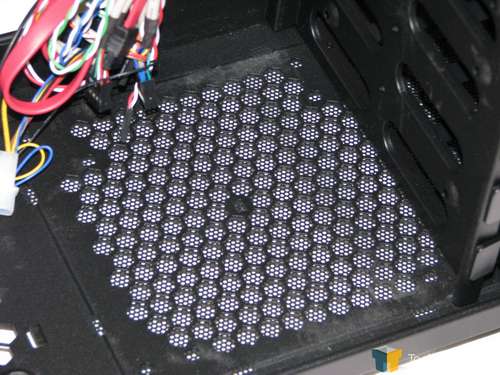 Thumbscrews abound as the PCI expansion slots are also a tool-less design. I'd also like to point out the entire inside is painted to match the outside which has become VERY popular as of late. The rear 120mm fan is quiet yet effective and is of the standard 3-pin motherboard header style plug. There is also a Molex adaper for those who need it.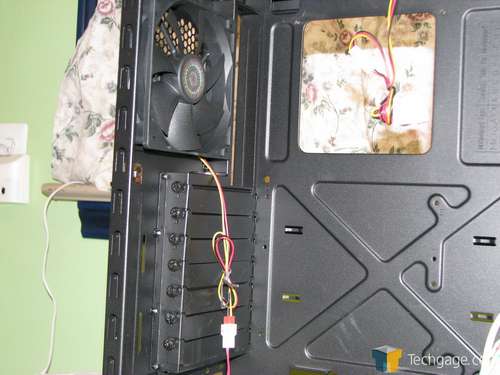 Looking upwards we see the single included 140mm exhaust fan which also sports a 3-pin motherboard header style power plug and four pin Molex adapter as well. Note the ability to go to dual 120mm fans as well as dual 140mm fans. This also opens up the flexibility to mount water-cooling radiators up here as well. Can you say options upon options?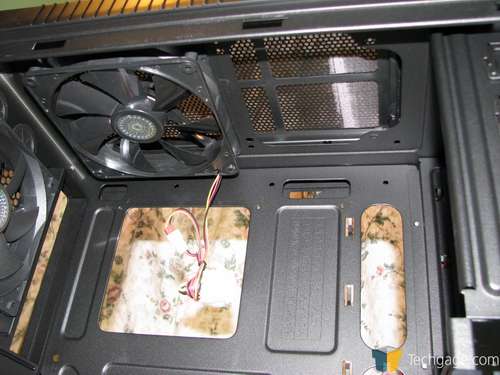 With a firm tug, the front panel comes off revealing the final included case fan. This clear 140mm fan also sports blue LED lighting that can be turned off with the push of a button. Flexing its option muscles yet again, you see that there are many ways to mount your fan as well as change down to a 120mm fan should you desire.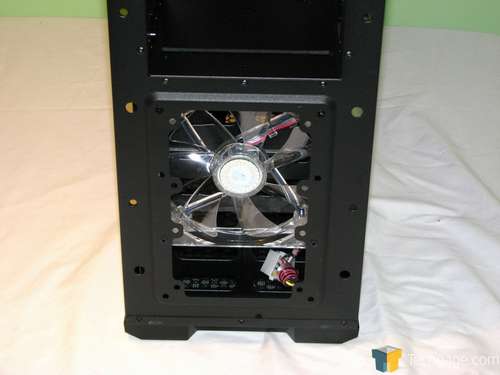 I don't normally highlight this area in my reviews but I wanted to this time for the simple fact that there are no damn leftover metal chunks left behind covering the 5 1/4″ bay slots. This is a big personal pet peeve of mine as I find it quite annoying to have to rip them off to get them out of the way to start my build. Thanks to Cooler Master for just getting rid of them for us.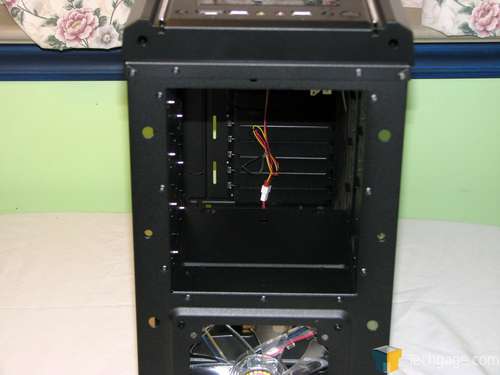 The box of goodies that is included with every 690 II Advanced chassis includes a pair of rails to adapt a 3.5″ external device into one of the 5 1/4″ bays, a large VGA support bracket capable of holding the largest VGA cards, a pile of zip ties, along with various pieces of mounting hardware. I, for one, appreciate the fact that there is even a motherboard speaker included in the package. Chalk that up as yet another not necessary but damn nice part to have when building your dream PC.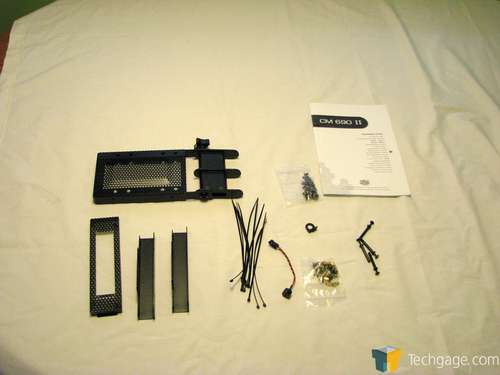 Overall the 690 II Advanced is one impressive package with an even more impressive set of credentials. Over and over I was surprised by just how much you get for your money. Let's get some parts installed and see just how well it performs.
Installation & Testing
To assure that our results are as accurate as possible, all of our chassis testing is performed under highly-controlled conditions. Our test chassis is kept in a near-steady 20°C ambient environment, with readings taken before and after testing with a standard room thermometer. After we boot up our machine, we allow Windows to settle itself down for 10 minutes, to stabilize processes that might be running in the background. Once Windows is completely idle, we record the current CPU temperature as that in our results.
BIOS settings are verified prior to each run, and to help with quick switching of our various profiles, we make use of the motherboard's ability to store multiple configurations. We primarily use two for our testing here – stock speed, of 3.0GHz, and also a maximum over clock, of 3.95GHz. Stock settings were achieved by using "Load Optimum Default", and storing those as our stock profile. The maximum over clock was obtained after extensive testing and tweaking to insure it was stable. The CPU's vCore was raised to 1.400v, and the Northbridge was raised to 1.30v. The RAM is run unlinked to run at factory speeds and voltages.
For our monitoring and temperature reporting, we use Everest Ultimate Edition 5, from Lavalys. It allows us to grab the results from each one of the cores, and the CPU as a whole, so we believe it to be indispensable to our toolkit. To help push our Intel Core 2 Extreme QX9650 to its breaking-point, we use LinX. The reason is simple: it utilizes LINPACK. After much testing with various "stress testers" in the past, we've found that running a multi-threaded tool that supports LINPACK, like LinX, pushes both AMD and Intel CPUs like no other. This results in higher temperatures than others (like Prime95) can muster, and also greater power consumption.
Because our test machine is equipped with 4GB of RAM, we set LinX to use 3072MB, and then set the test to run 5 times over, which takes about 15 minutes total. With the help of Everest, the CPU's various temperatures are recorded throughout all of the testing, and also for a minute after the test ends. The maximum recorded temperature found in the results file is labeled as "Max" in our results.
Without further ado, here is a breakdown of our test machine:
| | |
| --- | --- |
| | |
| Processor | |
| Motherboard | |
| Memory | |
| Graphics | |
| Audio | |
| Storage | Seagate Barracuda 7200.10 320GB |
| CPU Cooler | Arctic Cooling Freezer 7 PRO |
| Power Supply | |
| Et cetera | |
The build process was straight-forward. There is plenty of room for your hands and there are no sharp edges anywhere to be found. Within 20 minutes I had everything installed and wired up. I have to admit that while I have a lot of practice, and it may take you somewhat longer to do your install, I feel that there is nothing here preventing you from getting the job done quick enough. The depth of the interior really gets shown off by the fact the large HD 4870 is just swallowed up and made to look small. While not the largest GPU on the market, it does put available room into perspective.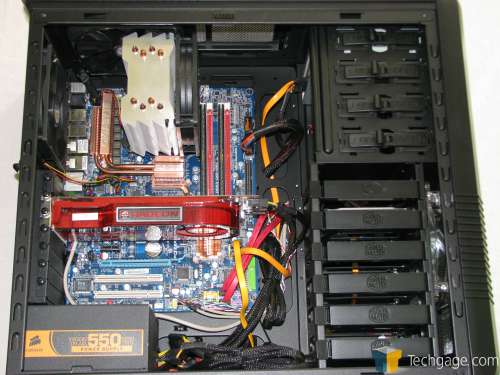 Out back I wanted to highlight that even with my "rush" job installation it is again easy to make it look decent enough. When I build my machines for my personal use I do take even more time to perfectly align everything, but with minimal work you can get great results.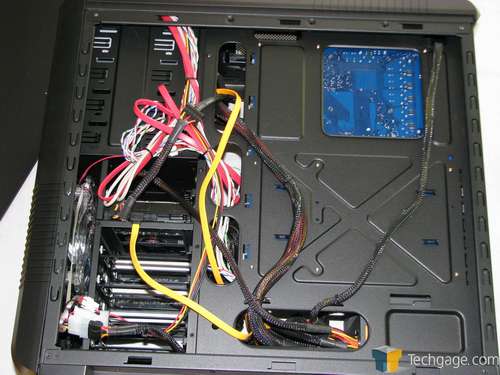 With everything installed I ran some testing. The 690 II Advanced proves that it has the right stuff and got the job done VERY well. Looking back over some of my previous reviews tells me that once again Cooler Master has delivered the performance of cases costing double or even more.
I actually re-ran my tests a few times as I wanted to verify the strong performance versus the lack of sound. This is one quiet chassis and any quiet freak will embrace the near lack of noise. I can remember the day when it was normal to have to speak up over the sound of case fans but that is just not acceptable today.
Final Thoughts
I was not quite sure what to expect when I first pulled the 690 II out of the box. I have made it no secret that I am no fan of sequels. Building a new product and basing it upon an older, yet highly successful product, is most definitely a recipe for disaster. It is far too easy to just make a few small changes and slap a new price on the box and call it a day. Thankfully for all of us, Cooler Master not only reworked every aspect of the original, they did it effectively and delivered an outstanding piece.
With a solid home run performance, Cooler Master has once again delivered a great product for a great price. Since I have yet to mention that price in my review, I will let you in on it now: $99US for the Advanced model. That's right, $99. This is one hell of a chassis for that price point. Not only do you get a plethora of fans, you get the external SATA dock as well as a complement of hardware. Looking around at what the competition offers for the same money reveals that once again the market is shifting and we the consumer are going to be treated to more value for our dollar.
Cooling performance is outstanding, and the lack of noise while delivering this is sweet music to the ears. Adding into this mix is the amount of flexibility the various mounting systems for cooling devices. With the ability to mount up to seven fans, as well as opening up avenues for internal water cooling radiators, it just adds more and more positives. The bar has certainly been moved up more than a peg in the mid-size chassis class.
Now, I know there are people out there that have read this review and are questioning the lack of flaws. I too had to check and recheck my notes and data as I had nothing written down that seemed to point to a defect in design or workmanship. This is no mistake. While no product is perfect, the 690 II has delivered on every point it set out to make and cannot be denied. I will boldly declare this chassis the grand slam home-run that I have not had pass through my hands in my years of testing. At this price point, if you are building a new PC there is simply no better chassis to use in my opinion.
I wholeheartedly award our Editor's Choice award to the 690 II Advanced. Great job, Cooler Master, you truly deserve it for this release.
Pros
The pricing is excellent.
External S-ATA dock.
Impressive cooling performance.
Highly flexible design.
Solid build.
Cons
None. Absolutely none.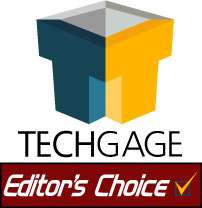 Cooler Master 690 II Advanced Chassis
Discuss this article in our forums!
Have a comment you wish to make on this article? Recommendations? Criticism? Feel free to head over to our related thread and put your words to our virtual paper! There is no requirement to register in order to respond to these threads, but it sure doesn't hurt!
Copyright © 2005-2021 Techgage Networks Inc. - All Rights Reserved.